This article may contain *affiliate links. Please see our affiliate disclosure for more details
Greeting everyone. Welcome back. Let me start by saying thank you for checking out our article on this affiliate program. Today we are going to be taking a look at the Forever 21 affiliate program to see if it might be something that can add value to your niche blog.
Can You Make Money With The Forever 21 Affiliate Program? Forever 21 is a great opportunity to make money by promoting their products. Forever 21 has a wide range of products that can fit into a variety of niches making it a very versatile affiliate program with a lot of potentials.
How does Forever 21 stacks up great against large affiliates like Amazon Associates and can be a great addition to your fashion niche site. I will be taking a look at the commission, the tracking cookie, some of the products and more in our review of this partner program.
There Is Just Something About Owning Your Own Business. Being Your Own Boss. Building Something From The Ground Up With Your Own Hands. Especially When It Is This Easy To Get Started.
---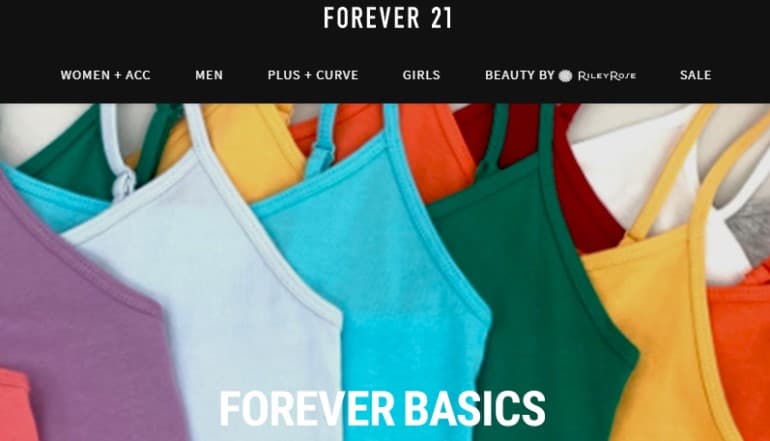 A Closer Look At The Forever 21 Affiliate Program
---
What Is Forever 21?
Forever 21 is a popular retailer of clothing for women, men, and children. They have a wide variety of clothing styles that you can promote on your niche site, or anywhere else you produce fashion-related content, through their affiliate program. Here is a great way to sum up Forever 21 straight from their website
FOREVER 21, is an American fast fashion retailer headquartered in Los Angeles, California. Originally known as Fashion 21, the first store was founded in Los Angeles on April 16, 1984 by husband and wife, Do Won Chang and Jin Sook Chang from South Korea.

Forever 21 About Us Page
---
---
The 4% Affiliate Commission
The commission for the Forever 21 partner program is a little on the low side. Most fashion affiliate programs will approach 7%-10%+ for their affiliate commissions.
However, It is still more that the 1-3% that Amazon Associates is currently offering and it can generate a good amount of revenue with a decent traffic throughput and some clever content.
You will need to maintain a solid conversion rate if you really want to make the 4% commission work but it is definitely doable for an affiliate marketer with a decent amount of experience.
A 30-day Tracking Cookie Duration
The 30-day tracking cookie on offer from the Forever 21 affiliate program is pretty standard. 30-days is going to be the most frequent duration that you see i affiliate marketing and it works well here.
I don't think there is really much that could be considered a high-ticket item on their website (although I diodn't go through all of it, they have seemingly thousansds of products). Nevertheless nothing i saw really warrants a super long affiliate trackign cookie.
The more expensive the products the longer the tracking cookie duration you ideally want but I think Forever 21 has hit the sweet spot for their affiliate partners with the 30-day tracking gap.
---
Forever 21 Products to Promote
Forever 21 has more products than I can count. If its in fashion chances are they have an example of it for you to promote. This is a massive clothing store that covers large swaths of the competitive fashion niche.
So much so that you will probably want to focus on just a few categories of their clothing to get started and then expand out from there.
Here are a few of the types of clothing that you can expent to promote with Forever 21…
Loungewear
Dresses
Bottoms
Graphic Tees
Hoodies & Sweatshirts
Jeans & Denim
Activewear
Lingerie
Swimwear
Shoes & Accessories
Jewelry
Bags & Backpacks
Hair Accessories
That is literally a fraction of just the women's clothing options that are available through this affiliate program. Add in the men's and kid's section and you can see just how robust this affiliate can be for just about any fashion niche website.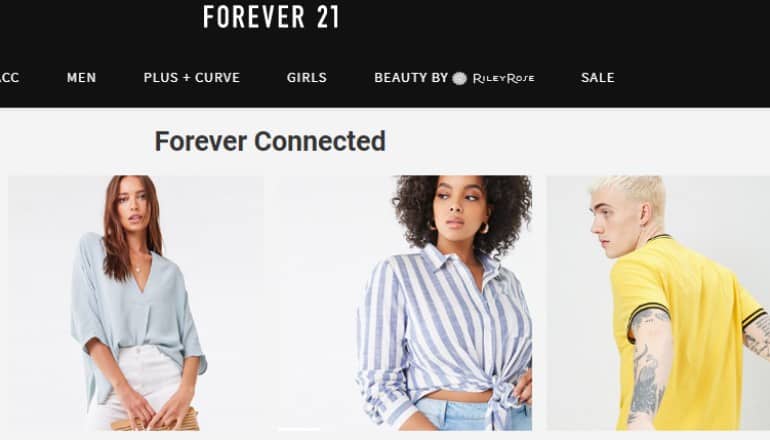 Fashion is a tough niche and most people try and go the Instagram route with it. For this affiliate that will work well if you can generate the interest on Instagram, but there is also an opportunity to develop content on a tradition written blog that you can monetize with Forever 21.
Top 10 lists with some of the best products from Forever 21 is a great place to start as well as information content designed to give background and context to the clothing styles and history.
Best Niches for Forever 21
Given its huge inventory the number of sub-niches and micro-niches that you could use this affiliate for is staggering. Here are just a few examples…
Sun Dresses Micro-Niche
Plus Size Niches
Men's Clothing Niche
Shoes Niche
Jewelry niche
That is just the tip of the iceberg. You can conceivably use this affiliate for just about any fashion micro-niche website and you could easily pair it up with other fashion affiliate programs to build a solid foundation for your niche site.
---
What I Like About The Forever 21 Affiliate Program
I like just about everything about this affiliate program, with the exception of the commission which I will get into in the next section. The amount of fashion accessories and clothing is wonderful.
It gives you so many option for what to promote over a variety of niches and seasons. With Forever 21 you are always going to be able to promote the most popular fashions from dresses to swimwear.
If you have a fashion related niche and you can generate content that makes sense for this affiliate I would consider checking them out, even with the lower commission.
What Could Be Better
The 4% commission is a little dissappointing, in my opinion. There is so much to like about this affiliate partner that the commission is a pretty big letdown. Even 6-8% would be a huge boon to this affiliates overall appeal.
It is still a very good affiliate program but it misses greatest due simple to the slightly underwhelming affiliate commission.
---
The Bottom Line
That just about wraps up our look at the Forever 21 partner program. It is solid in so many ways. The commission does let it down but you should be able to get some mileage out of the 4% commission.
I think your best bet is to pick a couple of higher commission affiliate to operate along side Forever 21 in order to compensate for the lower commission. But once you get enough traffic that commission rate should do just fine.
Fashion is a huge niche and one of the most competetive online. Start small and grow and with some hard work and qulaity content you will turn your passion into a full time career online. Forever 21 can be at the center of that with their affiliate program and your great content showcasing their clothing.
Don't go it alone. Get the best learning tools and community to help you build your online dream. Check it out here.
Thanks for stopping by and have a wonderful day.