This article may contain *affiliate links. Please see our affiliate disclosure for more details
Today we are going to talk about socks. That's right, socks. Specifically socks affiliate programs. Entire affiliate programs dedicated to just socks.
If there is money to be made in any niche then affiliate programs will pop up around it. Generally speaking the more popular the niche the more affiliates you can find.
Socks are a surprisingly vibrant niche for affiliate marketers. You can find content about them on many fashion sites as well as dedicated socks niche site.
Sock niche sites are often a good opportunity to drill down into the sock micro-niches and build from there using a great affiliate program as your monetization foundation.
We have 28 socks affiliate programs for your consideration here today. Let's get started.
There Is Just Something About Owning Your Own Business. Being Your Own Boss. Building Something From The Ground Up With Your Own Hands. Especially When It Is This Easy To Get Started.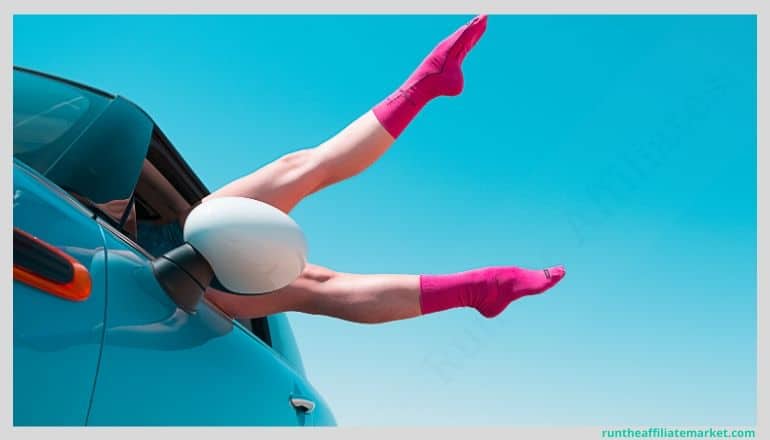 Sock affiliate programs make a great monetization tool for a variety of websites. Whether you are in the general fashion niche or a sock specific niche there should be something on this list that will help your overall affiliate strategy.
Now that you have some great socks affiliate program ideas you just need to create the content and drive traffic to your affiliate links. With a little guidance, you can get started on that today.
---
Ozone Socks Affiliate Program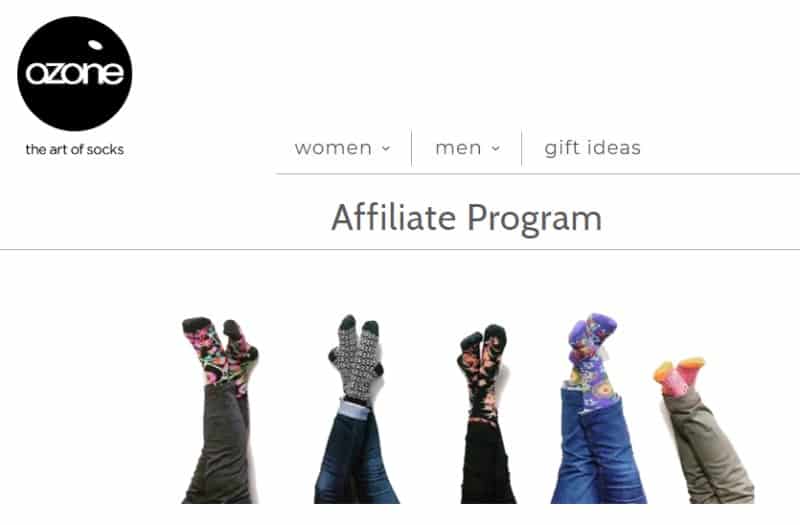 Ozone Socks sells designer socks all over the world. These are very unique and visually interesting socks that are sure to please your sock niche blog audience.
The styles of the socks are really the selling point here. Promoting them should be pretty easy just due to their striking colors and patterns.
They also have a sock of the month club you can promote as well. It is always nice to have a subscription box type service within an affiliate program.
Ozone Socks offers a pretty decent 6% commission for their affiliate partners. It isn't the highest commission on our list but it should be ok for getting a nice income from promoting their products.
The tracking cookie is also pretty standard. This affiliate offers a 30-day tracking cookie duration. This duration is pretty good for the type of products that they sell. Nothing here is really a high ticket item so 30-days should be just fine for most affiliate marketers.
---
School Of Sock Affiliate Program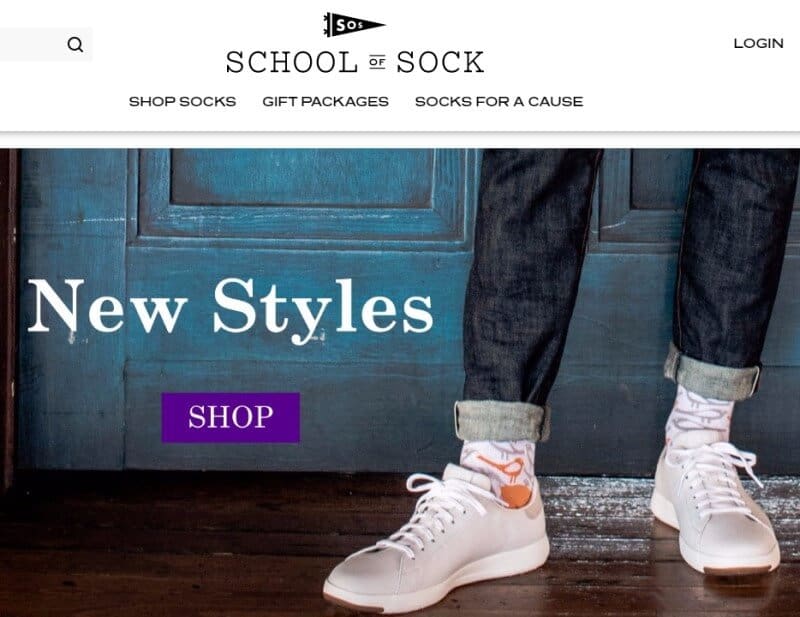 School Of Sock has a nice variety of socks for you to promote. From ankle socks to over the calf socks they have you covered with some interesting designs and striking colors.
Their selection isn't the largest so you would probably only use them in a support capacity as I don't think they have the volume to really be a primary affiliate partner.
School of Sock has an interesting set of affiliate terms for their partners. They offer a flat fee of $2 for every pair of socks sold through your affiliate link.
I am not sure how I feel about this type of commission but it is very interesting nonetheless. It is on a per pair of socks basis and not per sale basis. So theoretically you can have one person buy 10 pairs of socks and you get a $20 dollar commission. That is how I understand their policy, at least.
This is definitely one to consider and run some tests with and see how well it does with your specific audience.
---
Renfro Socks Affiliate Program

Renfro Socks is actually part of a larger network of a variety of different stores. This is their main sock store but signing up for it through ShareASale will give you access to most of their other stores as well.
Renfro Socks has a very nice selection of socks of all kinds. Novelty socks to children's socks are well represented at this outstanding sock retailer.
They also have many of the best brands like New Balance and Dr. Scholls so it should be pretty easy to promote and the commission is much higher than Amazons standard 4%.
Renfro Socks has a commission of 8% on qualifying sales through your affiliate links. Anything approaching double digits is fine by me when it comes to physical products. The tracking cookie is a standard 30-days.
---
Boldfoot Socks Affiliate Program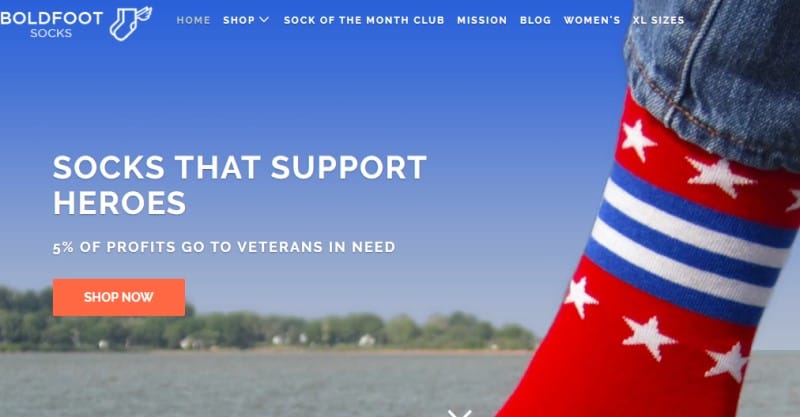 Boldfoot Socks are made in the USA and come in a variety of styles. They also give 5% of their profits to Veteran charities.
The tracking cookie is a solid 45-days. Anything over 30 is great these days and 45 gives you plenty of time to make a sale and still get a commission.
The commission is an outstanding 12.5 percent. A double-digit commission is something that seems pretty common for the smaller boutique sock retailers.
If you can get it converting at a reasonable rate then this could be a very nice partner to add to your affiliate strategy.
---
Feetures Socks Affiliate Program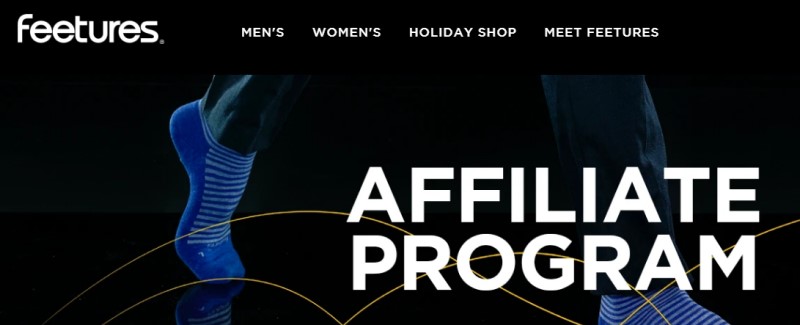 Feetures has its own line of high-performance socks for you to promote on your sock niche website. They even tout their Elite line of socks as the best performance socks on the planet. This partner would work great for a sock niche website, a fitness or sports website or a fashion website.
The products look good and the affiliate terms are solid as well. Speaking of those affiliate terms. The tracking cookie is your standard 30-days. Nothing super exciting but it will get the job done for you.
The commission is also very respectable. Weighing in at a full 10% is never a bad thing when it comes to retailers dealing with physical products.
I like the look and feel of this affiliate partner. Give them a look-in if you need a sports or performance sock vendor for your website.
---
Black Socks Affiliate Program

Black Socks Has been around since 1999 so they must be doing something right if they made it two decades at this point.
This kind of longevity is great when you're doing promotions as an affiliate marketer because it shows that the brand itself has longevity and there's a history that you can create content around when you have companies that have been around this long.
The products they offer are pretty good they are a wide variety of various socks with a focus on business socks it seems. They also offer some shirts and underwear for you to promote if your blonde is a little more fashion Focused than just sock focused.
The tracking cookie offered by the Black Socks affiliate program is a rock-solid on 60 days. That's about double the standard tracking cookie and it gives you plenty of time to make a sale.
60 return days are going to almost ensure that if someone clicks your link and they are intent on buying the product at some point in the future than you were going to get that commission.
The commission follows suit and is very respectable at 10%. As we move further and further into this list you're going to see the 10% is pretty much the Baseline for the smaller affiliate programs in the sock Niche.
So you really can't go wrong with any of them if you're getting a double-digit commission out of it. It's going to ultimately come down to whether or not your audience likes Black Socks or not.
---
ExecSocks Affiliate Program
This promotional video show what ExecSocks is all about. It is from their ShareASale profile and is a good example of some of the creatives that many affiliate programs offer their affiliate partners. This sock affiliate program is open to anyone as they offer an auto-approval through ShareASale.
The tracking cookie is fine at 45-days but I know that everyone is eyeballing that commission. There is not a lot of information about the commission but I suspect it is a one-time percentage for new signups to their subscription sock service.
My advice here is to ask about the exact nature of the 80% commission. It might even be a typo on their profile. If not then that is one heck of a commission and one that should be heavily considered for your sock niche website.
---
boldSocks Affiliate Program

Boldsocks offers a wide range of stock options for you to promote on your website. Men's women's kids custom socks they have a subscription service as well. Just about everything you want out of a sock affiliate program they have ready to go for you.
Another standard set of affiliate terms For this affiliate partner. They offer a standard 30-day tracking cookie which is going to be just fine for this Niche and for the types of products that your audience is going to be purchasing.
The 10% commission is also outstanding. this will make promoting this affiliate that much more appealing because you know you're going to get a fair commission for your hard work. Always be sure to check to make sure that the 10% commission applies to subscription services as well.
---
The Joy Of Socks Affiliate Program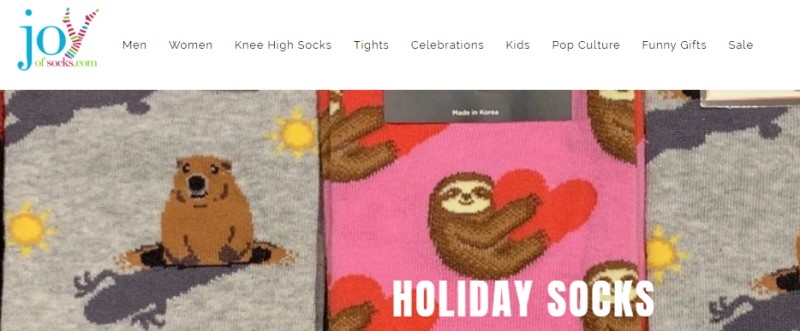 The Joy Of Socks Really lives up to its name with some very fun cute and interesting designs for their socks.
They have all types of theme songs for holidays and other occasions and these socks are sure to be the talk of the town when people buy them and see how unique and interesting they really are.
These types of products are always great for an affiliate marketer because it gives you some unique products to build your content around. Even better is when those products are exclusive to the affiliate program that you are promoting.
I'm not sure if these socks are sold elsewhere. I haven't seen them but they certainly could be especially if they're sold by a third party on Amazon Marketplace for example.
But as an affiliate marketer you have a great opportunity to introduce your audience to not only this affiliate program but to their online store and help build a relationship between yourself The Joy Of Socks and your audience that's going to really make your promotional efforts worthwhile.
The affiliate terms are pretty standard. they offer a very nice 10% Commission on qualifying purchases through your affiliate link. The tracking cookie follows suit with a respectable 30-day tracking duration.
---
Sock It To Me Affiliate Program

Sock It To Me Have some really neat and interesting designs for their socks. And plenty of options for just about anyone. They have men's and women's children's and toddlers along with unisex socks that everyone is going to like.
They also have a monthly subscription service that you can promote on their website. As always with the subscription products make sure that they are included in the affiliate commission.
Speaking of the commission.
The commission is a little bit lower than I'd like it to be. At only 5% you're really rubbing up against what Amazon would offer. So it really comes down to how much your audience likes the products that Sock It To Me offers.
---
Sokologie Affiliate Program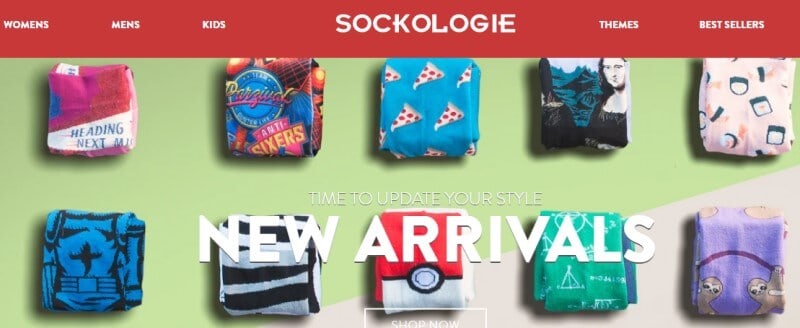 Sokologie has a whole bunch of great looking socks for you to promote to your audience. They have socks for men, women, and kids as well as some themed socks that you can craft content around.
Sokologie offers a standard set of affiliate terms But one that should be familiar to you by the time you hit this part of our list. It's a standard 30-day tracking cookie and a 10% commission on all qualifying sales through your affiliate link.
It's not exciting but it is a rock-solid set of affiliate terms for any physical product affiliate program.
Sokologie also offers auto-approval through ShareASale. This means that even new websites can sign up and start to get a feel for how it will perform long term for their sock niche website.
---
Comrad Affiliate Program

Comrad focuses on compression socks. This might not appeal to everyone with a sock website or their audience but there is no harm in running some tests to see how they convert. Given their excellent affiliate terms, it is worth it to have a look at their affiliate program.
While the tracking cookie duration is a little lackluster at only 7-days the commission is anything but. Comrad offers a full 20% commission on sales from your affiliate links. Double-digit commissions are good, 20% commissions are incredible.
If this partner is popular with your specific audience then you have yourself a really good affiliate to build around on your website.
---
Jumper Premium Threads Affiliate Program

Jumper Premium Threads only has a couple of stock options but I think you can fit into a sock next website pretty easily if you need some premium socks. they also have some other products like shirts underwear and related clothing.
The affiliate terms for Jumper Premium Threads are standard and solid. The 30-days duration for the tracking cookie is the order of the day. Following the standard cookie, they offer a standard 10% commission for their affiliate partners. I would describe this affiliate program as standard.
---
Strideline Affiliate Program

Stridelines socks are designed with comfort at the forefront. These are pretty standard looking socks, they come in white and other standard colors but they are functional in their construction and should be a good addition to any socks blog, but would also work for a fitness or sports niche blog as well.
Strideline mixes it up a bit by offering a 12% commission for its affiliate partners. A bit of a reprieve from the 10% we have been seeing on our list.
The extra couple of percent is a nice little change. The tracking cookie is the same, however. A 30-day tracking cookie is what is offered here. The standard.
---
SockDock Affiliate Program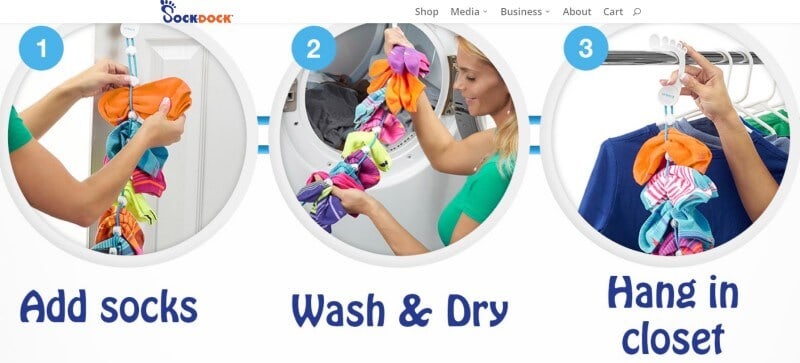 SockDock is an interesting product that will find a home on some sock websites, but certainly not all. This device is designed to keep your socks together through the wash and hang them up afterward.
I think this affiliate might be at home with parenting or home blogs more than a standard sock blog.
The tracking cookie is fantastic. A full 90-days to make your sale and still receive a commission for your hard work. The commission is solid as well. It is the familiar 10% commission on offer here once again.
---
Sock Geek Affiliate Program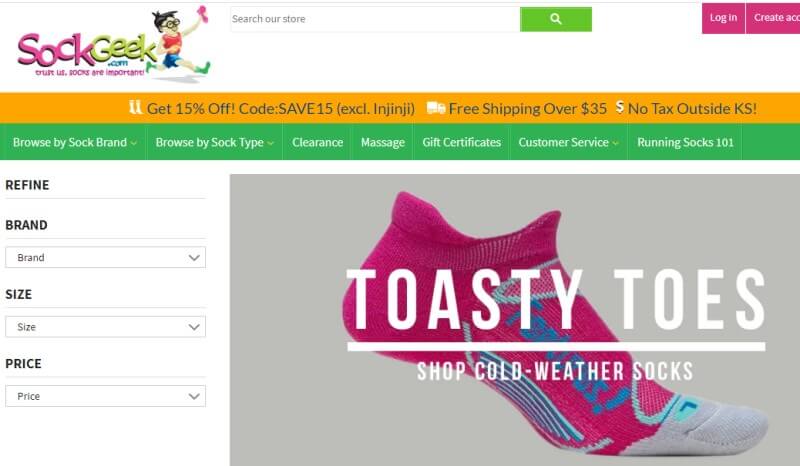 The commissions for Sock Geek is extremely low. At only 2% it is going to be hard to recommend this partner for most sock blogs. The tracking cookie is fine at 30-days.
The products are good and if they are popular enough with your audience then it could be worth using this affiliate program.
---
Say It With A Sock Affiliate Program

The big draw with Say It With A Sock is their sock of the month subscription service. They claim the title as the #1 sock of the month club.
Your audience will be able to customize their subscription box with things like sock size, patterns and even save a little money by purchasing multiple months at a time.
This is going to appeal to just about any type of sock Niche website or fashion notes website or even a parenting or home type of website.
It's really a versatile subscription box and given its popularity, you should really consider implementing it to see if it converts for you at a reasonable rate.
The 5% commissions might seem a little low but if you can get some conversions with their sock of the month club then it should be fine for your business. They also offer a 30-day tracking cookie which is just fine for this type of affiliate program.
---
Actinput Affiliate Program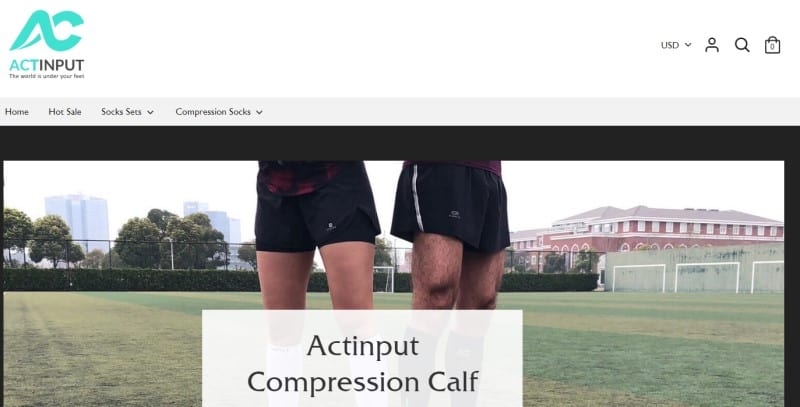 Actinput has a variety of compression gear for you to promote. I am not sure how well this affiliate would do on a sock niche website unless you have a section dedicated to compression gear. On a fitness or sports website, this affiliate would be right at home, however.
Actinput offers a standard 30-day tracking cookie to their affiliate partners. This duration keeps popping up because it is the most used duration and its fine for anything that is not a high-ticket item.
The commission is a step above, however. A 15% commission is one that you can really make some good profits on. If you can get it to convert it should outperform many of the big affiliate programs, like Amazon, when it comes to compression socks.
---
AfterSocks Affiliate Program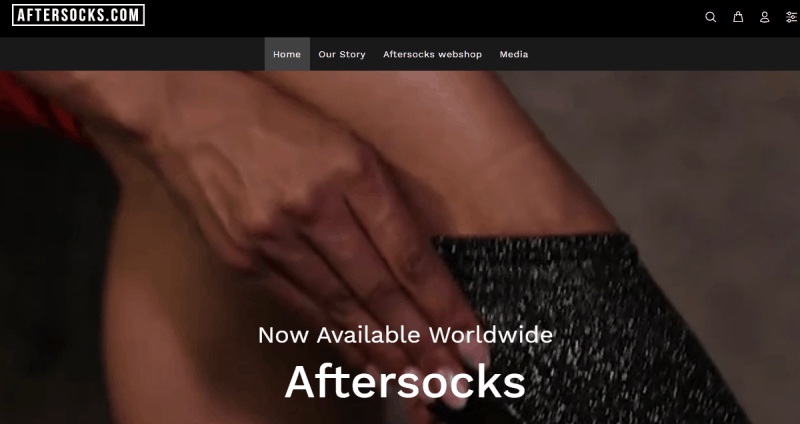 Aftersocks are an interesting addition to our socks affiliate program list. They are socks with thin soles that you can wear just about anywhere. The promotional material touts these socks as a comfortable way to walk home after a night of partying.
Presumable as an alternative to uncomfortable heels or similar shoes. It is a neat idea, but one that you are going to have to find a place for in your affiliate strategy and I am not sure it works for a majority of sock-related websites.
Aftersocks offer some very competitive affiliate terms for their potential partners. The 45-day commission is a little bit more than what we are used to in the socks niche. The 15% commission is one that you must take seriously for anyone with a sock or fashion niche website.
---
Vim&Vigr Affiliate Program
Vim & Vigr offer a line of fashionable compression legwear that will appeal to most of the readers of your sock or fashion blog. These products are a long way from the standard black compression gear that we are used to.
Their products come in a plethora of varieties and materials including nylon, wool, and cotton for both men and women.
Great affiliate terms round out this interesting partner program. They have a 45-day tracking cookie duration which is plenty of return days to make a sale after someone clicks your affiliate link.
The commission goes above and beyond the norm as well. They offer a full 15% commission to their affiliate partners for a successful sale. An all-around great looking affiliate program with excellent terms and good fun products.
---
ManRags Affiliate Program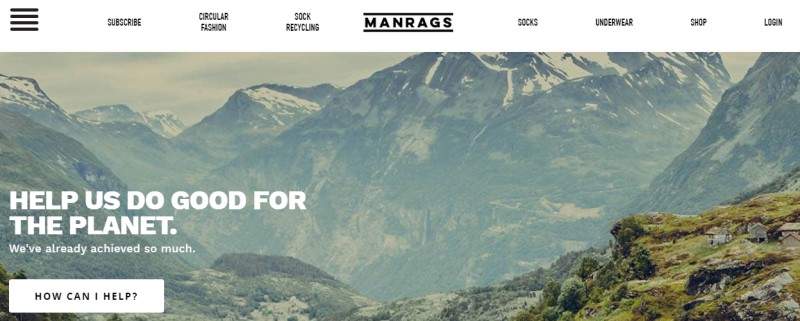 One of the interesting things about this company is its dedication to recycling socks that typically take up a disproportionate amount of space in landfills around the world.
It's always great to add these kinds of important factors outside of just the business aspect of an affiliate program because they do help you as an affiliate marketer promote the products better with an environmentally conscious audience but it's also great for the actual environment and for us as human beings.
The products thatManrags offer a pretty nice as well they have a subscription service for socks and underwear made out of Egyptian cotton which is incredibly soft, I know that from personal experience because some of my best underwear is made out of that material.
With that bit of uncomfortable oversharing brings us to the affiliate terms. They offer a standard 30-day tracking cookie for their affiliate partners.
But it is the commission that really stands out. It is one of the best commissions on our list and one of the best Commissions in the sock niche in general.
I would go so far as to say their 25% commission is one of the best commissions you were going to find in the entire larger fashion niche as well.
When you put everything together with the good products, the environmentally Sound business model, the Great Commission and cookie you really have one of the best affiliate programs in the entire sock Niche for you to deploy on your blog or website.
---
Dollar Sock Crew Affiliate Program

Dollar Sock Crew is a subscription box service that lets your readers pick their pairs that are delivered each month.
This is a very interesting affiliate to consider because they are relatively cheap subscription prices. This means that you can promote them to a wide range of audience members with a range of incomes.
I always feel it is important to have an affiliate that covers a wide range of prices so that everyone can get involved and you will still be able to make some nice commissions from that.
Standard affiliate terms are the order of the day for the Dollar Sock Crew partner program. They offer a 10% commission on all qualifying sales and a 30-day tracking cookie.
---
Heshi Affiliate Program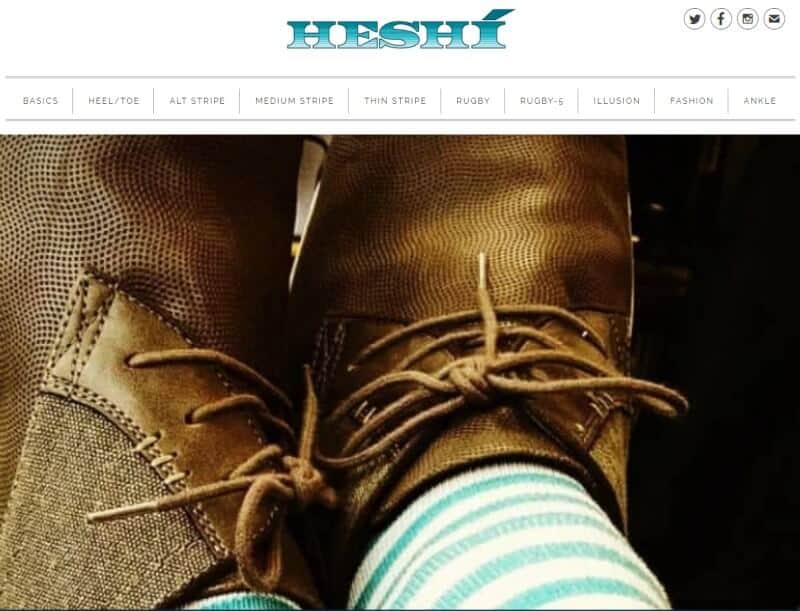 Heshi has an incredible selection of fashionable socks ranging from your basic sock to some very impressive dress socks.
The bulk of their products seem to be stripe socks and they range from thick and medium to thin Stripes as well as some rugby stripe socks. Those are the ones that have very large Stripes usually only three or four per sock.
I think this sock affiliate program probably works really well for a higher-end fashion as well as a standard sock Niche website.
The affiliate terms are, yep you guessed it, a 10% commission and a 30-day tracking cookie. These are good affiliate terms,
I said it before anything approaching double digits is going to be a good affiliate commission. And we have seen our fair share of 10% commissions and 30-day tracking cookies on our list of sock affiliate programs.
Another great thing about the Heshi affiliate program is that they offer an auto-approval through ShareASale. What this means is that even brand new websites can get approved and get a couple of affiliate links into their content to start generating a little bit of income potential.
Auto approval is not a huge deal once you get established because once you start getting traffic in the affiliate programs are going to see that you're a real website with real readers and they're going to approve you most of the time.
But it's always nice to get a feel for an affiliate program when you're just starting out and the auto-approval process at ShareASale can do that for some of these affiliate programs.
---
Sock Fancy Affiliate Program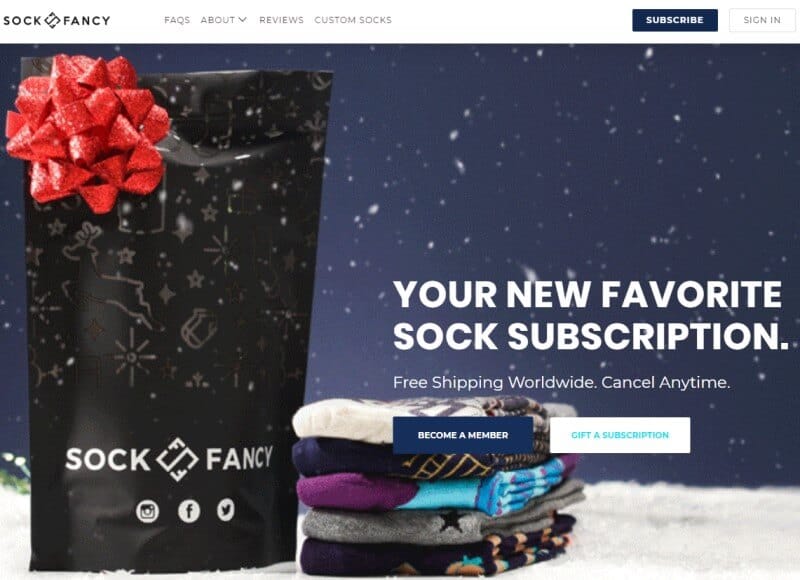 Sock Fancy is a worldwide subscription sock service that offers a very nice selection of fun and colorful socks and delivers them right to your door every month.
I think the worldwide delivery aspect of this subscription box service is really interesting for an affiliate marketer who is not based in the United States.
A lot of times the US-based affiliate marketers will get the free shipping from the products are promoting but the rest of the world is left out in many cases.
Sock Fancy has free shipping worldwide to wherever they deliver their products so it can be a really great option for many of the international affiliate marketers working today.
The affiliate terms are pretty decent for this partner program.
The 8% commission might seem a little bit lower than some of the others on this list but when you consider that the subscription is the big part of this affiliate program you realize that 8% can really rack up some good commissions over time.
They track and cookie is a rock-solid 45 days. Typically we've seen 30 days be the standard in this Niche and it's nice to see something break a little bit above that and give you a little bit more time to make the sale and still receive the commission.
One quick thing I'd like to add about the cookie duration is that they offer two separate numbers at various points in their affiliate profile on ShareASale.
It ranges between 45 days and 90 days so be sure to ask which one is the accurate number just so you have a good idea of how much time you have to make a sale.
---
Happy Socks Affiliate Program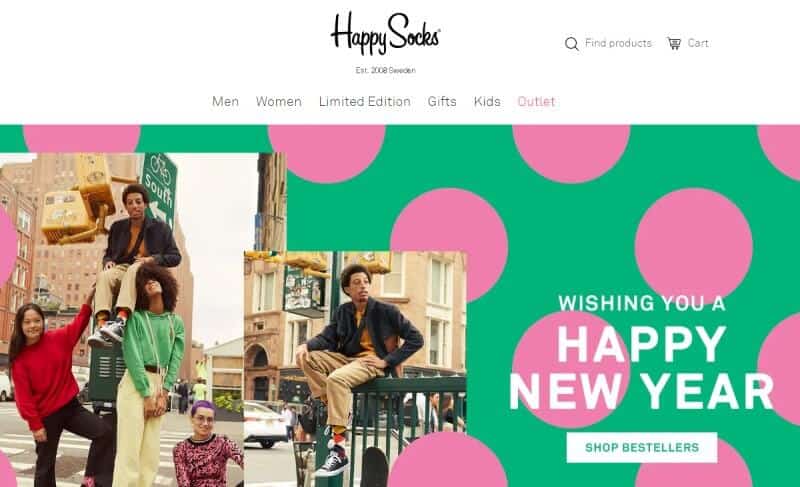 Happy Socks is probably one of the most well-known sock businesses on our list and as such is a sock affiliate that almost every sock niche website is going to want to at least consider.
They offer incredible competitive affiliate terms for such a well-known and popular brand. The tracking cookie is fine at 30-days giving you a full month of return days to earn commissions from anyone who clicks your link.
The commission is also superb ranging from 12%-15% on qualifying purchases during your return window. They also offer some private commissions for high earning individuals if you can attain that level of sales.
---
SockPanda Affiliate Program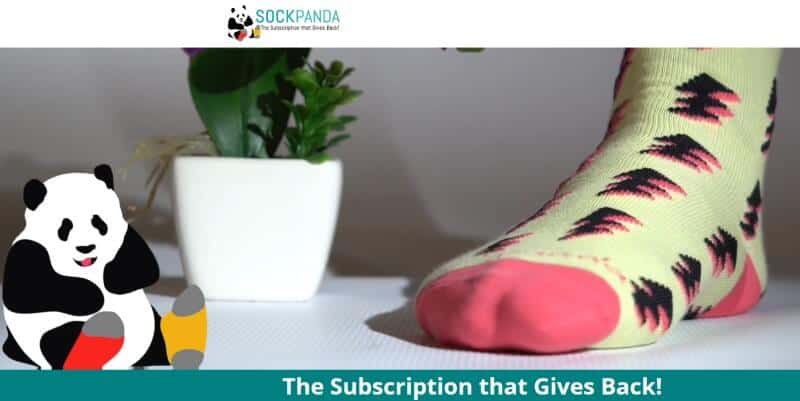 A sock subscription service is the main draw for the SockPanda affiliate program. They also tout their charitable endeavors with their sock donations, which you can use in your promotion of their products.
The affiliate terms are starting to feel like groundhog day a little bit. They offer a standard 30-day tracking cookie and a 10% commission for sales through your affiliate link.
These are great affiliate terms. But it is tough to get really excited about them after doing 20 or so of these profiles and many of them have the same affiliate terms.
---
Woven Pear Affiliate Program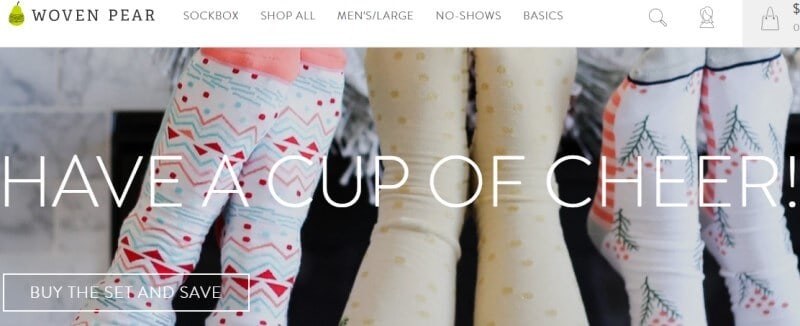 Woven Pear has a pretty robust line of fun and fashionable socks for you to promote. They have socks ranging from basic fit to no shows. They also have a monthly themed sock box that has some curated socks for your readers to enjoy.
The affiliate terms really stand out for this affiliate partner. Let's start with the 90-day cookie. That is 3 months' worth of return days to make sure you get a commission from someone using your affiliate link.
The commission is the real draw here though.20% is incredible. It is a huge commission in any niche but particularly for one that offers physical products like Woven Pear.
Woven Pear is versatile enough to fit into any sock website or fashion website. It is fun and the socks are interesting to look at. Almost any blogger would do well to consider this affiliate for their sock themed blog.
---
InvisaSox Affiliate Program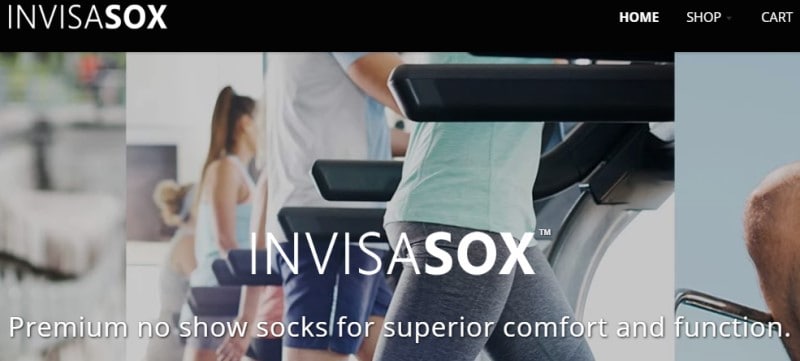 Invisasox specializes in no show socks that are also comfortable and practical. Alon of really short socks can be more of an annoyance than a benefit but these look to alleviate those issues with a stylish and comfortable looking no show sock.
The tracking cookie is only 14-days for the Invisasox affiliate program. It is a little shorter than I typically like to see but it should be just fine for the socks they sell.
The commission is very nice weighing in at 12%. This is an appropriate commission for this partner program because they don't have a whole lot of products to choose from so you want to make sure you get the best commission possible.
I think this affiliate partner will fit nicely into a sock blog but might be most at home in a fashion blog because of the nature of the unseen socks they sell.
---
Maximize Your Socks Affiliate Programs
That brings us to the end of our look at these wonderful socks affiliate programs. When I started to do research for this article I was shocked at how many sock affiliates there were and how many of them have some very good products and affiliate terms to match.
It just goes to show that any niche that is profitable is going to have affiliate programs and stores Spring up around it. There are plenty of ways to work your way into the sock Niche without trying to take on any of the larger stores or blogs that occupy that space.
It's a good opportunity but you are going to need a lot of traffic and a good conversion rate to really see the profit potential that is certainly there in the sock niche.
You want to maximize these affiliate programs and the best way to do that is to get a little bit of affiliate marketing training on how to efficiently build a successful passive income website.
Don't go it alone. Get the best learning tools and community to help you build your online dream. Check it out here.
Thank you for stopping by and have a wonderful day.
---