This article may contain *affiliate links. Please see our affiliate disclosure for more details
There are affiliate programs for just about everything. It doesn't matter whether it's a huge industry of the tiniest little niche chances are there's going to be at least one affiliate program dedicated specifically to that topic.
Howdy everyone, Michael here bringing you our look at some of the best power tools affiliate programs out there right now.
These fall into the hardware Niche or the Arts and Crafts Niche or really anywhere that you can use these tools to finish your construction or art projects.
These affiliate programs are fairly General in their scope. If you're looking for something like dedicated woodworking affiliate programs, they have their own list.
 So let's dive in and see if we can't find a power tool affiliate program that is going to fit right into your affiliate strategy for your passive income Niche website.
There Is Just Something About Owning Your Own Business. Being Your Own Boss. Building Something From The Ground Up With Your Own Hands. Especially When It Is This Easy To Get Started.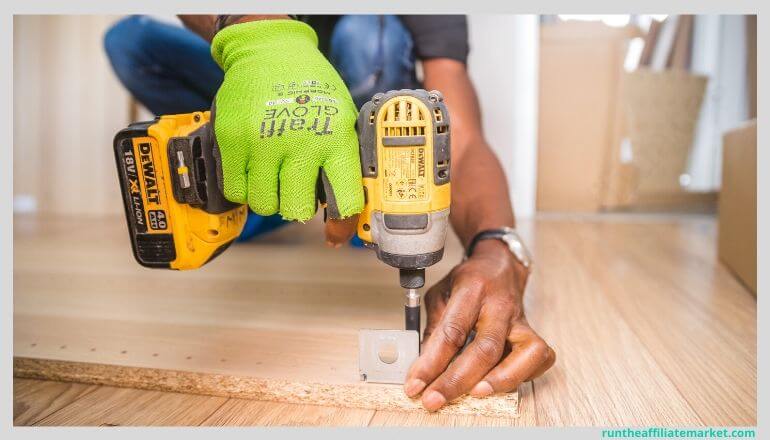 Check Out These Power Tools Affiliate Programs
Power tool affiliate programs can be deployed in a variety of niches. Woodworking niches, furniture niches, construction niches and more are all viable places to use these partners to better monetize your passive income website.
Once you settle on a few power tool affiliate program ideas you are going to need to focus on content and conversions and getting the traffic to your affiliate links. A solid training program and community can help you do just that.
---
Vanon Affiliate Program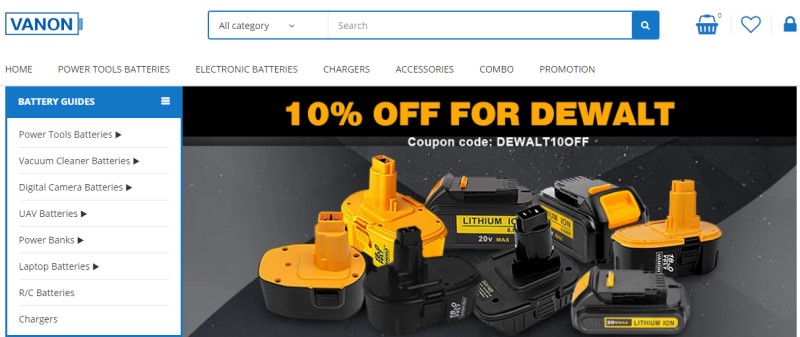 Vanon is an interesting affiliate program for a power tools website or any construction or woodworking type of Niche website where you need power tools. They sell the batteries for many of the popular brands of tools.
These are replacement batteries so it's going to be a bit smaller of an inch to try and get these sold but this is a great option to have along with one of the major power tool affiliate programs on our list.
The commission for the Vanon affiliate program is a solid 5%. This is not the best commission but for this particular Philly program it's not that bad and that is because of the Fantastic cookie.
The tracking cookie duration is a full 365 days. That means when someone clicks on your link they have a full year to make a purchase and still give you credit for that purchase.
The benefits of this long a cookie are many and it will lead directly to a higher conversion rate which makes the somewhat low commission not as bad as it possibly could be.
One last thing to consider about this affiliate program is that they have an auto-approval through ShareASale.
This Auto approval depends on your country that you're currently in but if you do qualify for it it's a great option to have because it means you don't have to have a huge amount of traffic to get started with this affiliate program.
---
Makita Tools Affiliate Program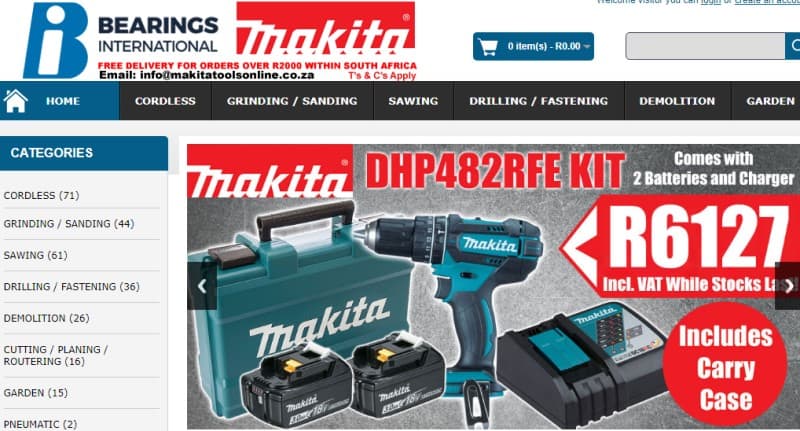 This appears to be a South African based power tools distributor. It is unclear whether their affiliate program is available outside of South Africa, but I thought it would be a good idea to add it to our list.
It could very well be an incredibly small amount of affiliate marketers that get any value out of this partner but hopefully, a few people find this partner useful.
The tracking cookie information was not readily available at the time of publication. Please be sure to ask about the cookie duration when you are accepted into this affiliate program.
The 5% commission is pretty good for the power tools niche. They tend to have a high overhead for a lot of their products.
---
Cacoop Tools Affiliate Program

Cacoop has its own line of power tools. From Grinders and drills to leaf blowers at other similar products this company has quite an array of Handy power tools that you can promote to your audience.
The only real downside to this I feel the program is they only sell their own brand of products so you might have to do a little bit of creative content too kind of flesh out who this company is and why your audience should purchase products from them.
The tracking cookie is a standard 30 days. It's plenty long enough for the types of products are you going to be promoting from the Cacoop affiliate program.
The really incredible thing about this affiliate program is the 20% Commission on some of their products.
As of the publication of this article their share sale profile has a 20% commission listed as the commission for their affiliate program. It is very out of sync with most of the other power tool affiliate programs.
If it is indeed still 20% and you can get it converting at a good rate than you have gotten one of the best affiliate programs in the entire power tool Niche.
I am a little bit worried about the commission being this High though, it just seems too good to be true. But be sure to join up and check it out and see if you can get this affiliate converting well for you.
---
Ohio Power Tool Affiliate Program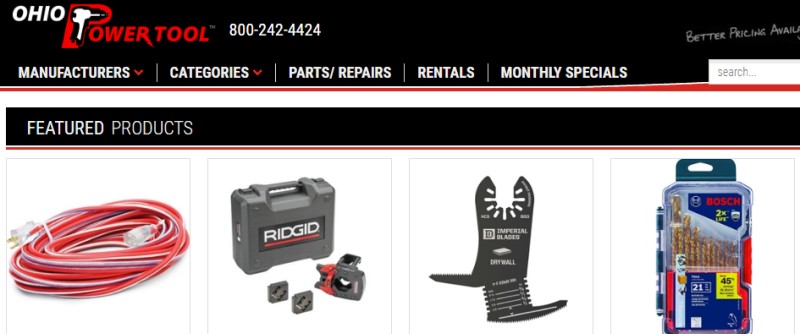 Ohio Power Tool has a variety of power tools from dozens of manufacturers across a wide variety of tool categories. Whatever your power tool needs Ohio Power Tool has you covered and their affiliate terms make it an easy partner to promote.
The tracking cookie is very good for this partner program. Weighing in at 60-days the duration is long enough to generate some high commission sales from high ticket items that are found in the power tools niche.
The commission is 6.5%. This is actually pretty outstanding for this niche since thee products tend to have slim margins and cost quite a bit to ship and move around. Anything over 5% is considered very good for these types of products.
---
Hardware World Affiliate Program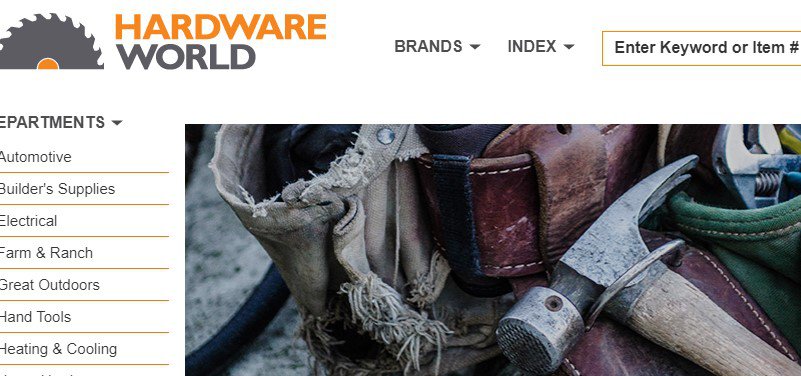 Hardware World certainly lives up to its name. It has hundreds if not thousands of products that fits squarely into the power tools niche.
In addition to that, they have all kinds of hardware for automotive Farm Builders supplies electrical Heating and Cooling and other hand tools.
This is really an all-encompassing affiliate program that touches on Far More Than Just power tools and is a great option for anyone in the construction ditch or a Home Improvement sub-niches like Plumbing or electrical wiring and things along those lines.
The tracking cookie offered by the hardware World affiliate program is a solid 30 days. You should have no problem making sales with a cookie duration of this Length.
The commission is also decent at 6%. I tend to consider anything over 5% to be decent. 5% is really the bottom that I like to go so 6% is a little bit better it's not staggeringly good but it's decent.
The real draw for this affiliate program is the incredible variety of products that they have that you can promote to your audience. This could easily be the only affiliate you need if it converts well enough.
---
Tool Barn Affiliate Program

Drills, saws, cordless power tools of all kinds. That is what you will find at the Tool Barn. They have an incredible selection of power tools.
This is one of the more well-known affiliate within the power tools niche. Many of your audience members will have a working knowledge of this company which will make it easy to promote their products.
The affiliate terms are a little low, but this niche doesn't really have any huge commissions for the most part. A 3% commission and a very nice 45-day tracking cookie are what you have to work with.
It is not insurmountable but you need a very high conversion rate to make it worthwhile to spend time promoting them. I think this affiliate works best for an experienced marketer who knows how to get those high conversions.
---
Acme Tools Affiliate Program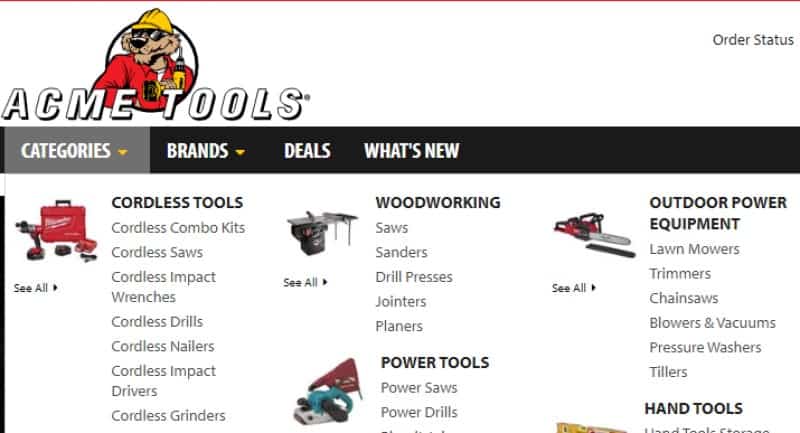 Acme Tools feels like a direct rival to Tool Barn. You probably only need to pick one of them and focus on getting the conversions up for that one.
Acme Tools has just about every power tool that you could imagine and quite a few that I had never heard of.
For an expert in the niche, this won't be a problem but it might make for a good content opportunity to take some of the more obscure power tools at Acme Tools and craft some content around what they are and what they do.
The affiliate terms are about what you would expect from this type of partner. The tracking cookie is a concern at up to 15-days. I am not sure what the criteria are for getting the full 15-day cookie but even then it is still a little bit lower than I typically like to see.
You should be able to work with it though. The 3% commission is also low and if you can find the same products elsewhere with a better commission it might be worth it to try those first then use this as a fallback option.
---
CPO Commerce Affiliate Program

The affiliate terms for this partner are rough. They are the lowest I have seen, 1% commission and a 1-day tracking duration are pretty much useless from an affiliate marketing perspective. The products, however, are among the best around.
I put it on this list for that sole reason, the products. I just don't see how any affiliate could be successful with this partner. But if you think you can give it a go. I'll leave it at that.
---
Lowes Affiliate Program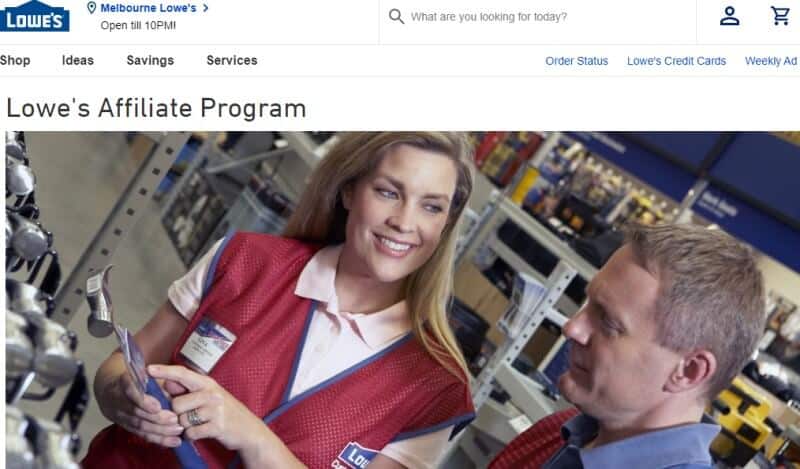 Lowes is a huge brand name in the home improvement space. They have just about every conceivable power tool and a whole lot more for any home improvement website or blog.
You won't need to really explain who they are or what their company is all about because your audience will have a working knowledge of this brand most likely.
The issue is the lackluster affiliate terms. A 1-day cookie means you need to be the last stop before making a purchase and you don't have the luxury of time with a cookie this short. Not that it really matters because you will be missing out on a whopping 2% commission.
Companies like Lowes don't need affiliate marketers because they have such a popular brand name. And it shows with their affiliate terms.
---
Home Depot Affiliate Program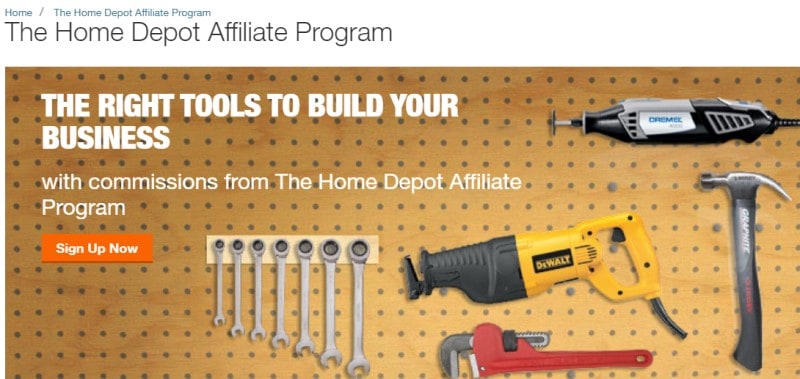 It's Home Depot. There really needs to be no introduction to most of the people who are interested in power tools. It is one of the most popular home improvement stores in America.
They have just about every power tool you would need and a whole lot more home improvement products.
If it has good affiliate terms then this would be an ideal affiliate partner for anyone who needs a power tool affiliate.
Unfortunately…
The affiliate terms for this partner are pretty poor. In fact, they are beyond poor. They are downright bad. Home Depot offers a 2% commission and a 1-day tracking duration to its affiliates. That is worse than what Amazon offers.
The only reason you would use this partner is because of the name recognition or if they have a product you can't find from another affiliate program. It might be worth considering if it converts exceptionally well with your audience.
But even then it is going to be tough justifying the use of this partner program.
---
Maximize Your Power Tools Affiliate Programs
Thank you for taking the time to read my article on the best power tool affiliate programs currently available. There is obviously more power to the affiliate programs out there and some of them might be better for your particular audience.
These are simply my pics for the ones that look like they have the best range of products brand name and commission.
Some of the affiliate programs relied heavily on the brand name because their Commission in there cooking might be a little bit low but it's worth trying not to see how well they do and if you can generate a little bit of profit with them.
Ultimately how successful an affiliate program is going to be determined by how well you can drive traffic to that affiliate link and how well you can convert those clicks into sales.
Getting a little bit of affiliate marketing training is the best way to improve your chances of having a successful passive income website. That training can help you boost conversions and get traffic to those affiliate links and I'm more efficient and abundant way.
Don't go it alone. Get the best learning tools and community to help you build your online dream. Check it out here.
Thanks for stopping by and have a wonderful day.