This article may contain *affiliate links. Please see our affiliate disclosure for more details
This is going to be an ongoing endeavor I think. There are so many sports sub-niches. Hundreds, maybe thousands. Then you multiply that with the number of micro-niches and you have the potential for 10's of thousands of profitable sports blogs.
It really is quite astonishing, the sheer number of options there are when it comes to starting a sports blog.
Each piece of equipment is a potential micro-niche. How many types and brands of baseball gloves are there? I don't know I am asking.
But each one can be tested and used and reviewed and written about to start a baseball blog.
Each Jersey of every NFL team over the years has its own history and backstory that you could write about.
So when I give them 5 or 10 suggestions for a micro-niche sports blog, know that there are hundreds more for each sport.
Hundreds more for each sub-niche and even the micro-niches can be broken down further in many cases.
These are simply meant to get your creative juices flowing. Choose one of these micro-niches or find your own perfect sports passion to write about. Getting started is tough and being patient enough to reap the rewards is going to be even tougher.
This is the first step to take to create your own sports blog.
So let's get started.
There Is Just Something About Owning Your Own Business. Being Your Own Boss. Building Something From The Ground Up With Your Own Hands. Especially When It Is This Easy To Get Started.
---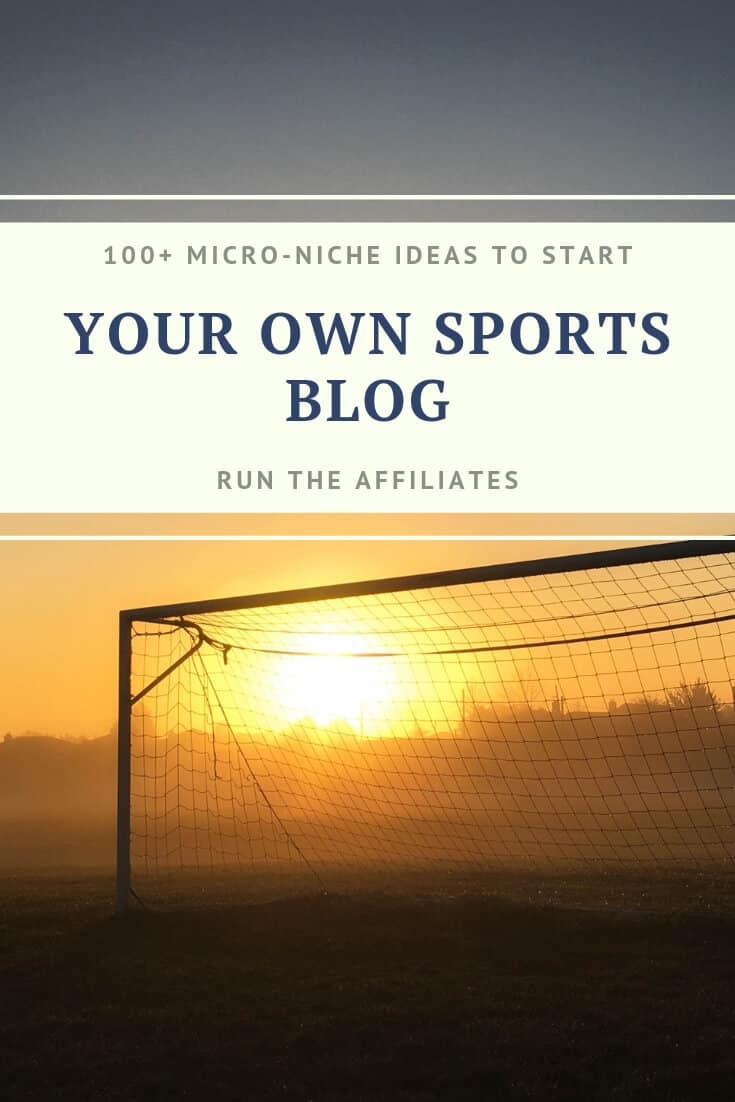 A Look At Sports Micro-Niches
---

Archery
We begin out sub-niche ideas with Archery. This niche is a little outside the mainstream in terms of sports audiences. However, there is more than enough interest and traffic to support this sports niche year-round. There are quite a few places you can take an archery site.
Micro-Niche Ideas For Archery
Target Archery
Competitive Archery
Bow and Equipment Reviews
Bow Saftey
Bow Hunting
Youth Archery
Vintage Archey Blog
Specific Bow Types – Composite, Longbow, etc.
Trick Shots
DIY Crafting Your Own Bows And Arrows
Numerous micro-niches are extremely viable to make a great income. And competition is going to be a little less than the more mainstream sports niches.
Sticking with one micro-niche is ok, but combining a couple of them is really going to give you the content you need to really excel with this niche.
---

Baseball
America's pastime. One of Americas most beloved and oldest professional sports. The possibilities with this sports sub-niche are limitless. There are great interest and traffic for this sport year-round but it really picks up during the season and especially during the MLB playoffs.
Micro Niche Ideas For Baseball
Youth Baseball Skills and Drills
Baseball Coaching Techniques
Blog About Baseball Gloves and Their Histories
General MLB Blog
Pitching Drills And How To Throw Certain Pitches
Blog About The Catcher Position
Hitting and Fielding
Blog About Localized Pro Baseball Leagues
Equipment and Apparel Reviews
Baseball History Blog
I am going to cap it at 10 micro-niches just because it would take up the rest of this article. There are so many little micro-niches that you can start in and really make a great income with some good content and a little bit of time. Even among the micro-niches, you can break it down further. A blog about the Cubs and their history might be a great idea for a blog for example.
---

Basketball
Another one of the four major American sports. While the NBA doesn't have the history of Major League Baseball it has certainly caught up to it in terms of popularity. The basketball niche is seen as one of the coolest and most relevant sports in the US and they are expanding overseas more than any other American Sport.
This gives your basketball blog a potential worldwide reach that many of the other sports can rival.
Micro-Niche Ideas For Basketball
A General NBA Blog
Basketball Sneakers Blog
Throwback Jersey Blog
Basketball Drills
Shooting Drills Blog
Basketball Coaching Blog
Favorite Team Blog
College Basketball Blog
NBA History Blog
Blog About How TO Play Each Position On The Floor
So many really great possibilities for starting your own basketball blog. And monetizing it won't be a problem there are dozens of partner programs for this niche that you can draw from.
---

Boxing
The sweet science has taken a hit in recent years. Falling behind MMA and other combat sports in popularity. But that doesn't mean there is no market for it. In fact, now might be the perfect time to get your boxing blog started. The competition is lower and the popularity is just starting to rise again.
Micro-Niche Ideas For Boxing
Boxing History Blog
Favorite Fighter Blog
Specific Weight Class Blog
Up and coming Fighters Blog
Boxing Coaching Blog
How To Train Like A Boxer Blog
Boxing Equipment News And Reviews
Fight Reviews
Greatest Fighters Blog
Boxing Techniques Blog
There is no shortage of possibilities for building a fun and profitable boxing blog. The interest is there you just have to create some great compelling content and you will find your audience in no time. Check out our list of Boxing Affiliate programs.
One last thing to note is that this is a great niche to use on youtube. If you can create videos of your teaching and training and having a look at the sport to complement your written blog you can really create something special.
---

Cycling
Cycling and biking is a huge niche. There are so many different aspects that you could choose to pursue. From professional racing of all types. Endurance, Speed, Extreme, etc. to just regular leisurely biking trips. Everything is fair game and you can draw from many of the same partners for all the cycling micro-niches
Micro-Niche Ideas For Cycling
Professional Cycling Tour Blogs
History of Cycling
Tour De France Blog
Stationary Cycling and Fitness
Bicycle Repair Blog
Extreme Sports Biking
Build/Customize Your Own Bikes
Mountain Biking
Speed Cycling
Bicycle, Cycling Gear, and Apparel Trends and Reviews
The important thing here is to stay focused on your micro-niche and very closely related niches. Trying to have a little something for everyone is probably not a great idea even within the cycling niche. People interested in mountain biking are probably not the same people who are fans of The Tour de France. There will be some cross over but try and stay in your lane as it were.
---

E-sports
This micro-niche could fall under both the video game and sports niches. But I decided to stick it in here. There are quite a few micro-niches that you could go to within the E-sports niche. The real issue here is that it is still very new and some of the micro-niches might not be around in the near future.
Micro-Niche Ideas For E-Sports
Focus On A Single Genre
Focus On A Specific League
Fan Blog Of Your Favorite Team
Training And Practice Blog
Tips And Tricks For A Popular Game
Analyze Gameplay On Youtube
This is one of the few sub-niches where I would recommend a broader approach to your content creation even if you are just starting out. This niche is still in its infancy and you want to protect your self from fads as much as possible. Find some great e-sports affiliates in our article.
With that said, this is a visual niche. Publishing a good amount of your content on Twitch or Youtube is going to be a necessity to really excel at this sporting niche. For a more in-depth look at the eSports Niche check out our article here.
---

Football
The most popular sport in America. Whether it is the professional game or the beloved college football game there is seemingly no stopping this juggernaut anytime soon. Some have predicted the downfall of football for years now but it keeps on keeping on. And there is no shortage of the type of micro-niches you can enter to start your blog.
Micro-Niche Ideas For Football
QB Training
Football Coaching Blog
Favorite NFL Team Blog
History Of Football
Football Helmets Blog
Best Football Equipment Guides
Football Snack Helmets Guide – Yes really
Football Jerseys
College Football Blog
Position Specific Blog
The key here is to pick something you are going to enjoy writing about and that can generate enough interesting content. Why would anyone check out your articles about the history of the football helmet? You would be surprised at just how interested a lot of people are about that stuff.
But don't stop there, expand into the history of the football, the goalposts and on and on. As long as the content is good and interesting people will come to read about it.
---

Golf
The funny thing about golf is that one day you might be pretty good at it the next you look like you have never played a round of golf before. There are a lot of people out there that are in the same boat and looking for some helpful information. Why can't you be the one to help. If you play golf frequently write about what works for you.
You can also start a blog of a more observational type. Building great content around golf equipment or professional tours and players. Good interesting content knows no bounds.
Micro-Niche Ideas For Golf
Swing Coach
Golf Balls
Golf Shoes
Rate And Review Golf Clubs
Blog About the Courses Near You
PGA Tour Blog – Men, Women, Senior
Golf Apparel
Golf Headwear
How To Beat The Yips
Putting Training And Tips
You need to love the game to write about it. You don't need to be a scratch golfer to start your own blog about golf. In fact, your readers might be able to relate to you even better if they know that you have the same struggles on a golf course that they do.
Write some content on how you got better a putting. Or drives or how you deal with the wind. It is all valid and helpful and your readers will thank you for it.
---

Hockey
Hockey at the youth level has never been more popular. Not just in the US but in many countries around the world. This might be the right time to build your blog around teaching the game or the history of the game to the next generation of players. Or focus on equipment and find the best hockey sticks for your readers. Lot's of Possibilities.
Micro-Niche Ideas For Hockey
Hockey Sticks
Hockey Skates
Goalie Equipment
How To Play Goalie
Stickhandling
NHL Fan Blog
Favorite Team Blog
History of Hockey Blog
All-Time Greats
Youth Training and Coaching
Hockey is another sport that often gets overlooked nationwide in the U.S. But it is very much on the rise and the passionate fans are what is causing their local teams to thrive. You can tap into this passion with some great content based around just about any micro-niche in the sport.
---

MMA
MMA is still growing in popularity. Even though its meteoric rise has slowed a little bit in recent years there is still a huge amount of interest. But the competition is very tough for this niche so you will need to find a micro-niche to maximize this niche.
Micro-Niche Ideas For MMA
Blog About a Specific Fighting Styles
Rate And Review MMA Gloves
Favorite Fighter Blog
Train Like An MMA Fighter
History of A Fighting Style
Blog About A Specific Weight Class
UFC Specific Blog
Safety Blog For Fighters
MMA Coaching Blog
Pick Specific MMA Training Equipment To Write About
For example, you can start a blog looking at MMA gloves. That's your starting point. But you can scale your blog by adding in a piece of training equipment. Just one. Write as much as you can about it then pick another one and do the same. Before you know it you have a ton of content across the entire MMA niche.
---

Soccer/Association Football
The worlds most popular sport. And it is not even close. The fans of each team and each country are so passionate that it sometimes spills over in remarkable and sometimes frightening ways. But you can harness that passion and build a fantastic living for yourself in a variety of ways with this outstanding sports sub-niche.
Micro-Niche Ideas For Soccer
Favorite Team Blog
Favorite League Blog
Youth Players Blog
Youth Training Blog
Soccer Coaching Blog
Soccer Balls
Blog About Soccer Kits and Thier Histories
Soccer History Blog
World Cup Specific Blog
Legends of the Game Blog
Just about every professional team has their own fan channel on Youtube or a fan blog. But there is still plenty of room to expand. Or you can simply forgo the fan channel route and write about the history of the game. Go back and watch old footage and write articles about the tactics and brilliance from by-gone eras. The game of football is so old and so renown that there is no limit to what you can write about and build into your own profitable business..
---

Tennis
Tennis is an interesting sport to blog about. Not only do you have your standard training type blogs and your fan and professional tour blog. You also have your weekend hitter blogs. Many communities have their own mini-leagues so the number of people looking for tennis information and tips goes well beyond your typical sports fan.
Micro-Niche Ideas For Tennis
A Tennis Racket Blog
History Of Tennis
Tennis Apparel
Best Head ware For Tennis
History Of Each Major Tournament
Tennis Fitness
Casual Tennis Tips For Weekend Players
Tennis Coaching
Start With a Specific Tennis Discipline – Backhands, Serving ETC.
Blog About Your Favorite Players
Writing about the evolution of tennis rackets would probably give you enough content for years to come. But you can expand from there. Write about court surfaces and how each one plays, or how the balls have changed through time. Or simply start writing a blog based around tennis fashion. so many possibilities so little time.
---
Wrapping Up Sports Niches
Over 100 micro-niche ideas to get you started on your new sports blog. But these are by no means the only ones that you can turn into a profitable business. There are literally thousands of micro-niche ideas to choose from and to discover.
It all depends on just how far you want to drill down into any given niche. Anything can draw traffic and if you can get the traffic you can monetize it in one way or another.
The toughest part about building your own blog is having patience.  You won't make any real money your first 6 months most likely.  a little bit maybe, but not the full-time income that you are looking for.  That takes time, patience and a lot of good content and hard work.
Don't go it alone. Get the best learning tools and community to help you build your online dream. Check it out here.
---
Thanks for visiting and as always have a wonderful day.