This article may contain *affiliate links. Please see our affiliate disclosure for more details
It's all about the kids. Well, specifically kids clothes for this article. These partner programs don't really fall into any one niche or micro-niche.
Any of these kids clothing affiliate programs could be used in a variety of ways. A parenting blog could make great use of them, or a fashion blog that wants to expand into a different area of clothing.
The versatility is one of the strongest points of these partner programs. Most new bloggers, in any niche, tend to focus on Amazon and Amazon alone.
For children's clothing, you are going to get around a 4% commission from Amazon. You can do better. But keep in mind that number and use it as a baseline for comparing any new affiliate program you come across, including the ones in this list.
Children's clothing stores seem to be declining. The physical buildings at least. The overall health of this industry is as strong as ever. People are just not going to the mall to buy their kid's clothes anymore.
They are buying them online. And that works out great for an online marketer like yourself.
So here it is.
There Is Just Something About Owning Your Own Business. Being Your Own Boss. Building Something From The Ground Up With Your Own Hands. Especially When It Is This Easy To Get Started.
---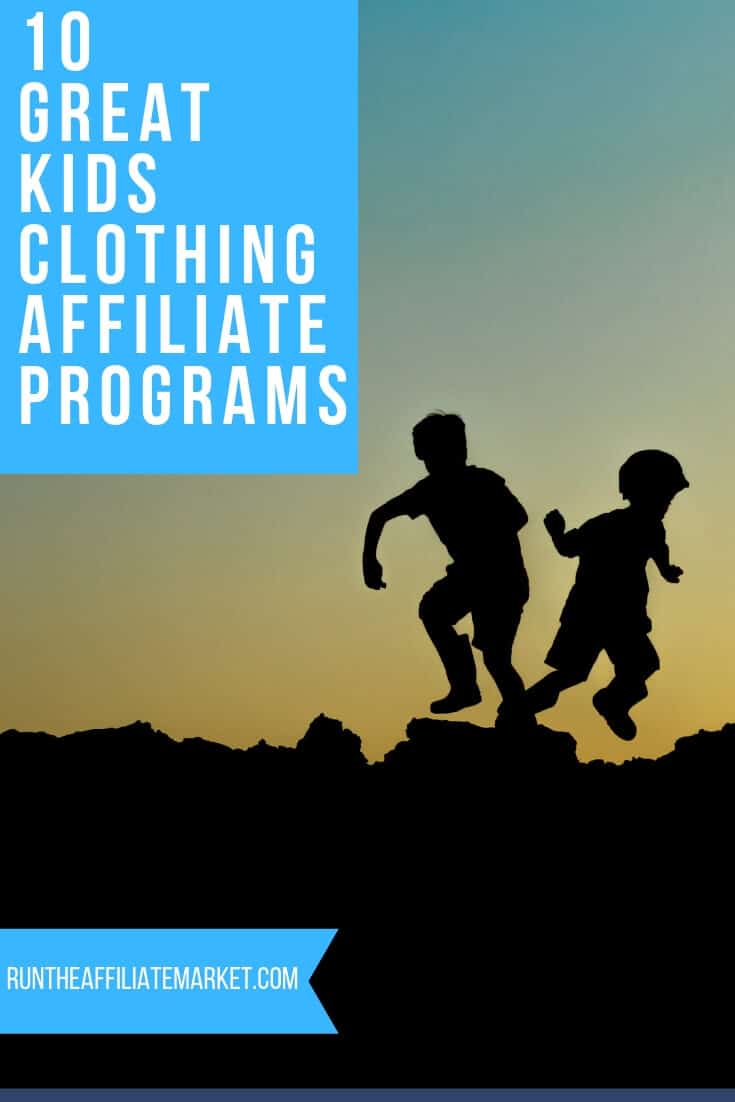 Quick Look at The Kids Clothing Affiliate Programs
---
Tara Lynn's Boutique Affiliate Program

Tara Lynn's Boutique Has a wide variety of children's accessories and clothes including bow ties, suspenders, necklaces, belts, and dresses.
This program also contains a ton of clothing for maternity and nursing as well as clothing outfits for some adults. the major focus is for the children's clothes which it does have a decent supply of.
For this list, the main products from Tara Lynn's Boutique are really accessories although they do have a small amount of clothing for children is really an affiliate program that is complementary to your major one.
The affiliate turns for this program are outstanding Tara Lynn's Boutique offers its affiliate Partners a 15% Commission on all qualifying sales.
This is a full four times what you would expect to get from the Amazon Associates program. tracking cookies also outstanding you get a full 30 days to make your sound and still receive a commission.
The Tara Lynn Boutique affiliate program is pretty good all the way around I have a good selection of products their tracking cookie is very very good.
The commission is outstanding. While their stock isn't robust enough to be a primary affiliate they make a great secondary affiliate for a wide variety of blogs and both the fashion and parenting niche.
---
Finn and Emma Affiliate Program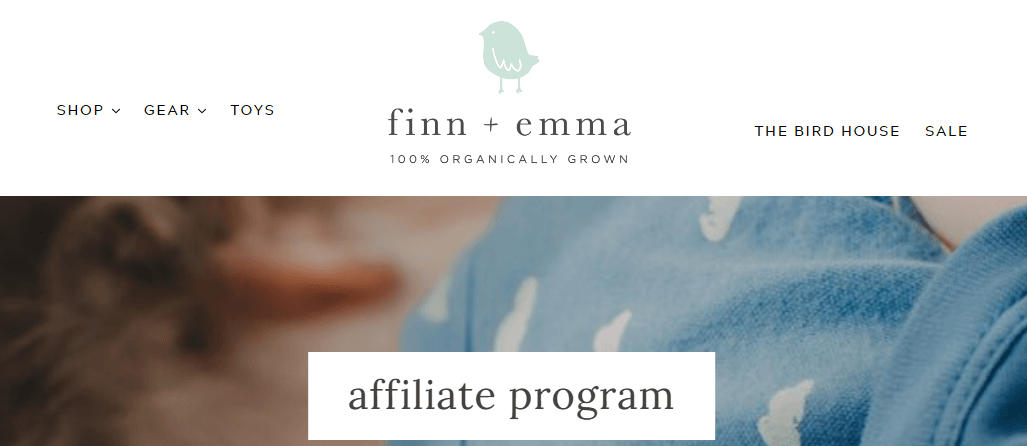 Finn and Emma offer a wide variety of children's clothing for toddlers and young children. All of their products are made with organically grown Materials. They offer clothing for girls And boys and a good selection of items that are gender-neutral.
They offer tons of clothing including rompers, jumpsuits, long bodysuits, t-shirts, bibs and more.
Given the wide variety and selection of their clothing products, Finn and Emma could easily be your primary affiliate program for a children's clothing blog a fashion blog or even a parenting blog if you have a section on children's clothes.
We had in that organically-grown materials this becomes a very very appealing partner program to use.
The Finn and Emma affiliate program offers a very good 10% Commission on all qualifying sales for their affiliates. Anything approaching double digits is great for this Niche, especially for clothing suppliers.
The cookie for this partner program is also outstanding. You get a full 90-days to complete your sale and still get a commission. That's about three times the industry average.
Finn and Emma could easily be your primary affiliate program. Their wide array of products combined with an outstanding commission and one of the best tracking cookie durations in the entire clothing niche make this affiliate program one with very few weaknesses.
Give it a try and see if it converts for your specific audience.
---
Kidozi Affiliate Program

Kidozi brings a little diversity to this list of children's clothing partner programs. this company is focused on supplying t-shirts hoodies sweaters tank tops and other accessories for children. the big selling point is that you can personalize your own t-shirts for your kids. just about any design, you can think of you can put on a shirt.
They also offer regular pre-made t-shirts that you can buy. The real beauty of this affiliate program is that it gives your readers a chance to create their own gifts and clothing personalizing for the individual they're giving him to or buying for.
And, of course, you get a commission from that as an affiliate partner.
Speaking of the commission…
Kidozi offers one of the most competitive partner program commissions in the fashion niche. They give their affiliate partners a full 15% Commission on all qualifying sales through their affiliate links. A double-digit commission is fantastic.
A 15% commission is tough to beat for a physical product retailer. The tracking cookie isn't bad either. You get a full 30 days to make your sale and still receive a commission from Kidozi
The Kidozi affiliate program is a fantastic one. It doesn't have quite the diversity you need for it to be a primary partner program for a Children's Fashion Niche blog but as a secondary affiliate, it is outstanding.
The Great Commission and the good cookie round out what is a very good partner program. This affiliate could also be used in a wide variety of other niches including a parenting blog and a blog focused only on t-shirts. You should have no problem promoting this affiliate and hopefully, it will convert for your specific readers.
---
Goumi Kids Affiliate Program
Goumi kids is another children's clothing store that offers a wide variety of items for toddlers and very young children. The clothes are made from 100% organic materials.
This makes promoting them to environmentally conscious readers very easy. Of course, you need to know if that is part of your readership that way you can Target your message specifically to them.
The products are mainly mitts, boots, footies, and sleep sacks. They have a decent variety of each. However, their stock isn't large enough to really make this a primary partner program but it could work very well as a secondary program to fill in the gaps if your primary doesn't have these specific items.
The Affiliate terms for Goumi Kids is a mixed bag. They offer an 8% Commission on all sales. The commission itself is alright, better than Amazon at least. But it is still a little bit lower than many of the others on this list.
The cookie, however, is not great. They only offer a 10-day tracking cooking which is decent but you'd like to see it closer to 30 days.
Wrapping up the Goumi Kids affiliate program, overall it's okay. Just okay. The commission is fine. The cookie is a little bit low but they have a good selection of interesting products they could easily be promoted on a blog about children's clothing or parenting or babies clothing. This is primarily a complimentary affiliate program to use alongside some of the bigger ones.
---
La Coqueta Kids

Affiliate Program

La Coqueta Kids Is an online clothing retailer that focuses on children's clothing from Spain. The clothing they offer runs in age for children from 0 to 10 years old. So this may not be a good partner program if your blog focuses on teenagers or older children.
This company prides itself on having durable and fashionable children's clothing that can be passed down if the need arises.
They have a wide variety of products for girls and boys. They also have a selection of shoes and accessories like hats scarves belts and bows. Their selection something that really sets of affiliate partner apart from some of the others.
It is extensive I have a variety of just about everything you could want for a child's clothing store.
The affiliate terms for this partner are pretty decent. They offer standard 30-day tracking cooking which gives your readers plenty of time to make a purchase and still give you a good Commission.
The commission itself is a very decent 8%. Ideally, you want this commission to be in the double digits but 8% for clothing is actually pretty good.
La Coqueta Kids is an outstanding affiliate program. When you combine their fantastic product selection with a good cookie and a good Commission you get what could be a primary affiliate partner for your children's clothing blog.
If this converts for your specific readers you stand to do well and make a good profit on your commissions.
---
Alex and Alexa Affiliate Program

Alex and Alexa is your traditional online clothing store. baby huge selection of just about every brand and type of clothing you would need for your kids. this program could be seen as a direct rival to the Amazon Associates program because of the number of clothing products they offer.
Allison Alexa affiliate program has the capability of really being your primary affiliate partner clothing blog focused on children's clothing. They offer a wide variety of clothes for girls and boys from ages 2 to 13. they also offer shoes and some basic sporting gear forecast for kids.
Their selection really is thorough and complete.
Alex and Alexa offer their affiliate partners and 8% Commission on all sales. the tracking cookie is a full 30-day cookie. when you compare these two Amazon you see why this partner program really sets itself ahead of that one.
You are nearly double the commission rate that the Amazon offers and the cookie is 30 times the standard Amazon tracking cookie.
This partner program is a prime example of why you should look outside of Amazon for some of your affiliate needs.
If you can get this program converting at the levels of an Amazon affiliate and you were going to literally get double the commissions just on the commission percentage alone.
When you add in the 30-day cookie that adds even more potential commissions and makes this a fantastic primary affiliate for children's clothing blog.
---
Tea Collection Affiliate Program

Tea collection is another huge online store that sells a wide variety of children's clothes. I have dozens of styles for all ages engenders. the store has plenty of clothes for babies all the way up to teenagers. the products cover a wide range of clothing putting sweaters and hoodies tees and tops.
They also have a wide variety of swimwear shoes and accessories but you can promote to your readers.
The Tea Collection affiliate program offers a very good 8% commission for their affiliate partners. a tracking cookie it's also pretty good. does a full 30-day tracking cookie which gives your readers plenty of time to make their purchase.
Tea collection is another great primary affiliate program for anyone in the children's clothing niche or the parenting niche or the fashion niche in general. They have a pretty good cookie and a good Commission when combined with the great products and selection really make this one of the best partner programs on this list.
---
Svaha Affiliate Program

Svaha's products are very interesting and pretty unique for this niche. male offers your standard children's clothing hats and Hats and t-shirts pantsing the usual fare.
They do so in a way that is aimed at shattering gender stereotypes. Many of their products focus on science, technology, other areas of clothing that are traditionally male-dominated.
Instead, they are gender-neutral here, clothing for boys and girls to wear all kinds of great scientific clothing and still look good. Essentially you can be feminine and still love science which is something that's not always been popular men, clothing designers.
You'll have to see if this works with your particular audience but for most of them, this is a great partner program to have.
The affiliate terms offered by the Savannah affiliate program are pretty good. As a partner, you get a standard 30-day tracking cookie which is plenty long enough to get the sales you need from your audience.
The commission is also very good as well. They offer a full 10% commission on all qualifying sales through your affiliate links.
Svaha's unique approach to children's clothing that this partner has makes it a great option as an affiliate program. When you throw in the good tracking cooking and the outstanding commission this really becomes a very appealing partner to have for your clothing blog.
---
Holly and Beau Affiliate Program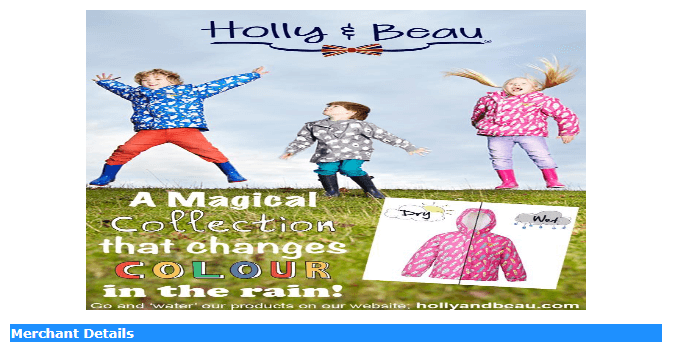 Holly and Beau is a unique store and partner program. They don't have a huge selection or a wide variety of products but they focus on rainwear and umbrellas for children. The unique thing about their products is it they change color when they get wet adding a nice little bit of fun to children's clothing.
The affiliate terms for Holly and Beau are outstanding. They offer a fantastic cookie of 60-days giving your readers more than enough time to make that purchase.
But the real star here is the sales commission. They offer a remarkable 20% Commission on all qualifying sales. You really can't expect anything more from a retail partner program that sells physical products.
This is very much a secondary affiliate program. I don't think there's enough traffic or enough interest in children's rainwear to really make a good profit on a blog focusing simply on that but as a secondary partner program, this could do very well for you especially given the great commission and the very good cookie.
---
Pop Real Affiliate Program

Pop Real is more of a standard clothing outlet and some of the other partners on this list. they don't have the biggest selection or the most variety of clothing but what they do have is very good looking clothing. Their products are also very reasonably priced so you can promote it to a wide variety if your audience and still have hopes of making a good sale.
Affiliate terms for pop real are some of the best in the entire niche. Let's start with a tracking cookie. It is a full 90-day cookie that's about three times the standard cookie.
The commission just continues the great terms for this partner. Pop Real offers its affiliate Partners a 15 to 20% Commission on all qualifying sales.
The products offered up by Pop Real are pretty good and easy to promote. But the big draw for this partner program is the outstanding cookie and the great commission percentage. Try and fit them into your affiliate strategy if at all possible.
---
The Big Finish
There you have it ten outstanding affiliate programs for your kids' clothing blog. What's really interesting is the number of programs that have at 10% or greater commission along with some really great cookie durations. This is something you don't typically see from partners with physical products.
I think this shows just how limiting Amazon can be if that's the only affiliate program that you focus on when working within this niche.
Sometimes Amazon makes the most sense but when you start to see commissions of 10%, 15%, and 20% you realize that you are just leaving money on the table if you stick solely with Amazon.
Wrapping everything up, I hope that you can find something on this list that really helps you out or at least gives you some ideas finding new affiliate programs for your current blog. So whether you're starting a brand new blog or just expanding the one that you're working on currently wish you the best of luck.
Don't go it alone. Get the best learning tools and community to help you build your online dream. Check it out here.
---
Thanks for visiting
As always have a wonderful day.