This article may contain *affiliate links. Please see our affiliate disclosure for more details
Welcome welcome. Baby products of all shapes and sizes make for a great blog opportunity. Baby product affiliate programs are at the heart of that.
The partner programs are general baby product partners. Babies fashion, baby strollers, and other really popular baby products have their own list of 10 partner programs that you can use for those specific micro niches.
So this list has products that are maybe a little different maybe a little outside the box. Things like baby monitors and high chairs and other items of that sort. But all these Affiliates are going to add some heft and profits to your niche blog.
Most of them are over double digits in their commissions and most of them have great cookies. Making them great for any affiliate marketer.
Any blog about babies or raising babies or parenting for small children are going to be very popular and very competitive.
These are Evergreen niches because people are always looking online for advice and help for raising children, especially babies.
And when you look at the revenue generated by baby products(source) you can see why this is such a popular and profitable blogging niche.
So in order to maximize your income on your baby blog you going to want to have a wide variety of interesting and useful products offered up by your affiliate partners. And the ones on this list definitely fall into that category.
There Is Just Something About Owning Your Own Business. Being Your Own Boss. Building Something From The Ground Up With Your Own Hands. Especially When It Is This Easy To Get Started.
---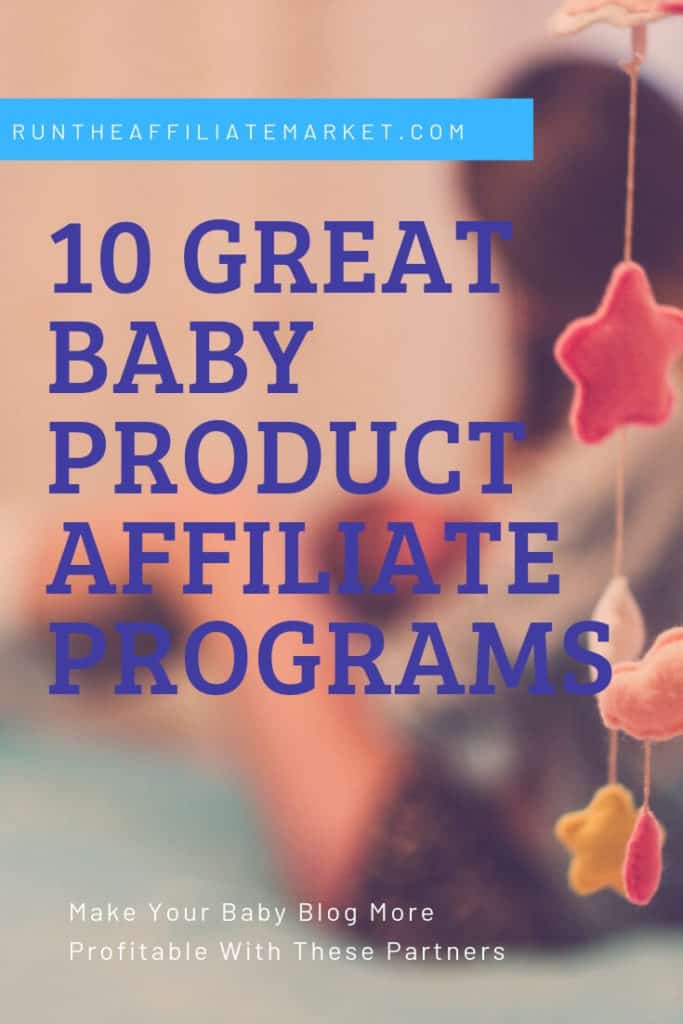 ---
I play. Affiliate Program

I play. is a very interesting online store for your baby blog. This affiliate program offer products based around Leisure and Funtime more than necessity I would say. It has all types of toys and rattles in your standard items for babies. i Play. also, have a wide variety of swimwear for babies including swim diapers.
They have a decent stock of teethers and blankets and similar products including some healthy and organic baby foods. So it's a smaller store with quite a bit of good stuff in it.
But still, a solid baby products affiliate program if you can fit it into your overall niche. What really sets it apart is they had a fantastic commission so let's take a look at that right now.
The Commission And The Cookie
The affiliate terms offered by I play are outstanding. The tracking cookie is a standard 30-day cookie. This gives you plenty of time to make the sale and receive the commission.
The commission is also very good. They offer a fantastic 18% Commission on all qualifying sales. This is going to be one of the highest commissions on this list.
A Final Word On I play.
This is an affiliate program I would really try and use if possible. If it converts. i Play. has a good amount of products that you could promote. The products are very good.
But it's really is the commission that sets this affiliate program apart. It is so high that it is going to be hard to ignore. Don't force it though, if your readers don't want it then you'll have to pass on it.
---
ErgoBaby Affiliate Program

Ergo Baby specializes in all types of baby carriers. they have a huge selection of not only the carriers themselves but also all types of accessories and baby carrier products that you need to safely move your baby around in a variety of ways. They even have a few strollers in their product inventory.
But the real draw of this partner program is their extensive baby carrier line. The products carry a lifetime guarantee so you can feel really confident about promoting them to your audience. And you can use that guarantee in the promotion to raise the conversion rate.
If your blog focuses on baby carriers and this might be a great candidate for a primary affiliate partner. But even if you're just a general baby blog or Mom blog this would be a good one to promote because their products are so good.
The 10% Commission Is Solid
Ergo Baby offers a very nice 10% Commission on all qualifying sales for their affiliate partners. Any Commission in double digits is going to be great for you and this is no exception.
The cookie was not readily available at the time of publishing. So you're going to need to ask about the tracking cookie decoration when you sign up for this affiliate partner.
A Solid Affiliate Partner
When you add everything up for this partner program it starts to look like one of the better Affiliates to have in your affiliate marketing strategy. The commission is good. The products are outstanding. There is really nothing not to like about this particular partner program.
It will come down to how well Ergo Baby resonates with your core audience. If it is popular and well-received it can be a great foundation for your baby or mom blog going forward.
---
Secrets of Tea Affiliate Program

Tea for babies and moms. That is what Secrets of Tea are selling. There is nothing else like it on this list and very few other places to get these types of products.
This could work in the baby and mom blog niche or even as part of a tea blog. The selection of teas is quite impressive and specific to moms and babies.
These are some of the best types of partners to have for a blog. They are unique and provide products that not readily available anywhere else. You can really create some great content around these products and the entire concept of baby teas.
180-Day Tracking Cookie Stands Out
The tracking cookie offered up by Secrets of Tea is one of the best in this entire niche. they offer a full 180 days tracking cooking the gives you more than enough time to make your sale and receive your commission.
The commission itself it's pretty nice as well. Secrets Of Tea offers a 10% commission for their affiliate partners.
This is a really interesting partner to have for a baby blog. Their products are very unique and interesting. They have one of the best cookies in the baby blog niche and a good commission.
Secrets of Tea Is A Unique Baby Product Affiliate Program
But it is the unique teas for moms and babies that set this partner program apart from anything else on this list. You could also use it as a tea affiliate program as well.
You'll have to do some interesting promotion and build an entire campaign around their tea products in order to get the most out of this affiliate. If you can get it to convert for your audience you will have one of the most unique partners for this entire niche and one well worth looking into.
---
Dockatot Affiliate Program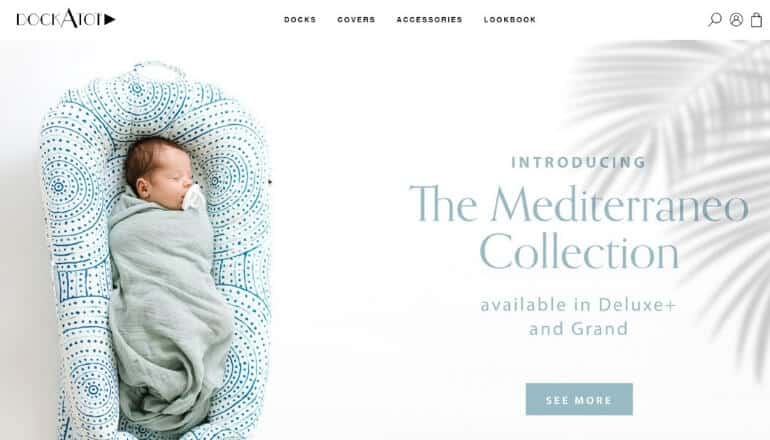 Dockatot Makes a wide variety of docks and covers for infants. These are essentially little beds that you place your infant in for comfort and for moving them around in comfort and style.
These are extremely stylish and high-end products. Some of the docks themselves sell for close to $200 and the covers run a hundred plus as well.
This affiliate could be considered a seller of high-ticket items. They're built for comfort but also to be very stylish and attractive to look at.
Dockatot Pride itself on retaining this balance between looks and functionality. They also sell some toys and accessories, repair parts,  and some other products but the main item is their great infant docks.
The Dockatot Commission Is Good
Dockatot Offers a pretty standard 30-day tracking cookie. This is basically the industry-standard of this point so not too bad.
The commission is pretty good as well they offer a nice double-digit Commission of 10%. It's starting to become a trend in this niche a lot of double-digit commissions, which is always nice to see.
There's a lot to like about this particular affiliate partner. They offer good cookie a very good commission.
Why Promote DockaTot?   
But it is their products that really stand out as the main selling point for this partner program. They have great products and they are very pricey. I would consider them to be high ticket items that can really generate some great income and commissions.
If you can get this affiliate program to convert for you it can be a cornerstone of your partner program strategy they can bring in a good additional income for your baby blog.

---
Lovevery Affiliate Program

This is another unique affiliate program for baby products. They offer subscription service for a toy box that comes each month with age-appropriate items for your baby.
There isn't really a whole lot else out there that works like this. they offer to types of subscription boxes depending on the age of the child. And within each subscription box, there are few different options that you can choose.
The Flat Fee Commission
The only real downside that I can see if this is that there's a flat fee for each sale. Flat fees mean you only get the commission for the subscription and its not recurring. It is ok but a recurring percentage commission is usually better for subscription services.
Lovevery Continue the trend of 30-day tracking cookies. While it may be the standard duration it's always nice to see one at this length.
Because recently I've started to see tracking cookies with a lot less duration. s for the commission from this partner they are going with a flat fee instead of a percentage. You get $8 per sale from Lovevery.
Why Promote Lovevery?
The flat fee is pretty good and the tracking cookie is decent as well. They only have 2 products and both are subscription type boxes. Give them a try if you need a toy subscription box for your mom or baby blog.
---
Boba Affiliate Program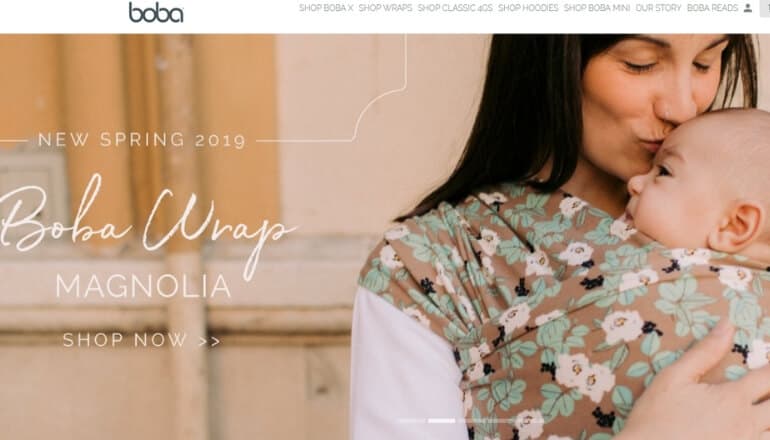 Boba is another very unique partner to have for a baby blog. They have a huge selection of baby wraps that you use to carry your baby around with you. If you have a child then you probably know exactly what these products are but if you don't they might take some explaining.
Keep that in mind when you go to promote their products. You have to assume that at least some of your audience has no idea what these baby wraps are or why they are so popular. This is going to provide you with some great content while explaining them.
Boba Has A 12% Commission
Boba offers a very very good 12% commission for all qualifying sales from their affiliate partners. While we've seen a bunch of double-digit commissions on this list they're only a couple that actually exceeds 10% and this is one of them.
The tracking cookie is a 30 days standard tracking cooking. This duration seems to be the most popular for this particular niche. The commission is good enough to really make this partner program very appealing. The cookie is fine as well.
Another Great Baby Product Affiliate Program
The products are outstanding and very well built, making it easy to promote them with confidence. Overall, this is one of the best partner programs on this list. Definitely worth a look for any blogger in the baby or parenting niche.
---
Baby Doppler Affiliate Program

Baby Doppler only has a few products but they tend to be on the more technical side of baby gear. They offer some interesting products like baby monitors with heartbeat detection, baby scales, and a few other similar items.
This is not a primary affiliate program but a nice one to have if you need to generate some content on one of their products and have a place to send you readers to purchase it.
The Baby Doppler Cookie And commission Are Solid
Baby Doppler, again, offers the standard 30-day tracking cooking. the commission is pretty standard for this affiliate niches well as I've gone with a 10% Commission for their affiliate partners.
It may seem like 10% is the standard if this is one of the first affiliate lists you've seen But 10% is actually very good for physical products and it's very nice to see it this prolific in any given niche.
Why Promote Baby Doppler?
A good commission and a decent cookie are just the beginning of what makes this partner program so appealing.
When you add the unique and interesting products into the mix you get a very good partner program for your niche blog. The only issue is that the appeal might be a little limited for their products.
---
Bloom Baby Affiliate Program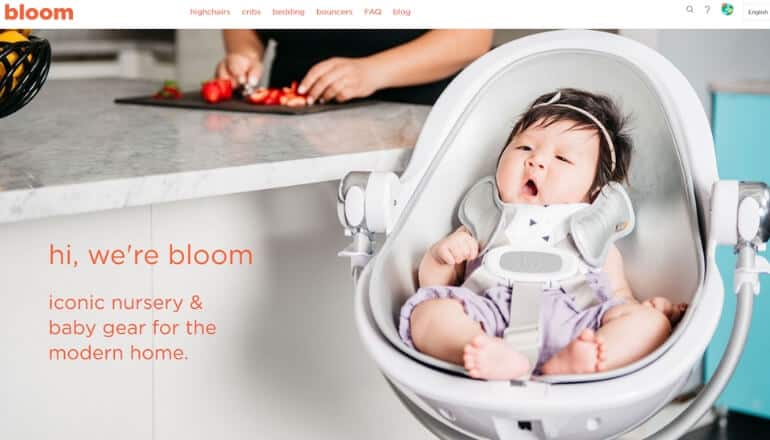 Bloom Baby sets itself apart from many other baby product retailers by providing its customers with some very unique and modern styled baby products.
The have high-chairs and cribs and bedding that have a distinctive and modern look about them. The styling and quality of their products are going to make it very easy to promote on your baby blog and will probably help generate a good deal of content to boot.
The Bloom Baby Commission
Affiliate terms for Bloom Baby are going to look very familiar to a lot of the other programs on this list. They offer a 30-day tracking cooking and the now very common for this list 10% commission for their affiliate partners.
The cookie and commission are basically the same as a lot of other partners in this list. However, the products offered by Bloom Baby are enough to drive some interest in this affiliate.
Final Word On Bloom Baby
The great products and content you can generate from promoting their products should be enough to convince you to use this partner. Even if it is only as a secondary affiliate program.
---
Nanit Affiliate Program

Nanit is a bit of a departure from just about everything else on this list. They offer a full baby monitoring service based around their Nanit Plus product. This system includes a camera and mounting options to keep tabs on your baby when you are not in the room.
The idea behind the system is to allow your baby to sleep better by monitoring them while they are in their crib.
The HD camera can let you see if your baby is in a dangerous position or just to monitor their sleep. The audio also allows you to monitor the baby even with the camera off. The system runs around 300 dollars, so you can consider this a high ticket affiliate program.
The Nanit Commission
It may be starting to look a lot like deja vu here.  Nanit offers extended 30-day tracking cookie and what can be considered for this niche anyway a standard 10% commission for all qualifying sales. There's just no getting away from it 10%, 30 days it seems to be the baseline for this niche.
Wrapping Up Nanit
A good commission and cookie and a good product make this a very intriguing prospect for an affiliate partner. The price also makes this partner more appealing as their sole product is a high-ticket item.
---
Summer Infant Affiliate Program

Summer Infant is an online retailer of a wide variety of baby products. They have strollers, baby monitors, and much more to offer an affiliate partner. This is a pretty standard retailer for baby products.
They don't have a huge selection which is really their only negative. But what they do have is good quality and their affiliate terms are pretty good.
A 7% Commission
Yet another standard 30-day tracking cookie for this partner. But they have decided to mix it up a little bit and only offer a 7% commission for their affiliate Partners.
It may seem like this would never make anybody's list with the little commission but always remember conversions are as important as the commission number.
Why Promote Summer Infant?
So if you like these products and more importantly your readers like these products and you should really give it a run as I'm one of your affiliate programs to promote. The commission is decent and the cookie is pretty good. They have a good selection of products to promote.
The downside is they have a smaller selection and nothing that really stands out as unique. They fall into the same basic category as Amazon but without the overwhelming product selection.
Give them a look and see if you can get them to convert and you will be rewarded with a decent commission potential.
---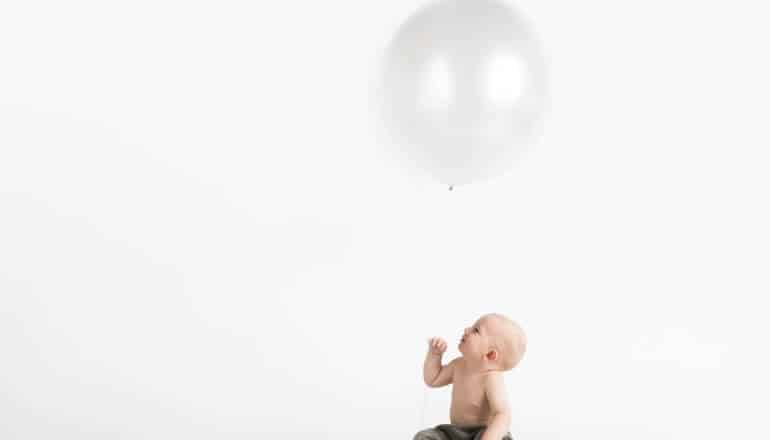 The Big Finish
There you have it 10 great affiliate programs for a Blog in the baby or Mom niches. These partner programs are a little bit outside the box and focus more on just general or more obscure baby products rather than focusing in on one individual thing like baby clothing or strollers or cribs or something along those lines
But these partner programs are something different to add to your affiliate strategy. You always want to try and cover as many different types of products as you can with your affiliate programs without having hundreds of different partners that you have to keep track of.
So if you can add one or two of these Partners from the list into your Affiliates table you're going to add to the number of people you can reach with your product promotions.
Hopefully, you find something here that useful and that can help take your blog to new heights.
Don't go it alone. Get the best learning tools and community to help you build your online dream. Check it out here.
---
Thanks for visiting and as always have a great day.