This article may contain *affiliate links. Please see our affiliate disclosure for more details
Water is the most popular beverage on the planet. The second most popular? You guessed it Tea. The popularity of Tea around the world makes it one of the most lucrative evergreen blogging niches on the planet. Green Tea, Black Tea, White, and Oolong. They all have their places in the tea blog. And one of them could be the focus of a micro-niche for a new blogger.
For some other great micro-niche ideas, check out my article here, it covers a wide range of niches. Add to that the thousands of herbal, bark, seed, and root teas and you have enough content to fill a few volumes of an encyclopedia. Here is a good example of a newer blog in the tea niche. The tea niche is simply that vast. And it is as profitable as it is large. To get the ball rolling on your tea blog here are the top ten affiliate marketing programs for this niche.
With some of these affiliate programs, you can tap into the incredible profits and growth potential of the tea niche. Focus on a couple of the best partners and generate some great content and your tea blog could skyrocket in the next year or 2.
There Is Just Something About Owning Your Own Business. Being Your Own Boss. Building Something From The Ground Up With Your Own Hands. Especially When It Is This Easy To Get Started.
---
Art of Tea Affiliate Program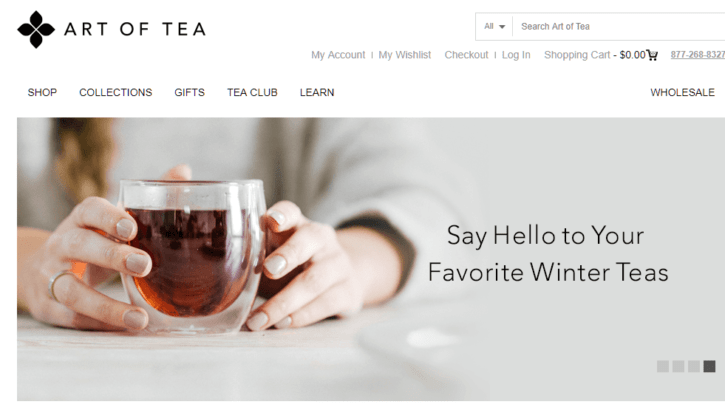 The Art of Tea is another fantastic tea storefront. They sell just about everything your tea enthusiast readers could possibly want. All the tea types are accounted for. Some decent teaware for your readers to peruse. Add to that a myriad of botanical teas, dessert teas, holiday and herbal, and rooibos teas. Another affiliate program with a fantastic selection of great teas and tea-related products. Enough to base an entire blog around this affiliate and generate tons of content for their products.
Even better is the subscription service. Yep, this affiliate program has a tea club. It rounds the whole affiliate package out nicely as the subscription options are the crown jewel of affiliate marketing as they tend to have recurring commissions attached to them.
The Cookie And The Commission
The Art of Tea Offers a very reasonable 10% commission for all affiliate sales. Any double-digit affiliate commission is always welcome and the 10% here is more than acceptable. The tracking cookie is a robust 90-days. Fully 3 times the standard cookie and is a great addition to this affiliate program.
The ShareASale Statistics look very nice as well.
A $63.31 Average Sale.
An Average commission of $11.03.
A fantastic Earnings per Click of $95.73.
Great all-around numbers for this affiliate program. The EPC is particularly high, these are the quoted numbers directly from their ShareASale profile, but it does seem a bit on the high side.
The Wrap-Up
A must-have tea affiliate program. One of the best affiliate programs in this niche. A good commission, Great Cookie, good product selection, and diversity. Another one of our absolute recommendations. The issue that is going to arise now is how much time to devote to promoting this particular affiliate program. You'll have to run some tests between this and Teavivre to see which one converts better for your audience and go from there. Don't think you can go wrong with this affiliate program. Outstanding.
---
Buddha Teas Affiliate Program
Commission: 20%
Tracking Cookie: 30-days
Auto-Approval: No

Buddha Teas is an online tea store that offers a huge variety of teas, including some very unique herbal and Chakra Teas for your readers to choose from. They also have a number of flower teas, bark teas, seed teas, and root teas. This affiliate program is one of the most diverse in the Tea niche.
They have numerous regular teas as well, Green, black, and matcha teas are all well represented at Buddha Teas. The overall selection is incredible. This is a wonderful affiliate for any tea niche blog. It is simply too good to pass up all the variety. The uniqueness of the teas, particularly the bark, seed, and Chakra, is a great source of content for a tea blog.
Reviewing these unique teas is only the tip of the iceberg, however. You can have a whole series of articles on the production and history of each of these uncommon tea types. The real question becomes whether or not the rest of the affiliate program can live up to their outstanding products and remarkable selection.
What About the Commission?
The Buddha Teas affiliate program offers its partners a generous 20% commission per sale. A great number for any affiliate program, especially a retail one. This makes it easy to find time to promote their unique products. The Tracking cookie is a standard 30-days.
Overall this is a great affiliate to have. There are enough teas and products to really base your entire blog around this one affiliate partner. It is that good. The unique teas are a gold mine for content and a blogger can really promote them with confidence.
The commission is great. The only real downside is the average cookie length, but even that is not much of an issue. An all-around great affiliate partner to have and one of the best programs in the entire tea niche.
---
TeaDaw Affiliate Program
Commission: 8%
Tracking Cookie: 30-days
Auto-Approval: No
Join TeaDaw Affiliate Program(*Currently Inactive)
Teadaw is a Chinese tea company focusing on organic Chinese tea, tea sets, and tea-related gifts and cultural items designed for tea enthusiasts. They have a great section of single-origin rare teas that you can promote to your audience.
The collection of teas at Teadaw is remarkably interesting. Some of the most interesting teas include Chrysanthemum Tea and Flower Tea along with a good selection of White, Green, Black, and Oolong teas. Both bagged and loose-leaf teas. Teadaw also has a selection of teaware. Infusers, mugs and porcelain tea sets are among the standouts.
Overall, the selection is not as wide as some of the other affiliate programs on this list but the uniqueness and diversity make up for it somewhat. Still, there are probably not enough products to focus solely on this affiliate for a tea blog. This would be a great supplemental affiliate partner and could generate some additional content for your blog. The Teadaw Affiliate Partner Program is a part of the ShareASale Affiliate Network.
Teadaw Affiliate program offers a very nice 8% commission. Their products are decent but they do not make up for the low commission. A standard 30-day cookie is all that is on offer from Teadaw.
---
Vahdam Teas Affiliate Program
Commission: 12%
Tracking Cookie: 15-days
Auto-Approval: No

Vahdam Teas is an Indian Tea company that specializes in fresh packaged tea that all comes from the foothills of the Himalayan mountains. Their philosophy is to grow tea without taking advantage of the local farmers and giving back to the farming communities.
They do this by treating the farmers and the tea itself ethically and honestly. The tea is shipped directly from their farms to your door. Essentially cutting out the middle-man in order to bring your readers the freshest cup of tea possible.
Vahdam has a very novel approach to tea production. Vahdams attention to detail and care about their farmers and the environment where they grow the tea is a great asset for an affiliate marketer in addition to being just good business practices.
And you can do so with a clear conscience because Vahdam is legitimately concerned with the perception of their products. Basically, you will never be in a situation where you are misled by the affiliate program and then you, in turn, mislead your audience by passing along the bad information.
That won't happen with Vahdam because their farmers and the environment are a priority. The earnings from the sale of Vahdams Tea stay in the region where it is grown to better the lives of the people actually growing the tea. It is a wonderful business plan and one that any tea blogger would be proud to support and promote. Vahdam Teas is part of the ShareASale Affiliate Network.
What is the Commission?
Vahdam Teas offers its affiliate partners a 12% commission on all qualifying sales. A very nice commission for a tea affiliate partner. Still, it is nice to see double-digit commissions so there is really nothing to complain about here. The tracking cookie is only 15-days. This is a little too short, especially for a niche market like tea. A 30-day cookie would have been much better and 30-days is far from ideal.
The underlying numbers for Vahdams Affiliate Program look pretty nice as well.
The Vahdam affiliate program has a $71 Average Sale.

A $5 Average Commission is pretty decent.

The Earnings per Click is a little low at $2.89 EPC
The Wrap-Up
A very good affiliate program to add to your tea blog. The tracking cookie is really the only downside but one you just have to live with. The EPC is a little low as well, so a little more effort might need to be put into conversions.
Vahdam is a socially conscious business so it will be an easy sell to your audiences if they share those values. Above all though, the tea is great. It tastes good, it is all sourced from the same region so it has a very distinct flavor. Overall it is a fine affiliate program that will help you generate a good deal on content and reviews for your blog.
---
Teavivre Affiliate Program

Teavivre is another online tea seller. They specialize in tea leaves from China. But what really sets this company apart from some of the other affiliate marketing programs for tea bloggers is the sheer size of their inventory. It is truly staggering. Every tea is well represented. They have a good stock of rare and aged teas. Including Pu-erh, Yellow Tea, Flower, Herbal, and Fruit teas.
There is bound to be something for just about any type of tea drinker. Diversity and a great selection of products are almost as important as the commission and the tracking cookie. And just to top it off Teavivre has a huge selection of teaware. Hundreds of mugs, infusers teapots, and full tea sets are available to promote and for your audience to purchase. The product side of this affiliate ticks all the boxes. Let's see if the affiliate program can live up t their wonderful product line.
What's Your Cut?
Teavivre offers an extremely competitive 12% commission for all sales through their affiliate program. When taken in conjunction with their outstanding inventory, it is almost a perfect affiliate partner. All that's left is the cookie. And Teavivre doesn't disappoint there either. An above-average 45-day tracking cookie rounds off a pretty spectacular affiliate program.
Let's have a look at the ShareASale metrics from Teavivre's profile.
An Average Sale of $56.32.

A decent Earnings per Click of $12.26 EPC.

A reasonable $3.31 Average Commission.
Everyone goes right for the commission when trying to find a new affiliate program to promote. And while it is important never neglect the selection and diversity of the products you mean to promote. They are what generate the content.
The Wrap-Up
Teavivre is one of the best tea-based affiliate marketing programs you can find. It ticks every box. Great Commission. Good Tracking Cookie. And a selection of products that is almost unrivaled. They have something for everyone and their huge selection of products can give you enough ideas to generate content for years. If you are in the tea blogging business you need to find a way to incorporate this program into your affiliate marketing strategy. You can join the Teavivre Affiliate program here.
---
Field to Cup Affiliate Program
Commission: 15%
Tracking Cookie: 30-days
Auto-Approval: No
Join Field to Cup Affiliate Program

Field to Cup is a tea store that features a variety of subscription tea boxes. They also offer a large selection of teas that can be purchased individually. Field to Cup has a wide array of teas and flavors for both their subscription and single-purchase options.
The subscription packages are the real star for this affiliate program. Anytime you have a chance to promote these types of services on your blog, there is a real case to be made for it. As an added bonus the variety offered by Field to Cup will generate a good deal of content for your blog. Field to Cup offers a nice variety of Loose Leaf Teas and Teaware to round out their offerings.
They also have Free Tea Replacement, meaning if any of your readers do not like tea in their subscription box they can replace the next month free of charge. It is a small added value service, but one that you can promote with good success on your blog. The Field To Cup Affiliate Program is a part of the ShareASale Affiliate Network.
What about the Commission?
The commission for non-subscription sales is 15%. An amazing commission. However, there is a flat fee for subscription sales. They range from $5-$15 dollars per subscription. A decent deal for an affiliate partner. The cookie is the standard 30-day tracking cookie.
A very robust $82 Average Sale

The Average commission for Field to Cup is $8.
The Earnings per Click is $46.79 EPC
The Wrap-Up
A very good affiliate program to add to a tea blog. The diversity of flavors and teas really gives a blogger some needed ideas for content. The cookie is average but not a deal-breaker. The Field to Cup commission is fairly nice at 15% for individual sales.
But the focus for promoting this affiliate should be the subscription boxes. Subscription boxes are always great to promote, but be sure to double-check with the affiliate partner and make sure the commission fees are recurring with a subscription.
---
The Tea Spot Affiliate Program

The Tea Spot is a tea seller with a health and wellness bent to it. They sell a variety of detoxes and cleanses as well as a fine selection of great teas. They offer numerous popular teas such as green, black, oolong and Rooibos or red tea.
The Tea Spot also has a tremendous selection of Teaware. From mugs and infusers to teapots and matcha whisks, this affiliate program has a little bit of everything for your blog's audience. They have quite a few tea tumbles as well just to add to the selection.
All these teas and teaware will make for a good amount of added content for your blog. Reviews of each product and articles on the teaware could generate pages of interesting content to drive traffic to your blog. That alone gives this affiliate quite a bit of value.
The centerpiece of this affiliate program, and really the thing that saves it is their subscription service. They have a monthly box for just about every tea type and every customer could find something unique and interesting for them. This should be the focus of your promotions along with the fine teaware. However. All these great products might not make up for the terrible commission. The Tea Spot is a part of the ShareASale Affiliate Network.
The Commission?
The commission offered up by the Tea Spot is 5%. It really hurts the entire program to offer such a low commission. It is lower than Amazon. Amazon can get away with it because they are Amazon. The cookie is a decent 45-day cookie. A very nice tracking cookie for this program.
The ShareASale statistics look pretty good.
The average size of a sale at The Tea Spot is $45.

This affiliate's average Commission is $4 per sale.
An Earnings per Share of $36.67 EPC
The Wrap-Up
Is this a good affiliate to have? Yes. The Tea Spot has good products and a great subscription service, an above-average tracking cookie and some good numbers on their ShareASale profile. In the end, though, it is still a good affiliate program. Probably don't want to use it as the main focus of your blog, but it is a solid second or third choice affiliate program.
---
The Whistling Kettle Affiliate Program

The Whistling Kettle Affiliate Program
Another online tea seller with a decent selection of popular teas. There is nothing really exotic from this seller. They have your black green, white and oolong. Along with some herbals and red teas. They even have a few purple teas and Pu-eh aged teas.
Their teas are of high quality and reasonably priced. But, you can find similar teas at other outlets that offer a much larger commission making this affiliate program a bit redundant. In total though they offer north of 150 teas which is a great selection. They also have a nice selection of teaware available. The one saving grace for this affiliate partner is its Tea of the Month subscription which can earn a recurring fee for the affiliate.
What's the Percentage?
The Whistling Kettle Affiliate Program offers a 7% commission. This is not ideal. But it is not terrible. A 60-day cookie somewhat makes up for the lof commission but it is simply not enough to put it as a first-tier affiliate partner.
The ShareASale metrics look ok.
A $29.38 Average Sale is reasonable.
The average commission is on the low side at $2.06.
The Earnings per Click is a decent $29.16 EPC.
The Wrap-Up
Not a Bad affiliate but the 7% commission is a bit lower 5than some of its closest competitors. Just a few more percentage points into double digits and this would be a great affiliate program to have. It's a shame really because the amount of product they sell is very good and their teas are a very high-quality product. Sign Up For The Whistling Kettle Affiliate Program here.
---
Assamica Agro Affiliate Program

Assamica Agro is a small family-run tea business. Their organic teas come from the Assam region in northeast India. They have a reasonable selection of teas from such a small producer but nothing rivaling the bigger affiliate partners.
Still, the tea is of the highest quality and they have a unique brand that could be worth promoting. Their teas will definitely generate some content in the form of reviews and by writing articles about the Assam area and its rich cultural and tea history.
In addition, they do have some wholesale options for their tea. So if some of your audience wants to start selling tea either locally or online this might be a good affiliate to promote for them.
What's The Commish?
The commission from this affiliate program is a robust 20% on all sales. A great percentage that helps to make up for their small product selection and their limited product diversity. The tracking cookie duration is the standard 30-days.
The Wrap-Up
The limited number of teas available from Assamica Agro is offset quite substantially from the outstanding 20% commission. With such a high commission it is easy to find time to promote their products. The cookie is average at 30-days but this is not a deal-breaker.
Overall this is a good affiliate to have as a back-up when you need some content to promote or when you just need a new affiliate partner to freshen things up. Not a first-tier affiliate program but a solid secondary one. You always need to have a few of these in your back pocket.
---
Tao Tea Leaf Affiliate Program

Tao Tea Leaf is another fine affiliate program for a tea blogger to look into. It has a wide range of teas from China. All of the types are accounted for with this company. Yerba Mate, Herbal and Rooibos are all available. They also have your traditional tea types as you would expect.
There is also a wonderful selection of teawares, including some cast iron and glass teapots which look absolutely gorgeous. Promoting these items should be a breeze just based on how good they look. The big selling point for this affiliate is their aged teas. They have quite a large selection of them.
Some of these Pu-er teas are aged for over a decade. Aged teas are definitely a niche product but when you find good ones to promote there always seems to be an audience for them. Educating your audience on these types of aged teas is a great way to generate some content that will help drive sales once your readers learn exactly what aged teas like Pu-er are all about.
How Much Do You Get?
Tao Tea Leaf offers a pretty nice 10% commission for its affiliates. A good number for this affiliate. Of course, we would like to see it a bit higher but this will do. Especially given the number of interesting products this affiliate program has. The cookie looks to be 30-days.
The Wrap-Up
A very nice secondary affiliate program to have. The aged tea will be able to generate a good deal of content and reviews, making this affiliate program a good one to pick up for that reason alone. The cookie is average but the commission is very nice. The product selection and diversity are pretty good as well. You can sign up for the Tao Tea Leaf Affiliate program here.
---
The Final Word
Ten more options to explode your tea blog profits. Remember the commission and tracking cookie are only part of the equation when looking at affiliate programs to add to your marketing strategy. The content potential is often overlooked. A new affiliate program that has a large amount of unique and interesting products can generate enough content and reviews for months to come.
So even if the metrics aren't as good as some other programs it would be wise to dig into them anyway to see if they can generate traffic with some good content ideas. If you can find an affiliate partner with great unique products and an awesome commission and cookie then you are in for a real treat. They are often few and far between but make sure you have a good plan and great content to promote them once you find one of these gems.
Don't go it alone. Get the best learning tools and community to help you build your online dream. Check it out here.
Don't go it alone. Get the best learning tools and community to help you build your online dream. Check it out here.
Thanks for visiting and have a wonderful day
---