This article may contain *affiliate links. Please see our affiliate disclosure for more details
Few clothing sectors are bigger than sneakers. The revenue for the industry is staggering. Nike made 22 billion in revenue by itself in 2018. With that kind of cash coming in, it is no wonder that the sneaker niche is incredibly popular for bloggers.
But is there room for newcomers in this crowded and profitable niche? Of course, there is.
You just have to be clever and craft some great content. But you will also need some good affiliate programs.
Amazon is a great place to start but you can branch out and find some gems that will really push your commissions up.
So I have put together a list of 10 outstanding sneaker affiliate programs. Each one has its own reason for being on the list. Sometimes it is more than just a great commission.
After you check out the great the affiliate programs, be sure to check out our in-depth look at the sneakers niche. We'll look at some keywords and micro-niche ideas for your new sneaker blog.
Let's get into it.
There Is Just Something About Owning Your Own Business. Being Your Own Boss. Building Something From The Ground Up With Your Own Hands. Especially When It Is This Easy To Get Started.
---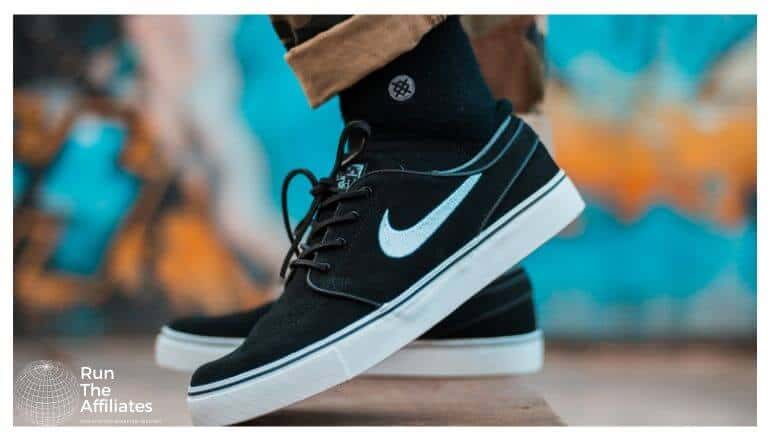 ---
SneakerDon Affiliate Program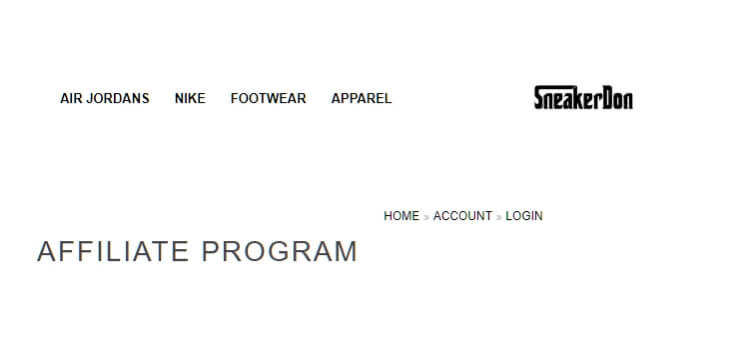 SneakerDon is a general sneaker website that has offerings from all the major sneaker brands. They have a pretty good selection of these brands but they are most focused on Air Jordans. They have tons of them.
New ones, old ones they have them all. These are collectible Jordans and they are not for the faint of heart. Some of these sneakers can cost you thousands of dollars. This is an affiliate that can provide you with some very high ticket items in the sneaker space.
The 5% commission offered up by SneakerDon might seem a little on the low side. Given the products and their cost, it is actually pretty generous. You can expect some pretty hefty commissions if you can get this partner to convert.
The tracking cookie information was not readily available. Be sure to ask when you sign up.
Why Promote SneakerDon?
Air Jordans. That is the start and the finish of why you want to promote this partner. They have all of them it seems. The commission is decent but it is the unique and rare sneakers on offer that really sets this affiliate aport from everything else in the niche.
It is not a primary affiliate but you can generate some great content with their rare and vintage sneakers. One of the best partners in the niche if you can get it to convert for you. A must-have for anyone in the vintage sneaker micro-niche.
---
Kicks USA Affiliate Program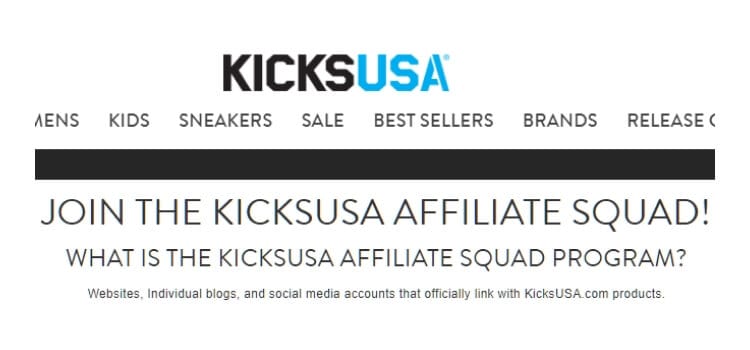 Another very good general sneaker store for you to consider. They don't have the name r3ecognition of some of the other partner on the list but they have the brands and the shoes and a huge variety to choose from.
The big draw for this partner is their commission. At 6.5% it is one of the largest on this list and one that can really rack up some great profits if your promotion is on point. A lot of the time the sneaker will sell itself you just need to persuade your reader to buy it at the best spot for you and them.
With great content, this could be the place. They also have a good cookie at 14-days.
The Wrap
A great affiliate program for this niche. They have all the gear. Good, competitive prices and one of the best commissions in the niche. The tracking cookie isn't half bad either. If it converts for your readers it can r3eally be your star partner for a sneaker blog.
---
Foot Locker Affiliate Program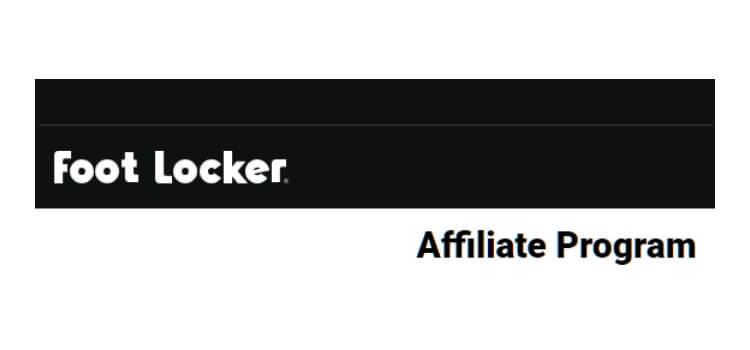 Foot Locker is one of the most recognizable names in sneakers. They seem to me at every mall in America. Their selection of sneakers in unrivaled for brick and mortar stores and they have a pretty good reputation among sneaker buyers. However, they have some of the worst partner terms I have ever seen.
A 2% commission is all you are going to get from Foot Locker. It is simply too low for a primary affiliate. The tracking cookie is not great either at only 2-days. A poor showing from such a good and reliable brand.
Why Promote Foot Locker?
So why would you promote this partner? It has terrible affiliate terms. The truth is that their commission and cookie make it impossible for you to use this as your primary sneaker partner program. They are just too low.
So why have it at all? Their product selection is the only reason, but it is an important one. They often have sneakers that are hard to find anywhere else and you will want to have them as a partner just in case. For the rest of the time keep them on the sideline though.
---
Finish Line Affiliate Program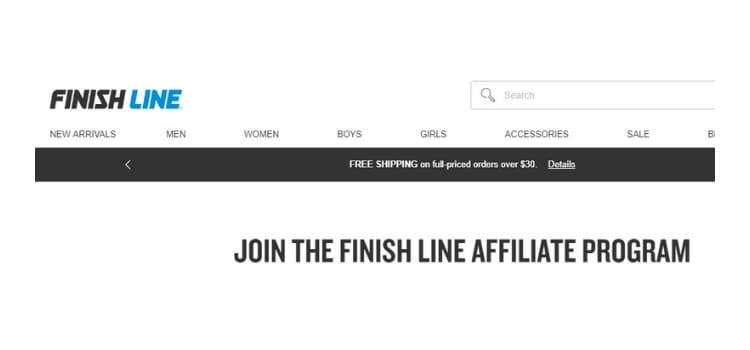 The product imprint for Finish Line is very similar to Foot Locker. They have all the brands you want. Nike, Jordan, Adidas. They are all well-represented at this store. The prices are competitive and the storefront is great.
They are a good alternative to both Amazon and Footlocker as your primary general sneaker partner program. Even though they may not be as widely recognized as those two. But their terms are much better.
Speaking of the terms. Finish line offers a 5% commission on all qualifying sales, that is more than double Footlocker. They also offer a 6-day tracking cookie, while not the best it is not bad for this niche.
Why Promote Finish Line?
Their sneaker selection and variety are right up there with anyone on this list. In terms of the big general sneaker retailers, this might be the best of the bunch. It is a great primary partner for any sneaker micro-niche
---
SneakerWorld Affiliate Program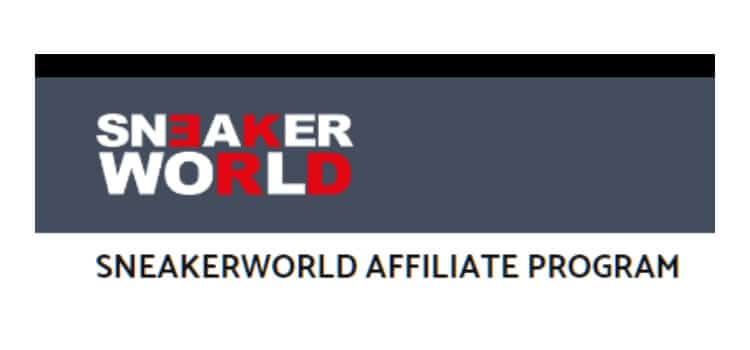 SneakerWorld has a very robust selection of sneakers from all the major brands. I don't think their stock is quite as comprehensive as Foot Locker or similar stores but they have enough variety and brands to really be considered a primary sneaker partner for your blog.
The affiliate terms are pretty good for the SneakerWorld partner program. They offer up to a 10% commission on most items. There are some exclusions, like sale items so be sure to check closely when you go to promote an item from their website.
The tracking cookie is also very good weighing in at a nice 30-days. As an added bonus they pay monthly, which is always great.
The Wrap-Up
A very good affiliate program. Thee cookie is outstanding and their commission is one of the best in the niche. Plus they have most of the major brands in stock and have competitive prices with both Amazon and the official stores of the sneaker manufacturers.
It might be worth it to make this affiliate your primary sneaker partner if you can get it converting to your satisfaction.
---
Converse Affiliate Program
Converse is an old iconic sneaker brand. Their Chuck Taylor sneakers are a big reason to pick up this affiliate by themselves. The company is owned by Nike at this point but their affiliate program is separate.
Their affiliate terms leave something to be desired. The tracking cookie is only 7-days, which is fine but not great. Their commission is a problem, however. At only 3% is it on par with Amazon but far behind some of the others on this list.
Why Promote Converse?
The only reason to pick up this partner s for the products. Their sneakers are great and iconic. But you can buy many of them elsewhere and you can get a better commission along with it. Still, this partner should be used when you need the official store and if it converts really well with your audience.
---
Fila Affiliate Program
Fila make some of the most stylish and fashionable sneakers on the market. they are more style than performance, however. and they are not known for one sport or another. They also have some pretty good apparel in their store which adds to the value of this partner program.
Fila's tracking cookie is very good at 30-days and their commission is not bad either. They offer a 5% commission on all qualifying sales. These are actually above average terms for the sneaker niche.
The Wrap-Up
Fila is a great affiliate for a more fashion-oriented sneaker blog. They don't really have the pedigree in any one sport. Maybe tennis. But nothing to the level of Nike and basketball. Still, their products are very nice and they have some pretty good affiliate terms for you to take advantage of.
---
Nike Affiliate Program
The 300lb gorilla in the sneaker niche. Nike has dominated this niche for decades and shows no signs of slowing down. Their online store has everything you would expect, however you can find most of their offerings elsewhere. And those other stores will likely have better affiliate terms.
The commission for this affiliate is very low at 3%. The cookie is not much better at 7-days. However. It is Nike and as we see on this list, most of these big sneaker companies don't really have great terms for their affiliate programs.
Why Promote Nike?
The big reason to promote Nike is that it is Nike. The official Nike store. It gives you access to some great affiliate links and banners that you can use in your promotion of their products. But you will find better terms elsewhere.
It is always a tricky proposition when trying to decide where to put your time when it comes to promoting a partner program. The interesting thing here is that you can promote Nike but use a different affiliate or you can use the official store.
Personally, I would balance the cost to your reader with the commission. If you have to eat a lower commission to give your audience the best price so be it.
---
Reebok Affiliate Program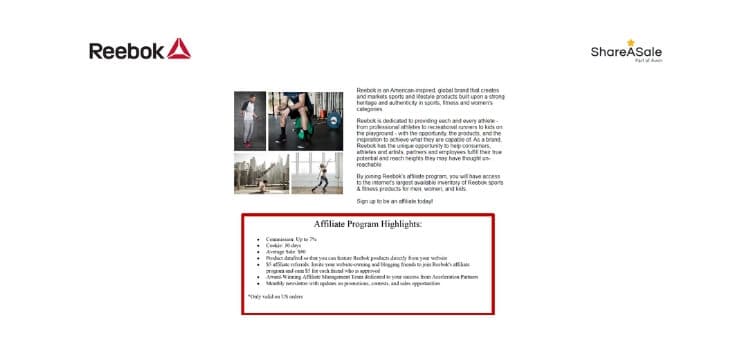 Reebok is one of the most recognizable sneaker companies in the world. They are not quite as big as Nike but are still well respected in the niche. Their store has all of their sneakers including classic sneakers and apparel. But it is their terms that make this partner so good.
Unlike many of the other large sneaker manufacturers, Reebok gives their partners a pretty good commission for their trouble. The 7% commission is one of the best in the entire niche. Their cookie is a little less spectacular. It weighs in at only 7-days. Not terrible but not great.
Why Promote Reebok?
What is not to like about this partner program. Good commission. Decent cookie and some of the best sneakers and apparel in the niche. It is a great all-around affiliate especially if your sneaker blog focuses on Reebok over other brands.
---
Puma Affiliate Program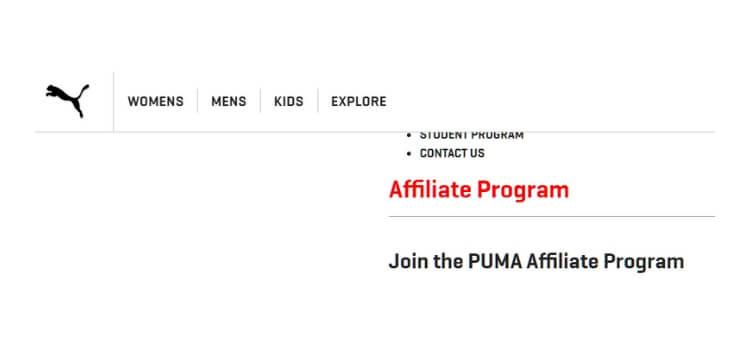 Another huge name in the world of sneakers. Even though they trail Nike and Adidas in terms of revenue their yearly income is impressive in its own right. They have a great line of soccer spikes, so this partner would work well in a soccer blog as well.
Their basketball offerings are less well know that Nike and many other brands. However, their brand loyalty is through the roof, so if you can find their fans you will have some great potential customers for your promotions.
Puma is part of the Pepperjam network. They are notoriously picky about their affiliate partners. You might have to apply a couple of times before you get accepted. And you will need to have a pretty established website before they allow you to join.
The tracking cookie for the Puma partner program is 14-days. While it is less than the standard 30-day cookie it is still not bad and actually one of the better ones in this niche. They offer a variable commission, you will need to find out the specifics when you join their program.
The Wrap-Up
A decent all-around partner program. Great products and a loyal fanbase. A decent cookie. The commissions changed depending on the source so I left it as a variable commission. A good partner to pick up for any sneaker niche, but particularly one that focuses on soccer and tennis and every day sneakers.
---
Closing Out The Sneaker Affiliate Programs
Before we move on to the niche research for sneakers, let's put the affiliate programs to rest. The commissions are not great overall for this niche. In many cases, Amazon will be your best choice for an affiliate to promote.
But all of these partners have a place in many sneaker blogs. If you are a Nike focused blog you will want to pick up their official program. Same for Reebok etc. Keep in mind that this is only 10 of the dozens of sneaker programs with more popping up all the time.
Find the ones that convert best for your audience and work with those. Great commissions are worthless if the program doesn't convert. Let's have a look at the overall niche.
---
A Look At The Sneaker Niche
As I mentioned in the intro, the sneaker industry pulls in billions every year. Always a great sign for your chosen niche to see the industry behind very healthy. The second best marker for a great niche is the passion of the potential audience.
Sneakers draw out some heated debate and passion that may look crazy to outsiders. But for the people in the middle of the storm, it is perfectly normal to defend your favorite set of kicks till you are blue in the face.
So don't worry about finding an audience. If your content is great the audience will find you. With that in mind let's look at some keywords using our Jaaxy research tool.
Keyword Research for the Sneaker Niche
As usual, we are going to take a look at the head keyword for the niche. It is just for reference purposes as it has no intent and is not a good word to try and rank for. You'll rank for it naturally just by using long-tail keywords for your content.
Let's have a look at "sneakers".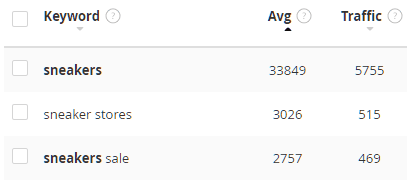 You can think of this research as more of a proof of concept for any given niche. You want to make sure there is plenty of traffic for the main keyword in the niche. Other than that it is not something you really need to worry too much about. You won't be trying to compete directly for this keyword.
So let's move on to keywords that you will want to target and try and rank for. The long-tail keywords. These make up the bulk of all searches and if you can find the right ones you can avoid most of the competition while still driving traffic right to your blog and affiliate links.
For this example, I am going to use a little variation that you can deploy in most niches. In this case, we are going to use an LSI (Latent Semantic Indexing) keyword. Instead of looking for sneakers we replace them with shoes.
Here is the example, "best outdoor basketball shoes". In many cases, you can use synonyms to find more long-tail keywords to base your content around.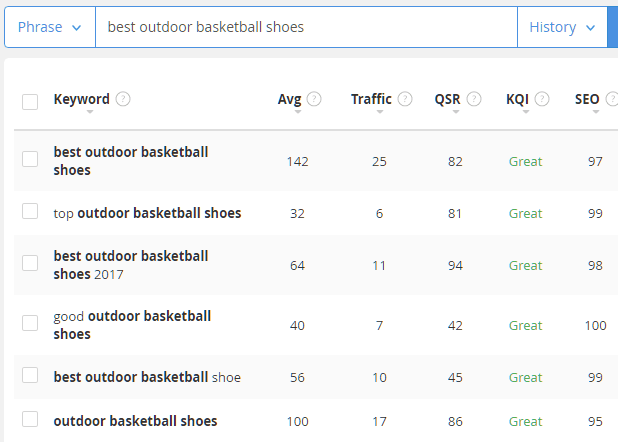 As you can see we get a bunch of variations on the targetted keyword. Including some dated keywords. Using the year is a great way to do yearly roundups and comparisons for your sneaker blog. Best of lists are another great way to incorporate the year into the keyword.
It does date the keyword however and your traffic will go down for that article as time moves on. But it is still an effective tool for getting traffic during the calendar year.
Another thing to notice is the buyer intent in a lot of these long-tail keywords. Best and Top are indicators that the searcher is looking to buy something. The downside is that a lot of times other marketers will target those types of phrases as well.
So it becomes even more important to be clever and creative with your keyword research. Find the ones that very few people are targetting. In the case of Jaaxy, anything under 100 QSR is pretty good. But each keyword tool has its own way of judging the competition.
Ok. One more example of a long-tail keyword in the sneaker niche before we move on to look at some micro-niche ideas.
In this example, I am again going to use shoes instead of sneakers. The keyword I will be targetting is "best running shoes for women with high arches".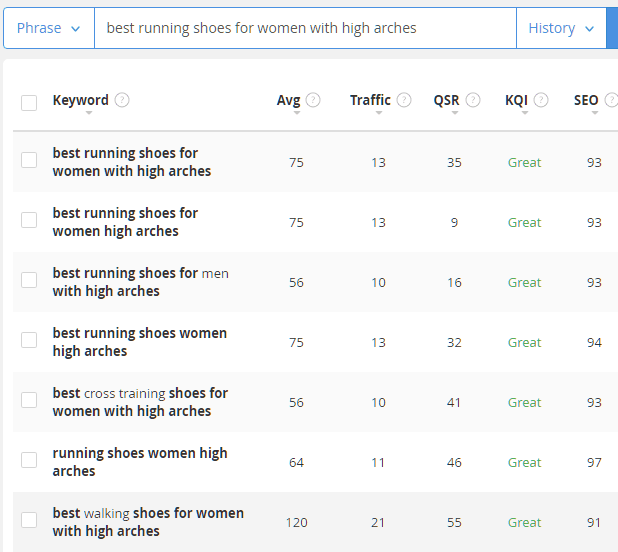 And we hit an absolute jackpot with this one. Not only is the competition and volume great for our targetted keyword but we got 2 or 3 other keywords that we can use for completely separate articles.
The targetted keyword is a gem. It has buyer intent. It addresses a problem that the searcher is trying to accommodate, high arches in this case, and the keyword itself works well for a comparative post.
The 10 Best Running Shoes For Women With High Arches.
It would make for a dynamite piece of content for a sneaker blog.
Best walking shoes women, best cross-training shoes for women. You can add a common ailment and get even more content out of it. High arches, flat feet, bunions. The possibilities are pretty much limitless.
A couple of hours of this and you can get enough keywords to last the entire year. But for now, let's move on to some micro-niche ideas for sneakers.
Micro-Niche Ideas for Sneaker Blogs
There are plenty of directions you can take with a sneaker blog. you can focus on just one manufacturer or just one sport. Or not focus on the sport aspect at all and just focus on the fashion side of sneakers. Here are 4 micro-niche ideas to get you started. There are dozens more that you could research and try.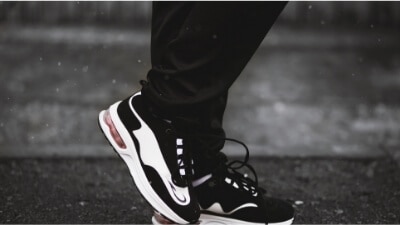 Vintage Sneaker Blog
One of the most profitable micro-niches in sneaking blogging. But. It is also one of the most competitive and one of the toughest to get a foothold in. You need to have a really good knowledge of these vintage kicks or you will lose credibility quickly.
In a micro-niche where some sneakers can cost upwards of 3 grand, you cannot afford any slips in your reputation. I would not make this your first sneaker blog. Work your way up to it.
Sport Specific Sneaker Blog
This micro-niche is a little easier to break into. Pick your favorite sport and write some remarkable content about those sneakers. Some sports are going to be more popular. Basketball is probably the most competitive and toughest to operate in.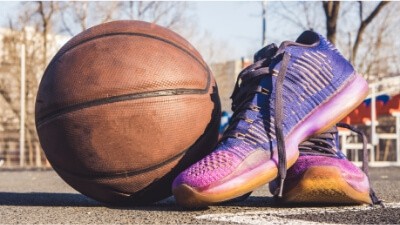 But if you know hoops and basketball sneakers you should have no problem writing compelling interesting content for a basketball sneaker blog. Same for any other sport that has sneakers really. Tennis, running, track and field whatever you are most knowledgeable about.
Casual Fashion Sneaker Blog
This micro-niche has nothing to do with sports really. This is much more of a fashion blog than a sneaker blog. You are going to want to coordinate your sneakers with the larger outfit and build your content around that.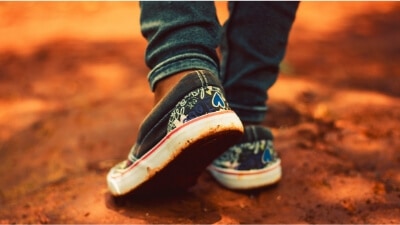 So you'll need to know quite a bit about fashion in general as opposed to just sneakers for this niche.
Athleisure Sneaker Blog
Athleisure is its own niche at this point. But it still straddles the line between sneakers and fashion. Like a causal fashion blog, you will need to know the athleisure niche inside out along with sneakers, in general, to really be successful here.
A relatively new micro-niche and one that could just be a passing fad, so be wary when jumping into this micro-niche.
The Big Finish
The sneaker niche.
I find it amazing the subjects you can find to blog about. The niches that are always interesting and most of the time incredibly profitable. It really is remarkable that you can make a wonderful income writing about sneakers.
Hopefully, these affiliate programs can help your blog achieve a nice income. Or if you are just starting out hopefully the niche research has given you some ideas about what keywords to target and what subjects to tackle with your content.
It is never easy starting out a new business and blogging is tougher than most. You won't see much profit for months in just about any niche. And as you work every day it can seem like it is never going to happen for you.
It can be lonely and frustrating when you try and do it alone. But you do not have to.
There is a community of entrepreneurs that have gone through and is going through the same growing pains you are experiencing with your new blog.
However, you choose to proceed I wish you the best of luck with your new blog. Thanks for taking the time to read my article.
Don't go it alone. Get the best learning tools and community to help you build your online dream. Check it out here.
See you soon.
---
As always, thank you for visiting and have a great day.