This article may contain *affiliate links. Please see our affiliate disclosure for more details
Get Ready to Fatten that wallet and help people drop those pounds. Dig into some of these great weight loss affiliate programs.
Most people look to drop some weight at one time or another in their lives. You already got the weight loss blog or are about to drop one.
Plugin these great affiliate programs to earn a little income from all that hard work.
Time for more great affiliate programs for you to integrate into your blog. We are going to take a look at one of the largest evergreen blogging niches around, Weight Loss.
It is a tremendously large niche and we have 10 affiliate programs to look at. Is one of them the highest paying weight loss affiliate program around?
Remember these are just ten of them, there are literally hundreds that you could choose from. We'll get to those in future articles.
So, for now, let's get into these programs and find out which ones might help your blog generate some online income.
All of these affiliate programs are part of various affiliate networks unless otherwise noted. Sign-up for the networks to gain access to individual programs.
There Is Just Something About Owning Your Own Business. Being Your Own Boss. Building Something From The Ground Up With Your Own Hands. Especially When It Is This Easy To Get Started.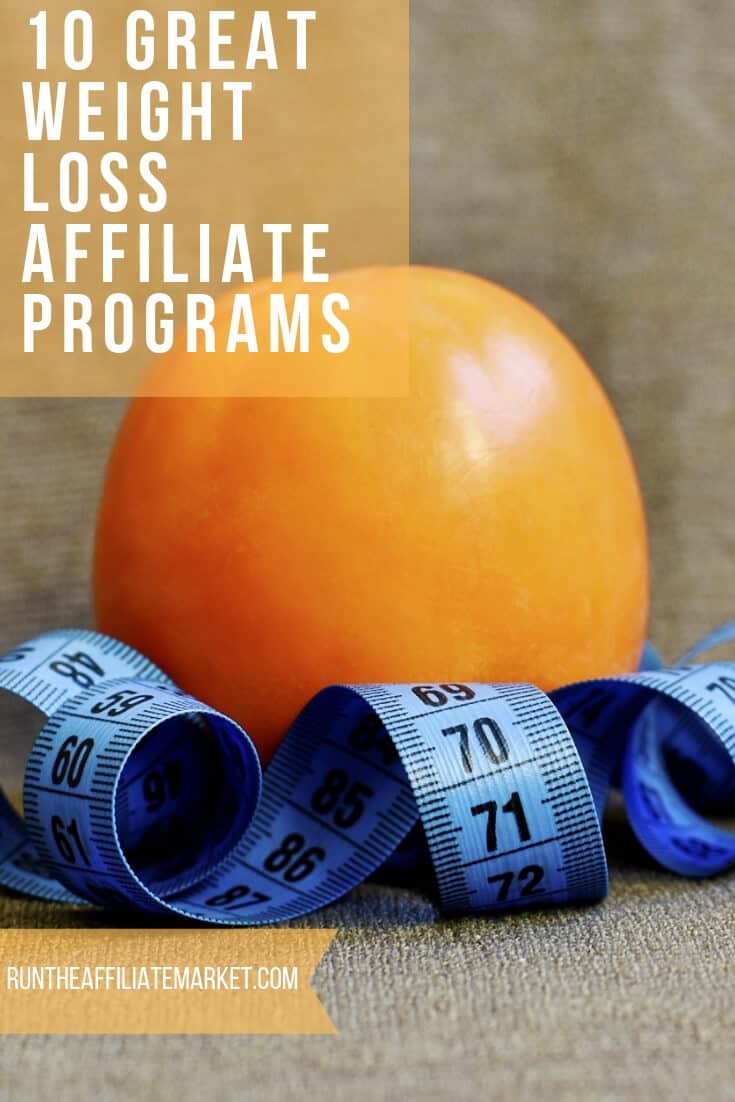 ---
Absorb Health Affiliate Program
Absorb Health is a supplier of health and dietary supplements. They have their own branded line of supplements that have a wide and varied range across every conceivable area of wellness.
Brain support, joint health, essential oils and much more are all represented in their impressive line of products. All of these products are great for an affiliate marketer, of course.
A blogger could easily generate a good deal of content form each product category or even reviews for each individual product, although given the nature of the products individual reviews might be a bit of a stretch in terms of article length.
However, comparative reviews of similar products would be a great way to promote Absorb Health products.
If we dig deeper we find some of their best selling products line up quite well with weight loss and weight management niches. As well as sexual health and sports performance, two great niches that weight loss blogs could expand easily.
Overall, the number of products is very nice. They will give a blogger a good amount of additional content and products to promote and the potential to generate even more income from their affiliate program.
What's the Percentage?
Absorb Health offers a 20% commission on all purchases. This is a pretty good number for a weight loss supplement vendor.
Typically the retail side of thing has a lower commission while the diet and weight loss plan side tend to be a bit higher. It's nice to see Absorb Health really rewarding the hard work their affiliates put in with this commission.
The Cookie?
Absorb Health offers a 60-day cookie to their affiliates. Great to see something bigger than 30-days for an affiliate program these days.
This gives a blogger's audience ample time to decide on the purchase and still allows the affiliate to earn a commission for their hard work.
The Wrap-Up
A solid affiliate program to have on board. It is probably best deployed as a secondary or tertiary affiliate program since it doesn't have the product depth or name recognition that some other weight loss programs are going to have.
A blog focusing on nothing but its products might have too narrow of an appeal to be really profitable.
---
Beach Body Affiliate Program
Beach Body is a widely recognized name in weight loss. They have been around for a while are have a pretty good reputation for getting results for their customers. They sell a few nutritional supplements and workout gear from their website store.
However, the big draw of Beach Body is their workout programs. They have tons of them for just about every type of workout you can imagine. Newbies to old pros have a ton of workout options available to them at Beach Body. Some of the biggest names in workouts reside here.
p90x to Insanity. They are all Beach Body workouts. Just say the names and there is instant recognition in the fitness and weight loss communities.
Beach Body's workout routines will need little promotion in order to bring in commissions since they are household names and very popular ones at that.
The Beach Body Affiliate Program is a member of the Commission Junction Affiliate Network.
What's The Commission?
Beach Body is broken down into two sections with a different commission for each. The store side of things offers a 15% commission. This is for any nutritional supplements or equipment or single purchase workout programs.
The other side is Beach Body on Demand. This is a subscription service that gives its members access to an unlimited number of workouts available at Beach Body whenever they want to use them, sort of like a Netflix for workouts.
This has a 10% commission attached to it. Plus there is a free trial for the service. Great for promotions.
Either one is pretty nice. affiliate programs with a subscription model always seem to do very nicely.
The Tracking Cookie Duration
As with the commission, the cookie is broken down into 2 parts. One for the store and one for the on-demand section of BeachBody.com.
For the store, the cookie is a typical 30-day tracking cookie. Not much to say about that. For Beach Body on-demand the cookie jumps slightly to 45-days.
It's a better tracking cookie and a welcome little bump. Especially given that the subscription-based on-demand section is so potentially valuable.
The Wrap-Up
An absolute must-have. There are no two ways about it. Their products have huge name recognition in any of the weight loss and fitness niches. They have decent commissions and tracking cookies.
But it is their programs and the potential income for their on-demand service that really shines here. Go get em.
---
Cooking Light Diet Affiliate Program
Cooking Light Diet offers a subscription-based meal plan for its customers. The meal plans are specifically tailored to an individual through an online interview.
They go through every aspect of the meal plan including what foods and what type of caloric intake the client needs for a healthier lifestyle.
They offer a wide range of plans for various diets. Including vegan, low carb, gluten-free and many others.
They also have plans that take into consideration any allergies their clients may have. This versatility makes it that much easier to promote for a blogger since they can tailor the message to their audience.
This is a fairly interesting affiliate program and one a weight loss blogger should really take a look at.
The subscription-based program is always nice to have as an affiliate marketer. And this one is interesting because of the meal plan aspect of the program.
A food delivery service like this one can be a tough sell at times, however. Something to keep in mind when looking to promote this affiliate partner.
The Cooking Light Diet Affiliate Program uses the Commission Junction Affiliate Network.
The Commission
The commission is a rock-solid 20%. A great number, especially given the recurring nature of the subscription-based service this affiliate provides. With the commission that high it would make sense to promote this affiliate a little more frequently on a weight loss blog.
It is by no means a primary affiliate though. They simply don't have the product selection to justify spending a huge amount of time promoting their product.
However a few features every couple of months should keep this affiliate fresh in the minds of your audience and bring in some pretty decent returns.
The Tracking Cookie
The Cooking Light Diet program offers a 45-day cookie. A little above average for the tracking cookie which is nice to see.
The longer tracking cookie certainly helps by giving your audience a little longer to decide if they want to purchase the product especially given the subscription nature of this affiliate program.
The Wrap-Up
Another interesting affiliate program to consider. This one seems to be a great complementary program to have alongside 3 or 4 other main programs.
It will generate a little bit of content but not enough to really be the main focus of a weight loss blog.
Of course, if a blogger's audience really loves their products and services they can move it up in their affiliate program hierarchy.
No one is going to know their audience better than the blogger who writes for them day in and day out.
---
Balance by Bistro MD Affiliate Program
Balance by Bistro MD is a meal planning service with weight loss in mind. They take care of every aspect of persons daily meals.
From selecting the ingredients and cooking the meals to counting the calories and macronutrients. These diet plans are tailored to each individual customer.
As with all of the mail-order meals, they are sometimes a tough sell since a lot of people do not like the idea of their food being delivered, unless its a pizza.
While attitudes about grocery and meal delivery are constantly changing, for now, it should be viewed as a somewhat limited program.
The Balance by Bistro MD Affiliate Program is available through the Commission Junction Affiliate Network.
How Much?
Balance by Bistro MD only offers a 7% commission. Not the lowest seen, even on this list. But not a great number either. Hard to justify putting a lot of time into the promotion of this affiliate program with such little potential returns.
The Cookie?
This affiliate program offers a very generous 120-day tracking cookie. The somewhat makes up for the lower than average commission. It is a very good tracking cookie.
4 months will give any customer enough time to make a decision about the products and still have time for the affiliate to make a commission.
The Wrap-Up
Another bang on the average affiliate program. The cookie is great but the products are average and sometimes a tough sell.
The commission is a bit lower than we would like to see. This is another affiliate to promote when you run out of other stuff to do. So you may not get to this one.
---
Doctor's Best Weight Loss Affiliate Program
Doctor's Best Weight Loss is an online store that sells a huge variety of nutritional and weight loss related products.
They have their own brands, which is always great for a potential affiliate program. Having their own label gives a blogger a chance to generate quite a bit of unique content around the proprietary brands.
The amount of products they sell is truly staggering. This affiliate could easily be the focal point of an entire blog.
They have everything ranging from nutritional protein bars and shake mix to specialized meals and snacks for every type of diet. From vegan to keto, it is all represented here.
They also have a wide selection of other brands to choose from. Everything a diet and weight loss blog could possibly need to promote to their audience is here.
Doctors Best has 4 major brands for a weight Loss blogger to promote:
ProtiWise
NutriWise
Doctor's Best Weight Loss
Doctor's Best Weight Loss Premium
The Doctor's Best Weight Loss Affiliate Program uses the ShareASale Affiliate Network.
What's The Commission?
Doctor's Best Weight Loss offers its affiliate partners a 10% commission on sales from their web store. This is a fantastic commission given the variety and type of products they sell.
Similar products would only fetch about 6% on Amazon. Add to that the incredible selection of goods and the program is a real recipe for some serious commissions.
The underlying numbers back it up as well.
The average sale is $96 dollars.
The average commission is $36 dollars
The EPC is a staggering $455.60
This is an all-around must-have affiliate program for any marketer in the weight loss niche. Or any Health and Fitness related niche actually. It is that good.
However, the quoted EPC from the ShareASale profile seems awfully high. I left it in because that is what their profile says and a blogger will be able to see it when they sign up to ShareASale. It just might be a typo, keep that in mind.
The Cookie?
A standard 7-day cookie. Nothing to write home about but serviceable and, as stated many times in these affiliate program reviews and ratings, pretty much below the standard tracking cookie length these days.
It is really the only negative in this entire affiliate program and its not really a negative at all. It's just average.
The Wrap-Up
The Weight-Loss niche affiliate program to have. It is a sensational affiliate program. A blogger could build their entire website around the products and services provided by this affiliate program.
Obviously, you want to diversify some and add in workout programs and similar products from other affiliates.
But not at the expense of promoting this program. Make it the priority if possible and promote their products as well as you can.
Some very impressive returns on time invested are in the cards if they are played properly. This is one of the highest paying affiliate partners in the weight loss niche.
---
Flat Tummy Affiliate Program
Flat Tummy sells a variety of shakes, cleanses, detoxes and lollipops. They are all part of meal plans to help strip away fat from the stomach area.
They cater to women of all types and have a pretty inclusive policy towards all women. A weight loss blog focused on women's weight issues would be right at home with this affiliate program.
The downside is that they have a fairly limited amount of products. They only have a few different items and then some bundles of those items.
However, they do have a subscription option for most of their products. Always nice to see for an affiliate marketer.
The Flat Tummy Affiliate Program is part of the Commission Junction Affiliate Network.
What's the Cut?
The commission for Flat Tummy is two-tiered. For customers who are new to the Flat Tummy store, an affiliate will receive a 20% commission for anything they purchase. For returning customers the commission falls to 5%. So it's a little bit of good and a little bit of bad.
While introductory commission rates are not unheard of they are fairly rare for most niches.
They reduce the overall value of the affiliate program due to the usually much lower returning customer commission. A flat 10-15% across the board would be a better way to handle it.
Have a Cookie
A very very average cookie. That's right it's our old friend 30-day. A 30-day tracking cookie. Not good, not bad. Not anything other than average.
The Wrap-Up
The lack of product diversity really hurts this program. The average tracking cookie length doesn't help and the 2 tiered commission structure is something that it could do without.
That said it does have some interesting products and could be a decent affiliate to promote on the side. Definitely not a primary affiliate program.
---
Raw Generation Affiliate Program
Affiliate Commission: 4%
Tracking Cookie Duration: 30-days
Raw Generation only has a couple of products. They have a line of juice cleanses. But that is about it.
There is really no potential content from their products. This is not a good program at all. And it is just going to keep getting worse. Read on if you dare, its gonna get ugly.
The Commission?
The commission for Raw Generation is an utterly unimpressive 4% commission. It is terrible.
Amazon can get away with 4% because they are Amazon. This is a small nutrition-based web store that has one of the worst affiliate commissions ever seen by mortal eyes.
Their average commission is $2.91. That's a lot of clicks to get a decent return on time. This is not shaping up to be a very good affiliate program. Maybe the cookie is better?
The Cookie
Nope. Standard 30-day cookie. It just keeps getting worse and worse for this affiliate. They can't all be winners though so it has to be expected to come across a turd like this one every once and again.
The Wrap-Up
Let's make this quick and put this affiliate program out of its misery. There is no reason to pick it up. They have a couple of cleanses and a terrible commission. Add in the average cookie and there is absolutely no reason to spend time promoting this affiliate program. A waste of time.
---
Skinny 23 Affiliate Program
Affiliate Commission: 8%
Tracking Cookie Duration: 90-days
Skinny 23 is a tea detox system for losing weight. These types of detoxes are becoming more and more common and should be fairly easy to promote. This particular detox is pretty well known in the weight loss niche so promotion shouldn't be that difficult.
That being said, these types of detoxes are limiting in their scope for a variety of reasons.
Some people simply don't like tea, others won't like the idea of detox or a high liquid diet for a couple of weeks. Therefore the promotions need to be targeted and effective for this affiliate program to be worth picking up.
Commission?
The Skinny 23 commission is 8% for its affiliate partners. A good solid number that will justify at least some time and energy into promoting their products. It would be nice if it were a couple of percentage points higher but 8% will do in a pinch.
The underlying numbers on their ShareASale profile look pretty solid as well. And are in line with the program as a whole.
$43.33 Average Sale

$4.22 Average Commission

$9.61 EPC
The Cookie Number?
Skinny 23 offers its affiliate partners a very nice 90-day cookie. Always a great thing to see when an affiliate program offers longer tracking cookies.
It almost always equates to more conversions for the affiliate over time and is well worth looking at when deciding on an affiliate program.
The Wrap-Up
Decent. It is a decent affiliate program. The products are limited and the commission is low.
The potential audience is a bit smaller than is ideal. Overall this is an affiliate that can be turned to in a pinch when some content is needed and there is little else to write about with the bigger affiliate programs.
---
Wonder Slim Affiliate Program
Affiliate Commission: 10%
Tracking Cookie Duration: 30-days
Wonderslim sells all kinds of meal plans and products. They have a tremendous amount of them for a blogger audience to choose from.
A customer can purchase individual products, bundles and premade meal plans that incorporate their products into pre-portioned diet plans.
Their products are tagged as meal replacement diet plans. A customer picks their plan and they receive all the food they will need to complete it. The programs typically allow users to eat every 2 to 3 hours.
This will make it a bit easier to promote for an affiliate marketer, although delivery meal plans are typically a tougher sell.
Given the need to reorder the plans on a consistent basis makes this affiliate program quite intriguing.
The Wonderslim Affiliate Program is part of the ShareASale Affiliate Network.
What's the Number?
Wonderslim offers its affiliate partners a nice 10% commission on qualifying affiliate sales.
A pretty decent commission for any affiliate program and especially one with products that constantly need to be repurchased.
The ShareASale statistics look good as well.
$140.22 Average Sale

$8.54 Average Commission

$25.83 EPC
Good Underlying numbers for this affiliate program.
What's the Cookie?
3 guesses but you'll only need one. Yep, it's the tracking cookie that won't die. 30-day tracking cookies.
These are some stale cookies at this point. It is what it is. Longer would be better. But 30-days keeps turning up constantly so get used to it.
The Wrap-Up
A pretty nice looking affiliate program. Average cookie length aside, the commission is reasonable, the averages are pretty good and they have a large selection of products to choose from.
A well-rounded meal replacement program for just about any weight loss blog.
It is definitely worth checking out, although it falls into the same area as a couple other, better options on this list.
So it's tough to recommend promoting this brand over Doctor's Best, for example. But, as always, listen to the audience of the blog to figure out how best to serve their needs.
---
HCG Affiliate Program
HCG.com sells a supplement known as Human Chorionic Gonadotropin. This is a unique and interesting product with a fairly complex history.
Just the history of HCG could give a blogger a ton of interesting and very instructive content with which to promote the diet plan.
HCG diet plans come in a few different durations ranging from 15 to 90 days and they are bill once with no recurring options.
In addition to the HCG diet plans, this company sells a whole host of other nutritional and weight loss supplements and vitamins.
It's a pretty well-rounded stick so, in addition to the content generated from the HCG diet plans, a blogger could promote the entire site without worry about it being too narrow to really grab an audience.
The claims the company makes about their product are pretty extraordinary and there is a ton of hyperbole in the weight loss niche.
But they offer a 90-day money-back guarantee. At least it looks incredible. It turns out to be a red herring, read on…
The HGC Affiliate Program is part of the ShareASale Affiliate Network.
What's the Percentage?
The commission offered up by HCG is absolutely fantastic. 30%. A great 30% commission. Given the unique nature of their signature product and the guarantees on their products, this is an exceptional commission. One of the best yet.
The ShareASale statistics look great as you would expect.
$129.35 Average Sale

$21.62 Average Commission

$35.07 EPC
It is not all roses, however. While the numbers look great there is a very serious issue. Their reversal rate is 42%.
That is not good at all. That is the general percentage at which customers return their orders and it is an unacceptable number. Keep that in mind when promoting this affiliate program.
What's the Tracking?
The tracking cookie is a very good one at 90-days. Nice to see something other than 30-days. A tracking cookie this long gives a bloggers audience enough time to carefully decide on what course of action they are going to take.
The Wrap-Up
It looks great. It should be great.
But it is not.
The reversal rate is way too high to promote this affiliate partner with any regularity. Maybe a few articles here and there about the product would be warranted. But almost half the orders are reversed it just does not add up to anything very good.
This is the dilemma when judging affiliate programs. A blogger only has so much time to prepare content and if that content doesn't generate interest or commissions then it was not a good use of time.
Picking this affiliate over some of the others would be a mistake.
*Just a Side note here. Normally we don't mention the reversal rates on most of the affiliate programs because they are often negligible.
Maybe a couple of percent at most. Many being 0%. But in the case of HCG, it had to be addressed since it sinks the entire affiliate program.*
---
The Big Finish
There you have it 10 affiliate programs for the weight loss niche. This is only the tip of the iceberg.
I'll be putting together another list of 10 more great affiliate programs in the near future for your perusal. But for now, there are a few duds in this batch but overall they are pretty decent.
Doctor's Best and Beach Body are the real standouts from this group and are must-have affiliate programs, in my opinion.
They are just too good to pass up. As always tailor your affiliate offering specifically to the needs of your audience and you will see quite a bit better conversion rate.
Don't go it alone. Get the best learning tools and community to help you build your online dream. Check it out here.
---
Thanks for visiting and have a wonderful day.