This article may contain *affiliate links. Please see our affiliate disclosure for more details
---
How much money did you spend looking for that training that is going to get you on the right path? That money-making path. That profitable affiliate marketing path.
How Much? Hundreds? Thousands? For me, it was damn near a thousand dollars. I spent $500 on a terrible product. No refunds.
A couple hundred on some decent smaller training modules that did ok, but was missing a lot of important information. The closest I came to something decent was $300 bucks on a yearly subscription to one of the more prominent training programs.
But the training was outdated and the people involved were just awful. I don't care about the owners got damn Lambo, I just want the training I paid for. No refund on that one either.
Sound familiar? We have all been there. Anyone that has ever wanted to make some money online has probably gotten taken at least once. If not then you are one lucky entrepreneur.
You get stung enough and it makes you want to quit. I thought about it. I thought about just hanging it up and crawling back to a desk job designed to keep me poor and make my bosses richer. But then I started listening to this dude on Youtube.
He was giving out some great information for free. Stuff I have just paid for this guy Franklin Hatchett was giving out for free. I took notice. I kept watching and eventually made my way to his paid course on affiliate marketing. Savage Affiliates. I did my own research and the reviews looked pretty good. They were real reviews though.
Some of these other programs have 1000's of reviews and they all gave it 5 stars. Not Savage Affiliates though, the scores were honest and varied and touched on the good and the bad. Now after a few months in the Savage Affiliates Program, I am going to add my review to the list.
Savage Affiliates isn't perfect.
But it is good, great even. Let's get this review started.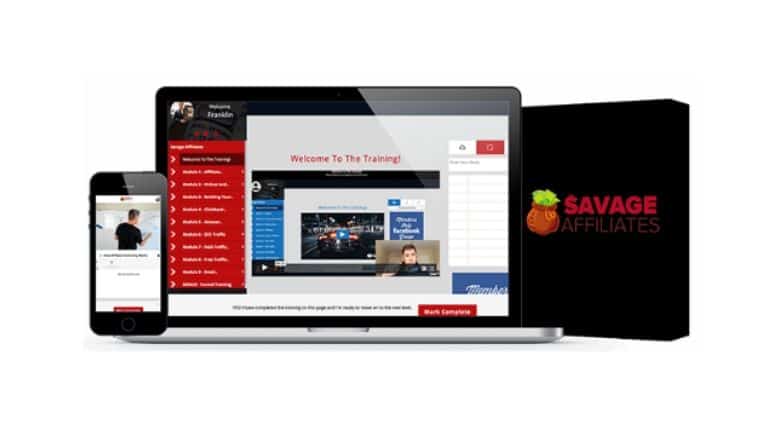 The Definitive Savage Affiliates Review
---
Who Is Franklin Hatchett?
Franklin Hatchett is an online entrepreneur and affiliate marketer who has been in the trenches of affiliate marketing for years. He has created multiple free training modules on his Youtube channel and is the architect behind Savage Affiliates and his dropshipping course E-com Elites.
I like listening to Franklin because his style is natural. If he makes a mistake in his Savage Affiliate training program he just corrects himself and moves one. He doesn't reshoot the whole thing and try to make it a perfect production.
The information he provides is what is valuable, not how it is presented necessarily. He hails from New Zealand and is your guide and teacher through your affiliate marketing journey with Savage Affiliates.
The last thing that I really like about Franklin Hatchett is that he is actively using his training to build his own businesses.
A lot of affiliate gurus haven't been in the trenches figuring out what is working and what doesn't for a year, or a decade in some cases. Their training no longer works but they keep selling it on ancient data.
Affiliate marketing moves way to fast to sit it out and live off your old triumphs. Stuff that worked in 2017 is completely irrelevant today. Franklin knows this because is out there doing every day.
It is refreshing.
---

What is Savage Affiliates?
Savage Affiliates is an A to Z affiliate marketing training program created by Franklin Hatchett. This is one of the most comprehensive training programs that I have ever seen.
There are modules for all types of techniques and strategies that you can use to build up successful and Powerful affiliate marketing business they can be used to generate thousands of dollars in passive income for years to come.
And when I say passive income I mean it will become passive eventually. It's not passive at the start and nowhere in the Savage Affiliates training does it claim to be.
This takes a lot of work upfront and a lot of time. Often it will take six months or more before you start seeing any real income from all the hard work that you put in at the start.
But that's what Savage Affiliates is it's an investment in the future. an investment in your future. just like it was an investment in my future. Savage Affiliates gives you the foundation upon which you can build a successful business and a more prosperous future for yourself and your family.
Who is Savage Affiliates for?
Savage Affiliates is really not directed at any one type of marketer.
It's great for a beginner because it has all the basic information you need about setting up a website and then building your affiliate marketing business from that Foundation.
But it's also great for intermediate and advanced affiliate marketers because it tells really deep into some great event techniques like how to get the most out of Facebook ads and how to create funnels that are actually going to convert for you.
So who is Savage Affiliates for? Well, the answer is just about anybody who wants to learn affiliate marketing and is willing to put in the work.
---
The Savage Affiliates Training
Here are the bread and butter of this review and the core of the Savage Affiliates program.
The training.
All the bells and whistles don't mean a thing if the training is not up to date, relevant, and of the highest quality. How does Savage Affiliates stack up to the challenge?
Let's go through it Module by Module.
Module 1 – Affiliate Introduction
This module is really just an introduction to the Savage Affiliates training program. It gives you a brief overview of what to expect in the training.
Module 1 consists of six training videos and it's a great place to start for anyone just beginning their journey in affiliate marketing.

Module #1 Courses
How Affiliate Marketing Works – A Quick Look At What Affiliate Marketing Is And How it works
The Results – A Video overview of some of Franklin's successes in Affiliate Marketing
How We Use Free Traffic – A basic primer on free traffic sources
How We Use Paid Traffic – An introduction to Paid Advertising To Generate Traffic
Quick Traffic SEO Video – A quick intro to SEO Traffic for a blog
Important Steps — A Recap Of The Module
Module 2 – Niches And Products
Module 2 is where the training really begins. Here Franklin guides us through one of the most crucial parts of building a successful affiliate marketing business.
Choosing a niche. This can really make or break your marketing business. Any niche can make money but some are just too small or too competitive to really be worthwhile.
Franklin also teaches you how and where to find thousands of great products that you can use for your niche to help generate income for your business. Module 2 consists of 11 separate courses.

Module #2 Courses
Getting Started – A Brief Intro To The Module
Looking At Niches To Use – An In-Depth Look At some Popular Niches
Find Affiliate Offers – Finding The Offers To Promote
Finding New Products – A Guide To Finding Appropriate Products to Promote
Using Clickbank – A Guide To Clickbank Products
Using Amazon – An In-Depth Look At Leveraging Amazon For Product Ideas
Using JVZoo – Software Offers On JVzoo
Using Health Market – The Health Market Affiliate Network For Health-Related Offers To Promote
Web Hosting Offers – Lucrative Offers from Web-hosting platforms like Bluehost and SiteGround
Using ShareASale – Finding Offers On The ShareASale Affiliate Network
CPA Networks – A Look At Cost Per Action Affiliate Offers
Module 3 – Building Your Assets
The third module in the Savage Affiliates Training system is centered around your digital assets. In this case, your website will be your primary piece of digital real estate and the place where you will make your money for the most part.
Other pieces of digital assets can include your Youtube channel or Pinterest account or other social media platforms.
A lot of this module is targeted at complete beginners, so intermediate and advanced marketers can probably skip this section. But it has 9 useful courses for you to check out if you need to.

Module #3 Courses
Building Assets Intro – A brief introduction to the module.
Buying A Domain Name – How and where to buy a domain name
Starting Your Website – The basics of setting up your website. Web hosting, themes, etc.
Navigating Your Website – Setting up the menu and navigation of your new website
Must-Have Plugins – A few plugins that will make your life easier.
Email Assets(Platforms) – Email platforms that you can leverage later on in the email marketing section.
Creating Landing Pages And Forms – A course designed to get you building opt-in forms and landing pages in no time.
Facebook Chat Asset – How to leverage facebook chat to further your business goals.
Power Of Social Accounts – Franklin Explains what makes social media accounts so valuable to an affiliate marketer.
Module 4 – ClickBank Affiliate Marketing
Now is the time that we start getting into the real meat of the Savage Affiliates program. This is the most complete Clickbank affiliate marketing training I have ever seen really.
There are training programs that only deal with Clickbank that are not as thorough as this module. There are 27, yes 27, separate courses for this module and these are a bunch of 2-minute videos.
It will take you some time to get through this much content. But man is it worth it.

Module #4 Courses
Clickbank Intro – The traditional intro into the module.
Tax Forms – How to properly fill out your tax forms needed for Clickbank registration. New Zealand taxes mostly.
Starting Your Clickbank Account – How to properly set up your Clickbank account.
Main Traffic Source For Clickbank – An intro into the type of traffic you are going to want to get for your promotional content.
Sell Anything – You can sell anything with the right content, Franklin lays it all out for you.
CB Graph Statistics – A great little place to get Clickbank statistics to help decide on your products to promote.
Clickbank Facts – A look at Clickbank and what everything means on their site. Gravity, Popularity, etc.
Examples – Examples of good Clickbank products to use.
Product Overviews – Overviews of some of the better products and how to promote them
Getting Started – Getting started after choosing a product.
Keywords and Keyword Tools – A look at keyword research and keyword tools to use
Checking The Top 10 – How to check the competition on the first page of the SERPs
Buying Articles – Where to buy content if you don't want to write it yourself.
1 vs 1 Article Structure – A look at the popular and effective 1vs 1 review template
Review Articles – Leveraging review articles as content for your page.
Adding Articles To Your Website – How to add articles to your site(beginners stuff)
Installing a New Theme – Installing WordPress themes
Edit Sidebar – Setting up the sidebar on your website, if you want to use one.
Edit Menus – Further set-up of your menus and website
Paid Google Traffic And Landing Page – A quick look at paid google ads and the landing pages you need to make them effective
Simple Funnels Part 1 – basic funnel creation
Simple Funnels Part 2 – see above
Red Detox Diet Example – Example product #1 on Clickbank
Singing Training Example – Example product #2 on Clickbank
CB Massive Profits Example – Example product #3 on Clickbank
Numerology Example – Example product #4 on Clickbank
Module Recap – A wrap up of the entire module. It is unbelievable the amount on content Franklin Hatchett packs into the modules.
Module 5 – Amazon Affiliate Marketing
This module focuses on building an Amazon Associates site. The title is a little misleading because you can use a variety of different affiliate programs to monetize these sites. Amazon is the easiest and most well know for your readers.
But Amazon has some of the worst commissions and tracking cookies. Finding affiliates with better terms takes a little more work but its worth it in the end. We have tons of articles about alternative affiliate programs here on our site. Check them out.

Module #5 Courses
Amazon Affiliate Intro – Intro to the Amazon Module
Amazon Website Examples – Some examples of Amazon niche sites
30 Million Dollar Amazon Site – A huge case study of an Amazon niche site that sold for 30 million dollar
Buyer Intent Keywords – A look at the best buyer intent keywords and what they are
Ideal Amazon Products – Ideal products for promoting on your blog, best prices, etc.
Amazon Niche Research – Researching your niche in Amazon categories
Aliexpress Niche Research – Finding niche ideas on Aliexpress
Fun Way To Find Product Ideas – Some neat tricks to find great products for any niche
Seasons And Trends – A look at seasonal products for your seasonal blogging niches
Using Flippa For Research – Using Flippa, a domain reseller, for niche ideas.
Analyze Top 10 Search Results – Analyzing the top 10 competition in your SERPs
Quick Tip On Finding Information Keywords – Some techniques to find information keywords for some of your content
Niche vs Authority vs Hybrid Site – 3 types of Amazon websites that you can build
Structure Your Amazon Site – How to structure your articles and content on your website.
Slow Cooker Niche Example – Product Example #1 for an Amazon niche site
Steamer Niche Example – Product Example #2 for an Amazon niche site
Smoothie Niche Example – Product Example #3 for an Amazon niche site
Outdoor Backpack Niche Example – Product Example #4 for an Amazon niche site
Snow Blower Niche Example – Product Example #5 for an Amazon niche site
Website Basics and Creating Cool Stuff – Some cool tricks to making your site look and feel great.
(Extra) Big Boy Keyword – A bonus course on picking some competitive keywords once you get some website authority.
Module 6 – SEO Traffic
This is one of the most important modules in this entire training program. Organic-search traffic is the absolute best traffic you can get to your website.
It is high converting because people are looking for the exact keywords and products that you are developing content around.
There are 29 courses in this module making it one of the largest in the entire program. This module alone is worth the price of admission to Savage Affiliates. Be sure to study this one hard and take everything you find here to heart.

Module #6 Courses
How Google Works – An introduction to SEO and organic search traffic
Google Ranking Factors – What Google uses to rank your content on the SERPs
Doing On-Page SEO – How to properly do on-page SEO
On-Page SEO Factors – What helps and hurts on-page SEO
Website Speed – Speed up your website and get better rankings
How Web 2.0's Work – How and why to use Web 2.0s for backlinks
Analyze Competitors Anchor Text – How to find backlinks using your competitor's anchor texts
Buying Web 2.0's – Buying backlinks from web 2.0 companies
Creating A Web 2.0 – Building your own web 2.0 backlinks
Power Up Web 2.0s – Get the most out of your web 2.0s with these techniques
Building Blog Comments – How to write blog comments without spamming them
Find Blog Comments – Where to find blogs to leave comments on and get backlinks
Quora Backlinks – Getting backlinks from Quora
My Backlink Process – Franklin's process for getting links to his new sites and articles
Relevant Outbound Links – Linking out to authority sites to help to rank
Google Search Console – How to set-up your webmaster tools account with Google
Sitemaps – How to build and submit sitemaps to Google
Extra Keywords and Improve Ranking – finding the best keywords and ranking for off keywords
Secret Links – Franklin's personal list of backlink companies
Don't Spam Backlinks – Things to avoid when building links
Reverse Engineer Competitors – Use your competitors backlink against them
Buying PBN Links – buying backlinks from private blog networks
Social Signals – Using social media to improve rankings
Silo Structure – Internal linking techniques
Skyscraper Technique for Backlinks – Build big content to get backlinks
Fiverr Backlinks – how to buy backlinks off of Fiverr
Keyword tracking – Tracking keywords and ranking for your website
Module Recap – A look back at this massive module.
Module 7 – Paid Traffic Training
This module has 23 courses on paid advertising. Here is the thing. I never use paid advertising. It has its uses but I have chosen to focus on free traffic for the time being.
There are 7 courses on Google ads, 10 on Facebook ads and a couple on Solo ads and other options. It is just as robust and content filled as the rest of the Savage Affiliates Package.
I have never really had to jump into paid traffic and so I did not go through this part of the training.
As you can see from the other modules there are already hundreds of hours of content you have to deal with. I suggest picking a traffic type and mastering it before moving on to something else.
So for this module, I am going to just list the courses and not provide a description of them. Once you pick up Savage Affiliates you can dive into these courses at your leisure.

Module #7 Courses
Paid Advertising Intro
Who is your buyer?
Simple Affiliate Tracking
Facebook Ads #1 through #10
Solo Ads #1
Solo Ads #2
Google Ads #1 through #7
Module 8 – Free Traffic Training
Module 8 is a huge one. It has 15 individual courses that make up the entire free traffic module.
This is not free traffic from search engines, that is covered in the SEO traffic section. This is additional traffic that you can generate from places like forums, comments, and Quora.
There is also a huge section on getting traffic from youtube. There are 10 modules on just Youtube. The reason for this is that Youtube is a great place to get free traffic from currently.
There is no sandbox so you can get ranked and have the traffic coming in very quickly if you follow this training.

Module #8 Courses
Free Traffic Intro – Just a brief intro to the entire module
Collecting Free Traffic Leads – Getting traffic to opt-in to your email lists
Forum Traffic 1 – Growth Hacking – Techniques to spur growth through forum traffic
Forum Traffic 2 – How To Get Forum Traffic – How to get the initial traffic without spamming forums and getting yourself banned.
Youtube 1 – Youtube Intro – Intro to Youtube traffic generation
Youtube 2 – How To Get Started – Course on starting you Youtube channel
Youtube 3 – Best Free Tool – Looks at the massive positives for Youtube
Youtube 4 – Best Youtube Keywords – A look at some good types of keywords to go after for Youtube traffic.
Youtube 5 – Checking Out Keywords To Rank For – Find out what keywords work best for generating Youtube Traffic.
Youtube 6 – Ranking Factors – The factors behind the scenes that help you rank higher on youtube.
Youtube 7 – How To Rank Your Videos – How to get your Youtube videos noticed and ranking high
Youtube 8 – Getting Youtube To Promote With Suggested Views – Some techniques to use Youtube suggested video algorithms to your advantage
Youtube 9 – Youtube Thumbnails – Leverage thumbnails to get more views
Youtube 10 – Youtube Retargeting – Retarget traffic from youtube to your website and back again.
Youtube Bonus – Easy Traffic Trick – This little course dives into one of Franklin's tricks to get some easy traffic from Youtube.
Module 9 – Email Marketing Training
Module 9 is pretty straightforward and only has 9 courses in the entire module. However, this might be the most important module in the entire program.
Money is in the list. Your email list will probably become your most valued asset for your affiliate marketing business. Watch this module carefully and multiple times.

Module #9 Courses
Intro To Email Marketing – The introduction to the module
Don't Use These Landing Pages – A look at what not do use for landing pages according to Franklin
The First Step – The beginning steps for email marketing
Creating Email Automation – Setting up automated email systems
Creating and Sending Newsletters – How to create good emails and newsletters
Email Open Rates – A deep dive into email opening statistics
Contact Flow Walkthrough – A look at workflows for your emails
Clickfunnels Automation Funnel – Using Clickfunnels to build a sales funnel
eCom Automation Funnel – A course on building an eCom funnel.
Module 10 – Funnel Training (Bonus)
This is just a small bonus module but it is an effective one. There are only 6 courses in the module. They layout how to build effective sales funnels and how to get traffic to them and monetize them in the best possible ways.
Module #10 Courses
Funnel Intro – Brief Intro Into Marketing Funnels
Funnel Bait – How To Get People into your funnel
Building Funnel – How to build good funnels for your business
Building an eCom Funnel – Building funnels specifically for e-commerce sites and products
Email Blueprint – Franklin lays out his email blueprints
Getting Traffic – Where to get traffic for your funnels
---

The Price-Value Proposition of Savage Affiliates
One of the most important aspects of anything that you buy is the price. But price alone is not really the defining factor of whether or not a product is worth the money.
It certainly factors in and is a big part of the overall value proposition, but whether a product is worth the money or not is largely dependent on the value that the product provides.
So we look at Savage Affiliates' overall price. It's $197 dollars. that's quite a bit of money. By any metric, almost $200 is going to be a lot of money. Now when you compare it to other affiliate marketing training programs it's much less.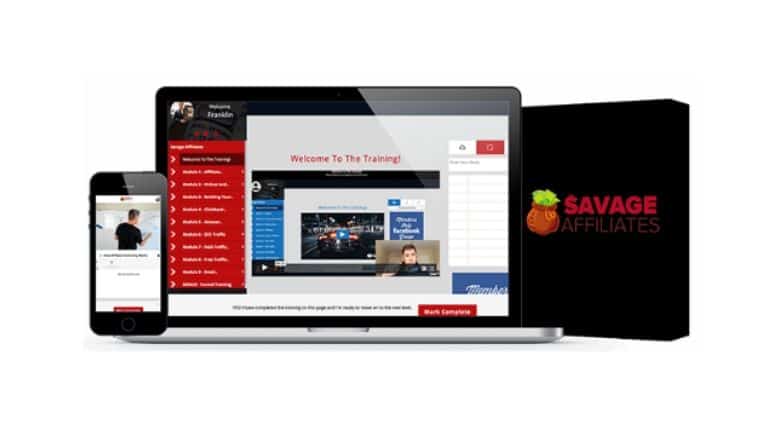 Many of these affiliate training programs cost well over $1,000 individual courses cost thousands of dollars. Some of these training courses have an entry fee of maybe 30 bucks but to get the whole package you have to pay hundreds or thousands more and upsells.
The great thing about Savage affiliates is it is just $197. Whether the price goes up in the future with the Savage Affiliates version 2.0 release remains to be seen. But right now at $197, it is the best deal an affiliate marketing.
And there are no upsells. I can't stress enough how important that is to have the entire affiliate marketing training program that Franklin hatches put together all for one price.
You rarely see this type of value in a training program at such a great price point. Other programs may have a similar amount of training but they often cost much more or that training is just subpar.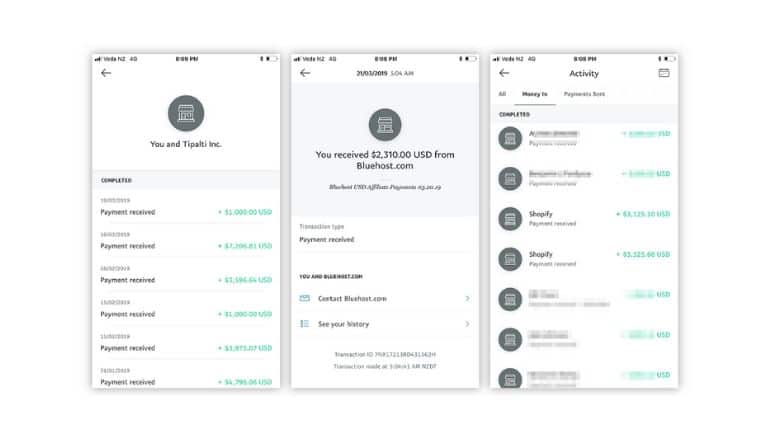 In other words, they have thousands of hours of training but it's just garbage and doesn't serve any purpose other than to allow them to say they have thousands of hours of training.
There are a couple of exceptions, a training program like Project 24(see the head to head review here) which is over twice the cost of Savage Affiliates has a similar price-value proposition.
For my money, Savage Affiliates is the best price to value affiliate marketing training program I have ever seen. Even if the prices go up with version 2.0 the people that bought in early, like me, will get that version 2.0 upgraded for free.
So if you were to buy it tomorrow and then the day after that the upgrade to version 2.0 came out you would get the update for free and only be $197 for the entire package.
The simple truth of the price and the value of savage Affiliates is this. Franklin Hatchett decided not to be incredibly greedy. That's really what it comes down to. He could have easily charged $500 $1,000 probably $2,000 for this exact training program.
But he didn't. It's shocking really to see someone put their product before the profits and the community before the profits in the affiliate marketing space.
That's why when I rate this part of the affiliate program the price and the value it's a perfect 10. So kudos to Franklin Hatchett for making a great product and selling at a fair price.
It reminds me of an old Henry Ford Quote.
There is one rule for the industrialist and that is: Make the best quality of goods possible at the lowest cost possible, paying the highest wages possible.

Henry Ford (source)
It is not a one to one translation to affiliate marketing but I think it fits nicely with what Franklin Hatchett has produced.
Make the best quality affiliate marketing product possible and sell it at the lowest cost possible.
---
The Savage Affiliates Community
Savage Affiliates Community might be the weakest point of this entire affiliate training program. Not because the people aren't great they are.
Most of them know their stuff from front-to-back and really putting to use the Lessons Learned in the Savage Affiliates training program. Making great websites and earning some cash and building up their affiliate business.
The problem is it's a really small community.
There are only maybe 1000 people that have joined the Facebook group. That's just an estimate but it seems like that's about right.
The problem with that is sometimes a question can take a little bit of time to get answered. Franklin Hatchett comes in and answers questions on a regular basis.
The fact is Franklin Hatchett has his own business has to worry about and is in the trenches actually doing affiliate marketing which a lot of these other gurus are not doing.
So some of the questions do get left for a little while to be answered. The problem is if you need an answer quickly it can be a bit of an issue. And that's why I kind of knock points off of the community and support aspect of the Savage Affiliate training program.
---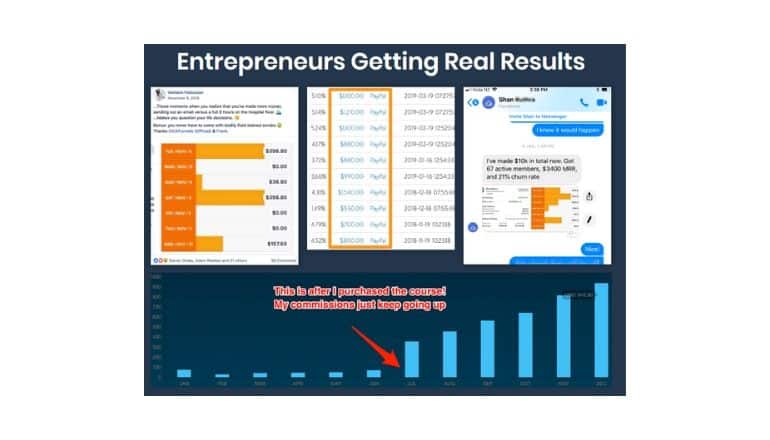 Savage Affiliates Support
The support for Savage affiliate is pretty good. It ties in a little bit with the community sometimes you have to ask questions about the program to the community and wait for an answer.
But the actual support is pretty quick I emailed with an issue I had and it was fixed within hours. And I haven't heard any horror stories of people not being able to get their issues fixed right away.
The only real issue with the support is their refund policy. They have a 30-day refund policy. They'll give you your money back you just have to demonstrate that you gave an honest attempt at using the information provided in the Savage affiliate training program.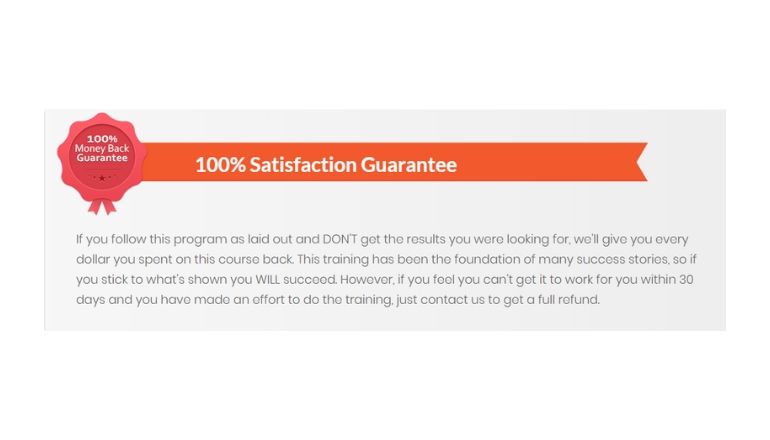 It's a little convoluted to do it this way.
However, I understand exactly why it is done this way. If it were simply no questions asked, you would just have people sign up copy all the information and then quit and just be losing money hand-over-fist.
So it's a hassle for a legitimate person who wants to get their money back. Maybe you didn't like the training or didn't find it useful it can be a little bit of a hassle to get a refund.
I think it's a hassle that needed to be applied to protect the integrity of the program as a whole.
Still, I knock a couple points off for it because it does inconvenience people with legitimate issues.
---
My Thoughts On Savage Affiliates
If you have made it this far into the review then you already know my feeling on Savage Affiliates. It is great. Truly great. The training is top-notch.
There is an absolute ton of it. Calling it an A to Z training program for affiliate marketing doesn't do it enough justice.
And then there is the price point. A one-time payment of $197 dollars is absolutely incredible. There are keyword tools that cost more than that per month. Like double or triple that really.
Savage Affiliates is the best value in affiliate marketing training right now. Other courses, like Project 24, are equal to it in terms of training but they cost over twice as much. Franklin Hatchett really knocked it out of the park with this one.
Highly Recommended.
Thanks for visiting and have a wonderful day.