This article may contain *affiliate links. Please see our affiliate disclosure for more details
The pet niche, in general, is an enormous affiliate marketing niche. When breaking down the pet niche into smaller niches one of the biggest sub-niches is for dogs.
For this review, we are going to be looking at the Muttropolis dog store and its affiliate programs for dogs. Like any affiliate program, this one has the potential to earn some additional income.
Dogs are an evergreen niche, people will always want to spend money on their pets and dogs are some of the most popular pets all over the world.
Any dog blogger should be on the lookout for new and interesting affiliate partners to promote in an effort to constantly improve your online business and make it that much more proftable.
There Is Just Something About Owning Your Own Business. Being Your Own Boss. Building Something From The Ground Up With Your Own Hands. Especially When It Is This Easy To Get Started.
---
What is Muttropolis?
Muttropolis is an online boutique store for dogs and cats. They specialize in all manner of designer products for dogs and cast.
Muttropolis opened its first store in 2002 in Solana Beach, California. Since then they have expanded to open more stores and into the online retail realm.
Muttropolis is also active in many dog-related charities and causes. It is always nice to be able to promote a company that does some actual good for their community or the niche they inhabit. A nice little plus for the Muttropolis Affiliate program.
A Diverse Inventory of Products
Muttropolis is an enticing affiliate partner for many different micro-niches in the larger overall dog niche. This is due to its wide range of products.
Muttropolis has a huge selection of interesting items for a blogger to promote. Many of the unique, which is always a plus when trying to find an affiliate partner to promote.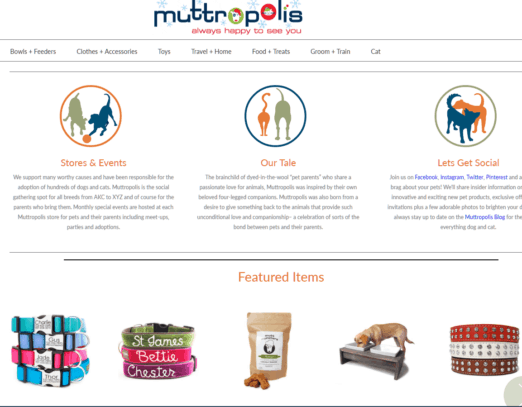 Muttropolis Collars and Leashes
Dog Collars is one of Muttropolis' signature items. They have an absolute ton of them.
You might be able to make dog collars its own micro-niche just from their selection alone. It is truly remarkable. A dog blogger could find hours of content looking at just their collars.
Don't think for a second that these are your normal 5 dollar collars that you can pick up at a pet store chain. These are designer collars. They range in price from $20 dollars to around $200 dollars.
That should make an affiliate marketer very happy with the potential commission from their sale.
Muttropolis also has an extensive selection of leashes and leads for a blogger to promote.
These also carry a designer price as well. A blogger could combine these two items and create some really compelling and interesting content for their readers.
Puppy Clothes
Clothes for dogs make up a large section of Muttropolis' offerings. These range from sweaters and jackets to cover a pup on a cold evening.
While the selection is not as diverse or interesting as the collar and leash section of their website, there are still many great promotions and content opportunities within this part of the store.
The prices are decent for these items, but there may not be enough diversity for a blogger to really focus on this part of the Muttropolis store as a primary focus.
Better to add in a piece of clothing content from time to time and focus on some of the other offerings.
Puppy Playthings
Muttropolis has quite a nice selection of toys for dogs. These range from stuffed animals to chew toys.
And like everything else at Muttropolis, these are high-quality designer toys that come with a designer price tag making for great commission opportunities if they are promoted in the right way.
Many of these toys are very unique and could generate a great deal of content and discussion among a dog bloggers audience.
They range anywhere from $6 dollars to upwards of $50 dollars in price, making them a worthwhile focus of reviews and content fro an affiliate marketers blog.
Personalized Items
Muttropolis has a good array of personalized items. Some of these items include engraved collars and tags personalized to a reader's dog.
This is a great opportunity for a blogger to really individualize their content specifically for their readers. Always a great thing for a blogger.
Everything Else
In addition to the products mentioned previously, Muttropolis has a wide selection of beds, foods and treats, and harnesses.
They also offer products related to grooming and training as well as many designer bowls and feeders that an affiliate marketer could promote for a nice commission.
---
The Muttropolis Affiliate Partner Program
Now we get into the heart of the Muttropolis affiliate program. We'll take a look at the commission and tracking cookie and a look at any other particulars of this affiliate program that may be of interest to a blogger in most dog-related niches.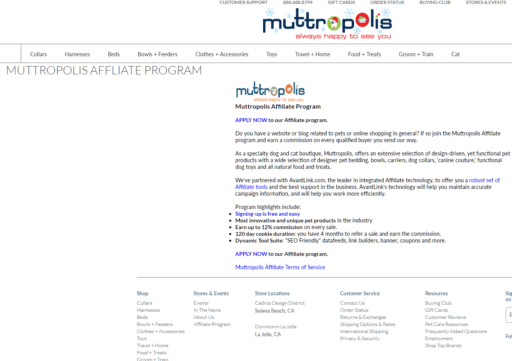 The Commission
Muttropolis offers a 7% commission for most of its products. This is a very nice commission for a retail affiliate program.
Given the prices of many of the designer items at Muttropolis the 7% commission is a huge bonus for an affiliate marketer.
Rarely will you see a commission this high for a retail store that deals in multiple products, as Muttropolis has in their store?
Typically single-product stores, like a coffee or tea website, will offer something around this percent, but for a store with this variety, it is a great addition to their affiliate program.
The Cookie
The Muttropolis affiliate program offers a truly outstanding 120-day cookie.
That is a full four months for a bloggers audience member to purchase something from the Muttropolis store. Most companies have started putting a 30-45 day cookie on their affiliate programs.
So it is nice to see a company offer a pretty nice cookie length to its affiliate program.
It certainly makes the entire program more useful and is a pretty good incentive to entice a blogger to focus a good amount of its content and features on Muttropolis' products.
What Else?
Muttropolis uses the Avantlink Affiliate Network to handle its affiliate program.
It is always Advisable to join all of these affiliate networks. Unlike the individual affiliate programs, these can be picked up and used to further research specific affiliate programs.
Avantlink is a well-respected affiliate network and one that should be included in any affiliate marketers' arsenal.
The number of potential affiliate programs that are under an affiliate network is a huge percentage and you only need to sign up once to have access to an extraordinary number of individual affiliate programs.
You'll still need to be accepted for many of the programs, however.
---
The Keys to Muttropolis
This is a great affiliate program for most blogs in the dog niche. From clothes to collars to beds and toys.
Muttropolis has an abundance of everything. The designer prices may make the potential customer list a little bit smaller.
But, the generous commission and unique designer nature of the products more than makes up for it.
An entire micro-niche could be dedicated just to Muttropolis' product offerings which make sit a great addition for any dog-related blog.
Commission, cookie, and the number and uniqueness of products are the key factors to choosing whether or not a blogger should spend their time promoting one affiliate over another.
Muttropolis really ticks all the boxes. A truly outstanding affiliate program. Try and run some tests to see just how beneficial this affiliate can be for your online business.
Don't go it alone. Get the best learning tools and community to help you build your online dream. Check it out here.
---