This article may contain *affiliate links. Please see our affiliate disclosure for more details
Greetings everyone. Today we are going to be taking a look at some of the best traditional and weighted blanket affiliate programs for you to use on your niche website.
I thought it might be interesting to research some blanket affiliate programs, specifically weighted blanket affiliates mixed with some more traditional blanket partners to round out our list.
Blanket affiliates can be used for a nice variety of niches. Bedroom decor would work well as a niche for these blanket partners.
Bedding and mattress niches would do well to have a section on sheets and blankets. A niche site dedicated solely to weighted blankets could work nicely and a crafting niche on how to knit or sew your own blankets is always going to be a hit with fans.
Especially if you combine some of the blanket affiliates with a sewing affiliate program on your blanket niche site. Even tackling a niche as focused as baby blankets could benefit from some of these partner programs.
There Is Just Something About Owning Your Own Business. Being Your Own Boss. Building Something From The Ground Up With Your Own Hands. Especially When It Is This Easy To Get Started.
---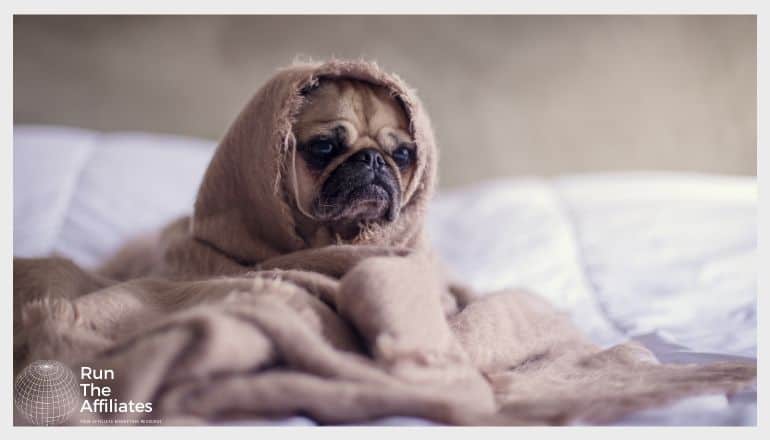 Check Out These Blanket Affiliate Programs
---
Rumpl Affiliate Program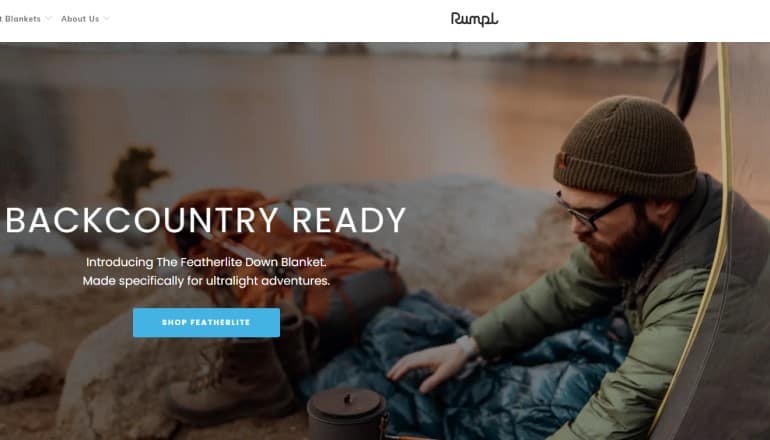 We start our list with a traditional blanker affiliate. Rumpl's lightweight puffy blankets will keep you warm indoors and out and will give an affiliate marketer a great product line to promote to their audience in need of just such a blanket.
Here are a few of the products that you can expect to promote when you join this affiliate. They also have some accessories and related products for you to promote.
NanoLoft® Puffy Blankets
Down Puffy Blankets
Sherpa Puffy Blankets
Polar Puffy Blankets
Down Blankets
Fleece Blankets
Ponchos
Apparel
Shammy Towels
One of the great things about some of Rumpl's blankets is that they are made to be used anywhere even outdoors. That means that this affiliate could be used as a camping or hiking affiliate program or any outdoor niche site that needs a sturdy blanket partner to round out their affiliate strategy.
Solid is how I would describe the affiliate terms for the Rumpl Affiliate Program. The tracking cookie is a solid 30-days.
It will give you plenty of time to promote their blankets. The 30-day duration is great for the $70 to $100+ dollar blankets that make up the bulk of the product line.
The 8% commission should work well with the tracking cookie and the price of the blankets. Commissions could run upwards of $10 per sale if you make the high-end blankets a priority. But the lower price blankets will probably be the bulk of your sales and at 8% they can turn a nice commission as well.
---
Woof Blankets Affiliate Program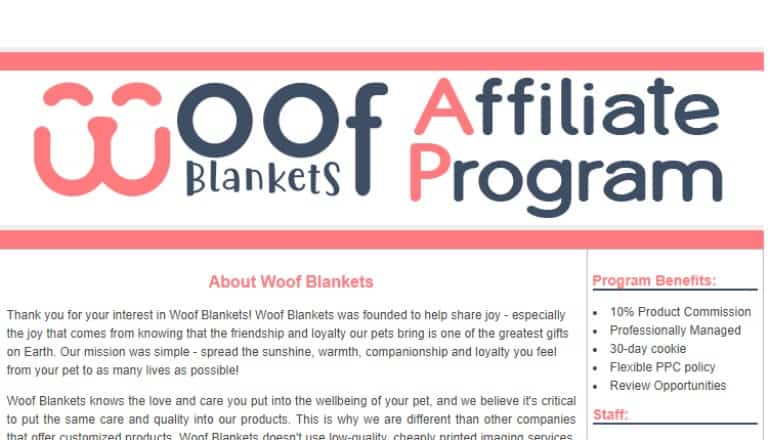 The big draw for the Woof Blankets affiliate program is the customization aspect of these blankets. You can get your favorite fluffy friend's furry face right on their blankets to snuggle with even if your best bud is off doing something else.
The pricing is reasonable so you will be able to promote these neat blankets to a wide variety of audience members and income levels. They also have an art section that makes canvas prints of your dog photos.
This is a blanket affiliate, a dog or pet affiliate program, and even an art affiliate program, versatility in a single partner program.
The commission and tracking cookie are pretty good as well. They offer a standard 30-day tracking cookie which should work just fine for this partner and the 10% commission is a solid double-digit commission that should result in a good amount of cash flow with a decent amount of traffic.
---
Mosaic Weighted Blankets Affiliate Program
Commission: 9%
Tracking Cookie: 30-days
Auto-Approval: No
Affiliate Niche: Weighted Blankets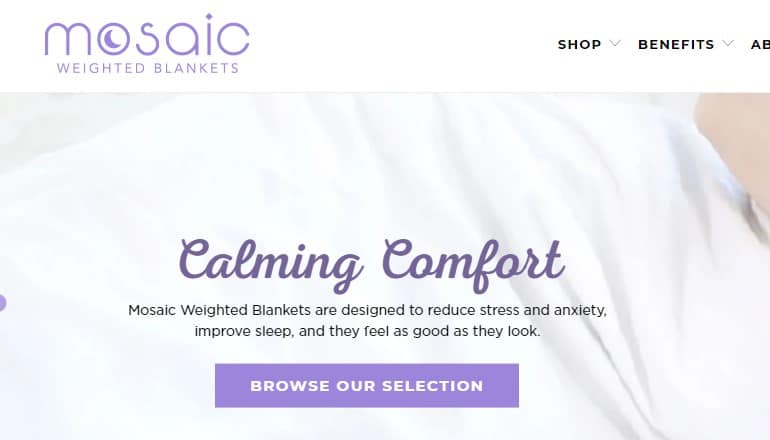 Mosaic Weighted Blankets is our first true weighted blanket retailer on the list. The blankets are designed to give extra comfort to the person using them.
Weighted blankets utilize deep pressure touch which triggers a relaxing sensation in the nervous system, it's the same science behind why hugs and massages feel so good…

Mosaic Weighted Blankets Website
They have blankets in a wide range of sizes and styles. Here are some of the product categories you can promote through their affiliate program.
ADULTS BLANKETS
KIDS & TEENS BLANKETS
FULLS / QUEENS / KINGS
MINKY BLANKETS
COTTON BLANKETS
ORGANIC BLANKETS
WEIGHTED ACCESSORIES
The commission is a solid 9%. It is in line with most of the other affiliate on our list as they all seem to hover around this 7-10% commission range with a couple of exceptions.
The tracking cookie is a standard 30-days which should work out well. While the blankets do run close to $200 dollars for the larger sizes nothing really screams high-ticket item so the 30-day tracking cookie would work just fine.
---
Gravity Blankets Affiliate Program
Commission: 3%
Tracking Cookie: 45-days
Auto-Approval: No
Affiliate Niche: Weighted Blankets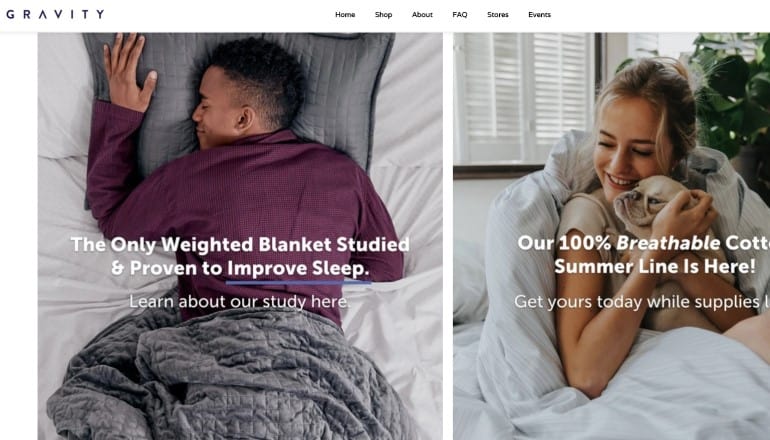 Gravity Blankets is a huge name when it comes to weighted blankets and accessories. In addition to their blankets, they have weighted robes and masks as well as weighted bamboo sheets that would fit right into a bamboo focus niche site.
The commission is a bit on the low side. At only 3% is will be hard to use this affiliate on its own without a huge amount of high-converting traffic.
Your best bet is to pair it with other affiliates that have a little bigger commission until you get the traffic to support the 3% commission rate.
The tracking cookie should be great at 45-days but it will be bogged down by the low commission without solid continuous traffic. Overall, I would only recommend this affiliate for an experienced marketer with solid traffic numbers.
---
Nap Guru Affiliate Program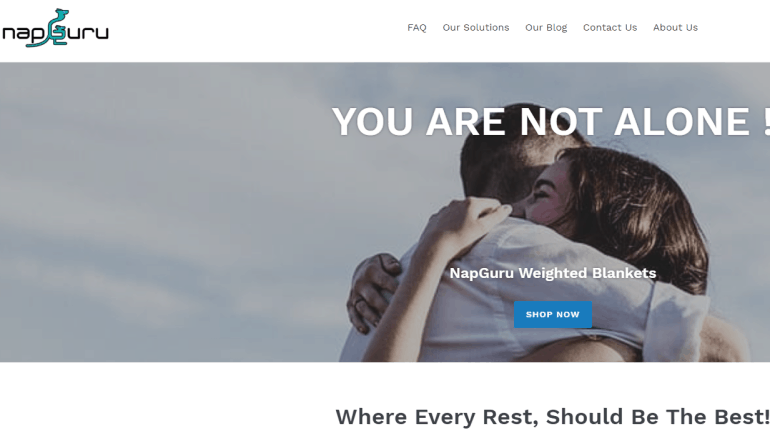 Nap Guru only has a couple of products for you to promote making its appeal somewhat less that many other partners on out list. It can work and a complimentary affiliate for your niche site but probably not as the focal point of your affiliate strategy.
The commission is 14% and it makes up for the limited product selection up to a point. You will need to be sure that the products are well liked and well promoted in order to get the ost out of this affiliate partner.
The tracking cookie is a standard 30-days. There is nothing on their website that I would consider a high-ticket item so this duration cookie should do just fine for most affiliate marketers out there.
---
Big Blanket Co. Affiliate Program
Commission: 12%
Tracking Cookie: 30-days
Auto-Approval: No
Affiliate Niche: Blankets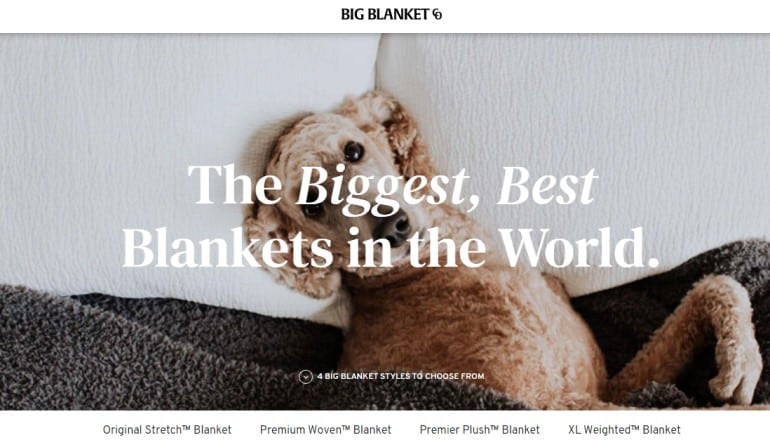 Big Blanket Co. is another blanket affiliate with a limited number of products to promote. They have a few variations on their signature big blanket that should do very well on a blanket or mattress niche site.
They do have quite a few different colors for their blankets which should result in a wider selection for your audience. Still it is going to have a pretty niche appeal for their blankets.
The good news is that they have some very nice terms for their affiliate partners. The 30-day tracking cookie should do well for their products whcih run close to $300 for their weighted blanket options.
It toes the line of being a high-ticket item but the 30-day tracking cookie should be long enough to keep conversion at an good rate.
---
Weighted Evolution Affiliate Program
Commission: 8%
Tracking Cookie: 30-days
Auto-Approval: Yes
Affiliate Niche: Weighted Blankets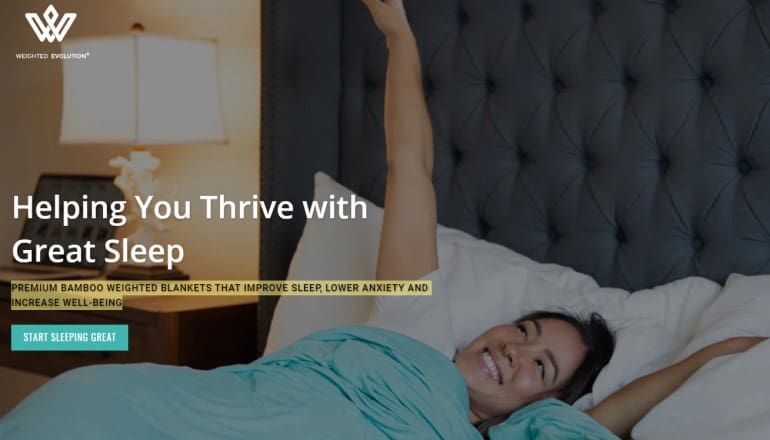 Weighted Evolution specializes in weighted bamboo blankets based out of Maui, Hawaii. This could double as a bamboo affiliate program if that is more of the focus of your niche site.
PREMIUM BAMBOO WEIGHTED BLANKETS THAT IMPROVE SLEEP, LOWER ANXIETY AND INCREASE WELL-BEING

Weighted Evolution Website
Weighted Evolution has a small store with only 3 products (with a variety of colors). But the products are perfect for a weighted blanket niche website, a bamboo niche website, or even a website focused on Hawaiian products.
The affiliate terms are solid as well. They offer a 30-day tracking cookie and an 8% commission on all qualifying sales made through your affiliate links. In addition, they have an auto-approval option on their ShareASale profile.
This means it is a great partner for anyone who is just starting out and might not have a ton of traffic yet. Give a try and see how well they work for your niche site.
---
Bearaby Affiliate Program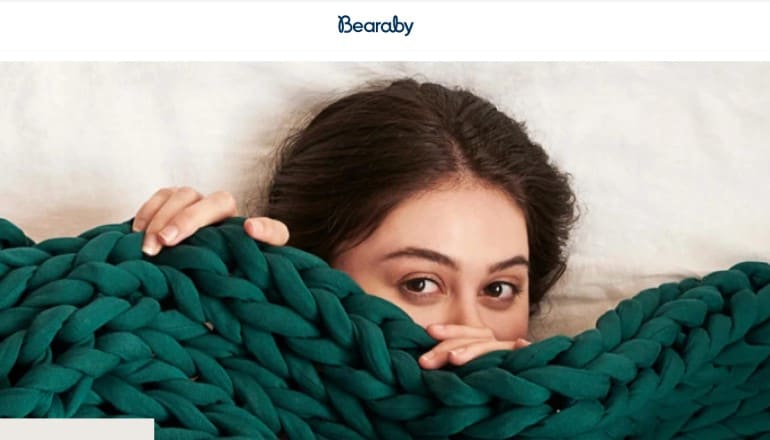 Bearaby has a small but focused selection of napper blankets. These blankets have a woven look to them and are very modern but still reminiscent of an old woven blanket.
Here are some of their weighted Napper blankets that you can promote…
Cotton Napper
Tree Napper
Nappling
Sleeper
The pricing runs over $240 dollars on some of their napper blankets meaning they are below that high-ticket item threshold.
The tracking cookie is 60-days which is great for a product that can run well into the multiple hundreds of dollars depending on size and weight. The 2 months of tracking gap will ensure that you get a commission from most of your referrals that are interested in making a purchase.
With a good conversion rate even the relatively low 4% commission can work well for you. I would like to see a higher commission but you have to work with what you have. It is still a higher commission than Amazon Associates, which is always a good thing.
---
Honeybird Affiliate Program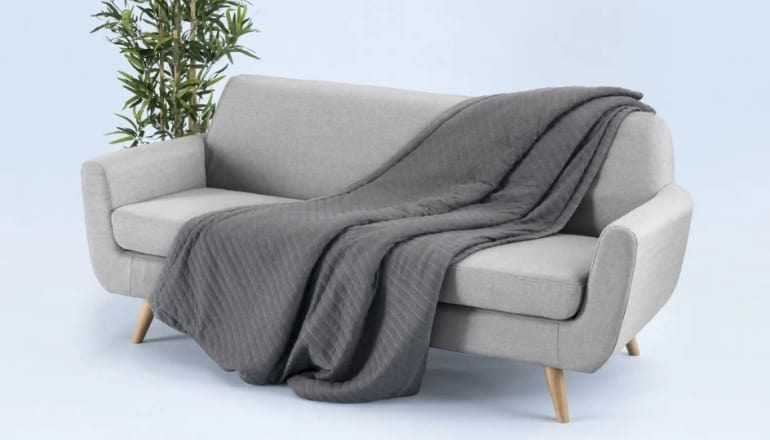 Honeybird only has a single weighted blanket for you to promote at the time of writing. The good news is that if your audience likes this blanket you can do quite well promoting it. On the flip side it suffers from the same issues as every other single product affiliate program.
If you audience doesn't like the brand or the product you will need to find anouther affiliate to promote on your niche site. However, given the quality and nice looks it should be a hit with most audiences out there.
The 5% commission is at the lower end of the range in this niche but should be pretty good for most people and the 60-day tracking cookie will keep your conversion rates high.
---
Gunn And Swain Affiliate Program
Commission: 10%
Tracking Cookie: 90-days
Auto-Approval: No
Affiliate Niche: Mexican Blankets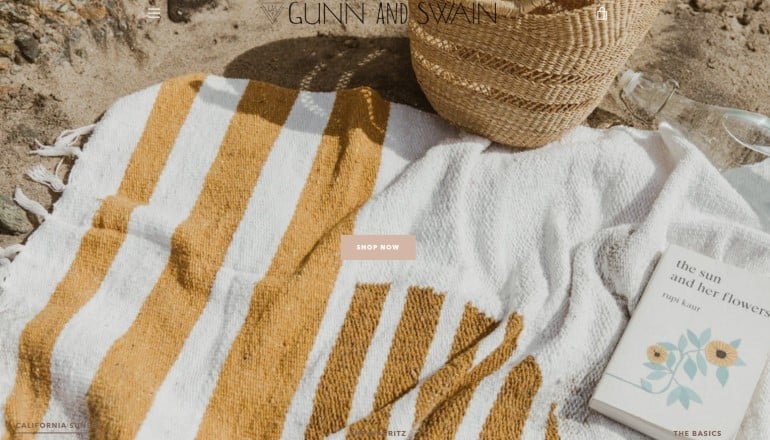 Gunn And Swain mainly focus on Mexican blankets. This makes them a bit different from the other affiliates on our list and makes them a great option for a blanket or sleep niche site as well as a niche site based around Mexican products and culture.
The 10% commission is among the best on our list and the 90-day tracking cookie is as well. Put together these are some of the best affiliate terms for any blanket affiliate.
The products are pretty niche but if you can fit them into your Mexican niche or blanket niche website you can do very well with this partner program.
---
The Big Finish
That wraps up our look at these blanket affiliates program. Whether you need a weighted blanket partner or a more traditional blanket affiliate for your niche site there is something here that might just be what you are looking for.
If you were to use Amazon Associates for your blanket affiliate you would only get bewtween a 1% and 3%, commission.
That makes it very tough to build a business. So these affiliates might just be the answer to your search for an Amazon alternative for your online business.
Find one that it right for you and your audience and see how well it can do for you when you give it the attention and the content it needs to succeed.
There is no better time than today to get started with a new affiliate or get started with a new niche site.
Don't go it alone. Get the best learning tools and community to help you build your online dream. Check it out here.
Thanks for stopping but and have a wonderful day.