This article may contain *affiliate links. Please see our affiliate disclosure for more details
Can you really make money with a mattress blog? That is the question I asked myself after writing an article on 10 great mattress affiliate programs. The Mattress niche seems to have everything you need to be successful. A good amount of affiliate programs. A bunch of great products to choose from. And a huge billion-dollar industry to tap into.
But something seemed a little off.  Something wasn't quite right.  Sure there are a few very successful mattress and bedding blogs and YouTube channels but are they the exception to the rule?  Are those established mattress sites so embedded that there is no room for new players?
You can make money with a mattress blog. Absolutely. But I think there are many other niches that are easier to get into with far less competition. And a more diverse selection of products. If I were going to start a new blog I don't think I would even try the mattress niche.
So in this article, we are going to look at the mattress niche. Hopefully, we can find something in the research that will give you some hope if you are just starting a mattress blog. Keep this in mind, however, If you really work and put the time in you can be successful at almost any niche really.
My argument is that there are simply easier routes to take if you want to start blogging.
There Is Just Something About Owning Your Own Business. Being Your Own Boss. Building Something From The Ground Up With Your Own Hands. Especially When It Is This Easy To Get Started.
---
Why Start A Mattress Blog?
There are quite a few reasons to start a blog in the mattress and bedding niche. For starters, there is a lot of money to be made there. Many of the affiliate programs pay flat fees of hundreds of dollars for each sale you send their way.
But money is not the only thing. The mattress niche can be incorporated into a whole host of other tangential niches. You can incorporate mattress affiliate programs into your sleeping health blog. Or your "how to stop snoring blog". Or your Sleep Apnea blog.
If you move away from the health niche you can add mattresses to your home design blog or a blog about making linens or knitting blankets. That is the real appeal of this particular niche. Trying to start a blog where you just review mattresses is not a great way to go about it.
There are some major players in the mattress review niche and I really don't see much of a way for a new blog to break through without years of hard work and tenacity. It certainly can be done. Many successful blogs are where they are now through sheer force of will.
But if you choose to go the mattress review route, be ready for a long hard fight to the top.
Monetizing a Mattress Blog?
No big surprises here. You want people to buy the mattresses you promote through affiliate marketing. You can place advertisements but I think they would cannibalize some of your potential sales. This is especially true if they are contextual. You will have a bunch of mattress ads competing with your affiliate links.
Add competition to your own website.  It is not the best way to do business.  So affiliate marketing it is.  You will want to find a few high-converting mattress brands that you can promote.  Either by reviewing or as a side affiliate to a separate niche.
You will also want to promote smaller items like pillows and linen sets. Not everyone will want to drop $1k-2k on a new memory foam bed. So you give them a less expensive option and maybe you get a few sales that way.
It should be pretty clear why this niche is so difficult. There just aren't that many options. You have to sell mattresses. Sure there a ton of different brands but they are all mattresses. You have no room to maneuver. There is no real way to avoid the competition for a new blog.
The income potential is there but it is a tough nut to crack.
Is There Any Potential In A Mattress Blog?
Speaking of potential. There is some potential in a mattress blog. Someone started at the bottom and built Sleepopolis into what it is today. But that took quite a while and a lot of hard work. Could you replicate it with a new blog or channel?
Absolutely.
But you will have to apply the same hard work they did. There is potential in the niche. And there may be room for new competition. But there will be a lot of lonely hours of building a blog before you even see any traffic much less any sales.
---
The Keywords Are A Tough Road
There are only so many ways that people will search for a mattress. If your blog tries to use the brand names you are going to run straight into huge e-commerce and authority sites. If you try and be clever by adding them to a tangential blog. You will get some sales but never in the numbers that a dedicated mattress blog will.
You are damned if you do damned if you don't with this niche it seems.  You'll see in the keyword research below that there is an enormous number of mattress-related searches.  But you need longtail keywords to be successful when you are just starting out and those might be tough to find.

For example, if we search for best rated California king mattress" we get consumer reports, Costco, and Overstock.com as the first page results. A blog is going to have a very tough time unseating these giants. For a new blog, it will be impossible.
So what does this mean? It means that you are going to have to be extra clever in your keyword research. You'll need to dig down and find those perfect long-tail keywords in order to maximize your chance at a successful blog.
What About Affiliate Programs?
It has been a bunch of gloom and doom up to this point, I know. The good news is if you can get to this point your blog will be fine. There are tons of mattress affiliate programs for you to choose from and promote to your audience.
Once you get the traffic there is no reason why this can't be a very lucrative and enjoyable niche. Getting the traffic to your new blog is the big hurdle. There are a variety of different mattress makers. Try a few of them and pick the ones that convert best for your readers or viewers.
How to Choose A Mattress Domain
There are lots of great directions you can take when choosing a domain and name for your mattress blog. I already mentioned Sleepopolis. They knocked it out of the park when they named their website. There is no reason you cannot do the same.
As a basic rule of thumb, I always recommend that you pick something memorable and interesting. Something that is pretty easy to remember and not overly long. That is the best recipe for a good domain and blog name.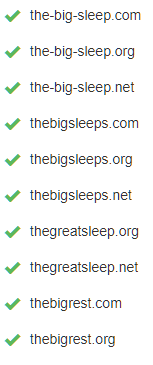 ---
Putting the Mattress Niche To Bed
Good luck.  That is the best advice I can give to anyone looking to dive into the mattress niche.  It is a tough one.  It is competitive.  There is only a single product really.  There is not much room for a new website to maneuver.
There is money to be made in this niche.  It can be incredibly lucrative.  But the top dogs are not going to give it up easily and they have dug their heels into this niche in a way that makes them almost impossible to unseat. You have to brute force your way in or be incredibly clever about how you deploy your keywords.  Is it possible?  Without Question.  But you will need to work your butt off and have a ton of great content.
Don't go it alone. Get the best learning tools and community to help you build your online dream. Check it out here.
---
Thank you for visiting and taking the time to read our articles.
As always have a wonderful day.