This article may contain *affiliate links. Please see our affiliate disclosure for more details
Fantasy Football is an incredibly popular game that many people play alongside watching the actual games on Sunday. For many fans, it heightens their interest in games that they would normally not really care about.
But most people play to win. And this is where you can come in with a fantasy football blog.
If you can produce content and strategies that are going to give your readers an advantage in their leagues and help them win games you will have a great opportunity to make a nice bit of extra income with blogs of this type.
But you have to be realistic, this niche is not going to be easy to break into. It is very competitive if you try and approach it as a single niche. You want to find micro-niches inside this fantasy football niche in order to really maximize your blogs potential.
Just how popular is fantasy football? According to this Forbes Article from a few years ago, the revenue is staggering. Topping 70 Billion in 2013. Daily Fantasy sports games are taking off as well. Generating hundreds of millions in revenue each year.
It is a good way to start a new football blog but you will want to expand as soon as possible.
A fantasy Football section is also a great way to expand an existing football blog. Either way, let's have a look at some of the ins and outs of starting a fantasy football blog.
There Is Just Something About Owning Your Own Business. Being Your Own Boss. Building Something From The Ground Up With Your Own Hands. Especially When It Is This Easy To Get Started.
---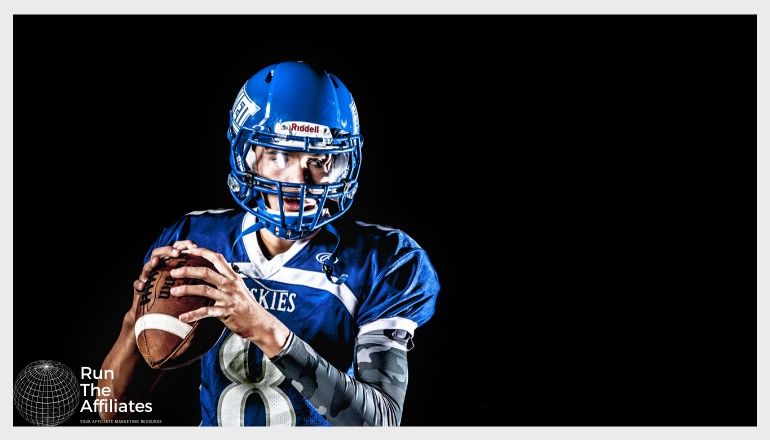 Why Start A Fantasy Football Blog?
A fantasy football blog is a great way to enhance your own fantasy football gameplay by building a community of like-minded people to share your thoughts and strategies.  This is the very definition of a micro-niche.
A micro-niche like this is more a labor of love than a real profit-generating blog.  But the reason we are going to look at it is that it can be used as a gateway to build and expand a blog into the larger and much more profitable football niche.
Not only is the niche pretty small it is also very seasonal. If we take a look at the Google trends you can see that interest falls to almost nothing during the football offseason and then spikes to a maximum at the start of the new season.
You will need to push out the majority of your content just before and during the course of the pro football season.  Draft strategies, sleeper players, and how to maximize your points week to week are going to be your big traffic drawing pieces of content.
You are going to want to publish a lot during the start of a new season, but you will also want to find some evergreen topics to post that will draw traffic for the entire year. Another strategy is to update your old post each season. If the strategies are still viable there is no reason to rewrite an entire post.
How Do You Monetize This Micro-Niche?
Advertising is probably the best way to monetize a fantasy football blog. You can place a few ads in the content and in the sidebars to help generate some income. Advertising is completely dependent on traffic, however.
In order to see any real returns, you are going to need to generate a good amount of traffic from your content. It can be done but this micro-niche is not going to generate thousands of dollars in ad traffic on its own.
Affiliate marketing is another viable option for monetizing the fantasy football niche.  You can use any football affiliate program but you need to understand that people are not going to your website with buyers' intent for something like a football jersey.
They are going for fantasy football information. This will naturally limit the conversion rate of your football affiliate programs.
However, there are fantasy sports affiliate programs that you can use that can indeed generate a lot of income. These are not specific to fantasy football. But I would urge you to consider them as some of them can be very lucrative.
You can view an entire list of fantasy sports affiliate programs right here.
Room To Grow?
There are a couple of ways to expand a fantasy football blog. The most obvious is to branch out into other areas of football. One great example is to start doing fantasy football watch along with your readers. You obviously can't broadcast the games but you can live stream yourself watching with your readers in the chat.
There are quite a few sports niches that do this right now and you can easily incorporate your fantasy football into one of them.
However, one of the best ways to expand a fantasy football blog is to start incorporating new sports into it.  Your football blog would morph into a fantasy sports blog.  This gives you the ability to add content years round depending on what sports are currently active.
It will also greatly expand the reach of your affiliate partners as most of them will be useful for all sports.  You can then benefit from your fantasy sports affiliate programs year-round.  The downside is that you will need to become very familiar with the other sports.
So if football is your expertise it might be wiser to just stay in the football niche and expand your blog within it accordingly.
The industry as a whole is constantly looking for ways to grow as well. As a fantasy sports blogger, you can take advantage of the new trends towards daily fantasy football and tailor your content towards the shorter duration fantasy games.
There is plenty of room for both the fantasy industry and your fantasy football blog to grow.
Fantasy Football Keyword Research
Remember that Google Trends graph at the start of this article? It spiked right at the start of the football season and then dropped during the offseason. If we look at that chart on its own it might look somewhat lacking.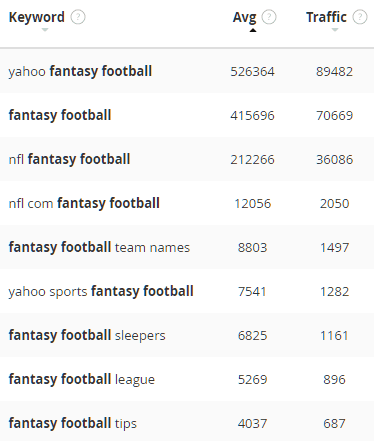 Only seasonal interest in your blog. How much traffic could there really be in just a few short months? That is where our Jaaxy Keyword research tool comes in. The search numbers are absolutely staggering. And far too much volume to try and rank for the main head keywords.
You are going to have to find some clever long-tail keywords to get the SERP results you need to make your blog successful.
Look what happens when we break fantasy football down into smaller individual topics with long-tail keywords. For this example, the keyword is "Fantasy Football Draft Strategies". Not only do we get a great search volume but look at the competition rating in Jaaxy. The KQI is green across the board and the SEO rankings are all in the 90 plus.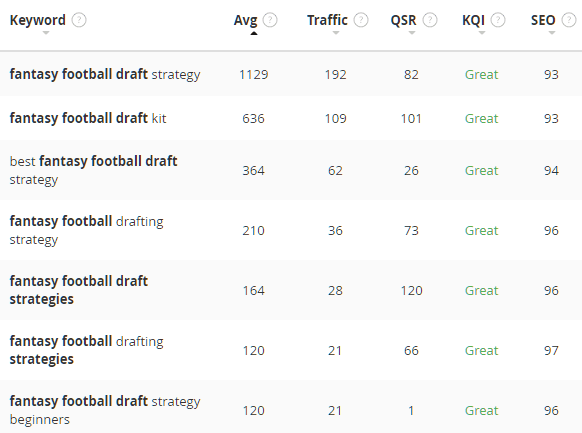 This is how you break into any niche, but it is absolutely required when trying to start a blog in a competitive niche like fantasy football. This is one topic. You can find hundreds of keywords like these with Jaaxy or other keyword search tools. Each keyword is a potential piece of content and each piece of content will bring in traffic.
A quick look at one more long-tail keyword. In this case, the keyword is "fantasy football defense". An often overlooked aspect of fantasy football. Once again we see a half dozen or so incredibly viable keywords to use for your content.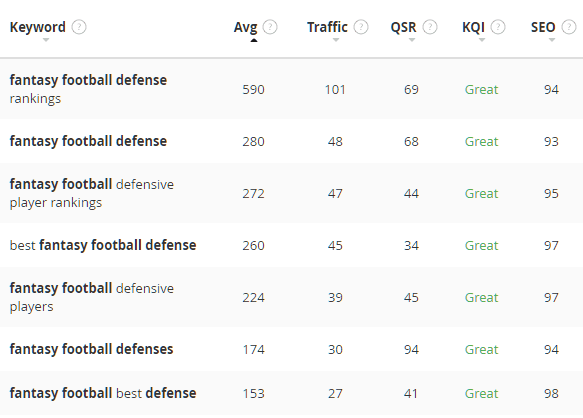 I am not a fantasy football guru, in fact, I don't really play much anymore.  But if I can come up with a couple of great keywords in just a few minutes think about what someone like you can generate.  If you are already incredibly knowledgable about fantasy football then you can become a content-generating machine and get your articles to rank constantly.
One last thing about using long-tail keywords for fantasy football, you will rank in search engines for hundreds of keywords unintentionally. So while you focus on one long-tail keyword your article will generate traffic from the other keywords it ranks for as well.
If the content is great.
Content always needs to be great.
That's A Wrap
There you have it. Another micro-niche idea to start you on your way to a profitable blog. This one is a little tricky given the seasonal nature of the niche, but it can be molded into a very nice side-income generating endeavor.
As with any blog of this type, it is the content that will dictate its success.  Creating thorough and clear strategies for fantasy football and well an in-depth look at players and potential is going to be a lot of hard work and research.
But that hard work will be rewarded with a loyal fan base that turns to you year after year in an attempt to with their fantasy football leagues.  And with the rise of pseudo-fantasy sites like DraftKings and Fanduel, you will actually be helping your readers win a little bit of money.
Don't go it alone. Get the best learning tools and community to help you build your online dream. Check it out here.
---
As always, thank you for visiting, and have a great day.