This article may contain *affiliate links. Please see our affiliate disclosure for more details
Everyone loves their pets.  Dog people, cat people, lizard people.  It doesn't matter. 
Pets are a part of the family and the pet niche is one of the true evergreen blogging niches because of it. 
People will always spend money on their pets.  Regardless of the economy or anything else.
People love their pets.
If your pet blog can connect with pet owners then you will have one of the most lucrative and interesting blogs around. 
There are so many micro and sub-niches to break into the larger pet niche that almost anyone can find a subject they love writing about.
For those that are looking to expand their blogs with new affiliate opportunities have we got a list for you. 
Some of the biggest, the top paying pet affiliate programs around.  10 of them and this is just the beginning because there were far too many to fit into one article.
Affiliate Programs are only part of the equation for a successful blog.  For more help,  check out my top recommended resource for developing and maintaining a successful passive income blog.
---
Pet Warehouse

Affiliate Program
Application: Sign Up Here
Sales Commission: 10%
Tracking Cookie: 15-days
Pet Warehouse is a large wholesale pet store.  This is a very good affiliate partner program to have mainly due to its huge amount of pet supplies.  It has just about everything for a wide variety of micro-niches in the pet niche.
Not only does Pet Warehouse have you typical supplies for dogs and cats, but it also has a huge selection of supplies for aquariums, birds and reptiles and small pets like hamsters and guinea pigs. 
This is a very broad affiliate program that ticks a lot of boxes for a lot of niches.
The selection is remarkable.  They have hundreds of products for each category.  While some of the other more focused affiliate programs may have better terms, a pet blogger would do well to have this affiliate program.  According to its ShareASale data feed, they have 35000+ products.
Pet Warehouse has been in business since 1974 and has had an affiliate program since 2003.  They really are an old and reliable affiliate partner for anyone in the pet niche.
PThe Pet Warehouse Affiliate Program uses the ShareASale Affiliate Network.  You can sign up HERE.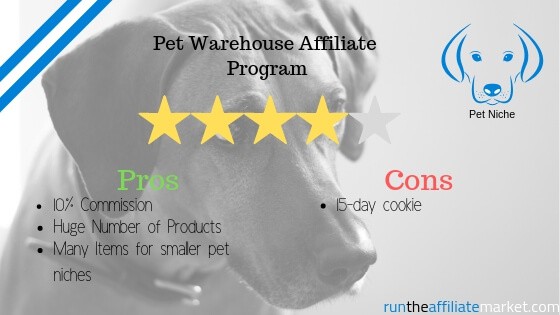 What is the Commission?
Pet Warehouses offers up to a 10% commission for sales through their affiliate program.  For a large warehouse store with so many products, this is not bad at all. 
Their average sale is $48, which is pretty good and their earnings per click are 6.38 EPC, again not too shabby.
Just a reminder about earnings per click, EPC is earnings per 100 clicks.  Keep that in mind whenever you see someone quoting the EPC numbers.
The Tracking Cookie
The tracking cookie for the Pet Warehouse affiliate program is 15-days.  This is not ideal.  Even the standard 30-day cookie would have been a disappointment but 15 days is very poor form from this affiliate partner.
The Wrap-Up
Pet Warehouse is a great affiliate to have for any pet niche.  There are better affiliate partners to have and to focus on but you need at least one or two of these large warehouse-type stores to fill in any gaps left by your smaller more focused affiliates.
Amazon Associates can fill the gap most of the time, but having a warehouse store dedicated to your niche is a better route most of the time.
---
Petsies

Affiliate Program
Application: Sign Up Here
Sales Commission: 10%
Tracking Cookie: N/A
This is a cute little affiliate to have for your pet blog.  Petsies makes handmade stuffed animal replicas of your pets.  So your audience would take a photo of their puppy and send it to Petsies and they would make a stuffed keepsake of that pup.
This is a really nice affiliate to have on any pet blog.  You can really build a website around just this affiliate but it is a great change of pace. 
This is especially good for gifts and keepsakes for people that have pets.  The quality is top-notch and the likenesses are pretty spot on.
A banner or advertisement from this affiliate on a few pages or on the front page would be a good way of promoting this company.  Maybe a story or two about them, but this will not drive a lot of content for your blog.
The Petsies affiliate program is part of the ShareASale Affiliate Network.  You can Join Petsies Affiliate Program right HERE.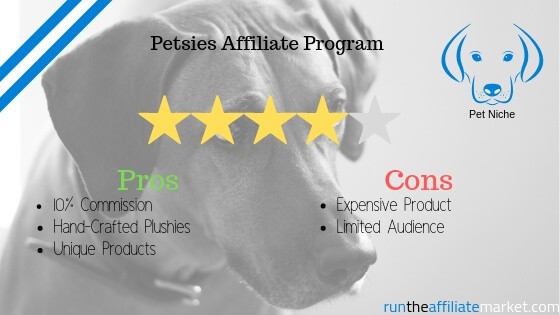 The Commission?
The commission for Petsies affiliates is a more than reasonable 10%.  The commission adds up pretty quickly as these are custom hand-made items that cost quite a bit of money. 
Upwards of $200 dollars per stuffed animal.  It may seem like a lot but the craftsmanship is outstanding for their products.
Their ShareASale Statistics are pretty robust as you might expect.
As mentioned the price of one of these stuffed animals is around $200 dollars so a $215 average sale is right in line.
$21 Average Commission is a very nice return for your promotions
The Earnings per Click is $6.75 EPC.  This is to be expected since these are specialty products and many readers will look but not buy.
The Tracking Cookie?
A standard 30-day tracking cookie is what is on offer from Petsies.  We would love to see a higher cookie especially given the price of one of their products but 30-days is decent.  Much better than some on this list.
The Wrap-Up
This is a wonderful little side affiliate partner to have for a pet blog.  The products are very expensive and that will limit the number of readers willing to buy them. 
But they are great to have available for your readers.  Any commissions from them are simply a bonus for your website.  Definitely recommended for any pet niche blog.
---
Natural Wonder Pet Corp

Affiliate Program
Application: Sign Up Here
Sales Commission: 15%
Tracking Cookie: 1-Day
Natural Wonder Pet Corp. is a supplier of organic herbal remedies for your readers' dogs and cats.  They have vitamins, flea and tick remedies, and a host of other herbal products to keep your pet healthy.  All of their products are made in the USA.
While they do have a few other products, their herbal remedies are the star of the show for this affiliate partner.  The list of ailments that their products help with is very impressive. 
From basics like ear cleaner and tear stains to Arthritis and diabetes, Natural Wonder Pet Corp has an organic remedy for them all.
They also offer a 100% money-back guarantee which is a must for this type of business for a few reasons. 
One they are making some bold claims about the treatment of some pretty serious pet ailments so you need that sort of guarantee to really promote the product.
And two, these remedies don't work on all pets, just like remedies don't work for all humans.  So being able to get a refund if they don't produce the desired result is a very nice thing to have for your audiences' confidence in you and the products.
The Natural Wonder Pets affiliate program is part of the ShareASale affiliate network.  You can sign up right HERE.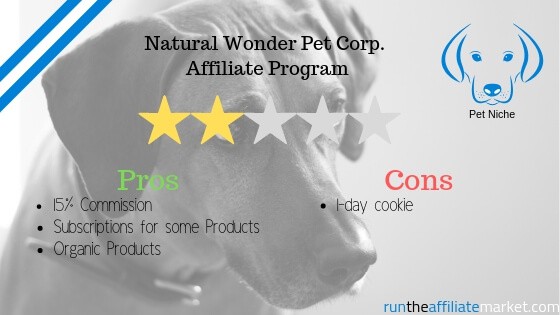 The Commission
The commission for this affiliate program is 15% for recurring products.  Their vitamins and supplements are constantly being repurchased which gives a nice passive income for an affiliate partner along with the regular single purchase type items.
The ShareASale statistics look solid as well.
An Average Sale of $66 dollars.
The Average Commission for this affiliate program is around $11.
Their Earnings Per Click is a very nice $35 EPC.
One of the Worst Cookies Ever?
A 1-day cookie.  To be honest this nearly kills the entire affiliate program.  Tracking cookies are one of the most important aspects of any affiliate program. 
A 30-day cookie isn't great a 1-day cookie is horrendous.  You will lose a lot of potential sales and commissions with this affiliate due to the tracking cookie.
The Wrap-Up
The commission is fine, good even.  But it doesn't do you a whole lot of good with the abysmal tracking cookie. 
Amazon can get away with a 1-day tracking cookie because they are Amazon, but a niche pet supply and pet nutrition supplier really can't.
It is tough to recommend this affiliate program.  If they fit your needs they are a decent choice, if you can live with the tracking cookie.  Their products are good and the rest of the program is pretty good also.
---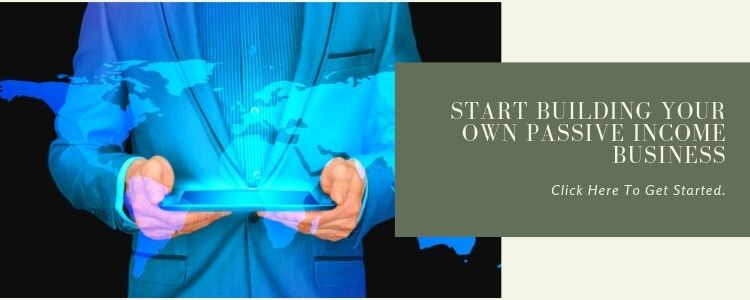 Pet Plate

Affiliate Program
Pet Plate is a subscription meal service for your dog.  They use "human-quality" ingredients including fresh fruits and vegetables, vitamins and select cuts of meat to produce a healthy ready to eat meals for your pups.
This is another fairly high-end affiliate program for your dog blog.  The meal plans are dog-specific so this partner program is for dog blogs exclusively or at least a pet blog that has a decent-sized focus on dogs.
You can choose from a variety of subscription plans and find one that meets the needs of your pup and their eating habits. 
They have turkey, chicken, lamb, and beef-based meal plans so your audience will be able to find something that is perfect for their dog.
The variety can also help you generate some extra content for your dog blog.  Write about the benefits of healthy ingredients for your audiences' pups and you'll be able to promote this program with relative ease. 
Keep in mind that this is still a very small niche and should probably be part of a larger dog blog.
The Pet Plate Affiliate Program is Part of the ShareASale Affiliate Network.  You can sign up here.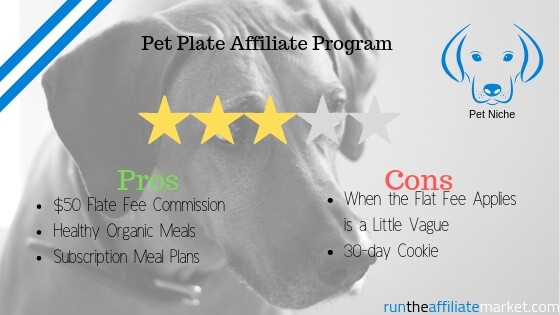 A Flat Fee
Pet Plate offers a flat fee of $50 dollars per sale.  While this is a nice flat fee for the initial sale, it is unclear if it includes a recurring commission for the subscription plans.  The price of plans depends largely on the size of the dog the plan is for.
The ShareASale Numbers look pretty decent.
$39 Average Sale for this affiliate partner.

The Average Commission for Pet Plate is $73.

The earnings per click is a robust $197 EPC.
Very nice numbers for this affiliate and one worth looking into.
The Cookie?
Pet Plate offers a standard 30-day cookie to their affiliate partners.  Average but not terrible for the tracking cookie.
The Wrap-Up
This is a very nice affiliate program with a good product.  The healthy meals fit right in with the fairly new trend of feeding your dog a human quality meal and the subscription service makes it easy to get the meals delivered right to your readers' doors.
The only issue is the vagueness of when the flat fee applies.  The ShareASale profile states the fee is applied on a per-sale basis. 
But be sure to check it out with Pet Plate beforehand to be sure you are getting the right commission.  We were unable to join because they only approve Pet related blogs and websites.  Other than that this is a very good affiliate program.
---
PupJoy

Affiliate Program
Pupjoy is another organic dog food supplier.  They have all types of dog sacks and chew toys as well as subscription boxes that include a variety of items from snack to stuffed animals.  Petjoy also has a wide range of pet clothes grooming and sleeping items.
They also have a decent assortment of dog foods and various travel-related items.  Pupjoy has a pretty broad assortment of dog-related items and is a pretty decent affiliate program all around.  Pupjoy also has gift cards and gift boxes that you can promote on your blog.
One other interesting thing about Pupjoy is they have a business to business (B2B) section of their storefront. 
This is a great potential addition for a blogger that is looking to open a storefront.  So be sure to ask about it if that is appealing to you.
Pupjoy is part of the ShareASale affiliate network.  You can sign up right here.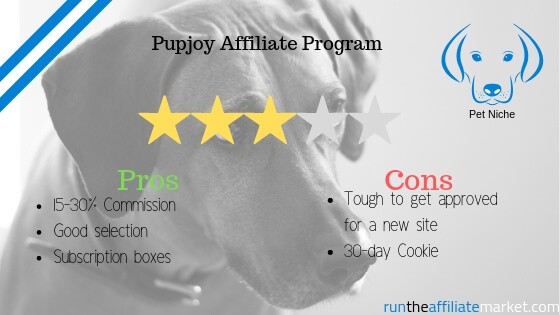 The Commission?
The commission is very nice for Pupjoy affiliate partners.  It starts at 15% but can rise to as much as 30% per sale in some instances.  For the sake of this review, we always choose the lowest rate which is 15%. 
Still, even the lowest rate offered is a very nice one and well worth your time to promote this company and its products.
The only "downside" to this affiliate is that they are particularly picky about who they approve as an affiliate partner.  It is not really a downside in all seriousness but it means that you will need to build up a decent user base before trying to get approved by Pupjoy.
The Statistics for this affiliate program are reasonable:
The Average Sale is an adequate $59 dollars.
The earnings per click is a fair $28 EPC.
Tracking Cookie?
The tracking cookie is your standard 30-days.  This is the average tracking cookie these days.  Just have to live with it.
The Wrap-Up
A pretty good affiliate program to promote.  The commission percentage is particularly nice.  The cookie is average, but that is to be expected. 
They also have a suitable selection of products to promote.  Overall a dog blog would do well to add this to their stable of affiliate programs.
---
Dogonit

Affiliate Program
This is a very small affiliate program for dog beds.  They specialize in orthopedic dog beds made from memory foam.  They have beds for large and small dogs and are some of the highest quality beds around designed specifically for pets.
This affiliate doesn't have enough products to really build a blog around but could be a nice one to add for a general blog about dogs or a more focused blog that includes dog bedding.
The dog on It affiliate program is a part of the ShareASale Affiliate Network.  Sign up right HERE.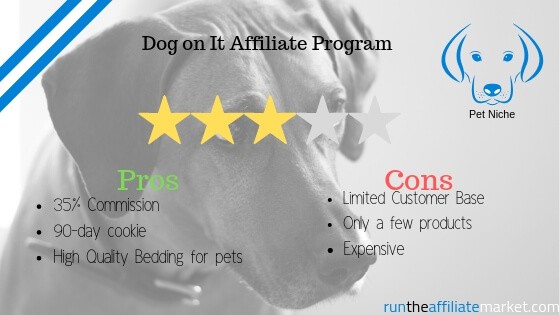 The Commission
Dog on It offers a very competitive 35% for their affiliate partners.  This is one of the best commission around in the pet niche but this is still a tough product to promote and ultimately sell.  In addition, there is little additional information available in their affiliate profile at ShareASale.
Their products are quite pricey, however, so the commission should be pretty high.
Cookie?
This affiliate partner offers a 90-day tracking cookie as a part of its program.  A great cookie for a retail product. 
Given the high price of their products, a lengthy cookie window is great, giving your audience ample time to decide on the purchase.
The Wrap-Up
This is very much a niche affiliate.  It is definitely something to look into and will add a bit of potential content to a dog or pet blog. 
However, the limited potential customers is a major drawback and one that will keep this affiliate in the second or third tier of affiliate programs for pet blogs.
---
Petcube

Affiliate Program
This is another very small affiliate program with a highly specific clientele in mind.  Pet Cube makes interactive pet products. 
Their Pet Cube Bites product flings a treat at you pup while you are away from the house and allows you to monitor your dog while you are not at home with the built-in camera.
It is really part of the smart home and smart appliance wave that is coming in the next few years. 
Its a cute idea but it will be very limited for your audience and will be difficult to promote.  But it will generate some content with reviews and overviews of exactly what Pet Cube is selling.
It might be a tough sell, but with good content and the skillful use of some long-tail keywords, you should be able to promote these products reasonably well.
The Petcube partner program is a member of the ShareASale affiliate network.  Sign Up right HERE.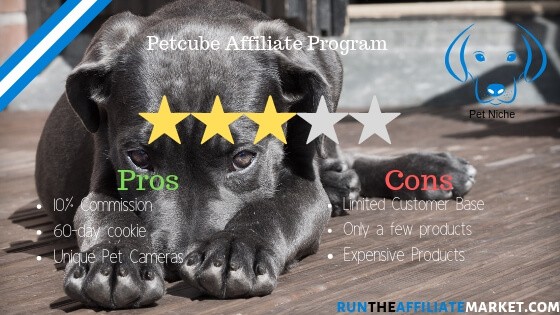 The Commish?
The commission offered by Petcube for their affiliate partners is a respectable 10%.  While we wish it could be a little bit higher for such a small niche product, it will have to do.  The higher price of the Petcube cameras will help to mitigate the average commission.
Cookie?
Petcube offers a 60-day tracking cookie for their partners.  A satisfactory cookie that will provide your readers ample time to decide on whether they want to make the purchase and still give you time to make a commission off of it.
Solid ShareASale Numbers as well:
A robust $167 average sale for this affiliate program.
An appropriate $13 Average Commission
A solid Earnings per Click of $22 EPC
The Wrap-Up
A very unique affiliate program.  One to pick up after your blog has matured a bit.  It will take some skill and great content to really promote this program and get the most out of it.  But it should be doable and bring in a little bit of extra income.
---
Ollie Pets Inc.

Affiliate Program
Ollie Pets Inc. is another subscription meal service for your pups.  This company focuses on customized healthy dog food specifically created for your individual dog.  You tell them about your pup and they come up with the best overall food plan for you.
They deliver the food and you just have to serve it.  The plan refills your food automatically, making it pretty easy to promote to the audience of your blog. 
It is probably best to find the subscription food service that fits your blog's audience the best and go with that one.  You don't want a huge large amount of the same types of affiliate programs.
Ollie is part of the ShareASale Affiliate Network.  You can sign up here.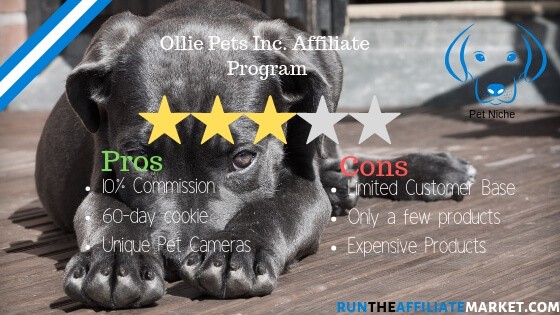 What's the Cut?
Ollie offers a flat fee of $75 dollars per sale.  Flat-fees are fine but percentages tend to be a bit better for an affiliate program.  Still, this flat fee is very generous.  Worth looking into for the commission alone.  Higher commissions are possible for very successful affiliates.
The ShareASale stats look decent:
A $75 Average Commission
A robust Earning per Click of $187 EPC
How Long is the Cookie?
The cookie is a reasonable 60-day tracking cookie.  Double the standard, a very nice duration for a tracking cookie.
The Wrap-Up
As mentioned previously, you only need one or two of the same type of affiliate programs in the long run.  Pick a few subscription food affiliates then prune the ones that are not converting and focus on the ones that are converting well.
Ollie Pets Inc. should be in the running for one of your pet food affiliate programs because it is an above-average program.  But, tailoring your affiliates to the needs of your audience is always the best recipe for success.
---
King Kanine

Affiliate Program
King Kanine offers grooming supplies and CBD based products for pets.  This is a very unique and interesting affiliate program to have in your arsenal. 
The products alone could be used to generate a great deal of content for a dog or pet blog.
The high-quality CDB products are all organic.  King Kanine wants to educate and promote pet owners on the health benefits of the Cannabidiol in their CBD product lines.  It will make for an interesting discussion in your blog's comment section at the very least.
They don't have a ton of different products, but they have enough to make it a worthwhile affiliate program to promote.
You can sign up to the King Kanine Affiliate Program through ShareASale right here.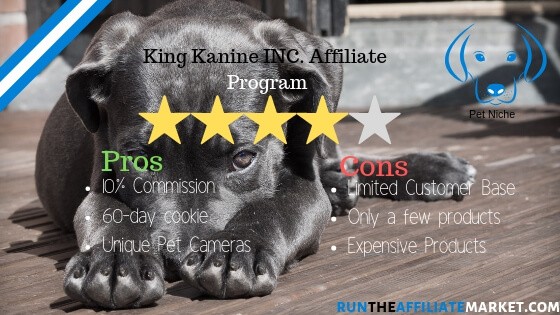 Commission?
The commission offered up by King Kanine is a generous 15%.  We love to see any commission over 10% for a retail affiliate.  Given the unique nature of their products, this commission is an extremely welcome one.
The ShareASale Statistics look good as well:
The average sale of $77 dollars is a very good one.
A fine average commission of $17 dollars.
A strong Earnings Per Click of $100 EPC.
What's the Cookie Duration?
The tracking cookie at King Kanine is the standard 30-days.  Wish it was longer but this is the industry standard at this point.
The Wrap-Up
A very interesting affiliate program.  The unique products alone make this an appealing program for any pet based blog. 
Depending on your audience this could be a great affiliate to really get behind and promote.  Definitely, one to watch.
---
Doggiemerch — 

★

 Editor's Choice 

★
Doggiemerch isn't technically a pet affiliate program.  It is more for the pet owner.  They specialize in custom products for the human part of the pet-owner relationship.  T-shirts, pet portraits, personalized pet photo gifts.
This affiliate is great for any pet niche blog.  There are many people who will readily pay for keepsakes of their pets.ou can provide them with that on your blog through this partnership.  Adding diversity to your marketing strategy is always a good way to go.
Doggiemerch is part of the ShareASale Network.  You can sign up for it right here.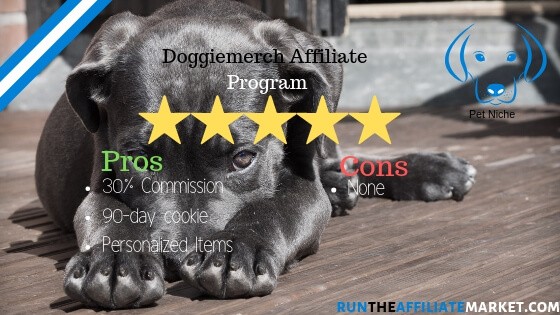 How Much is the Commission?
Doggiemerrch has an extremely generous commission of 30%.  One of the absolute best commission for a retail affiliate program currently available.  Try and find a way to promote this brand in any way you can the commission is just too good.
Some decent ShareASale numbers as well.
A reasonable $10 average commission
A $32 dollar average sale is nothing to sneeze at.
A rock-solid Earnings Per Click of $83 EPC.
What's the Cookie?
A great 90-day cookie is available for your promotional efforts for this affiliate program.  90-day tracking cookies are great and this is almost as nice as the great commission offered by Doggiemerch.
The Wrap-Up
A great program to have.  This adds some diversity to the shopping options your readers have.  Diversity is always a necessity for a blog's partner programs. 
Sometimes your readers may just want a shirt with their pups' face on it.  Make sure you have a program that allows them to do just that.
Otherwise, they will go elsewhere and nobody wants that.  Accommodate your audience in every way you possibly can and you will be rewarded.
---
Pawz And Petz Affiliate Program
This is an affiliate program from a smaller pet shop that looks to be on the rise. They have a decent selection of products that are unique and interesting, so if you need something for your pet that is off the beaten path this might be a great place to look.
Give them a try and see how well they convert with your audience, this might just be a diamond in the rough affiliate partner that you can really get the most out of.
The Commission And The Cookie
The commission offered by the Paws and Pets affiliate program is outstanding, especially for the competitive pet niche. They offer a robust 20% commission on all qualifying sales made through your affiliate links.
The cost of their products ranges from about $20 to $60 dollars making it a good partner for a wide range of incomes.
Why Promote Paws And Pets?
A wide variety of pet gear and clothing for their humans make this one of the more diverse pet partners in terms of products.
Interesting and unique products along with an outstanding commission round out what looks to be a partner program with a lot of potential.
---
The Big Finish
Ten incredibly diverse and profitable affiliate programs for a dog blog.  Choose the ones you think best fit your blog's audience and get them out there working for you.  All of these have the potential to drive some serious income for your blog.
The best course of action is to try and diversify your affiliate partners.  You don't need 5 food subscription services for a single blog. 
Pick the ones that are converting the best with your audience and cut the others loose.  No place for sentimentality in this business.
Interesting and diverse affiliate programs can help create the unique content that drives traffic to your blog and really sends your potential income to the next level.
With the right affiliate training, you can take your blog to new heights.  Check out my #1 resource for building a niche blog, the best training for developing and maintaining a blog in any niche.
Make Real Passive Income Online
Project 24 Is The Best Blueprint For Building A Successful Passive Income Online. Click To Learn More.
---
Thanks for visiting and have a nice day.