This article may contain *affiliate links. Please see our affiliate disclosure for more details
Affiliate program dedicated to dog food? Seems a little bit too niche doesn't it?
And yet here we are. There are dozens of partners that cater to this one specific little micro-niche. And with good reason. Pet food, of which dog food is the largest part, is a multi-billion-dollar industry by itself(source).
There Is Just Something About Owning Your Own Business. Being Your Own Boss. Building Something From The Ground Up With Your Own Hands. Especially When It Is This Easy To Get Started.
---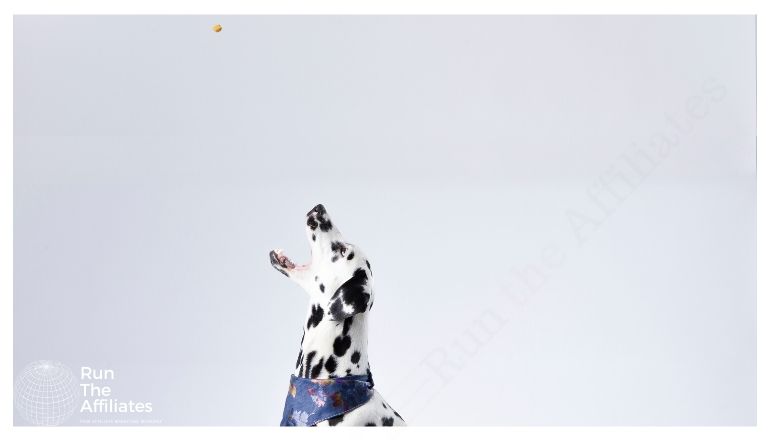 Check Out These Wonderful Dog Food Affiliate Programs
Sure would be nice to get a little piece of that pie. These dog food affiliate programs can help you do just that.
These affiliates are specifically for dog food and pet food and not for the larger pet's niche in general.
They can be used for a wide variety of pet and dog niches but the majority of their products are dog food-related. You can check out this article if you need more general pet affiliate programs.
---
Wysong Affiliate Program

Wysong has a nice selection of dog foods. Whether you are looking to promote dry, canned or raw they have something here for you.
This partner has 40 years of experience making dog food that is healthy and safe for your pets. You can promote them with confidence and leverage that experience in your content.
Wysong also has a good selection of food for cats and ferrets making it a good partner for more general pet blogs as well.
One other great thing about Wysong is that they auto-approve by country.
This means that in some countries they don't have a traffic requirement so you can sign up and get started even with a young website that doesn't have a lot of traffic coming in yet.
The affiliate terms for Wysong are fantastic. They offer their affiliate partners a robust 60-day tracking cookie. The longer the duration the better and 60-days works very well for this type of partner program.
The commission is very impressive as well. Double-digit is great. When you start approaching 20% then you have something special.
Wysong offers you a 16% commission making it one of the most generous in the dog food niche, and the pet niche in general as well.
Why Promote Wysong?
If the wonderful products were not enough then the affiliate terms should be enough to convince you of just how good this partner can potentially be.
You still have to do some clever promotion and build a level of trust between Wysong and your audience but once that is done you will have yourself one of the best dog food partners in the business.
---
Raw Wild Affiliate Program

Raw Wild is a raw dog food subscription service. They don't have a huge selection of products but the food service they do offer is very nice.
Their packages are based around the size of the dog so your readers can select the ones that fit their pups the best. The dog food itself is made from organic all-natural ingredients.
The big selling point, and one you should use in your promotion, is that they use wild game for their meat sources. Mostly elk and deer.
Raw Wild offers auto-approval through ShareASale making it a great choice for newer pet and dog food blogs to get started with.
The tracking cookie really stands out for this partner program. 120-days is a very long duration cookie for the dog food niche, or any marketing niche really.
It is nice to see that the tracking cookie has not been neglected as it sometimes is with other affiliate programs.
Not to be outdone the commission is a healthy 8%. Not quite that double-figure number that I love to see but close enough to make it worth your while to consider this partner. Especially if they convert well with your specific audience.
Wrapping Up Raw Wild
The wild game aspect of this affiliate partner is really intriguing and might fit very well into your dog or pet blog. The wild game means a much more natural source of meat for your pup.
In addition to the products looking great, the affiliate terms are also top-notch. If this partner program converts for your audience then you have a great affiliate that you can promote with confidence.
---
Pet Plate Affiliate Program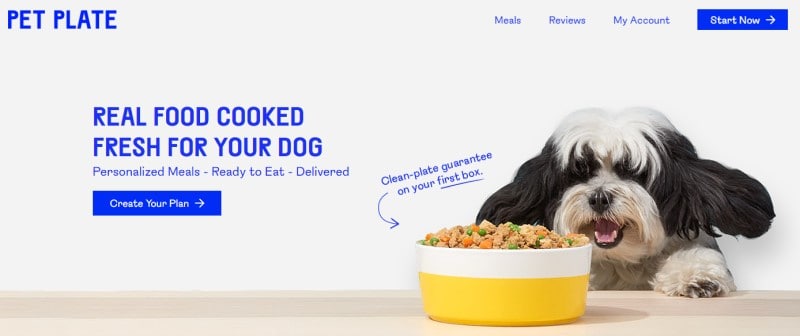 Pet Plate is a fresh dog food delivery service. They have a limited number of high-quality food choices for your pupsters. You can choose from beef, chicken lamb and turkey. Well, your pup can choose the one he likes best.
With such a limited choice of foods, this partner's appeal is going to be a little bit less than other partners.
If your readers and their dogs don't like any of the 4 offerings then you might need to move to a different partner to get the conversions you need.
If it does convert they you are in for a treat.
The $25 dollar flat fee is very nice but it also means no recurring commissions on their subscription boxes.
It is not a bad thing as having the commission upfront will appeal to many people. The tracking cookie is a solid, if standard, 30-days.
Final Thoughts On Pet Plate
Another very nice partner program for anyone that needs a dog food affiliate for their dog blog. The flat fee commission is generous and the tracking cookie is fine as well.
The selling point for this partner will be their products, however. If they convert for your specific audience then this is a real keeper.
---
NomNomNow Affiliate Program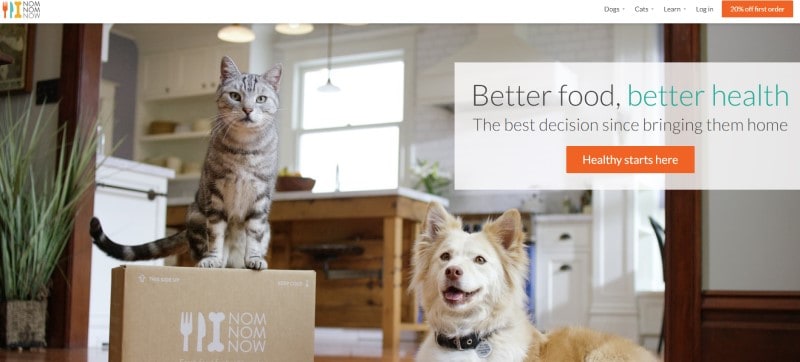 NomNomNow is a fresh pet food delivery and subscription service. They offer natural, healthy, and fresh food for your dogs and cats. Delivered right to your door.
They have pork, turkey, beef and chicken for your readers to choose from or they can get a variety pack subscription. It is all very convenient. And the plans are well thought out and put together.
The first thing you'll notice about the affiliate terms is the incredible $75 dollar flat fee. It is a one-time fee so there is not recurring commission on the subscription boxes from NomNomNow.
But the size of the flat fee commission makes up for that easily. The tracking cookie is a standard 30-days. Nothing spectacular but very solid just the same.
Why Promote NomNomNow?
The commission is one of the biggest reasons to promote this partner. With just a couple of sales a day you can build a nice passive income for yourself.
But the products look solid as well and really that is the most important thing, especially when dealing with food for your pups.
It has to be the best quality and you can't cut corners. You can promote NomNomNow with confidence that their products are the highest quality.
---
Just Food For Dogs Affiliate Program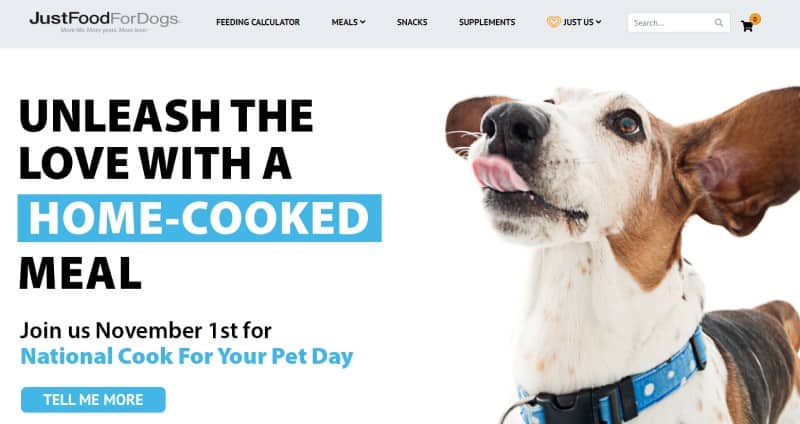 Just Food For Dogs offers a wide variety of meals for your dog. They have everything from fish and sweet potato to Venison and squash along with beef chicken lamb and turkey options that you can promote on your pet or dog niche website.
They also have a decent selection of supplements and snacks for your pups as well. Essentially they have everything you need to feed your pup a good healthy meal every single day.
According to their website, Just Food For Dogs is the number one veterinarian-recommended food for your dogs.
You can promote them with confidence knowing that they are well known for their nutrition and are popular among veterinarians.
Just For Dogs offers a 15-day tracking cookie for their affiliate partners. The tracking cookie is a little lower than I would like. It is not a huge issue but I always like to see at least a 30-day tracking cookie.
The commission is much better weighing in at a generous 8% commission on all qualifying sales through your affiliate links.
Not quite 10% but good none the less. The dog food niche, in general, is pretty good with their commissions, I have found.
Wrapping Up Just For Dogs
While the tracking cookie might be a little bit less than stellar the rest of this affiliate program is pretty great. They have great dog food products that are well respected within the dog food industry.
The only thing left is to determine how well it's going to convert for your specific audience. If you can get this dog food brand converting well with your readers then you have an outstanding partner program to lean on with your dog or pet website.
---
KetoNatural Pet Foods Affiliate Program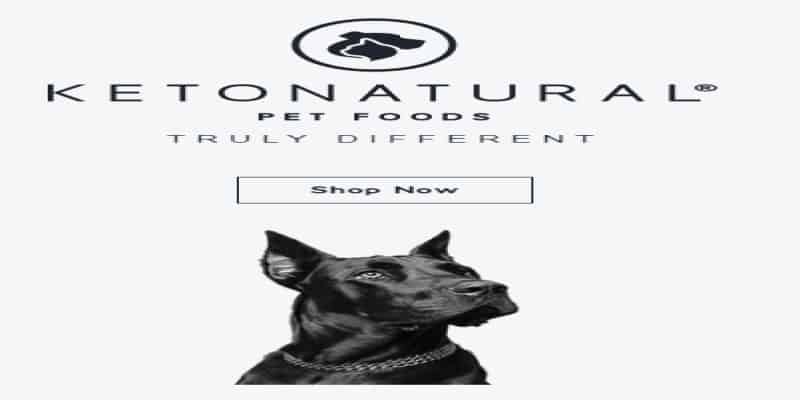 KetoNatural is a dog food manufacturer that has taken the science of the keto diet and Applied it to your pups. they offer food that has up to 75% fewer carbohydrates than many of the other brands.
Reducing carbohydrates has profound effects on your health and the theory is that it has the same effects on your dogs as well.
They offer a decent selection of dog foods. They have chicken and chicken liver-based dog food as well as a few salmon based foods as well.
It's really going to come down to whether or not your dog likes these flavors of dog food and how well they convert with your specific audience.
One interesting thing about this partner program is that you can use it for a health-based website.
If you're running a keto website, then you can easily add this into part of your content so that the people practicing a keto diet can purchase this for their dogs.
It just means that this affiliate can expand beyond the typical pet and dog niches very easily.
And it's something new and interesting that you can really build a nice little content campaign around on your keto Niche website.
Affiliate terms for the KetoNatural Pet Food affiliate program are just as good as the products they offer. The 90-day tracking cookie is outstanding. If 30 days is the standard that we like to see than a 90-day cookie is 3 times as good.
The commission is a flat fee. They offer a $20 commission for all qualifying sounds through your affiliate links.
Personally I prefer a percentage commission but the flat fee is generous enough that it shouldn't be an issue.
Why promote Keto Natural Food?
I think the biggest reason to promote this affiliate is the uniqueness of the products that they offer.
Keto-based dog foods are something that I think is going to start taking off in the future and you have an option to get in on the ground floor with keto natural right now.
When you throw in the very nice affiliate terms you have an incredibly well structured and versatile affiliate program that can be used in a few different niches outside of the traditional pet niche.
---
Ollie Pets Inc. Affiliate Program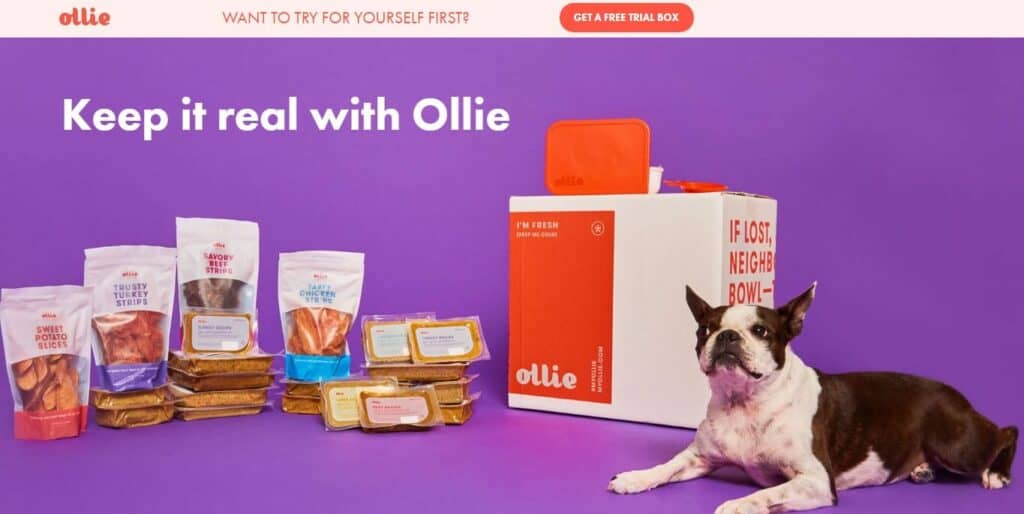 Ollie is a dog food subscription service that offers a wide variety of healthy dog food options for your pups.
They have four options for their dog food products. They are beef, chicken, turkey, and lamb. These are the pretty standard options that you'll find in most dog food today.
Their dog food is fresh and not dried. this tends to make it a little bit more appealing for your dogs.
You can customize your dog food plan by telling them a little bit about your dog and then they can design a plan perfectly balanced for that specific dog including the size weight and breed of the dog.
They deliver the food to your readers on a subscription basis and everyone is happy. It really is an interesting service and one that you can easily promote on a wide variety of pet and dog Niche websites.
The $60 dollar flat fee that is on offer from Oliie Pets Inc. is very generous. You won't get the recurring commission you might have had with a percentage-based commission but the huge flat fee more than makes up for it.
The tracking cookie is a solid 30-days. Nothing special but not bad either. Just a solid standard tracking cookie for this partner program.
Wrapping up Ollie
I think the flat fee commission is probably one of the most noticeable things about this partner program.
It truly is a very generous flat fee and one that you should definitely take note of when you're considering this partner program.
But everything else about the affiliate program is good as well. the products are good and should be pretty easy to promote.
The tracking cookie is fine and there's really not a whole lot not to like about the Ollie affiliate program.
---
Raised Right Pet Foods Affiliate Program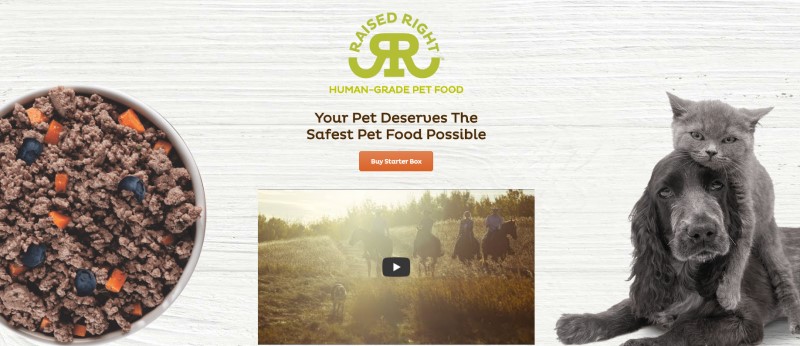 Raised Right Pet Foods has a nice selection of safe and healthy pet foods. They have products for cats and dogs.
Their food is touted as human-grade food due to its quality. They also have a decent selection of treats for that good pup in your life.
Raised Right Pet Foods has a very nice commission on offer for its affiliate partners. A full 10% commission is always great to see and that's just what we get for this partner.
The tracking cookie is only 15-days. It is just ok. 30-days would be better but 15-days shouldn't be detrimental to your bottom line.
Final Thoughts On Raised Right Pet Foods
The affiliate terms are pretty good and make this partner worthwhile to consider for your dog or pet blog. The products are high-quality as well and this makes for a very appealing affiliate program.
---
Raw Paws Affiliate Program

Raw Paws has a huge selection of pet foods. From kibble to freeze-dried offering they have one of the most robust selections of dog food out there.
The tracking cookie for the Raw Paws affiliate program is a standard 30-days. Good but nothing spectacular. 30-days will get the job done for this type of partner, however.
The commission is a solid 10% for all sales through your affiliate links. The commission really rounds out a very solid dog food affiliate program.
Why Promote Raw Paws?
The affiliate terms are pretty nice and make this a partner that you really want to consider for your website.
But, it is the product selection and product variety that really sets this partner apart from the others. There is something to promote that will appeal to just about anyone.
You could use this partner as your primary general dog food affiliate program.
---
Canine Sciences, LLC Affiliate Program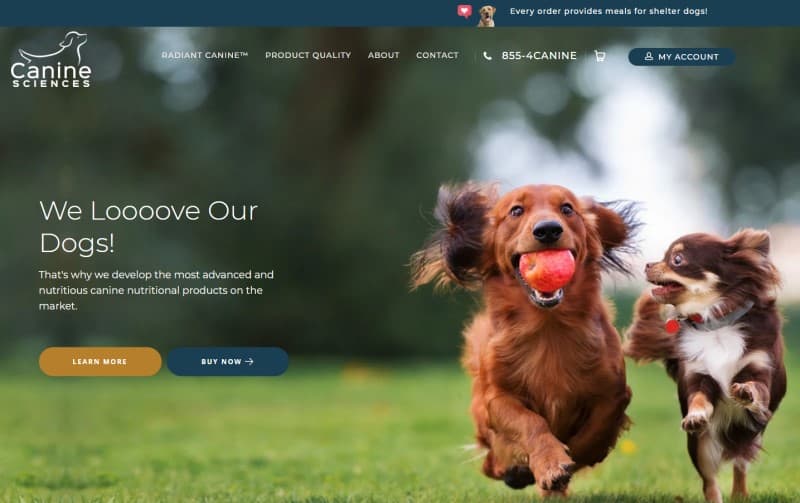 Canine Sciences, LLC only has one product as far as I can tell. Their Radiant Canine nutritional supplement is one of the better-looking supplements for dogs due to its high-quality standards.
This partner will have a much more limited appeal than some of the others on this list. This is due to many dog owners not considering supplements for their pups.
It is up to you to change their mind but it will always have a more limited appeal when compared to regular dog food partners..
The affiliate terms are outstanding for this partner program. The 90-day tracking cookie is one of the best to be found in the dog food niche.
But it is the commission that really shines from this partner program. A full 16% commission is one of the best in the entire pet niche. It doesn't get much better than this for physical products.
Wrapping Up Canine Sciences
While not technically a dog food partner this is an affiliate that fits into the dog food niche because it is based around dog nutrition. The affiliate terms are outstanding.
Add it all up and you have one of the best dog partner programs around. Definitely one to consider for just about any pet niche website.
---
Closing Thoughts On Dog Food Affiliate Programs
That just about wraps up our look at these wonderful dog food affiliate programs. It just goes to show that no matter how small you might think I sub-niche or micro-niche is there is typically going to be a business that can be built up around it.
You could technically build your pet website around nothing but dog food. Content built around the latest trends in dog food the latest Brands how they're produced, the importance of ingredients in the move to more natural ingredients.
The amount of content that you can put together for a dog food website is really impressive and potentially incredibly lucrative.
The only thing left is for you to start. If you've already got your content creation started then these affiliate programs can help monetize at content.
If you're just getting started with your dog food or pet website then picking a couple of these affiliate programs can help not only give you content ideas but generate a little bit of income while you wait on the traffic to start really rolling in.
Getting started is the toughest part. There's a lot to learn and there are a lot of mistakes that you can and probably will make.
But there is a way to lessen those mistakes and lessen the impact of the mistakes that you do make. And that's with proper affiliate marketing training.
Don't go it alone. Get the best learning tools and community to help you build your online dream. Check it out here.
Thanks for visiting and have a wonderful day.
---