This article may contain *affiliate links. Please see our affiliate disclosure for more details
Welcome welcome to our look at some of the best flag and banner affiliate programs currently available for you to promote on your blogs.
These affiliate programs are very interesting in that they don't really fall into any specific niche.
Technically you could have it blogging niche about banners or flag and probably do pretty well especially with flags if you do a little bit of background in each country or flag that you intend to come out.
But in general, these are going to be complimentary affiliate programs that you can attach to a wide variety of blogging niches. So let's jump into these flag and banner affiliate programs and find one that's just right for you.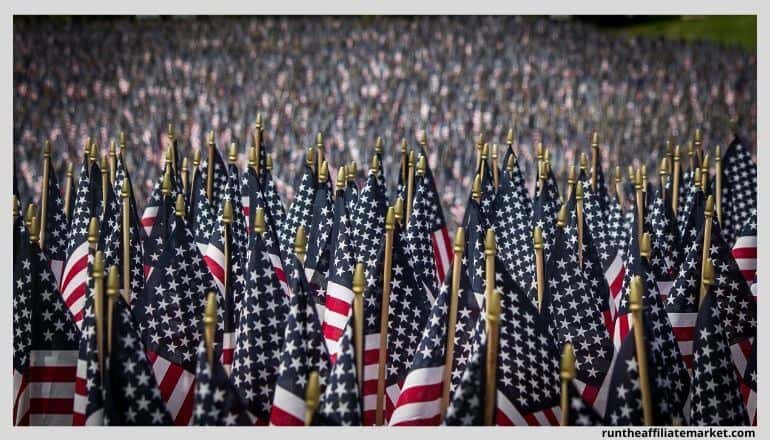 What Are Flag And Banner Affiliate Programs?
A flag or Banner affiliate program is a compensation program designed to allow individuals to earn a commission for the promotion of the banner or flag affiliate program.
Anytime someone uses your affiliate link and then goes to the website and makes a purchase the affiliate marketer will receive the commission.
Flag and Banner affiliate programs can be used in a wide range of blogging niches including flag specific blogs, Sports blogs, religious blogs, holiday blogs, business blogs or any other blogging Niche that can utilize flags or banners.
It makes these affiliate programs very versatile and very useful to help add a little extra layer of monetization to your passive income blog. The more creative you get with these affiliate programs the wider range of niches that you can promote them in.
Get the most out of these flag and banner affiliate programs with the best affiliate marketing training around. Learn how to get the traffic you need to succeed with your passive income website.
---
Bannerbuzz Affiliate Program

Bannerbuzz is one of the largest suppliers of custom banners and signage on the internet. The sheer number of options is pretty staggering and you can get lost trying to figure out exactly the type of banner you want.
That's where a good affiliate marketer comes in, you can guide your audience members to the exact sign or flag or banner that they need and in return, you get a nice commission for your trouble.
Bannerbuzz is one of the best banner affiliate programs around just due to its inventory. But the affiliate terms aren't bad either. Let's look at those now.
The affiliate terms for Bannerbuzz are pretty good for this niche. The tracking cookie is a solid 30-days. This is the standard duration and plenty long enough to get the conversions you need to succeed at affiliate marketing.
I like to see longer duration cookies for high-ticket items but 30-days is fine for the product prices offered up by Bannerbuzz.
The 6% commission might seem a little low but the products are custom made signage and banners that probably have a pretty high overhead since they aren't really bulk items. So it makes sense to keep the percentage reasonably low.
However, 6% is not terrible and you will be able to make a nice little profit with this outstanding affiliate program.
When you put it all together Bannerbuzz is one of the best banner affiliate partners you could possibly find. If it converts with your specific audience then you might not need too many other banner partners.
---
AmericanFlags.com Affiliate Program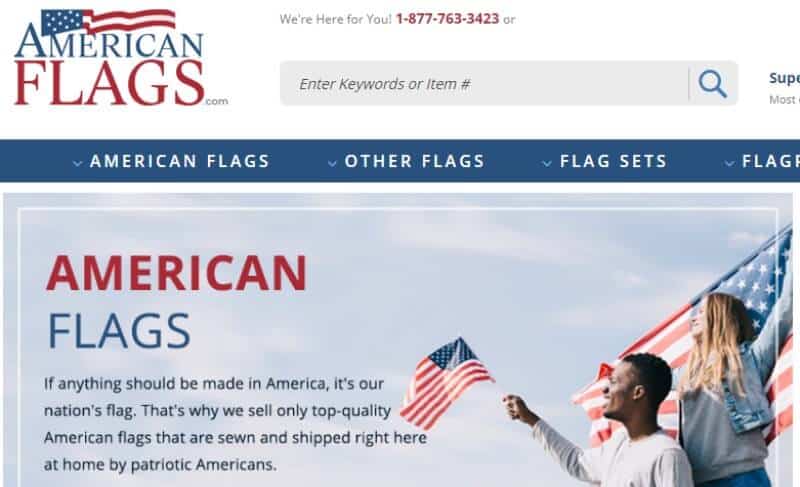 AmericanFlags.com is a huge retailer of flags, flagpoles and other patriotic gear that you can promote on a wide range of blogging niches.
Whether you are focused on flags and banners, patriotic holidays and remembrances, and even sports and dozens of other niches this is an affiliate program you will want to consider for your affiliate strategy.
Despite the name of their store, they offer much more than American Flags. They have flags from all over the world, military and armed forces flags, state and territory flags as well as many sports and religious flags for you to promote.
The 90-day tracking cookie gives an affiliate marketer ample time to promote the products and get the commission without having to worry about the cookie running out.
The 10% commission is a welcome sight as well. Affiliate programs that offer these types of commissions really take their affiliate partners seriously and show their appreciation of all the hard work that you put in with solid commissions like these.
Double-digit commissions are not always a realistic option in many niches for a variety of reasons so its nice to find a good affiliate program that offers them.
---
Flag Connections Affiliate Program

Flag connections offer affiliate marketers one of the largest online flags and display case selections for them to promote.
In addition to their wonderful American flag selection, they have flags from around the world as well as Armed forces and Military flags that you can promote on a wide variety of niche blog websites.
The affiliate terms just add to the appeal of this affiliate program. They offer and a standard 30-day tracking cookie according to their ShareASale profile, but be sure to ask about the exact duration as it is listed at 60-days in some of the material about their affiliate program.
The commission is one par with everything else in this excellent affiliate program. They offer a 12% on sales referred through your affiliate links. You can't go wrong with a double-digit affiliate commission and this one adds a couple of percentage points on top of that.
It is always great to see companies reward their affiliate partners with good affiliate terms like the ones we have here. It makes promoting them that much easier when you know you are going to get appropriately compensated for your promotional efforts.
An added bonus with the Flag Connection affiliate program is that they allow auto-approval through ShareASale. This is great for new websites who may not have a whole lot of traffic just yet.
---
Banners On The Cheap Affiliate Program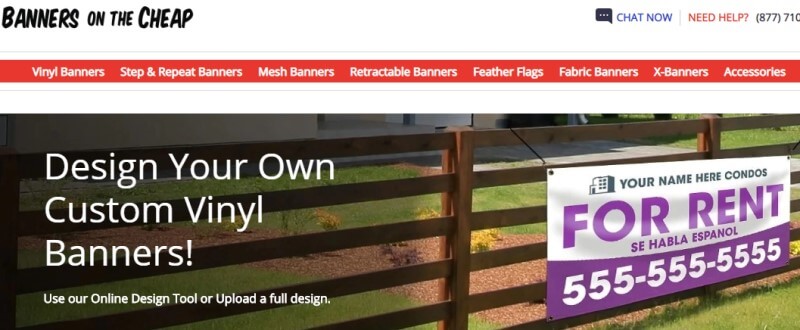 Banners On The Cheap is an online retailer of a wide assortment of banner sizes and styles that your audience can customize until their heart is content.
They even have some pretty great tools that let you design the banner online and get it just the way you want it with as little fuss or middlemen as possible.
They also have a nice selection of banner templates that you can use to start your custom banner with. If you need a banner affiliate then this is definitely one to consider.
The 30-day tracking cookie gives you a great opportunity to convert some sales. The cookie is also good for the full 30-days with unlimited action for that period. It means that you get the commissions for return visitors as well.
The commission is a tiered structure going all the way up to 10%. You will need to find out the exact nature of the tiered commissions when you sign up for the Banners On The Cheap affiliate program.
---
Print Globe Affiliate Program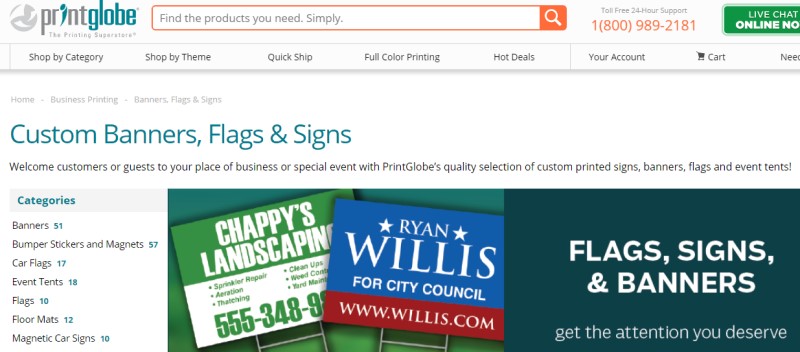 PrintGlobe is more than just a flag and banner affiliate program. They have a huge selection of products that can be customized with their printing options.
But for this list, we are going to focus on the banners and flags that they can customize for your audience.
PrintGlobe has a huge selection of sail and car flags, as well as a good selection of banners for just about any type of business or event.
All these great products come with some pretty outstanding affiliate terms as well. Printglobe offers its affiliate partners a 60-day tracking cookie.
I think the tracking cookie is a good duration for this affiliate because you can buy some of their products in bulk so you're going to need a little bit longer as those tend to be a bit pricier.
In addition to the Fantastic tracking cookie, you get a full 10% commission on qualifying sales through your affiliate links. It seems to be a trend in the Flag and Banner affiliate programs that we see a lot of double-digit commissions.
This is fantastic for an affiliate marketer as you always want to get the highest commission you can while still having great products to promote.
---
FlagsRus Affiliate Program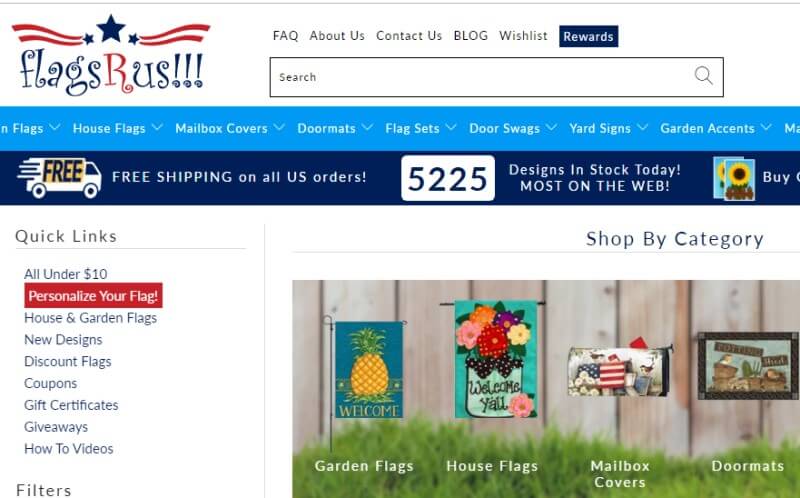 FlagsRus has a good selection of house flags, garden flags, yard signs and other related banners and flags for you to promote on a variety of websites.
Whether you are in the home decor niche or the gardening niche you can find something here that will enhance you affiliate strategy and help you earn a little bit extra passive income from your blog or website.
The tracking cookie information was not readily available at the time of publication so be sure to ask about it when you are accepted into this partner program.
The commission for the FlagsRus affiliate program is a solid 10%. Once again we find a good double-digit commission among the flag affiliate programs. It seems to be pretty common in this niche.
FlagsRus looks like it could be an outstanding option for anyone who needs a flag or banner affiliate for their website. They are definitely worth considering and if they convert well with your audience it could be a great match for you.
---
ExpressFlags.com Affiliate Program

Expressflags.com has a wide variety of flags for just about any need that may arise from your audience. American flags, military flags, historical, international religious, you name they probably have it in some fashion.
You will also find pennants and flagpoles in their product selection which rounds out this banner and flag affiliate program quite nicely.
Be sure to inquire about the tracking cookie duration as it was not publically available at the time of publication. I will update the article as necessary when I have the information in question.
The affiliate commission is yet again another solid 10%. You just can't get away from these excellent double-digit commissions in the flag and banner niche.
Even the partners with lower commissions still bring a whole lot to the table and make them worthwhile.
---
Maximizing Flag And Banner Affiliate Programs
And that brings us to the end of our look at these wonderful Flag and Banner affiliate programs. The versatility of these partner programs is really the thing that makes him incredibly special.
The sheer number of niches that you could conceivably use one of these affiliate programs is incredible.
For example, if you have a gardening website you could promote Flags to put in your Gardens because a lot of people love to add the flags and even banners to their Gardens to help make them that much more visually appealing.
It's probably not and it's that you would traditionally think of for a flag or Banner affiliate program but it can work wonderfully with a little bit of creativity.
So once you found an affiliate program that you think is going to really convert well with your specific audience you're going to need to drive traffic to it and that can be challenging especially if you are new to the affiliate marketing space.
Don't go it alone. Get the best learning tools and community to help you build your online dream. Check it out here.
---