This article may contain *affiliate links. Please see our affiliate disclosure for more details
Are you looking for a way to monetize your new hiking blog? Just thinking about starting one and researching affiliate programs?
Either way, you have come to the right place. These are 10 of the best hiking affiliate programs that you can use right now to start earning income with your hiking blog.
Hiking is a surprisingly vibrant sub-niches of the outdoors blogging niche. There are dozens of micro-niches that you could explore within hiking.
Hiking has a little bit of everything from inexpensive products that you can promote to just about everyone.
All the way up to some really wonderful high ticket items that you can really start to draw in some great commissions with.
There Is Just Something About Owning Your Own Business. Being Your Own Boss. Building Something From The Ground Up With Your Own Hands. Especially When It Is This Easy To Get Started.
---
Coleman Affiliate Program *Offline*
One of the biggest names in outdoor and hiking equipment in the world. They produce and sell just about everything you need for a day out in the woods. This partner is almost a must-have just due to the name alone.
Chances are your readers will have an existing relationship or at the very least knowledge of Coleman and their products. This will make promoting them quite a bit easier regardless of which retailer sells their product.
Their products can be found at other e-commerce sites like Wal-mart and Amazon. But it is still advisable to pick them up for your hiking blog just in case they have special offers or new products that you can review and promote. Pick it up and promote its products not necessarily their affiliate program.
---
Outdoor Vitals Affiliate Program
The selection from this affiliate is pretty small. But they do have some good gear and some very nice hiking backpacks, sleeping bags and other hiking gear that you can promote.
You might need to spend a little more time promoting this partner since they will most likely not be a well-known brand to most of your readers. But you should be alright with a little extra work, plus extra content never hurt anyone.
A very nice commission and tracking cookie round out this fantastic affiliate partner.
---
Premier Outdoor Gear Affiliate Program
Premier Outdoor Gear has a huge selection of ultra-light gear. They have gear for all types of outdoor adventures. It goes beyond just hiking. Although they have a ton of hiking specific gear as well.
Given the quality of their products, it should be very easy to promote them and convince your readers of the inherent value of the products they offer. And in turn, you get that commission.
Speaking of which…
Their 15% commission is one of the best on this list and, indeed, one of the best in the entire hiking niche.
If you can fit them into your affiliate strategy and they convert for your audience then you have yourself a wonderful affiliate to promote and start raking in those commissions.
---
OUTDOOR GEAR EXCHANGE Affiliate Program
GearX is a huge online store. This could be your primary affiliate partner as their selection of products in the hiking and outdoors space rivals just about anyone out there. That includes Amazon and when you compare the affiliate terms GearX clearly wins out.
Now all you have to do is convince your readers that this is the best place to get their gear from and you can start getting those wonderful commissions.
The tracking cookie is very niche and the commission is not bad at all. They could be better but I think the gear will shine through with this partner program. Definitely, one to watch.
---
Marmot Affiliate Program
Marmot focuses mainly on apparel for camping and hiking. Hiking jackets was one of the best micro-niches in our article on the hiking niche. So this affiliate would be an exceptional one for any type of hiking apparel niche blog.
In addition to all the great apparel, they have a good selection of equipment as well. Their equipment offers are comprised mostly of sleeping bags, tents as well as a good selection of hiking backpacks.
Add in their very nice commission and you have yourself a great partner for all your hiking apparel needs. This would make a much better choice than Amazon if it converts for you.
---
Arkadia Supply Company Affiliate Program
The product selection is somewhat small for this partner. They focus on waterproof and lightweight backpacks. The cool thing about them is that they can be folded up and fit into your pocket for some models.
The technology and products are interesting and could provide you with quite a bit of content by explaining and promoting these unique hiking packs.
The packs themselves come in a few sizes so you can find something for just about any of your readers.
They have great affiliate terms as well and their products are around 50 to 100 dollars for the most part. So you could see some nice commissions from this partner program.
---
Longhorn Tactical Affiliate Program
Technically this is not a hiking partner. But they are experts in flashlights and lamps for your hiking expedition. That is why they make it on the list.
They have a ton of tactical lighting solutions that you can promote to your readers. A flashlight is required equipment for any hiker, regardless of when they think they will get back home.
And it is not something you want to cheap out on. They are durable high-quality torches that you can promote on your blog.
The added bonus is that the affiliate terms are outstanding. Making this an all-around excellent partner program for you to promote on your hiking blog.
---
Nomadik Affiliate Program
I thought this was a pretty cool affiliate for a hiking blog, so I included it in the list. It is going to take a little bit of promotion to get it to convert but I think it will be worth it.
This partner is a subscription-based outdoor gear supplier. Think of it as a hiking subscription box. Each month they send out a selection of hiking and outdoor gear to a subscriber. It is unique if nothing else.
I have no idea if there is a big market for this type of thing. You will have a better pulse of the situation since you are in the hiking blog niche. But give it a try and lets us know what you think in the comments at the end of the article.
---
Bass Pro Shop Affiliate Program
Bass Pro Shops is one of the biggest outdoor retail chains in the United States. Don't let their name fool you though. They are about far more than just fishing. If you can do it outdoors then chances are they have something for you.
And that includes hiking. They have supplies for all types of hikes from packs and food to socks and shoes and everything in between.
The name recognition alone, especially in the USA, will make this a valuable partner to have in your affiliate arsenal.
They have a good cookie and a competitive commission. It will be up to you to decide if they convert better than Amazon or a smaller partner since they carry much of the same type of equipment.
---
Jerky Snob Affiliate Program
This is a fun little partner to have for a hiking blog. They don't sell boots or equipment but they do have one of the most important things to bring on a hike.
Jerky.
This partner offers a subscription box for gourmet jerky of all kinds. You want to make sure you have an affiliate for every eventuality.
If a hiker comes to your blog and wants to pick up some jerky for their next hike. You have to have a place for them to go or you miss out on that customer.
---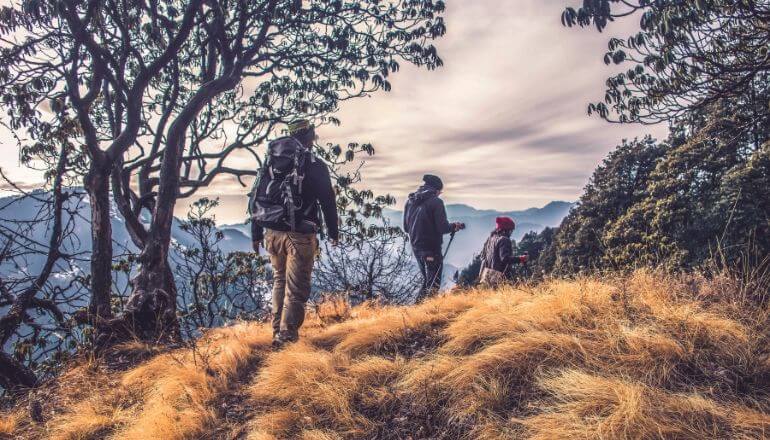 A Quick Look At The Hiking Niche
Hiking is an incredibly diverse and versatile niche for you to start your blogging career in. There are plenty of micro-niches for you to focus on when you are just starting out.
You can check out our article on hiking micro-niches to give you some ideas of where you can start.
There are dozens of other places to look in the hiking niche for inspiration. Think outside the box, but make sure you have a big enough audience to sustain your blog until you decide to grow it.
Focus your early articles on helpful information posts and a few review or best of posts. Too many review posts too quickly begin to look a little spammy and are not the greatest thing for search rankings.
Early on I would say 70% info and 30% review posts. Eventually, you can move that up to 50/50 or more if you feel your website is doing well.
The last bit of advice for a hiking blog is this.
Take great photos.
This niche is almost perfect for a visual medium. You can leverage Instagram and Pinterest for traffic with some great photos.
I would focus on Pinterest however. The reason for this is that Pinterest is a visual search engine and not really social media. So your photos and pins will get views for months and years, whereas Instagram moves on from your stuff pretty quickly.
The Big Finish
There you have it. 10 outstanding hiking affiliate programs and a quick look at the hiking niche in general. For a more specific look check out our post on hiking micro-niches.
It is important not to just sign up for every affiliate program and then slap links all over your pages. You will want to have some structure to your affiliate strategy.
So, in terms of the hiking niche, you would want to have an affiliate for hiking shoes and one for hiking sticks. If they are the same affiliate program, that's great but they don't have to be.
The idea is to have your readers build trust with your chosen partners making it easier to earn commissions in the long run. Something that is tough if you are constantly recommending different affiliates all the time.
So that's it. I hope these affiliate programs help you make the most of your hiking blog. Remember partner programs are just the beginning.
Don't go it alone. Get the best learning tools and community to help you build your online dream. Check it out here.