This article may contain *affiliate links. Please see our affiliate disclosure for more details
Welcome one and all. With summer comming up, I thought that now would be a good time to have a look at some of the best swimwear affiliate programs out there that you can use to help monetize your fashion, swimsuit or summer niche blog.
For this installment, I will be focusing on general swimwear retailers and affiliates. If you are looking for a more specific set of programs, like bikini affiliate programs, we have a separate article for that.
With all that said lets see if we can't find you a swimsuit affiliate program that can help build the foundation of your passive income website.
There Is Just Something About Owning Your Own Business. Being Your Own Boss. Building Something From The Ground Up With Your Own Hands. Especially When It Is This Easy To Get Started.
---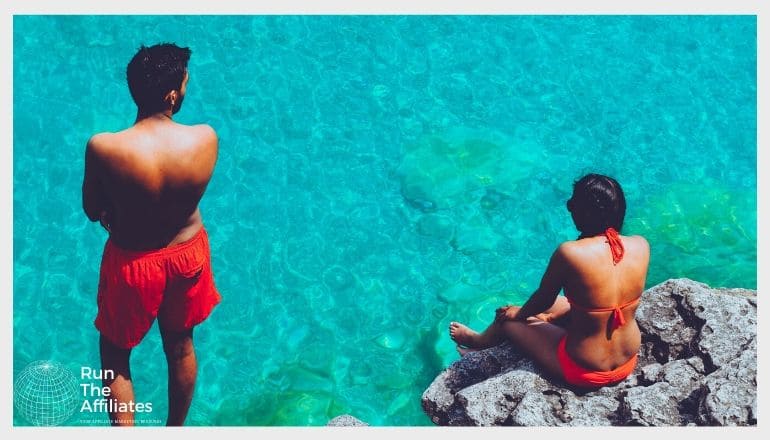 Check Out These Swimwear Affiliate Programs
Building a passive income online won't be easy regardless of the niche your choose, but with a little hard work, you can do it. The sooner you start, the sooner you can build a safety net or a full-time income that will prepare you for wherever the economy takes us.
---
SwimZip Affiliate Program
Application: Sign Up Here
Commission: 15%
Tracking Cookie: 30-days
Auto-Approval: By Country

SwimZip offers a decent selection of all types of swimwear for the whole family. It would make a great addition to any swimwear niche website but would be particularly at home on a site that focuses on family swim outings and has content around children's swimwear.
Here are just a few of the options you have when promoting their swimwear
Swimwear for Men And Women
Swimsuits Children and Babies
Sun Hats
Swimwear Accessories
The affiliate terms for the SwimZip affiliate program are some of the most generous in the swimwear niche. They offer a 30-day tracking cookie which will get the job done and help get the conversions you need by giving your readers plenty of time to make a purchase after using your affiliate link.
The commission is where this affiliate partner really shines, however. they offer a 15% commission on a purchase made through your affiliate links. For a store like this to offer up such a great commission is really extraordinary and it makes this affiliate on to really have a long look at.
If you can fit this partner into your marketing strategy then it would be a great addition to any swimwear niche blog or website. Get more information on this SwimZip and have a look at their products right here.
---
GURIA BEACHWEAR Affiliate Program
Application: Sign Up Here
Commission: 20%
Tracking Cookie: 60-days
Auto-Approval: No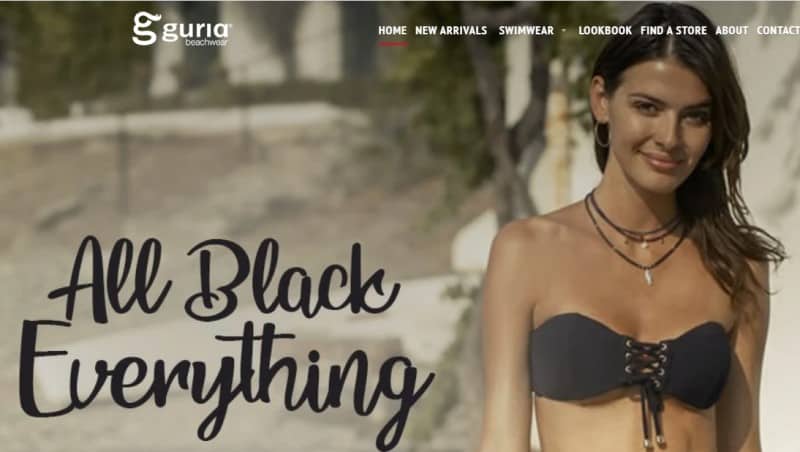 Guria Beachwear has a huge selection of swimwear. Their extensive catalog of swimsuits can be the cornerstone for your swimwear niche website or general swimwear content on a related niche site.
Here are some of the styles and categories that you can expect to promote when you join this affiliate program.
ANIMAL PRINT
BRAZILIAN CUT
CHEEKY
CROCHET
REVERSIBLE BIKINI
BANDEAU
FLORALS
HIGH WAIST
The affiliate terms for this partner program are outstanding. They offer a wonderful 60-day tracking cookie duration for their affiliate partners. This gives you 2 months to promote their products have someone click on your affiliate link and still get the credit for your promotional efforts.
It really can't be overstated how important the cookie duration is for maximizing your conversion potential with any affiliate program.
The commission for the Guria Beachwear affiliate program is among the best in the swimwear niche. Anything in double digits is going to be great if you can find one that's 15% than you were doing very well for yourself but when you find a little gem that gives you a 20% commission you really have to take notice.
And that's exactly what this affiliate program offers to its affiliate marketing partners. A 20% commission is the type of commission that can form the foundation of your entire affiliate strategy. Just a few sales each and every day can turn a hobby into a full-time profession and really give you that passive income that is so sorely needed these days.
And it is that passive income that you can generate with just 20% Commission that is really going to give you the kind of financial flexibility that everyone desires.
---
Sand Dollar Dubai Affiliate Program
Application: Sign Up Here
Commission: 15%
Tracking Cookie: 120-days
Auto-Approval: No

Sand Dollar Dubai has a broad range of swimwear products. this is a good affiliate program for more than just a swimsuit they have swim dresses, kaftans, swimwear for men and women and much more.
The tracking cookie duration for this affiliate program is absolutely fantastic. Typically a 30-day tracking cookie duration can be considered about the industry standard. But sand dollar Dubai gives you a full 120-day tracking cookie duration. That is for 4 months to promote their swimwear products and still get credit for the commission's.
Tracking cookies this long will almost always increase the conversion rate and ultimately the value of that affiliate program because your audience has such a long time to decide on whether or not to make a purchase.
Not to be outdone By the Fantastic tracking cookie the commission is outstanding as well. Sand dollar Dubai offers a very generous 15% commission for all qualifying cells made through you were affiliate links.
When you add it all together you really cannot go wrong with this affiliate program provided that your audience responds to it in a positive way. They have everything you need to make it a very productive and profitable partnership with this affiliate program.
---
Swimoutlet.com Affiliate Program
Application: Sign Up Here
Commission: 8%-10%
Tracking Cookie: Not Listed
Auto-Approval: No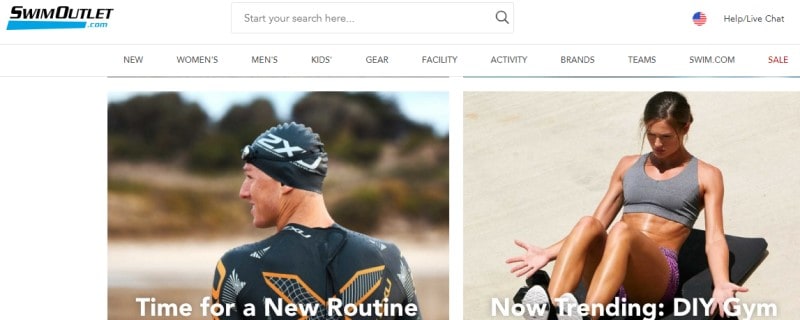 Swimoutlet.com has hundreds of swimsuits and swimwear for you to promote on a wide variety of niche websites. They have gear for surfers, performance swimmers, snorkeling and more. This is a great option for a niche site that is focused on more than just swimwear for basic swimming or beachwear in general.
Swim Dresses
One Piece
Cover-Ups
Unitards
Full Coverage
Jammers
Swim Briefs
Tech Suits
The commission is rock solid coming in at between 8% and 10% which will give you a great foundation for your website. Anything around 10% is going to be able to build a full time income around. Many sites are very successful just using Amazon and they only offer a 4% commission.
The tracking cookie information was not listed at the time of pucblication so be sure to ask about it when you sign up for this affiliate program.
---
Fin Fun Affiliate Program
Application: Sign Up Here
Commission: 5%
Tracking Cookie: 14-days
Auto-Approval: No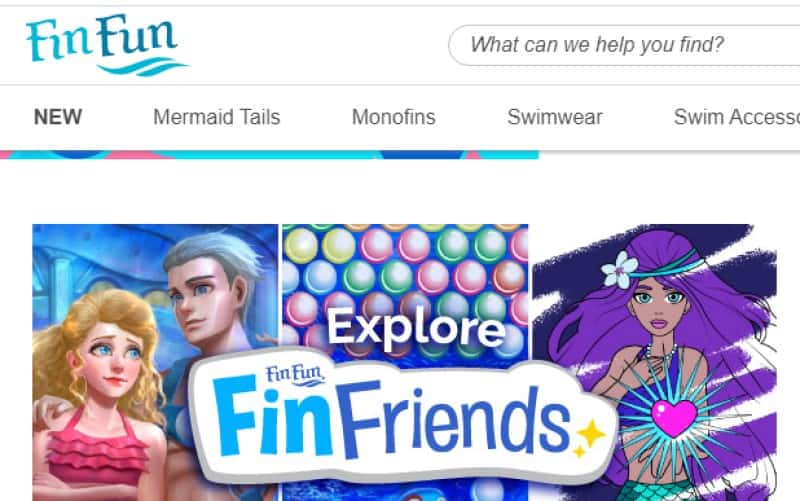 This fun little swimwear affiliate has a good selection of swimsuits, swim accessories and beach clothing, bu their signature product is their line of swimmable mermaid tails and mermaid-themed products. This is going to have a very different appeal than some of the other partners on our list. But it would be a great addition to a more kid's focused swimwear site.
The 5% commission is a little low but should work well for this affiliate program because it is so unique in the swimwear niche. The 14-day tracking cookie could be longer as well but nothing here scream high-ticket item so it should be fine.
---
Ookioh Affiliate Program
Application: Sign Up Here
Commission: 10%
Tracking Cookie: 14-days
Auto-Approval: No

Oookioh has a nice selection of fun and interesting swimwear for women. They don't have the largest selection so you will want to pair this affiliate program with a couple other in order to cover more of the swimwear niche, but they have a lot of great looking products that you can promote with ease.
I wish the tracking cookie duration was a little bit longer. It is 14-days, which should be ok but I typically like to see at least a 30-day tracking window.
The commission is rock solid at 10%. Anytime you can get a double-digit commission for a physical product retailer you are in a good position to make a nice bit of profit from that affiliate program if you can get the conversions.
---
Always For Me Affiliate Program
Application: Sign Up Here
Commission: 15%
Tracking Cookie: 7-days
Auto-Approval: No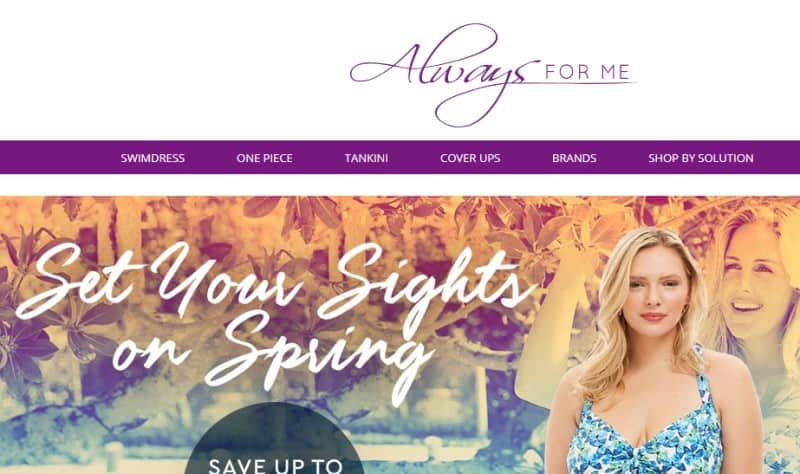 The Always For Me Affiliate Program affiliate program focuses on swimwear for plus size women. They have a great selection of products and I think this affiliate would work well on just about any swimwear or swimming website and not one that is just focused on plus size clothing.
The tracking cookie is only 7-days. It is not ideal but it should not have too much of a negative effect on your overall conversion rate. The commission, on the other hand, is outstanding. It weighs in and a hefty 15% for sales made through your affiliate link.
---
Ritchie Swimwear Affiliate Program
Application: Sign Up Here
Commission: 10%
Tracking Cookie: 45-days
Auto-Approval: No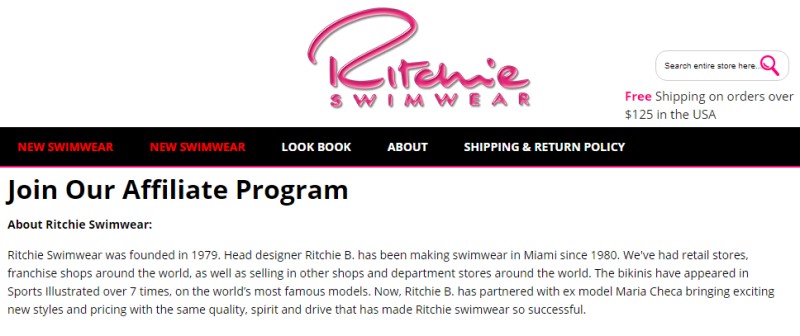 Ritchie Swimwear has a good selection of swimwear, mostly for women. While the amount of products is decent it is not nearly as large as some of our other entries on this list. So I would recommend pairing this affiliate with a couple of others to cast as large an affiliate net ads possible.
The tracking cookie duration is very solid at 45-days. The commission offered by this affiliate is up to 10%. Be sure and ask about how to get the max commissions when you sign up for this affiliate program.
---
The Big Finish
And that brings us to the end of our look at these wonderful swimsuit affiliate programs. More than likely you are not going to have a website dedicated only to swimsuits. It's certainly possible to make a great Niche site out of that but you were probably going to want to have a little more room to maneuver.
The most likely use of these swimsuit affiliate programs is to incorporate them into a blog or Niche website that has content is going to be related to swimming in some fashion.
So if you have a website that goes is all about swimming pools having a swimwear affiliate program option for your audience is a great idea. Likewise if you earn its night is about activities to do during the summer than having a swimsuit affiliate program is going to really help expand your monetization options for that Niche site.
And of course if you have a fashion Niche website than having a section on swimwear is going to be very important. Not only are the products good to promote but they are also very visual and you can deploy them on Pinterest or on YouTube with great effect for expanding your swimwear Niche website and your overall brand.
That is all I have for you today thank you for stopping by and as always have a wonderful day.
Don't go it alone. Get the best learning tools and community to help you build your online dream. Check it out here.