This article may contain *affiliate links. Please see our affiliate disclosure for more details
Bikinis are a huge sub-niche of swimwear and fashion in general. To get the most out of these bikini affiliate programs you don't need to have a dedicated bikini blog or website. A general swimwear or summer blog would benefit from these partners greatly.
Make no mistake, bikini's and fashion, in general, is a tough business for an affiliate marketer. You have to find the cracks between the big players to get your content out there when you are just beginning and build a foundation from there.
Affiliate programs, like the ones on our list, can help monetize that website but can also give you ideas for content to help build a successful bikini website.
Let's see if we can't find a bikini affiliate that will resonate with your audience.
There Is Just Something About Owning Your Own Business. Being Your Own Boss. Building Something From The Ground Up With Your Own Hands. Especially When It Is This Easy To Get Started.
---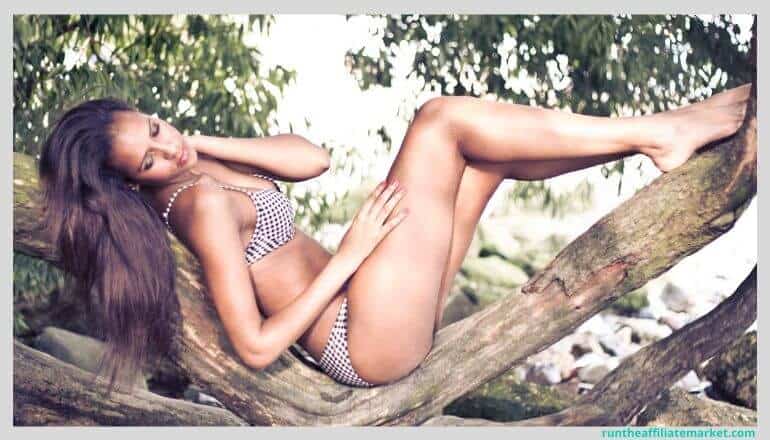 The Top Bikini Affiliate Programs
This article is focused on mainly bikini's but there will be a bit og crossover to regular swimwear affiliates from time to time. Bikinis by themselves are a large enough sub-niche of swimsuits that they deserve their own top 10 list.
Finding great bikini affiliate program ideas is just part of the process. Once you get approved the real work begins. Generating traffic and getting the conversions you need to be a successful affiliate marketer.
With a little affiliate marketing training, you can get the best start possible for your website or take your existing blog to a new level.
---
Floralkini Affiliate Program

Floralkini has a good selection of bikinis for you to promote. They have animal prints, stripes and solid colors in a variety of styles that are sure to meet the needs of many of your audience members.
They also have some related accessories like hats and beach blankets and well as a good selection of shoes, making this a great option for a general fashion blog or a summer website.
A standard 30-day tracking gap is what is on offer from this partner for their cookie duration. Nothing spectacular but it will definitely give you the time you need to make a sale through your affiliates links and still get a commission.
The commission is good as well. It doesn't quite hit double digits, which I what I really like to see, but at 8% it can be a valuable addition to any bikini or swimwear niche website.
---
Brazilian Bikinis Affiliate Program

Brazilian Bikinis has hundreds of bikinis to choose from and they start at very reasonable prices. This means that more of your audience will be in a position to make a purchase.
It is always a bit of a trade-off when dealing with product prices for an affiliate marketer. You want a nice balance of price so you can market to as wide a range of people and incomes as possible.
Brazilian Bikinis balances everything out nicely and will make a great addition to any bikini or swimsuit blog.
In addition to a great selection of bikinis, Brazilian Bikinis has a few one-piece bathing suits to choose from.
The affiliate terms for the Brazilian Bikinis Affiliate Program are pretty great. The cookie is a standard and solid 30-days and the commission is impressive as well starting at 8%.
The 8% base commission is good but you can work it up to 15% in some cases. Scaling commissions can be very lucrative if you can manage to get them. Find out the exact criteria for getting max commissions with this partner and go for it.
---
Bikinishe Affiliate Program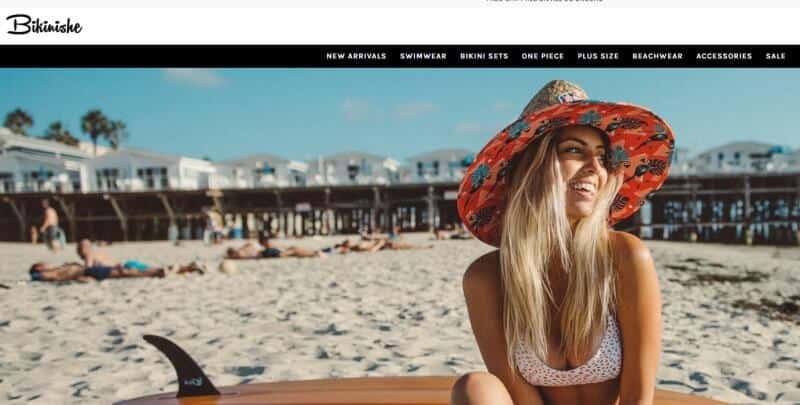 Bikinishe has a huge selection of reasonably priced bikinis for your audience to purchase. Most of their suits look to be under $50 which makes them very accessible to a large audience and makes that commission even more appealing.
This is a great affiliate for anyone with a bikini blog or a summer blog or a general fashion blog that has a swimwear category. Give them a serious look for your passive income website.
The tracking cookie duration is 30-days for the Bikinishe Affiliate Program. It is a solid cookie and a common one for the bikini niche.
But let's face it that is not what you are looking at. It is that huge commission that caught your eye, I would wager. A 20% max commission is almost unheard of in this space when dealing with physical products. The base commission is 10% which is nice in itself.
You see a top tier commission like this from time to time in the general fashion niche but for bikinis, it is the biggest commission on our list from a vendor that sells the swimsuits themselves, if you can manage to get to that level of commission.
---
Hapari Affiliate Program
Hapari has a nice selection of bikinis for your readers to choose from. They also have a selection of one-piece suits that can give your audience members options if they want them.
The focus seems to be on their tankinis, however. They are placed front and center on their website and they have a nice selection of them for you to promote.
The tracking cookie offered by this affiliate program is a standard 30-day duration. There are only a couple of Affiliates on our list that have more than a 30-day duration and I don't believe there are any that have less than that.
This is good because it's a very common and useful tracking cooking for most niches and particularly for the bikini niche.
The commission is 6%. This is a little bit lower than you want to see ideal you want to try and get as close to 10% as you can with many of these affiliate programs. But it's still a solid commission.
What it's going to come down to is whether or not this affiliate really resonates with your particular audience. If it does then you can make up for the slightly lower commission very easily.
---
Bikini Luxe Affiliate Program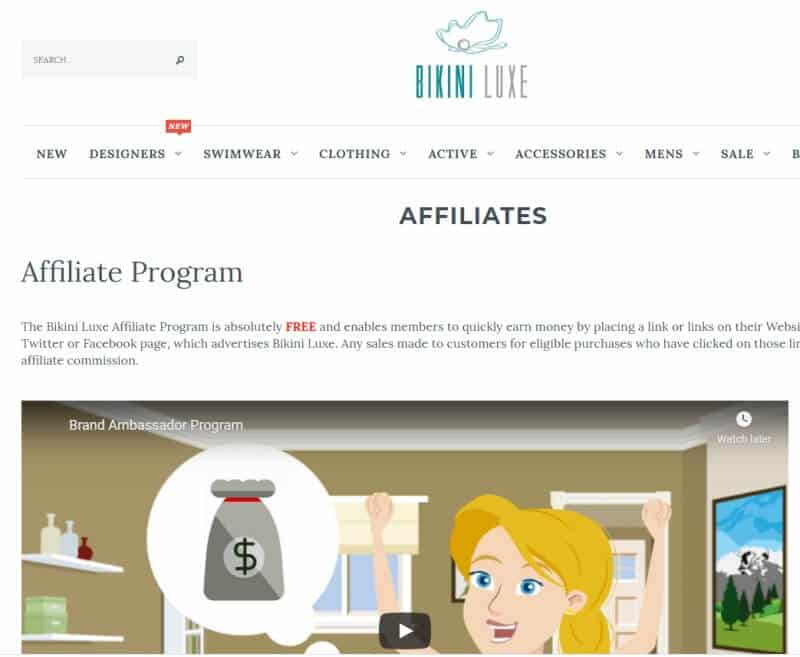 Bikini Luxe has a nice selection of bikinis but it has much more than that. I would probably consider this more of a general swimwear affiliate that a dedicated bikini partner.
They have accessories, men's swimwear, active swimwear and a lot of beach and summertime clothing to round out a pretty impressive storefront.
This affiliate would be great for a summertime niche website or a more general swimwear website but also works great as a bikini affiliate if you just want to promote their bikinis.
Another solid set of affiliate terms for the Bikini Luxe affiliate program. A 10% commission with a 30-day tracking cookie is going to be a great foundation for any monetization strategy.
---
Bikini.com Affiliate Program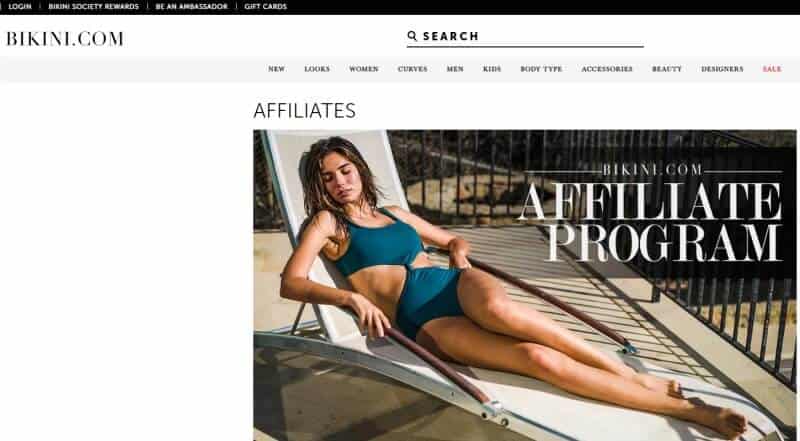 Despite its name, bikini.com has a huge selection of swimwear and accessories for men and women of every size and shape. This could easily be your goto swimwear affiliate but it would be right at home on a dedicated bikini fashion blog as well.
Bikini.com offer a fantastic tracking cookie for their affiliate partners. At 90-days the tracking cookie is long enough to really generate some great conversions and will get you affiliate sales from anyone who really wants to buy something from your recommendations.
Not to be outdone is the commission. 10% is never a bad commission, especially in a retail niche like bikinis. When you put the great cookie and the solid commission together you get on of the most promising affiliate programs on our list.
---
Frankies Bikinis Affiliate Program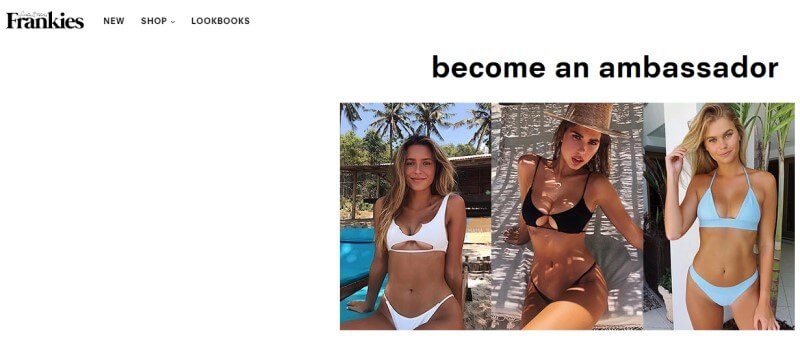 Frankies Bikinis has styles and varieties of bikinis for just about anyone's taste. They have animal prints and floral prints as well as one-piece suits if you choose to promote those along with the bikinis.
This affiliate would be a great option as a primary bikini partner for just about any website that could use on. The commission plays a big part of that equation.
Let's have a look at those affiliate terms now.
Frankies Bikinis offers a standard 30-day tracking cookie. The bikini niche loves the 30-day duration of their tracking cookies. That's great for an affiliate marketer since 30-days is a solid duration that can really help with conversions.
The commission is where this affiliate really shines, however. The 12% commission offered up by the Frankies Bikinis Affiliate Program can really generate some impressive profits with less traffic than you would think you need.
The commission is the end-all-be-all of affiliate programs but it is nice to see double-digit plus commissions.
---
Heidi Klein Affiliate Program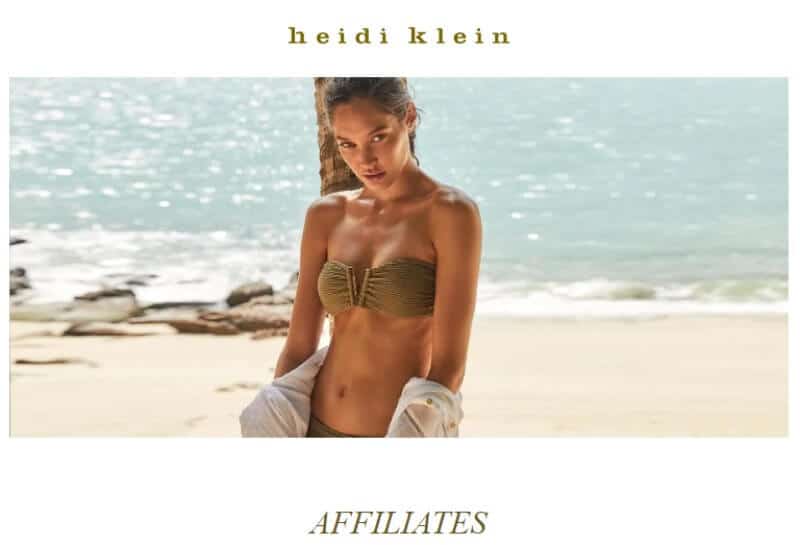 Heidi Klein has a good selection of designer bikinis, swimwear and resort wear for you to promote on your fashion or swimwear blog. The prices seem to vary pretty well which means you can promote to a good range of audience members
The affiliate terms are pretty run-of-the-mill for the Heidi Klein affiliate program. They offer a standard 30-day tracking cookie and a 7% commission for their affiliate partners.
These are solid numbers that could work well for you if they convert well with your audience. A good affiliate program to consider for a designer swimsuit of fashion website.
---
Cupshe Affiliate Program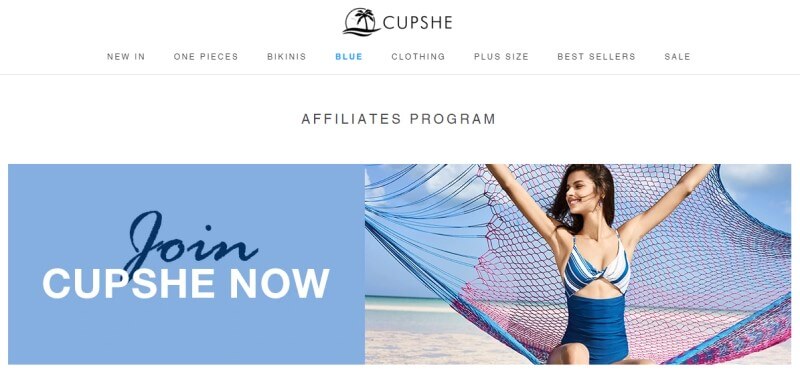 Cupshe offers a wide range of bikinis, including a very nice selection of plus size swimwear. They also have some summer clothing, one-piece swimwear and more.
I think this affiliate has a very broad appeal in terms of their offering and you could do well with this affiliate in a standard bikini blog, a general fashion blog, or a blog dedicated to plus size fashion if you need a category for swimwear.
Cupshe offers a standard set of affiliate terms for their partners. A solid 8-10% commission coupled with a 30-day tracking cookie should work well for most affiliates out there.
---
BikiniBod Affiliate Program

I thought I would add something a little bit different for the last bikini affiliate program on our list.
The difference?
It's not exactly a bikini affiliate program. This is more of a weight loss affiliate program that uses the carrot on a stick of getting a great body for the summer and for bikini season.
This is not going to appeal to a lot of bikini or swimwear websites because they want to be inclusive for every body type but for a few of them, this might be an option if you are looking for this type of weight loss affiliate program.
The BikiniBod Affiliate Program offers up an outstanding tracking cookie for their affiliate partners. The 60-day duration will give you all the time you need to make a sale and successfully get that commission.
Not to be outdone by the fantastic tracking cookie, the commission is great as well. BikiniBod offers a very generous 20% commission on qualifying sales through your affiliate link.
The nature of this affiliate being a weightloss partner instead of a direct bikini partner means that you can use it alongside just about any of the other affiliates on or list.
---
Maximize Your Bikini Affiliate Programs
That brings us to the end of our look at these Wonderful bikini affiliate programs. Whittier website is focused on bikinis or they're part of a larger swimsuit fashion website these Affiliates can really help round out your affiliate marketing strategy and give you new options for monetization of your passive income website.
I would recommend only choosing one or two of these Affiliates to use heavily on your website because you only have a certain amount of time each day to promote these products and create content.
You don't want to bog yourself down with dozens of affiliate programs that are just going to confuse your audience if they're not sure what website you're sending them to.
So pick a couple build real trust between your affiliate partner and your audience and start making a wonderful profit selling bikinis with affiliate marketing.
To maximize your profits even more, you might want to consider finding some comprehensive affiliate marketing training that's going to help you avoid the mistakes and pitfalls that many affiliate marketers make.
Don't go it alone. Get the best learning tools and community to help you build your online dream. Check it out here.
That's all I have for you today thanks for stopping by and, as always, have a wonderful day.
---