This article may contain *affiliate links. Please see our affiliate disclosure for more details
Weight loss is one of the evergreen, ever-profitable, and ever-competitive niches in blogging.  Trying to bully your way onto the first page of the SERPs while focusing on the main niche is a recipe for disaster.
You have to be clever to break into the weight loss niche. You have to find a micro-niche that is far less competitive and work your way up from there.  Even some of the micro-niches are ultra-competitive.
The goal is to find a sub-niche that can generate a good amount of weight loss traffic, has a ton of long-tail keywords that you can rank for early on, and is not just a passing fad in weight loss. There are a lot of criteria and potential stumbling blocks for people trying to break into the weight loss niche. And that's where we come in.
I have put together this list of micro-niches that you can use to start a weight loss blog and hopefully avoid a lot of the larger authority domains that tend to dominate this niche. At least they dominate the main weight loss niche. There are nooks and crannies of this enormous industry that can make it much more approachable.
Considering that by 2023 the weight loss industry is projected to hit over 287 billion in revenue according to this Reuters article.  Even a fraction of this quarter-trillion-dollar industry is going to be extremely profitable. So there is no reason to attack it head-on.  Use guile and cunning and a ton of helpful and creative content and you can have your self a place in one of the most profitable blogging niches currently available.
There Is Just Something About Owning Your Own Business. Being Your Own Boss. Building Something From The Ground Up With Your Own Hands. Especially When It Is This Easy To Get Started.
---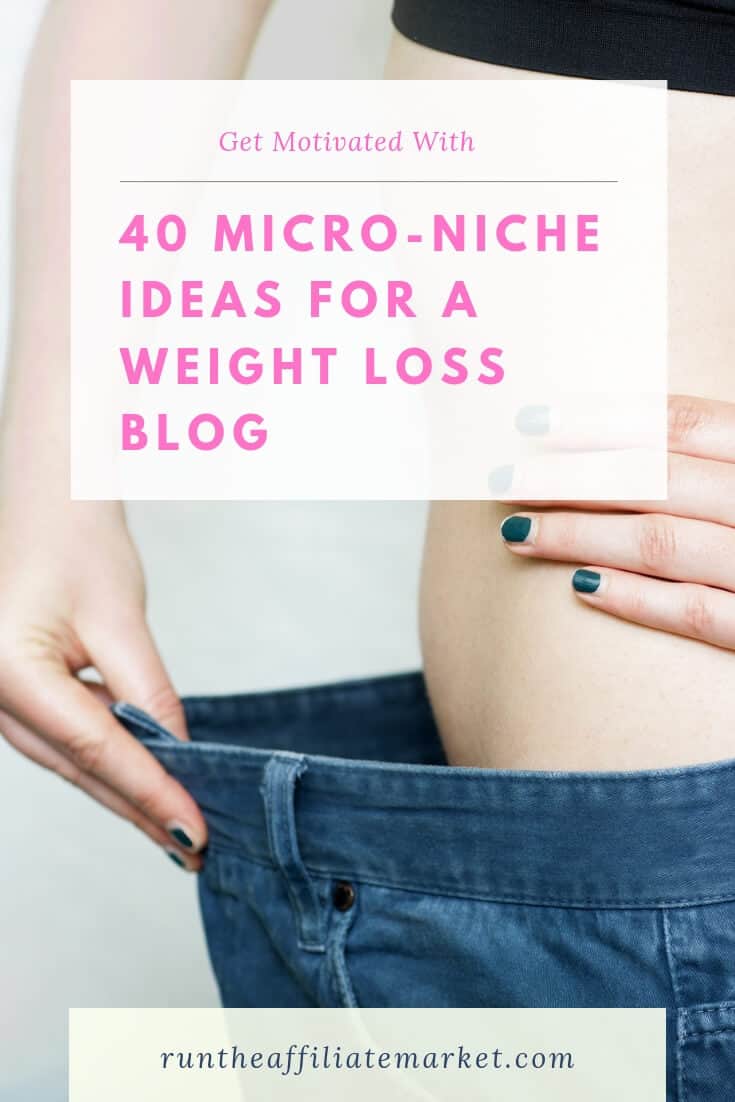 Some Of The Best Weight Loss Micro Niche Ideas Around
---
1. Calorie-Specific Diets
Starting a blog about something as narrow as a calorie-specific diet might seem like it is too small a niche to really be profitable but the amount of traffic that these niche diets can attract is somewhat surprising.
Pick a caloric number and build your blog around it.  Take a look at some keyword research for a "500-calorie diet" blog.  There are hundreds of more keywords to use.  And many different caloric numbers to choose from.

Whether its 500 calories or 1500, you can make a great, healful blog out of this niche type of dieting.  You can also go in the other direction.  Start a blog about a 3000 or 4500-calorie diet for those people looking to bulk up.  While it is technically not a weight loss niche it is always an option.
2. Ketogenic Diets
You have to be careful when starting a new blog about a fad diet. Some of them come and go before you even get your website up and running.
However, Keto diets seem like they are going to be around for quite some time. And the industry that has grown up around it is pretty impressive.  Keto might be close to becoming its own full-blown blogging niche given the amount of support it receives.
You can find quite a few affiliate programs dedicated to just this one diet. An abundance of partner programs is always a good sign for the health of any niche.
3. Weight Loss Supplements and Pills
This is barely a sub-niche at this point as the weight loss supplement industry has grown into its own multi-billion dollar entity. The whole thing is enormous and ultra-competitive.
You are going to need to really drill down into this sub-niche and find a couple of products to build your blog around. But if you can get some traction you will have a foothold in one of the most lucrative blogging niches currently available. Weight loss supplements can easily be expanded into other areas like vitamins and bodybuilding if you ever want to expand your blog.
4. Atkins Diet
Another diet that has stood the test of time. This is another great example of a diet that really embeds itself in the psyche of the public.
It has become synonymous with a low-carb diet even though there are some differences that are specific to this type of dietary program. While keto has taken some of Atkins's thunder there is still plenty of room and money to be made for anyone looking to start a blog in this niche.
In fact, now might be a great time with some of the focus shifting to other diets. The competition is somewhat less than it has been in recent years.
5. Low-Carb Diets
A broader sub-niche than some of the other ones on this list. You could argue that Keto and Atkins could easily fall into this sub-niche as well.
But I think that those two micro-niches stand on their own and this is a bit more general. There are quite a few directions you can take this sub-niche.  From recipes and food suggestions to full-blown meal plans.  There are affiliate programs for anything you could possibly need as well.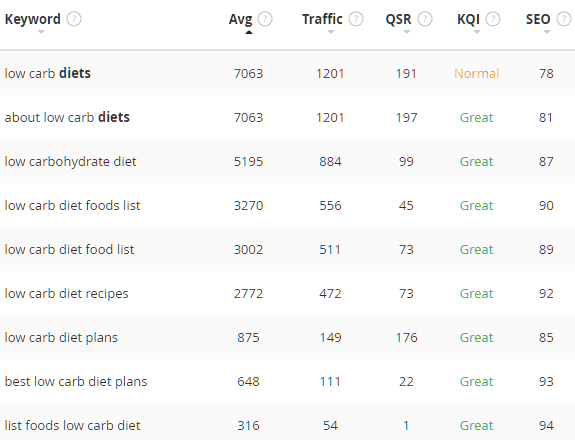 6. Weight Loss For Men
Focusing on a single-gender is a great way to break into the weight loss niche.  It cuts down on the competition while still maintaining enough traffic and search volume to make it remarkably lucrative. You can break it down even further by focusing on weight loss or fat loss for some of the biggest problem areas for men, love handles, beer gut, etc.
7. Weight Loss For Women
Weight Loss for women is another incredibly popular and profitable sub-niche.  Focusing on just the weight loss needs of women and the areas where they have the most issues losing weight and fat is going to be a huge evergreen sub-niche for the foreseeable future. You can approach this type of blog from many directions.  Weight loss pills that work best for women. Exercises or workout routines.
Diets plans and anything else that can be gender-specific.  This is a great sub-niche that can be expanded into a ton of other areas in the larger weight loss niche. A great place to start a weight loss blog.
8. Weight Loss For Diabetics
This sub-niche is actually a combination of the weight loss niche and the healthcare niche.  They are two of the biggest niches currently available. Diabetes is a huge niche in its own right so breaking it down into smaller sub-niche like weight loss for diabetics only makes sense.
Diabetes and Weight Loss niches are probably much too large to try and break into for a new blogger so finding a good micro-niche is the way to go. Breaking it down even further might be the best plan of attack for this micro-niche.  Best weight loss foods for diabetics for example.
9. Weight Loss For Kids
Another great place to start a weight loss blog is writing about how to keep your kids fit.  This also fits in another very popular blogging niche, Parenting. If you can produce some great content and helpful advice for your readers then you can really begin to make some great income here. Focus on diets and meal suggestions or kid-friendly exercises and activities.  Make it fun.  Make it interesting.  Make it profitable.
10. Post-Pregnancy Weight Loss
This micro-niche could be paired nicely with a weight loss for women blog.  Either as an expansion of your brand or simply a new section for the existing website.  It can also be its own profitable niche in and of itself. Finding great ideas, techniques, and strategies to lose that extra weight from pregnancy is going to generate tons of traffic and interest.
You can easily tap into that need with some helpful content on the subject.  Even more so if you have struggled with post-pregnancy weight yourself. First-hand experience is the best experience for writing a blog.
11. Weight Loss Books
This niche is pretty straight forward.  Reviews and recommendations of weight loss books, magazines, and other material of the sort. It can be its own profitable niche, but I think it works best when incorporated into an existing blog. Finding books and materials related to another weight loss niche and then incorporating them into your existing content strategy is a recipe for success.
12. Weight Loss Equipment
This micro-niche is pretty broad and spills over into the fitness niche.  Reviewing treadmills and bikes and any other equipment that could be used for weight loss is the goal here. This is a tough niche to break into and one that will take some time to get off the ground.
I recommend adding these types of reviews to your existing blog and then adding more and more of them as time goes on. Jumping headfirst into product reviews can be expensive and time-consuming with no real profit for the first few months or so.
13. Foods For Weight Loss
Do you know what the best foods are for weight loss?  No, I am asking.  Because if you do you have yourself a ready-made weight loss micro-niche. Know how to turn avocados into a delicious meal that is gonna help someone shed pounds?  Write it down.
Someone will be searching the internet for that exact information and you can place your blog right at the center of that search. A straight forward micro-niche with a lot of potential growth.
14. Intermittent Fasting
If we go in the other direction we find the emerging niche of intermittent fasting.  This one is a little tricky because you have people actively decide not to eat for long stretches of time.  It can be a tough sell at first. There are many different techniques for Intermittent fasting.  16/8 or One Meal A Day are just to of the ways people approach this diet.
There is a ton of information and even more confusion about IM that you could clear up with your blog on the subject. The only issue is trying to monetize IM.  There are a few affiliate programs for this micro-niche but they are still pretty small in number compared to some of the other sub-niches. Still, as it becomes more popular more opportunities will pop up.
15. Bone Broth for Weight Loss
This is a weird one.  But apparently, bone broth is becoming one of the go-to products for weight loss and health benefits in general. I was pretty shocked at the search volume for this simple micro-niche.  But the numbers don't lie.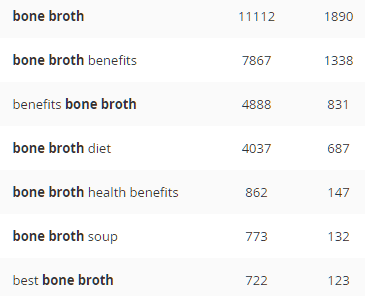 16. Weight Loss Teas
This micro-niche focuses on using tea to lose a little weight.  It might seem too specific but it is actually a pretty vibrant micro-niche. There are a few affiliate programs specifically designed around tea as a catalyst for weight loss.
Green teas and red teas and everything in between. Teas have a ton of health benefits and are a great addition to any weight loss blog or definitely an interesting entry point into the weight loss niche.
---
17. Detoxes for Weight Loss
There are dozens of detoxes that you could use to start up a weight loss blog. Tea detoxes and water detoxes and juice detoxes are all viable subjects to put to use for this micro-niche.
The only downside is that detoxes have lost a little bit of thunder over the last couple of years. This might make the competition a bit less but you should still be able to find enough volume to make a great micro-niche blog out of it.
18. Cardio Workouts For Weight Loss
Another straight forward micro-niche for weight loss.  Find some great cardio workouts and give them a try and review them.  There are dozens of affiliate programs that you could use for this micro-niche. This micro-niche lends itself well to making videos of yourself trying out these cardio workouts to really give your audience a look at how they work.
19. Personal Weight loss story
Few things resonate with an audience more than a personal story.  Whether you have been successful in your weight loss attempt or have had some setbacks, chronicling it in a blog is a great way to endear yourself to your audience. Plus making a little income on the side is pretty great as well.
20. Age-Specific Weight Loss
I would call this a sub-niche more than a micro-niche.  You can pick just about any age range and tailor your blog to its specifics. Weight loss for women over 40 or weight loss for people over 65.  Any age range would work pretty well but older ranges will probably be the most profitable. Weight loss gets tougher as you age so trying to keep off the extra pounds will be pretty popular for people of a certain age.
21. Region-Specific Weight Loss
Another very interesting micro-niche.  For this, you will need to know the specifics of the region you want to target. So, for example, if you were blogging about weight loss in Japan you would need very in-depth knowledge of that culture and their eating and exercising habits. Once you have all that information, however, you have yourself a captive audience as this niche is not as well represented online.
22. Weight Loss While Traveling
This combines two great evergreen niches.  Traveling and weight loss.  You can blog about the most effective ways to stay fit while traveling. From quick exercise routines to walking routes through some of your favorite travel destinations this micro-niche has a little bit of everything. This is a great micro-niche for images and photos and would lend itself well to Pinterest.
23. Weight Loss While On Vacation
An offshoot of the previous micro-niche on our list is weight loss and fitness while on vacation.  It works in much the same way but would be much more focused on vacation spots than travel destinations. There is a bit of a distinction really.  Think Disney World as opposed to Paris.  This could be described as a weight-loss while traveling micro-niche.
24. Apple Cider Vinegar
Apple Cider Vinegar has long been touted as a weight-loss miracle.  But it has really started to pick up steam in recent years. Keep in mind that much of the data surrounding its weight loss properties is circumstantial at best.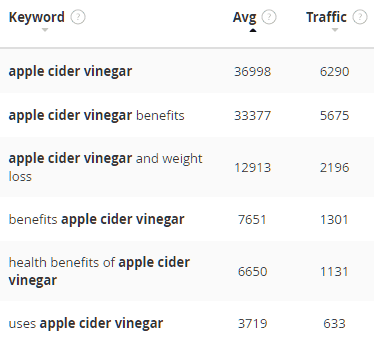 This makes the ACV micro-niche a pretty volatile one. Any new research could spin the interest one way or another for this niche.
25. Diet Meal Plans
This micro-niche focuses on premade meal plans for weight loss.  Think of weight watchers or similar products. You can use your blog to promote and review these meal plans and use affiliate marketing to make a profit off of it.
Most of the meal plans have an associated affiliate program so you will always have a way to monetize your blog. Start with just one company and expand or stay small if it is making enough income for you.  There are a lot of potential directions that this micro-niche can go to.
26. Weight Loss Tips
More of a general weight loss sub-niche.  This could really be about anything weight loss related.  You will probably want to narrow this niche down a little more before diving into it.  But this lends itself well to Twitter or other short-form platforms.
27. Weight Loss For a Wedding
This micro-niche shouldn't just be about the bride losing a few extra pounds.  Include the entire wedding in your blog. Weight loss for the groom and best man or the bridesmaids.  This is a very specific micro-niche but still a very profitable one. With far less competition than many other weight loss micro-niches.
28. Best Weight Loss Programs
Scour the planet for the best weight loss programs you can find. Then Review them. Then rank them. Then promote the ones that work and dump the terrible ones. This is a very straightforward micro-niche. But it might still be ultra-competitive for a new blog.
So pick a couple of the best weight loss programs you can find and become an expert on them while promoting them. You'll earn your blog credibility and a little money in the process.  Then you will be ready to expand into other areas of weight loss.
29. Specific Food Diet
Another very broad micro-niche.  You will want to pick a couple of foods to focus on.  Almond Diets or Apple diets for example. Also for diets like these, you will want to really dig into the research to make sure they are viable and actually produce results.
30. Boost Your Metabolism
Blogging about ways you can boost your metabolism is a great way to break into the weight loss niche. Metabolism-boosting foods, workouts, and supplements are all fair game for this micro-niche.  There are plenty of studies to use for research for this niche as well as many affiliate programs to monetize it with.
---
31. Cabbage Soup Diet
Talk about getting specific. This diet might be here for the long haul or it might be a fad. But it is pretty popular and has already got a lot of traction online. A quick look at some Jaaxy keyword research shows us just how popular it is.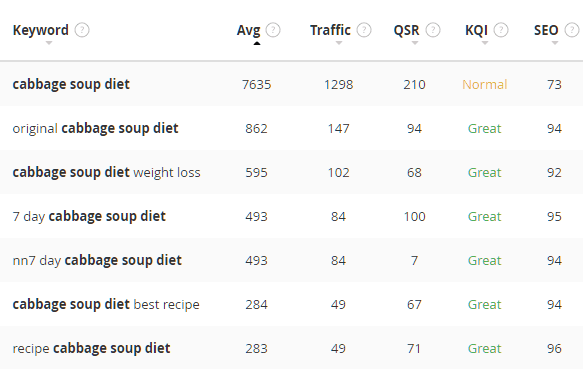 Other than the main head keyword all the long-tail keywords look fantastic. This is a great example of a super-specific micro-niche that has a ton of traffic volume and interest.
32. Dairy-Free/Lactose Intolerant Diets
A great niche for helping people who have trouble digesting dairy products.  This is an incredibly specific micro-niche, but you would be surprised how many people suffer from lactose intolerance. A blog like this can also accommodate people who are simply dairy-free by choice and want to find a diet that caters to their lifestyle.
33. Crash Diets/Lose Weight Fast Diets
These are always a bit iffy but if you can find ones that are safe and fast this could be a great micro-niche to build a new website around.  Or it could be added to an existing weight loss website easily. I would probably opt for the latter and use it as an expansion for an existing weight loss blog.
34. Free Weight Loss Programs
It might seem counter-intuitive to write a blog about free weight loss programs.  But it is all about generating traffic. If you can get people to your site you can monetize that traffic in a variety of ways.  Advertisements and even offering them something better than the free program. Suggesting a really great paid program can help convert your readers to customers.
35. Organic/Whole Food Diets
These are very popular right now and really blend into the food and recipe niche. But they are definitely weight-loss diets. You can really expand this into a whole bunch of different areas.
You could take it into gardening for example but blogging about how you grow your own vegetables for your weight loss diet. Tons of possibilities with this one.
36. Cycling for Weight Loss
This micro-niche is really a fitness micro-niche but weight loss and fitness really blend into one once you start getting into the exercise part of weight loss. So cycling, running, or walking could easily be turned into a weight loss blog.
Another great visual blogging micro-niche. Either through images or video fo your cycling and workouts. Especially if you have a scenic route or to ride along.
37. Gluten-Free Diets
Gluten is a big issue these days.  Not exactly sure what it is or what it does.  Me neither.  But for some its poison for others, it's irrelevant.  Figure out what it does and get to work writing about it.
There is a huge potential audience for finding ways to lose weight while avoiding Gluten.  If you can crack this code you'll have yourself on an outstanding weight loss micro-niche.
38. Lose xxlbs in a Week/Month
Lose 10 pounds in a week.  Lose 20 pounds in a month.  Find an amount of weight you want to lose and start writing about it. Someone will almost always be searching for information on the exact amount of weight they want to lose.
And soon you will have the answers for them when they arrive.  Be as specific as you are comfortable with and within reason.  Losing 4.786 pounds in 4 days is probably not a great place to start a blog.
39. High-Fiber Diet For Weight Loss
This micro-niche speaks for itself.  Blog about the benefits of a high-fiber diet with regard to weight loss. This is a perennial favorite among dieters.  It never goes out of style so you don't need to worry about it collapsing like a fad.
40. Low Sodium Diets
People try and limit their salt intake for a variety of health reasons, weight loss being a major one.  Like any other weight loss program on this list, there will be thousands of people searching for information on low-sodium diets each and every day.
You could apply this to all sorts of diets and come up with a new micro-niche to try.  Low Sugar, low-fat low anything.  There is probably a diet or weight loss program for it.
---
The Big Finish
It seems like a lot of micro-niche ideas but it is really just the tip of the iceberg. There are hundreds of other potential weight loss micro-niches out there. In fact, just about anything you can think of can be turned into a micro-niche.
I had to narrow down the criteria or this list would never get published. I had to come up with the niche and then do some basic research to see if there was any interest in the micro-niche. That's why the list looks like it does.
I hope to add to it from time to time.  And remember, especially for the weight loss niche, there will always be new diets popping up. If you can get in early they can generate a ton of traffic for you even if they are fads.  If they have staying power even better.
So good luck with your new weight loss blog. I hope that some of these suggestions have helped you sort out what micro-niche you would like to jump into or at least given you some ideas on how to approach your weight loss blog in general.
Don't go it alone. Get the best learning tools and community to help you build your online dream. Check it out here.
Thank You for visiting And as always have a wonderful day.