This article may contain *affiliate links. Please see our affiliate disclosure for more details
In this article, we are going to turn our gaze onto one of the most profitable sub-niches in weight loss. Weight Loss nutritional supplements and diet pills. It is also one of the most competitive niches in all of blogging.
If you want to break into this profitable niche you are going to need a lot of patience and hard work.  But that is not enough. You will need to be creative with your keyword research.  Target long-tail low competition keywords to build up your traffic slowly and avoid any of the big authority domains that litter this niche.
If you can do that, however, you will have access to a multi-billion dollar growth industry that shows no signs of slowing down. Great content along with a careful selection of affiliate programs will set you on your way to prospering in a fun and profitable blogging niche.
The great thing about using affiliate marketing in a niche like this one is that you can sell nutritional supplements without having to worry about the logistical headaches that come along with starting a traditional retail business.
Let's get into our look at Weight loss supplements as a blogging sub-niche.
There Is Just Something About Owning Your Own Business. Being Your Own Boss. Building Something From The Ground Up With Your Own Hands. Especially When It Is This Easy To Get Started.
---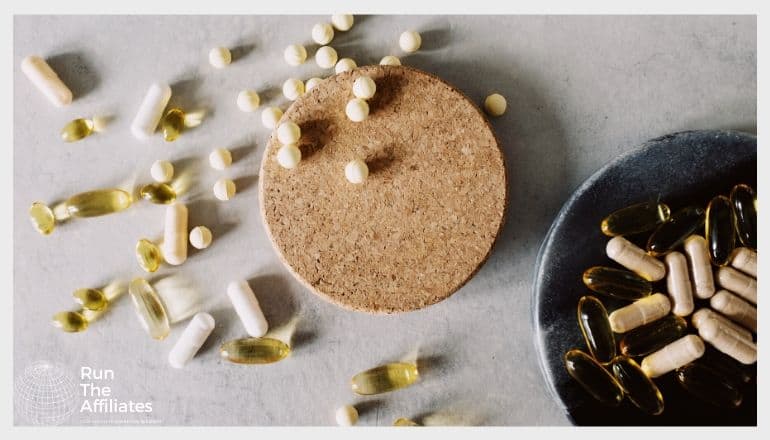 Why Blog About Weight Loss Supplements
Weight loss supplements are one of the most lucrative sub-niches in the entire weight loss niche.  There are tons of affiliate partners to choose from that focus solely on supplements and diet pills.  It is a huge billion-dollar industry in its own right.
The reality is that the weight loss supplement niche is a full-blown blogging niche in its own right.
So how do you break into something this big and competitive? You have to get small. Your blog will need to start out focusing on one or two specific supplements.
Many supplements have an entire affiliate program specifically for that single supplement product. That is the place to look for an entry point into this weight loss sub-niche.
Supplement Product Ideas to Promote
So we have already come to the conclusion that you are going to need to find specific supplements to promote and build your new blog around those until you are big enough to grow and expand into other supplements. But where do you find the products to promote?
A quick way is to check out Amazon and see what is selling on their site. While their affiliate program is not the best it can give you some ideas as to what types of products you can target for a new supplement blog.
Another place to look is supplement retailers.  Find out what is selling at GNC or other health-based stores and build your initial promotional campaign around the best-selling products. And finally, you can reverse engineer it.  Find an affiliate program that only has a couple of supplements. Then promote that partner program's product.
A Few Affiliate Ideas
Speaking of affiliate programs. There are hundreds if not thousands of them to choose from. Amazon is an obvious one and you want to pick it up for just about any niche.
But the smaller partners with better terms are the place where you can really start to make some profit. Affiliate programs are going to be the backbone of your blog in terms of income.
You can always put advertisements on your site once you start getting a decent amount of traffic, but affiliate marketing will almost always be more lucrative than on-site advertising.
Here are a few examples of products and affiliate programs to get you started.
Growth Potential
There is always room to grow no matter how big the niche.  And weight loss pills are no exception.  While this industry is already enormous is going to get much bigger.
According to this article on Globe News Wire, the Weight Loss supplement industry is expected to read 37 billion dollars by 2026. It is absolutely staggering.  And it gives you an idea of just how profitable the entire weight loss niche is when one of its sub-niches is raking in that much revenue.
But the industry health is only one part of the growth potential. The other half is whether or not there is any room for the blogging aspect of this niche to grow. Typically an industry that is expanding is going to generate more interest online.
This is great for bloggers. More people looking for information means more potential customers. Many will be gobbled up by the established sites, but a new blog can excel with some clever use of long-tail keywords.
If we look at the Google Trends graph for weight loss supplements over the last year we see consistent interest in this sub-niche. The interest is always 50-75% of its maximum. This is outstanding and shows just how evergreen this sub-niche really is.
A Quick Look at Keywords
The weight loss supplement niche is incredibly competitive and trying to rank for the main head keywords is going to be next to impossible for a new blog trying to find its way in this niche.
You can see when we take a look at the Jaaxy Keyword tool we can see the volume and competitive nature of this niche.

Even some of the longer keywords are highly competitive and really unapproachable for a new blog. So let's break it down even further to show you just how to deploy long-tail keywords.  In this case, the keyword is "Weight Loss Supplements For Women". As you can see in the Jaaxy research below the volumes are very good for a targeted long-tail keyword and the competition is starting to get to a level where a newer blog can start to get some traction in the SERPs.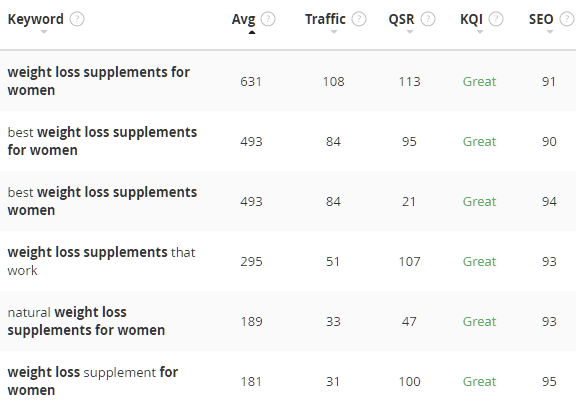 One more example.  In this one, we are going to break it down even further to try and find a really low competition. "Fast weight loss supplements" is the keyword we are targeting in this example.  But notice what else come up in the results.  We get fast weight loss pills and a few variations on that keyword.

That is a whole other line of potential keywords that you can use to try and find the best and most productive keywords to break through into the first page of the search engine results.

---
The Big Finish
Weight Loss is a tough niche to break into.  Even many of the sub-niches, like supplements, are daunting. But if you can break the niche down even further you will find quite a few products that you can successfully promote to get started in the weight loss supplement niche.
It will take time, of course.  Trying to get your new blog high in the search rankings takes some time and some great content. But it can be done and the rewards are a nice income.  Put enough time and effort into it and you can have a full-time income eventually.
So good luck with your new weight loss supplement blog. I know you will create some compelling and interesting content that will drive traffic and sales for yourself. And ultimately set you on your way to having one of the best weight loss blogs around.
Don't go it alone. Get the best learning tools and community to help you build your online dream. Check it out here.
Thank you for visiting and as always have a wonderful day.