This article may contain *affiliate links. Please see our affiliate disclosure for more details
Home gardening as a blogging niche? It might not seem like a natural fit, but as we know any blog idea can be profitable.
And gardening is no exception. Not only is it a very helpful niche it is a beautiful niche to film and photograph making it ideal for a blog or youtube channel. So the real question is.
Can you make a real income in the gardening niche market? You absolutely can make your love of gardening into a full-time job online. From the increased awareness of homegrown vegetables to the beauty that a garden can bring to a home and its value.
But first, let's get a look at why this niche is growing so rapidly. The main growth is not from people just growing pretty flowers in front of their houses. Although that is a perfectly reasonable direction to take your blog in. No the boom in gardening is coming from people growing their own food at home. Affiliates like the Garden Tower Project fit nicely into this home-grown revolution.
Instead of just showing your readers how to grow flowers for looks or a hobby, a gardening blogger can really help people save money and produce healthy organic foods for their readers.
So let's get into the why's and hows of a gardening blog and what makes them so interesting, helpful, and potentially profitable for a blogger like yourself.
There Is Just Something About Owning Your Own Business. Being Your Own Boss. Building Something From The Ground Up With Your Own Hands. Especially When It Is This Easy To Get Started.
---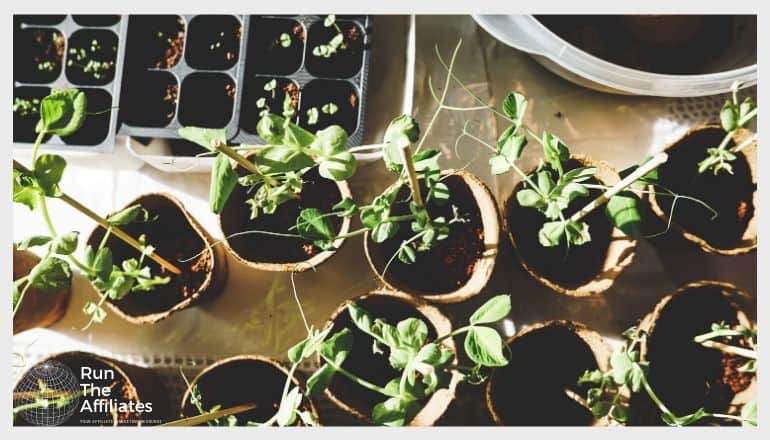 Building A Gardening Niche Blog
A great reason to start a gardening blog is that it can be incredibly helpful to your readers. And being helpful is the most important part of affiliate marketing.
You will be able to make some nice commissions in this niche, but helping people grow their own food and flowers is going to be the main thrust of a gardening blog.
According to this 2017 article from Farmer FoodShare(source), 1 in 3 U.S. homes grows some of their food in a home garden. This has really opened up the possibilities for a gardening blog.
It is a great feeling knowing just how much you have helped someone through your blog. Saving a family some money on their groceries because you laid out an easy and fun way to grow some of your own vegetables is worth its weight in affiliate commissions.
You can see the trend for interest in gardens is pretty stable throughout the year. It spikes in the spring and dips a little bit in the winter, for the northern hemisphere at any rate.
This is to be expected. While gardening can be a year-round niche, expect it to taper off a little bit during the colder months.
There are plenty of micro-niches that you can use to get your blog started in the gardening niche. Focus on flowers or vegetables, the types of gardening, what to grow in various regions, vertical gardening, check out our look at that micro-niche. And that is just the tip of the iceberg.
---
Starting With A Website
The first thing you are going to need when you start your gardening niche site is a place to display your content. For a blog, this is typically going to be on your own branded website.
For that, you are going to need web hosting and a domain name. This will be a modest investment in your business. There are hundreds of options for web hosting. Choose one that is right for your budget.
For both of these, I recommend using Bluehost, they are where I start all my new blogging endeavors and work well until your traffic gets to a level where you need to move on to something bigger. Typically 50k to 100k visitors a month is when you would want to think about moving to a new hosting service.
You can get started for about $5 a month for web hosting plus another $15 for the domain and you have started your business for around $75US for an entire year. Try doing that in just about any other line of business.
How Can You Make Money Writing About Gardening?
Affiliate marketing would be the first and most obvious choice to monetize a gardening blog. There are quite a few wonderful partner programs to choose from. If your blog is about flowers and botanicals, a program like the one offered by Botanical Interests might be perfect for you.
If gardening for food is the focus of your blog, a partner program along the lines of the Garden Tower Project might be just what you need. Either way, there are dozens of associate programs to choose from, including the old standby of Amazon Associates.
Advertisements on your blog are another way to generate some income. However, you will need a good amount of traffic to see any reasonable returns. Information products can also be used if you can create a good and relevant one.
One other interesting way to monetize your blog is to sell the actual fruits of your labor. Taking your vegetables to a local farmers market and selling them could possibly turn a little profit. Or just the fact that you don't need to buy those vegetables from the store will start to add up in the long run.
But affiliate marketing still remains the best way to produce income from this type of niche blog. Therefore, your content and marketing strategy will be paramount in maximizing your potential income. Clever use of affiliate programs and interesting and helpful content will set you on the path to profits.
Finding high-quality keywords and topics is essential to making money in the gardening niche. Keywords Everywhere is an awesome research tool. I also use Jaaxy Keyword research when scoping out new topics for my niche sites.
---
Is There Any Growth In Gardening?
The growth in gardening will most likely come from the increased awareness of fresh organic foods that many people, particularly in the U.S., have started to become aware of. Home gardens for producing food are growing each year.
Market gardens in urban areas help this growth as well. There is still room to grow for a blog about gardening flowers and landscape-type gardening. But food production will most likely be where the gardening niche market really takes off.
A blogger can position themselves now and reap the benefits of helping people with their own gardens. This niche also lends itself well to video tutorials and training. This makes it fairly future-proof as the internet slowly moves towards a video future.
Keep in mind with video, however, that the majority of the planet does not have the internet infrastructure to support a lot of videos. So don't worry about a text and image-only blog not fitting in. They will still be very relevant for years to come.

---
Keyword Popularity For Gardening
As you can see in the above image the keyword volume for the root search term gardening is very robust. When you start to get into specific long-tail keywords the possibilities of traffic producing searches become very intriguing.
So the overall search volume looks great and when we take a real close look at some longtail keywords we find a huge number of variations that you can use for each article. In this example, we are simply looking at the keyword phrase "how do you grow a tomato at home?".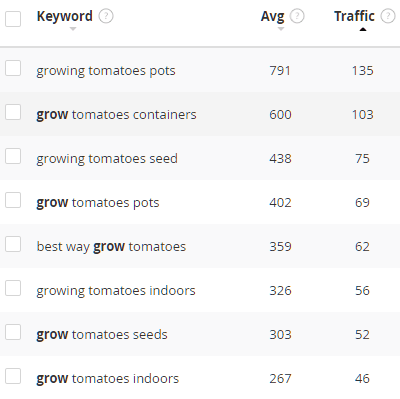 You can see the variations on this simple long-tail keyword.  And these were just the first 8 entries.  There are hundreds of other viable phrases that you can use to generate great traffic to each post you make on growing a tomato.
And that is only one vegetable. One single vegetable. The amount of content you can create for a gardening blog is limitless. Tutorials and training on the best ways to grow each type of plant.
The best ways to care for them, the best plants to grow in your particular region of the world. How do deal with pests without chemicals?
And so on. From a content perspective, gardening is one of the most prolific blogging niches around. And if the gardening niche seems too broad to start out with, you can focus on one or two plants to grow. Start your gardening blog focused just on tomatoes or carrots or whatever you like.
After you grow your blog a bit expand to other vegetables, fruits, or flowers and really open up the blog to the larger gardening niche. Check out the video below to see a great success story in the gardening niche using Project 24.
---
Filling In The Last Bit Of Dirt
Not only can you make a little bit of money with a gardening blog you can really help people. Even if it's only growing a couple of extra tomatoes, you are giving your readers a huge amount of value through your gardening advice.
And you can benefit from your advice as well. By showing and writing about the process of growing all these fruits and vegetables you get the benefit of growing them yourself. Saving yourself a little cash at the grocery store as well.
The icing on the cake is that your efforts in helping people with their gardens will translate into a nice side income for you. There are many affiliate programs, see our list here, you can lean on this niche and they will all add to the value of your blog.
So good luck with your new gardening blog. It really is one of the best niches to blog about. It can be rewarding and humbling. You can really help other people and have a profound effect on their everyday lives.
The gardening niche is there for the taking. If you don't mind getting your hands dirty.
Don't go it alone. Get the best learning tools and community to help you build your online dream. Check it out here.
As always, thank you for visiting, and have a great day.