This article may contain *affiliate links. Please see our affiliate disclosure for more details
Micro-niches are often overlooked by many bloggers. Especially those new to blogging in general. You look at a micro-niche and think there is no way you can generate enough traffic to make it worth your while.
But not only are micro-niches viable ways to make money. They are gateways.
Gateways into some of the larger hyper-competitive niches and sub-niches. The micro-niche we are going to put under the microscope today is part of the dog sub-niche of the pet niche.
You have to dig a little bit to get to it but it started with a simple question. Can you make money selling dog clothes?
You don't have to look very far for inspiration in this micro-niche. Go out on Halloween or to a Christmas party and chances are you will see a dog with a costume or antlers or a sweater.
Or any number of other indignities thrust upon that pup by a loving owner.
The point is the pet niche is huge and evergreen, the dog sub-niche is the biggest in the pet niche. And the dog clothes micro-niche is one of the pillars that hold the whole thing up. You can make money by selling dog clothes. You can make money promoting dog clothes through your affiliate programs.
I have placed this micro-niche in the pet category but it could easily be part of the sewing niche as well. You can read more on the sewing niche right here.
A blog that taught people how to safely make quality garments for their pets would be incredible. And you could even double up with the affiliate programs some from pet partners and a few others from sewing associates, like these 10 partners.
It really is one of the more versatile micro-niches I have come across. You will have ample opportunity to make a good income as you build your dog clothing blog and ultimately grow large enough to compete in the dog or pet niche outright.
There Is Just Something About Owning Your Own Business. Being Your Own Boss. Building Something From The Ground Up With Your Own Hands. Especially When It Is This Easy To Get Started.
---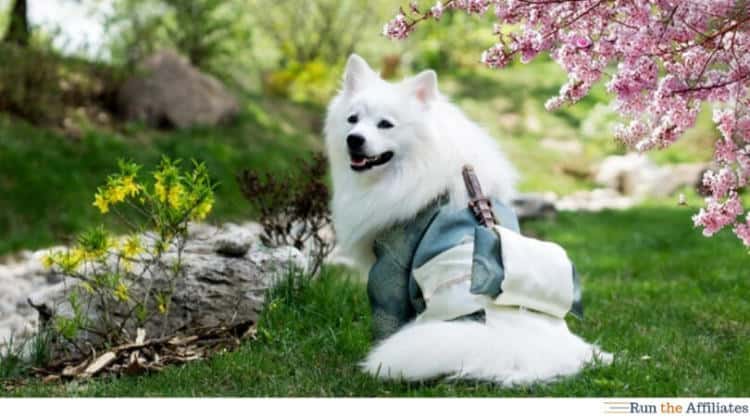 Why Blog About Dog Clothes?
The first reason to start a blog about dog clothing is a love of dogs. That passion really has to be there. You can write a successful blog about something you do not care about but it is so much easier and much more fun to write about something you love.
A second reason is that seeing your own pup dressed up is a great sight. Letting others share the experience is even better.
You can bond with other dog lovers easily through this kind of interaction. Even allowing your readers to send in their pics of their pups will draw them ever closer.
Of course, then there is the money aspect. If you love the niche and can write passionately about it then you will have no problem monetizing your blog. We'll get into how in a minute but suffice to say that this micro-niche has everything you want.
It is part of the evergreen pets niche. The pet niche is incredibly profitable and the readers and potential customers are just as passionate about their dogs as you are about yours. It is one of the best micro-niches to jump into.
People are not shy about spending money on their little pups. Making this an incredibly lucrative micro-niche. According to this article from McClatchy, people spend billions on treats, clothes, and jewelry for their pets.
If you take a look at the google trends chart for dog clothing over the past year you can see it is very stable with a spike around Halloween and continuing into Christmas. This will bring in a bit more traffic during these times.
But the dog clothing micro-niche looks pretty good year-round. You notice it's always near about 50% interest. That is about right for a micro-niche. Not overwhelming interest but plenty to support a huge number of blogs.
It is exactly what we want in a micro-niche. Not too competitive but still able to generate a good amount of traffic year-round.
---
How To Monetize The Dog Clothing Micro-Niche?
Affiliate marketing is the best way to monetize a dog's clothing blog. Advertising is another way, but affiliate marketing is the best at least until you can start driving a good amount of traffic to your blog.
If you are also in the sewing niche then you could make and sell your own pet clothes or create tutorials on the production of dog clothing and sell the training videos as an information product.
Using both together would be the best way to do it if you are also invested in the sewing niche. There are plenty of great programs to choose from. Some very specific and lucrative.
One of the best is an affiliate program from the Muttropolis Dog Store, check out our full affiliate review. It caters directly to the dog clothing and accessory niche and is a great place to start monetizing your blog.
But it is not the only partner program. Amazon should always be an option and the are scores more for you to choose from. We have put together a few different lists of great partner programs, you can check out our pet affiliate article here.
---
Can You Grow A Dog Clothing Blog?
There is a great deal of growth potential in the dog clothing micro-niche. You can branch it off into clothing for other pets. You could open it up to include more aspects of a dog blog. Combining it with other dog micro-niches might be the best way to expand.
Dog collars or dog accessories could easily be added to your growing blog.
They would fit in seamlessly and probably not alienate too many of your existing readers. From there the entire dog niche is a potential place to grow and expand your blog's influence.
But you could really move your blog in any direction in the dog or pet niches. Dog health would be a great way to go after establishing your brand. Or dog food. Or designer dog beds.
The list goes on and on and with shrewd content creation, you will be able to maximize your profits regardless of the direction to take your blog in.
Dog clothing is a worldwide business as well. Just check out the short video on Japanese dog clothing stores. A blog could really make a great income promoting some of these types of dog clothing affiliate programs.
---
Keyword Research For Dog Clothing
When to start to do a little keyword research for the dog clothing niche we find some pretty great search volumes for a micro-niche. These head and body keywords have the type of volume that will help support a huge number of long-tail keywords.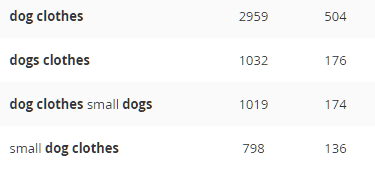 For any micro-niche, long-tail keywords are the lifeblood of your blog. Using these longer less competitive keywords will be instrumental in building your traffic while your blog is in its infancy.
All this takes time and when your blog finally starts to get the respect it deserves from search engines these keywords will really show their value.
---
Can You Make Money Selling Dog Clothes?
That was the question we asked at the start. Could a micro-niche, like dog clothing, really be profitable? If I have learned anything in the business it is that anything can be a profitable blog subject as long as you work hard at it.
Anything within reason anyway.
And dog clothing is well within reason. It ticks all the boxes of what makes a great micro-niche. Less competition than the larger niche. Great keywords to generate traffic.
Backed by a great industry that people spend a lot of money in and most importantly is it a passionate niche.
The last one cannot be overstated. When choosing a niche to blog about, many people overlook just how passionate the readers are about the subject.
Coffee is a great niche but the passion is not the same as a pet niche. Both can work but the passionate one is going to work a little better.
The audience's passion can be the decider when choosing a niche.
And almost any pet niche has that passion and micro-niches like dog clothing have it in abundance.
So good luck with your new dog clothing blog. I know that you are going to be creating some great content and have a successful blog in no time.
Thank you for taking the time to read my article about the dog clothing niche.
I hope you have enjoyed it and found it informational. Look for more insights into niches both large and micro in the coming days and weeks and please have a look around at some of our other content.
Don't go it alone. Get the best learning tools and community to help you build your online dream. Check it out here.
---
As always, thank you for visiting, and have a great day.