This article may contain *affiliate links. Please see our affiliate disclosure for more details
This is not about a blog made of chocolate, that would be delicious. This article is about blogs about chocolate. While it may seem like an odd choice to start a blog. Chocolate can be a very lucrative blogging niche.
There are dozens of chocolate partner programs, many of them with monthly subscription boxes that are always a hit with affiliate marketers. The reality is that candy in general and chocolate, in particular, are some very popular blogging niches.
And there is no reason why you can't grab a piece of the action. This is a laid-back niche. Anyone can voice their opinion and if you generate enough great content you can be an expert in the field of chocolate delights in no time.
Chocolate blogs are a great way to add a little extra income and have some fun in the process. So, if you love chocolate. Whether it's chocolate candy or 100% cocoa health food chocolate there is a place for you in the chocolate micro-niche.
All you have to do is start. And hopefully, this article will give you some ideas on just here to do that. So strap in and enjoy our look at the chocolate micro-niche.
There Is Just Something About Owning Your Own Business. Being Your Own Boss. Building Something From The Ground Up With Your Own Hands. Especially When It Is This Easy To Get Started.
---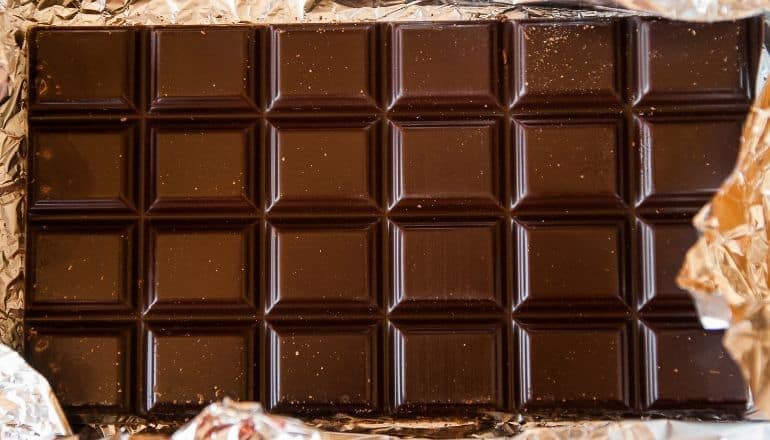 Why Start A Blog Around Chocolate?
If you love chocolate, there is no better reason to start a chocolate blog.  For a blog to be successful you really need to love the subject.  There are exceptions you can force yourself to churn out 2000 words on a subject you can't stand but it will start to weigh on you.
On the flip side.  If you love what you're writing about if you were going to discuss it on a forum or with friends anyway, then why not start a blog and put your opinions and passion for chocolate out there?
It can be frightening at first. Any time you create something and show it to the world you open yourself up for criticism.  But you will get past it very quickly.  Especially once you start to grow your own audience.  They will be drawn to your blog about all things chocolate because they feel the same way.
This is really one of the key aspects of a blog that gets overlooked.  Most of the time all you here is content, content, content. Content is king. And while that is absolutely true, your content will have more of an impact if your readers can relate to it and by extension relate to you.  Relate to your love of the subject.  In this case, relate to your love of chocolate. The real question becomes,  why NOT start a blog about chocolate.
---
How Can You Monetize A Chocolate Blog?
I think affiliate marketing is your only real option here.  You can and should put advertisements on your site, but the larger food and beverage niche is notorious for its low-paying clicks for advertisements.
With the abundance of subscription boxes in the chocolate micro-niche, affiliate programs make the most sense.  You can get a nice residual income from the boxes if you find a good partner program.
However, many of the associate programs for this niche offer a flat fee instead of a percent commission. So be aware of that when looking for partner programs. The flat fees are not bad but you ideally want a percentage plan for these subscription boxes.
One last thing to note about affiliates in this niche.  There are very few that offer many high-ticket items.  So you will have to rack up a lot of low-commission sales in order to make a decent income.  There are a couple of high-ticket items, like this one from Sephra, but they are few and far between.
As always, make sure to sign up for all the major affiliate networks. Here are 3 of the most popular.
---
Does This Niche Have Growth Potential?
The chocolate industry is well established. The annual revenue of the chocolate industry worldwide is huge. In 2016 the worldwide revenue was a staggering 98.2 billion dollars. The industry is still growing.
So the growth potential is certainly there, but you won't see a sudden chocolate explosion like you might in some emerging marketing niches. The chocolate niche is going to expand at a much slower rate than something like the Keto Niche.
But this makes the chocolate industry much more stable.  Stability is great for the long-term prospects of your chocolate blog.  It means that the industry will be similar to what it is now in 5 or 10 years.
Whether or not the blogging industry is the same in 5 years is another story. But there is plenty of room for a new chocolate blog. Especially if you can bring your own unique views and tastes to the niche. It is not just about writing a review of your favorite chocolate bar.
To grow your blog you are going to need to generate some great and interesting content. But rest assured the interest and traffic is there to be successful in this niche.
A Look At Trends And Interest
Speaking of interest. Let's have a look at Google Trends to see when the niche is at its peak and if there are any downturns in interest during a year.
The red line on the graph is a generic candy search, for reference. But as you can see chocolate is stable for most of the year. Interest spikes around Christmas, Valentine's, and Easter. But the trend line never drops below 30% of its maximum interest.
This is great for any niche. You expect to see spikes at certain times, but the overall interest is rock solid throughout the year.
---
Keyword Research
Let's take a look at a couple of keywords using the Jaaxy Keyword Research Tool.
The first one is the generic "chocolate" keyword. This one will be almost impossible to rank in search for a new blog. And frankly, it is so broad that you would not really need to rank for it at all. There is no intent with that search. It is almost meaningless.

What it is good for is seeing the overall volume of searches for the topic. Bear in mind that all keyword tools are estimations as no one has the exact number other than Google and they don't release that information.
Now let's get to the real traffic-generating keywords. The long-tail keywords. For this example, we are going to target the "chocolate subscription box" as our keyword.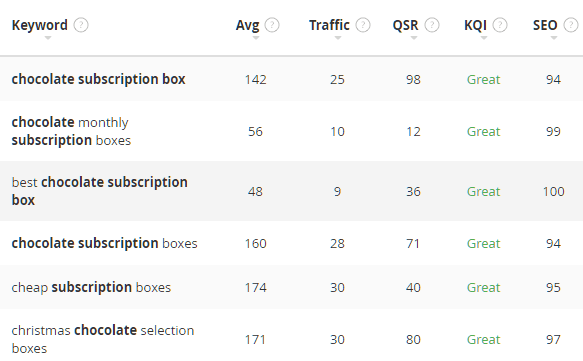 What we get is some great long-tail keywords in addition to our targeted keyword.  The competition is great for all of the selections.  The volume is outstanding for new blogs and even some established blogs. And each one of our longtail keywords has the keyword chocolate in it.  That is one of the best things about a long-tail keyword.
One more long-tail example before I wrap this article up.  I'll see if we can find something really niche with very low competition. In this example, I will use the keyword "best Valentine's day chocolates".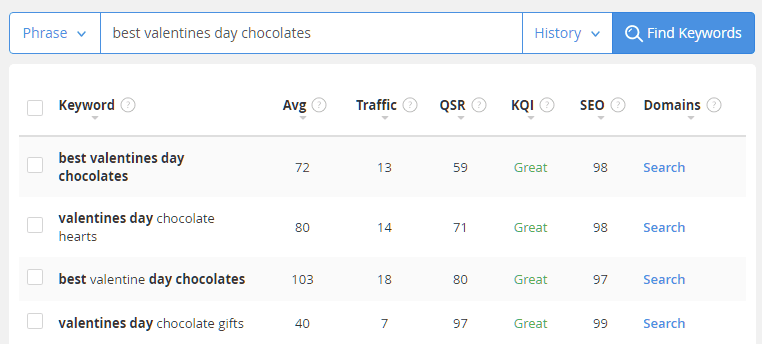 Each keyword in the image above is a potential piece of content. These are not only long-tail keywords but they show some buyer intent. Someone looking for the best of something is generally looking to buy something.
The competition is low the volume is great.  This is why keyword research is so important.  You find these little diamonds in the rough.  These are great keywords that people often overlook in search of huge volume.
These types of keywords are what the foundation of a great blog is made of.
---
Wrapping It All Up
Some of the best blogging niches are the ones that are not that obvious. Pets, weight loss, finance. Everyone will tell you that is where the money is. Those are some of the great evergreen niches for affiliate marketing blogs.
And they have that reputation for a reason they are all great niches. But so is chocolate and candy and cookies and anything else that people love and are passionate about. It will take time and effort to put together a successful chocolate blog.
The love of chocolate is worldwide.  You can add chocolate to your existing blog and make it even better.  A travel blog with chocolate tasting from around the world?  The possibilities are endless.
But your hard work will be rewarded if you stick to it. Just like the larger more competitive evergreen niches, this little sweet micro-niche takes time to build something special. But with great content and a good affiliate marketing strategy. You can build yourself a wonderful chocolate wonderland for everyone to enjoy.
I wish you nothing but the best with your new chocolate blog.  Make it fun.  Make it interesting.  Make it great.  I know you can do it and if you need that extra little push to get started, check out the review in the link below.
Don't go it alone. Get the best learning tools and community to help you build your online dream. Check it out here.
---
As always, thank you for visiting, and have a great day.