This article may contain *affiliate links. Please see our affiliate disclosure for more details
Welcome to our look at 10 top knife affiliate programs. These affiliates cover a wide range of niches, some are great for cooking blogs and some sell outdoors and survivalist knives.
Hopefully, you will find something that fits into your affiliate strategy and helps take your website monetization to new heights.
Let's have a look at the knife affiliate partners for your niche blogs.
There Is Just Something About Owning Your Own Business. Being Your Own Boss. Building Something From The Ground Up With Your Own Hands. Especially When It Is This Easy To Get Started.
---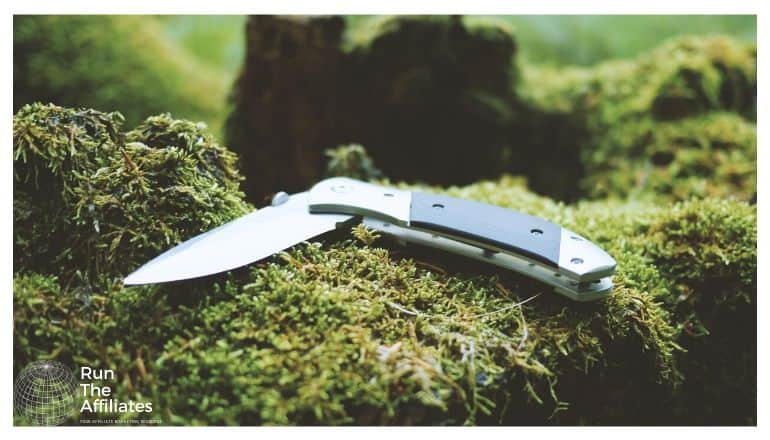 Check Out These Knife Affiliate Programs
The knife niche is a surprisingly competitive and profitable blogging niche all by itself and it blends in with a ton of other niches as well.
You can see over the last 5 years the incredible consistency of hunting knives for example. Solid year-round with a spike for the holidays.
These are some great knife affiliate programs here to choose from, but how are you going to get the traffic you need? What about conversions? Need help figuring out a strategy? If affiliate marketing training is the question, then this is the answer.
---
Fiddleback Forge Affiliate Program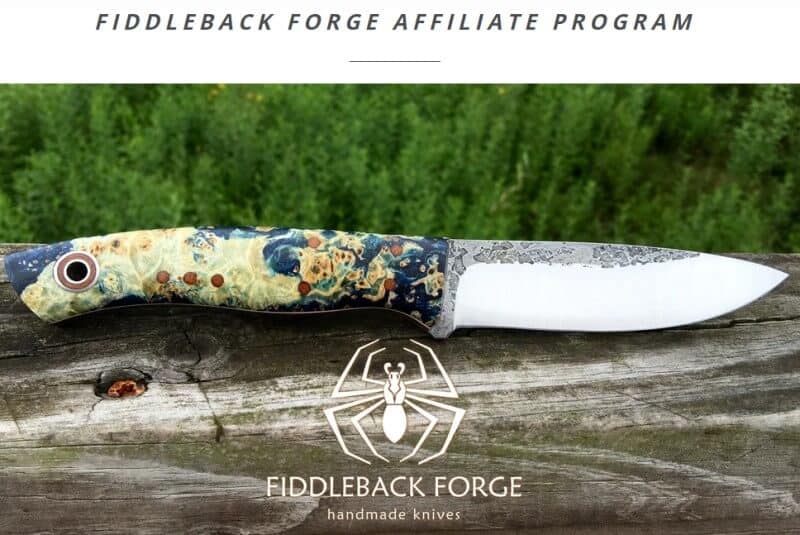 If you think the only thing that Fiddleback Forge has going for it is a cool name then you are sorely mistaken, my friend.
This company has a very nice selection of some great looking handmade knives that your audience is sure to love.
These handcrafted knives are meant to be used and not just admired for their striking looks. This affiliate would fit well into a hiking niche, outdoors, or survivalist blog with ease.
To go along with the great brand name and some pretty spectacular looking products, we get a great set of affiliate terms that will make promoting this brand even more enjoyable.
Fiddleback Forge offers a solid if standard, 30-day tracking cookie window. Many of their products run well over 200 dollars so a nice duration cookie is a necessity.
The commission doesn't lag behind either. They offer a 10% commission on sales made using your affiliate link.
The product prices that I mentioned before really make this commission that much more impressive. At 10% on a $200 dollar sale, it doesn't take many to build a full-time income each day.
---
Buck Knives Affiliate Program

According to their website, Buck Knives have been around since 1902. For any company to survive that long in any form means that they really have a good product to sell.
And in this case, you get one of the best brands of knives around. They have custom knives that your audience can build and that you can promote.
I have knife Collections and all manner of great functional and very impressive looking knives. This is one of those affiliate programs that you really want to take a long look at because everything about it screams quality.
And that quality extends to the affiliate terms as well. They are for a full 30-day tracking cookie for their affiliate partners.
These knives are not super high ticket items but they aren't cheap either so a 30-day tracking Gap is just about right. You always like to see something a little longer than 30 days is perfectly fine here.
The 10% commission that's on offer from the Buck Knives affiliate program is also very welcome. It's always great to see a double-digit commission
You'll see the in the knives niche getting in the double digits is a little bit tough because there is a lot of overhead for manufacturing high-quality knives like these.
That makes the 10% commission all that more impressive and one that you should really try and take advantage of if it fits into your affiliate strategy.
---
Deadwood Knives Affiliate Program

Deadwood Knives has a wide selection of knives for just about any type of outdoor activity. And that's where this affiliate really will fit in is with hiking, Outdoors, camping, and survival Niche blogs.
The only thing I really have a problem with this affiliate program is that their website feels a little outdated. And you might ask yourself why does the look of the website matter?
It matters because people have come to expect a certain level of functionality and overall look to their e-commerce site. It's the Amazon effect really.
So it might be worth it to just mention upfront that the website is a little bit old looking and just he's everybody's mind that it's still a good company with good products.
The tracking cookie for the Deadwood Knives affiliate program is one of the best in the entire knife Niche. They offer a 180 days a tracking gap when someone clicks on your affiliate link.
A full 6-month cookie duration is something that you don't see often and it really makes you sit up and take a long look at this affiliate program because the longer the tracking Cookie the better the conversions are going to be.
The commission is a rock-solid 8%. While it falls just short of that important double-digit commission percentage it is still very good at 8%. You can definitely make a nice profit off of each click that turns into a sale with this affiliate program.
---
BladeHQ Affiliate Program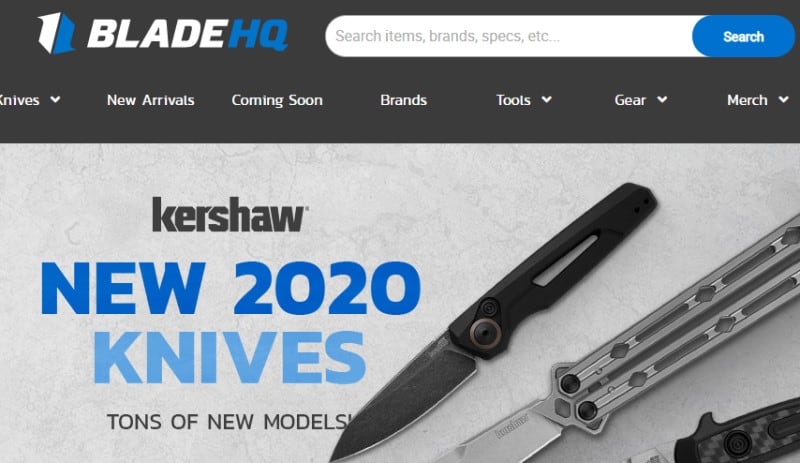 Blade HQ has a wide selection of knives designed for outdoor uses. This is yet another affiliate program that would fit right into an outdoor Niche website very neatly.
They have a huge selection of different brands that you can promote. This affiliate Falls more into the category of a merchant more than a manufacturer of knives. They have tons of popular brands that people who are well-versed in the knife niche will recognize right away.
The tracking cookie duration is a standard 30-day tracking cookie. For these products, there's really no need to go over 30 days but you always like to see you in a little bit longer if possible.
The commission is really where this affiliate program lets you down just a little bit. They offer a 5% commission and while a 5% commission is decent by itself you'd always like to see it a little bit higher and approaching that 10% commission.
However, 5 to 10% commissions are pretty much the standard for the knife niche. There's a lot of overhead whether you are reselling popular brands or crafting your own knives and it keeps the overall affiliate commissions lower than some other niches.
That doesn't mean you should ignore the 5% commissions. The conversion rate is really going to determine how well that 5% commission does for you.
If you get Blade HQ converting at a really great rate than the commission is really not going to matter because you're going to be getting such high earnings per click that will help you sustain a good and profitable relationship with this affiliate program.
---
Kutt Store Affiliate Program

Kutt Knives is an affiliate program that deals in culinary knives more than an outdoor or hiking type of knife. They offer a small selection of chef knives as well as other kitchen-related knives and knife sharpening equipment.
They only have a handful of products so you're probably going to want to pair this affiliate with something that has a little bit more selection.
I think this affiliate would fit best into a cooking Niche website or a recipe website. But it might be best employed as a secondary affiliate program on a grill or barbecue type of website.
The tracking cookie weighs in at a standard 30 days. The products aren't that high priced a couple of them come in at over $100 but there's nothing that's really a high-ticket item so the 30-day tracking duration should be just fine.
The commission is really pretty nice for the knife Niche. It starts out as a 10% commission and can go all the way up to 20% by making more sales each month.
I'm not a huge fan of incentivizing commissions but it is a popular way to do commissions for many affiliate programs and it can work out great if you can generate the type of sales numbers that can push you into the higher commission tears.
---
Chef's Vision Affiliate Program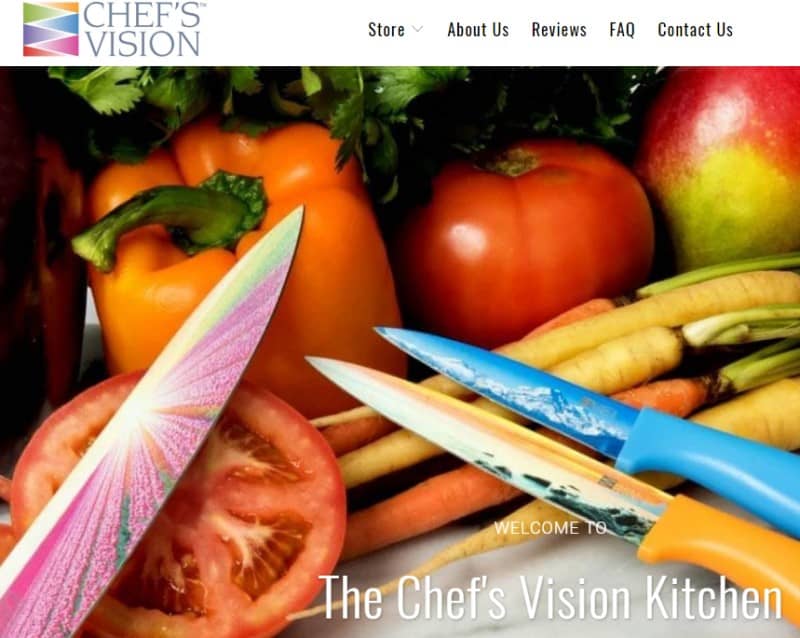 Another culinary knife affiliate program is what we have on offer from Chef's Vision. Their products are some of the most striking knives that you're going to find anywhere. The images on the blades match up to the color of the handles.
If you have a snow-covered mountain with a blue sky on the blade of your knife then you're going to have a nice light blue handle that matches it perfectly.
These are really interesting in artistic knives that you can really craft some interesting content around. Put your affiliate marketing training to good use and you can craft some wonderful content for each of their artistic blades.
The tracking cookie duration here is absolutely outstanding. 30 days is a standard and Chef's Vision gives you a full 90 days to make a sale and still get credit for your commission.
The commission follows suit and is fantastic as well. It is a full 12% commission and is one of the highest base commissions that you're going to find in the entire knife Niche.
The only real caveat with that is that this is very much a culinary knife affiliate partner. It won't work very well for an outdoor hiking type next blog.
But if you are in a niche that deals with cooking and especially cooking that needs these types of knives then you are going to have a really interesting affiliate partner with these guys just from the wonderful artistry of their knives.
---
KnivesShipFree Affiliate Program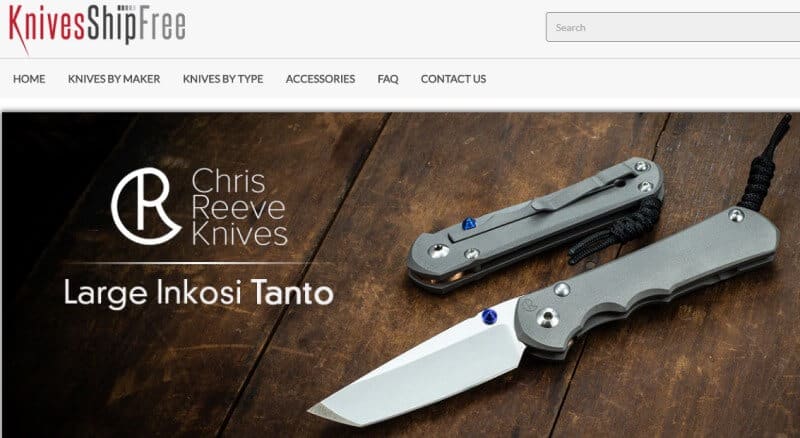 KnivesShipFree Is an affiliate program that has a wide variety of knife brands and types of blades and knives for you to choose from. These are typically outdoor type pocket knives and work best with those type of hiking or survivalist niches.
the tracking cookie duration is a little bit lower than I like to see. Normally I want to find a tracking cookie around 30 days preferably more.
For this affiliate program, the tracking cookie weighs in at 15 days. While it's not ideal it should not be a problem because you're not dealing with really high ticket items here.
Although some of these knives can be quite expensive there's nothing here that's really going to take more than 15 days for someone to decide where they want to buy it or not.
The commission is also a little bit lower than you really like to see but given that this is a big Warehouse type of website with a lot of different brands it kind of makes sense that the Philly commission is only 5%.
You can always get a double-digit commission. Especially in a niche like knives, the 5 to 10% commission is going to be about the best you can expect with a couple of exceptions.
---
Ontario Knife Company Affiliate Program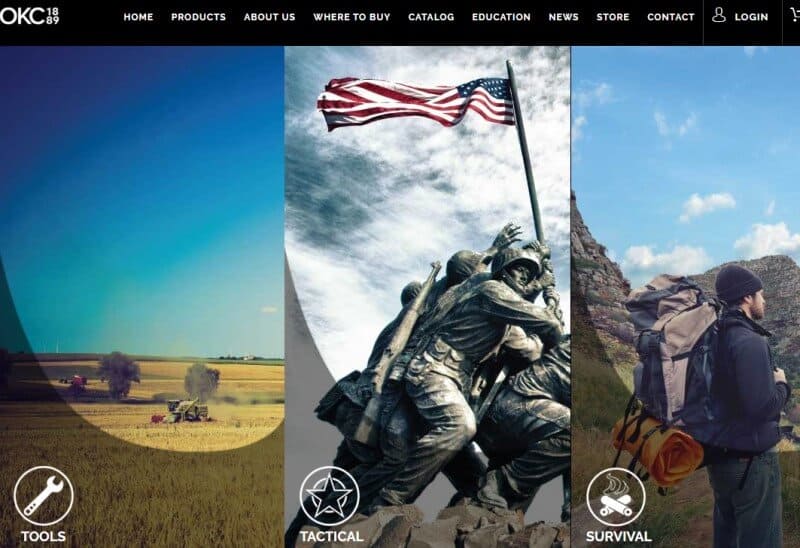 According to its website, the Ontario Knife Company has been around since 1889. These boys have been making some knives for a long long time.
This Upstate New York-based knife manufacturer has a good selection of knives for you to promote to your audience whether you're in an outdoor Niche a tactical Niche or a survival niche they probably have something that is going to be perfect for your specific audience.
Affiliate terms are pretty good for this partner as well. They have a standard 30-day tracking cookie which is perfectly fine for the products on offer here.
The 8% cookie is pretty good and one of the higher ones in the niche. On our list, we have a bunch of 5% commissions with a few 8% and then a couple that goes above 10%.
So 8% is going to be about the average out of all of them. It's not an incredible commission but it is a very solid one and one that should do just fine for your Niche blog.
---
KnifeArt Affiliate Program

KnifeArt is a high-ticket affiliate program. They sell some of the most impressive knives in the entire niche and they have the prices to match.
These knives are high end, high-ticket items that can run well over $1000 or more. This is the type of affiliate program for an experienced marketer to get the most out of it.
You need to have a solid relationship with and a good understanding of the needs of your audience to really make many sales with an affiliate like this. It is a good one to look at once you get yourself established a little bit.
If the affiliate terms were a little bit better this would be the best affiliate program in the entire knife niche for an experienced affiliate marketer.
As it stands the tracking cookie is only 30 days. While this is fine for most affiliate programs when you're dealing with products that are this expensive 30 days is just not enough time to really make a decision on whether or not to drop $1,200 on a knife.
The other issue is the 5% Commission. While it's not a bad commission by any stretch it really seems underwhelming when you think that $1,000 affiliate sale is only going to net you around $50.
It's tough to really get motivated when you see those kinds of numbers. And that really plays against this particular affiliate program.
That being said if you can get a converting well with you or audience and you can make a couple of sales a day then it can be a very viable option for a knife Niche website.
---
Grindworx Affiliate Program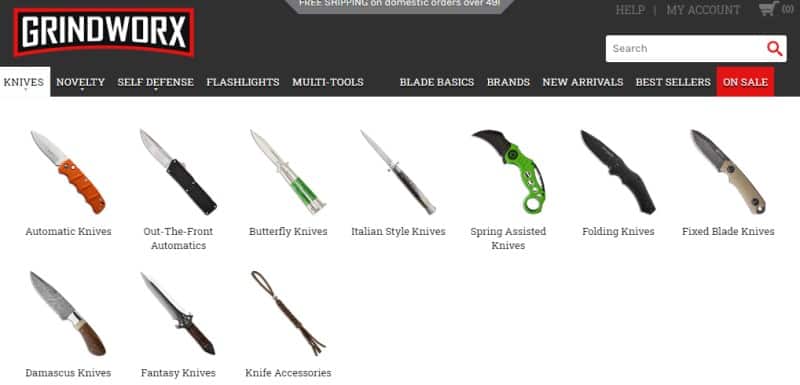 Grindworx Has a wide selection of just about any type of knife that you could possibly want. These are typically small pocket knives spring assisted knives butterfly knives and similar products.
They also have some fantasy knives that are more for looks than functionality but could be used in a live-action role-playing or cosplay Niche website. That opens up this affiliate to a wider range of potential niches.
The tracking cookie is 30 days which is great. We always like to see at least 30 days for every affiliate program out there. Unfortunately, not all of them hit that Mark but this one certainly does.
The commission is only 5% which is a little bit less than you want to see but it seems to be pretty common for the knife Niche.
It's just one of those things that the knife Niche has a little bit more overhead and as a result, the commission's tend to be 10% or under although there are a couple that exceeds the double-digit threshold.
---
Get The Most Out Of Your Knife Affiliate Programs
That brings us to the end of our look at these 10 amazing knife affiliate programs. Whether you're operating a cooking or culinary affiliate program or you have a robust outdoor hiking blog there is going to be something on this list that you can use to help better monetize your affiliate strategy.
It's always important to diversify your affiliate portfolio as much as possible. You don't want to always have to rely on Amazon Associates to get all your affiliate sales.
Especially when there are so many better opportunities out there. Better commissions better tracking cookies and in some cases better user experiences with a more personalized touch when you use the smaller affiliate programs.
To find something that works great for you and start creating that content that's going to drive traffic to your blog. Then it's just a matter of working with the conversion rate until you find something that really converts well with your audience.
Don't go it alone. Get the best learning tools and community to help you build your online dream. Check it out here.
Thank you for stopping by and have a wonderful day.