This article may contain *affiliate links. Please see our affiliate disclosure for more details
So often I am left disappointed in one of these affiliate marketing training programs. Most of them aren't a scam or anything like that but they are usually a letdown.
They hype a big game and when it comes down to it, they are just a repository for some outdated training and an overprotective community that doesn't really know what they are doing.
And those are the good programs. The bads ones are just a way to funnel money out of your pockets and into the owner's Bugatti. It is a tough business, no doubt about it.
But there is hope.
Not everyone is looking to simply grab your cash by any means necessary. There are a few of these training programs that actually want to help you succeed.
We are going to take a look at one of the good ones here today. It is called Project 24 and it is brought to you by the fine folks at Income School.
So let's dive right in and see what sets Project 24 apart from most of the other average affiliate products. What makes Project 24 worth your hard-earned money?
---
What Is Project 24?
Project 24 is an affiliate marketing training program designed to help you build your own content website. The overall goal is to have your websites replace your full-time income with sustainable passive in 24-months.
The program is full of great training modules and other valuable items that help you on your journey to financial freedom for you and your family.
What Project 24 is not is a get rich quick scheme or something that you don't have to work at. Quite the opposite.
Project 24 is an investment in your future, but one that you have to work at every day and put the hours into it in order to see results.
It takes hard work, time and a lot of patience to get to the point where you can earn a full-time income from this type of business.
Meet The Creators Of Project 24
Ricky Kesler and Jim Harmer are the two masterminds that put together project 24 affiliate marketing training course.
I would call them gurus but I think that does not do them justice. Or justice to what they've built at income school and project 24.
The first thing you're going to notice about these two people is if they believe in their product. There's none of this hiding behind the scenes popping up every once in a while to answer a post or jump into a chat or something like that.
These guys are out front supporting and promoting their product because they believe in it. And they believe in it because they actively use what you learn in the training to build their own websites.
Very few of these affiliate marketing personalities are actually still using what they're teaching in their courses.
They're making money off selling the course at this point. Don't get me wrong project 24 does cost a lot of money and the owners are making a good amount off of it.
But the fact that they are so involved and still using the training for their own personal websites is amazing and reassuring to anyone looking to join Project 24.

Another thing you're going to notice is how enthusiastic both Ricky and Jim are. They seem like genuinely nice people who actually care about the members of their program.
They want you to succeed and try to give you every opportunity and every tool they can to help you succeed. There are only a few programs like this with the owners that are out front and actually involved.
And this is one of the best.
You can check out Ricky and Jim on their Income School YouTube channel if you want to get a taste of what to expect from these two characters in the bulk of the training at project 24
---
Project 24's Training Modules
There is no shortage of training content available to anyone who becomes a member of Project 24. It is one of the most thorough repositories of affiliate marketing information that you can find anywhere, at any price.
While some programs and products may claim to have more training and content, the truth is most of it is just not very good. Quality of quantity and Project 24 is not really lacking in either. Let's take a look at each module and give you a little preview of each one.
60 Steps To A Successful Site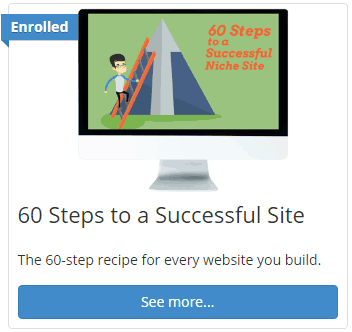 This is the bread and butter of the Project 24 experience. 60-steps to plant a seed and watch it grow.
This is the beginning of your journey to building a sustainable income for you and your family. A passive income that will generate money for years to come.
It is all laid out in such clear detail that it is almost impossible to miss something. That is the beauty of the Project 24 60-step method. It is designed to save you time.
Not a minute here or a minute there. But months and even years of frustration and problems by guiding you through the early part of your website when you can really make or break its long term prospects.
The 60-steps run the gamut of everything from setting up your website properly to learning how to write long-form robust content that is actually going to rank in the search engines.
It is fantastic for beginners but can also be applied to existing websites that might be struggling with some aspect of their business.
If this were all you received for your membership fee then it would actually still be worth it. That is how valuable the 60-steps are.
Search Analysis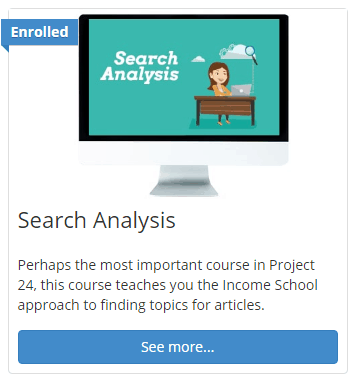 Search Analysis is really a revolutionary way of finding topics to write about.
There are 7 lessons in this training module and each one is designed to make you rethink the traditional find a keyword paradigm that has hindered so many entrepreneurs in the past.
The first this you will notice about the Project 24 method is that they don't use keyword tools. Why? Because they don't provide accurate information.
The search volumes from these incredibly expensive tools, some run well into the hundreds of dollars per month, are just guesses.
If you are going to spend 10's of 1000's of dollars a year on these keyword research tools the least they can do is be somewhat accurate.
Project 24 works around this by providing a wonderful system of Search Analysis. Finding what real people are searching for and then writing your content around that. It is so simple and incredibly effective.
Improve Your Writing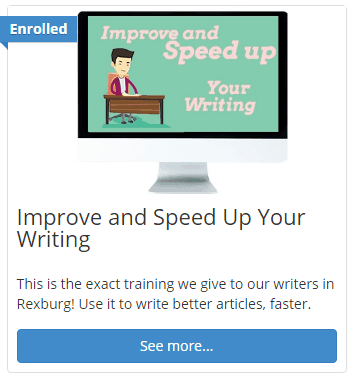 Another module that is worth the price of admission by itself. Most training programs tell you the key to success is crafting great content.
And then just leave it at that.
If you are not a writer then this can be an incredibly daunting roadblock for your business.
But Project 24 is not like other programs.
They have a full 19 lesson training module on writing your content faster, better and more efficiently.
You will be shocked that with just a little practice you can start churning out good, readable, long-form content in very little time.
---
Picking A Niche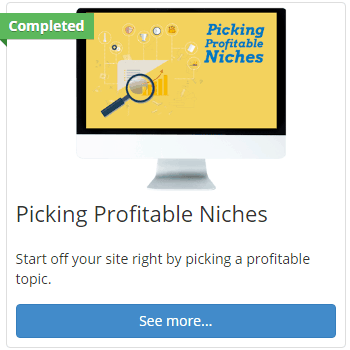 This module only has one lesson but it is a long one.
Almost an hour dedicated to picking a great niche for you to start your website in. The key here is to start in a micro-niche and build up and out from there.
For example, starting a general gardening blog is going to be far too competitive.
So you would need to break it down into a smaller subsection of gardening.
Maybe focus on flowers, or succulents, or vertical gardening.
The great thing is that you can expand into other micro-niches later on if you want and turn your niche site into an authority site.
No nonsense SEO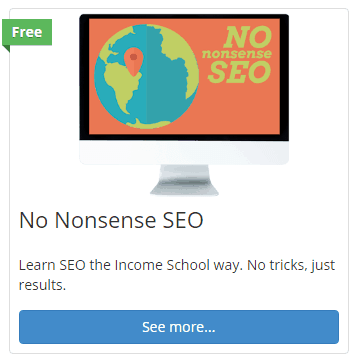 SEO, or search engine optimization, is oftentimes a stumbling block for many newcomers to affiliate marketing.
Even the slightest mistake can cause your great content to be relegated to the back of the search results.
The problem is that SEO is a winner take all game.
The people on the first page get the vast majority of the traffic so you need to get it right for every one of your articles.
Luckily, Project 24 has you covered as they break it down to the bare essentials and get rid of all the nonsense and give you just what you need to get the job done quickly and effectively.
Web Traffic Snowball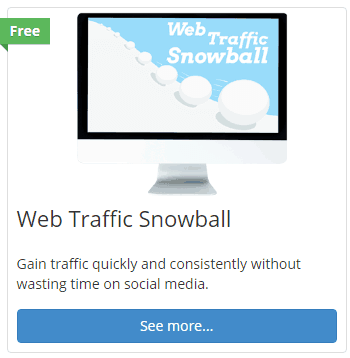 Another module with only one lesson, but another long video detailing the snowball effect of your content strategy.
When you first start out you will be writing to a ghost town.
Noone but bots will likely stop by your website in the first couple of months.
But you still need to be creating quality content in preparation for the snowball effect.
Once the search engines decide they are going to trust your site, the flood gates open and you will see a nice spike in traffic.
This lesson details that process and gets you prepared for it.
Email Marketing 101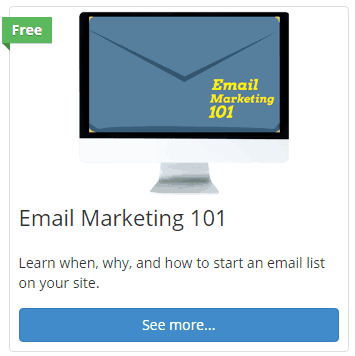 There are 7 lessons in this training module.
Email marketing is a crucial part of an affiliate marketing strategy.
Email is most effective when you can use it to redirect traffic back to your site or youtube channel.
And you can also use it to sell products to your loyal readers.
Just don't overdo it or you will get dumped to the spam folder in no time.
This module teaches you how to do it properly for the benefit of your readers and your business. It is the best of both worlds.
---
Photography Start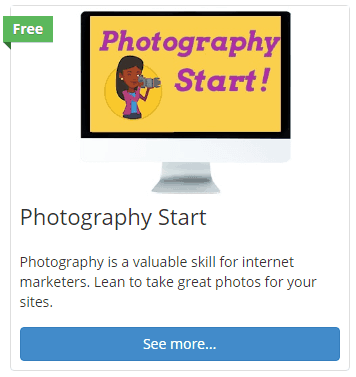 This is a huge 22 lesson module that you will not find at just about any other affiliate marketing training program.
A course on photography and images for your website.
If you can take your own pictures and add them to your articles instead of just using stock photos then you will have a leg up on your competition.
Images are content and the search engines love new unique content.
Jim Harmer guides you through the process of creating great-looking photos for your website. And he should know, one of his first niche websites was ImprovePhotography.com.
This photography website has grown into a huge authority site in the photography niche and just one more success story for the Project 24 method.
Reviewing Member Sites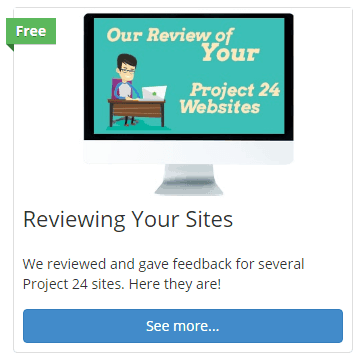 There are 13 lessons in this training module.
Ricky and Jim take time to review some of the Project 24 member sites.
It is wonderful to see the owners taking the time to actively review the website that their members are putting together.
I can't think of any other affiliate training program that has something like this.
These are thorough in-depth reviews and not just lip service that you might receive from a lesser training product.
The amount of information and value you can gain from looking at other people's triumphs and mistakes is incredible. Kudos for including something like this that you didn't even know you needed to see.
Monetize With Ads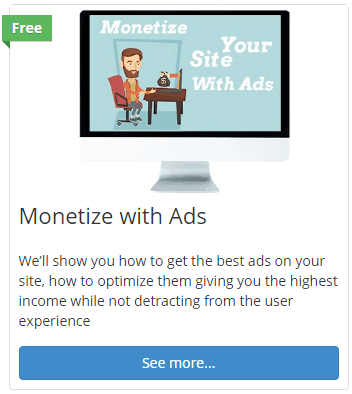 In this 4 lesson training module, you will learn how to monetize your blog using advertisements.
It might seem simple but there is a very complex way to arrange your ads for maximum value.
And it is better to let the professionals handle that.
So This module helps you find the best ad networks that can manage your content ads.
And put you in the best position to maximize your ad revenue for your blog.
This is another training module subject that often gets overlooked in many other affiliate training programs.
The Success Mindset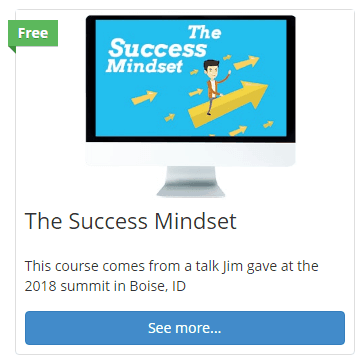 The success mindset. The money mindset. A huge part of being successful in anything is believing that you can do it.
Knowing that when you fail, and you will fail at times, you can learn from your mistakes and get back up to try again.
In this lesson, you get access to Jim's Success mindset speech that he gave a couple of years ago at an event in Idaho.
This is not so much a training module as a call to action.
A call to believe in yourself.
To believe that you can be successful and you can build your own niche blog and earn an income from it.
It might not be training, but it is one of the most important parts of the overall project 24 experience.
Not to be missed.
---
Hire And Train Writers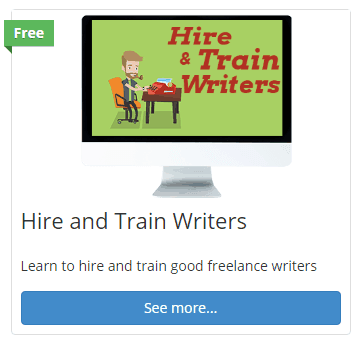 This training module has 5 lessons for you to use.
Once your website starts to grow you are going to want to farm out your content creation, at least some of it.
When you pay others to create content for you your job becomes much more passive.
But the quality of the content still matters more than anything.
So Jim and Ricky have put together this extensive training module on hiring the best writers for your website.
Paying them a fair wage and training them to write as you need them to for the overall quality of your site.
It is an incredible addition to the training and one that I have not seen anywhere else.
Internet Marketing With Youtube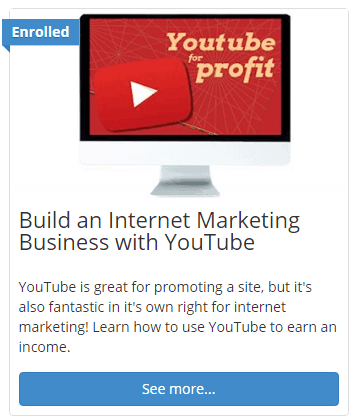 This 12 lesson module is dedicated to building a youtube channel.
Either as a support channel for your blog or as the primary content provider for your online business.
This module is the newest one added to the training arsenal and provides members with another great option for earning money from their business.
Youtube is becoming increasingly important to online business and Ricky and Jim have responded with this fantastic module laying out the best ways to start your channel and make it a success.
MythBusting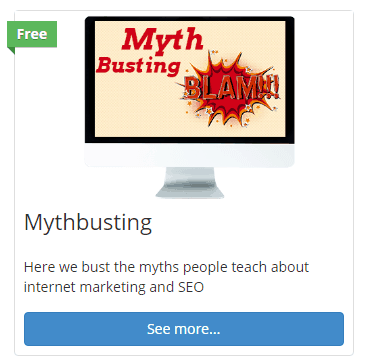 In this module, you get a taste at some myth-busting from the boys.
They dive into all the nonsense that gets thrown around by the so-called gurus.
Then break down what you need to know and what is complete nonsense.
This is not a huge module and you can probably skip it if you already know what you are doing.
For beginners, however, this is a great place to find out what you really need to know and what you can ignore.
---
Bonuses Training And Information
In addition to the huge selection of training modules and courses, there are a few other value-added items that really put the overall value of Project 24 through the roof.
Podcasts and Vlogs and Timelines are all great additions to this product. So let us take a little look at each one of these fantastic additions available to Project 24 members.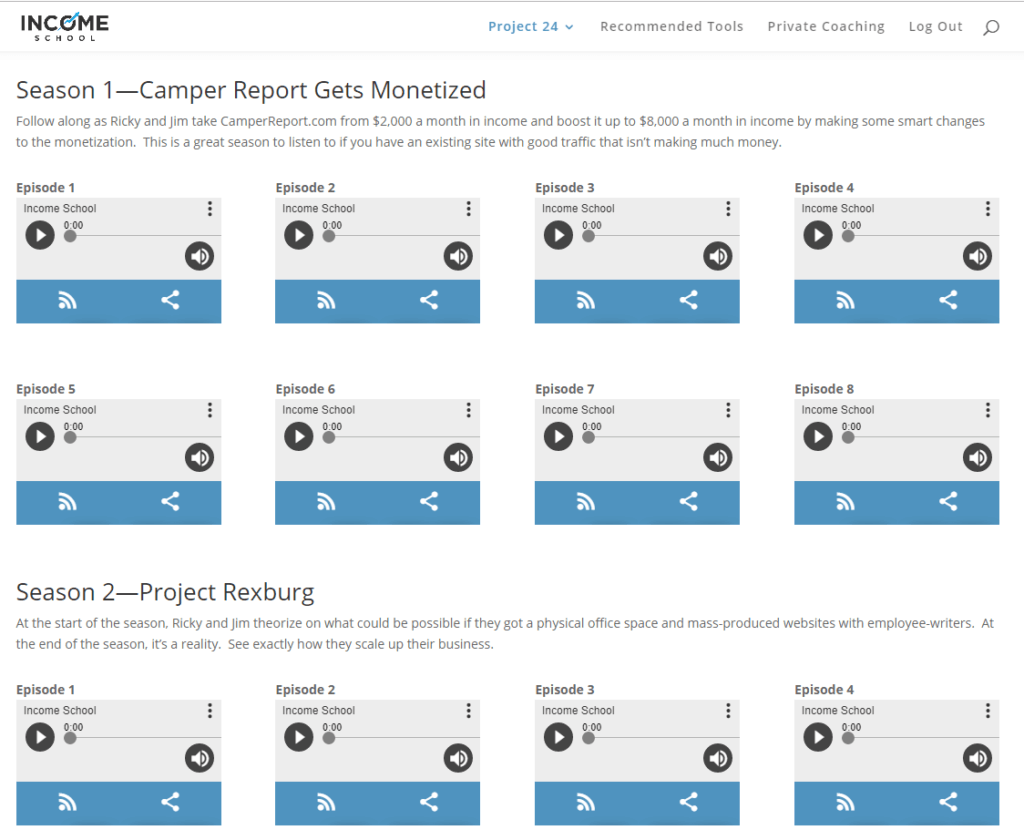 The Income School Podcast
There are five seasons of the Income School podcast at this point. It was just announced that the podcast will be moving to a weekly format so it adds even more value to the Project 24 package.
The podcast tackles a slew of topics from monetizing a struggling website (season 1) to Jim and Ricky building their own content studio (season 2). It is a fantastic place to get new information that you can put into action almost immediately.
Be sure not to overlook this critical resource once you become a member of Project 24. There is a ton of content that you cannot get anywhere else.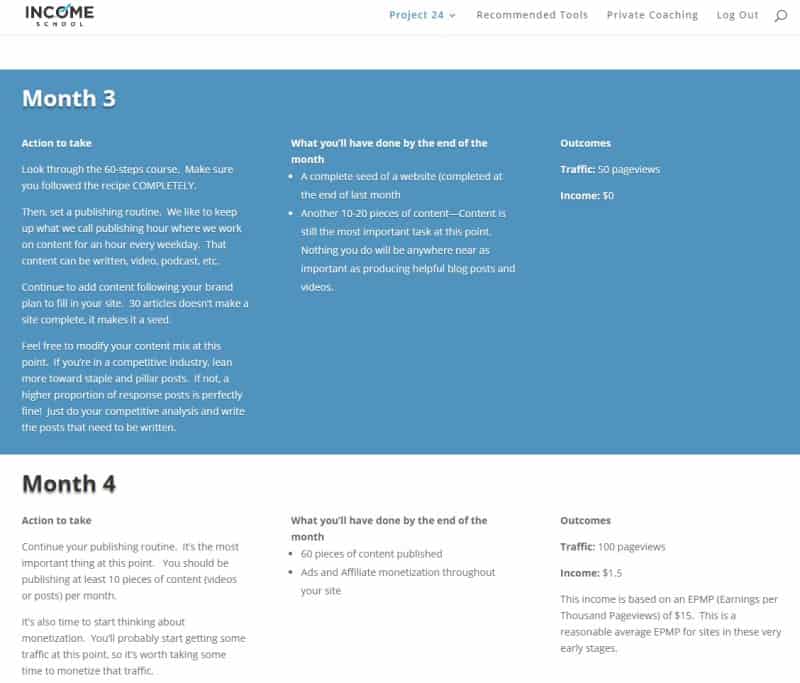 Timeline For Project 24 Success
This is another invaluable bonus to the Project 24 package. The timeline lays out a framework for where you should be in your journey to a full-time income and does so without any hype.
These are just estimates, of course, but I found them to be a little conservative if anything. Many people will find success much faster than what is laid out, but it is great to have a nice guide like this to help you through the tough times.
The timeline is something that not many other programs like this have. Other products may give you some figures on where you should be but most of the time they are unrealistic and just full of nothing by hype.
The Project 24 VLOG
The Project 24 VLOg is a series that is available to members of Project 24. The VLOG is designed to bring up current issues that cannot wait for a new training module.
Google algorithm updates and strategies for dealing with them are one of the biggest subjects for the VLOG.
While this is not directed at any specific training module or method, the VLOG is a great way to stay up to date with the latest issues surrounding the affiliate marketing business at large and niche site in general. Definitely a welcome addition to the overall package.
Income School Youtube Channel
This might be the most important section of this entire review and technically this is not part of the Project 24 program.
Income School has its own youtube channel where you will see Ricky and Jim put out incredibly valuable information about the world of online marketing and business in general.
Even if you never buy the Project 24 training course, I urge you to check out their free videos on youtube.
They will give you more information than most paid training and will give you a foundation to start your business on even if you cannot afford the structured training of Project 24. It is an invaluable resource.
---

What Makes Project 24 So Appealing
While the training is the primary reason to love Project 24, there are some other great reasons that make this one of the best affiliate marketing training programs around.
The value of the overall package and the fantastic community are just to of the added benefits.
There are also some issues that I have with Project 24 and I will lay those out in this section as well.
The Project 24 Price-Value Proposition
This is the part of any program or product that can really make a break that specific item or service.
Price is one thing it's just a number that we have assign to the product but in and of itself it really has no meaning other than how much you going to have to spend on the product. What really matters here is the value of the product, which determines the real cost of the product.
Their affiliate marketing training programs out there that cost $27. But they have absolutely no value whatsoever.
The price is low but so is the value. That's why you have to look past price a lot of times to find what the real cost of something is.
So that brings us to project 24. project 24 is an expensive product. As we discussed it cost $449 for the first year and $199 for every year after that. That is an expensive product.
There are plenty of products in this industry that are much cheaper. There are only a couple of other products that provide the same amount of value as project 24.
And that's really what the value of a product is all about. Yes, you could spend $27 on a crappy program.
But what's the real cost of that when it doesn't work oh, and you have to go buy another $50 affiliate marketing program to try and find one that works.
When that one doesn't work, you buy another one or you buy the upsells that are hundreds of dollars.
You begin to see the actual cost of buying a terrible product with no value far outweighs the cost of buying a more expensive product that does have actual real-world value to it.
In my mind, there's only one other affiliate marketing training program that has the same value as project 24. And that's Savage affiliates, you can read our review here.
But that is it. Project 24 has the highest price to value ratio in the entire affiliate marketing training niche. It really is that good.
Support And The Community Of Project 24
Support for Project 24 is outstanding as you might expect from such a well-thought-out product. If you need help then you can just fire off an email to the support team and you'll get some help in short order.
But that is only a part of the great support network that Project 24 has in store for its members. You also get access to the community forums.
This active community is one of the most knowledgable groups of entrepreneurs around. And they are more than happy to help you out when they can and in return you can use your expertise to help other members out.
While this community is rather small compared to some of the huge factory-like affiliate marketing training programs, the knowledge of the community is so much more robust than a lot of the other communities.
It is really a case of quality over quantity for the Project 24 community.
---
Issues With Project 24
All the gushing aside, no program is perfect and no program is one size fits all. Project 24 does have a pretty significant issue.
It is one that will turn a few people away from the program and rightfully so. Be sure that you read this part of the review carefully and understand exactly what you are getting into when you decide to purchase Project 24.
No-Refund For Project 24
There is no refund for this product. Once you buy it you are stuck with it. That is a lot to ask for a $449 dollar product.
The reasoning behind it that they don't want people signing up, stealing their courses and lessons and then taking a refund along with all the content. The content is the course and is what you are paying money for.
Still, having no way to get a refund it tough for people who legitimately need one. But I understand their position even if I disagree with it. With that said, you know going in that there is no refund.
Only buy this product if you are 100% sure that you are going to use it and are willing to put the time into it that it requires.
---
Final Thoughts On Project 24
It is great. That's the lasting impression that I hope you take away from this review. The training is outstanding and the 60-step process is clear and easy to follow.
You will find training modules that you rarely see elsewhere. Teaching you how to write great content and how to do real search analysis are just 2 of the revolutionary training methods that Jim and Ricky have packed into this remarkable course.
Sure it has some problems. The no-refund policy being the biggest issue and it is not cheap either. But the value proposition of this affiliate marketing training program is through the roof. There is nothing else like it out there.
It is a modern up to date way to learn how to be successful at affiliate marketing. And the biggest endorsement of this program is that the owners are still using this exact method to this day.
Give it a look I think you will be as impressed as I am with it. Good Luck and thanks for reading our review. Be sure to check out a couple of alternatives to Project 24 at the end of this article.
---
Alternatives To Project 24
There are very few products out there that even come close to Project 24 much less equal it. Here is a comparison of the alternatives that I feel com closest.
Savage Affiliates, read our full review, is every bit as strong and well put together as Project 24, but the methods taught are quite different.
You can also check out our head to head review of Project 24 vs Savage Affiliates to get more information.
Wealthy Affiliate, check out the full review, lags behind both Savage Affiliates and Project 24 but might hold some value for absolute beginners. At least for the first month at a discounted price.
---
Thanks for visiting and have a wonderful day.