This article may contain *affiliate links. Please see our affiliate disclosure for more details
Wedding Day is one of the most important days of many people's lives. And you want to build a Blog around one of the biggest decisions of this entire day? How to pick a wedding dress.
This blogging Niche is no joke.
You've got to build a great amount of trust and have outstanding content in order to make any progress in the wedding dress niche. The biggest reason for this competitiveness is the amount of money the wedding industry brings in. In 2016, it tallied more than 72 billion in revenue in the US alone(source).
It's one of the most competitive blogging niches, check out some other great niches here, around. For a variety of reasons going to be very tough to break into.
It's just a matter of writing the right content and finding your audience. The main reasons wedding dresses is such a competitive and profitable blogging niche is that the commissions are fantastic, by and large, and the wedding dresses themselves are high ticket items.
So you only need a few of these commissions a month to really start to make a great profitable online affiliate marketing business. Then once you get a couple it will snowball into a full-time business. Not overnight and it won't be easy but you can do it.
So I know you're determined to make this work I believe you can. But you going to need some great affiliate programs to really maximize The Profit potential of your wedding dress blog.
So here are 10 of the best wedding dress affiliate programs but you can use right now turn your Niche blog into a profitable online business Powerhouse.
---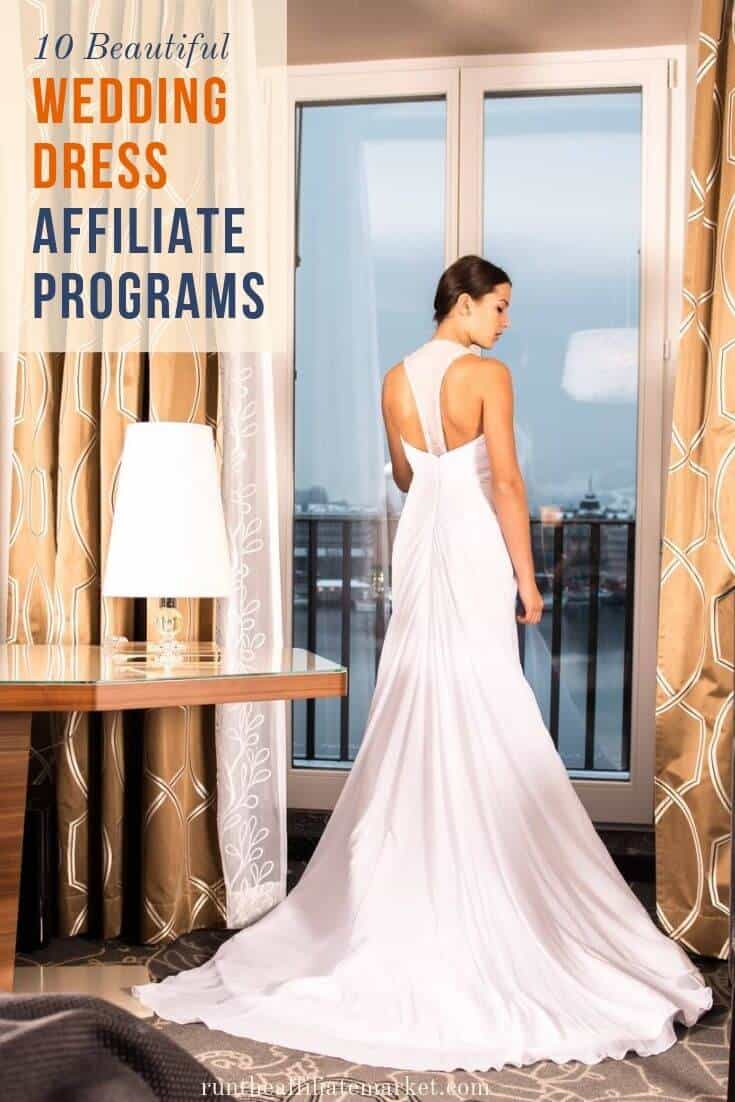 Wedding Dress Affiliates Quick Look
---
Blush Fashion Affiliate Program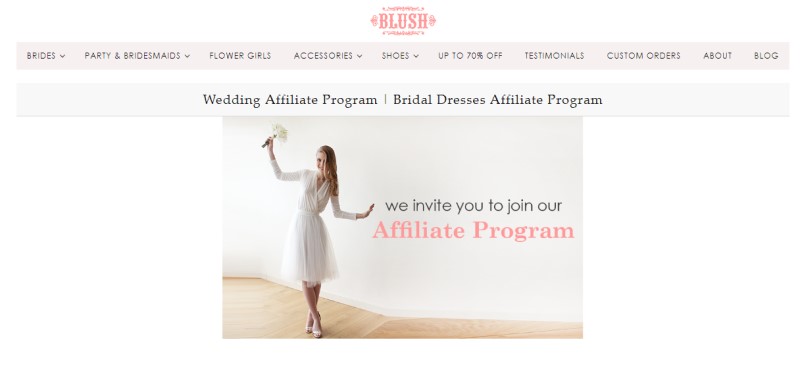 Blush Fashion Is more than just a wedding dress affiliate program. They have products for just about everybody involved in the wedding.
They have dresses for flower girls and bridesmaids. Dresses for the after-party and the reception. As well as shoes and accessories to round out your wedding day look.
But the most important thing they have are the wedding dresses. They have a wide selection of some absolutely beautiful dresses that you can promote to your readers.
Beach wedding dresses a piece of content for your website by itself. You can take the style of the dress and create content around that or simply review the dress and its look and how it fits and anything else that might be useful to someone looking to purchase a wedding dress online.
Blush Fashion Gives you plenty of options to create content for your readers that's helpful an interesting and useful and ultimately profitable for your online wedding dress business.
The Blush Fashion Commission
Their great products are just the tip of the iceberg when it comes to the blush fashion affiliate program.
The commission is one of the best in the entire wedding dress micro-niche and it even rivals some of the best in the overall wedding niche.
They offer an absolutely stunning 18% commission for all qualifying sales through your affiliate links. This is almost unheard of for a retail product and even more sell a retail product that qualifies as a high-ticket item.
But it doesn't end there. a tracking cookie is the best that it possibly can be. It is a lifetime cookie.
Basically, if someone clicks on your link and never clears their cookies any time they make a purchase at Blush fashion you will get the commission for it.
Long cookies like these are essential for high ticket affiliate because it gives your readers enough time to make a reasonable decision about spending that much money and still giving you the opportunity to collect that Commission.
Final Thought On Blush Fashion
The Blush Fashion Affiliate program is one of the best you're going to find in any Niche. They give you an incredibly generous Commission.
Their products are high ticket items that are very good to promote to your readers And can turn out a very high conversion rate.
The tracking cookie is unrivaled. if you have a wedding blog or a wedding dress Micronesia blog then this is going to be one of the best affiliate programs for you to consider.
All this great affiliate goodness doesn't mean anything if it doesn't convert for your specific audience.
If you're running content around it and it's not converting, don't be emotional and don't be afraid to get it rid of it for a different affiliate program.
Even if the new affiliate program doesn't have the terms equal to this one. But for most people, this is going to be one of the outstanding partner programs that you can deploy in your affiliate marketing strategy.
---
Solid Charm Affiliate Program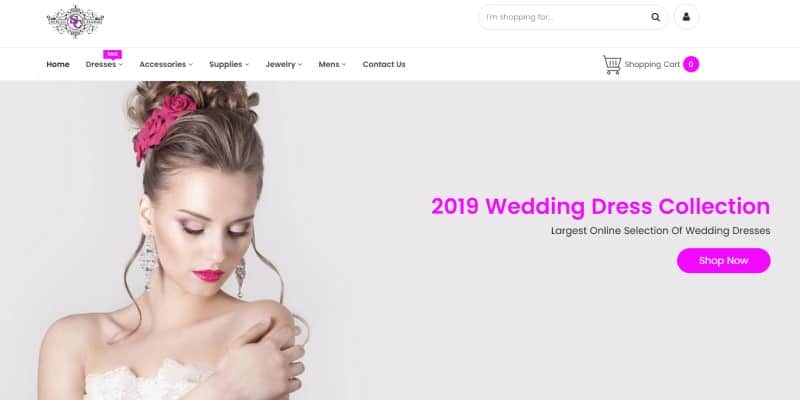 Solid Charm boasts one of the largest collections of online wedding dresses around. I see no reason to doubt that claim as they have a stunningly huge selection of wedding dresses of all types and styles for your readers to choose from.
But that is not all the offer. They have every aspect of your wedding apparel covered making it easy for an affiliate marketer to find something to promote for just about any type of content.
Solid Charm has a wide selection of accessories and wedding supplies as well as some men's apparel options to make the groom look his best as well.
This is another outstanding wedding dress partner program and it keeps getting better with their great affiliate terms.
The Solid Charm Affiliate Terms
The affiliate terms start with a decent 30-day tracking cookie. This is pretty standard for affiliate marketing these days.
It does give your readers plenty of time to decide on a purchase of this magnitude. I would like to see it a little longer but you should be able to work with this tracking cookie durations.
The commission, on the other hand, is great for a retailer of this size. They offer a 10% commission for all purchases made through your affiliate link.
The double-digit commission given the high-ticket nature of many of their products is outstanding.
Why Promote Solid Charm?
The commission and cookie make it easy to see why this affiliate partner is so appealing. Their product quality and selection are the biggest reason to promote this partner program.
It has all the ingredients needed to make this parter your primary affiliate program for a wedding dress blog. Or a fashion niche blog that has a category for wedding dresses. Either way, this is one affiliate program you do not want to overlook.
---
CocoMelody Affiliate Program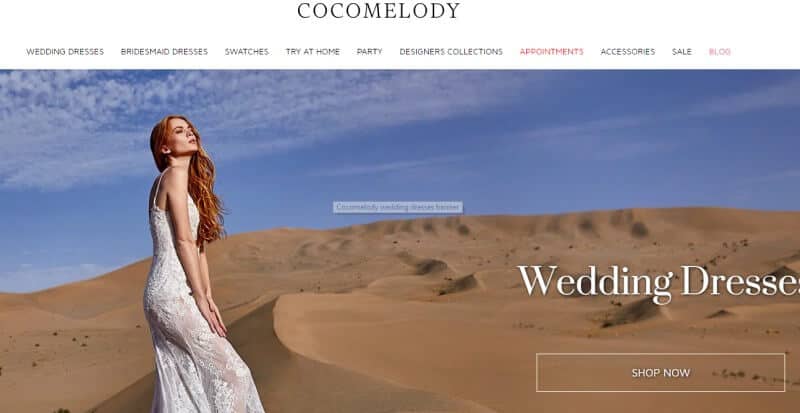 CocoMelody has hundreds, if not thousands, of wedding dress styles for every type of taste and every type of wedding.
They also have an extensive selection of bridesmaid dresses to round out their great product selection.
In addition to the dresses, they have a wide selection of accessories to make that special day even more special for your readers.
The interesting thing about CocoMelody is that they have styles that are trending at the time so you can always be up to date on what type of wedding dresses are going to be relevant at that particular time period
This is great not only for your readers because they can select these dresses by them when they're popular.
But also gives you the opportunity to craft content around the trending wedding dresses to get more traffic while they're at the height of their popularity.
This is always a great idea when your crafting content is to look at the stores that are selling the products that you're promoting and find out which ones are trending at that particular moment. It's a great way to find content ideas for your blog.
The CocoMelody Commission
The tracking cookie is outstanding at 90-day. That is nearly 3 times the standard cookie duration for many partner programs in any niche.
The commission is a very nice 10%. For this type of partner program, anything in double digits is above and beyond what most partners are willing to offer.
Why Promote CocoMelody?
There is really nothing not to like about this affiliate program. The commission and cookie are great and the products are outstanding. The only thing you need to figure out is how well this particular affiliate converts with your specific audience.
It doesn't matter how good the terms are if the affiliate doesn't convert you are going to have to move onto something else, that being said this will be a great option for most wedding dress fashion bloggers.
---
Nearly Newlywed Affiliate Program

Nearly Newlywed is a pretty unique affiliate program on our list. They specialize in reselling wedding dresses that have been used previously. But with a nice discount.
When you stop and think about it it makes perfect sense to start a business like this. Wedding dresses are worn once and cost a ton of money.
So why not resell it to another bride-to-be and share the cost of the wedding dress. That way everyone gets a gorgeous designer dress and a lower cost than they would normally pay.
This might be a bit of a weird idea when you first present it to your readers.
So it is going to take some good promotion and content to convince people that buying a used wedding dress is their best option.
But if you can manage it you will have a whole new potential revenue stream for your blog.
The Affiliate Terms For Nearly Newlywed
The 90-day tracking cookie starts us off on the right foot for this partner affiliate terms. 90-day is a great duration for the cookie as it gives your reader plenty of time to decide on the purchase while still giving you the commission you earned.
It only gets better as we move to the commission. An incredibly generous 14% commission greets us and makes this one of the best sets of affiliate terms in the entire niche.
It is nice to see retailers rewarding their affiliate's hard work by making such great terms available to them.
Final Thoughts On Nearly Newlywed
The commission and cookie are among the finest that you will find in the entire wedding dress niche. They are just outstanding.
So are the products that they sell, even second hand. This is an all-around great affiliate partner to have for your wedding blog or a fashion blog designed around wedding couture.
Definitely, one to consider.
---
Doris Wedding Affiliate Program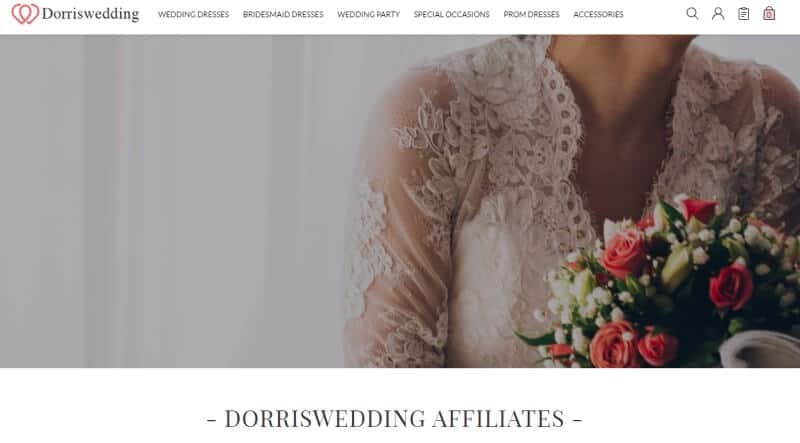 Dorris Wedding can fit into just about anyone's affiliate strategy. The great thing about this parter is that have some very reasonably priced wedding dresses that you can promote.
Having a partner program that caters to lower-priced products is always sound business sense. You can use this parter program alongside the more expensive and high-ticket affiliates that are common in the wedding dress niche.
Affiliate partners like Dorris Wedding are crucial to an affiliate strategy because the more diverse set of readers you can find, especially economically, the better of your blog will be.
Having something for middles class and wealthier readers is always a great idea and Dorris Wedding fills that role perfectly.
The Commission
The affiliate terms for Dorris Wedding are fantastic. It is another great example of the wedding dress niche doing right by its affiliates. The tracking cookie is a wonderful 90-day duration.
The commission is 12% on all qualifying purchases through your affiliate link. A double-digit commission on these $150+ items is always a welcome sight.
These terms should give you the confidence that the time you put into promoting their products will not go unrewarded.
Why Promote Dorris Wedding?
Great commission and cookie are only the start of why you should consider promoting this affiliate. The price of their products is something that should really be appealing to you.
The lower-priced products open new avenues and new potential customers to your affiliate blog. Diversity is wonderful for your readers.
In this case, it is price diversity which can get commissions from readers who could not afford the higher prices of other wedding dress retailers.
---
Kennedy Blue Affiliate Program
Kennedy Blue Is another fantastic online retailer of wedding dresses. They have a nice selection of these dresses in all styles. your readers will be able to find exactly what they want and then accessorize it with a variety of veils and other important parts of a wedding day ceremony.
I also have a very nice selection of bridesmaid dresses as well as some neckties for men and a few other things.
Their stock is in this huge as some of the other ones on this list but is very good and well worth taking a look into.
One interesting aspect of this affiliate is it they have a "try at home" section where the person who purchases the dress can try it on and see if it's really the exact one that they want.
This is great for affiliate marketing because you can use this in your promotional material.
The Affiliate Terms For Kennedy Blue
Affiliate terms for this partner program are a mixed bag. The tracking cookie is a very nice 90- days.
This is an ideal length of time for track and cookie in this type of nice. It gives you a reed has plenty of time to decide on making a purchase and give you plenty of time to collect that hard on commission.
The commission, on the other hand, is a little bit on the low side. It's 5%, which isn't terrible. But when you look at some of the other affiliates on this list you can see that it lags behind a little bit. It is not the end of the world, however, 5% is still a decent commission.
Wrapping Up Kennedy Blue
I would only recommend this affiliate if it really converts well for your specific audience. It's not a bad affiliate program by any means.
The commission is just a little bit low. The products are great and the track and cookie are outstanding so give it a run and see if it converts for your readers.
If it does then you have yourself a great affiliate option for your wedding dress blog.
---
Elegant Gowns Affiliate Program
I am leaving this storefront on the list to see if they have a resurgence. It seems that they have let their web store fall into disarray, but they have a decent affiliate program. I would inquire about it before signing up, and If it is still a mess in a few months I will replace it on the list.
The Elegant Gowns Commission
The commission itself id a wonder 10%. You can never go wrong with a solid double-digit commission for a physical product.
The tracking cookie is where this affiliate really shines, however. They offer a lifetime cookie that never expires unless the cookies are cleared from the browser of course. It is the best cookie you can possibly hope for.
Why Promote Elegant Gowns?
The commission and the cookie should be enough to convince you that this is a pretty good affiliate partner to have for your wedding dress blog. The products are good as well, the only problem is that the look of the website is a bit dated and unwieldy.
It might seem like a trivial thing but if the storefront doesn't look great, it will turn some of your audience off and make a promotion that much more difficult. Something to consider when looking at this affiliate partner.
---
Sidney's Closet Affiliate Program

On the surface, this might look like your regular wedding dress retailer. They have great styles and wonderful products.
The difference here is that they are selling plus size gowns and dresses. This gives their affiliate program a unique appeal for you as an affiliate marketer.
While many other partners have a section for plus size women, this partner is dedicated to them. A great promotion opportunity and just a great thing to see in general.
The Sidney's Closet Commission
The cookie is a nice 45-days for this affiliate partner. The commission is on the low side at only 5%, but it is still a pretty good deal all things considered.
Why Promote Sidney's Closet?
The focus on plus size wedding dresses and gowns is one of the biggest selling points for this affiliate partner.
You open your blog up to so many more people by providing them with these types of options. This is the type of partner that you can have in addition to some of the other wedding drees partners. One to consider for any wedding blog.
---
Azazie Affiliate Program

Azazie Has an enormous selection of wedding gowns and bridesmaid dresses for you to promote on your Niche blog. This is another great option for you in terms of affiliate partners.
This entire Niche is just full of some of the best and most consistent partner programs that I've seen in a long time.
They all have good commissions and good cookies and great products and this one is no exception.
They also have a "try at home" policy for some of their veils and other products and other products, which is always nice to see.
And I also have a wide array of swatches and fabrics that you can choose from to make the perfect wedding dress for your perfect day.
What this all amounts to for an affiliate marketer are great products and promotion opportunities. More importantly, it gives you great ideas to create more content that'll draw in more traffic to your website.
And traffic is the name of the game and fill it marketing. All the great commissions and tracking cookies and products don't mean anything if you can't get people to your website.
When you do get them there it's great affiliate partners like this one that really makes a difference and a profitable business and an unprofitable one.
The Commission For Azazie
Once again we see an outstanding tracking cookie offered up by a wedding dress affiliate partner.
It is so nice to see affiliate programs using long cookies like the 90-day one offered here. It really benefits the affiliate partners when it comes to making commissions.
And speaking of commission, they don't skimp on that either. Azazie gives you a full 10% commission for all referrals from your affiliate links.
Why Promote Azazie?
Everything about this partner is a good reason to promote their products. They have a great commission and an outstanding cookie.
They have a huge selection of wedding dresses and other wedding accessories that you can promote for your blog. Another outstanding affiliate program for you to consider when you start to think about monetizing your wedding dress blog.
---
Dessy Affiliate Program

A great affiliate partner with a ton of bridal dresses for your readers to choose from. They also have a nice selection of accessories and a wide variety of bridesmaid dresses.
Dessy also has a complete selection of menswear for weddings. From groom to best man they have it all covered. Plus other accessories that your readers will need to complete their look.
The Dessy Commission
The tracking cookie offered up by Dessy is fantastic. They give you a full 365-day tracking cookie. Plenty of time to get that hard-earned commission.
The commission, on the other hand, is on the lowish side. They only offer their partners a 5% commission. not ideal but still not a bad haul if you can get it to convert.
Why Promote Dessy?
The products are the biggest draw for this affiliate partner. You will be proud to promote these fine products to your readers and you can promote them with confidence.
The tracking cookie is outstanding and the commission is reasonable. All around a pretty good affiliate partner to consider for your blog.
---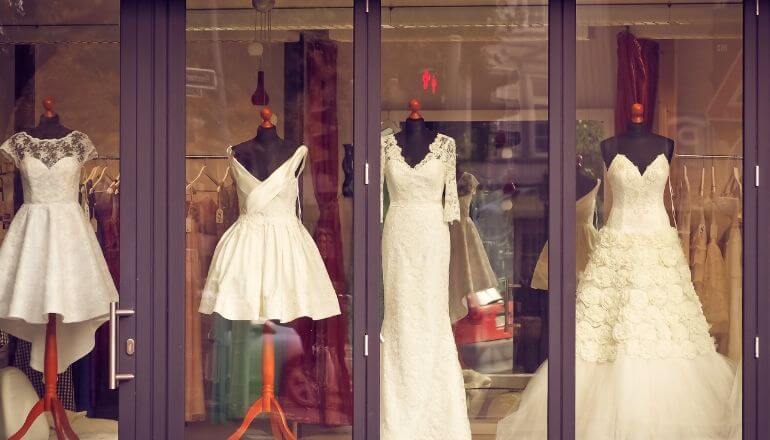 Final Thoughts On These Wedding Dress Affiliate Programs
That brings us to the end of our look at these 10 wonderful wedding dress affiliate programs. You can use any one of these great partners to help maximize your monetization strategy for your wedding or fashion blog.
Any niche that involves wedding planning, dresses or weddings, in general, is going to be competitive and you will need to create great content.
You'll need this honest and robust content to help earn the trust of your readers so that they will take your promotions and opinions seriously.
Weddings are some of the biggest days of many people's lives. You need to be sure that the content you provide them is going to be extremely helpful. And help make their special day the best it can be.
Then you will be able to maximize these great partners and build a successful and profitable online blog in the wedding dress niche.
Don't go it alone. Get the best learning tools and community to help you build your online dream. Check it out here.
Good luck and thanks for visiting.
As always have a wonderful day.