This article may contain *affiliate links. Please see our affiliate disclosure for more details
Sometimes it can be difficult finding a perfect affiliate program for your specific little niche. Often times people just settle for something like Amazon Associates or Walmart or one of the big retail stores.
But some niches don't really fit into that retail kind of vibe. And that's where you have to be very selective of the types of affiliate partners that you pick to promote on your website.
So what we're going to look at right now are 10 great adventure travel affiliate programs that you can use for a wide variety of travel based blogs.
These can be their own category on a general travel blog or you can have a very specific Adventure travel nice site that used only to this type of travel.
Adventure travel is becoming more and more popular as people want better and more exciting experiences on their travels and vacations.
Stead of just traveling somewhere and looking at beautiful architecture or historic places they want to be a part of the culture and partake in some of the more adventurous an exciting things that the place is visiting has to offer.
So as an affiliate marketer you want to tap into this emerging market. You want to make sure that if you're General travel sites you have adventure-travel partners specifically for these people.
Of course, if you're an adventure travel specific site you want to find the best Partners to promote in your sight. Both for your customers and for yourself in terms of commissions and profits that you can generate from these affiliates.
There Is Just Something About Owning Your Own Business. Being Your Own Boss. Building Something From The Ground Up With Your Own Hands. Especially When It Is This Easy To Get Started.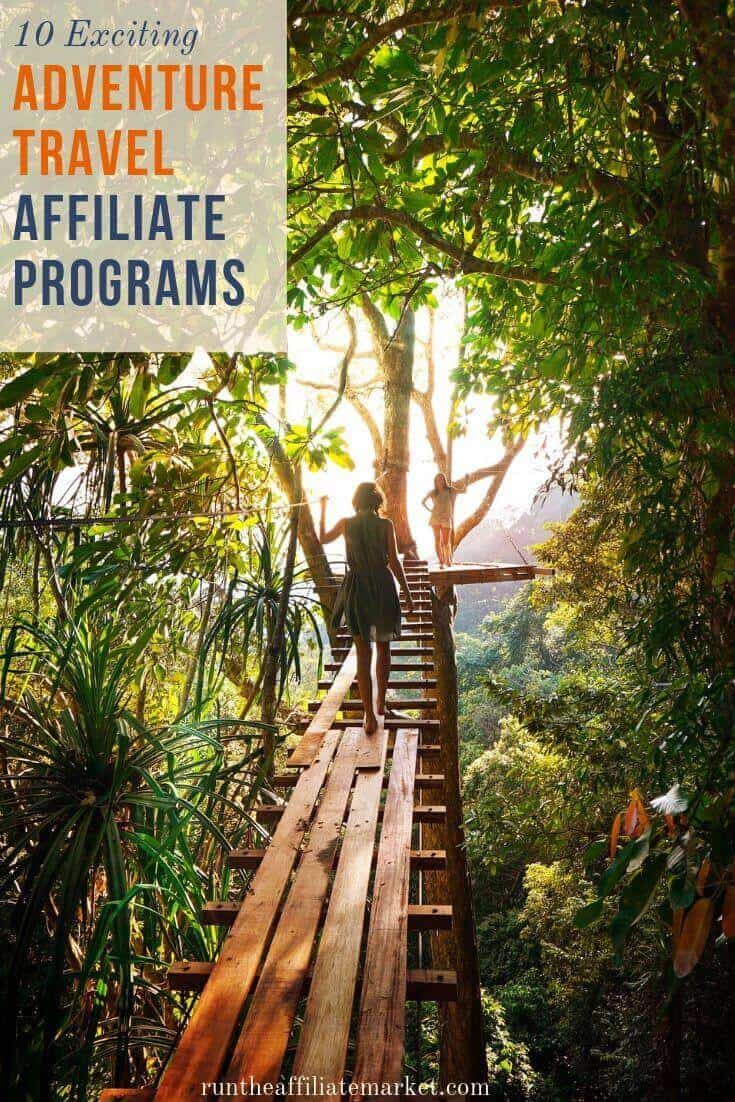 Check Out These Adventure Travel Affiliates
---
Boatsetter Affiliate Program
Application: Sign Up Here
Sales Commission: $20 Lead
Tracking Cookie: 30-days

Boatsetter is a boat rental service for vacationers and travelers who want a different experience from their vacation.
They offer boat rentals and optional captains 4 wide variety of activities including fishing sailing Watersports General cruising on the water and celebrations aboard the boats.
They act as a middleman between the customers and the boat owners and captains in order to give the vacationer, your readers, the best possible experience on the water during their travels.
Boatsetter has a huge selection of possible rentals. While this company doesn't own the boats themselves they just connect your readers with the owners who are willing to rent their boats out.
This is a great affiliate for a wide variety of niches including fishing, travel, and adventure travel.
The Affiliate Terms For Boatsetter
The terms for Boatsetter are pretty interesting. They offer a $20 flat fee for leads generated by you and passed along to their website.
It is more of a lead generation affiliate partner than a product or service-based one. But these can be quite lucrative as well.
The tracking cookie duration is a standard 30-days. This cookie is perfectly fine for this type of affiliate program since you are really only generating leads.
Wrapping Up Boatsetter
While this is a pretty specific type of adventure travel company, it can be used for a variety of different travel niches.
Boating niches, adventure tourism niches, and even fishing niches can benefit from this partner program. The cookie and price per lead are pretty good as well.
---
Viator Affiliate Program
Application: Sign Up Here
Sales Commission: 4%
Tracking Cookie: 30-days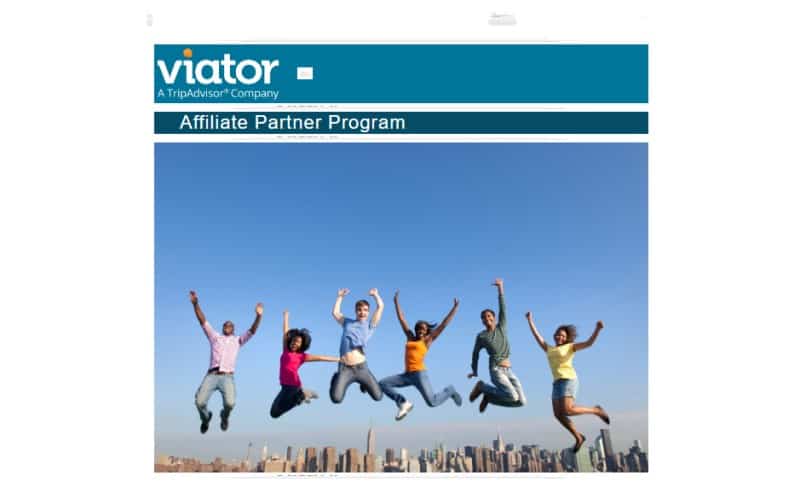 Viator is a Tripadvisor company that has over 200,00 booking opportunities for a wide variety of adventure and standard tourist attractions.
This site doesn't offer the tours themselves. It is a place to find and compare a variety of things to do in the most popular cities around the world.
The prices are reasonable and you can promote individual attractions depending on the type of blog you have. This is a good general travel affiliate as well as a nice one to add to your adventure tourism partner strategy.
The Viator Commission
The commission for the Viator affiliate program is only 4%. This might seem like a low commission, but for travel services, it is not too bad. Keep in mind that many of these packages are considered high-ticket items so the commissions can be substantial for your blog.
The tracking cookie is a standard 30-days. I would like to see a longer duration cookie for this type of affiliate but 30-days should be enough to make a sale and still get credit for the commission.
Why Promote Viator?
Viator is a great partner to have for any travel site. It offers great individual experiences for your readers and they can pick and choose the ones they want to purchase.
Basically, you are sharing an affiliate commission with Viator since they are using affiliate marketing to connect customers with the tours. It is a win-win for everyone involved.
---
Grand Canyon West Affiliate Program
Application: Sign Up Here
Sales Commission: 5%
Tracking Cookie: 60-days

Grand Canyon West has been helping people find their perfect adventure vacations for over 11 years. The Hualapai Indian Reservation is the home base for their activities.
They offer a wide variety of exciting experiences that you can promote on your adventure tourism blog.
There is a ranch on the reservation that you can promote as one of your travel adventures. They also offer helicopter tours for an aerial view.
Rafting is another option for touring the Grand Canyon that you can try out courtesy of Grand Canyon West. These are all great pieces of potential content for your travel blog.
Not just the promotion of this affiliate but content around the canyon itself. You might even be able to build an entire blog around just Grand Canyon Tourism.
A finally they offer quite a few tours of the grand canyon itself, along with zip-line adventures over select areas of the national park.
The Affiliate Terms For Grand Canyon West
The affiliate terms for Grand Canyon West are pretty good for this type of affiliate program. They offer a very nice 5% Commission on all qualifying sales through your affiliate links.
Given the high price of some of these tour packages and it and travel packages, 5% is actually pretty good.
These travel destination products can easily run into thousands of dollars and are definitely considered high ticket items.
The tracking cookie duration is outstanding for the Grand Canyon west affiliate program. They give you a full 60 days on the tracking cookie duration.
This is more than enough time for you to make yourself or your affiliate links and still get a commission from your readers.
When products are this high-priced you really want something relatively long in terms of your cookie duration. 60 days is about the minimum you want for this type of affiliate partner.
Final Thoughts On Grand Canyon West
This adventure tourism affiliate program is very specific. It's dedicated to Simply the Grand Canyon.
That being said the Grand Canyon is one of the biggest tourism drawers and not only the United States but in the world.
It's often called one of the seven natural wonders of the world. So you can add this affiliate to your adventure travel. Or you can fit into a general travel blog with a section on the Grand Canyon.
And of course, if you have a travel blog dedicated solely to the Grand Canyon this would be the ideal affiliate program for you to pick up and promote.
---
The TEFL Institute of Ireland Affiliate Program
Application: Sign Up Here
Sales Commission: 12%
Tracking Cookie: 90-days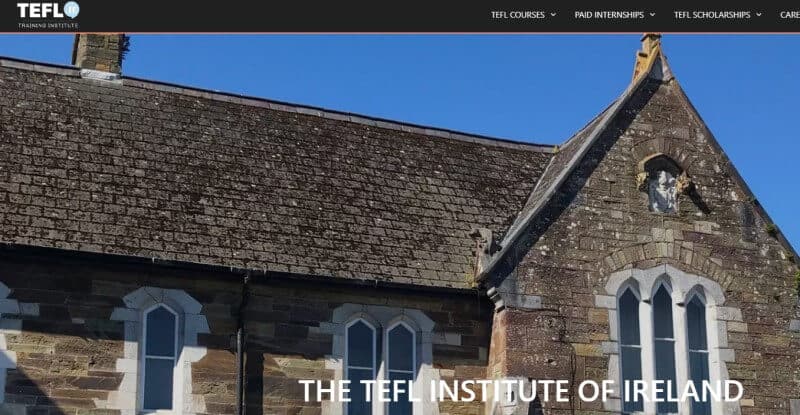 TEFL stands for "Teaching English As A Second Language". This might not seem like a good fit for an adventure travel blog but it is actually a great one to have in your arsenal. Travel doesn't have to be just about vacations.
You can travel and work as an English teacher, teaching the language in hundreds of exotic locations. It falls squarely into the adventure travel niche as well as the language and general travel niches. This type of affiliate is quite versatile.
The Affiliate Terms
The tracking cookie for this affiliate is very nice. They offer a full 90-day tracking cookie for their affiliate partners. Plenty of time to promote the products and still get credit for the commissions.
The commission is quite nice as well. They offer a robust 12% commission for all qualifying sales to their affiliate partners.
Why Promote TEFL Ireland?
This is an often-overlooked option for many travel blogs. You readers can travel the globe, teach English and get paid in the process. It really is a wonderful and fulfilling career path for many native English speakers.
Throw in the great commission and the outstanding tracking cookie and you have your self a ready-made partner program that will bring in a nice chunk of income into your adventure travel niche blog.
---
Adventure Tours Hawaii Affiliate Program
Application: Sign Up Here
Sales Commission: Variable
Tracking Cookie: 30-days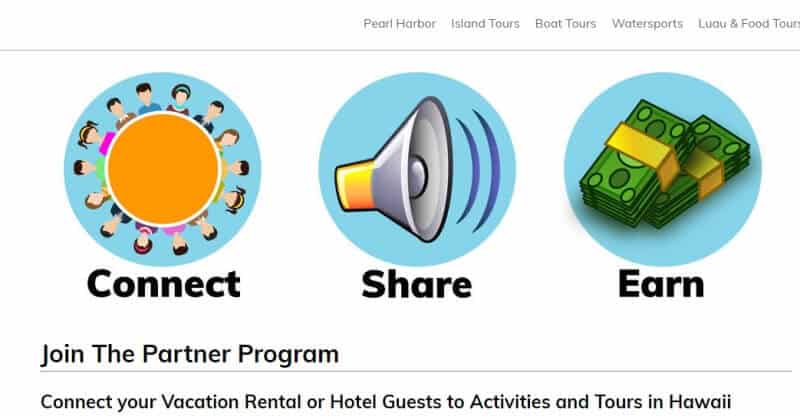 This partner helps connect people to all the great activities and experiences that you can have in Hawaii.
They offer your readers a way to connect to Island tours, boat tours, water sports, tours of Pearl Harbor and just about anything else you can think of to do on the islands of Hawaii.
This affiliate partner won't work for all Adventure travel blogs. It will work for general ones and of course, it'll be great for a travel blog dedicated to Hawaiian Adventures.
Adventure Tours Hawaii Affiliate Terms
The sales commission wasn't readily available for this Chile partner at the time of publication. They seem to have a variable commission structure so be sure to ask about it when you are accepted into their affiliate program.
This affiliate offers a standard 30-day tracking cookie. A good duration but I always like to see something a little longer.
Wrapping Up Adventure Tours Hawaii
This is another very specific Adventure tourism affiliate program. It's great if your Micro Niche blog is centered around Hawaii and all the incredible things you can do on the islands.
It also works for General travel blogs as well as general Adventure travel blogs. Especially if you have a section or category dedicated specifically to Hawaii since it's such a popular vacation and travel destination.
---
Monkeys And Mountains Affiliate Program
Application: Sign Up Here
Sales Commission: 8%
Tracking Cookie: 90-days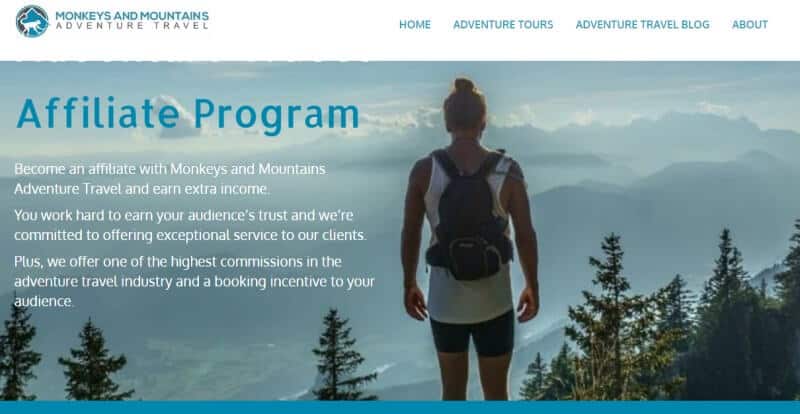 Monkeys and Mountains Offers a wide variety of hiking and Wildlife tours and many of the most beautiful places on Earth.
Some of the places that they offer tours are the Italian Riviera, Madagascar, and even a coastal hiking tour from Spain to France.
There are quite a few others towards that they offer, and this makes for a great adventure travel affiliate partner. Just due to the diversity of experiences that they offer.
While these tours offer some outdoor experiences and great hiking and touring experiences. This affiliate is quick to point out that they also offer these tours with some Modern amenities hot meals and other types of comforts that you would expect on a vacation.
So you're not just out roughing it like some other tours. It does take away from the adventure aspect of it a little bit. Still, it's quite a journey to hike from Spain to France which is one of their offered tours.
Monkeys And Mountains Commission
The commission for this affiliate program is a generous 8% commission on all purchases made through your affiliate link.
The tracking cookie is also fantastic from this affiliate partner. They offer you a full 90-day tracking cookies duration.
It gives you plenty of time to make your sales pitch and still receive credit for the affiliate sale therefor getting your hard-earned commission.
Why Promote Monkeys And Mountains?
This is a great affiliate for any Adventure travel blog. The diversity of their tours in the uniqueness of some of their hiking experiences makes for a wonderful product to promote for your adventure Travelers.
The outstanding cookie and commissions don't hurt either. If this is a good converting affiliate program for you you found yourself a real gem here.
---
Thrillism Affiliate Program
Application: Sign Up Here
Sales Commission: 10%
Tracking Cookie: 30-days

Thrillism Is a website where you can book all manner of Adventure tourism experiences. Your readers will have no shortage of wonderful things to do on their vacation and they can book them from the Thrillism website.
some of the activities that they can book or surfing, kitesurfing, kayaking, wildlife tours, hiking and trekking tours, as well as bike tours and quite a bit more. So there's plenty to do for anybody and any type of Adventure Traveler.
Thrillism Affiliate Terms
Thrillism offers a fantastic 10% commission for all bookings made through your affiliate links. This is a great commission, it is rare to see a double-digit commission in the travel niche, so take advantage of this if you can.
The tracking cookie is a standard 30-day cookie. Nothing exceptional about the duration but still an acceptable number for the cookie.
Why Promote Thrillism?
The great affiliate terms are a good reason to look into promoting this partner. However, it is their great products that really make it so appealing.
All the great commission don't mean a thing if you cannot sell the product or get it to convert with your audience. The quality of the service offered here should make it a breeze.
---
SASS Affiliate Program
Application: Sign-Up
Commission: Variable
Tracking Cookie: Variable

SASS is an action-adventure travel site that mainly focuses on Argentina Japan and Puerto Rico for their Adventure travel destinations.
They offer experiences ranging from skiing and riding destinations in Argentina and Japan all the way to surfing and scuba diving adventures in Puerto Rico and the Dominican Republic.
While not as big as some of the other Adventure travel sites this is a very interesting one with quite a bit to offer your readers on your travel blog.
They also offer you the opportunity to White Label local reservation platforms for your WordPress site. This is great if your site is already selling travel products and reservations directly from your website.
The SASS Commission
Affiliate page for SASS doesn't have a whole lot of information about the commission or the cookie duration for this particular partner. This is not uncommon but you would like to see a little bit more information.
The reason for this is that they offer a variety of different payment options including commission-based affiliate marketing and pay per click campaigns that you can run to draw more traffic.
Why Promote SASS
The products and services offered by SSAS are good quality and very interesting and have a wide variety of different Adventures that your readers can purchase and go on.
This is an ideal affiliate partner for a travel based website that is offering more adventurous Fair. So be sure to check it out and see if it converts with your specific audience.
---
Intrepid Exposures Affiliate Program
Application: Sign Up Here
Sales Commission: $75 Flat Fee
Tracking Cookie: 60-days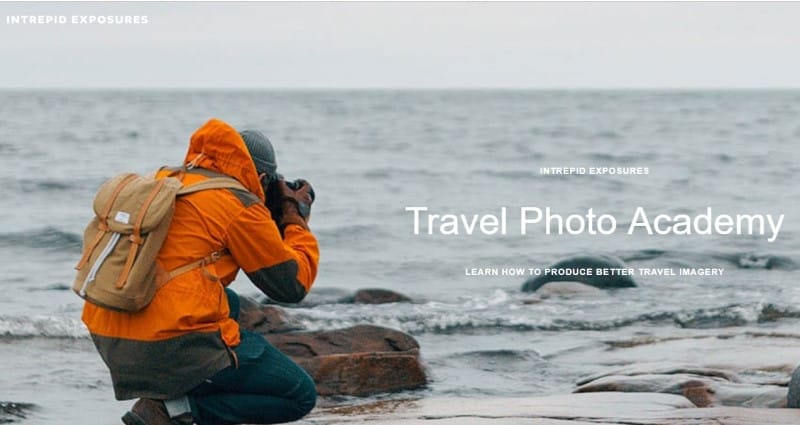 Intrepid Exposures offers a different and unique adventure travel experience.
In addition to traveling to and experiencing some of the most breathtaking, off the beaten path scenery on the planet, they also train you in how to take stunning photographs to remember your epic travels with.
This is another fantastic and versatile affiliate program for you to consider. It works well as a travel affiliate, a photography affiliate, and an adventure tourism affiliate.
The Intrepid Exposures Commission
Intrepid Exposures offers a flat fee of $75 dollars for all referrals through your affiliate links that result in a sale of one of their services or products.
The 60-day tracking cookie offer by this affiliate is also a very generous and welcome addition to the overall appeal of the partner program.
Why Promote Intrepid Exposures
The affiliate terms are a great reason o promote this service, but the unique combination of photography training and adventure travel make this one of the more appealing partner programs for this niche.
You can use this partner program alongside many of the others on this list due to its uniqueness and you can promote both the photographic and travel aspects of this fine partner program.
---
G Adventures Affiliate Program
Application: Sign Up Here
Sales Commission: 5%
Tracking Cookie: 90-days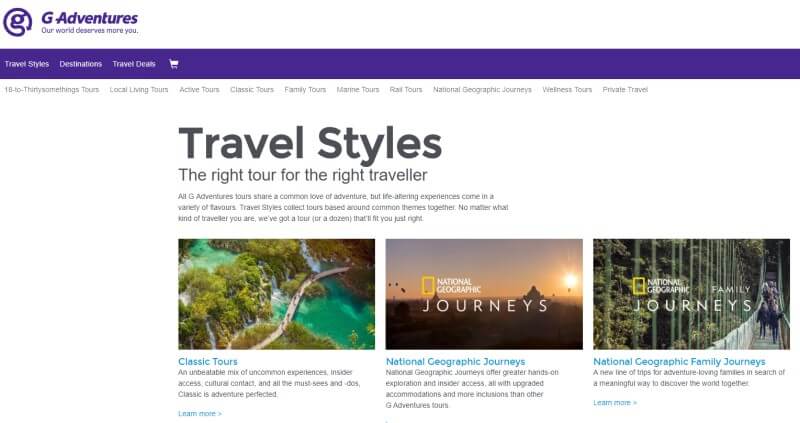 G Adventures offers tours for your reader from around the world. They have a huge number of tours and destination on just about every continent.
They offer themed tours for your readers as well. These are great for generating quality content since you can write about the destination and about a variety of travel and touring topics like responsible and sustainable tourism.
Some of the themed tours include National Geographic tours, Active tours, Wellness Tours and Family tours. As well as many more for just about any type of traveler.
The $2600 average sale price that the affiliate page quotes is great to see. For an affiliate marketer, these high-ticket items take a little more promotion but are well worth it in the end.
The G Adventure Commission
The 5% commission offered by this affiliate partner is very nice considering the type of partner program.
Travel tours and the associated businesses usually have a lot of overhead and thus the commission tends to be mid-single digits. But given the high-ticket products, the commission should be acceptable.
G Adventure offers an outstanding 90-day commission for their affiliate partners. Long duration cookies are a must for high-ticket items like the ones offered here.
Why Promote G Adventures?
A great commission and cookie combined with some very nice high-ticket tours make this a great affiliate for your adventure travel blog.
They have trips to just about every part of the planet so there is something for everyone at G Adventure.
---
Wrapping Up These Adventure Travel Affiliate Programs
That brings us to the end of our look at these 10 fantastic Adventure travel affiliate programs. You can leverage any one of these programs to add a new layer of income to your existing adventure travel blog.
Or if you just starting out you can use one of these to help build your foundation for your travel nice site.
When you're just starting out the Micronesia that you choose in any given industry incredibly important.
But especially in a niche as competitive as travel. you really need to find a good small little corner of this travel Adventure travel niche and build out from there. And you can use these affiliate programs to help you do that.
Bear in mind that there are plenty of others out there that you can look at these are just 10 of the most diverse and best that I feel can help you the most.
So Good Luck crafting your brand new adventure travel blog. It's not an easy Niche to start out in. But once you find your feet and get your content flowing you will have one of the most profitable blogging niches around.
Obviously, there's more to blogging than just finding great affiliate programs.  You're going to need a whole host of other skills and techniques to really make the most out of your time as a blogger.
Don't go it alone. Get the best learning tools and community to help you build your online dream. Check it out here.
Thanks for visiting and as always have a wonderful day.
---