This article may contain *affiliate links. Please see our affiliate disclosure for more details
So you've decided to build your own passive income website in the barbecue and Grilling niche.
Maybe you've got a secret family recipe that you're ready to share with the world and help people take their outdoor grilling to the next level.
Whatever the reason you've chosen this wonderful and frankly delicious niche, you're going to need to find a way to monetize it in order to make the type of passive income that you really want.
To do that you're going to need some great affiliate programs.  Well then, you are in the right place because I put together a list of some of the best barbecue and grilling affiliate programs that you can use right now to help monetize your barbecue Niche site.
There Is Just Something About Owning Your Own Business. Being Your Own Boss. Building Something From The Ground Up With Your Own Hands. Especially When It Is This Easy To Get Started.
---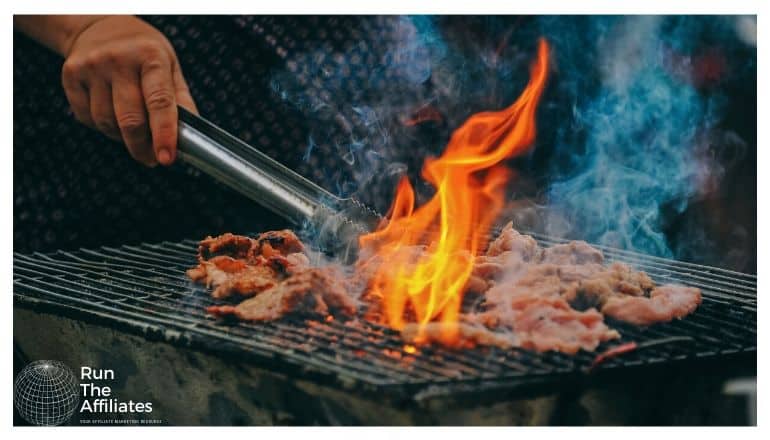 A Look At Grill And Barbeque Affiliate Programs
Summer blog, outdoor blogs, grilling blog, bbq blogs, general cooking blogs and more. These are just a few of the niches that you can use these affiliate partners in. Find ones that are right for you and get to work.
Now that you have some great bbq and grilling affiliate program ideas you just need to create the content and drive traffic to your affiliate links. With a little affiliate marketing training, you can get started on that today.
---
Grill Masters Club Affiliate Program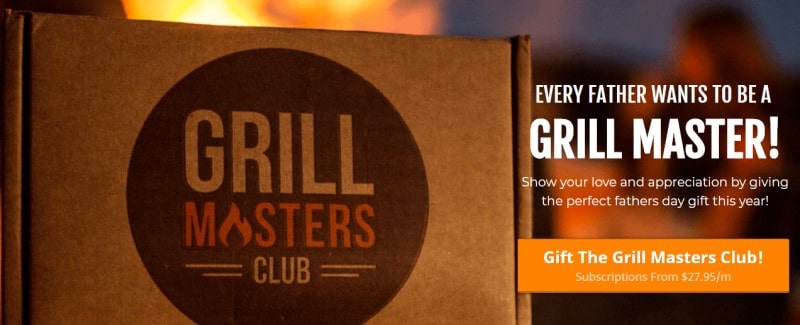 Grill Masters Club is a barbeque subscription box that just about any affiliate marketer in the grilling or barbeque niche would love.
Their boxes include a variety of grilling items including sauces and rubs, some mystery items to take your grilling up a nitch and wood chips to get that professional flavor out of your meats.
They offer a variety of subscription plans for your readers to choose from. The subscription plans range from 1 month to 12 months, so there is something for any level of griller.
The tracking cookie offered by the Grill Masters Club partner program is a generous 90-day tracking cookie.
This is an exceptional tracking cookie given the types of products they offer. Their subscriptions are not what I would call high-ticket items so a really long cookie is not a necessity.
That being said, longer duration cookies are always welcome and Grill Masters really knocks it out of the park with theirs.
The commission is also very nice. They offer a 10% commission for their subscription boxes and this could lead to some nice commissions when you start to promote their products.
Why Promote The Grill Masters Club?
The products they offer are good and their affiliate terms are outstanding. The subscription nature of their products is also a big plus as it could lead to some recurring income depending on how the inner workings of their partner program work.
Anyone in the grill or barbequing niches would do well to consider this program as part of their affiliate strategy. This is a very good partner program from top to bottom.
---
BBQGuys Affiliate Program

BBQGuys Has a huge selection of grills, smokers, outdoor pizza ovens, and just about any other type of equipment or accessory that you need for your grilling or barbecuing.
They got plenty of name brands that you can feel comfortable promoting and that your readers are going to absolutely love.
The number of products that they have for you to promote is really one of the best things about this affiliate program.
This could easily be the primary affiliate program that you use as a general grilling and BBQ partner program because of the size and breadth of their stock.
BBQGuys Offers up some pretty decent affiliate terms for their affiliate partners. The tracking cookie is a 30-day tracking cookie which is pretty standard for most affiliate programs these days.
30 days, in my opinion, is about the lowest you want for more expensive products. Now you're not always going to find tracking cookies that are that duration many of them are significantly shorter.
But ideally, you would like to find tracking cookies at least 30 days long. obviously the longer the better.
The commission is also pretty good clocking in at 6%. While I always like to see double-digit commissions for any affiliate program in any Niche it's just not reasonable to think that every type of product is going to be able to sustain a double-digit commission.
Grills and barbecue equipment tends to be pricey and have a lot of overhead because of its size and its weight when you have to ship it or move it around.
So you can't expect to have super high commissions for a lot of these types of products. That being said 6% is very good and you should be able to make quite a nice profit off of these products.
Wrapping Up The BBGGuys Partner Program
There's really nothing not to like about the BBQGuys partner program. It's not spectacular but it's not bad either. The affiliate terms are pretty standard so you can't go wrong there.
The products they offer are very nice and should be fairly easy to promote with confidence and not worry about whether the products are going to be worthwhile or not.
---
Traeger Grills Affiliate Program

Traeger has an amazing line of grills for you to promote on your grilling and BBQ Niche website.
These are high-end products that do not come cheap. Their grills can easily run close to $2,000 but they are some of the most well-made grills around.
These products can definitely be considered high- ticket items and as such take a little bit more finesse in your promotion for them.
The number of people that are going to actively be looking to pay this much for a grill is going to be somewhat smaller than if you were buying just a little charcoal grill for your backyard.
The tracking cookie for the Traeger affiliate program is a very nice 60-day tracking cookie.
When you are promoting products that are this expensive in the multiple hundreds of dollars or even thousands of dollars you want as long a tracking cookie as you possibly can find.
The longer the tracking cooking the better the conversion rates are going to be for your affiliate programs.
Often times it's going to take multiple trips to your website to really make a sale when a product is a high-ticket item like this.
The commission offered by Traeger is pretty good. It's nothing spectacular but at 5% you should be able to make a nice profit on everything that you promote.
Ideally, you'd love to see something approaching 10% but for products like this at is going to be pretty unrealistic given the overhead of grills and barbecues.
Wrapping Up Traeger
Overall this is a pretty good affiliate program, especially if your specific audience really likes the Traeger brand and their product.
Ultimately any affiliate program is going to be determined by how well it converts with your specific audience.
When you're dealing with the smaller partners they really need to be popular amongst your readers for you to really get the conversions that you need to make a nice profit.
That being said everything else about the affiliate program is pretty good the cookie is good the commission is okay and the products are outstanding.
So if you can get them to convert and if you have an audience that really responds to Traeger you're going to be in for a real treat with this partner program.
---
Big Poppa SmokersAffiliate Program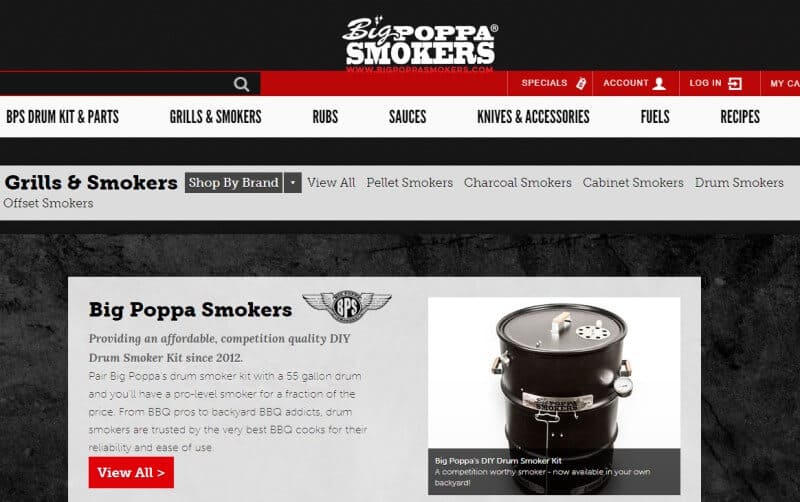 Big Poppa Smokers has a large selection of grilling and barbeque equipment for you to promote to your audience.
In addition to their branded smokers, they have grills and smokers from a variety of other brands as well, including Ole Hickory Pits and Humphreys.
They also sell pellets and charcoal along with a good selection of rubs and sauces, knives and utensils and other grilling accessories.
They basically have everything you need to get up and running with a back yard grill.
The last thing we need to find out is how does that commission look?
The real issue is the commission. At 2% it is a bit low. However, if your audience really likes the Big Poppa brand then it would be worth using them as an affiliate program.
The tracking cookie is quite good for this grilling affiliate program. They offer a 45-day tracking cookie which gives your readers enough time to decide on whether or not to make a purchase.
Why Promote Big Poppa Smokers?
The brand is the biggest reason to promote this partner program. While the cookie is nice the commission is a bit low which will limit the affiliate programs appeal for many marketers.
But if it converts to your audience and they love the brand, you should pick it up and give it a go.
---
Hey Grill Hey Affiliate Program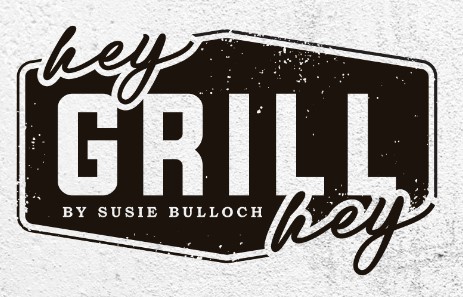 Hey Grill Hey affiliate program Is a smaller partner program that deals solely with a digital product.
Written by Susie Bulloch, This ebook is about how to get the most out of your pellet grill With a huge variety of recipes and tips for your grilling.
The first thing you're going to notice about the affiliate terms for this partner program is just how spectacular the commission is.
They offer a 50% Commission on all sales of their ebook and this is perfectly in line with what you would expect from a digital-only eBook.
A lot of the other commissions on our list are going to be much lower because they are dealing with physical products like grills and smokers.
This is simply an e-book with recipes and techniques on how to grill the best food that you possibly can.
In addition to a Great Commission, the tracking cookie is outstanding at 180 days. That gives you a full six months to promote this product and make a sale and still get a commission that you deserve.
Final Thoughts On Hey Grill Hey
The biggest reason, I think, to promote this affiliate program is that it is so different from the other ones that you're going to find in the barbecuing niche.
You always want to head diversify your affiliate strategy as much as you can so that your cover as broad a base for your particular Niche.
This partner program is a departure from the smokers and grills that a lot of the other partners on this list have so it gives you a low-cost product to promote that can really help people with their grilling and barbecuing.
---
Snake River Farms Affiliate Program

You can't grill without the best meats and that is where Snake River Farms comes in.
The amount of different meats and products that Snake River Farms has is truly staggering. This is one of the most comprehensive stores for buying you're grilling meat that I've seen anywhere.
This is not cheap meat though. You could almost consider a lot of these meats to be high-ticket items. Some of their products run well into the multiple hundreds of dollars.
but it is an incredibly important part of the overall barbecuing experience and if you're going to be in that Niche you're going to need to recommend the best Meats to your audience.
It doesn't matter how good your equipment and if you're buying subpar meat it's just not going to taste as good as it possibly can.
So Snake River Farms is going to be an affiliate program that just about any grilling or barbecuing niche website is going to need to really consider as one of their affiliate programs.
The good news is that Snake River Farms affiliate commissions are as good as their products. They offer a full 60-day tracking cookie which is outstanding for this type of product.
You always want a longer commission and given the price of some of their meets, the 60 days is a welcome sight indeed.
In addition to the Fantastic tracking cookie, you get a very nice 7% Commission on all qualifying sales through your affiliate link.
It's not a double-digit cookie but it is very nice to see something that high for these types of products.
Typically food-based products don't make it into double-digits very often to sing a 7% commission from such a popular brand is a very very good thing to see.
Why Promote Snake River Farms?
There's really no reason not to add this partner program to your affiliate strategy for a grilling or barbecuing website.
Everything about it is high quality from the products themselves to the commission and tracking cookie there is really nothing not to like about Snake River Farms.
If you're in the niche you owe it to yourself to at least consider adding this partner program to your stable of affiliate programs.
---
Ooni Affiliate Program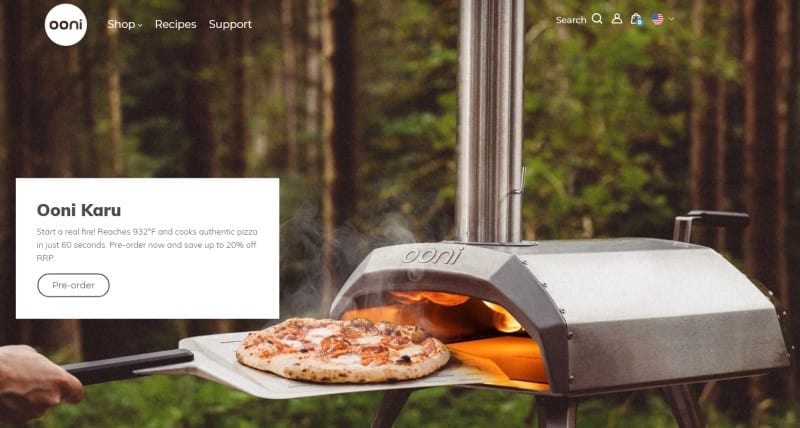 This partner program is going to be a little different from the rest of this list and only going to fit into a smaller sub-niche of grilling and outdoor cooking.
Ooni makes a portable pizza oven that you can use to cook homemade pizza in your backyard right next to your grills and smokers.
They have a nice array of gas and wood-fired ovens as well as a slew of accessories for your outdoor baking pleasure.
The tracking cookie is a little bit less than I would have liked. It is only 15-days but that should be plenty of time to make a sale given the price points on their products.
Prices range from 300-600 dollars for their ovens which make them mid-ticket items. The good news is that the commission for the Ooni partner program is wonderful.
They offer a 9% commission for all qualifying sales through your links. It is not double digits but it is the next best thing.
You should be able to make quite a profit promoting their products if they fit into your niche or affiliate strategy.
Why Promote Ooni?
The affiliate term are a big reason why this partnership is so appealing. However, the real draw is the uniqueness of their pizza oven products.
If you can fit it into the theme of your grilling website then you have opened a whole new line of potential content for yourself.
Don't dismiss Oooni out of hand just because it is not a tradition grilling affiliate program.
---
Outdoor Cooking Affiliate Program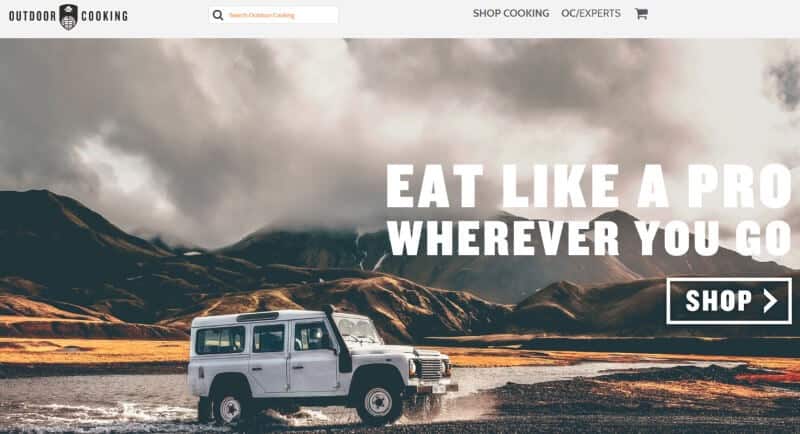 Outdoor Cooking has a very nice selection of stoves, ovens, smokers, grills, and fire pits that you can promote to your readers.
They have grills and smokers for all fuel types whether its propane of pellet. These are high-ticket items with prices in the multiple hundreds of dollars and some approaching the thousands.
I couldn't find the tracking cookie duration for this partner program so be sure to ask about it when you are accepted.
The commission is very nice starting at 5% and going up to 8% depending on performance and other factors.
Why Promote Outdoor Cooking?
There is nothing really spectacular about the Outdoor Cooking Partner program. The affiliate terms are decent but not spectacular.
So the real reason to promote this partner lies solely with the quality of their products and how well they convert with your audience.
If Outdoor Cooking converts well then you have a great addition to any grilling affiliate lineup.
---
Competition Barbeque Secrets Affiliate Program

This is another single product affiliate program in the grilling and barbecuing niche. This is an ebook based around barbecuing secrets for professional and competition BBQ.
As with all of these digital-only products you really need to dig into them and do a little research to find out just how good the product is going to be.
But any book like this is something that you can easily promote and if it converts well and people like it then it can be a good earner for your website.
However, if there are any problems with it or if your audience just does not like it then you need to move on from it as quickly as possible.
To make sure you do some research into this product before you add it to your affiliate strategy. It's going to be tough because the affiliate terms are fantastic.
The tracking cookie is a 60-day tracking cookie. This is typically the standard for any ClickBank product. However, you should always ask to make sure that you're getting the full 60 days.
The commission is probably the most staggering number that you're going to see here. They offer a full 75% commission for sales of this product.
Commissions this high or not uncommon for ClickBank digital products. However, sometimes products that are listed on that Network tend to be viewed in a negative light.
So it might be a little bit more difficult to promote this product but once you earn the trust of your readers you shouldn't have any problems promoting products like these.
Wrapping Up
I think the biggest reason to promote this product is the Fantastic commission.
I don't like to put all my eggs in the commission basket as there are a lot of other factors that make an affiliate program worth it. But in this case, 75% is too much to ignore.
That being said, If the product is not converting with your audience you need to let it go. You have to let that 75% commission go and move on to something else.
But everything else about the affiliate program looks decent the product is an ebook if that's something that you're comfortable promoting and the tracking cookie is pretty good as well.
---
BBQ Fans Affiliate Program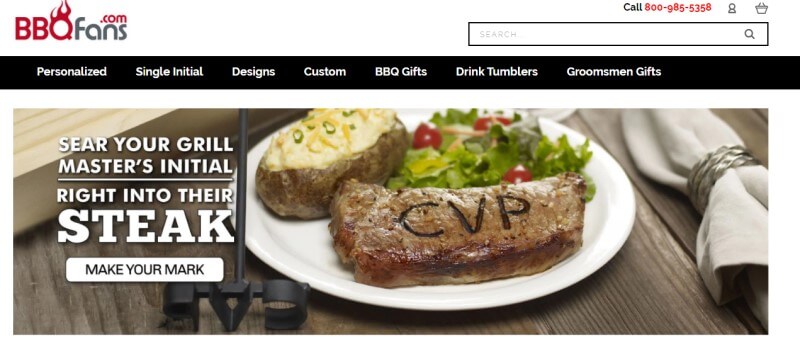 BBQFans Have some really great barbecuing products. They have a nice selection of personalized products that you can promote on your website.
From personalized branding irons and cutting boards to incredibly well-crafted wooden steak plates, this is a grilling affiliate program that really sets itself apart from a lot of the others on our list and in the niche in general.
This is a great affiliate program for anyone in this niche. The products are going to be easy to promote mainly because of the personalization factor but also because of how well-made they are and how functional they are.
The tracking for this other program is a standard 30-day tracking cookie for their affiliate partners.
This is going to be perfectly fine for this affiliate program because the products aren't really high ticket items so 30 days is going to be plenty of time for you to make a sale and get a commission.
The commission is also very good it starts at 6% and goes all the way up to 12% depending on the number of sales you make during any given month.
6% is a decent base Commission. If you can get it all the way up to 12 and you can really have got something special here.
A 12% commission, especially in this Niche, is very good. It really needs to be taken into consideration when looking for affiliate programs.
Why Promote BBQFans
Affiliate terms are very good so that is a great reason to consider using this affiliate program but the products are where this partner program really shines.
Their unique and interesting and a little bit different than the other things you might find in your typical grilling and barbecuing affiliate programs.
The personalization aspect of their products is really going to be one of their biggest selling points and something that you can really promote in your content.
---
Wrapping Up The Barbeque Affiliate Programs
That brings us to the end of our look at these wonderful grilling and BBQ affiliate programs. These programs can be deployed in a wide variety of niches but are particularly useful for any type of outdoor cooking, smoking or grilling niche website.
This is a really interesting industry and one that lends itself well to the more modern media that you can create content for.
Showing pictures of your grilling and your recipes on Instagram or showing entire tutorials on a video on YouTube is going to be a great way to help monetize your blog.
You can send people between all of your different content and create your own little grilling and BBQ ecosystem.
Grilling and BBQ are big around the world that is particularly huge in the United States or barbecue is a way of life in many states.
The U.S. BBQ industry is a billion-dollar industry (source) in one that you can get a small piece of that pie from if you start now and build your own passive income website using affiliate marketing.
I hope you found an affiliate program that will be useful out of these affiliate programs. Remember there are others out there and these are just the ones that I chose.
You'll have to find the perfect ones for your specific audience in order to get the best conversion rates out of your partner programs.
Don't go it alone. Get the best learning tools and community to help you build your online dream. Check it out here.
Thanks for visiting and have a wonderful day.