This article may contain *affiliate links. Please see our affiliate disclosure for more details
Welcome to our look at some fantastic backpack and backpacking affiliate programs.
If you need a backpack affiliate program for your blog or website then call off the search because you are in the right place, my friend.
I have put together a list of some of the best backpack partners for a passive income blog. Whether you are in the hiking niche, the backpacking niche or the adventure travel niche, there is probably a program here that you can use to enhance your affiliate strategy.
Let's dive into the partners and see if we can't find a backpack affiliate that will work for you and your specific audience.
There Is Just Something About Owning Your Own Business. Being Your Own Boss. Building Something From The Ground Up With Your Own Hands. Especially When It Is This Easy To Get Started.
---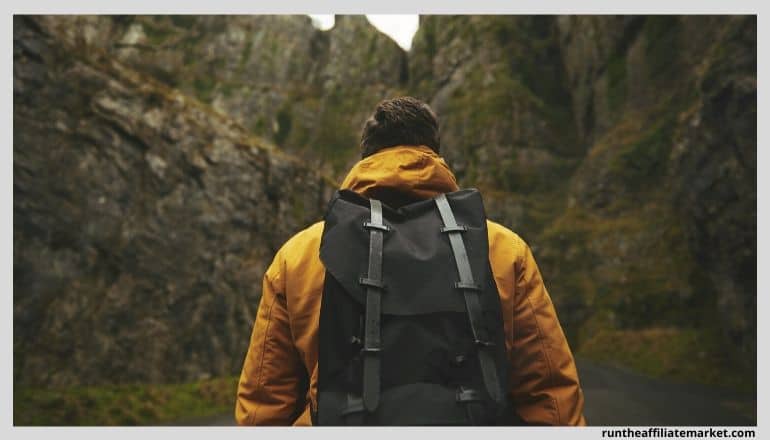 What Is A Backpacks Affiliate Program
A backpack affiliate program is a marketing program that allows individuals to earn commissions from the promotion of products from the affiliate programs.
When a potential customer clicks on an affiliate marketing link and then makes a purchase within a set amount of time the affiliate marketer will receive a commission for that purchase.
The commissions vary between the affiliate programs. The commissions and cookie durations will be listed in the backpack affiliate program summary whenever possible.
While many of these affiliate programs are primarily backpack sellers they do often overlap with other similar products such as handbags or luggage.
Therefore the variety of niches that a backpack affiliate program can be used for is greatly increased.
Now that you have some great backpack affiliate program ideas you just need to create the content and drive traffic to your affiliate links.
---
Tortuga Affiliate Program

Tortuga is a manufacturer of a variety of backpacks and other similar accessories. These are more along the lines of business Urban or School type backpacks rather than a hiking or an outdoor type of backpack.
As a result, the type of Niche that you want to be in to promote these backpacks are going to lean towards the business or fashion or travel type of niche.
The tracking cookie offered by Tortuga is pretty good. Typically anything over a 30-day tracking cookie is very welcome and that's what we get here from this affiliate program.
They offer a 60-day tracking cookie which is great for getting those clicks and then turning those clicks into commissions because the audience has enough time to decide whether or not to make the purchase.
Not to be outdone the commission is a solid double-digit Commission. Tortuga offers a 10% commission on qualifying sales through your affiliate links.
It's a solid commission and it's going to really generate some Revenue if you can get it to convert with your specific audience.
---
eBags Affiliate Program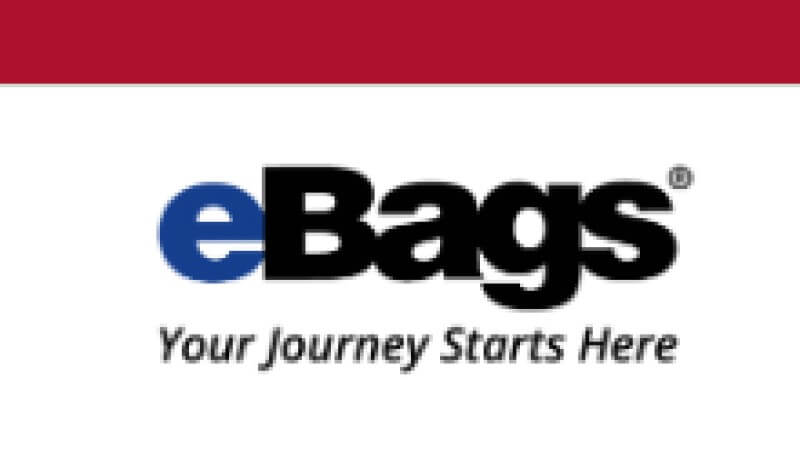 Ebags is an online store with an absolutely huge selection of handbags, backpacks, and other travel accessories.
They have just about everything you could possibly want in a backpack from some of the biggest names in backpack manufacturing.
The only real downside to this affiliate program the commission and we will get to that right now.
I could not find any information on the tracking cookie for the eBags affiliate program. Be sure to ask about the tracking cookie when you are accepted into this program to make sure of the duration.
The commission for this backpacks affiliate program is less than stellar. They only offer a 3% commission on purchases through your affiliate links which is just a little bit less than Amazon.
It's tough to recommend this affiliate program over Amazon with the exception of their products are geared towards backpacks luggage and other similar types of gear.
If you can get it converting well then it would be very much equal to Amazon but that is going to depend heavily on your audience and what they decide they want in your affiliate programs.
---
Standard Luggage Co. Affiliate Program

Standard Luggage Co. has a decent variety of travel backpacks and related gear for you to promote on your website.
Their products are geared more towards travel than backpacking or other outdoor activities. This affiliate program would fit in very nicely with a travel blog.
Standard Luggage offers a solid set of terms for their affiliate partners. They have a 10% commission for all sales through your affiliate links as well as a 30-day tracking cookie that will do the job for you as well.
---
Incase Affiliate Program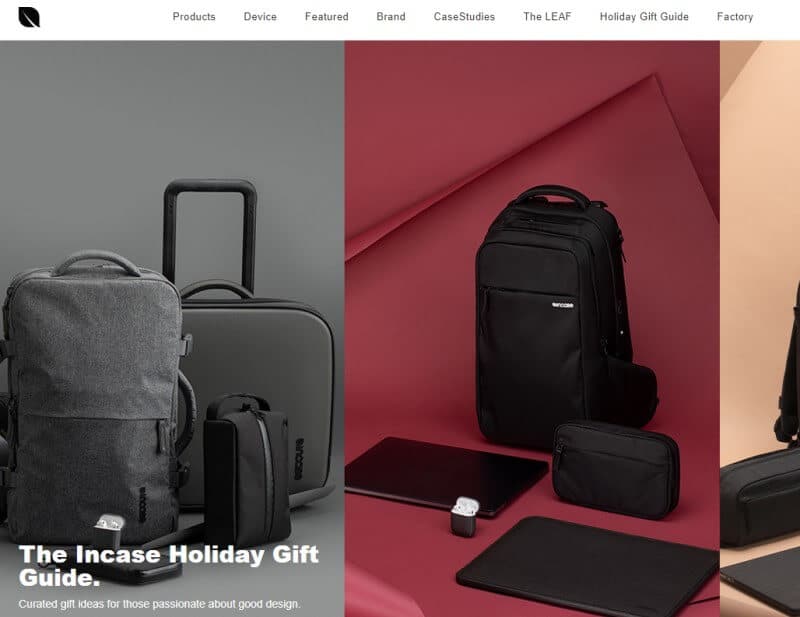 Incase products are more aligned with a travel blog than an outdoor or backpacking type blog.
I think it speaks to the diversity of the backpack niche and of backpacks affiliate programs in general that you can have such an effective variety of niches to promote these products in.
Incase has a huge variety of backpacks and other luggage products that are incredibly well made and from a very well respected brand.
You should have no trouble promoting their products. Add in a little focused affiliate marketing training and you have a great match with a lot of earning potential.
The tracking cookie information was not readily available at the time of publication. Be sure to ask about it when you are approved for this affiliate program.
The Incase Affiliate Program is part of the Pepperjam Affiliate Network(opens in a new window). You will need to be a member in order to sign up for Incase.
The commission offered by the Incase Affiliate program is one of the best. They offer a full 12% commission on qualifying sales through your affiliate links.
Anytime you get commissions in the double digits for physical products like these from Incase you are doing well as an affiliate marketing professional.
This is a fantastic backpack affiliate option for anyone in the travel niche or possibly a business niche that requires a lot of travel.
---
ISM Affiliate Program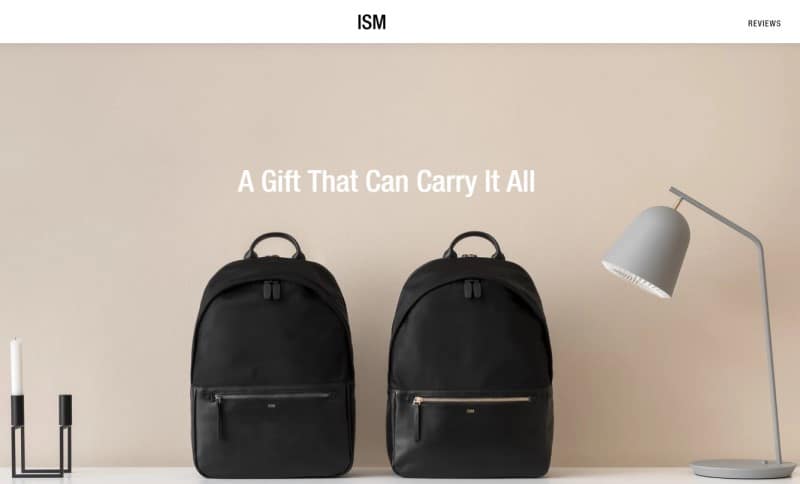 ISM offers backpacks that have more of a business feel to them. They are ideal for laptops and other similar items. These are high-quality backpacks that come with a lifetime warranty, a great promotional tool for affiliate marketers.
The tracking cookie offered by ISM is a standard 30-day cookie. For most affiliates, this is more than enough, but for ISM I think this is right on the edge of being to low.
Their products run well into the hundreds of dollars and a longer cookie would be most welcome. But this should be ok for most blogs or websites.
The commission, on the other hand, is a rock-solid 10%. The price of their backpacks coupled with the 10% commission will make for some pretty nice profits if you can get this affiliate to convert for your specific audience.
Finally, this affiliate partner is going to have a wide range of potential niches that it can be deployed in. A laptop niche website would be a great place to promote ISM, as would a business niche website.
---
Mystery Ranch Affiliate Program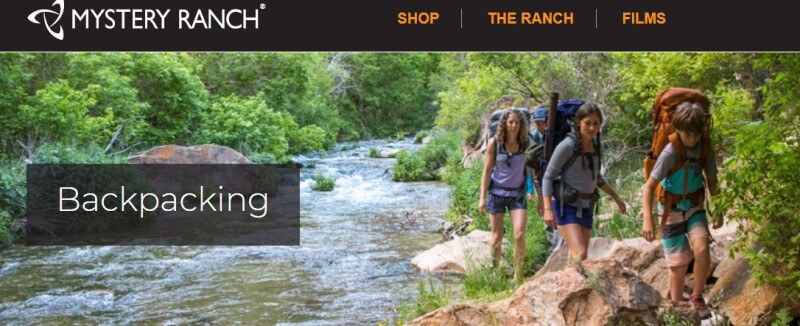 Mystery Ranch has so much more than just backpacks it almost didn't make my list. They have everything from outdoor gear to tactical products for a huge variety of blogging niches.
But it is the backpacks we are interested in for this list and they have a nice selection of them. The backpacks run from under a hundred dollars all the way up to 400 plus. These are high-quality durable backpacks made for the outdoors.
They have backpacks for just about every activity. Hiking, skiing, backpacking, everyday carry and much more. You will find something you can promote on your backpacking or backpack related niche blog.
The tracking cookie is fantastic. Mystery Ranch offers its affiliate partners a full 90-day tracking cookie which will give you plenty of time to make a sale and receive the commission you worked so hard to earn.
I love seeing longer duration cookies like this one. It really gives the affiliate marketer that added bit of confidence that they are going to get credit for the sale. Given that many of these backpacks run over $400 dollars it is nice to see such a long duration cookie.
The commission is a solid 6%. Nothing super special but 6% is a pretty decent return for promotion in this niche. I would classify some of these backpacks as high ticket items so the 6% commission can really add up when you look at the overall picture.
When added to the long duration cookie it adds up to some pretty respectable affiliate terms for your business.
Mystery Ranch Affiliate program is part of the Avantlink affiliate network. You will need to sign up for Avantlink in order to join this partner program.
---
Camelbak Affiliate Program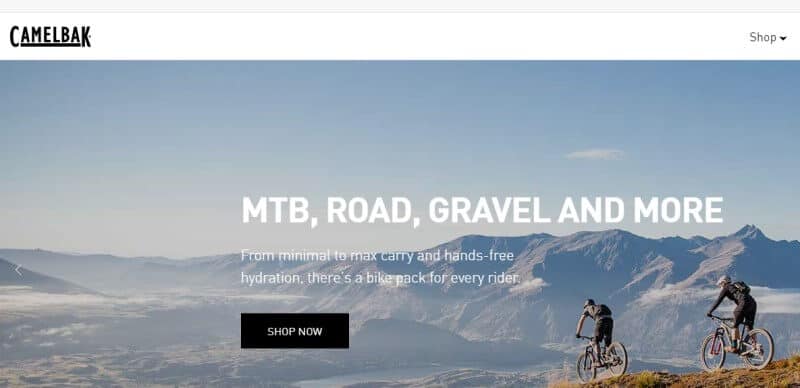 Camelbak is famous for its water backpacks. These packs fit under most other backpacks and are used in just about every type of outdoor activity. Mountain biking, backpacking, hiking, camping, you name it. Camelbak would fit into any of these niches.
A great partner to have in addition to more standard backpacks affiliate programs.
The affiliate terms aren't the greatest for Camelbak but their name and reputation are worth considering them for a spot in your affiliate rotation. They aren't the worst set of affiliate terms either, I would call them average.
Camelbak only offers a 7-day tracking cookie. I view 30-days to be the standard so anything under that is lackluster in my opinion. However, for the products offered it should be acceptable.
The commission is 5% which is about as low as I like to go, with some exceptions, on my affiliate commissions. The 5% puts them on par with Amazon so this is a viable alternative to the behemoth.
Camelbak is a part of the CJ.com Affiliate network. You will need to sign up for CJ.com in order to apply for the Camelbak affiliate program. Sign up for both should be free.
---
Venque Affiliate Program

Venque is a premium backpack manufacturer that uses innovative fabrics to create durable and aesthetically please backpacks for a range of conditions.
Venque has dozens of backpacks in dozens of styles that are sure to please just about anyone in your blog readership.
These are more urban or business backpacks and not really the hiking or outdoor type of backpack so the niches that you will use this partner for will be a little more limited.
The affiliate terms for Venque are extraordinary for an affiliate partner of this type. They offer a nice long 90-day tracking cookie duration. This will give you ample time to promote their products and still receive credit for the sale.
Long duration cookies like this are a must for medium and high ticket items. Many of the Venque products run well into the hundreds of dollars making the long duration cookie that much more welcoming.
The commission is another bright spot for the Venque affiliate program. They offer a 20% commission on qualifying sales through your affiliate links. It cannot be overstated how impressive this commission is.
When you couple this generous commission with the tracking cookie and the average price of their products you get one of the best affiliate partners in the backpack niche. Simply put.
---
Boundary Affiliate Program

Boundary offers some interesting and innovative backpack that you can promote on your passive income blog. The modular travel backpack seems to be their flagship product.
It looks like their backpacks could work for a variety of niche, from travel to light trail hiking. A solid addition to any affiliate lineup.
The tracking cookie is a standard 30-days. I would have liked to see a little longer cookie given that some of their products run north of $200, but 30-days should be just fine.
The commission is a wonderful 10%. The backpack niche has some really good commissions and Boundary continues that trend with this fin affiliate commission.
---
Solgaard Design Affiliate Program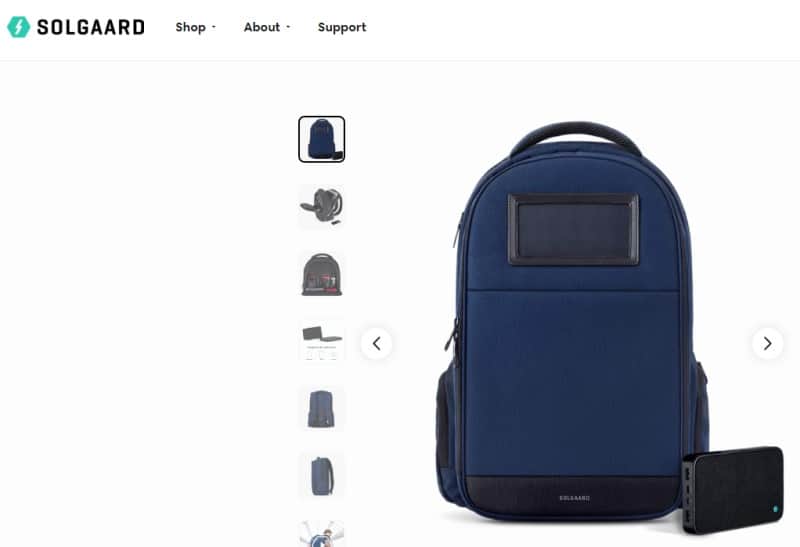 Solgaard offers a decent selection of backpacks geared more towards business and school then to the outdoors, hiking, or backpacking. although the backpacks are sturdy enough that you could use them for some light Trail hiking I would assume.
But mostly these are for urban travel, business, or University type blogs. Their backpacks are solar-powered and have Anti-Theft mechanisms that make them pretty unique.
These are pretty interesting in high-tech backpacks that would fit in not only with the niches I mentioned previously but as an option for any type of tech or Gadget type blog as well.
SolgaardOffers its affiliate Partners a very nice 90-day cookie. This is great because the prices of some of their products can run well into the hundreds of dollars and you want as long a tracking cookie duration as possible for these more expensive products.
Not to be outdone by the great cookie, the commission is excellent as well. They offer a full 10% commission on sales for your affiliate links.
When you combine everything together you get a very nice set of affiliate terms and a good all-around affiliate program with some unique attributes that make it very appealing for a wide variety of backpack related niches.
---
Final Thoughts On Backpack Affiliate Programs
That brings us to the end of our look at these magnificent backpack affiliate programs. Technically you could use backpacks as their own Niche.
They are that varied and that popular and necessary that they can be their own blogging niche unto themselves.
Most likely however you were going to want to add a backpacks affiliate program to your existing affiliate strategy.
If you're in the hiking niche then you're going to want to have an affiliate that has some great backpacks available for your readers, for example.
You don't necessarily have to go with a dedicated backpack affiliate program like I've laid out here but it's a good idea to have one especially if you can get one with some outstanding affiliate terms.
So that's all I've got to say about backpacks affiliate programs. There's a lot to like about these Affiliates. Some of them have some outstanding commissions that you can really use to start to generate some great passive income for your website.
Remember these are just a few of the affiliate programs out there to choose from I just felt these were the best representation of backpacks affiliate program in general.
Hopefully one works out for you if not keep looking and I'm sure you will find the perfect backpack affiliate program for your passive income website.
Don't go it alone. Get the best learning tools and community to help you build your online dream. Check it out here.
Thank you for stopping by and have a wonderful day.
---