This article may contain *affiliate links. Please see our affiliate disclosure for more details
Kitchen appliances are a mainstay in affiliate marketing. These types of products can be found in a wide variety of niches and websites. From air fryers to crock pots they have been the subject of many a top 10 list on a variety of niche websites
Whether you are building a cooking website or a website specific to a certain kitchen appliance you are going to need a solid affiliate program to help monetize all that great content.
So today we're going to look at one of the best kitchen affiliate programs out there. The Hamilton Beach affiliate program is just the type of affiliate program that can really benefit a lot of Niche sites out there.
A lot of the time these kitchen appliance type products are simply reviewed or placed in top 10 lists or best of lists. And while these are great options for your eyesight you can also Implement these types of products into more specific niches making it a very versatile option to have for your Niche site.
And that is what we're going to take We'll check out the commission and the tracking cookie as well as some of the products and niches that would benefit the most from the Hamilton Beach affiliate program. Let's get to it.
There Is Just Something About Owning Your Own Business. Being Your Own Boss. Building Something From The Ground Up With Your Own Hands. Especially When It Is This Easy To Get Started.
---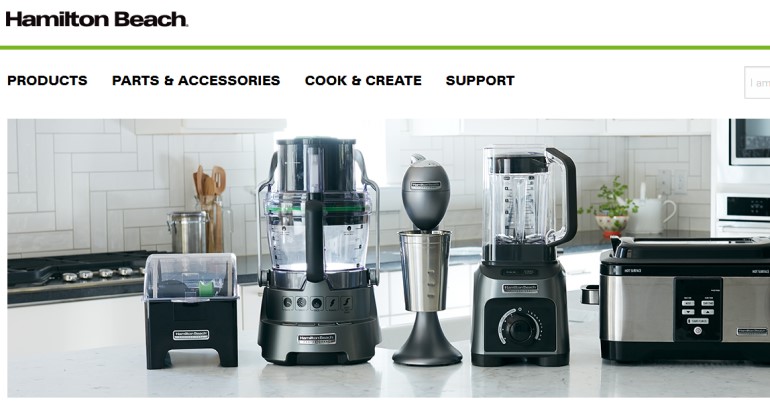 ---
What Is The Hamilton Beach Affiliate Program?
The Hamilton Beach partner program is an affiliate program posted on the Awin affiliate Network. This Affiliate program works by allowing content creators to place affiliate links in their content and earn a commission when someone makes a purchase through those lines.
This type of affiliate program works best when the content is matched to the products. articles about small kitchen appliances are going to be the biggest beneficiaries of this affiliate program.
---
The 6% Commission
This is where a affiliate program makes or breaks itself in many people eyes. The commission. That is the most important thing about an affiliate program right? Not so fast.
The commission is important but only to the extent that you can get conversions for it. Focus less on the percentage and more on the products and sergvices that you are promoting and you will do well selecting your affiliate programs.
Hamilton Beach offers a 6% commission for their affiliate partners. It is not the highest commission around. It's not even the highest among kitchen affiliates. It is much better than Amazon's 1%-3% commission on most of their products but it is still the middle of the pack commission.
6% is a solid commission. When you add in the products and brand name of Hamilton Beach is becomes a very good commission. Why? Because the products are all that matters.
They have to be good solid products that your audience will be happy to buy, the fact that you get a small commission for those sales is not relevant to their enjoyment of their newly purchased products.
In short, a 6% commission on good products that convert well is better than a 10% commission on products that constantly get returned and have a horrible conversion rate to start with.
The 45-Day Tracking Cookie Duration
Hamilton Beach offers a 45-day tracking cookie for their affiliate Partners. It's important not to overlook the benefits of having a longer duration and tracking cookie. This gives you more time to promote the product and allows your audience members enough time to decide on whether or not to make a purchase.
The 45-day try cookie is important to this affiliate program because many of their products are Over $100 but not so far over that they become High ticket items that really need Super long-duration cookies to maximize their potential.
A lot of their products tend to be in the 50 to $100 range which is ideal for an affiliate marketer and gives you the best possible chance to expose these products to the widest potential audience. The 45-day cookie gives you plenty of flexibility in your promotional content.
---
A Brief Look At Hamilton Beach Products
As I mentia=oned in the commission section of the article, the products are of the utmost importance. Without quality products to promote you have no affiliate marketing business.
The products are where Hamilton Beach really shines. A huge brand name that has been around for a long time and has a reputation for delivering a wide range of useful and functional kitchen appliances is the type of affiliate partner that you should strive to associate yourself with.
Here is a (very) brief look at some of the product categories on show at the Hamilton Beach website. Each category has multiple products to promote giving you a huge well of potential products to promote across a number of affiliate niches.
Air Fryers
Air Purifiers
Blenders
Bread Makers
Coffee Makers
Deep Fryers
Electric Kettles
Food Dehydrators
Garment Steamers
This is just a small selection of product categories on their website. Check out their website for all that they have to offer. It is an impressive collection of products across a wide range of prices.
Product diversity is amazing. They have coffee makers that you can promote on a coffee niche site. They have electric kettles which are great for a tea niche website.
Want to start a niche blog about bread making? They have some great bread making products for you to promote. The list goes on and on.
Food dehydrators for a food storage niche site. They even have a garment steamer product, I don't know what niche that would be good for but I am sure there are plenty of relevant ones out there.
We'll take a look at the best niches in the next section but as you can see every product on their website has the potential to benefit a blogging niche in their own right
---
Best Niches For Hamilton Beach
A lot of the time affiliate programs tend to cater to only a few relevant niches and are not as useful when you move outside of that niche. Hamilton Beach on the other hand has so many products that the list of niches that are relevant is astounding.
The number of niches that you could potentially use this partner program for is really staggering. In a lot of cases one of their products is a niche unto themselves. Here are 10 great niches that you could use the Hamilton Beach referral program for.
Coffee Niche
Tea Niche
Knife Niche Sites
Cooking Niche
Recipe Niche
Air Fryer Niche Sites
Survivalist Niches
Health Food Niche
Food Storage Niche
Air Quality Niche
a great example of the versatility of this affiliate partner is their vaccuum sealers and food dehydrators. Now you can approach these products as just a kitchen appliance.
But let's say you are running a survivalist or food storage website, these products would fit incredibly well into those niches which have a completely different audience to a cooking or recipe niche site.
That is the kind of clever content you can use to maximize your monetization while still helping people in your niche. It could be as simple as writing a top 10 list of the best food dehydrators for food storage and including some of Hamilton Beaches products if you think they are worthy.
---
Closing Thoughts
Affiliate Commission: 6%
Tracking Cookie Duration: 45-days
Auto-Approval?: No
Affiliate Niche: Kitchen Appliances
There is no doubt that the Hamilton Beach partner program is a fantastic option for anyone in a relevant affiliate marketing niche.
It has everything that you want in a good affiliate program. The commission is solid and competitive with most other Affiliates in the same Niche and in some cases, it goes above and beyond something like Amazon Associates.
but ultimately it is the products that are going to determine the success of this affiliate program and there are a few companies with a better reputation for their kitchen appliances than Hamilton Beach.
because of the breadth and scope of their products I can fit into a wide variety of different affiliate niches making it an extremely versatile affiliate program to have whether you are focusing on blenders for your kitchen or you are promoting coffee machines on your coffee niche site.
I think this is a fantastic opportunity to partner up as an affiliate with one of the very best companies out there and leverage their years of experience and quality products by building content around this affiliate program.
Don't go it alone. Get the best learning tools and community to help you build your online dream. Check it out here.
Thank you for visiting and have a wonderful day.