This article may contain *affiliate links. Please see our affiliate disclosure for more details
Hello everyone and welcome. Today we are going to be taking a look at some of the best survival gear affiliate program ideas that you can use on your website. The survival gear niche is huge and very competitive. There is a lot of crossover with prepper and outdoor niches, so you will often see these types of survival gear on those types of niche sites as well.
The survival niche is often full of information on how to provide for yourself in an emergency or out in the wilderness. Survival site content can range from simply teaching people how to prepare for a hurricane to what to do if you are lost in the woods to how to make sure you have clean water during the apocalypse.
Needless to say, the survival niche covers a lot of ground and tons of great information. These are very much general survival gear affiliate programs. They don't really cater to anyone specific segment of the survival niche so they can be deployed by just about everyone working in the survival gear niche.
They can also be used for more general outdoor niches in some cases but I think they fit best into survival websites. If you are looking for something more specific, like knife affiliate programs, we have plenty of affiliate lists ready to go for you to check out.
There Is Just Something About Owning Your Own Business. Being Your Own Boss. Building Something From The Ground Up With Your Own Hands. Especially When It Is This Easy To Get Started.
---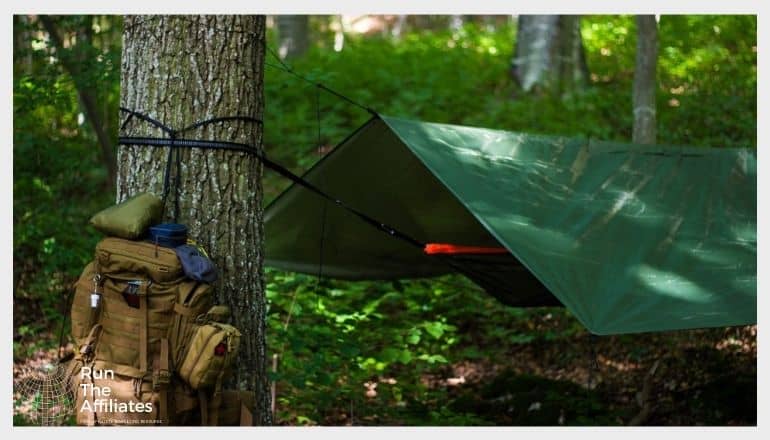 A Closer Look At These Survival Gear Affiliate Programs
---
Survivor Filter Affiliate Program
Commission: 10%
Tracking Cookie: 30-days
Auto-Approval: No
Affiliate Niche: Survival Gear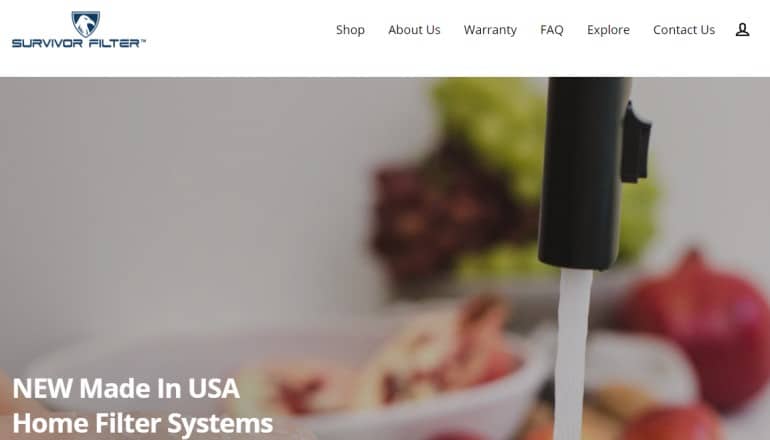 Survivor Filter is a company that is dedicated to bringing you the finest water filters that you can buy. Let's hear from the company itself about what its mission statement is.
"SURVIVOR FILTER is a company with a simple goal – to provide people with access to clean water in any environment when they need it most."

Survivor Filter About Us
Clean water is one of the mainstays to any almost any survival gear niche site. Even if you are teaching people how to filter their own water you will want to have a water filtration affiliate program at the ready for someone who needs a premade solution.
Survivor Filter fits the bill perfectly. They have a wide range of filters for just about every eventuality. Here are some of the types of water filters you can expect to promote when you join this affiliate partner.
Home Filters
Straw Filters
Pump Filters
Electric Filters
Bottle Filters
The great water filtration products aren't the only thing that this affiliate program has going for it. They offer some pretty great affiliate terms for their affiliate partners as well. 
The Survivor Filter Commission And Cookie Duration
The tracking cookie is a 30-day duration which will give you a full month to promote their products have your audience click on your affiliate links purchase something and still get that all-important commission.
Most of their products are reasonably priced and some can go into the hundreds of dollars but there's nothing there that is really a high ticket item. So a super long tracking cookie duration isn't really necessary. Meaning the 30-day duration should work just fine for most affiliates and do a solid job of it. 
The commission rounds out the affiliate program with a very solid 10% Commission on qualifying sales made through your affiliate links. Anytime you get a double-digit commission with a physical product vendor than you are doing quite well for yourself and your overall business.
The 10% commission means that you can use this as a foundation for all of your water filtration needs on your survival site and make a decent profit while promoting these products.
---
---
ViperTech Knives Affiliate Program
Commission: 15%
Tracking Cookie: 30-days
Auto-Approval: No
Affiliate Niche: Knives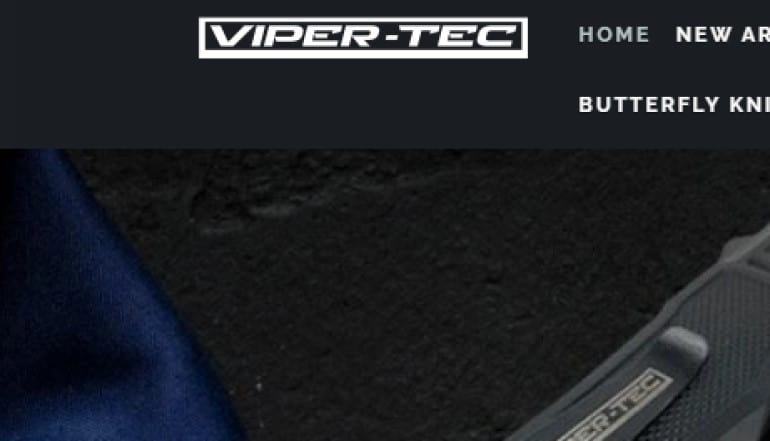 Every survival gear niche site is going to need a knife affiliate program. ViperTech is one of the best out there with a great line of products and some fantastic affiliate terms to boot.
OTF KNIVES
CERAKOTE OTF
AUTO KNIVES
KNIVES
BUTTERFLY KNIVES
AXES & MACHETES
The commission for this affiliate program is a fantastic 15%. Anything in the double digits is great. You will have a great opportunity to make a nice income online with this type of commission as long as you need a solid knife affiliate.
The tracking cookie duration is a standard 30-days. Which should be just fine for most affiliate out there. The prices of these knives can run well into the hundreds of dollars so you want as much time with the cookie duration as possible.
---
Ham Radio Prep Affiliate Program
Commission: 15%
Tracking Cookie: 30-days
Auto-Approval: No
Affiliate Niche: Radio/Survival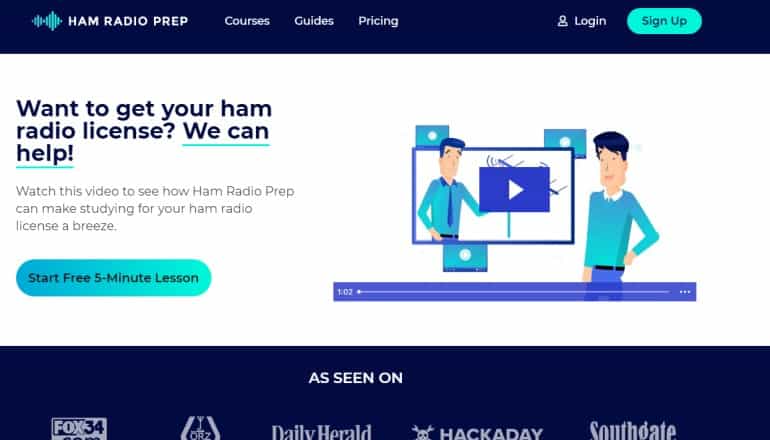 Ham Radio Prep is a pretty unique survival affiliate. They offer training courses designed to help you become licensed in the use of HAM radios. Ham radios are used frequently by preppers and survivalists. If your website is designed to help people with ham radios then this might be a perfect affiliate for you.
There are only a few different training coarse and they run around $25-$35 dollars. This is going to be a pretty specific affiliate program and one that will have limited appeal so use it alongside some other survival affiliate programs to make the most out of it.
The commission is a very generous 15% and the tracking cookie is a solid 30-days. I think they work well together. The commission is a bit higher because these are training products. That may limit their appeal a bit and lead to a lower conversion rate.
The 15% commission helps alleviate those potential shortfalls and should provide you with a solid foundation for this partner program.
I think this affiliate would work great on a radio niche site as well as a survival niche site. The ability to properly use and be licensed in with HAM radios is going to be a highly sought after skill for survivalist niche websites.
---
Legacy Food Storage Affiliate Program
Commission: 10%
Tracking Cookie: 30-days
Auto-Approval: No
Affiliate Niche: Food Storage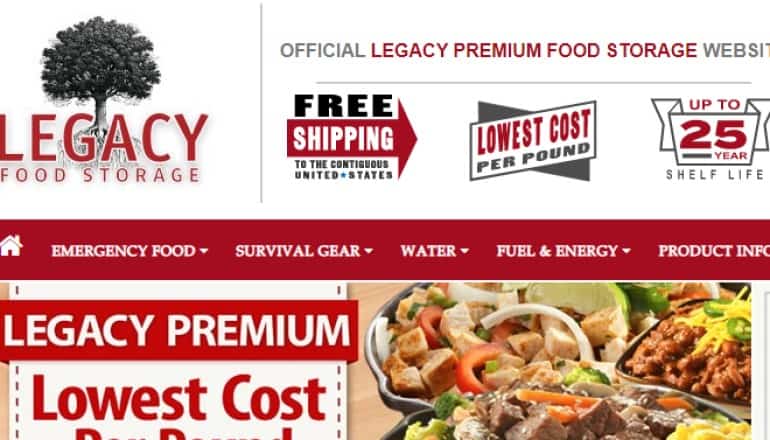 Food storage is another critical aspect of the survival niche. Survivalists and preppers want to make sure that they have enough food on hand in an emergency and that food needs to last years in storage.
I have put a couple of food storage affiliates on our list and the first one is Legacy Food Storage. One of the largest and most popular bulk food storage companies out there. The products are made in the USA and have a 25-year shelf life.
They have dozens of prepared meals in a variety of servings sizes going all the way up to 4000+ servings. They also have pet food options if your survivalist niche site has a section for pets and animals. Survival seeds are also part of the product list at Legacy Food Storage.
In addition to the food products, they have some more general survival gear like gasoline storage solutions, water filtration products, emergency kits, solar energy options, and tons more.
While they may be known for the food storage, Legacy Food Storage is the complete survival website and one that almost any survival gear niche site would want to consider adding to their.
The Commission And The Cookie
The affiliate terms are pretty good as well. They offer a 30-day tracking cookie for their affiliate partners. This will come in handy for most of the products they sell. However, it might be a little short for their huge serving products.
The Premium 4320 serving size package will run you a cool $9400, but I would not expect to sell to many of those as an affiliate marketer. Concentrate on the lower cost items and the 30-day cookie will work just fine.
The commission is 10% which will work great for most affiliates. Selling one of those $9400 behemoths will net you a commission of $940 dollars. Just a few a month will do the trick. The 10% commission works great for the lower cost stuff that will make up the bulk of your referrals.
---
Survival Frog Affiliate Program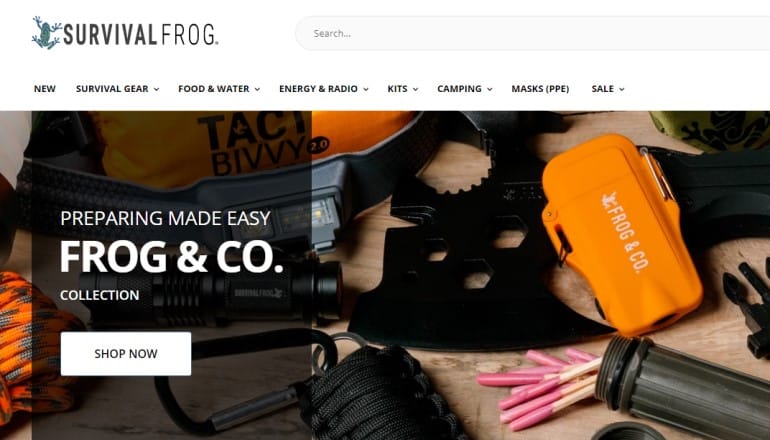 Survival Frog is the complete package for anyone looking for a survival niche affiliate partner. They have a little bit of everything From food and water to camping gear and PPE. Here are just a few of the survival gear items that they have for you to promote.
MASKS (PPE)
SURVIVAL TOOLS
WARMTH
SHELTER
LIGHTING
POWER SOURCES
FIRE STARTERS
KNIVES
They also have some premade kits for your car or first aid as well as many more. This would be a great alternative to Amazon Associates for anyone in the survival or prepper niches. The even have masks a PPE go kits which are fgoing to be necessary and popular going forward.
The commission really stands out with this affiliate partner. They offer a 12% commission according to their ShareASale profile. Given the wide variety of products that 12% should add up quickly
It is far better than the 1%-3% commission you would get for the same types of products at Amazon Associates. The tracking cookie is solid at 30-days as well.
---
MyMedic Affiliate Program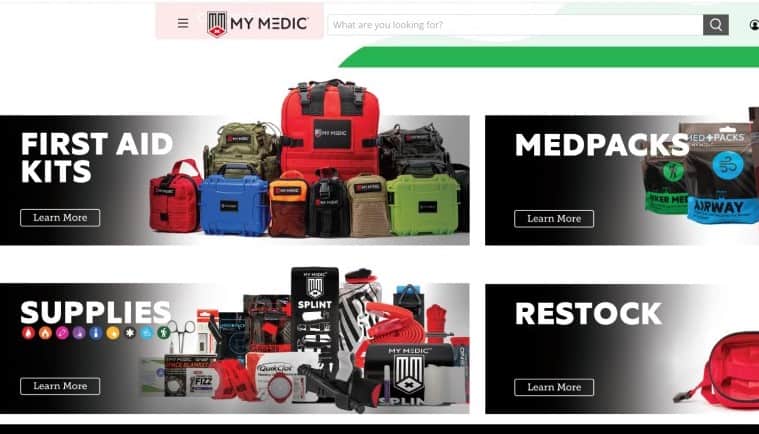 First Aid supplies are something that everyone preparing for emergencies needs a lot of. My Medic is dedicated to delivering the best first aid kits, supplies, and med packs.
The amount of useful medical products that MyMedic has is pretty staggering. We are not just talking about bandages and gauze here either. The med packs treat a variety of emergency issues. From stopping bleeding to unblocking airways and more.
The tracking cookie is listed at 365 days which makes it one of the best tracking cookies in any niche. That is a lot of time and return days for such an important affiliate program in the survival niche.
The commission is a solid 10% which should give you a great opportunity to make some serious bank with this affiliate program. If you site is a more general survivalist niche site then MyMedic will work well along side more general survival gear affiliate programs.
---
The Survival Summit Affiliate Program
Commission: 20%
Tracking Cookie: 30-days
Learn More About The Survival Summit
Auto-Approval: No
Affiliate Niche: Training Videos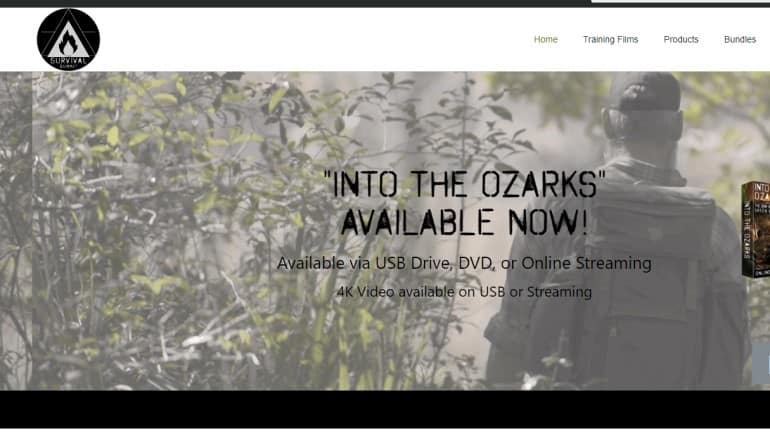 The Survival Summit is a little different from most of the other affiliates on or list. They provide DVDs and Streaming media dedicated to training people in a variety of survival and prepper techniques. Here is what their affiliate page has to say about it…
"The Survival Summit is a production company that works with some of the best and most sought after experts in the survival, bushcraft, self-defense, and prepper industry."

The Survival Summit Affiliate Page
They do have some survival gear products as well but you will want to focus on their training media as it adds a new way to monetize your site along side other affiliates that provide more of the actual gear.
The tracking cookie duration is a solid 30-days. It should work well for most of their products although they do have bundles that can cost around $200 bucks.
Your audience might need a little more time to make a decision on some of those higher-priced items, but for the most part, it should work out pretty well for your niche site.
The 20% commission is fantastic and in line with many other digital training products. Paired with another survival gear affiliate, The Survival Summit can really become a great earner for your niche site.
---
ReadyWise Affiliate Program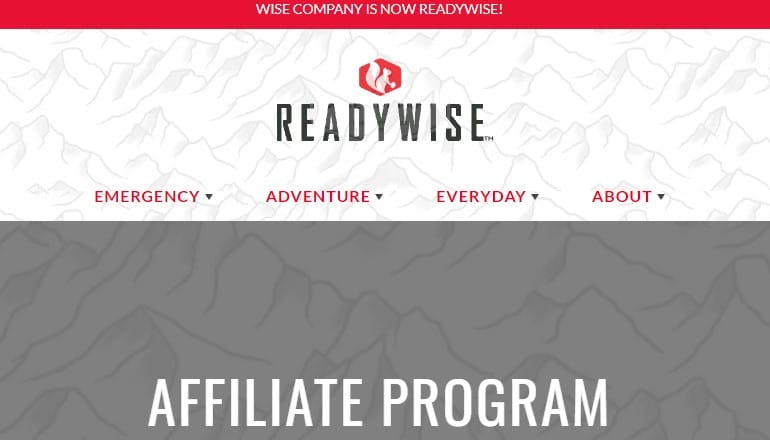 ReadyWise is a very popular food storage and meal kit company. For our purposes we want to focus on their survival and emergency meals that have extremely long shelf lives.
There products are broken down into 3 categories. Everyday, Adventure, And Emergency. So you don't have to be a survival or prepper niche site to make the most out of this affiliate.
A hiking niche site or a camping website would benefit greatly from their adventure meals. A food or general cooking site might make use of their everyday meal kits. And it can work for a variety of other niche sites as well.
The tracking cookie is a fantastic 120-day duration. 4 Months to promote their products and still get credit for a commission. Outstanding. The commission is solid as well, weighing in at 10%.
One thing I want to add is that the ReadyWise website has an audio voice-over when you get to their site. It is one of the most annoying things I have ever heard and it can be off-putting to potential customers, so be sure to mention it when you send your audience to their website.
---
Field Supply Affiliate Program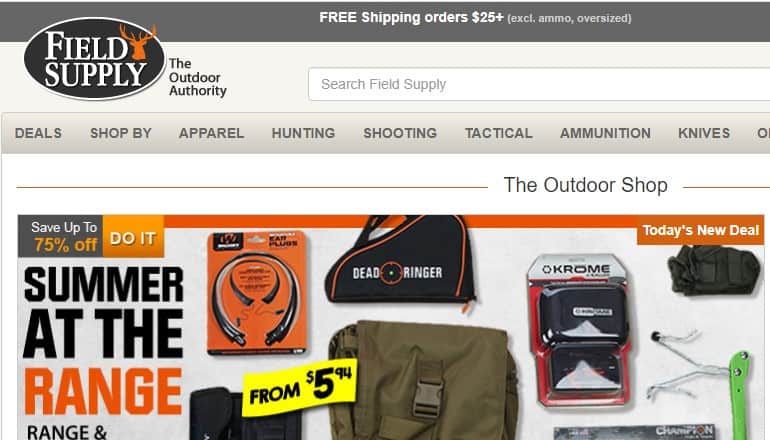 Field Supply Is not technically a survival gear website it is really a hunting and outdoor gear retail site. However, there's so much crossover between the survival Niche and your standard camping or hiking niches that it makes sense to have an affiliate on your next site that is going to sell the more general outdoor gear that can also be used for a survival niche website.
They have tons of products for a variety of niches. In addition to being a survival gear affiliate, you could use Field Supply as a hunting affiliate program, an Airgun affiliate program, and even a cigar affiliate program if need be. It is a versatile option for your niche site.
The 5% commission is a little bit on the low side but it should be okay for most Affiliates out there since this is probably not going to be the main focus of your survival gear Niche side. The tracking cookie is also very good, weighing in at a solid 45-day duration.
---
Valley Food Storage Affiliate Program
Commission: 10%
Tracking Cookie: 30-days
Auto-Approval: No
Affiliate Niche: Food Storage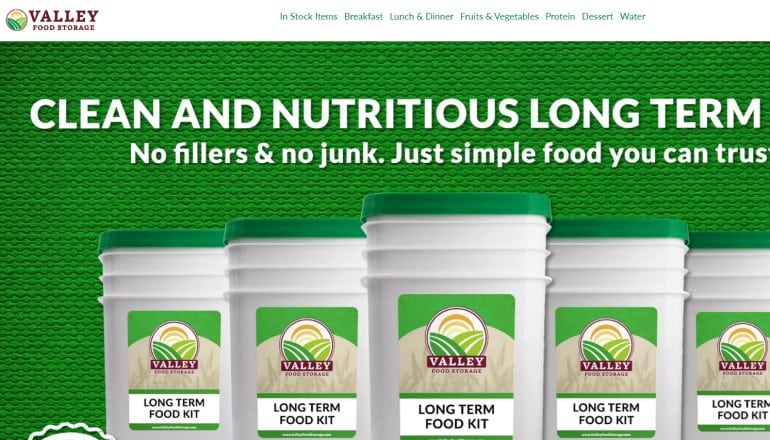 Valley Food Storage is just what the name implies. This company is dedicated to giving you the best emergency and survival food storage options around. They offer nutritious long term storage food options including freeze-dried fruits and veggies and ready-made meals and long term food kits,
Valley Food Storage is very focused on the quality of the food as much as the long shelf life. Here is what they have to say about it on their Avantlink affiliate profile.
Valley Food Storage offers the highest quality food storage product on the market, bar none. We only use the best natural ingredients in our food. Unlike our competitors, we don't pack in preservatives or hydrogenated oils. You can actually pronounce everything that goes into our product.

Valley Food Storage Avantlink Profile
Some of their larger bundles are very much high-ticket items costing thousands of dollars for years worth of food. While it would be nice to get a commission of these large bundles the truth is that they are incredibly difficult for an affiliate marketer to sell in any real numbers.
I would focus on their lower-cost options when you promote their products. More sales at a lower price are typically the best way to build a healthy business with affiliate marketing.
The tracking cookie should be fine for most of their products. It is a standard 30-day duration. The commission is a solid 10% that will work nicely for most affiliate partners out there and generate a good amount of passive income for your business.
---
Wrapping Up These Survival Gear Affiliate Programs
That brings our look at these survival gear affiliates to a close. The survival gear niche is a very broad one. It ranges from a simple knife or hatchet to camping gear and all the way up to ready to eat meals you can store for decades.
There is no shortage of places where using one of these affiliates makes sense and it will be up to you to find the best places to deploy them to maximize your monetization options.
Survival gear is popular now but it is poised to become even more so in the future. The food storage and personal protection affiliates in particular are going to be with us for a long while it seems.
Just remember that your first goal is to help people and in this case teach people how to prepare and survive in an emergency. If you make some money from that helpful information then that is just an added bonus.
Thanks for stopping by and have a wonderful day.