This article may contain *affiliate links. Please see our affiliate disclosure for more details
Hello everyone I hope that you all are doing well today and I want to thank you for stopping by and checking out our review of a very solid steel water bottle and water purification affiliate program that is going to be a great asset to a wide variety of Niche websites.
The affiliate program in question is the Grayl affiliate program. They produce high-quality reusable and sustainable water storage options. These types of reusable water bottles are very much in fashion these days.
Many people are trying to reduce the amount of plastic they use and are looking for something that is a cost-effective option for them instead of constantly buying bottled water.
These water purification filters and bottles that Grayl sells fit that bill perfectly as well as their stainless steel water bottles. This is going to be an affiliate program that you can use in a wide variety of niches and websites.
So let's dive in and see if we can't determine whether this affiliate is going to be a boon for your online business or if it's one that maybe you should pass on.
There Is Just Something About Owning Your Own Business. Being Your Own Boss. Building Something From The Ground Up With Your Own Hands. Especially When It Is This Easy To Get Started.
---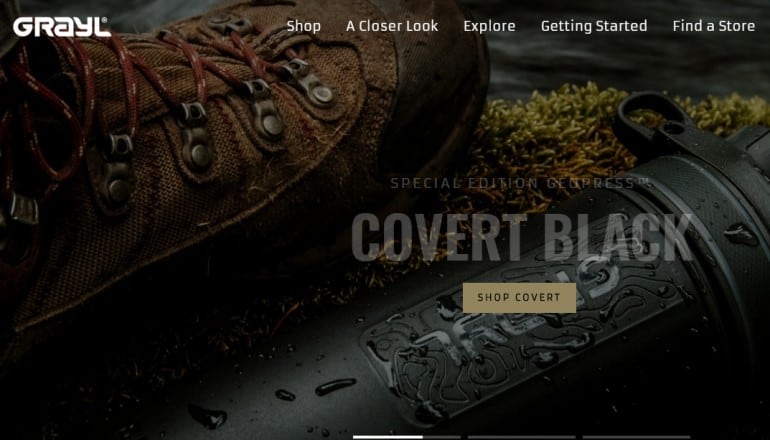 A Closer Look At The Grayl Affiliate Program
---
The 8% Commission
Overall the affiliate terms for this affiliate program are pretty decent, they're nothing spectacular but they will get the job done foremost affiliate marketers out there. Let's start with the commission. The Grayl Affiliate program offers an 8% commission on qualifying sales made through your Grayl affiliate links.
It comes up just shy of that coveted double-digit commission but at 8% you should do quite well and given the quality of their products and the popularity of steel water bottles and water purification bottles.
There are no real high ticket items from Grayl but some of their filter bottles do run close to $90 dollars which will make that 8% commission even more valuable for your business.
A 30-day Tracking Cookie
The tracking cookie weighs in at a standard 30-day duration. For most of the products that you're going to be promoting 30 days is just fine.
I consider it to be the standard duration for affiliate programs when you start to get below 30 days then you need to take a closer look at the tracking cookie.
However, as long as you have a solid month to promote products and still get credit for that commission you should be in good shape.
---
---
A Quick Look At The Grayl Products
Grayl offers a pretty straightforward product line. It is all very consistent with its water bottle and purification products and there isn't really much else making it a very focused affiliate program.
Here is a look at some of the categories you can expect to promote from the Grayl website…
Purifier Bottles
Cartridges
Steel Drinkware
Replacement Parts
In each of these categories there a plenty of options for each one. Cups, tumblers, bottles and a variety of filtration options will give your audience the selection they desire.
While they do have a number of great products to promote this is very much a water bottle/purification niche site. If you are using it in a hiking niche site, for example, you will want a few other affiliates that cover the broader scope of hiking products and use them alongside the Grayl Affiliate program.
The Best Niches for This Partner
There are plenty of niches and sub niches that you can use the Grayl affiliate program with. It's not simply a water or water bottle affiliate program because the usefulness of these types of bottles go well beyond just something you use around the house.
Here are some of the other niches that I think would benefit from this affiliate program.
Water Purification
Outdoor Niches
Cycling
Water Bottles
Green Niche Sites
Boating Niches
Fishing Niches
Reusable lightweight stainless steel water bottles and water filtration systems will work wonders in any of the above niches by giving you audience an opportunity to get a quality water storage solution for all their activities.
What I Like About Grayl Affiliate Program
I think everything about this affiliate program is pretty good. I really like the promise I think they have a decent variety but it is still very focused on water bottles and water purification so it can be used to fill a very specific niche within your website.
I always like a 30-day tracking cookie. I consider to be the minimum that you really want to have but it's still a plus for the overall affiliate program. The commission is decent as well. 8% is a very solid commission but one
The thing about this affiliate program is that it is solid all the way around but it's not spectacular. None of the affiliate terms are going to really blow your socks off. It's solid I think that's the best that I can say about this affiliate program is that it is solid.
so while I'm not overly enthusiastic about a very solid affiliate program I'm also not negative about it either. There's really nothing bad about this affiliate program in any way shape or form.
I really don't have anything to complain about. Even the layout of the website looks nice and fresh and they are part of the Avantlink Affiliate Network which is one of the larger affiliate networks out there. So you know you're going to get paid when you're supposed to get paid and in the right amounts.
---
The Bottom Line
That brings us to the end of our look at the Grayl affiliate program. This is another solid water bottle Julia program that is going to do very well for quite a few Niche sites out there.
Their products look great the affiliate terms are pretty good but not spectacular. However when you add it all up it's a solid affiliate program that can operate on its own or alongside other water bottle or water filtration affiliate programs.
Or it can act as a specific affiliate program for a wide variety of niches particularly survival and outdoor benches. Ultimately it's going to come down to how well you are audience likes their product.
There is no shortage of water bottle affiliate programs so if your audience is not thoroughly overjoyed with this affiliate program you need to move to one that they do like because they are going to determine the success or failure of any affiliate program that you do choose to use.
Don't go it alone. Get the best learning tools and community to help you build your online dream. Check it out here.
Thank you for stopping by and have a wonderful day.