This article may contain *affiliate links. Please see our affiliate disclosure for more details
Hello everybody.  I'd like to welcome everybody on board and thank you for choosing to spend some of your time with us here. Today we are going to be taking a look at a relatively small group of model train affiliate program ideas.
The model train niche itself is pretty big but most of the affiliate programs tend to be large Warehouse sites like Amazon Associates or large General hobby sites where they're competing with everything else that people like to do in their free time.
So I put together a few model train affiliate programs that can help you give your audience a more personalized experience when they go to buy their model trains and all the accessories and scenery pieces that you need to put these very intricate dioramas together.
Given that there is such a limited number of model train affiliate programs you are probably going to want to pair them up with some of the larger general affiliate programs in order to cover all the Avenues in areas that you need to for a good model train Niche site. 
Remember it's not just about the model trains themselves.  You're going to need model trees and model people. Ways to create the look of asphalt and dirt and grass. Plus everything else that goes into essentially building a miniature scale town with the train at the center of it.
So let's dive in and take a look at these affiliate programs and see if one might make sense for you to add to your Niche website.
There Is Just Something About Owning Your Own Business. Being Your Own Boss. Building Something From The Ground Up With Your Own Hands. Especially When It Is This Easy To Get Started.
---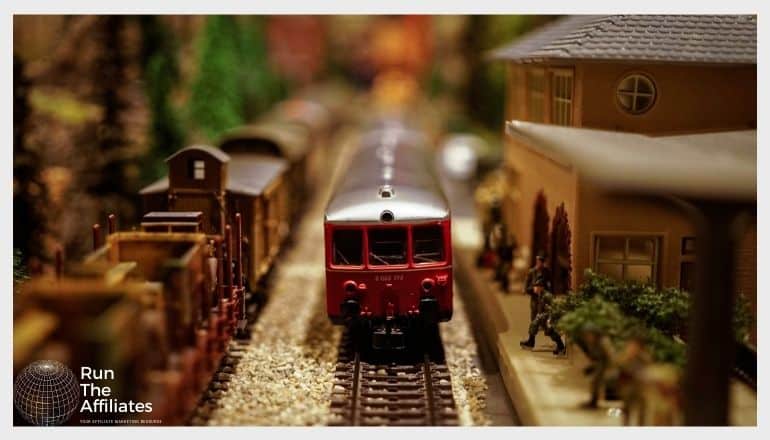 A Closer Look At Model Train Affiliate Programs
---
Diecast Models Wholesale Affiliate Program
Commission: 10%
Tracking Cookie: 30-days
Auto-Approval: Yes
Affiliate Niche: Diecast Models
We start off with one of my favorite affiliate programs for any model based niche site. Diecast Models Wholesale. They have a huge selection of cars and vehicles for you to populate your train scenes with.
From Tractors to cars and trucks to buses and just about everything else on wheels. Diecast Models Wholesale has everything you need to populate your railroad diorama outside of the trains themselves. They have tons of models in a wide variety of scales for your audience to choose from.
The scenery is as integral a part of the overall railroad building aesthetic and that is why I feel like it is important to have an affiliate like this ready to go on your railroad niche site. If your readers are looking for a specific type of automobile for their display then having a place with 100s of options is always a good thing to have.
The beauty of having an affiliate like this is that it will not really compete with your more dedicated railroad affiliates. You can use it in tandem with model train affiliates to cover as much of the model train and diorama niche as possible.
The Commission
Rounding out this affiliate is a set of some pretty great affiliate terms that will be a great benefit to just about any model train niche site. They offer a solid 30-day tracking cookie which should give you plenty of time to promote their products and still get credit for commission and return days.
One thing to keep an eye out for is their more expensive models. Some run well into the hundreds of dollars. Be sure to promote all price ranges of their products and the tracking cookie should be just fine. Focusing on the most expensive products could lead to a lower conversion rate with just a 30-day tracking cookie.
The commission is very nice as well. They offer a 10% commission on sales made through your affiliate links. A solid double-digit commission will help you earn a nice income with a relatively small amount of sales each day. While it is not strictly a railroad affiliate program it is a great one to have to help fill in your railroads and dioramas.
---
Historic Rail Affiliate Program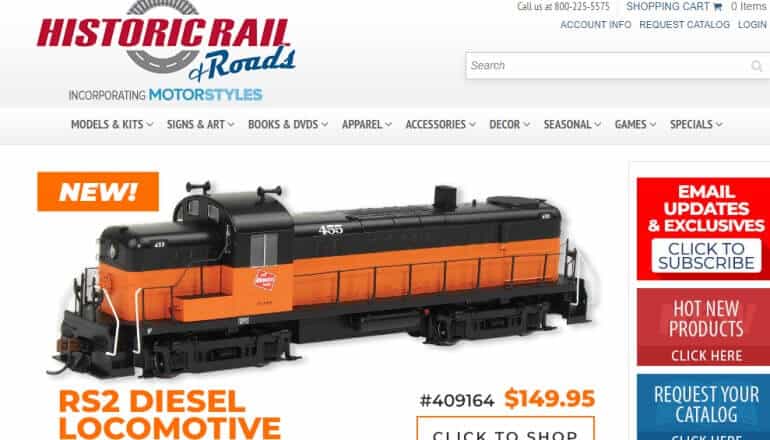 Historic Rail is a railroad website first and foremost. They have railroad art, books, DVDs, and a wide variety of other products that any train enthusiast would be interested in. But for our list, they have some great model trains in a variety of styles eras, and configurations that make it one of the most desirable affiliates on our list.
Here is a little bit of background on Historic Rails from their website
"For years, Historic Rail has been the best place for modelers and railfans to shop! We offer thousands of models, kits, books, DVDs, prints and posters, hats and t-shirts, and much more."

Historic Rails About Us Page
The Terms For The Historic Rail Affiliate Program
The terms are fantastic for the Historic Rail affiliate program. They offer a 60-day tracking cookie that gives you a full 2 months to make a sale and get a couple of potential return days as well.
The commission is a rock-solid 10%. Double-digit commissions are great in any niche, but particularly for this niche which has a limited number of affiliate programs dedicated to model trains.
Historic Rail is listed with an auto-approval process on their ShareASale profile but it was not working when I signed up for it. So you might need to have a decent amount of model train traffic before they accept you into their partner program.
---
Model Railroad Academy Affiliate Program
Commission: 6%
Tracking Cookie: 60-days
Auto-Approval: No
Affiliate Niche: Model Railroads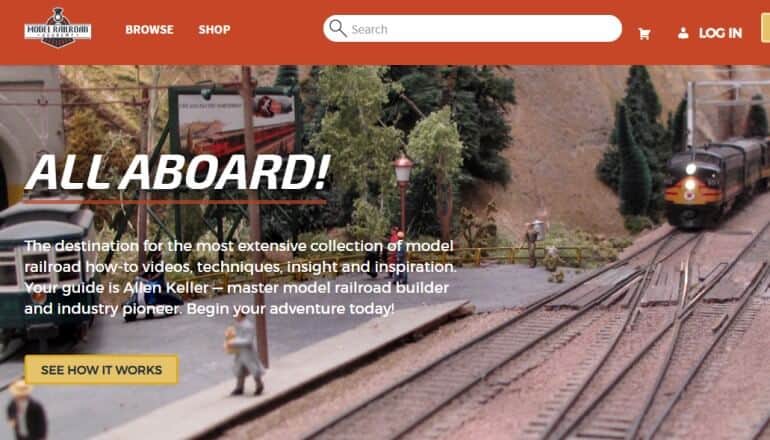 Model Railroad Academy offers something a little bit different on our list. Instead of selling the actual trains and accessories to build your own train set or diorama this affiliate program teaches you exactly how to build those wonderful scenic train sets.
This is an affiliate program that is designed to bring you the best training and tutorials to help expand your imagination and build the entire train experience that you want for yourself. It is incredible how detailed some of these trainsets are when you look at them.
The idea behind a lot of these how-to videos offered by the Model Railroad Academy I want to give you the tools you need to make realistic towns and cities that grow up around your model train set. From realistic-looking asphalt for your cars to drive on to the placement of buildings and electricity poles and the people in the towns themselves.
The intricacies that are needed to make one of these wonderful dioramas are incredible and this affiliate program is one that can help your audience achieve that level of imagination and inspiration in order to get the best looking model train scene that they possibly can.
Here is what the Model Railroad Academy Website has to say about it.
"The destination for the most extensive collection of model railroad how-to videos, techniques, insight, and inspiration. Your guide is Allen Keller — master model railroad builder and industry pioneer. Begin your adventure today!"

Model Railroad Academy Homepage
The Commission For Model Railroad Academy
The tracking cookie for the model railroad Academy affiliate program is very nice. They offer you a full 60 days tracking duration for you to promote their products and still get credit for the commission. I didn't see anything on the website that really screams high-ticket item so the 60-day should be plenty long enough for most affiliate out there.
The commission is pretty good as well. It is 6% which is a little bit lower than I like to see but it can be very lucrative if you can get the conversion rate and enough traffic running through your website.
The important thing to remember here is that you are selling physical items in a lot of cases with this affiliate program. These aren't simply digital videos that you download in many cases.  Many of the products are DVDs that are professionally produced and go really in-depth into the subject matter at hand.
One thing to add. Model Railroad Academy is part of the TN Affiliate Program which has a wide variety of hobbies under their umbrella. From mdel trains and classic cars to woodworking and more.
So when you click the join link you will be taken to the Woodworkers Guild Of America affiliate program. This is the right place and if you look in the description you will see Model Railroad Academy listed. When you sign up for the TN affiliate program you will get access to all their affiliates.
---
Hornby Affiliate Program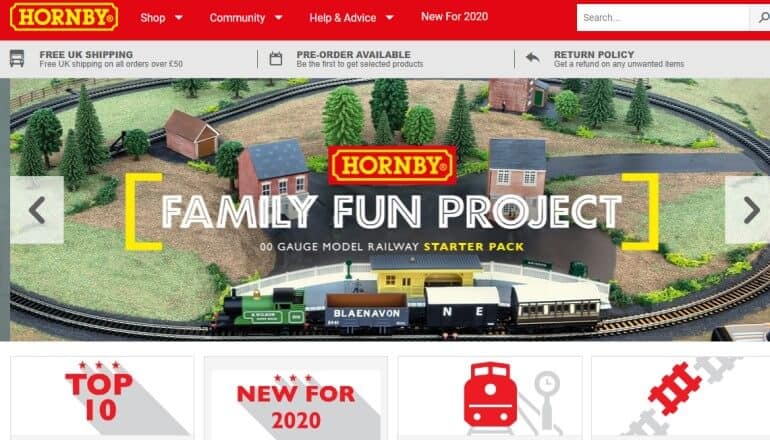 Hornby has a huge selection of model trains across a wide range of eras and scales. Their collection is impressive and should fit into just about any style of model train niche site you intend on running.
Here are some of the products you can expect to promote with their partner program…
Train Sets
Locomotives
Train Packs
Wagons & Coaches
Power & Control
Train Accessories
This is a British-centric affiliate program. Be sure that they allow affiliate partners in your region when you apply for their partner program.
The Tracking Cookie And Commission
The tracking cookie information was not available at the time of publication so be sure to ask about it when you sign up for this affiliate program.
I find that quite a few independent affiliates leave out their tracking cookie for one reason or another. It is always good to know exactly how long you have for your tracking window to determine what type of content you want to place your affiliate link into.
The commission is decent as well. It scales from 3% to 8% depending on the type of customer that is making the purchase. Here is the breakdown from their affiliate site
You'll get a commission for every sale that you deliver. You can earn:

8% on a new customer's purchase of non-discounted, non-sale items

5% on a returning customer's purchase of non-discounted, non-sale items

3% on all sale and discounted items, for both new and returning customers

Hornby Affiliate Page
Overall it is a solid affiliate program with a whole bunch of great products to promote. Definitely one to consider for your railroad niche site.
---
The Big Finish
That wraps up our look at these model train affiliate programs. There are not a huge number of dedicated model train affiliates. Typically most model railroad niche sites will use a general hobby store or Amazon Associates. Finding affiliate specifics to the model train niche can be much more lucrative for your business.
They offer much higher commissions than Amazon Associates and a better more model train-centric shopping experience than a more general hobby site. With that said, you will want to use a model train affiliate alongside some other more general hobby affiliates to give yourself the best chance at success.
So get out there and start building your content that is going to help you get the passive income you want and deserve. Start making those videos of your model train sets or writing your review articles and put these model railroad affiliate programs to work for you.
Don't go it alone. Get the best learning tools and community to help you build your online dream. Check it out here.
Thanks for stopping by and have a wonderful day.