This article may contain *affiliate links. Please see our affiliate disclosure for more details
The Native Deodorant Affiliate Program is where we are focusing our gaze today. This bath and body affiliate program specializes in deodorant and soaps made from all-natural ingredients.
This affiliate would be a good addition to a general beauty niche site as well as a more focused bath and body website. It also makes a great alternative to Amazon Associates due to its much more favorable affiliate terms.
So lets dive in to the Native deodorant affiliate program and see if it might be something that can expand your monetization options on your niche site.
There Is Just Something About Owning Your Own Business. Being Your Own Boss. Building Something From The Ground Up With Your Own Hands. Especially When It Is This Easy To Get Started.
---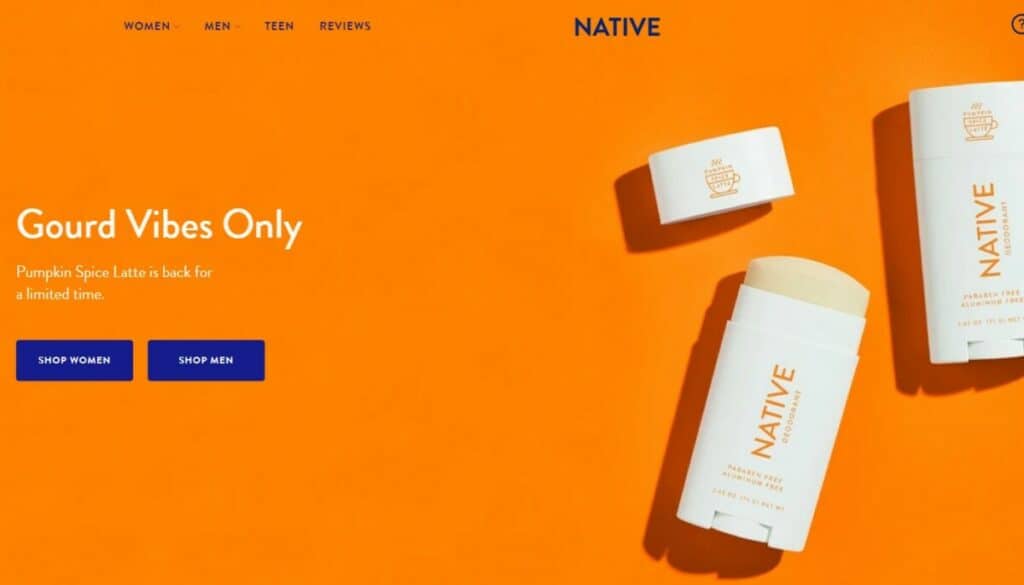 A Closer Look At The Native Affiliate Program
---
The 18% Affiliate Commission
The commission is probably the biggest draw for the Native Deodorant affiliate program. It is a massive 18%. You should never base your affiliate programs solely on commission but when you see something approaching 20% you would do well to take a deeper look and see if it has everything you need to make an affiliate program work for you.
The great thing about this large of a commission is that you can get by with less traffic or with lower cost items. Since the products are relatively inexpensive on the Native website you can expect to get a solid return on time invested with a average amount of traffic.
A 30-day Tracking Cookie Duration
The tracking cookie duration is a standard 30-days. The duration should work fine since these are not very expensive products. However, the 30-day tracking cookie means that you won't get alot of return days.
For a product like deodorant this is unfortunate since it is a product that needs to be replenished often and after that 30-day gap is over your audience will need to click on one of your affiliate links again to get future commissions.
---
---
Native Deodorant Products
Native Deodorants is a bath and body website that has a focus on deodorants but also has a few other products like soap and body wash and toothpaste. Native takes pride in the natural ingredients and make it the focus of their products and their marketing. Here is what the Native website has to say about their products.
"We never use aluminum, parabens, or sulfates in any of our products. #NoCompromises"

Native Website
The products are the most important aspect of an affiliate program. They are what your audience is buying and the only thing that really matters to them. Here are a few of the products you can expect to promote.
Deodorant
Toothpaste
Plastic Free Deodorant
Body Wash
Bar Soap
The commissions and cookie and conversion rates are only for the affiliate marketeer, while the products are the only thing that your audience cares about.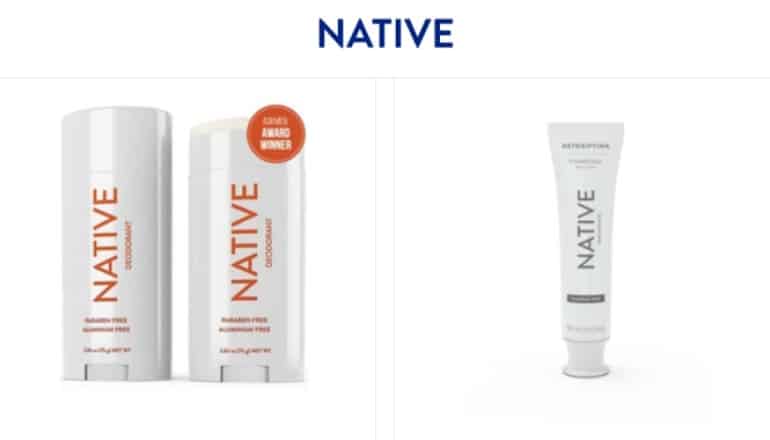 The Best Niches For Native Deodorant
There are a decent number of niches that you could use this affiliate for. Simply building a content campaign built around deodorant of personal hygiene and you have a ready made place to use this affiliate program.
Bath And Body Niches
Green Living Niches
Natural Beauty Product Niches
Soap Niches
Fragrance Niche Sites
You could use this as a soap affiliate program as well. Any niche site that has need of a soap partner could use this partner, but particularily a soap niche site that focuses on natural ingredients.
A green website would also benefit from this affiliate. They offer products that are in line with plastic-free solutions that are gaining traction and offer you an opportunity to promote a new range of products for a green niche site that you might not have considered before.
The specificity of the products offered by Native will probably limit the overall number of niches that you can use this affiliate for successfully.
With that said, there may be an opportunity to build an entire website around deodorant by itself. You info content could be built around the history of deodorant and the way its made. Your money-pages would be your typical best x for y types of posts and that is where the Native affiliate would make a lot of sense.
What I Like About Affiliate Program
I think what I like best about this affiliate program is the uniquness to it. Most people, even experienced affiliate marketers might not eventhink about using an affiliate program so specific. Basically a deodorant affiliate program, although they do have other personal hygiene products.
But it just goes to show you that there is an affiliate progrma for everything these days. Frankly that is a good thing, we need these smaller stores to compete with the big boys for a level playing field for everyone.
Another thing I love is the 18% commission. It is one of the best I have seen for a while in this type of blogging niche. It should be a boon for anyone who uses this affiliate even though the product prices are not that expensive.
Finally, I love the look of their website. It is blue and white and has a very clean look. The information and products are easy to find. The reason this is important is that you want you audience to be able to find what they are looking for when they use your link.
On many occasions, I have had people go to a website that they didn't like and they end up heading over to Amazon instead and I ended up with no commission. A nice looking and functional website is a huge plus for affiliate marketers out there.
---
The Bottom Line
That brings us the the end of our look at the Native deodorant affiliate program. Top to bottom this is a fantastic partner to have if your niche supports them. The only problem I can see is trying to intergrate them into your niche site.
You might have to get pretty creative on how you want to incorporate deodorant in to your nice. For bath and body niches it will be pretty simple but for more general beauty niches it might prove a little trickier.
However, I am sure you will figure it out and when you do you will be rewarded with on f the best bath and body affiliate programs currently going.
Don't go it alone. Get the best learning tools and community to help you build your online dream. Check it out here.
Thanks for visiting and have a wonderful day.