This article may contain *affiliate links. Please see our affiliate disclosure for more details
Hello everyone. I would like to thank you for stopping by and I hope everyone is doing well and having a great day. Today we will be taking a look at a sunglasses niche and how to get your own affiliate marketing niche site off the ground in this niche.
Can You Make Money Selling Sunglasses With Affiliate Marketing? It is very possible to make money with a sunglasses website. Sunglasses are a very competitive and potentially lucrative affiliate marketing niche. It can be a great place to start an online business and a solid way to make money online.
In this article, we will take a look at the type of content you will want to produce for your niche site, as well as how to monetize your content and a general look at the sunglasses niche.
There Is Just Something About Owning Your Own Business. Being Your Own Boss. Building Something From The Ground Up With Your Own Hands. Especially When It Is This Easy To Get Started.
---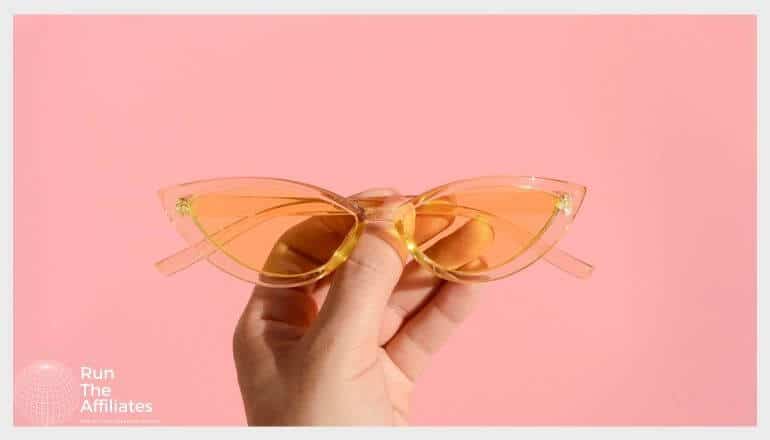 Get Started Making Money With Sunglasses
---
Starting Your Sunglasses Niche Blog
Starting a blog is pretty simple. Grab a domain and some webhosting and start producing content about sunglasses. It is really that simple.
Simple but not easy.
Developing that content in a manner that is going to be seen by people is the real trick. It takes a lot of keyword research and time to get it right and you will have some misses along the way.
But we will get to content a little later. For now we need to find a focus of our sunglasses niche website. To start out we need to find a small less competitive micro-niche for our sunglasses content to thrive in.
Micro-Niches For Sunglasses
The micro-niche examples are just going to be ones that I cam e up with in short order. Some might not have enough traffic to build a website around but that doesn't mean they are worthless.
Take 4 or 5 small micro-niches that are related to each other and to the sunglasses niche in general and you have yourself the beginnings of a solid foundation for your niche site.
Here we go
Specific Sunglasses Brand (ie. Rayban, Oakley, etc.). This functions like a fan site for the brand
Specific Sunglasses Style (wraparound, Aviators, etc.)
Luxury Sunglasses
Sunglasses for A Specific Activity – This is a great way to bring sunglasses into a separate niche.
Sunglasses for medical needs/ailments
There are dozens more potential niches regarding sunglasses. One you really dive into your niche research you can figure out what you want to focus on and start producing your content.
If you have a baseball niche website, for example, developing content for the best sunglasses for baseball is a nice way to expand product and monetization options.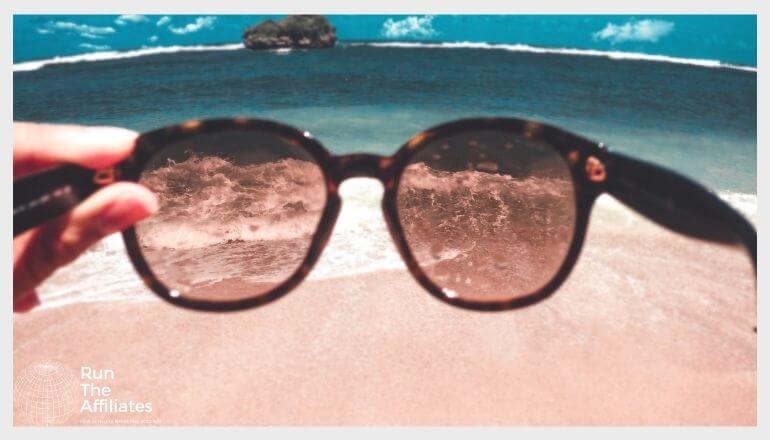 Webhosting For Your Niche Site
There are hundreds of different web hosting solutions out there for bloggers. You will see BlueHost pop up often as one of the most popular web hosting brands. I tend to start my websites on Bluehost or Siterubix for the most part.
With a little research, you can find the one that is best for your situation and balance out cost and effectiveness. The key things you want to look for is speed and reliability.
One the subject of domains, choose one that is broad enough to expand if you plan on branching your niche site out in the future. Other than that pick something memorable and short with a dotcom suffix.
---
Blog Content For Your Sunglasses Niche Site
How good your content is will go a long way to determining how successful you are with your affiliate marketing business. You are not writing high literature but it needs to be readable and accessible for your average person.
With that in mind, here are 3 types of content that I think every niche website should have.
"Best X For Y" Lists
Single Product Reviews
Informational Articles
Additionally, I have added a section on videos and YouTube because it can play an important role in the success of your sunglasses affiliate marketing business.
Best X for Y Lists
For any type of buyer intent article, there is nothing better right now than the X for Y List articles. These are a list of products specifically tuned to a long-tail keyword. Here are a few examples in the sunglasses niche so you get an idea of what I am talking about.
Polarized Sunglasses For Snowboarding
Best Sunglasses For Hiking
Best Aviator Sunglasses For Everyday
You get the general idea. These are just examples and might not have any traffic going to them but this is the place to start for your buyer intent articles. The best way to find these types of topics is through Google auto-suggest.
Basically you want to type "Best Sunglasses For" into the google search bar and it will start spitting out search results. If it comes back as an auto suggest then chances are someone has search for it. You will want to use an incognito browser for best results.
Here is an example straight from Google.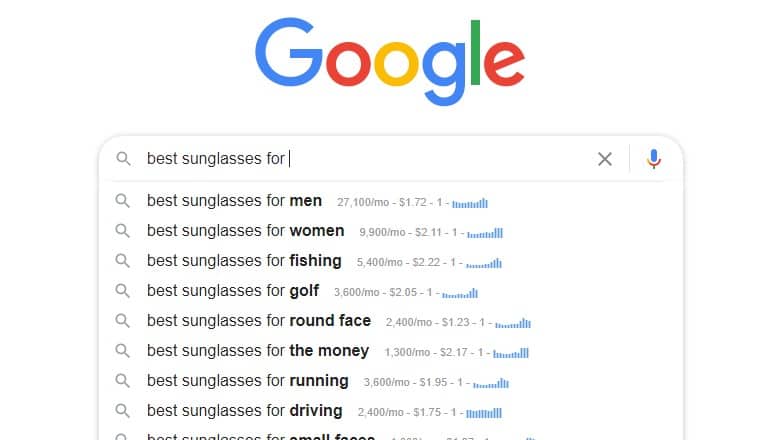 You can see that it spits out tons of topics for your X for Y list articles. The traffic data is from Keywords Everywhere Extension for Chrome, but any key research tool will do the job pretty well. I use it and the Jaaxy Keyword Tool for most of my keyword research. But you can do it without any additional tools if you want since the traffic volumes are estimate any way.
You can dive deeper into the search topics with Google by simply adding a modifyer onto the end of your search query. This is commonly known as the alphabet soup method. Essentially you add an letter or letters onto the end of the search and you get a whole new set of possible topics.
Here is another example.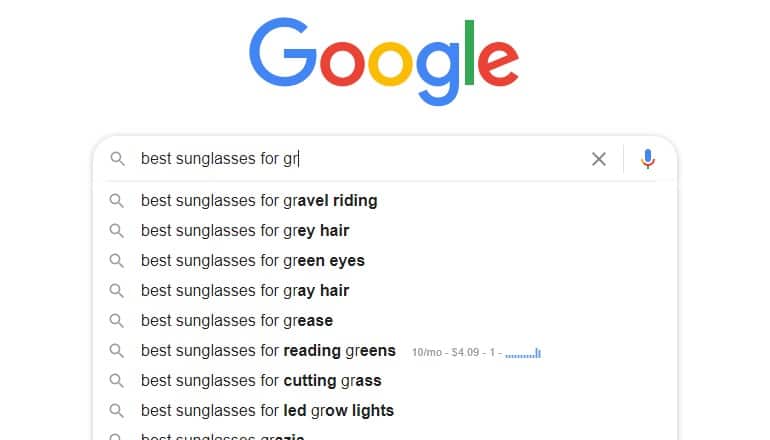 The modifier I used were the letter "GR". And you can see we get some pretty interesting options for articles here.
10 Best Sunglasses For Green Eyes
7 Best Sunglasses For Cutting Grass
Best Sunglasses For Gravel Riding
Now go through the alphabet and start apply each letter and letter combination you can think of, before you know it you will have hundreds of possible sunglasses topics to write about.
What makes these articles so powerful is that they are loaded with buyer intent. If someone is looking for the best of anything then they are in a buying state of mind. And with a list format you are giving them options to choose from
Each option will have an affiliate link and before you know it you are pulling in commission for people looking for the "best sunglasses for paragliding" or anything else that fits your niche site.
One last thing to mention is that I would avoid the obvious "X For Y" lists. The chances of a new website ranking for something like "the best sunglasses for men" or "the best sunglasses for women" are non-existent. You will have o be a bit creative if you want to beat the big boys.
Single Product Reviews
The next type of content that I'm going to talk about is probably the one that you were going to produce the least. These are single product reviews. In the past, these have been huge earners but over the last decade or so they have slowly been pushed aside by user reviews of the products on the actual sales page.
Most people don't want to read along 1500 or 2000 word product reviews when they can go to Amazon and see hundreds of different reviews from people that are verified purchasers of those products.
In addition to this, a lot of those Amazon reviews have started to show up in the search engine results and they are very tough to beat if those reviews are thorough because the demand thereon is typically a huge one.
That doesn't mean there's no value in a single product review but you need to make sure that there is a place for your review on the first page of the search engine results.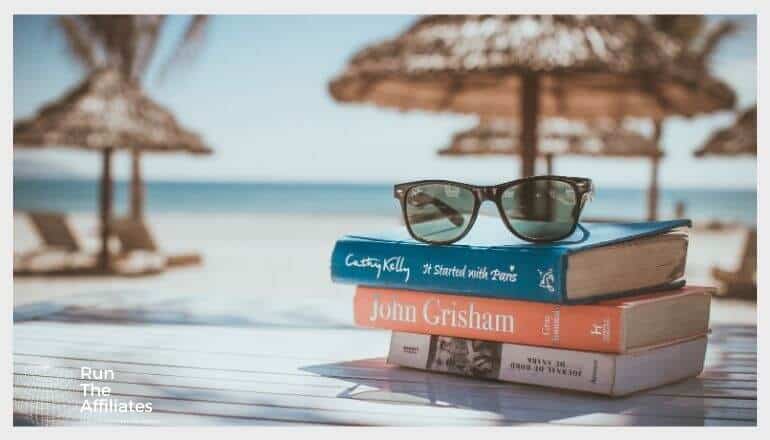 If it's flooded with Amazon reviews and other high Authority websites that offer reviews of their products it's probably a good idea to find something else to write about so you don't want to waste your time.
Another reason why single product reviews, in this case sunglasses reviews, on your blog are becoming less and less effective is that people tend to turn to YouTube for their product reviews if they don't use the user reviews as I mentioned above.
If you intend to make user reviews on YouTube then my advice would be to take the transcript of that review and turn it into a blog post. That way you're getting an extra little bump in traffic for that review without having to do a whole lot more work. A great way to do this is to make a video of you and then linked to your written review in the description of your YouTube video.
So even though the review might not do well in the search engine it will get a lot of traffic from your YouTube video and vice versa. So you can start to develop your own ecosystem that helps to build your brand and your level of trust and expertise.
Informational Posts
The last type of written content that I want to talk about are the informational posts. These are exactly the type of articles that they sound like. They are designed to give the reader as much information about a particular topic as possible.
An article on "how sunglass lenses are made" would be a great example of an informational article for the sunglasses niche. You should have quite a few of these informational articles on Any Niche site that you produced I typically like to have half of my articles informational and half of them with buyer intent.
Typically I don't include affiliate links on my information on pages but if you want to stick one or two in there it should be all right. What you do want to do is take your informational articles and Link them into your X for Y articles and single product reviews.
The reason for this is informational articles 10 to get more traffic than buyer intent articles for the most part. this is not a hard-and-fast rule but in my experience informational posts are easier to get traffic to.
Even though you're not going to place too many affiliate links in your information to post they still can be monetized by using advertising. In fact, there are many websites that have just information articles to drive traffic to those advertisers.
A lot of them can do quite well if you pick the right Niche and you get a good ad network. I'll go more into advertising and Ad networks in how to monetize your sunglasses blog section of this article.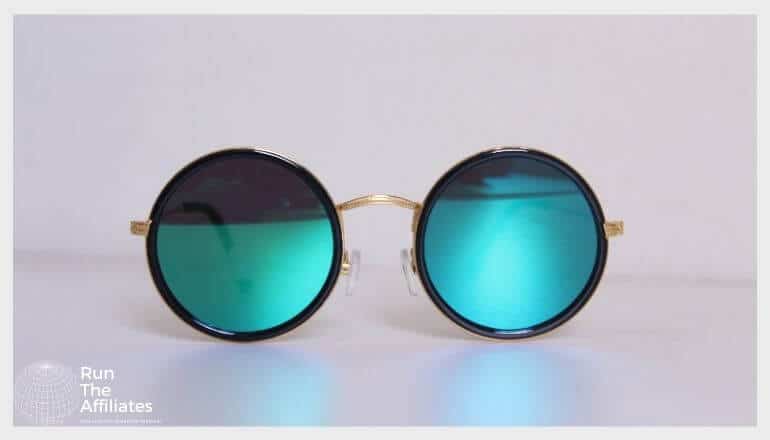 Videos And YouTube
Even though this is primarily designed to give you an idea of how to start your own blog in the sunglasses niche I do want to touch on videos and YouTube really briefly. There's a big opportunity with YouTube right now to create content and get traffic to your videos which in turn can send traffic to your blog.
It is possible to just build a YouTube channel and not have a written blog at all but I would not recommend it because you always want to have a place that you can own outright.
If you go strictly with YouTube then Google, the company that owns YouTube, can shut you down for whatever reason. Whether you think it's valid or not they have ultimate control over your content and can demonetize you or completely ban you for any reason that they see fit.
With a written website that is a little bit harder to do because you own the domain and as long as you're hosting company doesn't have a problem with what you're posting it should be all right. Search engines can deindex you but there are other avenues to get traffic other than just search engine traffic.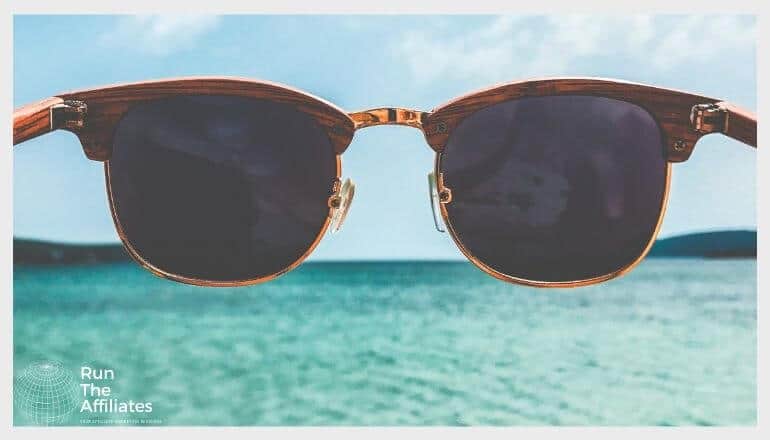 With all that said, adding a YouTube channel alongside your written sunglasses blog is a great idea once you start to get some traffic going to your blog. Then you can start finding the time to create videos and work on building up your YouTube presents.
As I mentioned earlier in the article YouTube is a great place to place your single product sunglass reviews. Having you on screen using the sunglasses is going to really build a good level of trust between you and your audience and ultimately that's going to result in a higher conversion rate when you do present them with an affiliate link to click.
One last thing, there are people out there in the affiliate marketing space that have gone completely overboard with the YouTube thing because they've had some success on it. But if you look at YouTube's model it's pretty unsustainable at this point and Ad revenues could crater at almost any minute.
---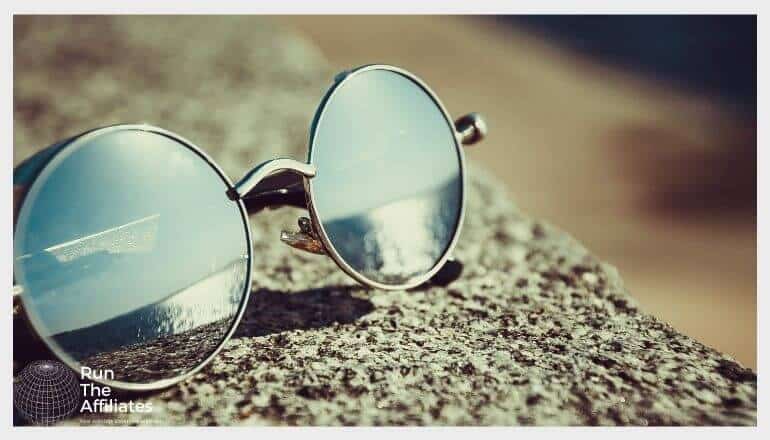 Monetize Your Sunglasses Blog
Typically there are 3 main ways to monetize your niche sites. However with a product based niche site like sunglasses there are really 2 methods that you want to monetize your site with. Those are affiliate marketing and advertising as I don't see much opportunity for building an info product in this particular niche.
Sunglasses Affiliate Programs
Affiliate marketing is the best way to make money online for the majority of marketers in the sunglasses niche. Essentially you act as a middle man sending traffic through your affiliate links to the merchant and getting a commission if they buy something. The affiliate links can be had by joining affiliate programs
That is affiliate marketing in a nutshell. There are plenty of places to find affiliate programs for your sunglasses niche website. Here are some of the more popular affiliate networks to check out.
If you want specific affiliates, you can also check out our list of some of the best Sunglasses affiliate programs to get you started on your search for some profitable partners for your sunglasses niche site.
The commissions will fluctuate depending on which partner you choose to promote on your niche site. The key to finding the best affiliates is to balance the commissions with the quality of products and the conversion rate.
Do not simply pick the highest commission and leave it at that. Make sure the products are something you would be proud to recommend and that the affiliate program itself is reputable and pays what it owes on time and with minimal fuss.
Advertisements
Advertising on your blog is a great way to ad an additional layer of moentization to your niche site. It is the easiest and most passive way to earn money through your sunglasses niche site.
While you can make a very nice living off of just advertising it does take a good chunk of time and a huge and consistent amount of traffic. Most website us a hybrid affiliate marketing/advertising model these days and I think that is probably your best bet if you are just starting out.
You can sign up for a variety of ad networks but Adsense and Media.net are usually the most common for beginners. Once you get a decent amount of traffic flowing through you sunglasses niche site you can look into premium ad networks like Adthrive or Ezoic.
Info Products
The last major way to monetize your niche site is with info products. The viability of info products really depends on your chosen niche. For the sunglasses niche it might be pretty tough to build a informational project.
Informational products are typically tutroials, training videos, books or some other media that people are willing to pay for in addition to your regular content. Sunglasses are a retail product based niche and really doesn't lend it self well to informational products in general.
I thought it was important to mention it in case you can think of something that people would be willing to pay for in this very specific blogging niche. Otherwise, I would stick with affiliate marketing and advertising for your monetization options.
---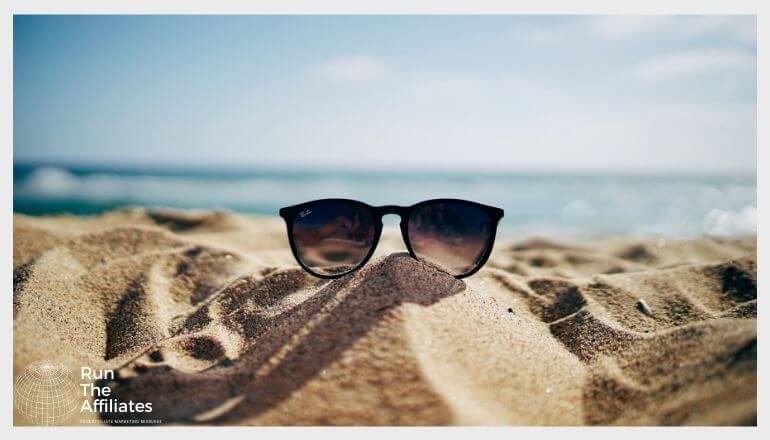 The Wrap Up
That wraps up our look at the sunglasses and it's in the how to make a little bit of money in it. This is just the beginning of your journey into affiliate marketing. Most of your education is going to be done through trial and error on your Niche site.
You're going to need to figure out exactly what type of content works for the type of audience and traffic that Are coming by your side. You also want to find the most popular sunglasses and brand that are going to resonate most with the audience that you're trying to call today.
Building an affiliate marketing website is not quick and it's not easy but once you get it rolling it starts to build on itself and ultimately becomes passive income that you just need to check in on every now and again and add maybe a couple of pieces of content a week just to keep it rolling.
The great thing about affiliate marketing is once you get your website up and running you can go off on to another project and get it started and then bounce back and forth between all of your different websites. Especially if you can start Outsourcing some of the time-consuming aspects like the writing of content and editing of content.
Once you start Outsourcing it becomes a very powerful passive income that is going to be around for years to come in many niches. The one thing I will add about the sunglasses Niche is that you will need to pay a little bit more attention to it since it can shift quite drastically depending on what styles become popular.
So if you really want to stay on The Cutting Edge you're going to have to keep your research up to date on which sunglass styles are most popular and try and anticipate where those Stiles are going so you can stay a little bit ahead of the Curve.
I wish you the best of luck on your journey to build the best sunglasses Niche website out there and hope that you are successful in your Endeavor.
Don't go it alone. Get the best learning tools and community to help you build your online dream. Check it out here.
Thank you for stopping by and have a wonderful day.