This article may contain *affiliate links. Please see our affiliate disclosure for more details
Skateboarding is a great sporting niche. It can be a lucrative one as well. But The idea of getting 1% to 3% per sale from Amazon Associates is enough to send you running. Affiliate marketing is tough enough without trying to manage a 1% commission. So what is the answer? Skateboarding Affiliate Programs.
Skateboard Affiliate Programs that can provide you with 2 or 3 times the commission and a much longer tracking cookie is the way forward with affiliate marketing in this niche.
It is not always about the commission, however. So I want to take a look at some of the best skateboard affiliates that balance out all the aspects of a good affiliate program. A good tracking cookie, solid commission, and great products are what you need to look for.
There Is Just Something About Owning Your Own Business. Being Your Own Boss. Building Something From The Ground Up With Your Own Hands. Especially When It Is This Easy To Get Started.
---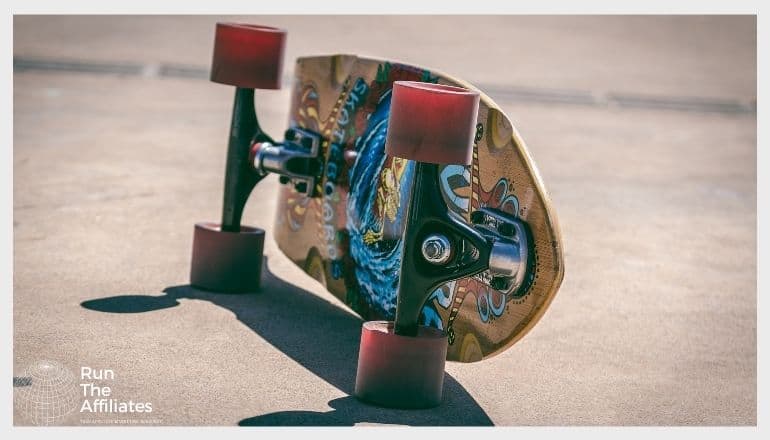 ---
Grassracks Affiliate Program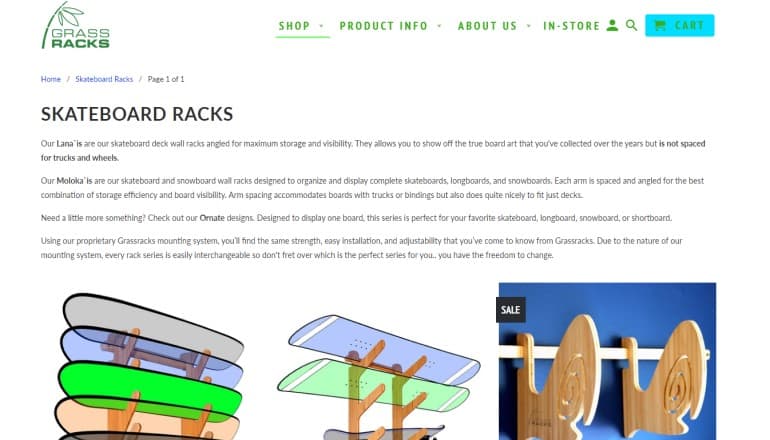 We start off with an affiliate program that is a little outside the box. Grassracks is built around racks for a variety of racks. These racks are built for skateboards and surfboards all the way up to wine racks and bike racks. Many of these are also eco-friendly bamboo-based products.
Here are some of the types of racks you will be promoting from Grassracks…
BIKE RACKS
KAYAK RACKS
PADDLEBOARD RACKS
SKATEBOARD RACKS
SKI RACKS
SNOWBOARD RACKS
SURFBOARD RACKS
WAKEBOARD RACKS
WINE RACKS
I think this is a really interesting affiliate for a variety of niches. The skateboard racks are where our focus is for this list. But you can use Grassracks for quite a few other board based sport niches.
The Commission And Cookie
Grassracks offers an 8% commission for their affiliate partners. A solid commission that should provide a good basis for your affiliate blog. If we compare the commission to Amazon Associates, the 8% is far better than anything they have to offer.
The tracking is solid as well. It weight in at 30-days. 30-days is pretty much the standard affiliate tracking cookie duration and works well for Grassracks.
Why Promote Grassracks?
I think Grassracks makes a good skateboard affiliate program for the affiliate marketer looking for something a little different. You will need to use this affiliate alongside other skateboarding partners because they don't sell the actual skateboards.
But skateboard racks are a great accessory that could add a unique and interesting product line that can expand your affiliate marketing business.
---
Warehouse Skateboards Affiliate Program
Commission: 7%
Tracking Cookie: 120-days
Auto-Approval: No
Affiliate Niche: Skateboards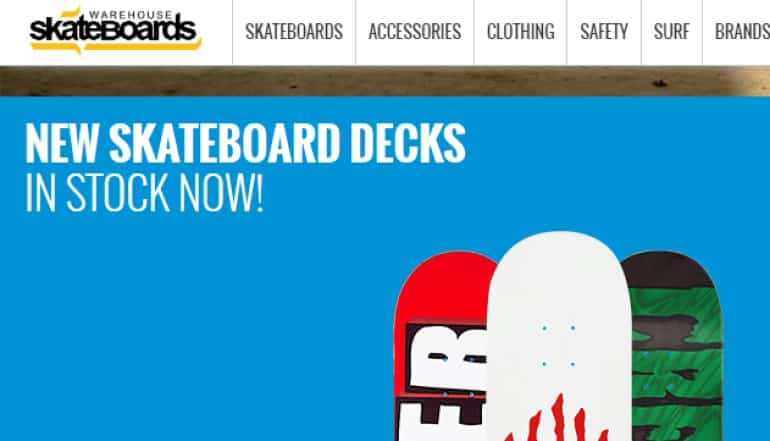 Warehouse Skateboards has a huge selection of skateboards and accessories for you to promote. All things considered, this is a foundational type of affiliate program in the skateboarding niche.
Skateboard clothing, safety, and accessories round out their product offerings. They even have some surf products that could make it an interesting option as a surf affiliate program or a summer affiliate program.
An affiliate like Warehouse Skateboards is a direct alternative to a large warehouse store like Amazon. A good conversion rate is going to be instrumental in putting it on par with Amazon. I think it is doable, however.
The Affiliate Commission
The affiliate commission for the Warehouse Skateboards partner program is solid if unspectacular. Seven percent is the commission fee. Solid. I think that it works pretty well for this affiliate program and could generate a nice bit of income for your niche blog.
Commission like this one are heads and shoulders above what you might get from Amazon but there is a trade off in conversion rates.
I think 7% is high enough to convince most skateboard affiliate marketers to give it a try. It might work for some, maybe not for others. But it is something to try for everyone.
The tracking cookie is amazing, on the other hand. A full 4 months tracking gap to get that all important commission. you really cannot go wrong with a 120-day tracking cookie and it should help make up for the slightly lower commission.
Why Promote Warehouse Skateboards?
Variety is the key here. A variety of skateboards and skateboarding related accessories is one of the strengths for this affiliate program. The affiliate commission is decent and the cookie is great. All around this is the type of skateboard affiliate program that you really want on your side.
Warehouse Skateboards could be the foundation for a niche site if your audience responds well to them. But I would use a couple of other affiliate programs alongside with them to make sure you cover all you bases.
---
Bamboo Skateboards Affiliate Program
Commission: 10%
Tracking Cookie: Not Listed
Auto-Approval: No
Affiliate Niche: Skateboards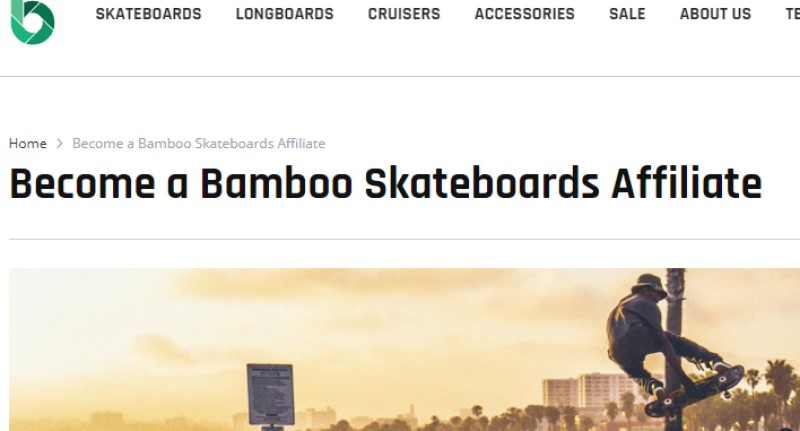 Here is another interesting skateboarding affiliate program for your niche site. Bamboo Skateboards. As the name implies this is a company that builds skateboard decks out of bamboo. This makes them as strong and durable as a wood deck but at a more ecologically friendly cost.
A great way to incorporate this affiliate into your skateboard niche site would be to add an entire section about bamboo boards. They are becoming increasingly popular and could enjoy a huge upswing in the coming years as people look for wood alteratives for everyday items.
You could also incorporate this affiliate to a general bamboo niche site and use it as a bamboo affiliate program instead. It works great for both.
The Commission
Bamboo Skateboards offers their affiliate partners a very solid commission of 10%. At 10% the commission should be high enough that you can focus much of your content on the Bamboo Skateboards product line and do well for yourself.
The tracking cookie duration was not available at the time of publication. Be sure to ask about it when you are accepted into this affiliate program.
I imagine the tracking cookie should be a decent one. But make sure you do your due diligence, just to be sure. If I can find the information I will add it to the article.
Why Promote Bamboo Skateboards?
I think Bamboo Skateboards is one of the more unique skateboard affiliate programs on our list. It has a unique product line based around bamboo skateboard products and accessories. It can work for multiple niches. And The commission is solid to boot.
When I consider all the factors, I find Bamboo Skateboards to be an excellent All around affiliate program. It can also add quite a bit of content ideas just based around the bamboo that is used to make the boards.
---
Ambush Skateboarding Affiliate Program
Commission: 9%
Tracking Cookie: 30-days
Auto-Approval: No
Affiliate Niche: Skateboards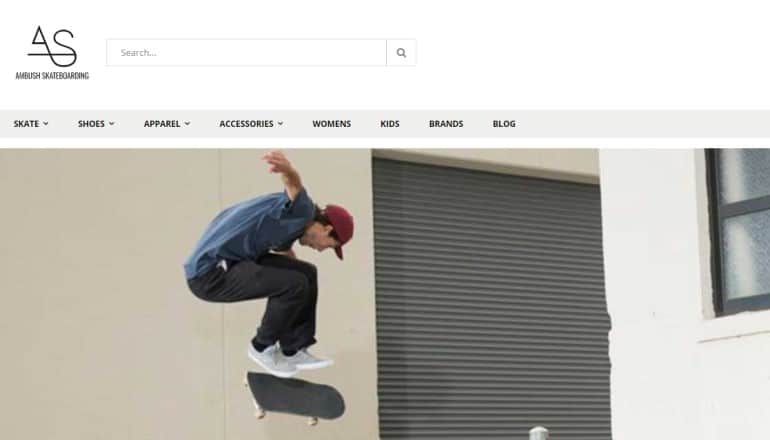 Ambush Skateboarding has a large line of skateboards and skateboard related products that will give you plenty of promotional opportunities. Big name brands are at the forefront of their product offerings as well.
The likes of Adidas, Frog, Krux, and Real fill the product lines. Dozens more follow, giving you a robust selection of big-name skateboarding and fashion brands to promote.
While Ambush Skateboarding does have plenty of other products in addition to their skateboarding options, for our list we want to focus on the skateboards.
Here is just a sample of some of the skateboard products you can promote through this affiliate program.
Skateboard Decks
Complete Skateboards
Trucks And Wheels
Skateboard Pads
Skateboard Helmets
Additionally, they have many related products that could work well for a skateboard niche site. They cover many other niches as well so this might be one to check out if you are planning a different niche site in the future.
The Cookie And Commission
Starting off with the tracking cookie duration we find it to be pretty standard. At 30-days it is solid and should do quite a job for you. You always want as long of a cookie as possible but a full month is fine for most products and services.
Moving on to the affiliate commission. 9% is what is on offer. Just shy of that coveted double-digit commission, the 9% fee should still be a great earner for a skateboard niche website.
When you start to approach double-digit commission you have a solid opportunity to make some real money with just a few sales each day.
Why Promote Ambush Skateboarding?
Ambush Skateboarding is one of the larger affiliate programs for a skateboard niche site. They have plenty of options for the skateboards and accessories. But they branch out into all aspects of skateboard culture making it easy for an affiliate to expand.
Instead of just promoting deck, wheels, and trucks you can branch out into skateboard clothing, coolers, and accessories that can grow your niche site in a different direction.
Throw in the good commission and solid tracking cookie and you have a skateboarding affiliate program that any niche site would be proud to promote.
---
Teamgee Electric Skateboard Affiliate Program
Commission: 3%
Tracking Cookie: 30-days
Auto-Approval: No
Affiliate Niche: Electric Skateboards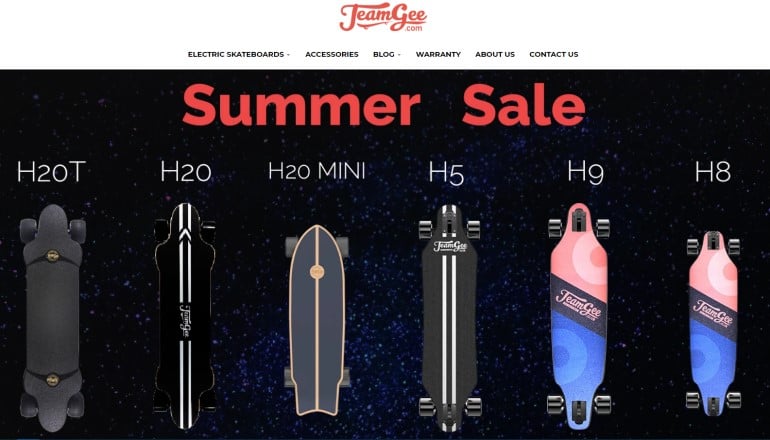 Teamgee Electric Skateboard is our first electric skateboard affiliate, but there will be a couple more as well. They offer a very nice selection of electric skateboards for a variety of price ranges.
I would consider this to be a high-ticket affiliate program because some of the boards run well over $500 and close to $800 when regularly priced. What that means is less sales because of the price point. Offset by more money per sale.
Electric skateboards are becoming an increasingly popular part of the skateboarding niche. They do have a bit of a different audience than traditional skateboards. Something you will want to keep in mind when determining if this affiliate is right for you.
What is Teamgee all about? Here is what they have to say about it
"Teamgee is a skateboard technology company dedicated to providing premium electronic skateboard products for city leisure transportation at unbeatable prices."

Teamgee Affiliate Program Webpage
This certainly sounds like a company that knows exactly what it is doing and focuses on its tech and customers in equal measure.
Electric Skateboards are not all they have to offer, though. Teamgee also have quite a bit of accessories for skatebopards. from griptape to wheels they have a few other products that you can promote.
The Commission
Three percent isn't great. 3% is not great and that is what you are getting from Teamgee Electric Skateboard. According to their affiliate page, you can get up to 5%. It is a little low. Manage to get to that 5% mark and you should be fine but 3% is a little low.
Having said all that it is still manageable. They offer unique enough products that even at 3% you can make some money with them. You will need a solid traffic throughput but it can be a nice earner with some solid content.
We move on to the trackjng cookie. It is the standard 30-days. For most affiliates this is great. However, given the prices of the electric baords at Teamgee it might be a little short.
For high-ticket items you want a long duration cookie to give people time to decide on the purchase. 30-days will work but you might lose out on some potential buyers with only a month to decide.
Why Promote Teamgee Electric Skateboards?
Quality electric skateboards. Quality products are always a great reason to promote any affiliate program. The look of quality is all over this company and its affiliate program. The commission is a little low, to be sure. But I think you can work with it.
I would use this affiliate alongside other skateboarding partners to help balance out the lower commission. A decent affiliate program that can be a benefit to some skateboard niche sites out there.
---
Summit Board Co. Affiliate Program
Commission: 10%
Tracking Cookie: 60-days
Auto-Approval: Yes
Affiliate Niche: Skateboards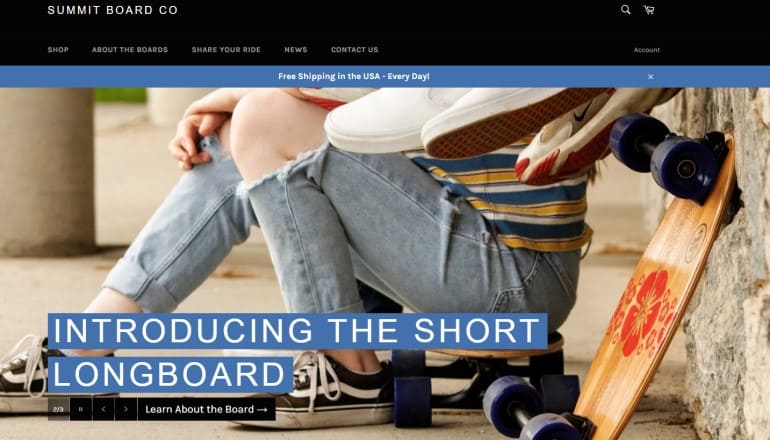 Summit Board is a skateboard comapny that builds some great short longboards. Short longboards? You read that right. Summit Board takes the characteristtics of longboards and puts them into their shortboards.
This makes for an interesting blend of the best aspects of both types of boards and make the affiliate program that much more appealing. Adding something unique and interesting to your affiliate strategy is always a good idea.
There are only a few different boards that they offer making this a very niche affiliate. I think it can be integrated into just about any skateboarding niche site with some clever content.
Here is what Summit Board has to say about their short longboards…
"So we have borrowed the best of longboard design and shrunk it down into a compact 19″ board. The result is a board that is stable, easy to ride, easy to learn, AND easy to carry and easy to store. It is a fun board that anyone can learn to ride with just a bit of practice."

Summit Board Co About Us Page
The Summit Board Co. Commission And Cookie
Everyone loves a solid commission. A solid commission is just what Summit Board Co. offers. At 10% the commission on offer is one of the higher commission in the niche.
The double digit commision should serve and affiliate wuite well and makes this a good partner to consider for your niche site.
But that's not all it has going for it. The tracking cookie duration is great as well. They offer a 60-day trackinggap for their partners. Two full months to promote and still get a commission is very nice.
Given that the prices on their products are typically well under $100 bucks the tracking cookie is plenty long enough.
One last thing that I want to mention is that Summit Board has an auto-approval option on ShareAsale. This gives both new and existing affiliates a chance to join up without a huge amount of traffic.
Why Promote Summit Board?
There is an awful lot to like about this partner program. Unique and interesting skateboards and a good commission are at the forefront. Solid and generous, the affiliate partner is going to be a good one for many affiliates.
The only downside is their limited product line. With only a handful of skateboards, this isn't the type of affiliate you can really build a large website around. Pair it with other skateboarding affiliate programs to get the most out of it.
---
Vestar Skateboards board Affiliate Program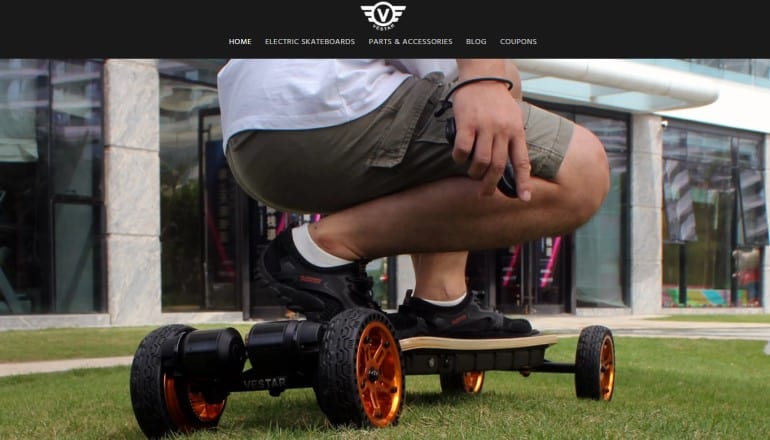 Vestarboard is the manufacturer of some of the best high-end electric skateboards around. These are top quality boards that run into the $1000s of dollars for their flagship decks and even at their cheapest will cost well over $400.
Product selection is on the low side for this affiliate. Only 8 or so boards are on their product page. This simply means that you will probably want to pair them up with a larger affiliate.
Having said that, these are very much high-ticket items and if you focus on them you can do quite well. I would simply diversify so that you are protected from downturns as high-ticket items are usually the first to feel any economic pain.
The Vestarboard Commission
The commission is decent for the Vestarboard affiliate program. A 6% commission is what they offer and it should work quite well given the price points of their products.
While I would love to see a commission closer to 10%, it is clear that the electric skateboard niche has quite a bit of overhead. Finding double digit commission for skateboards and especially electric boards is difficult.
30-days is the tracking cookie duration. I think the tracking cookie is decent. However, you might lose out on some commissions since the prices of the boards are quite high. Something to think about in your promotional content.
What Promote Vestar Skateboards?
High-ticket items are always a challenge to promote and get the most out of. For that reason I wouldn't recommend this affiliate to new affiliate marketers.
You will want to build up your trust and expertise with lower-cost options an then move into the Vestarboard line of skateboards, in my opinion. For experienced affiliate marketers Vestarboard could represent a great opportunity if they are popular with your audience.
---
Only One Board Affiliate Program
Commission: 8%
Tracking Cookie: 45-days
Auto-Approval: Yes
Affiliate Niche: Electric Skateboards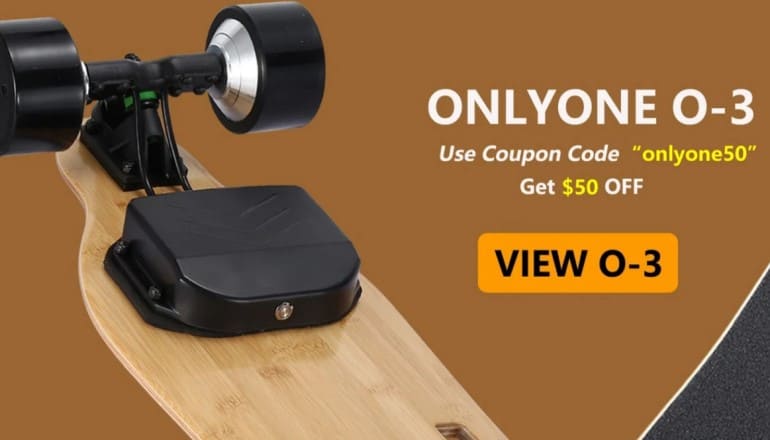 In another example of just how popular electric skateboards are becoming, we are presented with our 3rd electric skateboard affiliate program. This time in the form of Only One Board.
As with most of the other electric skateboard affiliates, the selection is fairly small. Offering only a handful or so of electric skateboards to choose from.
I don't consider this to be a negative, however. The minimal selection only means you get more time to devote to the promotion of each individual skateboard. From their all-terrain offering to their short mini boards.
The 8% Commission
The 8% commission is among the best on our list and one of the best in the electric skateboard niche, hands down. Solid is how I would describe this commission. Beyond solid actually. For this niche, it works very well with the price points of these skateboards.
The tracking cookie is also very nice. At 45-days it is a bit longer than a standard tracking cookie and with good reason. The price points of these skateboards range from around $400 to the $1000 dollar mark.
High ticket items to be sure and some of the best commission potential of any of the skateboarding affiliate programs on this list.
Why Promote Only One Board?
Only One Board has some great products and a good commission to boot. One Of the highest commission among electric skateboard affiliates.
But I keep coming back to the products. They are the lifeblood of any good affiliate program and these skateboards look to be top-notch.
I think this affiliate will be a great benefit to any affiliate marketer in the skateboarding niche who can properly take advantage of their high-ticket skateboards.
---
Tactics Affiliate Program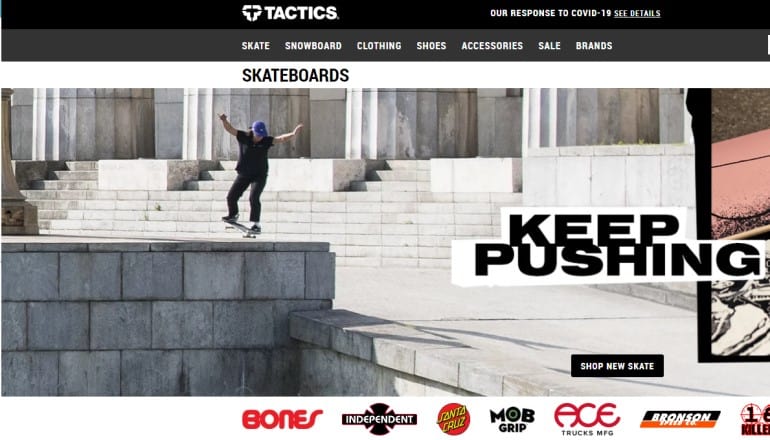 Tactics is a large skateboarding retailer with a top of products for you to promote. Skateboard are the focus but they have so much more to offer. From sunglasses and headphones to shoes and skate clothing they have you covered.
I mean just look at this list of potential products to promote. And this is just a taste.
Skateboard Completes
Cruiser Completes
Longboard Completes
Skateboard Decks
Cruiser Decks
Longboard Decks
Skateboard Trucks
Bearings
Risers
Grip Tape
Hardware
Truck Accessories
Deck Accessories
Longboard Completes
Longboard Accessories
Helmets
Wrist Guards
Elbow Pads
Knee Pads
Knee & Elbow Pad Sets
Ankle Braces
Helmets & Pads
Tools / Lube / Wax
So that took an entire page. The point here is that they have everything. Everything skateboard related that you could possibly want for your affiliate site. And I didn't even get to the clothing and shoes that you can promote on your skateboard niche site.
Tactics would also make a great snowboarding affiliate progrram. They have a snowboard selection equal to that of their skateboards.
The Affiliate Terms
Once again we have an independent affiliate rotgram without a clear sense of what the tracking cookie duration is. you will have to ask about it when you sign up for their program.
The commission, on the other habnd, is 6%. It is not the highest commission on our list. That does not mean its not a good one. 6% can do just fine for most affiliates and is much better than what Amazon would offer for these types of products.
It will all come down to how well you can covert sale through your affiliate links. Conversion will come down to the type of content yo craft and how well it resonates with your audience.
Why Promote Tactics?
Because they have everything you need. Or as close as humanly possible. Tactics is a direct alternative to Amazon Associates. Only witha much better commissions and probably a better tracking cookie as well.
Tactics has all the gear and products of a warehouse store with all the charm and charisma of a small skate shop. It is a win for everyone involved.
---
Braille Skateboarding Affiliate Program
Commission: 10%
Tracking Cookie: Not Listed
Auto-Approval: No
Affiliate Niche: Skateboarding
Braille has a huge selection of just about everything a skateboard niche website could want. All the accessories you need combined with decks and complete boards. Here is a taste of what they have to offer for affiliates to promote.
Complete Skateboards
Braille Decks
Blank Decks
Decks
Trucks
Wheels
Bearings
Ramps
Rails
Protective Gear
Impressive to say the least. This is one of those affiliates that can really be the foundation for your affiliate niche website. It really rivals the big boys like Amazon while still retaining that personal feel.
The Braille Skateboarding Commission And Cookie
Double-digit commissions are always great to see. Doubly so in a niche like skateboarding. There seems to be quite a bit of overhead that tends to suppress commissions in this niche. Any time you see a 10% commission it should pique your interest.
That is what makes the 10% commission so special for this affiliate program. It is one of the best in the niche and could provide you with a great option to build your affiliate site around.
The tracking cookie information was not readily available at the time of publication. Often these independent affiliates will not have their tracking cookie duration on their affiliate page. There is nothing malicious about it they just don't seem to value it as much as I do.
Nonetheless, be sure to ask about it when you sign up to make sure that you have plenty of time to make a sale after promoting their products.
Why Promote Braille Skateboarding?
Let us start with the commission. I know I spoke highly about it before but it is one of the best reasons to consider using this affiliate program. Oh, and the great products. Not just the skateboards but the apparel and even a few fingerboards to boot.
This looks to be one very well put together affiliate program and if it resonates with your audience it can be a real earner for your online business.
---
The Big Finish
That brings us to the end of our look at these fantastic skateboarding affiliate programs. We had a little bit of everything here. From affiliates for skateboard racks and electric skateboards to accessories and traditional decks and even a bamboo skateboard affiliate.
Does it get muchj more diverse than tthat? I don't think so. So many differnet angles to consider for a single niche. Skateboarding is brtaod and licrative for anyone brave enough to dig into the niche past the surface.
Hopefully, you have found your skateboard affiliate. that one affiliate that matches perfectly with your content and your audience.
Now it's up to you. Take these affiliates and maximize your potential so that you can realize the dream of a passive income online. All while working with what you love. With what you are passionate about. Build your dream of a true skateboarding business with affiliate marketing.
Don't go it alone. Get the best learning tools and community to help you build your online dream. Check it out here.
Thanks for visiting and have a wonderful day.