This article may contain *affiliate links. Please see our affiliate disclosure for more details
Knitting is one of the most popular fiber arts. Millions of people around the world spend countless hours knitting and working with yarn and other fibers. This is the time and place to leverage some great knitting affiliate programs.
Knitting is more than a hobby for many people. It is woven into the fabric of their lives. With new knitting adherents popping up all the time a knitting niche site will be a great place to start affiliate marketing.
You have the passion and the content. Now you just need to monetize it. You could go with Amazon and their 1% to 3% commission and 20-hour tracking cookie. But why settle.
You can join plenty of knitting affiliate programs for free that will give you double-digit commission and tracking cookies that last for months. You just need to know where to look.
Fortunately, you are in the right place. Here are 10 of the greatest knitting partners to monetize your knitting niche site. There is so much more value in many of these smaller affiliates than you will find at Amazon in many cases.
Let us see if we can't find you some knitting affiliates that will be a massive improvement over just about everything out there in the knitting niche.
There Is Just Something About Owning Your Own Business. Being Your Own Boss. Building Something From The Ground Up With Your Own Hands. Especially When It Is This Easy To Get Started.
---
---
KnitCrate Affiliate Program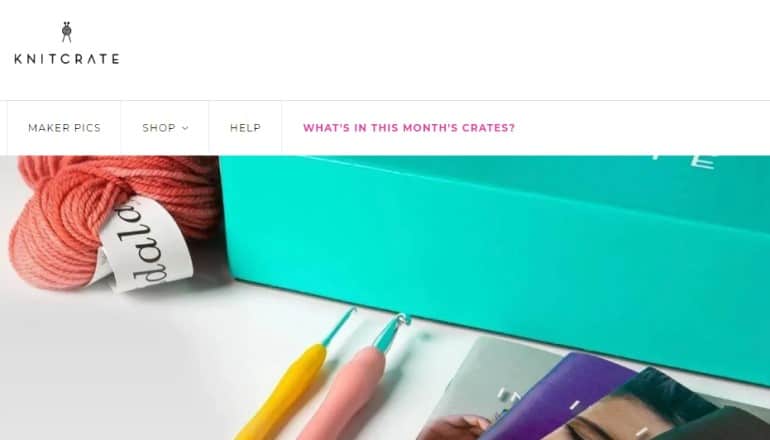 Who doesn't love a good subscription service? I always recommend everyone try and find one for their specific niche. KnitCrate fills the bill nicely for a knitting niche website.
These subscription box services are great for revenue when they have a flat rate commission, But if you can find the subscription box with a percentage recurring commission then you have hit the jackpot.
You can gt their knitting boxes in either eco-friendly packaging or a more traditional box. It might seem like a small thing but having the option will be a boon for your conversion rate.
The boxes themselves are divided by the color of the products inside. Your audience will have a few color options and a range of products.
Additionally, KnitCrate has some online training tutorials that you can promote as well. From beginning knitting courses to how to dye your own yarn these videos can add another monetization option for your knitting niche site.
The Commission And The Cookie
KnitCrate has a truly remarkable commission for some of its products. 20% is the quoted commission on their ShareASale profile. What is unclear is whether it applies to their subscription boxes or just to the training courses.
If it applies to the subscriptions then you have hit the jackpot. A 20% recurring commission would be a bonanza for a knitting niche site. Be sure to ask about it when you join up.
The tracking cookie is up next and it is impressive as well. Tracking cookies are typically 30-day as the standard length. 45-days is what is offered here. It is a generous tracking gap that will help your overall conversion rate.
Why Promote KnitCrate?
Always try and have a subscription box if possible in your niche. That is reason enough to promote KnitCrate.
When you add in the massive commission and the valuable 45-day tracking cookie you have a well-rounded affiliate you won't want to miss out on.
One last thing to add is that KnitCrate has an auto-approval option on their ShareASale profile. Making it a great option even for brand new websites. Don't miss out.
---
Knit Picks Affiliate Program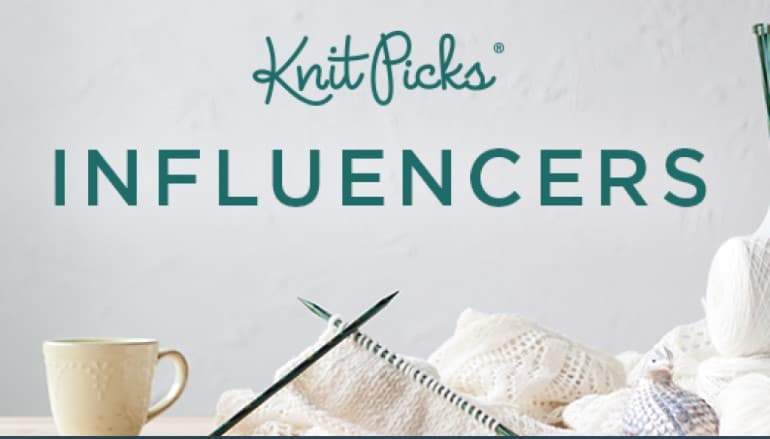 Knit Picks is a knitting affiliate that packs everything you need for fiber crafts into its websites. Yarn and fiber are well represented, of course. But they have patterns and needles as well as hooks and books available for promotion.
They are the total package when it comes to knitting and they have some crochet tools, patterns and accessories as well.
Knit Picks aslso has a subscription box servive broken down into 3 categories. Cotton Cklub, Sock Yarn and Yarn Hats are the subscription option.
Between their regular products and the subscription, this shapes up to be an extra appealing affiliate partner. Worth considering for just about everyone in the knitting niche.
The Knit Picks Commission
Great products are just the start. Knit Picks comes through big time with a nice 10% commission. I will never complain about a double-digit commission. The solid commission make this affiliate a great option to monetize you niche blog.
You will still need to generate a bit of traffic to make the most of this partner. They don't have the highest price ranges. Focus on quantity of affiliate sales over huge commissions per sale and you will do just fine.
Next up is the tracking cookie. At 15-days it is a little lower than I typically like to see. I consider 30-days to be the standard duration and this is half that.
Because of this, you will only have about 2 weeks of return days so I would focus on maximizing the single sale with your affiliate links.
Why Promote Knit Picks?
Added all together this is one of the best knitting affiliates to monetize you niche blog with. The products look great and varied. The commission is fantastic and should generate a nice bit of profit.
The cookie is a little on the short side but it will do a job for you just the same. The real question becomes, Why are you not promoting Knit Picks?
---
Annie's Affiliate Program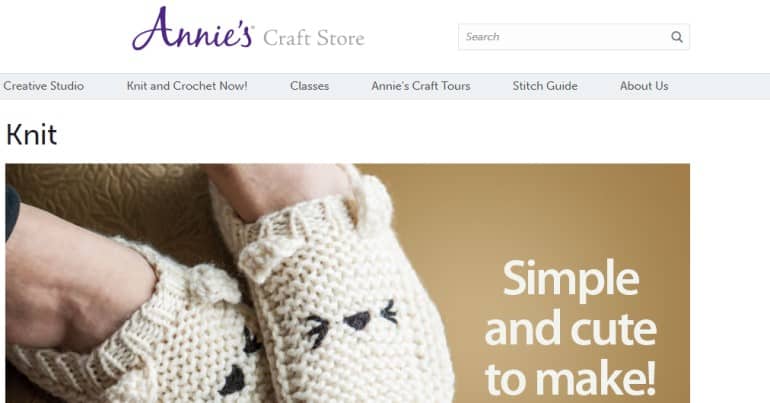 Annie's works well as a knitting affiliate program and they have plenty of products for you to promote. Patterns for socks and sweaters and Afghans make up a huge part of their product selection.
Many of these patterns are under $10. This gives them a broad appeal across a wide range of income levels. Typically you want higher cost products but you can compensate by getting more sales each day.
Mix in some of Annie's online classes, books, and magazines. Then you have a great opportunity to build a solid knitting niche site using this affiliate partner. Yarns and tools are also on offer. You have it all covered with Annie's.
In addition to the knitting products, Annie's has a great selection of products for the wider fiber arts, sewing, and needlework. Here is an idea of these related niches that can benefit your site.
Crochet
Knitting
Yarn
Quilting
Sewing
Fabric
Needlework
The Annie's Commission
You can expect a 5% commission to do a reasonable job for your niche site. I think it is a little bit on the low end but it can be workable with decent traffic flow.
With this commission and the cost of the products, you are going to want to maximize your traffic throughput as much as possible and work in another affiliate or two to balance out the 5% commission.
A standard tracking cookie duration is 30-days and that is just what we get from this affiliate. The duration should work just fine for this niche since we don't really have any high ticket items that you are promoting on a regular basis.
Why Promote The Annie's Affiliate Program?
The products and services are the draw for Annie's. A standard cookie duration adds to the appeal but the commission might be lower than many affiliates want to deal with.
I don't think it is that much of an issue. In this day and age a 5% is decent. Far more that what you would get from Amazon or Walmart. Its more than You would get from a general arts and crafts store like Joann's or Michael's,
---
Lion Brand Yarn Affiliate Program
Commission: 10%
Tracking Cookie: 30-days
Auto-Approval: No
Affiliate Niche: Knitting/Crafts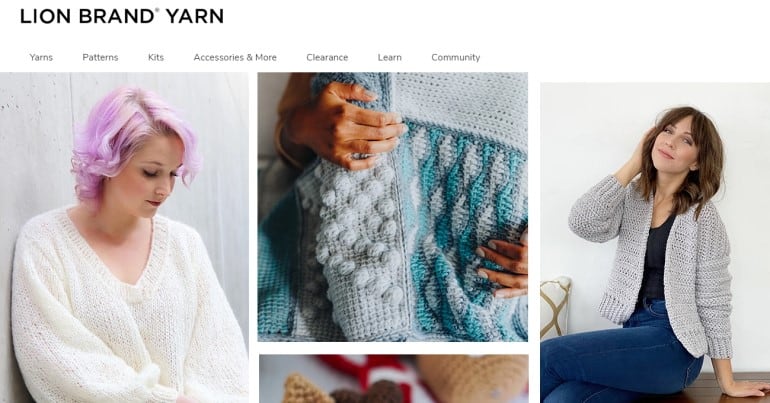 Like many knitting affiliates, patterns are a big part of the Lion Brand Yarn store. It is important that you properly market and promote patterns if you want to be successful in the knitting niche.
Patterns aren't the only product to look out for. Lion Brand Yarn lives up to its name with a great selection of yarns in a variety of colors and weights.
They also have a variety of kits for all types of projects. Books, magazines, and accessories round out the offering from this affiliate. This is a good yarn or knitting affiliate and one that should definitely be under consideration for your niche site.
The Lion Brand Yarn Commission And Cookie
I will start with the tracking cookie for this section and get it out of the way. Lion Brand Yarn offers a standard 30-day tracking cookie for their affiliate partners.
30-days is pretty much the industry standard and it is the minimum I look for most partners. There is exception that works well at a lower duration, but all other things being equal choose the longer duration cookies.
Moving on to the commission. Lion Brand Yarn gives its partners a solid double-digit commission weighing in at 10%. It is a very good commission.
One thing I have noticed about the knitting niche is that the commission varies quite a bit. We see it on our list with 10 to 15% differences between some of these affiliates. Typically an industry will be pretty close, a few percentage points, when it comes to commission.
Nonetheless, don't base your ultimate decision on commission alone. Lion Brand Yarn's 10% commission will do just fine if your audience enjoys the brand and its products.
Why Promote Lion Brand Yarn?
According to their about us page, Lion Brand Yarns has been on the market since 1878. That type of history makes for a very appealing company to partner with.
Just from a content point of view, writing articles about their history gives you a great opportunity to craft some relevant and compelling information posts.
On top of the history, you have some good looking products, particularly the yarn, and a decent set of affiliate terms to boot. A solid option for the knitting niche.
---
Leisure Arts Affiliate Program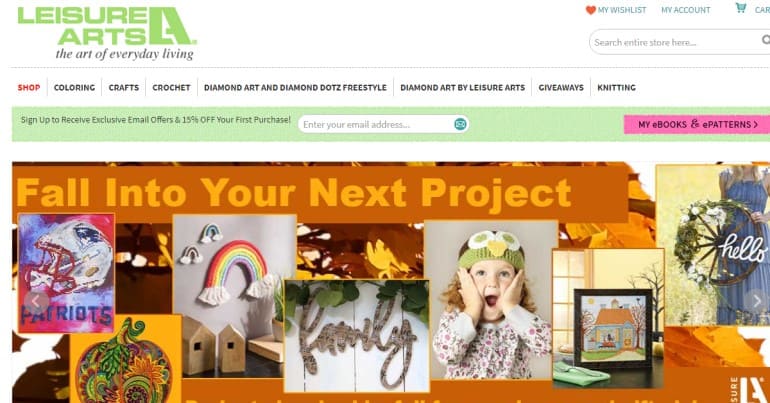 Leisure Arts is a little bit more of a general arts and crafts affiliate program than some of the more specialized entries on our list. But it still works quite well as a dedicated knitting affiliate.
As a kitting partner it would fit right into a knitting niche site or a more general arts and craft website in equal measure.
They have tutorial videos for knitting and other crafts. Patterns for your next knitting project and a whole host of other art and craft disiplines for you to promote.
Loom Knitting kits and patterns round out their knitting offerings and provide you with the structure you will need for your next knitting project.
The Affiliate Terms For Leisure Arts
A 60-day tracking cookie is one of the highlights of this partner program. Two months of return days and potential commission evertime someone clicks you affiliate links is nothing to scoff at.
While nothing on their site screams high-ticket item, it is still nice to have such a robust duration for your tracking cookie.
On to the commission now. Another double-digit commission is a welcome site. At 10% you should be able to get a nice income generated from this affiliate.
Give Leisure Arts a thourough test run and see how it resonatees with your audience and put that 10% commissionthrough its paces.
Why Promote Leisure Arts?
It probably makes more sense to use Leisure Arts as a more general arts and crafts affiliate program. They have products for a wide variety of art niches.
That said, the commission and cookie are very good and they have enough dedicated knitting products to make it a viable knitting affiliate program. It is certainly worth a look for any knitting niche site.
---
Ewe Ewe Yarns Affiliate Program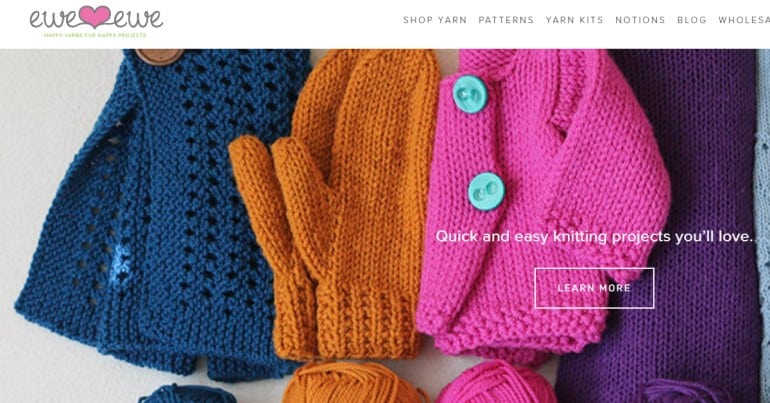 So many colors of yarn so little time. Ewe Ewe Yarns has a wonderful collection of yarns for you to promote in a wide range of colors. It is pretty impressive.
In addition to their colorful line up of yarns, they also have kits and patterns for you to promote making this a well-rounded knitting affiliate.
The kits in particular are very good products to promote on a niche site. You get everything you need to knit the project all in a simple easy to promote kit. Many of them let you chose a variety of colors options for the project as well.
Reviews on the kits and even articles or videos of you crafting them yourself would be great content for a knitting site. Another solid option for all the affiliate marketers out there.
The Ewe Ewe Yarns Commission
Before we get to that commission, I just want to talk about the tracking cookie. It is for 30-days. Once again we see a 30-day tracking cookie. It is considered the industry standard for a reason.
A full month will be plenty of time to promote Ewe Ewe Yarns products and still get credit for the commission. Standard and solid.
Now on to the commission. 20%. 20% is the quoted price on their ShareASale profile and it is a glorious sight indeed. a 20% commission is a foundational affiliate commission.
With a commission this good you can build your entire website around there products and promote Ewe Ewe Yarns in the majority of your content.
you will still want a couple of other affiliates to balance things out and cover all the bases but Ewe Ewe Yarns can sit proudly at the center of your affiliate business.
Why Promote Ewe Ewe Yarns?
The quality of their yarns and knitting products really stand out here. Quality products are a hallmark of all of the affiliates on our list, so it comes down to which one is best for your specific audience.
I think many of you will find that Ewe Ewe Yarns fits that bill perfectly. It is a very good option for a knitting niche blog and one that would benefit any affiliate marketing business.
---
CreateForLess Affiliate Program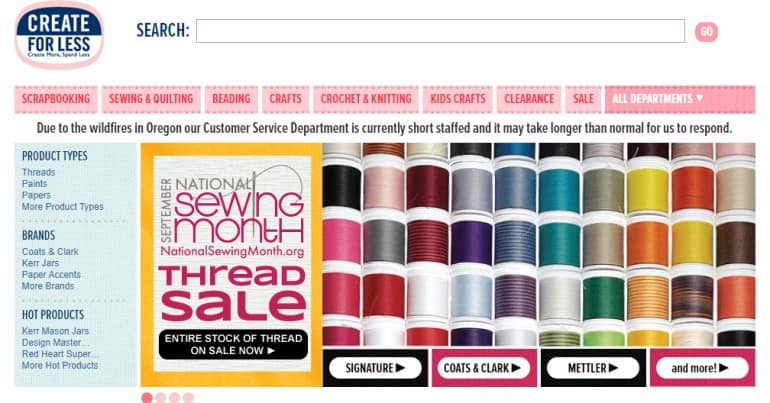 CreateForLess is a general arts and crafts affiliate with a good selection of knitting focused products. It works well for both knitting focused affiliate sites as well as more general crafting affiliates. CreateForLess has the goods you need to build a lot of content around.
Here is a look at some of the disciplines you can find on CreateForLess…
Yarn
Knitting
Crochet
Stitchery
Embroidery
Cross Stitch
Needlepoint
Diamond Painting
Quilting
There is certainly a lot more than just knitting and yarn if you need a broader affiliate. CreateForLess works well as a sewing affiliate program or a quilting affiliate in addition to knitting.
The Commission
The commission and the tracking cookie look pretty familiar. A 10% commission and a 45-day tracking cookie are what is on offer from CreateForLess.
The tracking cookie is a bit above average and gives you about a month and a half of return days. Plenty of time to promote their products in your content and get credit for the sales.
The commission is pretty common for this niche. It is not the highest on our list but it should be good for most affiliates. The important thing to remember is that a 10% commission that converts well is better than a 20% commission if it doesn't perform well.
Maximize your commissions but balance them out with how well an affiliate converts with your audience. Every audience is different so try and tailor your promotional material to the majority of yours.
Promoting CreateForLess
The great thing about these more general art affiliates is that they give you room to grow into other disciplines without introducing a new affiliate into the mix. The downside is that you lose a little bit of the specialization that comes from a dedicated knitting partner.
It is up to the individual affiliate marketer to decide if those tradeoffs are worth while and if the partner program is working well with your traffic and audience. Only time and a little testing will tell.
---
Ellsworth & Ivey Affiliate Program
Commission: 10%
Tracking Cookie: 30-days
Auto-Approval: No
Affiliate Niche: Clothing/Fashion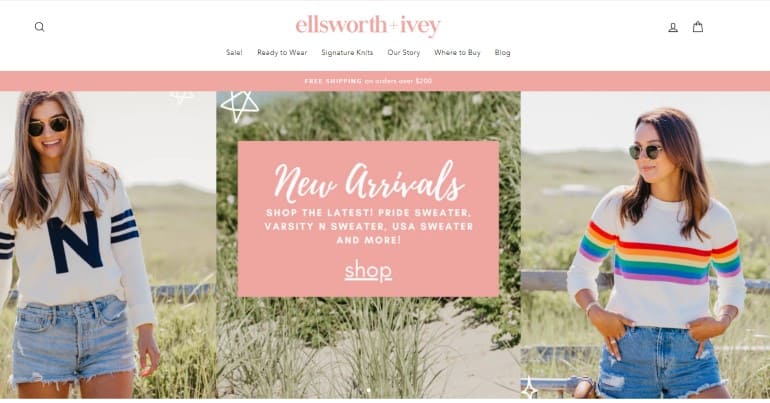 I always like to pick at least one affiliate program that is a little different for our lists. In this case I chose Ellsworth & Ivey. They are a fashion retailer with some nice knitted products.
Normally a knitting niche blog is going to be all about creating your own knitted projects. But adding in a knitted fashion affiliate is not a bad idea. You want to cover as many bases as possible for your audience.
Someone might want to buy a signature knitted sweater while visiting and if you don't give them an option they will go elsewhere. Granted this will not be everyone's expectation of a knitting partner. But I think it it worth considering when laying out your affiliate strategy.
You can, of course, just use Amazon for products like ths on yuour affiliate blog. But the difference iin commission really needs to be considered when deciding on where to send people for knitted sweaters and products.
The Commission For Ellsworth & Ivey
The tracking cookie duration is a standard 30-days. A full month of tracking days will give you a good platform to build on when promoting their knitted sweaters. One thing I want to point out is that some of their sweaters are well over $100 dollars.
By no means high-ticket items but expensive enough to warrant the solid cookie duration and still not effect your conversion rate to much.
Next up is the commission. Again it is a pretty standard commission for the knitting niche. Although I hesitate to call a 10% commission standard. 10% will do a job for you and will turn in a very nice per sale commission given the prices mentioned above.
Why Promote Ellsworth & Ivey?
It might be a tough sell for you to choose Ellsworth & Ivey as a knitting niche site. With good reason. It is a fashion website. But I think it can add something to your knitting site.
At the very least it shows just how popular and potentially lucrative knitting can be when you ae selling sweaters for over $100 dollars.
Plus it gives your audience a chance to just be consumers and buy something instead of creatives always making something for themselves. I think there is value in adding an affiliate like this to an arts and crafts niche site.
---
The Woolery Affiliate Program
Commission: 5%
Tracking Cookie: Not Listed
Auto-Approval: No
Affiliate Niche: Knitting/Wool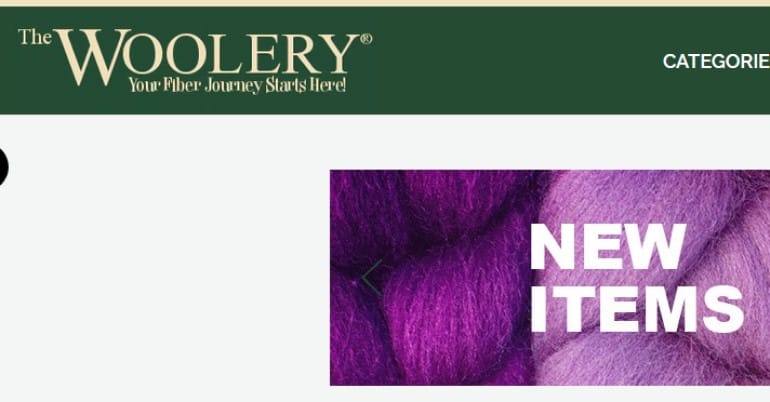 The Woolery is a family owned and operated fiber art supply store located out of Frankfort, KY. They have been supply all manner of fiber arts craftsman for over 3 decades.
From weaving and spinning to braiding and knitting they have every aspect of the fiber arts niche covered. The Woolery works great as a dedicated knitting affiliate and can branch out into every corner of fiber arts if that is where you want your niche website to go.
The Affiliate Terms
The tracking cookie information was not readily available at the time of publication. Be sure to ask about the duration when you are accepted to make sure you have a decent tracking cookie duration for your niche site.
The commission is 5%. A Little lower than some of the other partners on our list. Not to worry though. 5% should do just fine with enough traffic flowing through your niche site.
It will come down to conversion rates to determine just how effective the 5% commission can be. But with a solid brand like The Woolery the 5% should not be much of an issue.
Why Promote The Woolery Affiliate Program?
The Woolery has been providing products for the fiber arts for decades and is one of the more popular and reputable operations in the industry.
Having an affiliate partner with that kind of history is going to be a boon for a knitting niche site. Branching out to other areas of the fiber arts would be easy and you won't need to bring in a new affiliate if you choose to go that route.
All things considered, this is an outstanding affiliate partner for anyone in the fiber arts niche and specifically the knitting niche.
---
Alpaca Direct Affiliate Program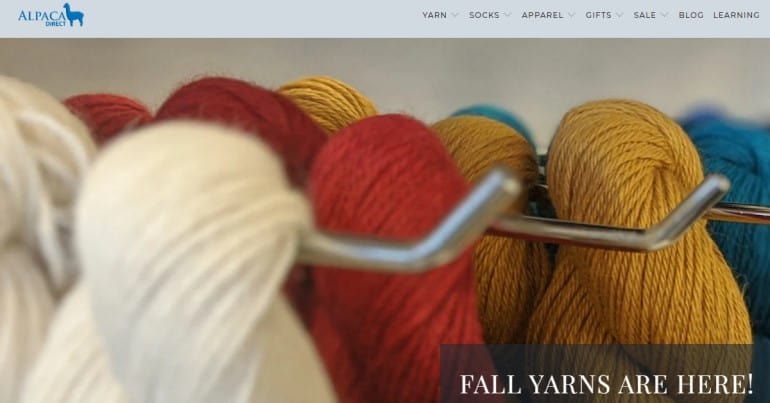 We are going to close out our list of partners with another very interesting affiliate. Alpaca Direct offers alpace appareal as well as a wide sleection of yarns for knitters and other fiber arts crafters.
The interesting thing is that they have Alpace and alpaca blended yarns as part of their line. It adds whole new possibilities for content based aournd alpaca yarn and clothing.
I suspect this wouldn't be the first place you think of for a knitting partner but it will work wonders for a niche site looking for something a little different.
They also have a good amount of other products that can work for fashion niche blogs and other arts and craft niches as well.
The Commission and The Cookie
At this point I should just cut and paste the 30-days cookie information. Standard tracking cookie. Good for most affiliates. Etc, etc, etc. All jokes asaide the 30-day tracking cookie will be just fine for this affiliate. nothing ot worry about there.
What about that commission though. 8%. 8% is very good. A little shy of the double digit commission I always like to see. Still very good and should provide you with a solid iincome with enough traffic flowing through your niche site.
Why Promote Alpaca Direct?
The fun factor really stands out for this affiliate. That alone is reason enough to promote it. Who doesn't love alpacas? And to think that you can knit your own alpaca sweaters with yarn from Alpaca Direct.
Of Course, you have to throw in the solid commission and tracking cookie but the alpaca yarn is the foundation of this affiliate program, for our purposes and the reason why you should check it out.
---
Wrapping It Up
All Good things must come to an end. So must our list of these fine knitting affiliate come to an end. Whether you are looking for a dedicated knitting partner or something a little broader in the fiber art niche, it is right here for you to try.
There are many more general arts and crafts affiliates out there to try if nothing on our list tickles your fancy. Ultimately you are the arbiter of which affiliates you use for your business and I hope some of my suggestions have been beneficial to you.
Get out there and continue building great knitting content. Expand your knitting blog and build the passive income you are working so hard to achieve. These affiliate partners can help you get where you want to go. Good luck to you.
Don't go it alone. Get the best learning tools and community to help you build your online dream. Check it out here.
Thanks for visiting and have a wonderful day.