This article may contain *affiliate links. Please see our affiliate disclosure for more details
I am always on the lookout for interesting new partner programs for a wide range of blogging niches. I was dabbling in the fashion niche and decided to dive into the sunglasses micro-niche.
So after doing a little research, I have put together this list of 10 of the best sunglasses affiliate programs that you can use to monetize your sunglasses blog.
There are plenty of other options out there for this industry. But these partners offer the best combination of commission, cookie duration, and product offerings.
The sunglasses industry itself is robust and generates an incredible amount of revenue the world over(source).
The ultimate arbiter of what program you should use for your website is how well it converts for your specific audience. You will have to run tests to see what shakes out on top.
Great commissions don't matter if you can sell the products. Don't try and force designer sunglasses on an audience that is simply looking for budget ones. Either change your audience or your approach.
There Is Just Something About Owning Your Own Business. Being Your Own Boss. Building Something From The Ground Up With Your Own Hands. Especially When It Is This Easy To Get Started.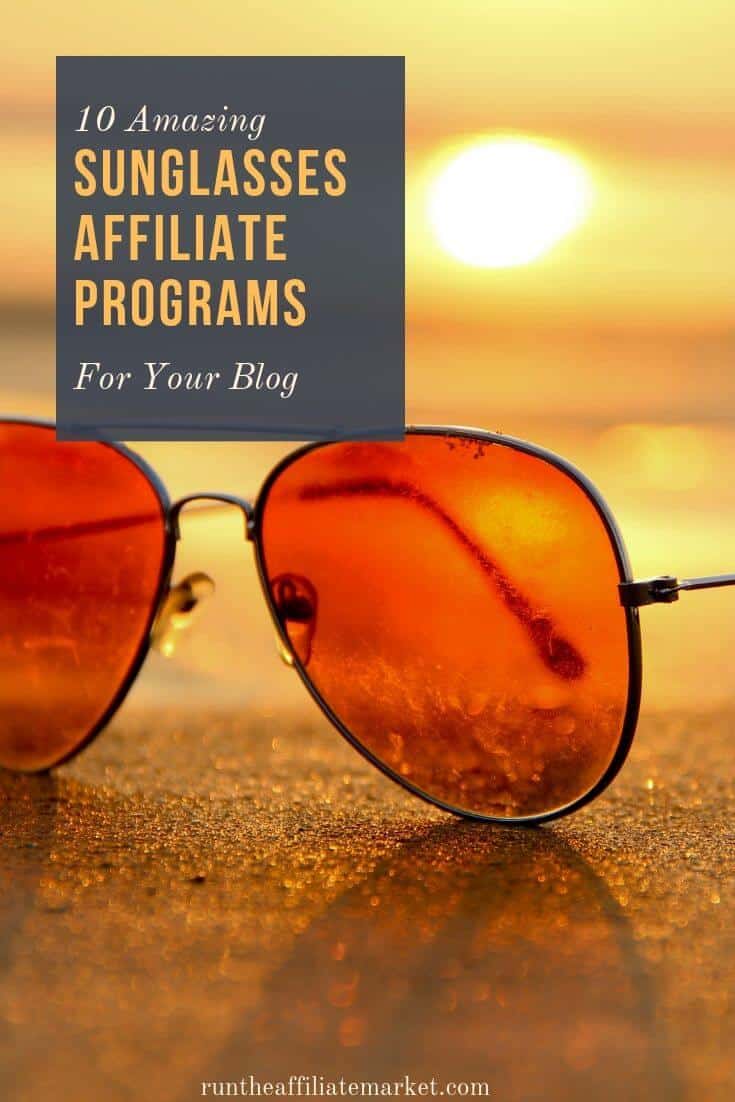 Have A Look At These Sunglasses Affiliates
---
Luxomo Affiliate Program

Looking for a designer sunglasses affiliate partner? Then Luxomo might just be the ideal one for you. They have over 40 brand name designers for your readers to consider when making a sunglasses purchase.
The list goes on and on. From Gucci to Nike. Ray-Ban to Porche. They have all the big names. Then there are the styles. Each brand has a huge selection of signature styles that will keep your audience intrigued for a long time.
Whether you need sunglasses for him or her, Luxomo has you covered. The prices are high enough that you can make a good commission but not wildly outrageous that they scare off normal people.
This is a great addition to any sunglasses blog, but particularly one focused on designer sunglasses.
The affiliate terms are very nice for a partner of this size. They offer a 6% commission on all qualifying purchases that your readers make through your affiliate links. The cookie is a standard 30-day tracker, which works out well given the higher prices of some of their products.
This is one affiliate partner that you don't want to pass up on if possible. They are serviced through the Commission Junction(link) affiliate network, so you can be confident in their reliability. A good partner to have for anyone in the sunglasses niche.
---
Sanos Eyewear Affiliate Program

Sanos Eyewear is a great little affiliate partner for your sunglasses blog. Specifically, if your blog focuses on wood-framed sunglasses. This trend away from plastic continues to pop up in just about every area.
For anyone in the sunglasses niche, the wooden frames give you a whole new avenue to explore with your great content. And that is where Sanos comes in. They have a decent selection of sustainable hand-crafted sunglasses that are made from wood.
The prices of these wonderful and unique sunglasses are similar to their plastic counterparts, the average price is around $100 dollars.
But the benefits go far beyond the products, you can generate a ton of content based around wood-framed glasses. It really is a huge opportunity here.
Speaking of opportunity…
The affiliate terms for the Sanos Eyewear partner program are very nice as well. Its affiliate partners are granted a 10% commission for their promotional endeavors. The tracking cookie rounds out the total package and clocks in at a good 30-days.
A unique and interesting partner program for any sunglasses niche. It is a prime affiliate if your niche is wooden sunglasses. The entire package for the Sanos Partner program is top-notch and one you should really consider for your sunglasses blog.
---
Rayban Affiliate Program

Ray-Ban is one of the biggest and most recognizable names in the sunglasses industry. Your readers will know of them even if they have never owned a pair. I would describe them as mainstream designer sunglasses.
They carry a hefty price tag, usually $100 dollars or more for their sunglasses. And some of the products can go even higher. This is good for affiliate marketers as you can generate a good amount of income on fewer sales with such high-priced goods.
It will price some of your readers out of the product, however. So it is always good to have lower costs options available.
Ray-Ban offers products for kids, women, and men and have a wide selection of styles with new ones popping up all the time.
They also offer a variety of lenses for your readers to select from. All the classics from Wayfarers to Aviators are accounted for. You will want to pick this partner up for just about any sunglasses blog.
The Ray-Ban affiliate program offers a competitive commission of 6% for their partners and they have a decent length of their tracking cookie. The cookie gives you a 15-day window to make your sale and still get a commission.
There is really no avoiding Ray-Ban if you are in the sunglasses niche. Whether you use them directly or through another partner you will most likely have some exposure to their brand.
It is worth it to get the official partner program as part of your affiliate strategy just in case you need to direct your readers to the official source. And the program terms are well worth it as well.
---
Sunski Affiliate Program

Sunski has its own line of high-quality and stylish sunglasses that you can promote to your reader. They are reasonably priced at about $60 dollars or so for many of their products.
This gives you the opportunity to promote them to a much wider audience than some of the more expensive brands.
But these are not budget glasses they are high-quality resin and steel frames with great lens options for a wide variety of customers. They also offer a wonderful lifetime warranty for your audience.
Be sure to add this to your promotional content every chance you get. It is a huge selling point for these exceptional sunglasses,
The affiliate terms reflect the overall quality of this partner program. Sunski offers a fantastic 8% commission on all sales through your affiliate links and their cookie is rock solid at a standard 30-days.
This partner might not have enough selection to be your general sunglasses affiliate partner. Amazon or a similar store works better for that.
What they do have is a great warranty and some outstanding products that your readers are sure to love. I recommend at least giving this partner a chance and seeing how they convert with your particular audience.
---
Panda Sunglasses Affiliate Program

Panda Sunglasses offers your readers a unique range of bamboo-framed sunglasses that are as elegant as they are environmentally friendly.
We have a couple of wood sunglass affiliates on this list and they are becoming more and more popular as the focus on reducing plastic and synthetic materials heighten.
Panda has a surprisingly large selection of styles of sunglasses with bamboo frames. There are dozens of colors and styles to choose from ranging from their original line and into ultralight and some prescription ready frames.
The unique bamboo construction will do wonders for your content generation. The ideas are plenty when you start to dive into the construction and environmentally sound designs of their products.
But they didn't skimp on the affiliate terms either. They offer a wonderful 10% commission for their affiliate partners. The tracking cookie is acceptable at 15-days. There is really nothing not to like about Panda Sunglasses and their affiliate program.
Good commissions and a decent tracking cooking combine with an excellent product and a huge selection. The price of their glasses run around 120 dollars so the commission is sure to be very nice.
Give them a chance if you are in the wood sunglasses niche or are expanding your sunglasses blog into that micro-niche.
---
Oakley Affiliate Program
Another one of the big boys. You will not have to do too much promotion for Oakley. They are a worldwide brand that is incredibly popular in the United States among athletes and the military in particular.
In fact, this partner works extremely well outside of the sunglasses niche. If you have an airsoft or baseball blog then you can easily fit this partner into your affiliate strategy.
People love Oakley Sunglasses for their look and their durability. This is almost a must-have for most sunglasses blogs and I would try and fit them in if your audience is receptive to them.
Oakley is partnered up with the always reliable Commission Junction Affiliate Network(link),
The affiliate terms are what I would call decent. Not great but not bad. They offer a 6% commission for their partners and the tracking cookie is acceptable at 15-days.
The brand name alone is worth having in your affiliate strategy even if it is not the focus of your overall blog. But give them a chance, you might be surprised at how well they convert.
Keep in mind that you can pick up Oakley Sunglasses at many other retailers so choose the ones with the best process and commission to make the most out of this fantastic sunglasses brand.
---
Warby Parker Affiliate Program
Warby Parker is an increasingly popular sunglasses manufacturer. They have made a pretty big push with advertising on television and a massive attempt to get their name recognition increased in recent years.
This is great for an affiliate partner. Any name recognition that the company can generate makes your promotion of their products that much easier.
Their affiliate program is one of the best in the entire niche. They are on the ShareASale Network and they have a Power Ranking in the top ten on that affiliate network.
This company is a juggernaut it seems.
And with a 20% commission, it is something that any sunglasses blogger will need to look into and take seriously.
They could very well be the focus of your blog if their products convert well enough for you. The tracking cookie of 45-days only adds to the outstanding package offered here.
I try not to say that an affiliate program is a must-have for anyone in the niche. But there is no way around it for Warby Parker. Everything about this program is exceptional.
From the commission and the cookie to their products and the growth of their business. Warby Parker is one that you will absolutely want to promote if you can.
---
Sunglass Hut Affiliate Program

One of the biggest names in retail sunglasses, Sunglass Hut gives your blog a recognizable and popular retail brand that you can use to promote a variety of sunglasses brands.
Sunglass Hut offers a huge selection of designer sunglasses brands for your readers to consider. Oakley, Ray-Ban Versace, and Prada are just a few of the high profile sunglasses names that you can promote through their affiliate program.
Sunglass Hut often has specials that you can promote and the price on many of their designer brands are very much high-ticker items, with some classes running well over $500 dollars. The prices combined with the commission are a great way to earn a nice profit.
Let's have a look at that commission now…
Their affiliate terms are pretty good for such a large and well-known retailer. They offer a 7% commission on all qualifying sales through your affiliate links.
Their cookie information was not readily available so you will need to ask about that when you sign up for their program.
You simply cannot ignore all the good that this affiliate program provides. The commission is on par with Amazon and their selection and reputation are unquestioned.
If you need a good affiliate to promote that has a wide variety of famous sunglass brands this might be the one you are looking for.
---
Sunglass Warehouse Affiliate Program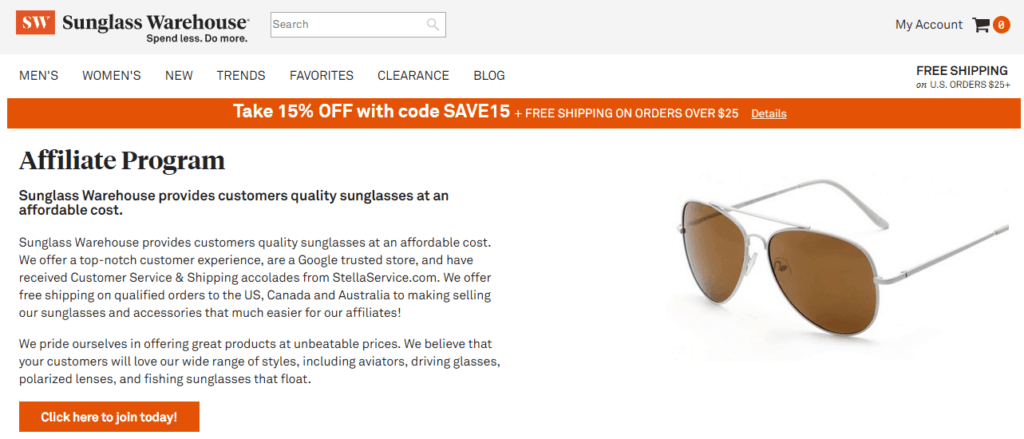 Sunglass Warehouse was started in 2002 and has been growing ever since. They offer a huge variety of styles for just about anyone's tastes.
Their sunglasses are well made, but they are not the name brands you see in other stores. They are functional and inexpensive sunglasses that you can promote to anyone.
The price points on these glasses average around 20 dollars if I had to guess. That means lower commissions but should translate into many more sales, so it balances out a bit.
I don't think that this is going to work as a primary affiliate program, but it might be possible to build your entire blog around budget sunglasses. A better option would be to use Sunglass Warehouse and some other affiliates that offer brand names. That way you cover all your bases.
The commission on offer is a robust 10%. A great commission for any niche and one of the higher ones for sunglasses. The tracking cookie is also very good. It weighs in at 45-days.
This budget sunglasses retailer makes for a great complimentary affiliate for your blog. They have seemingly every style and a reasonable price. This is a very good affiliate to have in your corner especially if your audience needs a lower cost option for their sunglasses.
---
Eyekepper Global Affiliate Program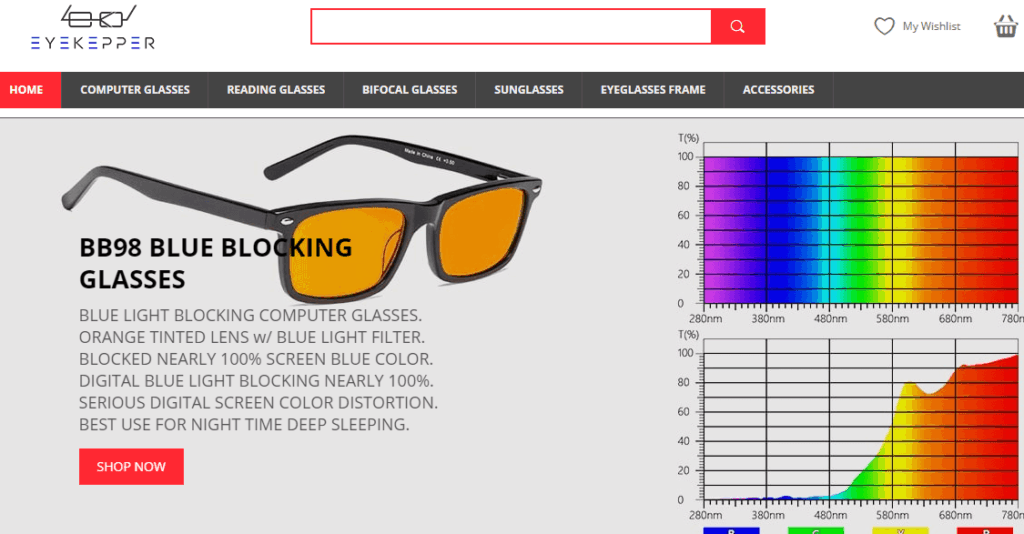 Eyekepper specializes in a variety of sunglasses that are designed to block out blue light and reduce eye fatigue.
They have a wide range of sunglasses options ranging from clip-on to aviator-style sunglasses and many others in between.
In addition, they also offer a nice selection of reading glasses using the same lens technology and computer glasses that reduce eye fatigue from staring a computer monitor for hours on end.
The affiliate terms are the best of any on this list. The commission is a huge 20% and the tracking cookie weighs in at a robust 90-days.
20% for any type of physical product is outstanding and you should give this partner a trial run just to see if it converts for your audience.
These are very specific products and, as a result, will take a little bit more promotion than some of the other brands. But they are quality products and are relatively cheap, under $50 for the most part.
You should be able to do very well promoting these products on your sunglasses blog, although they may need their own content campaign to get the most out of them.
---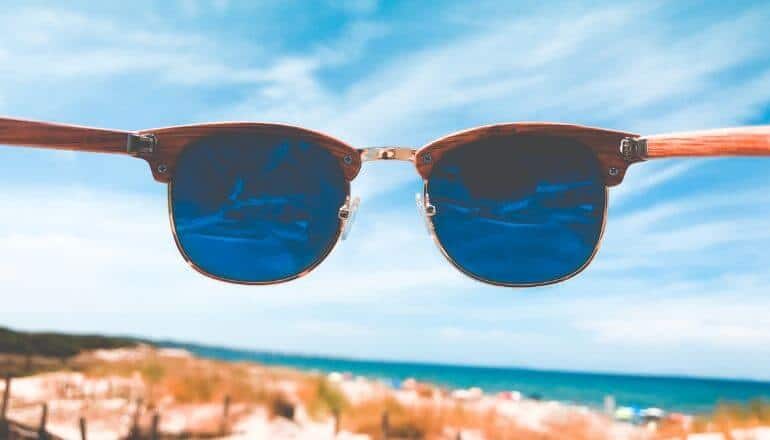 Final Thoughts
That just about wraps up our look at these 10 sunglasses affiliates. Don't try and promote all 10 or more affiliates at once. Choose a couple, run some tests and then shake pout the ones that don't convert.
Be analytical, not emotional. Just because a partner has high-ticket sunglasses and a great commission doesn't mean you should try and force it on your readers. Conversions are the name of the game here.
Be smart and start small. Build your readership and audience then maybe incorporate some higher-ticket sunglasses into your content and promotions. Give your audience what they want, not what you want them to have.
Don't go it alone. Get the best learning tools and community to help you build your online dream. Check it out here.
Thanks for visiting and as always have a wonderful day. See you soon.