This article may contain *affiliate links. Please see our affiliate disclosure for more details
So you're a builder, a creator. You're someone that decided to start building your own business around bow hunting because that is your passion.
Taking that first step is always tough, but seeking the right affiliate program for your bowhunting website shows me that you are on the right path and you're going to succeed at your business venture.
I hope that these affiliate programs can help you out in that endeavor. So let's take a look at these outstanding bow hunting affiliate programs that you can use to help monetize your website. These great bowhunting affiliate programs are just the first step to a successful online business.
There Is Just Something About Owning Your Own Business. Being Your Own Boss. Building Something From The Ground Up With Your Own Hands. Especially When It Is This Easy To Get Started.
---
Check Out These Great Bow Hunting Affiliates
---

The Crossbow Store Affiliate Program
---

CamoFire Affiliate Program
---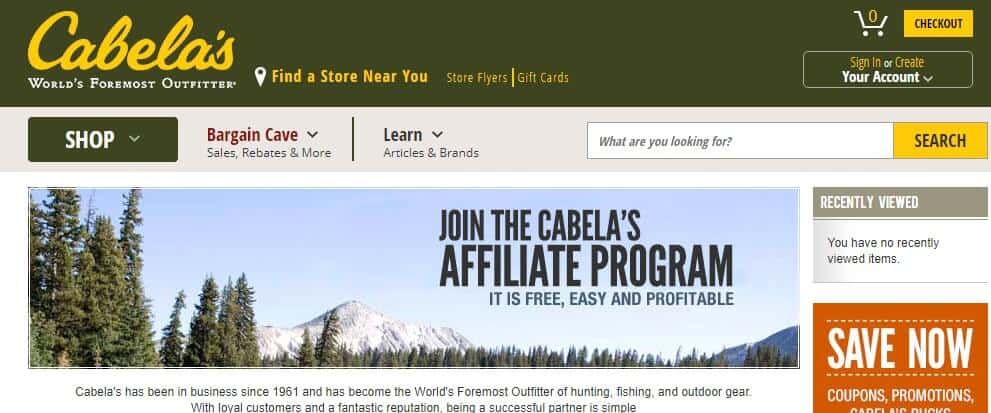 Cabelas Affiliate Program
---

Bass Pro Shops Affiliate Program
---

Scope It Out Affiliate Program
---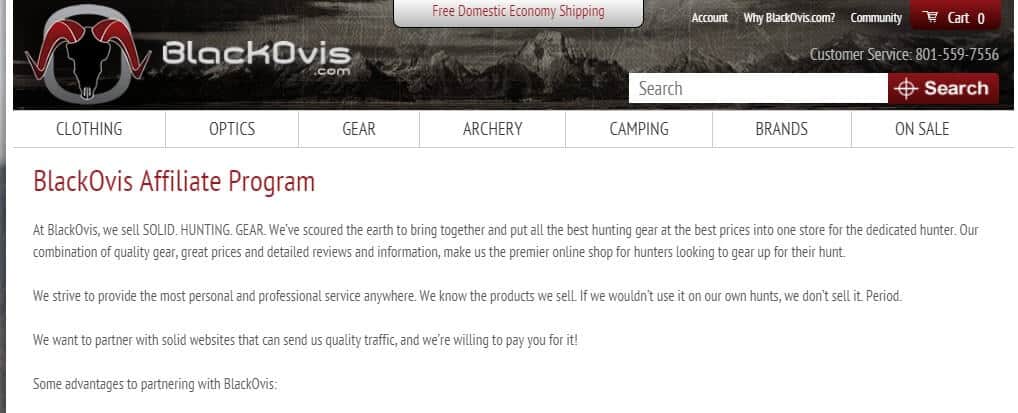 Black Ovis Affiliate Program
---
What To Look For In A Bow Hunting Affiliate Program
Let's take a look at some of the important factors that you need to consider when deciding on which affiliate programs to promote on your website.
You want to have a core group of partner programs, I would say no more than a half-dozen or so to begin with. You can expand these later once you get an idea of what your audience is going to be like.
However, choosing affiliate programs is not as straightforward as finding the highest commission and then just slapping the affiliate link all over your website.
I always look at these five factors when trying to decide on an affiliate program.
The Tracking Cookie Is Always Important
The first factor that you want to consider when choosing an affiliate program is the tracking cookie.
The longer the tracking cookies the better the chances that you're going to convert a sale out of that particular affiliate program.
Typically the standard is around 15-30 days. for these bow hunting affiliate programs, anything in that range is going to be just fine for your affiliate strategy.
If you are finding that you're promoting a lot of high ticket items like the bows themselves then you might want to try and find something with a little bit longer tracking cookie since high ticket items tend to need more time to convert.
But for most of the products that you going to be promoting in the bowhunting niche 30 days or 15 days is going to be plenty of time for you to make the sale and still get a commission.
You Might Also Be Interested In…
The Bow Hunting Products you Are Promoting Must be High-Quality
Next up is the product quality. You always want to promote the best and highest quality products that you possibly can.
I know it may seem pretty straightforward but there have been many affiliate marketers that pic there partners based solely on commission and don't even look at the quality of the product.
You see it in a lot of niches, especially digital software and make money online.
It's not as prevalent in the bowhunting Niche because most of the companies you will be promoting have very good products that are well put together and are going to be very easy for you to promote to your readers.
The Reputation Of The Bow Hunting Affiliates
The next factor that I like to look at ties into the previous won a little bit. In addition to promoting high-quality products, you want to promote good companies that people are going to want to do business with.
It doesn't mean that they have to be the most well-known companies. They just need to be trustworthy and have good products for you to promote.
On the business side of things you also want to find reputable companies that are going to pay you your commissions on time and with a reasonable payout limit.
It is something that's often overlooked when people choose affiliate programs.
They find great commissions but then fail to realize that you need to make 200 or $300 in sales just to get your money paid out and that can take some time especially if the products aren't the most popular.
It's just something to consider when deciding on which bow hunting Partners you want to promote.
For most of the physical products, you're not going to have to worry about it because they're going to be made by world-renowned companies that are going to stand behind their products.
Conversion Rate Is Incredibly Important
And that brings us to the conversion rate. This might be the most important aspect of any affiliate program.
When you choose a bow hunting affiliate program you must get it to convert. Now there are a lot of factors that go into conversion rate and it is are very specific to your readership.
But without a gray conversion rate, none of the other factors really matter. A Great Commission is no good if you can't get those affiliates to convert.
In the bowhunting niche, you've got to have great products that people want to buy but you also have to develop content that is going to get people to use your affiliate link and then convert into a sale down the road.
The conversion rate as I mentioned has a lot of factors that contribute to it. Your content is going to be a big part of that.
The actual products themselves and the quality of this product is going to feed into how well the conversion rate does for your bow hunting affiliate programs.
The tracking cookie also plays a big part in the overall conversion rate. Longer the tracking cookie the better chance you have of making a sale.
Everything works together for you to try and get the best conversion rate that you possibly can.
The biggest factor in conversion rates, however, is your specific audience. It doesn't matter how great the affiliate program is if your readers do not like it then it is not going to convert.
So that's the most important aspect of the conversion right. You must find out what your readers want.
So when you choosing these bow hunting affiliate programs you're going to need to run some tests with your audience.
Once you do that you'll find out exactly which ones are going to convert best for your specific readers.
If you're a brand new website and you just looking to start monetizing then you want to try and pick some of the more popular affiliate programs in the bowhunting niche.
You want to pick ones like Cabela's or Bass Pro Shop because they're very recognizable and just about anybody that's going to come to your site is going to know who they are without you have to explain it to him.
And that is definitely going to help your conversion rate early on.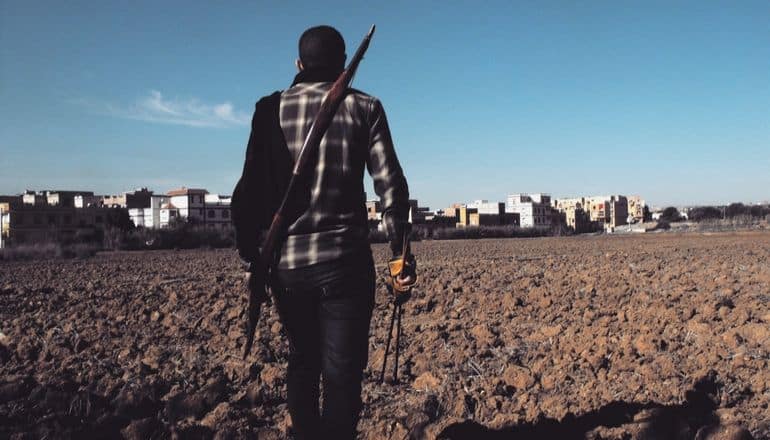 Don't Forget About The Commission
Last but not least comes the affiliate commission. Now, this is the number that everybody is going to look at first.
In fact, I bet it when you looked at these bow hunting affiliate programs the first number you went to check was the commission percentage.
There's absolutely nothing wrong with that because this is where you were going to make your money.
You want to make sure that you have at least a decent Commission for the products that you're going to be promoting.
I like to take anything around 5% and up as a decent commission. Obviously anything approaching 10% is going to be exceptional for many niches especially ones that are product-based.
But you will see commissions up to 50 or 75% for a lot of digital products. For bowhunting affiliate programs 5 to 10% is about what you can expect.
This is not that bad at all although it does put it in that Amazon Associates range where you might want to consider using that affiliate program over some of the other ones unless you can find some great affiliate terms.
Ultimately though the commission is not the end-all-be-all of choosing an affiliate program.
You need to factor in the other aspects of the affiliate program and find the best overall program for your specific audience.
Basically you want to find something with a baseline commission and great conversion rates and a good cookie and great products and work with that.
What you don't want to do is find something with a great 20% commission that has garbage products and doesn't convert at all with your specific audience because it would be pointless to spend all that time trying to promote it.
So the commission's important no question about it. But it's not all-important. Don't focus on a single number when looking for an affiliate program.
Just make sure it's good enough to be worth your while and then expand out and look at the overall affiliate program to make sure it's going to work for you.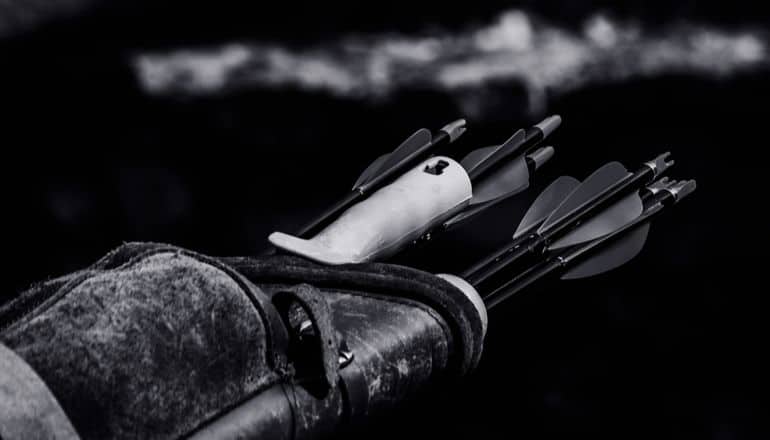 Bullseye!
And that brings us to the end of our look at these Fantastic bow hunting affiliate programs that you can use right now to help monetize your bow hunting or general hunting website.
Just remember to use all the factors that I outlined here and not just focus on the commission.
I can't stress that enough that you need to balance the entire affiliate program out to get the best results with your passive income website.
And remember that the content that you create is going to be the driving force behind the traffic that's going to eventually translate into sales for your business.
So you want to make sure that you were creating wonderful high quality and useful content for your readers to digest.
Don't go it alone. Get the best learning tools and community to help you build your online dream. Check it out here.
Thanks for stopping by and have a wonderful day.