This article may contain *affiliate links. Please see our affiliate disclosure for more details
Headphones and earbuds are a big business. Dozens of companies have great headphones and accessories. The headphone niche is booming. So if you are thinking about putting together a niche site dedicated to headphones and earbuds now is the time.
Headphones are a competetive niche and you are going to need some heavy hitters in your affiliate stable. Enter Skullcandy. One of the most popular and respected names in headphones. It could be a great asset for your affiliate marketing business.
Can you really make money with the Skullcandy affiliate program? You absolutely can make a good income using the Skullcandy affiliate program. The commission and cookie are reasonable if a little on the low side but overall it is a solid addition to any headphone niche site.
With the Skullcandy Affiliate program, you can promote these fantastic products and earn a little cash for yourself while building your headphone or audio niche site.
So let us take a look at this affiliate program. We will check out the commission and cookie, as well as some of the best niches to use this partner in.
There Is Just Something About Owning Your Own Business. Being Your Own Boss. Building Something From The Ground Up With Your Own Hands. Especially When It Is This Easy To Get Started.
---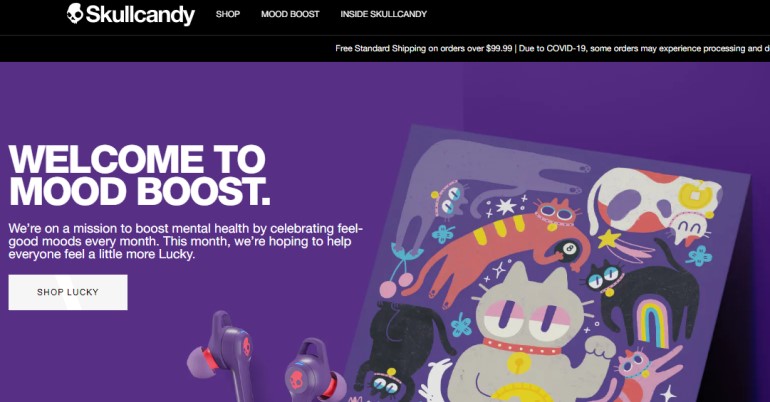 ---
The 5% Commission
The 5% commission offered up by Skullcandy is pretty middle of the road. It is certainly more than you would get from Amazon associates, where the commission is typically 1%-3%, but short of many other electronic and headphone affiliates.
Still, given the quality and reputation of the Skullcandy product line, it should work pretty well for most affiliates out there. 5% can still bring in a solid amount of revenue if you can develop good content that brings in a solid stream of traffic and you get a decent conversion rate.
Thre is nothing spectacular about the commission here, but it's not always about the commission with an affiliate program.
A decent commission that converts is better than a huge commission that doesn't. Of course, if you can find a huge commission that converts well that's the dream.
7-Day Tracking Cookie Duration
The tracking cookie duration is a little on the short side for this affiliate program. It comes it at 7-days. That is not terrible but the standard is typically around 30-days for a tracking cookie duration.
What this means is that someone has 7-days after clicking your Skullcap affiliate link to make a purchase and still give you credit for the commission.
So you will need to make sure your links are in more buyer-oriented content to maximize your conversion rate. It shouldn't be too much of an issue since you are going to want to put most of your links in buyer intent content in the first place.
---
A Quick Look At Skullcandy Products
They offer some of the best headphones, earbuds, and accessories. They have your standard wireless and wired headphones and earbuds so you can build content around all types of equipment depending on the needs of your audience.
Overall it is a standard slelction of headphones and audio equipment but the quality seems to be a step above many other brands. I would consider these premium products but they are within the standard price ranges for these types of headphones and earbuds.
Some of the headphones can run well into the hundreds of dollars but I didn't see anything that really approaches what I would consider a high-ticket item.
On the flip side, they do have lower-priced options. These less expensive options give you the opportunity to market yo a wider range of people and income levels and are always a great sign to see in an affiliate program.
Overall they have a good selection of products. But keep in mind that this is now a warehouse store that has every brand and style imaginable. This is a manufacturer website that sells their brand.
The point is that your audience needs to be interested in Skullcandy gear or you will not be very successful and there is no other brand to promote if they don't respond to Skullcandy in general. Given the popularity and quality of their products, this shouldn't be an issue.
---
Best Niches For Skullcandy
Headphones and earbuds are going to be the most relevant niche for this affiliate program. But you can use this affiliate for a variety of other niches as well. Anything that would benefit from high-quality headphones is a potential niche.
Here are a few examples.
Gaming Niches
Music Niches
General Audio Equipment Niches
Travel Niches
The gaming and esports niches are pretty obvious niches that would benefit from this partner. As is the music and audio niches. Travel niches are a great place to use this affiliate as well.
An article looking at the 10 best earbuds for travel would make a great piece of content and Skullcandy products can be at the center of that.
There are certainly other niches that would benefit from these types of product and if you are creative you can implement this partner program into a wide range of them and expand you monetization options for your affiliate marketing business.
---
Closing Thoughts
That wraps up our look at the Skullcandy affiliate program. I would say that this is a pretty standard affiliate program.
The commission and tracking cookies are decent and should be ok for most affiliate marketers out there. But it is not a spectacular must have affiliated for marketers in the headphone niche.
It is a bit of a shame that some affiliate marketers will pass on this affiliate and their great products because of the less than stellar affiliate terms.
But it is understandable. If this affiliate program had a 10% commission and a 30-day tracking cookie it would be among the best headphone affiliate programs going right now.
The products themselves look great and would be an asset for just about any affiliate marketing business out there. If you can make the commission work for you then it can be a good earner for you.
The great thing about affiliate programs is that they are free to join so give the Skullcandy affiliate program a try and see if you can get the most out of their commission and great products.
Don't go it alone. Get the best learning tools and community to help you build your online dream. Check it out here.