This article may contain *affiliate links. Please see our affiliate disclosure for more details
Welcome everyone, Michael here and today I will be taking a look at some of the best kitchen affiliate programs that you can use for a variety of niche blogs.
Anything from recipes blogs to kitchen product reviews and home decor blogs could use these kitchen affiliates to improve their monetization options.
These affiliate programs and little marketing know-how and an outstanding web hosting service will send you on your way to building a great kitchen niche website.
Let's dig in and see if we can find something that fits your blog.
There Is Just Something About Owning Your Own Business. Being Your Own Boss. Building Something From The Ground Up With Your Own Hands. Especially When It Is This Easy To Get Started.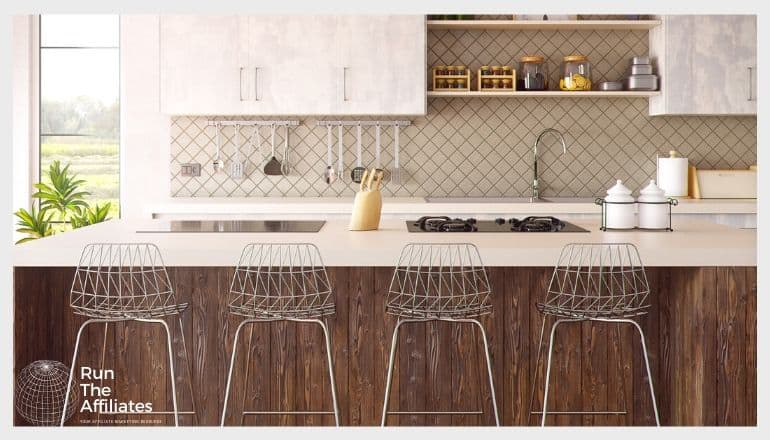 Check Out These Kitchen Affiliate Programs
These kitchen affiliates will give you options for a wide variety of kitchen related products. Kitchen appliances and accessories are going to be the most appealing products because of their higher price ranges but recipes and food delivery shouldn't be ignored for a good kitchen centric blog.
Put these kitchen affiliate programs to their best use by investing in a little affiliate marketing training. It will help you avoid pitfalls and maximize your affiliate programs.
---
Shineuri Kitchen Affiliate Program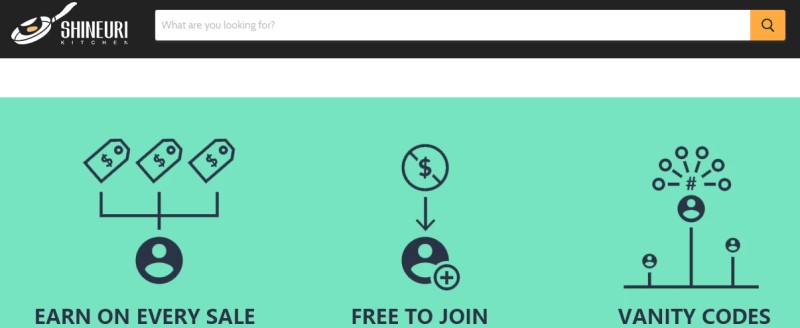 Shineuri Kitchen is a large website featuring hundreds of kitchen utensils tools, pots and pan and everything else you need to cook a nice home-cooked meal in your state-of-the-art kitchen.
They have bakeware and cookware and woks, grill pans, and dutch ovens. The number of pots and pans and tools make it a good candidate for your primary affiliate program for any kitchen blog. You can have a look at their products on the Shineuri Kitchen website.
What really sets it apart is the Fantastic affiliate terms that you were going to get for this partner program. They give you a full 120-day tracking cookie. That is an incredible amount of time 2 try and convert affiliate clicks into affiliate commissions.
You rarely see tracking cookies for this duration. For months is an incredibly long amount of time for you to make a sale using their affiliate program. the affiliate commission follows up the Fantastic tracking cookie with a very generous 8%-10% Commission on qualifying sales through your affiliate link.
This affiliate commission is quoted on the profile of the Shineuri affiliate program,  and of course, it's always able to be changed but as it stands right now the 8%+ is an absolutely fantastic commission to get for promoting their products.
---
Kitchen Universe Affiliate Program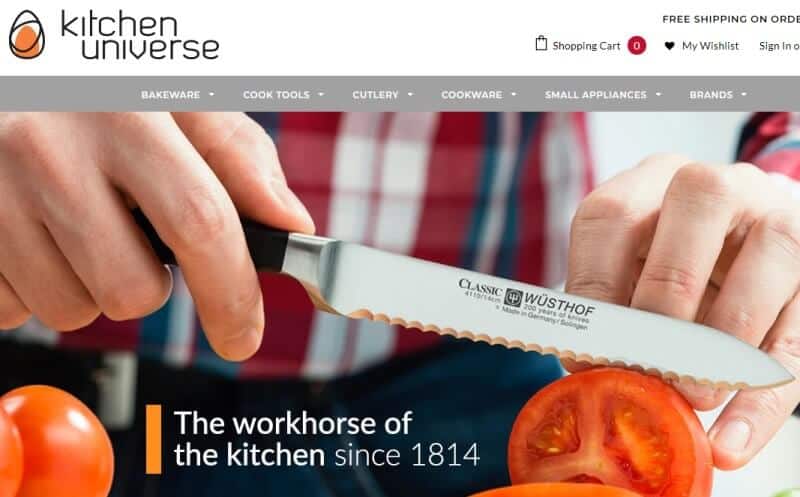 Kitchen Universe has a wide array of cutlery, cookware, bakeware, and general kitchen tools and accessories. They offer brands such as Le Creuset, Peugeot, and Rosle for you to promote on your cookware or general kitchen blog.
They also have a very nice selection of small kitchen appliances such as toaster ovens, coffee makers and grinders, toasters and waffle makers. Basically everything you need for your kitchen other than the oven itself.
The tracking cookie is one of the best you will find in any niche. They offer a 365-day tracking duration for their affiliate partners. And it is a welcome sight. The big reason for this is that some of their products are high-ticket items.
They have premium cutlery sets that run well over $1000 dollars and you need as long a duration tracking cookie as possible for these types of pricey products.
The commission is pretty nice as well. It weighs in at 7% and with the high-ticket products, it would only take 3 or 4 sales a day to generate a full-time income with this affiliate program.
That is not as easy as it sounds, of course, but this partnership will give you a good foundation for any kitchen, cooking, or knife and cutlery blog.
---
A Best Kitchen Affiliate Program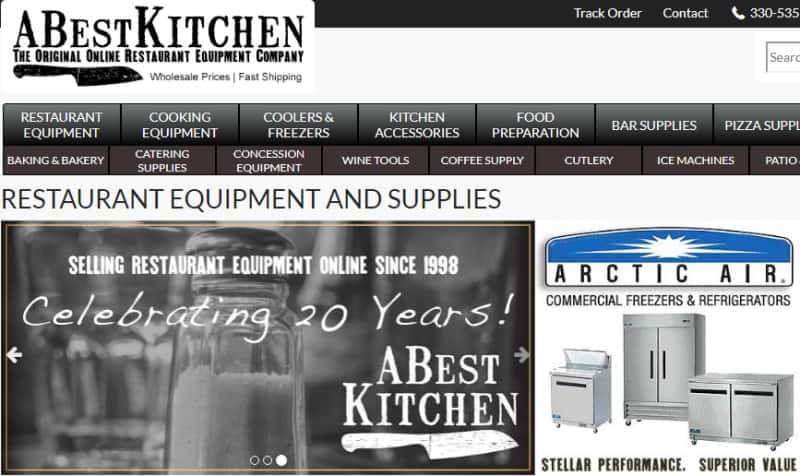 A Best Kitchen Is a little bit different from most of the other affiliate programs on our list. This affiliate deals with restaurant-grade kitchen equipment and tools. So think along the lines of deep fryers and Commercial grade freezers and stoves and things along those lines.
This means that this affiliate program is not going to have the same appeal as some of the other partners that are dealing with home kitchen equipment. A Best Kitchen has been in the business for 20 years, making it a great affiliate to promote.
This affiliate program is a good idea if you are developing a restaurant blog or how to start your own business type of blog and you need a place to send people for these commercial purchases.
Granted these types of blogs are not as popular as the more personal blogs directed at individuals but they are incredibly profitable if you can get the traffic to them and get the conversion rate to a reasonable level.
One thing to note is that their website lists a 4% commission but their ShareASale profile lists it at 5%. Double-check to make sure you get the best commission available. I will be using the 5% commission listen on ShareASale as the quoted commission for the purposes of this article.
The tracking cookie duration is 30-days. While 30 days is not a bad tracking cookie it is not the best duration for this particular affiliate program. The reason for this is that the products that these affiliate sales are very much high-ticket items.
They run well into the thousands of dollars and typically you were going to want to have more than 30 days to decide on whether or not to make a purchase of this magnitude.
It's not something that's going to completely keep you from using this affiliate program but it is something you need to take into account When developing content using their affiliate link.
You want to try and catch the consumer as they are in a buyer intent mode and not just in the initial research phase of their purchases.
---
90210 Kitchen And Bath Affiliate Program

90210 Kitchen And Bath Has a few fixtures for kitchens which is why it makes our list. Sinks and faucets can be a pretty lucrative niche in its own right.
In addition to the kitchen fixtures, you get a large selection of bathroom products as well. I think this affiliate would work best on a home decor niche site that focuses on kitchens or has a category for kitchens. You can check out the 90210 Kitchen And Bath product line here(*affiliate link).
The affiliate terms for this parter are phenomenal. They give their affiliate partners a 90-day tracking cookie and a 15% commission on all qualifying sales. This is a new affiliate program so these numbers will probably change some time in the future so get in while you can.
---
Lightkiwi Affiliate Program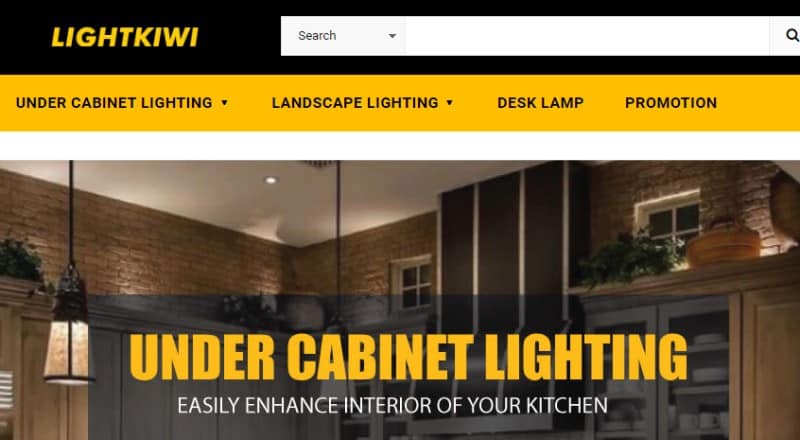 Lightkiwi is all about making your kitchen look great with incredible lighting. Actually they have lighting for just about every area of your home but for this list, we want to focus on their kitchen offerings. If you need lighting affiliate programs you can see our list here.
They specialize in under the cabinet lighting for your kitchen. This is the type of partner that you can use in conjunction with other affiliates since it has a relatively small niche that it covers. It would work well for kitchen specific blogs but can also be used for general home decor websites as well.
The 7-day tracking cookie is less than stellar but should still be ok for most affiliates. The commission ranges from 7 to 11% making it one of the more desirable commissions on out list.
Lastly, they offer auto-approval in some countries so be sure to check out f you are eligible as this will allow you to join up without having to have a ton of traffic. Great for new entrepreneurs who are just starting out.
---
Abbio Affiliate Program

Abbio has a wide selection of cookware. From skillets to sauce and saute pans they have everything you need when it comes to cookware. It will come down to how well this affiliate program resonates with your specific audience but everything is there to make this a top affiliate prospect for your blog.
A big reason for that is the cookie and the commission. The cookie is nice at 30-days and should work well for the products offered by Abbio.
The commission is exceptional, on the other hand. They offer a 15% commission for their affiliate partners making it one of the highest commissions in the kitchen or cookware niches.
---
Homary Affiliate Program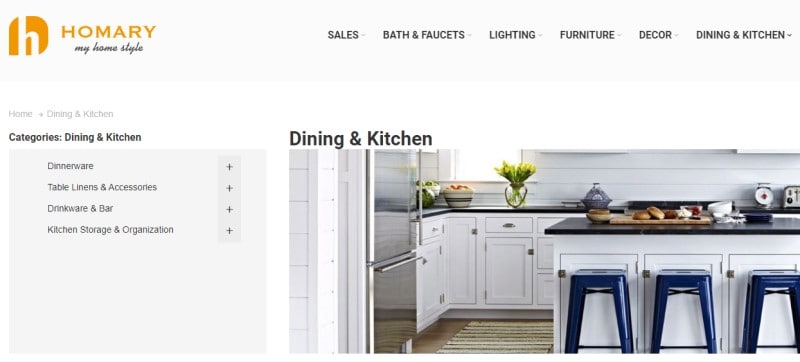 Homary doesn't have the biggest selection of kitchenware and accessories but they do have some interesting products that you could promote on your kitchen niche blog. They have some dinnerware, wine racks and a good selection of kitchen furniture for you to promote.
The commission is variable running from 3% to 7% or more with the potential to increase based on the sales you make. The tracking cookie weighs in at 45-days making it a great duration to help boost your conversion rate.
---
Mason Jars Makerplace Affiliate Program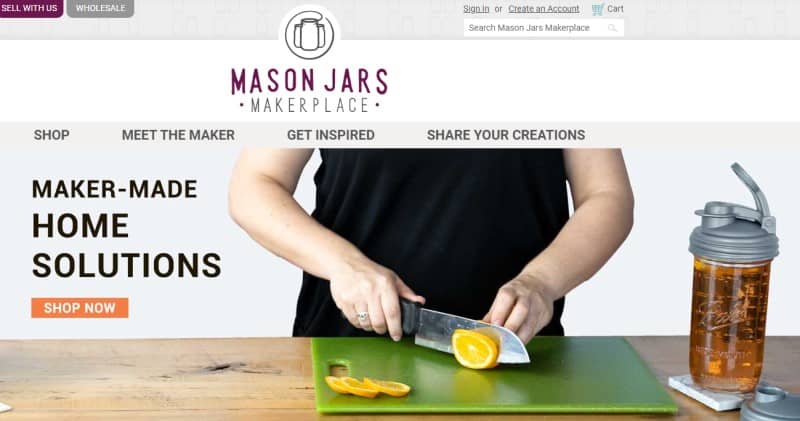 Mason Jars Makerplace is a fun little kitchen affiliate that offers kitchen accessories like serving trays kitchen towels mason jars and lids and a bunch more related products.
This affiliate probably won't appeal to some kitchen appliance blogs and might be better suited to parenting, homesteading and DIY kitchen blogs instead.
The affiliate terms are decent but not spectacular. The commission is 5% which should be ok and the cookie duration is only 7-days which is a little low.
The commission and cookie make this a complementary affiliate partner rather than a primary partner program. This can be a fun addition to your affiliate strategy but not the foundation for it in my opinion.
---
Material Kitchen Affiliate Program

Material Kitchen sells kitchen accessories and cookware that is designed to be functional and last a long time. This affiliate will work great for cooking, kitchenware, and some recipe blogs.
The affiliate terms are pretty decent. The tracking cookie is a little low at 15-days but should not be a problem for most affiliate blogs.
The commission is very nice at 10%. It is one of the higher affiliate commissions for kitchen niche affiliate programs and cookware partners. All things considered, this could be a great option for and cooking blog
---
Bosch Kitchen Machines Affiliate Program

Bosch Kitchen Machines specializes in Mixers, food processors, accessories and replacement parts. This is a pretty specific kitchen affiliate that can be used in tandem with other types of kitchen partners.
The commission is a solid 8%. This commission can really make a great amount of profit for your passive income business given the cost of some of these products. Only a few sales a day can really turn this affiliate partner into the foundation for your entire website.
The tracking cookie is a standard 30-days. A little low for the price ranges that you are dealing with. But you should be able to make it work for you with clever content that builds on buyer intent.
---
The Big Finish
That brings us to the end of our look at these fantastic kitchen affiliate programs. These programs cover a wide range of kitchen related issues and products. It's always important to find affiliate programs that are going to service the smaller little niche areas that's some of the large affiliate programs might Overlook.
You always have the option of using something like Amazon Associates for your large affiliate program that you're going to get the most amount of clicks to and ultimately sales for.
With some of the smaller affiliate programs can be a real boost to your profits especially if you can get one with outstanding affiliate terms. Amazon is only going to give you around 4% on average for a sale. You can find affiliate programs for kitchen niche blogs that can push double digits or more.
That makes a huge difference to your bottom line and can ultimately be an incredibly healthy addition to your business.
Maximize These Kitchen Affiliate Programs
The ultimate goal is to maximize these kitchen affiliate programs as best you can within your content. Driving traffic and increasing your conversion rate is the way to increase profits for your business.
The best way to learn how to get that traffic and how to increase your conversion rate is to invest in a little bit of affiliate marketing training. There are a lot of programs out there some good some bad.
It is almost impossible to start a business online or off without some sort of investment the difference is that online you can do it for just a few hundred bucks instead of the thousands upon thousands it would cost to build a brick-and-mortar business.
Don't go it alone. Get the best learning tools and community to help you build your online dream. Check it out here.
Thanks for stopping by and have a wonderful day