This article may contain *affiliate links. Please see our affiliate disclosure for more details
Hello everybody, I hope everyone is doing fine today. This is Michael and I'm going to be bringing you a list of 10 of the best children's toys affiliate programs.
It may seem a little bit odd to call them children's toys affiliate programs but there's a very specific reason why you need to do this when you were searching for them online.
If you just put toy affiliate programs and don't have a safe search on you're going to get some very adult toy affiliate programs which if you're looking for the types of affiliate programs on this list you were definitely going to want to avoid.
With all that said let's dive into these kid's toy affiliate programs and see if we can't find something that is going to boost the profits and Prospects of your toy Niche website. And be sure to check out the best web hosting for your toy niche blog.
There Is Just Something About Owning Your Own Business. Being Your Own Boss. Building Something From The Ground Up With Your Own Hands. Especially When It Is This Easy To Get Started.
---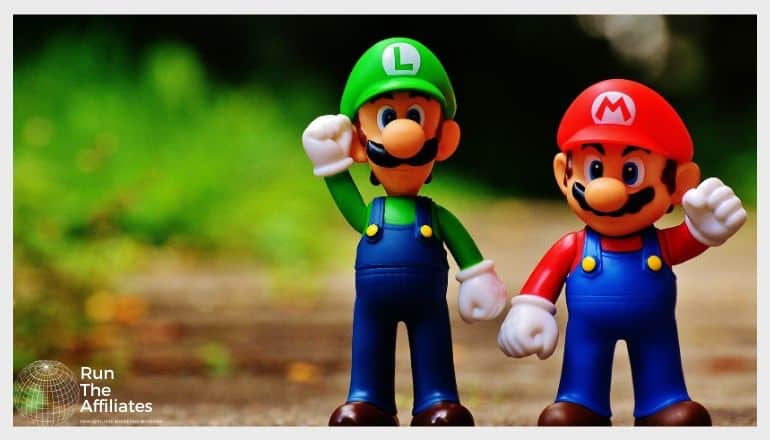 A Quick Look At The Kid's Toys Affiliate Programs
While this list is called kids' toys affiliate programs it's not in a silly just for kids there are a lot of collectors that are adults and will pay good money for these types of products.
So there's going to be some overlap between the purely fun toys for kids and some of the collector's items that adults will be buying. Action figure collecting is a great example of both a toy and a collectible item.
A lot of times you can use these affiliate programs for either one.
A great way to boost the chances of success with your online Niche website is to invest in some outstanding affiliate marketing training. This type of training can help you avoid pitfalls and mistakes that can severely hurt the potential of your passive income business.
---
Rose & Rex LLC Affiliate Program
Commission: 12%
Tracking Cookie: 30-days
Auto-Approval: No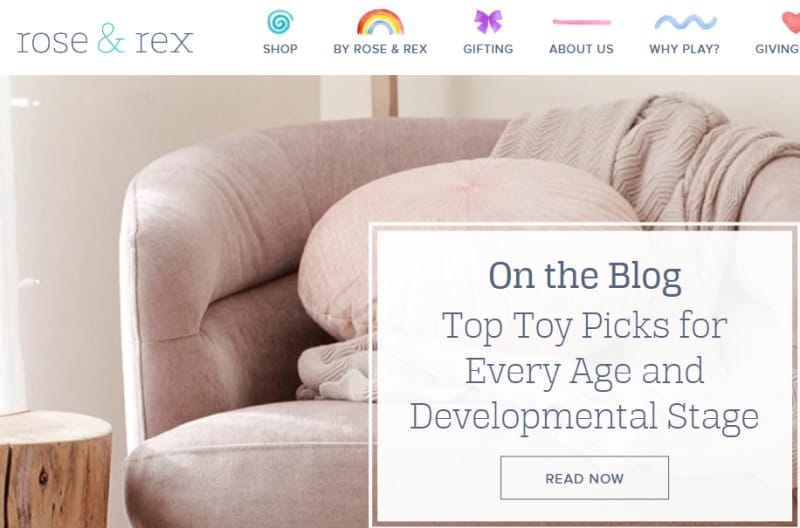 Rose & Rex is a toy store that focuses on learning and creative toys for younger children. Products that help cognitive and social skills as well as more traditional toys like dolls and dress up can be found with this affiliate program. It would make a great addition to a parenting or baby niche blog.
The cookie and commission are a force to be reckoned with as well. The standard 30-day cookie will give you plenty of time to make a sale and get paid for it and the commission itself is a fantastic 12%.
You are not going to find a better commission in this niche very often, so this affiliate is worth considering if it fits into your overall niche.
---
Diecast Models Wholesale Affiliate Program
Application: Sign Up Here
Sales Commission: 10%
Tracking Cookie: 30-days
Auto-Approval?: Yes

Diecast Models Wholesale Is a large online store that sells hundreds if not thousands of diecast cars and other vehicles.
This is a very specific Niche and one that really skews a little bit older into the collectors around a little bit more than some of the other ones that will be appearing on this list.
What that does is make it a much more appealing option for anyone in the toilet. Typically you get the best Returns on toys that are collectible and that service an older audience because the older audience is the one with money.
We know the products are going to be great so let's have a look at the affiliate terms for this particular partner.
The cookie is a standard 30-day duration which gives you plenty of time to make a sale and reap the benefits of a commission. The 30-day commission is plenty long enough because there are not a lot of super high ticket items from this particular affiliate program.
The sales commission is 10%. A double-digit commission is always welcome and this will help you generate a sizable income if you can get a good conversion rate with their diecast model products.
Finally, this affiliate program has an auto-approval process through its ShareASale profile. That means if you were just starting out then you can get access to this affiliate program and join them without having to have a ton of traffic flowing through your site which a lot of affiliate programs require before they allow you to join.
Add it all up and Diecast Models Wholesale is a fantastic toy affiliate program that would fit into a variety of different toys and model niche websites.
---
The Right Stuf Affiliate Program
Application: Sign Up Here
Sales Commission: 2%
Tracking Cookie: Up To 30-days
Auto-Approval?: No

The Right Stuf Has a wide range of toys that are generally anime or Manga inspired. They also have some pop culture toys as well. While these toys are suitable for children, at least some of them, they definitely are much more likely to be bought by an older audience and by the collectible Community.
It's just something to keep in mind if you decide to promote their products because they may not fit into a toy Niche website that skews much younger.
The commission is very low for this affiliate program. If you can find another partner with the exact products and a better commission then it would be advisable to use that one instead. The exception is if that The Right Stuf is incredibly popular with your audience.
If that is the case then even the 2 percent commission can work decently for your online business. The tracking cookie is pretty standard with up to a 30-day tracking gap.
---
InnovaToys Affiliate Program
Commission: 8%
Tracking Cookie: 1-day
Auto-Approval: Yes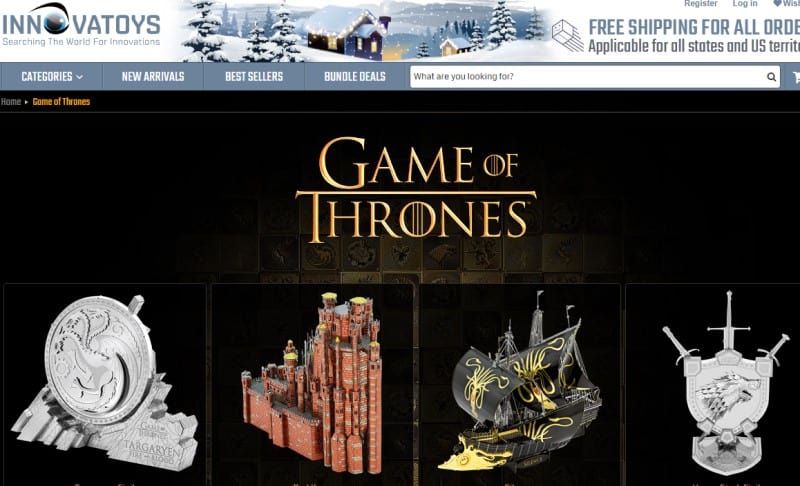 InnovaToys is an interesting affiliate program in the toy Niche. They have a wide variety of branded products from Star Wars to Marvel that you can promote on your toy niche website.
The types of toys they have are pretty varied as well they have metal model kits for Star Wars, Marvel and even Game of Thrones which would tend to be a little bit older of an audience.
These toys are not for really young kids but are really interesting for a little bit older audience.
The affiliate terms are a bit of a mixed bag.
The tracking cookie is only one day which means you need to catch the customer right before they are ready to make a purchase in order to get the best conversion rates. A tracking cookie this low isn't ideal but you can definitely work with it provided you place your affiliate links in the correct type of buyer intent content.
The commission, on the other hand, is pretty good at 8%. It doesn't hit that double-digit Mark it's still a respectable and pretty generous commission that you can make a good amount of profit with.
---
Party Toyz Affiliate Program
Commission: 7%
Tracking Cookie: 30-days
Auto-Approval: Yes

Party Toyz focuses on action figures for the most part and would work well in a traditional toy blog or a collectible toy blog. They have a great selection of Funko Pops, as well as plush toys, figurines and more from all the top pop culture characters and IP's
The affiliate terms for this part of the program are pretty good as well. They offer a standard 30-day tracking cookie for their affiliate Partners.
The commission is a very respectable 7%. It doesn't quite hit the high marks of a double-digit commission but 7% is still solid and should give you a reasonably good to return on time invested if you can get a decent conversion rate.
One last thing about this affiliate program is that they offer an Auto approval process through there ShareASale profile. This means even new toy Niche websites can get in on the action and start getting used to using an affiliate program for their blog.
You can check out their website Partytoyz Inc. here.
---
Things From Another World Affiliate Program
Commission: 14%
Tracking Cookie: 90-days
Auto-Approval: No

Things From Another World Has A good selection f toys as well as comics statues and graphic novels. The toy section would be a nice addition to a larger toy specific affiliate. Things From Another World has the affiliate terms to really make it a consideration for any pop culture or toy niches website.
Speaking in the commission and the cookie TFAW offers an amazing 14% commission for qualifying sales through your affiliate links and they have a very nice cookie that weighs in at 90-days.
It is one of the best overall affiliate programs in the entire toy niche. The age range does skew a little bit higher for these toys, typically at least teen ages I would recommend but it works well for a pop vulture, comic book or anime niche website.
---
Lego.com Affiliate Program
Commission: 3%
Tracking Cookie: 7-days
Auto-Approval: No

Our next toy affiliate program really needs no introduction. It is the lego.com store. Everyone knows what Legos are and just about every child is going to play with them at some point.
so this affiliate is the actual lego.com affiliate program. Legos can be bought from hundreds of other stores that have affiliate programs, particularly amazon.com.
So the real question is do you want to use the manufacturer's affiliate program or a larger Warehouse program like the Amazon Associates program.
It's going to really come down to your specific audience when you decide which affiliate program to use. The truth is they are fairly similar.
Lego.com gives you around a 3% commission for qualifying sales through your affiliate link. which is very similar to Amazon who typically gives around 4% but it varies depending on the product.
The tracking cookie is seven days which is not great but not terrible. It's much better than Amazon's one-day cookie so that certainly took in favor of using the lego.com affiliate program instead of Amazon Associates.
It's always a tough decision to use one of the manufacturer websites if Amazon offers the same thing but I always like to encourage people to at least try the manufacturer's affiliate program just to see how well it converts with their particular audience.
---
EZ Play Toys Affiliate Program
Commission: 5-10%
Tracking Cookie: Not Listed
Auto-Approval: No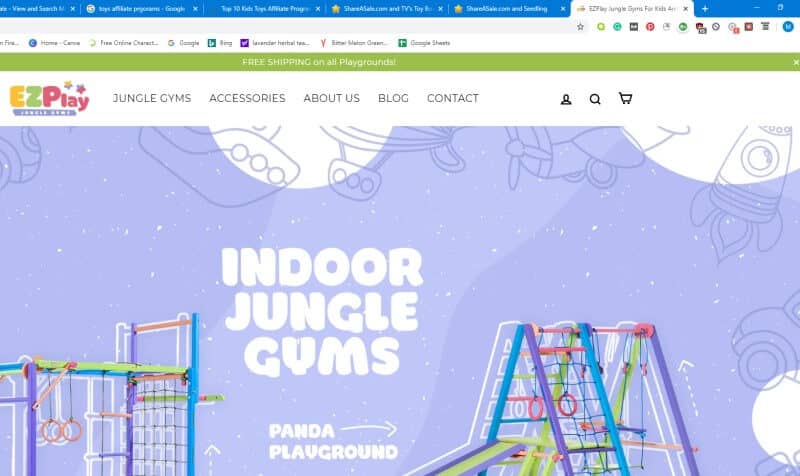 EZ Play Toys specializes in Jungle Gyms and accessories like playmats, indoor tents, and swing chairs. This affiliate will work well for early childhood blogs and well as general toys blogs. It brings a little something different than all the action figures and lego sets that dominate this niche.
The cookie duration was not listed so be sure to ask about it when you sign up for this affiliate program. The commission starts and 5% and can go all the way up to 10%. 5% is a nice starting point but if you can get it to 10% you have something special.
---
Seedling Affiliate Program
Commission: 10%
Tracking Cookie: 30-days
Auto-Approval: No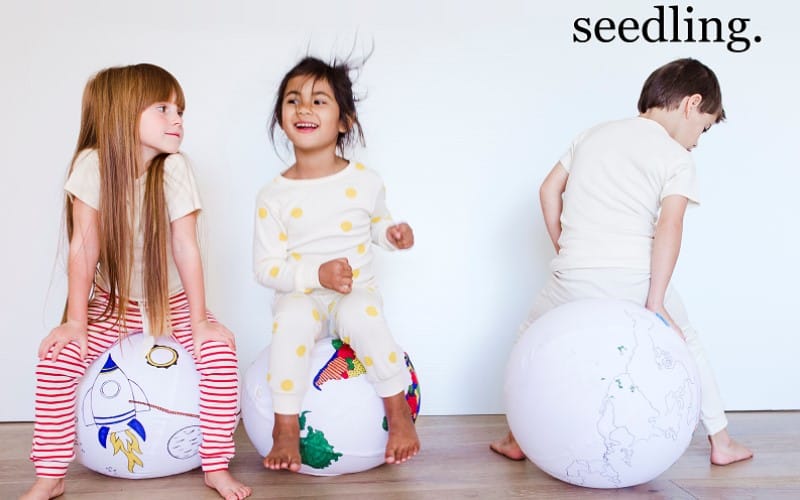 Seedling offers a wide range of creative and fun toys and activities for younger children. Kids can create their own toys with Seedling products leading to incredibly unique and personalized toys. Another great affiliate program for websites looking for more educational toys for children.
The affiliate terms for the Seedling Affiliate Program are pretty decent. They offer a 30-day tracking cookie and a 10% commission for all qualifying sales through their website.
---
TV's ToyBox Affiliate Program
Commission: 10%
Tracking Cookie: 90-days
Auto-Approval: No
Join TV's ToyBox Affiliate Program

TV's ToyBox has a huge selection of thousands of products from kid's favorite TV shows. Barbie, Barney, Alvin and the Chipmunks are all part of their lineup. Whether you are a general toy niche blog or one specific to some of these characters this is an outstanding place to start your affiliate marketing business.
The tracking cookie is exceptional for this affiliate. A full 90-days is a duration that can really augment your conversion rate by giving people time to make a decision on a purchase.
When they do make a purchase through your affiliate link you are rewarded with a fantastic 10% commission for your hard work. A great affiliate with good products and outstanding affiliate terms. This one should not be overlooked if you can fit it into your niche.
---
The Big Finish
And that brings us to the end of our look at these wonderful kids' toys affiliate programs. As I mentioned up top don't let the kid's toys moniker throw you off. A lot of these products are going to be for collectors and teens and young adults as well as for children.
There are hundreds of different niches where you can Implement a toy affiliate program in order to expand your profit potential.
A comic book blog a Marvel fan blog a Star Wars blog, any type of sci-fi blog oh, any anime blog are all going to have opportunities to implement a toy affiliate program. And that is just the tip of the iceberg there are plenty of places where you can introduce this type of affiliate program.
The question is whether or not the Philly terms are going to be that much more beneficial than say amazon.com.
In many cases, they are going to be far better with their commissions and they're tracking cookies and it really makes sense to at least try them out and see how they convert with your specific audience.
Maximize Your Kid's Toys Affiliate Programs
You were going to want to try and maximize the toy affiliate programs as best you can. The type of content you deploy these affiliate links in, the overall Niche that you choose to operate in are just a couple of the factors that are going to help maximize the commissions for these affiliate programs.
Another way that you can maximize your affiliate income is to invest in a little bit of affiliate marketing training. 
Don't go it alone. Get the best learning tools and community to help you build your online dream. Check it out here.
Thanks for stopping by and have a wonderful day.