This article may contain *affiliate links. Please see our affiliate disclosure for more details
Howdy folks. Michael here and this fine day I am bringing you some of the best furniture affiliate programs for your niche blog. There is really no one niche that these affiliates could be used for. They are pretty versatile in that regard.
Whether you are building a home decor or design blog or a blog about the artistry and craftsmanship that goes into a good chair there is something on this list that might just interest you. Let's dive right in.
There Is Just Something About Owning Your Own Business. Being Your Own Boss. Building Something From The Ground Up With Your Own Hands. Especially When It Is This Easy To Get Started.
---
Smart Furniture Affiliate Program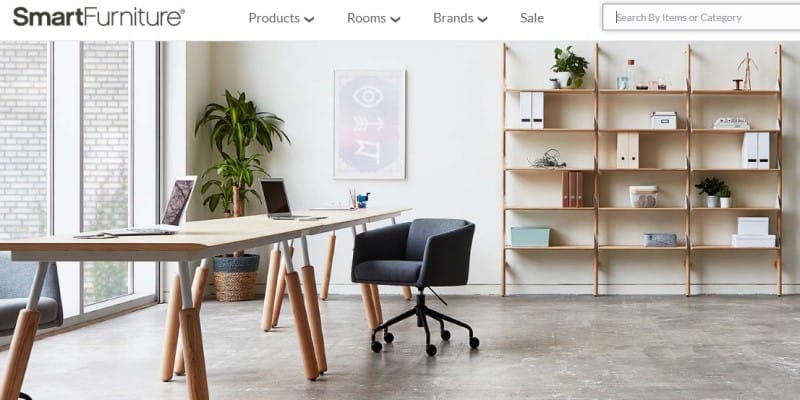 Smart Furniture is a Very robust online store that sells just about every piece of furniture for every single room in your house. They have sofas for your living room dining sets for your dining room and everything you could stuff into your bedroom. They have some of the biggest brands that people coming to your furniture website are going to know. So you're not going to have to do too much extra promotion explaining what they are selling.
This is an ideal affiliate program for anyone with home design or home decor websites because they have just about everything you need to design a room and furnish it in a way that's going to make sense and look good. Let's take a look at the affiliate terms for the Smart Furniture affiliate program. starting with the tracking cookie. It is a very nice 45-day tracking cookie. This is a little bit longer than the standard 30-day tracking cookie that you're going to see most often.
The importance of the tracking cookie for these types of affiliate programs is Paramount. A lot of times these furniture pieces are going to run well into the hundreds and even into the thousands of dollars. You want as long as a tracking cookie as you can get because the longer the track and cookie the better chance you have of making a conversion when someone clicks on your affiliate link.
The commission is 5%. That is really to be expected for these types of affiliate programs. The overhead for the heavy Furniture pieces is going to be pretty big and that is going to limit the yet commission percentage that you can get from these affiliate programs. The good news is that these are high ticket items in some cases and that 5% will go a long way to making a nice profit for yourself.
---
Frontera Affiliate Program

Frontera Furniture specializes in luxury patio and outdoor furniture. They have umbrella and poolside furniture as well as the old classic rocking chair. This would make a great addition to any backyard blog or a grilling and barbeque blog. A pool blog would also benefit from their products and give you new options on what types of content to create for it.
When you add in the affiliate terms this becomes one of the best outdoor furniture affiliate programs around. They offer a fantastic 80-day tracking cookie. This is a good duration given the prices of much of their furniture. Many items can be considered high-ticket items so the long duration is very welcome.
The commission is equally impressive. To see a double-digit commission for a furniture affiliate is wonderful. These products are not cheap to build or ship all over the place so the fact that they are offering such a great commission should be commended.
---
Jysk Affiliate Program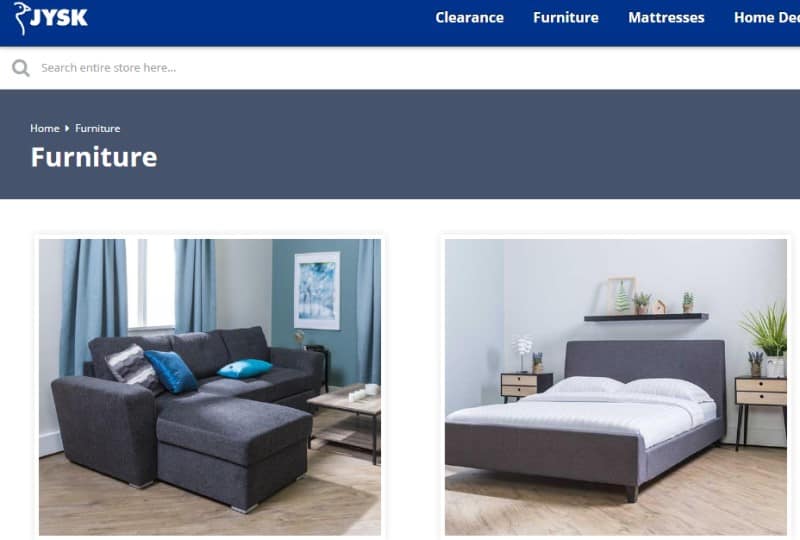 Jysk has a good amount of fashionable furniture that has a really interesting look to it and is something that you can incorporate into your promotion of their products. This is a pretty standard furniture store they have everything you would expect including beds and sofas tables and all manner of accessories and end tables that you could possibly want.
The real issue with this affiliate program is the commission. I would only recommend this affiliate if they convert very well with your particular audience. The commission is a 2% commission. It's not great and it is too low for the majority of affiliate marketers. A really experienced affiliate marketer might be able to get the most out of that low commission but more often than that you're better off finding another affiliate program unless this one converts at a very high rate.
The tracking cookie comes in at 30 days which is okay for most affiliate programs but for furniture and the prices were talking about for some of these products it is a little on the low side.
---
Furniture Pipeline Affiliate Program
Furniture Pipeline is a smaller affiliate program that focuses on shelving, carts, and other small furniture items. This partner would do well when paired with other, larger affiliates. I don't think there is enough here to build an entire website around.
The commission is the reason it makes our list. If you get it converting then you have one of the best commissions in the furniture niche. 15% is about as high as you can expect to go in this competitive niche and that is exactly what you get from Furniture Pipeline.
The tracking cookie is ok at 15-days but I would like to see it at at least 30-days. It still shouldn't be a problem. This affiliate won't have the broad appeal of some of the others but it will make up for it with commissions if you can get it converting at a decent rate.
---
Totally Furniture Affiliate Program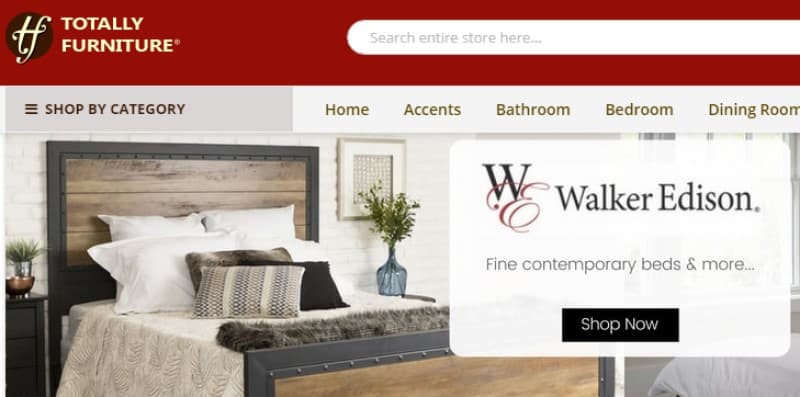 Totally Furniture has a nice selection of furniture for the bathroom bedroom dining room as well as most of the other living areas in your home. They have some of the biggest brands in Furniture as well. So it's going to be very easy to promote these products because you know that the brands they are selling are high-quality.
The tracking cookie generation is only 30 days. As I mentioned in other parts of this article, a 30-day tracking cookie is fine for most affiliate programs but when you're talking about the prices on some of these Furniture items it is a little bit low. You can still work with it but just be aware that you'd have to accelerate your promotional process a little bit.
The commission is 6% which is pretty good for the furniture niche. You can't really expect really high commissions with the amount of overhead these products tend to have. A couple of these affiliate programs delve into the double digits but most of them are going to be around the 5% mark. But with a decent conversion rate, you can make a lot of money off of this partner program because the price of the product is pretty high.
---
Froy Affiliate Program

Froy is another excellent choice for interior decorating or home decor Niche website. They have plenty of furniture to promote as well as some lighting options and some floor coverings like rugs and such. Affiliate terms are pretty standard for this partner.
They offer a 30-day tracking cookie and a 5% commission on all qualifying sales through your affiliate links. It's not spectacular but for the furniture Niche, it's pretty standard and can really make some money with a good conversion rate.

---
OfficeFurniture.com Affiliate Program

What you get with officefurniture.com is right there in the name of the affiliate program. This is a Furniture Partners specifically focused on office furniture and all the accessories you need for a complete office whether that's at home or at your place of business.
with the focus of this affiliate partner being on office furniture more than home decor furniture the niches that this is appropriate for going to change just a little bit.
This affiliate partner could be a great option for a Blog about how to start your own home business. Because when you start your own business you're going to want to set up an office maybe get a nice comfy chair and that's where a good affiliate marketer can come in with some options from this particular affiliate program.
The commission is 4% which is about right for the furniture Niche. Usually, I like to see it 5% or more but 4% is going to do very well given the price of these products. The tracking cookie is only 10 days. This is a problem, not a huge one, but it is a problem. The prices of some of these products could be considered high ticket items and that's when you need the long-duration cookies.
So you'll be able to work with a 10-day tracking cookie but you're going to need to make sure that your affiliate links are placed in content that is very by your focus.
---
Online Amish Furniture Affiliate Program

This is a neat furniture partner. Their products are solid wood American-made Amish furniture that is unsurpassed in its quality. And it looks beautiful as well. Oak seems to be the wood of choice, so you know that it is going to be solid and last for a long time.
From dressers to living room tables to bathroom vanities this affiliate will have everything you need for home design or room-specific niche blog.
The affiliate commission and the tracking cookie are pretty standard for Online Amish Furniture. The commission is 4% which should be ok, not great but usable. The tracking cookie is 30-days which is ok for a furniture affiliate, but again not great.
---
GDF Studio Affiliate Program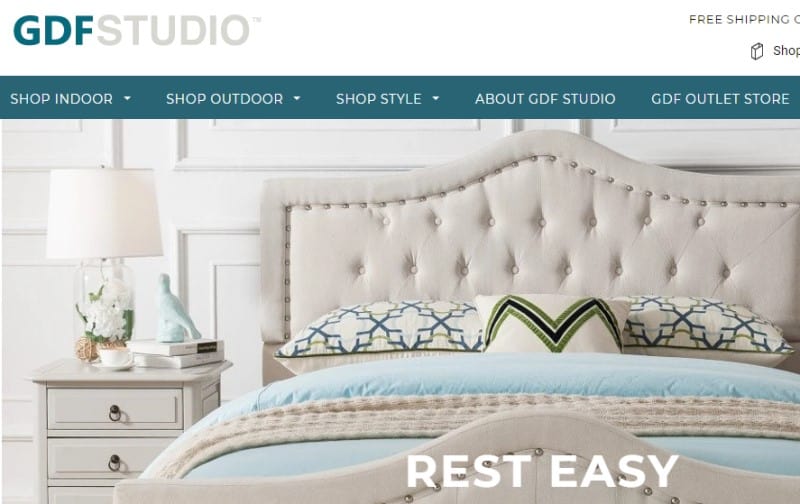 GDFStudio has a large selection of furniture for all the rooms in your house as well as some items for use outdoors. This is an affiliate partner that you could use as your primary furniture affiliate program because of the products and the wonderful affiliate terms.
The affiliate terms really stand out for this partner. The 90-day tracking is exactly what you want to see for affiliate programs where high-priced items are the norm. The longer duration of the cookie the better chance you have of converting a sale.
The 8% commission is also worthy of mention. 5% is definitely the norm for this niche and when you start to get in the 8%-10% range you have a special commission on your hands. It still comes down to conversions, of course, but the confidence that any sale made will result in a good commission is reassuring.
---
SofaMania Affiliate Program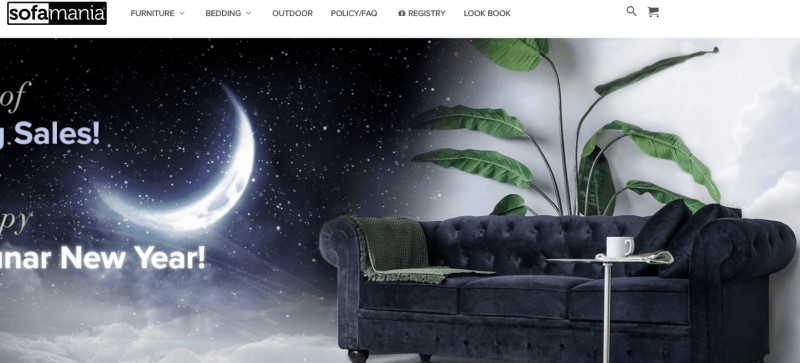 Sofas are the name of the game at SofaMania. They have love seats and futons, bedding and full-size sofas. They also have some sofas for outdoor use as well as patio lounge chairs. These make SofaMania a good option for a backyard, pool or patio niche blog.
The affiliate terms are pretty standard. A 5% commission coupled with a 30-day tracking cookie will get the job done pretty well if it converts well for your specific audience. These affiliate terms are solid, but nothing special. Sometimes solid is the best you can hope for.
---
Putting The Finishing Touches On Furniture Affiliate Programs
That just brought brings us to the end of our look at these wonderful Furniture affiliate programs. As I mentioned on the top there's not really anyone it's that these affiliate partners are going to be ideal for.
Conceivably you could start a website where you simply review Furniture but that is going to get a little tiresome after a while I think. You are either going to have to aggregate reviews to get a good idea of the quality of the product or by the product yourself which is going to be pretty expensive.
I think the better way of using these affiliate programs is to attach them to a more General passive income blog. Home decor is the primary one that I think these would work for but outdoor design and Landscaping blogs are also going to be an option because you will need various types of furniture in many of those cases as well.
Another place with these affiliates to be really good is in a room-specific design blog. So if you were creating a Blog around making a functional baby room for example. These affiliate programs for furniture are going to be outstanding options for you.
Maximize Your Furniture Affiliate Programs
Ultimately your goal is got to be to maximize these affiliate programs in the best way you can with your specific audience. That means finding and driving the traffic and getting the conversion rate where you needed to be so that you can build your passive income website and earn a nice living.
Affiliate programs are only a small part of the overall strategy for a passive income blog. Getting traffic and getting proper affiliate marketing training so that you know exactly how to do it or Paramount to your success as well.
Don't go it alone. Get the best learning tools and community to help you build your online dream. Check it out here.
Thanks for visiting and have a wonderful day.