This article may contain *affiliate links. Please see our affiliate disclosure for more details
Sometimes affiliate programs don't fit squarely into a single niche. They are utility partners that could benefit a wide range of niches. Bracelet affiliate programs are just that type of affiliate.
You could, concievable make an entire niche based soley around bracelts ro wristbands. A jewelry niche website base around bracelets could work quite well.
But most of these affiliate on our list can be applied to a range of niches and help add a new layer of monetization and overall content to your affiliate niche website.
Approach these affiliates as additions you your affiliate strategy and not as the foundation of your entire niche site, although some may very well work as foundational partners.
Ideally you want to braoden your affiliate reach with these partners and help grow your website while giving your audience ore options ofn the types of products you promote.
For example, if you are building an arts and crafts type of niche site and wanted to add a section on decorating wristbands to your niche site some of the affiliates would be great options.
You would still use your base art affiliate programs. You would simply add one of these new wristband affiliates into the relevant content. Before you know it you have new potential revenue streams to explore along with the new content ideas to go with it.
It's always a good idea to look for new affiliate programs to add to your niche site as long as you don't overdo it. I rarely add more than 3 different affiliates programs to a single article unless it is a top 10 list or something along those lines.
So when adding in these bracelet affiliates to your niche site make sure they are confined to relevant content and not adding too many affiliate links to your existing content.
Just something to keep in mind as you expand you affiliate programs as your niche site grows. Let's check out the affiliates and see if one is worth adding to your niche site.
There Is Just Something About Owning Your Own Business. Being Your Own Boss. Building Something From The Ground Up With Your Own Hands. Especially When It Is This Easy To Get Started.
---
---
Wristband Express Affiliate Program
Affiliate Commission: 10%-12%
Tracking Cookie Duration: 90-days
Auto-Approval?: No
Affiliate Niche: Bracelets/Jewelry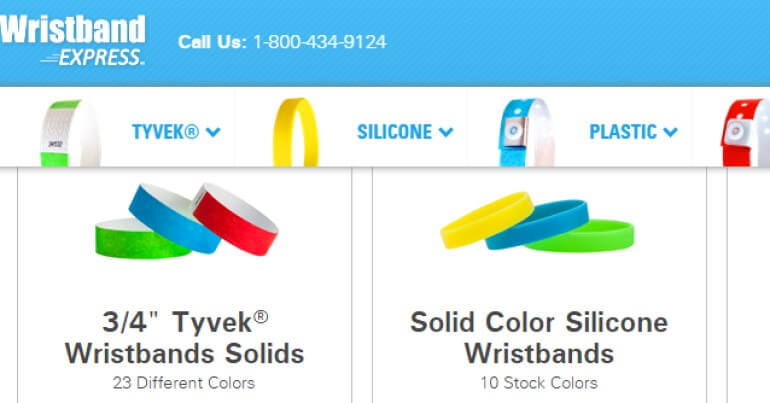 Wristband Express is our first stop on our journey into bracelet and wristband affiliate programs. They have a variety of wristbands for all occasions and needs made from variety of different materials.
The materials include
Silicon
Plastic
Vinyl
Tyvek
You can use these bracelts for a variety of reasons from birthdays to bar bracelts and everythin in between. The types of niches that you could use these bracelts for are pretty unlimited.
If you think you can make use of the wristbands in your niche then this is an ideal affiliate partner to have on your side.
The Commission And Tracking Cookie
The affiliate terms for this partner program are very generous and should work well for most affiliate marketers out there. Let's take a look at the tracking cookie first.
The 90-day tracking cookie duration is great for this type of affiliate partner. It gives you 3 months to make a sale and a long tracking gap incase anyone want to come back for more.
The products are not high-ticket items so there will be little chance of missing out on a commission if someone takes to long to decide on a purchase. If they don't make a purchase in 3 months, chances are they are not going to.
Moving on to the commission, we are greeted with a fantastic 10% base commission that can move all the way up to a 12% commission if certain criteria are met.
From the looks of things it is a performance based increase that can be achieved by getting a cretain number of refferals pushed through your affiliate links.
It is only a 2% increase but it can make a nice bit of extra profit if you are able to hit the higher commission. That said 10% is outstanding in its own right and should be great for most everyone out there.
Why Promote Wristband Express
The sheer number of products is a great reason to promote this affiliate. They have products that fit into just about any niche that can benefit from wristbands. Arts and craft niches, mom blog's, friendship and happiness niches, child-related niches, the list goes on and on.
You can find something that your audience will love and promote those products. When you add in the amazing cookie and solid commission this is a great opportunity for affiliate marketers out there to add a new option to their bracelet affiliate strategy.
---
Beads-N-Style Affiliate Program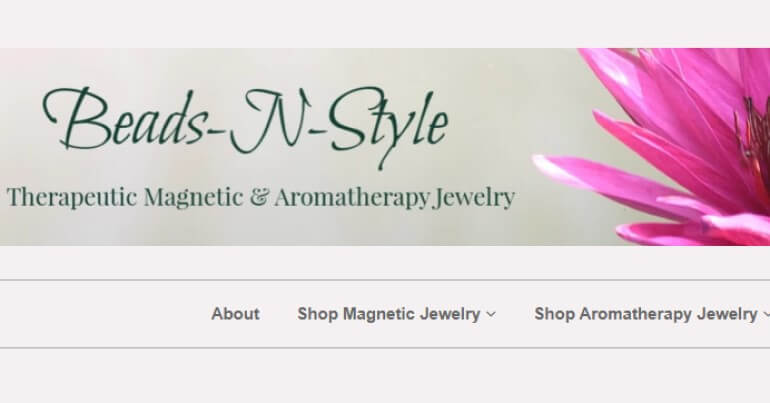 Beads-N-Style is going to have a pretty limited appeal because it caters to a pretty small bracelet micro-niche. It falls into the Therapeutic Magnetic and aromatherapy jewelry niche. It is a smaller niche but still a fairly competitive one.
Here is a quick look at some of the products that fit into a bracelet partner program…
Women's Magnetic Bracelets
Men's Magnetic Bracelets
Aromatherapy Bracelets
Aromatherapy Wrap Bracelets
In addition to the bracelets they sell, they have a range of other jewelry like rings, earrings, and necklaces that could be worked into a niche site based around aromatherapy jewelry or therapeutic magnetic jewelry.
The Beads-N-Style Commission And Tracking Cookie
In a pretty rare occurrence there is not public information about their affiliate terms that I could find. This happens from time to time. It means that you will need to sign up for their partner program in order to get the details.
You will need to be in a relevant niche in regards to the products that they sell in order to have the best chance of approval through their website.
Why Promote Beads-N-Style
Beads-N-Style is a little bit trickier to recommend as an affiliate. It is very specific the aromathrapy and theraputic meget jewelry. If you are in one of these niches then their bracelets will make a lot of sense.
It would also work pretty well for a meditation affiliate niche site and other related niches. But that is about the extent of it.
Add in the lack of information regarding their commission and cookie and you have a real wild card. The good news is that there is no risk to try, just time spent making it work.
---
Puravida Affiliate Program
Affiliate Commission: Up To 12%
Tracking Cookie Duration: 30-days
Auto-Approval?: No
Affiliate Niche: Jewelry/Bracelets
Join The Puravida Affiliate Program Here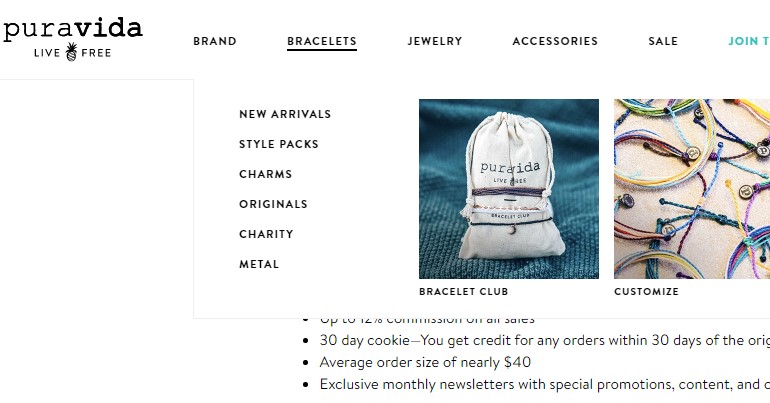 Pure Vida Is one of the more recognizable names on our list they have built a reputation as one of the best places to find charm bracelets and other jewelry and accessories. They make a great option for anyone in the bracelet Niche or a tangential Niche where you need a solid affiliate program that have a wide range of charm bracelets and accessories.
Another great aspect of this affiliate program is that they offered the Pura Vida bracelet club. Which is essentially a subscription box service for these charm bracelets. your audience gets three exclusive bracelets a month for a low subscription price and you benefit with the commission's made from these referrals.
While the bracelets are the focus of their product line they do have other accessories and Jewelry that you can promote if you are website is a little bit broader than just bracelets. If you want a more in-depth look at the Pura Vida affiliate program then you can check out our full-length article right here.
The Puravida Commission And Tracking Cookie
Moving on to the affiliate terms for this partner program. We'll start with the tracking cookie. The tracking cookie duration is a standard 30-day tracking cookie. This is going to give you plenty of time to make your referrals and promotional content and still get credit for the commission as well as any return days that you may get.
The affiliate commission is one of the best in the niche. According to their ShareASale profile, you get a 12% Commission on qualifying cells made through your affiliate links. While I'm there made affiliate page they say the commission is up to 12%. Typically the number that is on the sheriff sale profile is completely accurate and up-to-date.
The benefit of having such a high commission is that you need less traffic and fewer sales to make a decent amount of money from this affiliate program.
12% is fantastic and really A Step Above any of the large warehouse stores that sell similar products, like Amazon Associates who is only going to give you between one and 3% on most of the products that are relevant to this niche.
Why Promote Puravida?
I think this affiliate program is a very appealing one for most people in the jewelry or bracelet Niche especially if your focus is on charm jewelry and similar types of products.
The products themselves look great, the tracking cookie is solid, and the commission is one of the best in the niche. There is really no reason not to consider giving this affiliate program a try and seeing how it works with your specific audience.
---
MantraBand Affiliate Program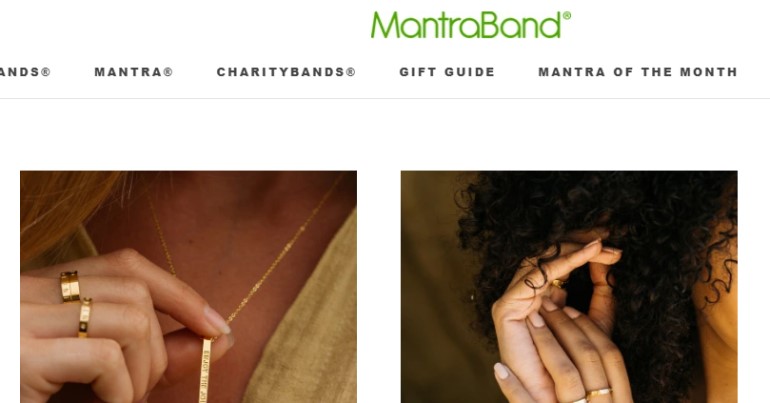 MantraBand specializes in meta bands that can be customized with important mantras, saying or anything else that is personal to the customer. They are a great way to remember dates and important milestones in ones life.
Because they are so personable and customizable they make great gifts and would work great on a gift related niche site.
Recommending these bracelets as a gift idea and explaining why could generate some pretty solid and consistent content for your blog. Throw in the commission and you have yourself a solid affiliate program to work with.
The MantraBand Commission
The affiliate the terms are pretty standard for this affiliate program. They offer a solid 30-day tracking cookie which going to give you plenty of time to make your pitch and get the commission for your efforts. Nothing spectacular but it will get the job done for you.
The commission is a solid 10%. It's pretty consistent with most of the other affiliate Commissions in the bracelet niche in general. They tend to be around a double-digit commission so it's nice to see that the MantraBand commission is competitive with the other Affiliates on our list.
Why Promote MantraBand?
I think one of the biggest draws for this affiliate program is that you can engrave the metal bands with whatever you like. This gives your audience a good opportunity to express themselves and create something unique to their specific situation.
I think it also broadens the niches that could make this affiliate program really useful. Not only can you use it as a general jewelry or bracelet affiliate, but you can also expand it into meditation niches, self-help niches, yoga niches or any Niche wear a mantra would be a big part of the Ambiance of the niche.
---
BoyBeads Affiliate Program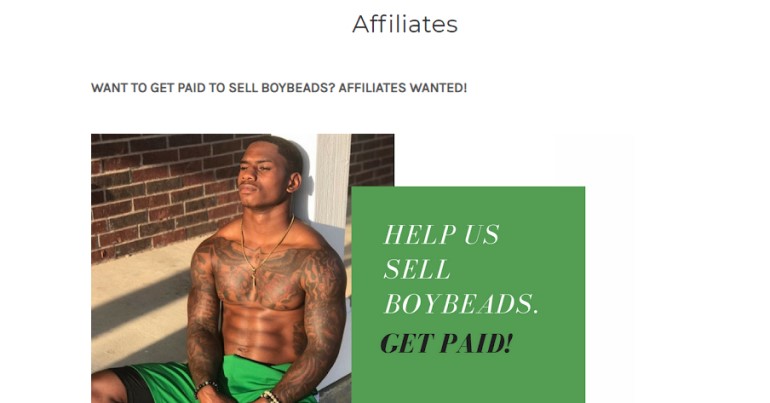 BoyBeads is a bracelet affiliate program that deals in bead wristbands and bracelets. They have a wide variety of beaded bracelet collections made from a variety of stones.
Additionally, they have some other jewelry items included necklaces but the focus is really on their bracelets. They have various collections throughout the year for you to promote so you will always have something to look forward to promoting on your niche site.
Some of the bracelets can get quite pricey. Not quite high ticket items as far as I can tell but closing in on $200 dollars in some cases. This makes them ideal for experienced affiliate marketers. Beginners will want to focus on the lower cost items until you can build authority and trust with your website.
The BoyBeads Commission
The 30-day commission is standard and should do just fine for this affiliate. None of their products are high-ticket items making 30-days a good duration for the tracking cookie.
The commission weighs in at 12%. Always love to see double-digit commission and many of these bracelet partners hit at least double digits.
Put it all together and you have a very solid commission structure that can make you a nice bit of cash with good traffic and a decent conversion rate.
Why Promote BoyBeads?
This beads bracelet partner program is one of the best out there for that specific micro-niche. I don't know how well this would work on a more general jewelry niche site but a bead and bracelet focused niche site would do well with it.
You can also use this for a man-specific website as a side affiliate in addition to your regular beard oil and men's fashion affiliates that work on a man themed niche site.
---
BTYSUN Affiliate Program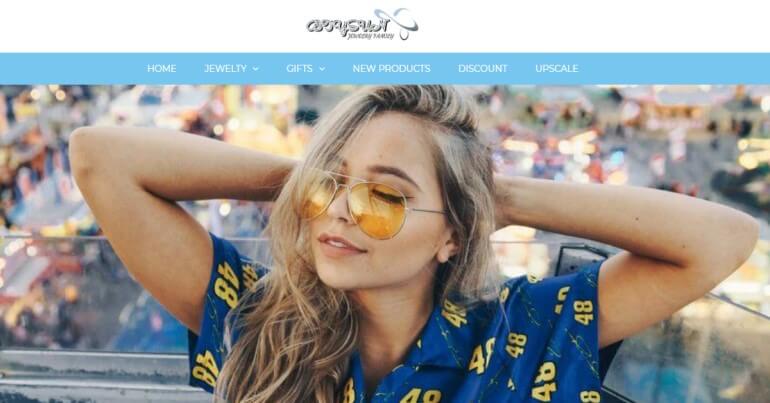 BTYSUN is a bracelet company that focus on engraved metal bracelets. They also sell necklaces and other jewelry that you can promote on your niche site. The selection isn't the best but if your audience likes their products this can be a good affiliate to consider.
The BTYSUN Commission And Tracking Cookie
The tracking cookie duration is 90-days making it one of the longest tracking cookies for any affiliate partner on our list. This gives you plenty of time to prmote their bracelts and still get credit for any sales made during that 3 month period.
The commission is where this affiliate partner really shines. They offer a 25% commission on qualifying sales according to their ShareASale profile.
While commissions aren't everything they are important and if you can marry a huge commission like this one with a solid suite of products then you are going to have an easier time making a good amount of passive income from your affiliate marketing business.
Why Promote BTYSUN?
The commission is hard to ignore and the tracking cookie is just as good. As long as the products are good and something you feel comfortable promoting then this is a great bracelet partner to consider for your niche site.
Lastly, they have an auto-approval process on their ShareAsale profile. This is great for newer affiliates who don't have tons of traffic just yet. You can still get approved and get started prompting their products.
---
Black Bow Jewelry Affiliate Program
Affiliate Commission: 8%
Tracking Cookie Duration: 60-days
Auto-Approval?: By Country
Affiliate Niche: Jewelry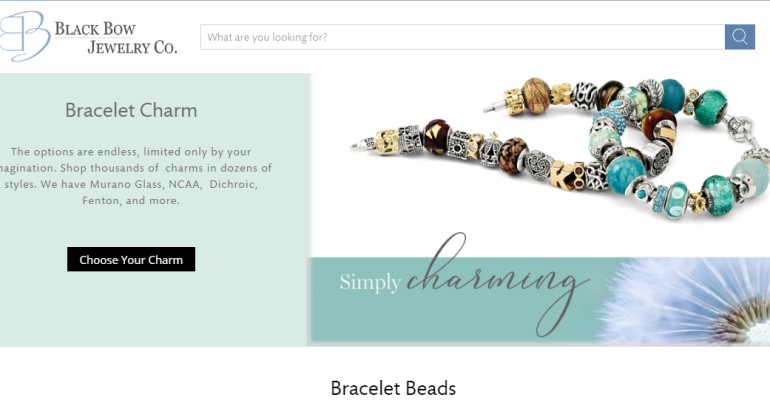 Here is a look at some of the materials that their bracelets are made out of. Their other products are made from a similar list of materials.
Yellow Gold Bracelets
White Gold Bracelets
Rose Gold Bracelets
Stainless Steel Bracelets
Sterling Silver Bracelets
Leather Bracelets
Diamond Bracelets
Gemstone Bracelets
Pearl Bracelets
Add to this their customizable charm bracelets and you have one of the largest selections of bracelets form anyone on in our article. Plus they have a huge selection of rings, earrings, necklaces and just about any other type of jewelry you can think of.
From a product standpoint, Black Bow Jewelry has you covered. Now let's see if the affiliate terms live up to the precedent set by their excellent product selection.
The Black Bow Jewelry Commission
The tracking cookie duration is rock solid for this affiliate program. They offer a 60-day tracking cookie which gives you two full months to make sales and get all the commission's you can for them. I think the 60-day track cookie works well for this affiliate program because they do have some very high price items in their stock.
I would even consider some of their products to be high ticket items which means you have a real upside if you can get people to purchase these products through your affiliate links but they tend to be a little bit more difficult to sell them the lower-priced products.
However, with a 60-day tracking cookie, you have a longer. Of time to make me Pitch and still get the commission. Even on the higher ticket items.
Moving over to the commission it is a solid 8%. It's not as high as some of the other I feel it's on our list but I think it'll work very well because of the variety of products that you can promote through this affiliate program.
The affiliate commission isn't the end-all-be-all of affiliate programs and I think this is a great example of it you have such a good-looking product selection that 8% is going to do incredibly well for you.
When you compare it to Amazon Associates, for example, where you're only getting one to 3% for the same types of jewelry and bracelets you can see how much more potential this affiliate program has long-term.
Why Promote Black Bow Jewelry?
This is one of the larger bracelet affiliate programs on our list. It's really a larger scale jewelry store that has a huge selection of bracelet so I think it fits into our bracelet partner list pretty well.
Since it is so pact with great products you can use it for a wide variety of affiliate marketing niches. From a general jewelry site to a bracelet specific site to any Niche site that needs charm bracelets this is really going to be one of the best out there.
The commission is a little bit lower than some of the others but it more than makes up for it by the sheer variety of products that they have on offer.
Depending onthe region you live in you might be eligible for auto-approval through thier ShareASale profile. If you can get auto-approved it can be a great option for newer website without loads of traffic flowing thorugh your site.
---
The Big Finish
That brings us to the end of our look at some of the best bracelets and wristband affiliate programs out there right now. Make no mistake, there are dozens more to choose from including some big-name jewelry affiliates that I left off due to focusing on the wristband and bracelet-specific partners.
But a general jewelry affiliate will work great if that is the route you want to go and your niche is more jewelry related. I think the versatility of the wristbands and charm bracelets open up the possibilities for a wider range of niches and is something you will want to explore for your website or YouTube channel.
At the end of the day it will come sdown to which affiliate programs resonate the most with your specific audience. They will decide whether any given partner is a success based on their actions.
If they love a certain bracelet partner you will know it because the conversions will be very good. If not? Crickets. Then you know it is time to move on. But give them a solid month or two to prove themselves before chucking them in the bin. Best of luck to you.
Don't go it alone. Get the best learning tools and community to help you build your online dream. Check it out here.
Thanks for visiting and have a wonderful day