This article may contain *affiliate links. Please see our affiliate disclosure for more details
Fiding the best affiliate program is though these days. Used to be you just fired up amazon Associates and reaped the rewards. The affiliate marketing business used to be that much easier in those halcyon days.
But with Amazon slowly chipping away at their commission it makes things a little more interesting. It is a big reason to start considering partners like the Pura Vida affiliate program.
You can still make money with Amazons 1-3% commissions but the margins and return on time invested are drying up at an alarming rate. So we need to find great affiliates for whatever niche we are working in.
We are looking at the Pura Vida affiliate program today to see if it might be a better option for some of your out there in the bracelet and jewelry niche. Never heard of Puravida? We'll get into that along with all the other vitals for a successful partner program and see how it stacks up.
Pura Vida offers a chance for content creators to monetize their content based around jewelry bracelets and accessories offered by Pura Vida. You can check out the Pura Vida referral program right here to see if it might be something that appeals to you and your audience.
I want to take a look at the commission and tracking cookie for this partner program. I will also dig into the products a little bit just to see what they offer. Whether they are products you want to promote will be up to you as an expert in the niche.
And finally, I want to look at some of the affiliate niches that would benefit from a partner program like this one. Hopefully, it all adds up to something that will benefit your affiliate marketing business. With solid topics and great content you can use this partner program with great effectiveness
There Is Just Something About Owning Your Own Business. Being Your Own Boss. Building Something From The Ground Up With Your Own Hands. Especially When It Is This Easy To Get Started.
---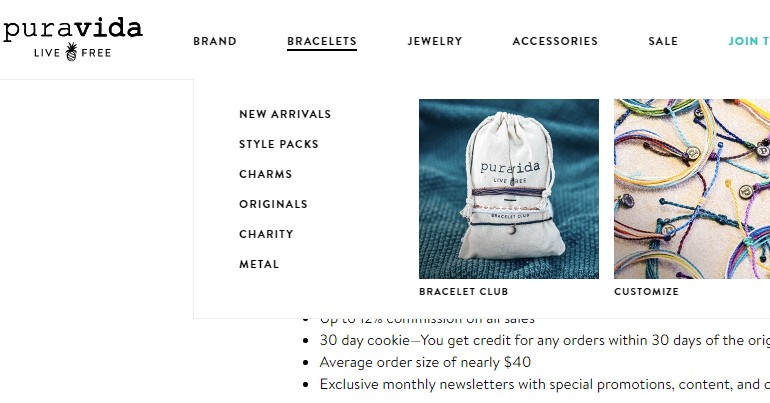 ---
What Is The Pura Vida Affiliate Program
The Pura Vida affiliate program is a referral program that allows content creators to monetize their work. By adding affiliate links provided by Pura Vida into your bracelet or jewelry content you can receive a commission if someone makes a purchase using your link.
By developing relevant content around their products you can create a passive income business online using affiliate marketing at the center of it.
---
The 12% Affiliate Program Commission
The commission is typically the first thing that an affiliate marketer will look at when deciding on an affiliate program. Too often the cases that it is the only thing that they look at.
You need to make sure that you have a decent commission that balances out with a good tracking cookie and good products that you would be proud to promote.
Without solid products, you're not going to make a lot of commissions because people will just send those products back and those products will get reversed on you or affiliate commissions. A huge commission does you no good if the product doesn't convert.
It is not something that you need to worry about with Pura Vida, in my opinion. They are a solid and reputable company so you can just focus on the commission
And what a commission it is. The 12% commission offered by Pura Vida is outstanding. It's a very generous commission and one that will generate a lot of income if you are comfortable with their products.
From the looks of things their products look to be solid and something that an affiliate marketer would be happy to promote to Their audience and that their audience would like in turn.
That really is the balance that you need for a successful affiliate program. Great products with a good enough commission and solid fundamentals all the way around so that you can have a consistent source of passive income once you start getting your content out there.
The 30-day Tracking Cookie Duration
The tracking cookie duration for this affiliate program is a standard 30-days. I don't see any problem with the duration of this tracking cookie because we are not dealing with any super high-priced items.
So a month to promote the product you get a click and still get credit for the commission should be good for most affiliate programs and you get that month for any return visitors that might want to purchase something as well.
One thing I do want to add about the track and cookie is that it's not something that you want to completely overlooked. You want to try and find affiliate programs with a decent tracking cookie I usually think of 30 days as the minimum for most affiliate programs.
Larger affiliate programs, like Amazon Affiliates, only give you about 20 hours or one day of duration on their cookies but that's not something that's great for most affiliate programs out there.
Amazon can get away with it because they are the biggest retailer online and they can dictate terms because people are going to go to their website regardless so the 20-hour tracking cookie that they have Works decently well.
For a small or affiliate program like Pura Vida, it's important to make sure that you have a decent duration tracking Gap so that you give your readers enough time to decide on the purchase and become comfortable with the affiliate program in general.
---
A Brief Look At Pura Vida Products
At Pura Vida, you will find a wide range of bracelets and other jewelry and charms for a range of occasions. Here are a few of the other categories of jewelry you can promote through Pura Vida
Anklets
Engravables
Necklaces
Rings
Earrings
Toe rings
And More
Their bracelets are the focus however and are designed to be stacked with one another to form unique bracelet combinations. It is something that you will want to focus on in your promotional content.
Another neat product is their PURA VIDA BRACELET CLUB, This is a subscription box service that sends you 3 exclusive bracelets each month. These are always a good type of product to promote as people tend to love the surprise aspect of these products.
Overall the products look solid, from an outside observer. Ultimately you will need to determine the overall quality and usefulness of their product line and decide if they are something you will be comfortable promoting on your niche site.
---
Best Niches For The Puravida Partner Program
For many affiliate programs, there is a wide range of potential niches to use it outside the obvious primary niche. For Pura Vida, I think there are few niches outside of jewelry that this affiliate could do really well in.
When you look at something like a sneaker affiliate program, for example. They can be used in sports, running, fashion, collectibles, and many more. Pura Vida just doesn't have that flexibility, in my opinion.
I think it is best deployed as a jewelry or accessory affiliate and can also be used on a fashion niche site and potentially on niche sites where charms and bracelets would be relevant.
I don't want to sound negative about the number of niches that this affiliate would do well in, it is just the way things work. Many affiliate programs are designed specifically for a single niche and only work well in that specific niche.
So if you are in a relevant niche it will be worth your time to give Pura Vida a look. And if you can make it work in a non-related niche then you have added another solid affiliate program to your overall strategy.
---
Closing Thoughts
Affiliate Commission: 12%
Tracking Cookie Duration: 30-days
Auto-Approval?: No
Affiliate Niche: Jewelry
I think it is clear that this is a fantastic affiliate program. If you need a bracelet affiliate partner then Puravida is one that you really want to consider. It won't work for everyone. No affiliate program does.
I think for the majority of affiliates out there in a relevant niche this is one of the best around. Te products are really where you want to focus your attential. Make sure that you are confortablewith the prodcucts and how your audience will respond to them.
Not resonating with will be the only real issue if one is to arise for this affiliate partner. Everything else from the cookie to the commission looks solid. One last thing that it has going for it is that it is part of a large affiliate Network known as ShareASale.
This make t so much easier to track and build your affiliate links as well as making sure you get paid on time and the proper amounts.
Overall I would recommend this affiliate program to anyone in the jewelry or bracelet specific niches as well as anyone tangentially related to those niches. It is that good of a partner program.
Thanks for visiting and have a wonderful day.