This article may contain *affiliate links. Please see our affiliate disclosure for more details
So you're thinking about getting into affiliate marketing. You are doing your research and one name kept coming up.
Wealthy Affiliate.
It seems to be the biggest most visible affiliate marketing training platform out there. And it probably is the biggest and most visible affiliate marketing training program out there.
The problem is the biggest doesn't mean the best. Not by a long shot. The truth is Wealthy Affiliate isn't as bad as some make it out to be but it is nowhere as good as many members would have you believe.
You can check out my review for a more in-depth look at Wealthy Affiliate. You can also sign-up for their free starter membership if you want to check it out for yourself.
The biggest problem here is that Wealthy Affiliate is so ubiquitous that it kind of blocks out all the other options at least on the surface.
You have to really start digging deep to find quality alternatives to Wealthy Affiliate that aren't just garbage products that are looking to make a quick buck off of you.
But there are quality Wealthy Affiliate alternatives out there. I'm going to guide you through two of them here today that I personally use and are the best around for learning the right way to build a passive income website.
So let's have a look at these two great Wealthy Affiliate Alternatives and see if one might be a better fit for you going forward.
Don't want to wait? You can check out these links to join Savages Affiliates(*affiliate link) or Income School's Project 24(*affiliate link) right now and get started on your passive income website today.
---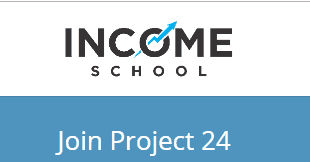 Income School's Project 24
Project 24 is the brainchild of Ricky Kessler and Jim Harmer. These two have decades of affiliate marketing experience between them and are on the frontier for building successful passive income websites.
They have come up with some incredibly unique and interesting ways to approach affiliate marketing and content creation for passive income websites. You can check out my full Project 24 review right here.
Here they are in action.
What's So Great About Project 24?
The 60-step process and the search analysis that Project 24 teaches are probably it's greatest assets.
Add in the new training modules dedicated to teaching affiliate marketing on Pinterest and Youtube and you start to see just how valuable the information here is.
The price is reasonable and the owners are out there practicing what they preach every single day. It is my favorite training platform for building a passive income website. You can read my full review of Project 24 right here.
How Much Does Project 24 Cost?
Wealthy Affiliate costs around $50 dollars a month and while you can whittle that down with some discounts, most people use the monthly plan. So that is what I will be using for this comparison.
Project 24, on the other hand, costs 450 dollars for your first year and $200 a year after that. Well below the $600 dollars Wealthy Affiliate costs, so you get a better product and save some cash right out of the box.
Wealthy Affiliate does come with web hosting built-in, Project 24 does not. You can expect to pay another 50-100 a year for web hosting.
The issue is this. Yes, Wealthy Affiliate has web hosting, but it is not the best. You are better off getting your own hosting regardless of whether you join Wealthy Affiliate or not.
Why Project 24 Is Better Than Wealthy Affiliate
Project 24 is superior to Wealthy Affiliate in just about every aspect of the product.
From the Revolutionary 60 step process that laid out so cleanly and concisely to get you up and running with your new passive income website to the incredible search analysis that they promote that uses no expensive keyword research tools that are often wrong.
It is just an all-around better product. When you start adding in the cost of each product project 24 comes out on top again.
One of the biggest things that really sets project 24 part is the visibility of the owners of income school. The owners of Wealthy Affiliate stop by and write a blog post every now and again.
They're part of the community but you don't ever see them and they usually only pop-up to promote wealthy affiliate to try and get people to go out and promote Wealthy Affiliate.
It's got a weird pyramid type vibe to it. But they don't have a YouTube channel, they don't interact with the larger audience for affiliate marketing like the guys from Income School do.
There's a ton of information that you can get just from their YouTube channel and it's all free. Wealthy affiliate has nothing like that. and that is a direct result of the people in charge of each of these products.
One other aspect about the owners that I find incredibly reassuring for project 24 is that they are actually using the training that they are promoting.
They are out there building websites on a daily basis and they are sharing those websites with the people in the project 24 program. You can watch them build a website from start to finish using the techniques that you are learning from them.
It really is one of the most incredible things you're going to find an affiliate marketing because most of these guru's, wealthy affiliate included, don't actually practice what they preach. They haven't built a website in years I would imagine.
---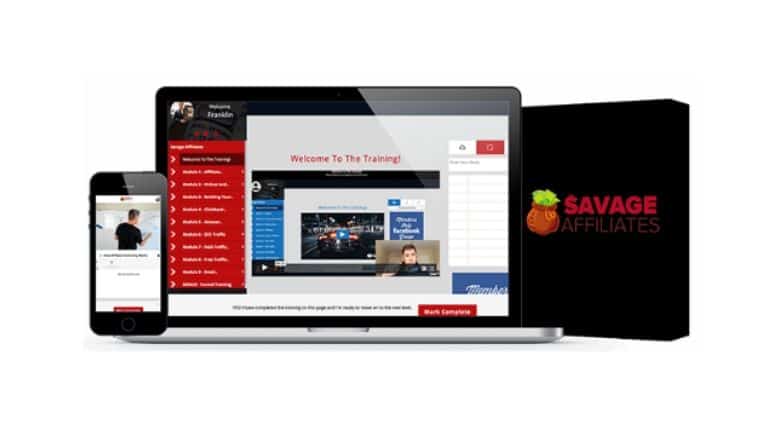 Franklin Hatchett's Savage Affiliates
The second affiliate marketing training program that I want to highlight as a great alternative to Wealthy Affiliate is Savage Affiliates from Franklin Hatchett.
This is a complete A to Z training program that digs into just about every aspect of affiliate marketing and really gets to the nuts and bolts of it.
The program has modules on SEO, paid traffic, free traffic, choosing niches and affiliate programs. And that is just the tip of the iceberg. The amount of content that is packed into this program is really astounding. Check out my full review for a lot more information on Savage Affiliates.
What's So Great About Savage Affiliates?
There are a lot of great things about Savage affiliates. The A to Z training is outstanding and is done in a very casual friendly way by the creator of the product, Franklin Hatchett.
I would describe Franklin Hatchett is a bit of an absentminded-professor. His training and techniques are brilliant but he does tend to go off on little tangents every now and again which I find endearing but some people might find a little off-putting.
Do you want to get an idea of what to expect from the training you can check out Franklin's YouTube channel I'll leave an example of it below and find out if he's someone that you want to learn affiliate marketing from?
Another great thing about Savage Affiliates is the community. Now it's much smaller than the wealthy affiliate community but it does have quite a few individuals that really know their stuff in a willing to help you out.
How Much Does It Cost Compared To Wealthy Affiliate
The cost of Savage Affiliates is a place where it really sets itself apart from Wealthy Affiliate.
Wealthy affiliate cost $50 a month. There are some options to get a discount, you can find out more about them here, but most people take the monthly plan and it's $50 a month which adds up to $600 a year.
$600 a year is a heavy investment especially given the amount of time it takes to really get a passive income website going. You may not see any revenue for 5-6 months when you're just starting out.
Savage Affiliates, on the other hand, is simple.
It is a one-time fee of $200.
They also have an option for a $300 version which adds some funnels and other Advanced marketing and techniques in but most people are going to be very happy with the base product because it is just an outstanding collection of training programs.
But the one-time fee is what I really want to focus on here. For $200 you can get all the training you need to start building a passive income website. Not $200 a month, not $200 a year, just $200 to start your own online business.
There are some other expenses that you're going to need to take on with an online business. Mainly you're going to need web hosting and a domain to park your content at.
This adds up to probably another $100 a year. I personally use Bluehost you can find out more from them using this Bluehost *affiliate link.
But for what you get from Savage affiliate there is no better value proposition in the whole of affiliate marketing in my opinion.
Why Savage Affiliates Is Better Than Wealthy Affiliate
The biggest reason why Savage Affiliates is a better option than Wealthy Affiliates is the training, in my opinion.
I just think the Savage Affiliates training is much more in-depth and a much broader and modern approach to affiliate marketing and to building a passive income website.
Some of the training from wealthy affiliate is 5 years old. And it just doesn't work anymore with all the algorithm changes that Google is gone through. So we want a modern take on affiliate marketing and that is exactly what Savage Affiliates brings to the table.
The other thing that really sets us apart is the cost of the product. I went over this in the previous section so I'm not going to dive into a too deeply but the value proposition of savage affiliate is the best Inn the affiliate marketing training space.
That is a very confident and conclusive statement but I firmly believe that the $200 price point or the $300 price point if you go with the event package is absolutely incredible. Plus, it is a one-time cost.
For a more in-depth head to head comparison of Savage Affiliates vs. Wealthy Affiliate, you can check out my full head to head review of these two programs.
---
Alternative Honorable Mentions
Before I close out this article I just wanted to mention a couple of other Alternatives that are looking very promising.
I didn't have a full review of these products yet so I didn't feel comfortable putting them in the main part of this particular article.
When I revisit this article with the full reviews in hand, I'll add them as viable alternatives to Wealthy Affiliate if they meet that standard.
Clickbank University
Greg Jeffries's SEO Affiliate Domination
Authority Hacker
Whether or not these 3 honorable mentions actually make it into this article as reliable alternatives to Wealthy Affiliate remains to be seen. But they showed enough promise that I think it's important for me to mention them here.
Closing Thoughts On These Great Alternatives
That brings us to the end of our look at these wonderful alternatives to Wealthy Affiliate. The truth of the matter is at this point Wealthy Affiliate is starting to fade in the affiliate marketing space.
That doesn't mean it is without its merits and it could make a great comeback, plus it might be exactly what some people are looking for. But for serious entrepreneurs, there are better options out there.
Wealthy Affiliate had a decent run but it hasn't been updated in a while and the training has just been left behind by progress.
Whenever there is a vacuum other products are going to fill it as quickly as possible. The affiliate marketing space isn't going anywhere any time soon.
And that's what we have here Savage Affiliates and project 24 have moved into the void to pick up the slack.
They don't have anywhere near the recognition or user base that wealthy affiliate does but that is going to change in the next 2 or 3 years I think Unless wealthy affiliate really absurd game and drastically changes how they do their business.
The good news is you don't have to wait for three or four years. These are outstanding products ready to go right now that can get you started with your passive income website.
These are not going to be overnight success stories because it does take time to generate the traffic you're going to need to make some real income but the sooner you start the sooner that traffic will start coming in.
If you've been thinking about joining wealthy affiliate but something isn't sitting right with how they do their business you might want to check out these two great Wealthy Affiliate Alternatives and see if they might offer more of what you're looking for.
If you are looking for more information on either of these affiliate marketing training products, You can read my full review of each one of them and my head to head review comparing Project 24 and Savage Affiliates directly against each other.
I hope you enjoyed the article and thank you for stopping by. As always have a wonderful day.
---