This article may contain *affiliate links. Please see our affiliate disclosure for more details
Beer is big business. Whether you're talking about microbrews, homebrewing, or just your traditional beer in general. It's a huge industry and is becoming more and more popular as a blogging Niche.
Homebrewing, in particular, has really taken off in recent years as more vendors at pumped up to deliver better more technologically advanced ways to make your home brews.
Couple that with the price of a lot of these home brewing kits coming down quite a bit to a level where just about anybody can afford them and you have the perfect storm for building passive income blogs in the beer niche.
Now the next step is to monetize your beer blog. For that, you're going to need some great affiliate programs that are going to really fit you are specific micro-niche or sub-niche in the larger beer niche.
There Is Just Something About Owning Your Own Business. Being Your Own Boss. Building Something From The Ground Up With Your Own Hands. Especially When It Is This Easy To Get Started.
---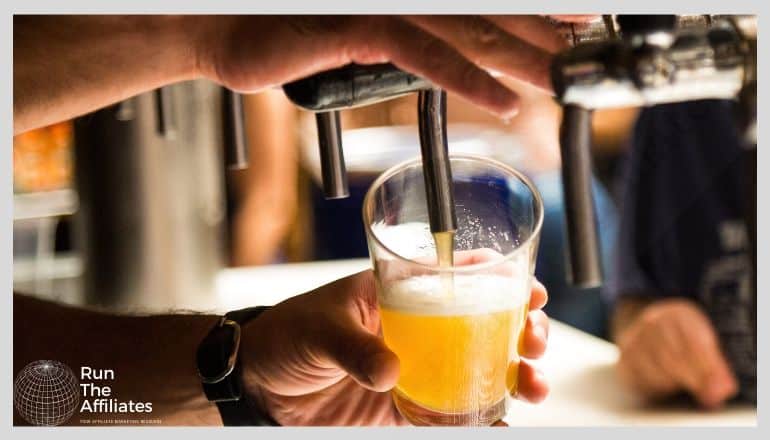 Check Out These Beer Affiliate Programs
I put together a list of these outstanding affiliate programs for your beer niche website. From beer subscription clubs to websites full of home brewing kits. Pay particular attention to the subscription boxes and try and implement one into your affiliate strategy.
Now that you have some great beer affiliate program ideas you just need to create the content and drive traffic to your affiliate links. With a little affiliate marketing training, you can get started on that today.
---
Beer Drop Affiliate Program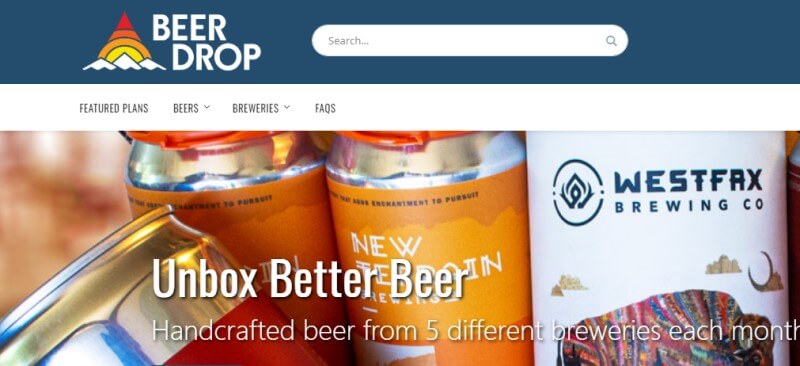 Beer Drop is a beer subscription service that brings you a variety of handcrafted beers from five different breweries each month.
These are smaller breweries that may not have any retail presence in the areas you're in. that makes this subscription box very appealing since you would not have a chance to try out these smaller breweries.
they have a few different plans and you can of course gift these to whoever you want. I mention the gifting for these subscription boxes because they are a big part of the business that you're going to get from these types of affiliate programs.
People love to give these types of subscription boxes out to the family and friends for a holiday gift. It's something that they receive year-round.
The commission percentage for the Beer Drop affiliate program is really one of the better ones that you going to find in the beer niche. They offer a nice 10% Commission on all qualifying sales through their affiliate links.
This is great to see for this type of partner. Mainly because their primary products are subscription services for your readers to take advantage of.
A lot of times you'll see flat fees for the subscription boxes and during my research, I couldn't find anything that would lead me to believe that you won't get the 10% commission with their subscription Services.
As always be sure to check with your affiliate manager when you join up to be sure of exactly what terms are going to get because they can change over time. but as it stands right now the 10% commission is fantastic.
When we look at the other part of the affiliate terms, the tracking cookie, we find another great example of what affiliate programs should be offering their affiliate Partners.
A 90-day commission is outstanding for this type of product. You always want to find the longest tracking cookie possibly can and a full three months is very nice.
Typically the more expensive the product the longer you want your tracking cookie to be because you want a longer window for your readers to decide whether or not they want to make the purchase.
So 90 days might be a bit overkill for the price and types of products offered by the Beer Club but it is welcomed nonetheless.
Why Promote Beer Drop
I always suggest that every passing second blood try and find a subscription box type affiliate program for their specific Niche. It's not always possible but it's something that you should really try and get if you can.
If you're in the beer niche there are a lot of different beer subscription boxes that you can choose from and Beer Drop is one of the best if you are looking for these smaller craft beers.
 we had in the commission and the tracking cookie you have a really great all-around beer subscription box that can really bring in a nice chunk of change over time.
---
Brooklyn Brew Shop Affiliate Program

The Brooklyn Brew Shop is an online vendor of a wide range of DIY and homebrewing equipment and ingredients. A great option for any home brewing website especially considering the affiliate terms.
The commission is absolutely fantastic for this affiliate program. They offer a 20% commission for qualifying sales. The tracking cookie is great at 60-days.
Why Promote Brooklyn Brew Shop?
The affiliate terms are among the best in the beer niche. That alone is enough to consider this partner for your niche website. The products available are also fantastic and make it a great option for a DIY or homebrewing beer website.
---
Craft Beer Club Affiliate Program

I'm sure you've noticed by now that many of these affiliate programs are beer subscription services. This is by far the biggest group of affiliate programs that you're going to find in the beer niche.
With Craft Beer Club we have another outstanding option for your beer website if you need a subscription box service. The one thing I would caution against is trying to fit all of these subscription Services into your affiliate strategy.
You only need to pick one or two depending on what products they offer and really promote those as your main subscription box Affiliates for your beer Niche website.
Once again we see another fantastic set of affiliate terms for a beer subscription box. 10% Commission is going to give you a great opportunity to really start generating some passive income through the Craft Beer Club affiliate program.
When you throw in the 60-day commission you have a good all-around affiliate program that you can promote to a wide variety of people.
Final Thoughts On Craft Beer Club
This is another outstanding option for a beer subscription box. What is really going to come down to is which one of these beer affiliate programs has the best conversion rate with your specific audience.
The only way that you're going to be able to figure that out is to run some tests with Craft Beer Club and see how it stacks up to the other affiliates with your specific readership.
---
Bro Basket Affiliate Program

Bro Basket is a beer gift website. The big draw with this one is that they offer a few other types of boxes and products. Some of their products include a Beer and Beef Jerky Basket and A Craft Beer Basket.
They are firmly in the beer niche but they also offer some spirits and liquor gifts as well. This is a great option for anyone that's in the general alcohol niche or the beer specific niche.
The commission is outstanding at 12%. Anything about 10% is fantastic and 12% is a remarkable commission for this affiliate program. The tracking cookie is good at 30-days.
---
Tavour Affiliate Program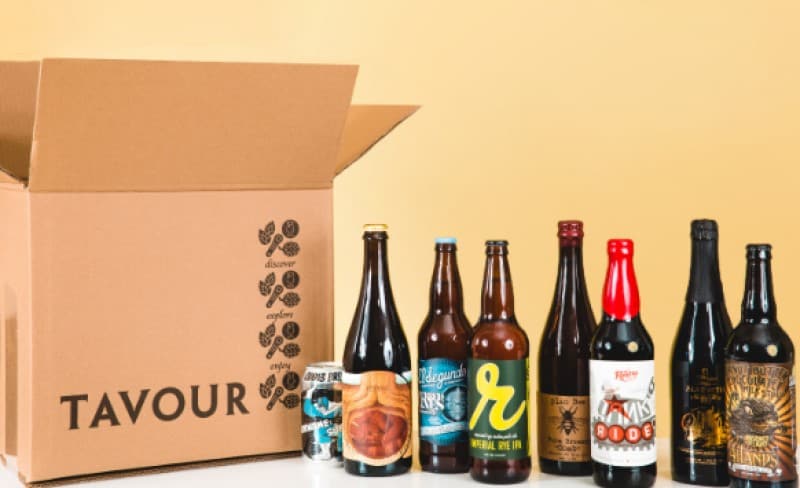 Tavour is a beer subscription box that has a wide variety of beers. The variety is pretty good for this partner program. Each box is unique and hand-curated. There are 4 themed subscription boxes that you can promote on your beer blog.
The commission is 5%, not a really impressive number but for a subscription box it is not too bad and you should be able to work with it pretty well. The tracking cookie is 15 days. A Pretty average tracking cookie.
They also offer a few dollars for generating leads for their business. Be sure to ask about exactly what that entails because it is a nice little bonus at times.
Why Promote Tavour?
The affiliate terms are decent, but the real draw is the subscription boxes themselves. They are unique and hand-curated and have some really interesting beers in them. They really push the gift aspect of the boxes, which is a great way to promote these types of boxes.
---
Monthlyclubs.com Affiliate Program

Monthlyclubs.com isn't a beer specific affiliate program. They are a subscription box service for a few different types of products.
However, the niche that we are interested in beer and they have at a fantastic subscription box for anyone in the beer Niche.
This affiliate program is going to be one of the more popular subscription box programs. Not only because of the beer specifically but because they have other subscription boxes that are not directly related to beer but have a shared audience with many beer drinkers.
So they have a cigar subscription box for example that may appeal to some of your readers or a wine subscription box that may appeal to a different set of your audience.
The point is even if all you do is promote the beer affiliate program at monthly clubs then you're still going to get some of the crossovers from some of their other subscription boxes and it may result in some sales that you wouldn't have had otherwise.
The affiliate terms for Monthlyclubs.com are pretty standard for many of these subscription boxes. They are for you up to $12 per subscription that you sign up through your affiliate links.
The flat fee is nice because you get all the money upfront but a lot of times that flat fee is a one-time offer. Which means you won't be getting recurring commissions from the subscription boxes.
As always ask about these specific terms when you sign up because they are subject to change very quickly with regards to how the affiliate program is run.
The tracking cookie for this partner is very nice as well. A full 90 days is what is on offer. It's always nice to see anything about 30 days really and when you triple that to 90 days you have a really great tracking cookie that will result in more conversions over time.
Why Promote Monthlyclubs.com?
I think the diversity of the subscription boxes offered by monthlyclubs.com is really the big appeal for this partner program.
The beer program itself is nice and the commission structure is okay but the appeal of having other options that are tangentially related to beer and share some of the same audience as beer is going to be a good reason to consider using this affiliate program.
---
Adventures In Homebrewing Affiliate Program

Adventures In Homebrewing is a website dedicated to, you guessed it, homebrewing your own beer. They have a nice selection of ingredients and equipment to turn your home into your own little microbrewery.
The tracking cookie information was not available for this partner program. Be sure to ask about it when signing up for this affiliate program.
The commission is very reasonable at 7.5%. This is a good number considered the types of products that this partner provides. Not quite a double-digit commission but still a very good option for anyone needing a home-brew affiliate program.
Wrapping Up Adventures In Homebrewing
There's a lot to like about this affiliate program. The commission is decent but it really shines with regards to the products that it offers.
There's a comprehensiveness about the amount of home brewing equipment and ingredients that they offer and they have a pedigree that goes back 20 years in Homebrewing.
This makes it a really appealing place to promote for your homebrewing blogs because they do have such experience with home brewing.
---
Brewdemon Affiliate Program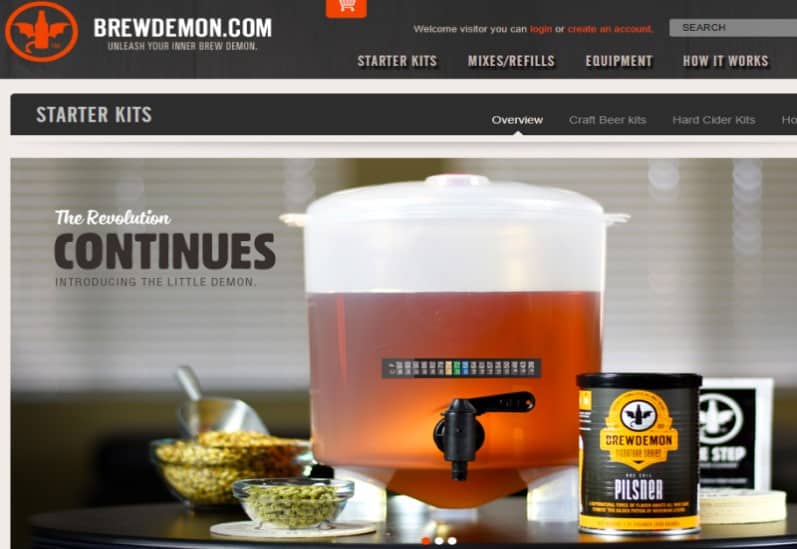 Brewdemon Is a website dedicated to crafting your own homebrew beers. They have a huge selection of equipment and starter kits get you on the right track to crafting your own beers.
The selection they have is pretty remarkable they have a bunch of different ingredients for a variety of beers.
This is a great place to get just about everything you need for your Homebrew and the affiliate terms that they offer our other reason to really consider the partner for your beer website.
The track and cookie is a rock song 30 days. for these types of products which are not high- ticket items 30 days is plenty of time to make your sale and get the commission.
Speaking of that commission it ranges anywhere from 8 to 12%. whenever you see a range like this always make sure you check with the affiliate manager to be sure you get the right percentage and how to increase it to the max.
Why Promote Brewdemon?
I think the real reason that this is such a good affiliate program is the products that they offer. They're unique to this company and they have a wonderful set of equipment and ingredients that really offer some great options for homebrewing.
We had all that to the commission and the cookie you get a very well-rounded affiliate program that will work for just about any beer website.
---
Kegerator Affiliate Program

One of the biggest names in beer and beer taps, Kegerator is going to be known to most of your audience. The interesting thing about them is that they can be used for a variety of beer niches. But other than that this partner program is pretty subpar.
The tracking cookie is not great at 10-days. The commission is only 2-4% for all qualifying sales. It is just a little too low. If the brand is popular with your readers then it may be worth it.
Final Thoughts On Kegerator
The Kegerator name is the real appeal for this partner program. The affiliate terms are below- average, but the products are very good and the brand is a recognized one. You will need to find out how Kegerator converts with your specific readership.
---
Brewer Shirts Affiliate Program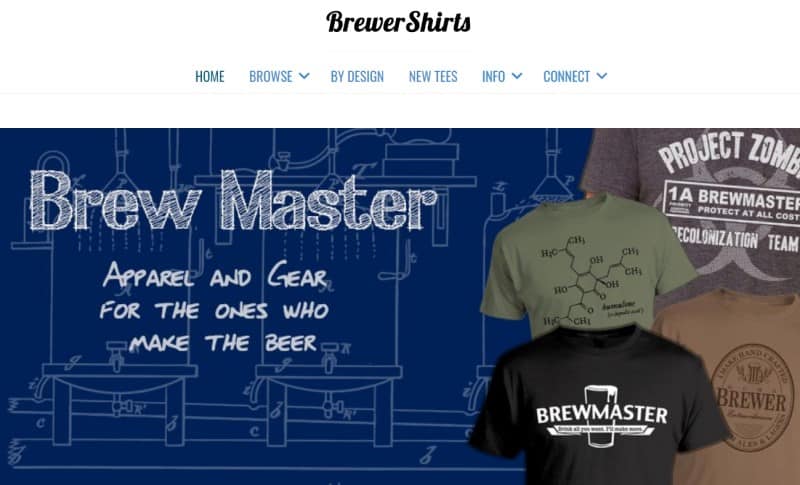 Brewer Shirts is a fun little affiliate program that you can use alongside your main beer affiliates. They have a huge selection of beer-related shirts and apparel.
They also have some neat accessories as well. Bottle openers and tote bags, towels and cozies are also on tap at the partner. Rounding out their products are beer glasses and even shorts and dresses for the beer lovers in your audience.
Long sleeve, short sleeve, t-shirts, for men and women their stock is very impressive. It also gives you the opportunity to create some content that is related to your beer blog but not specifically about just making or reviewing beer.
Basically their beer apparel is a nice change of pace for your beer blog and something that can really broaden the appeal of your website to a few more people.
The commission offered up by Brewer Shirts is an excellent 10%. While the prices of their apparel aren't anywhere approaching high ticket prices the 10% commission means that you will be handsomely rewarded for your promotional efforts.
Also, because this will probably not be your primary beer affiliate program anything you make from this affiliate will be a nice little bonus for your business. It is an added revenue stream with very little extra work involved.
Why Promote Brewer Shirts?
While the commission is very nice at Brewer Shirts, the real appeal of this partner program is the vast selection of beer-related products they have on offer.
You can really build some great content around their products and use this as a side hustle to your main affiliate programs.
---
Closing Time
That brings us to the end of our look at ten of the best beer affiliate programs that you can use right now to help monetize your beer niche website.
If you need a subscription box there is definitely one on this list for you. If you need a home brewing that offers up every ingredient and piece of equipment that you need to craft your own beer then you can find one of those on this list as well.
If you need a beer-related shirt and then there's an affiliate program here for you as well. The point is the affiliate programs are just as diverse as the types of beer websites that you can create.
And there's really never been a better time to start your own beer-based Niche website. The beer industry is as robust as it's ever been, topping 35 billion in the US alone in 2018(source). Even a tiny fraction of that beer industry revenue is going to set you up for a nice passive income.
So what are you waiting for? Grab some beer affiliate programs and get to work.
Don't go it alone. Get the best learning tools and community to help you build your online dream. Check it out here.
Thanks for visiting and have a wonderful day.