This article may contain *affiliate links. Please see our affiliate disclosure for more details
Hey, Michael here.
Welcome to my look at these fantastic candle affiliate programs for you to consider for your affiliate marketing strategy.
So you want to get involved in the candle business. Seems like a weird place to start blogging doesn't it? Sure a lot of people like candles and buy candles and burn candles for the scents and the ambiance
But is it really somewhere that you want to create an entire blog around? You bet you can. Candles is an incredibly popular blogging Niche and a very profitable one. Just look at the list of candle affiliate programs that I put together here. There are dozens of them out there.
You don't have these many vendors pop up around a niche that just doesn't make any money. The number of affiliate programs connected to any given niches a good way to see exactly how that niche is progressing and how profitable it might be.
It's certainly not the end-all-be-all but it's a good indicator. With that in mind, let's check out these excellent options for a candle affiliate program.
There Is Just Something About Owning Your Own Business. Being Your Own Boss. Building Something From The Ground Up With Your Own Hands. Especially When It Is This Easy To Get Started.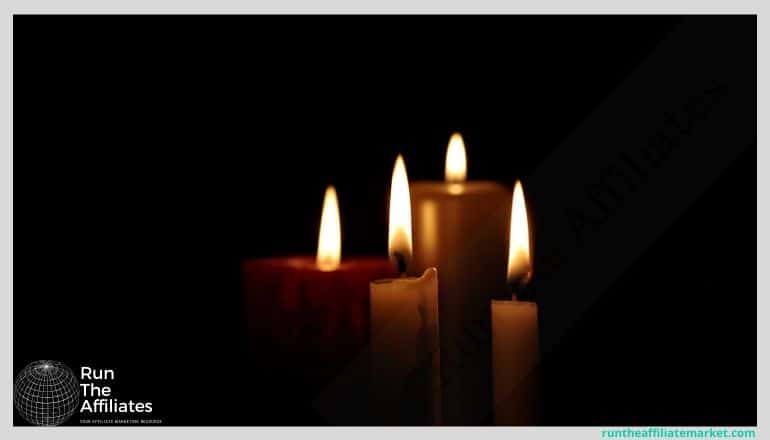 A Look At Candle Affiliate Programs
So here we are you're ready to jump into the candle niche and you need some affiliate programs to help monetize it for you. We'll sit back and read on because we have a bunch of them ready to go for you to consider adding to your website.
Getting your online candle business off the ground is never easy, but you can increase your chances of success with great affiliate marketing training.
---
Cancelled Plans Affiliate Program

Cancelled Plans Is a newer candle affiliate program based out of Seattle Washington in the United States. They offer a wide variety of candles to choose from With a bunch of interesting aromas as well.
These hand-poured candles would fit well into any candle Niche website or any Niche that as a need for candles of any kind.
The affiliate terms for Cancelled Plans are pretty decent for the candle next. They offer a 10% commission on all qualifying purchases through your feelings and they give you a full 30-day tracking cookie to promote their products and still make a commission.
Why Promote Cancelled Plans?
Between their great candles and the wide variety of aromas that they sell and the reasonable affiliate terms, there's really no reason not to consider promoting this affiliate.
Another great thing about Cancelled Plans is that They will Auto approve your application as long as you're a member of the ShareASale Affiliate Network.
This means that even new websites without a lot of traffic can get in on the action and start to generate a little bit of income through their affiliate links even very early on in their life span.
---
Candle Select By Peazz Affiliate Program

Candle Select as an online candle retailer that has a wide variety of candles and all aromas and shapes and sizes. They tout their candles as being very affordable while having a great selection of their products.
The affiliate terms for candles select are very nice. The 10% commission is pretty good for the candle Niche. You'll see a lot of these candle affiliate programs hit the double-digit mark pretty easily.
The tracking cookie really stands out at 60 days. This long a tracking cookie isn't really necessary for these types of product but it is outstanding to see it Nonetheless. The longer the cookie the better chance you have at a conversion.
Why Promote Candle Select?
There are a lot of great reasons to promote Candle Select. The affiliate terms are good enough that you should always consider looking at this affiliate program if you're in the candle niche.
But it's the wide selection of products that really set this affiliate apart from many of the others in the niche.
You always want an affiliate like this that has a broad range of products. So give him a look and see how they convert with your specific audience.
---
CandleWic Affiliate Program

Candlewic is a little bit different than many of the other candle Affiliates on our list. They focus on making candles and sell products that help you make your own candles.
They also have products that help you make soap and fragrances as well. But it's the candles that we really want to focus on for this affiliate.
They would make a great partner for a website dedicated to creating your own candles. your readers could get all the products they need to make your own candles through this affiliate partner.
As a result, this affiliate partner is going to fit into a little bit of a smaller Niche than some of the other affiliates with a broader appeal.
There's a large base of people that just want to buy the candle and not have to worry about making themselves. But the smaller DIY candle Niche is going to be a pretty profitable one In and of itself.
I couldn't find any information on the tracking cookie duration so be sure to ask about it when you sign up for this partner program.
The commission is a decent 5%. That is a little bit lower than I like to see but given their a pretty unique affiliate program, you should be able to work with it.
Wrapping Up Candlewic
The products they offer are the big reason to promote this particular affiliate program. There are relatively few candles making partner programs to choose from and this is one of the best.
---
Florida Candles Affiliate Program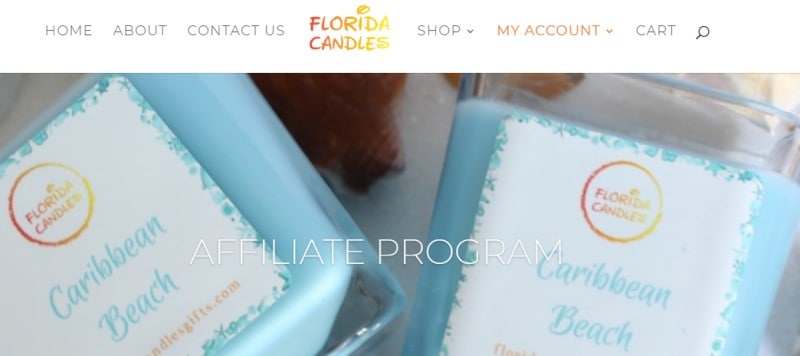 Florida Candles has a nice Carribean feel to many of its products. This would be great for a summer niche blog as well as the more traditional candle blogs. A travel blog could use this partner as well with its emphasis on Florida.
The commission is a rock-solid 10%. A double-digit commission is always great to see and the candle niche has more than its fair share of them. The tracking cookie is a standard 30-day duration.
Why Promote Florida Candles?
The affiliate terms are good enough to consider this partner for your blog, but it is the products and the versatility of this affiliate program that really stands out. It can reasonably be used for a variety of niches. A good candle affiliate to check out.
---
Glassbaby Affiliate Program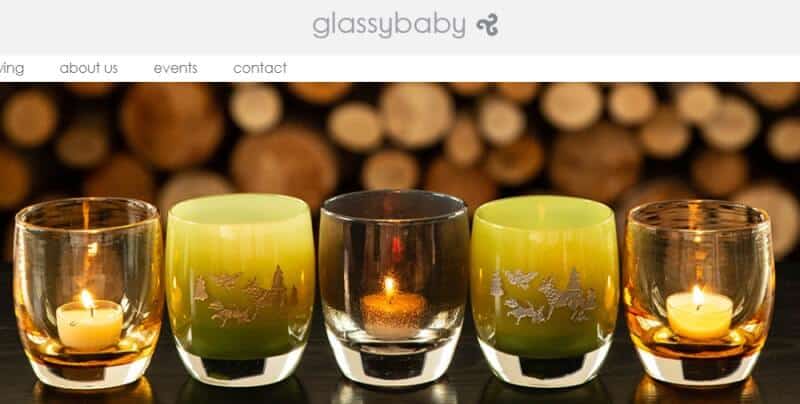 Glassbaby is less about candle and more about the candle holders. These are hand-blown works of art that you can place a candle in. They also have a good selection of drinking glasses that are just as beautiful.
This partner really brings something a little different to your affiliate strategy by opening up new content possibilities with reviews of the glasses themselves and informational articles on the production of these glasses. All while staying close enough to candles to be relevant to your overall niche.
The affiliate terms are nice as well. A standard 30-day tracking cookie is very good for this type of affiliate program.
It gives you plenty of time to turn clicks into sales with your promotional material. Then you get the benefit of a nice 10% commission which will turn those clicks into a nice bit of passive income.
Final Thoughts On Glassbaby
Glassbaby could fit into just about any candle affiliate strategy without overlapping your other partners too much. The affiliate terms are good and the products are fantastic. Give this partner a look and see if they convert with your audience.
---
Gourmet Candle Affiliate Program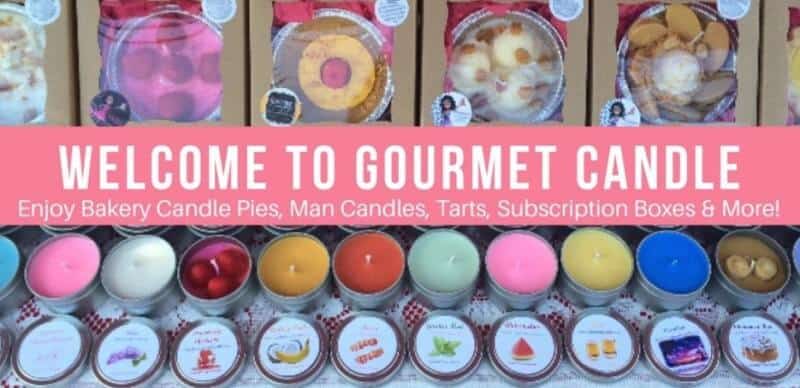 Gourmet Candle has a huge selection of candles with some of the most outlandish smells you could imagine. Bacon candle? They have that. Candles shaped like pies, yep those too.
This is an incredible candle store that you could build an entire niche blog around I think. Definitely one to consider for just about anyone in the candle niche. Even food and cooking niches would work for this versatile affiliate program.
Gourmet Candle also offers some subscription box plans. These are always a nice bonus for affiliate marketers to promote.
Always ask about the subscription boxes to see what type of commission they offer. Some affiliate programs have special rules for subscription boxes.
The tracking cookie information was not listed so be sure to ask about it when you are accepted into the Gourmet Candle Affiliate program.
The commission is up to 15%. This is great at the high end. Make sure you check out exactly how to get to the highest commission from this vendor.
Why Promote Gourmet Candle?
The affiliate terms are pretty good but the real reason this candle affiliate has so much appeal is the variety and selection of tier candles. They have dozens of interesting aromas available for your readers to choose from.
---
Harvest Glow Affiliate Program

Harvest Glow has a decent selection of soy wax candles and melting cubes. This is a niche secondary affiliate for many candle niche websites.
The tracking cookie information is not listed. Be sure to ask about it when you sign up for this program. The commission is on the low side at only 5%. But if you can get a good conversion rate then it should be ok.
Final Thought On Harvest Glow
This affiliate program is only going to be useful for an audience that really likes their products. They simply don't have enough broad appeal to really be used as a general affiliate program.
That being said, if they convert well for your specific audience then they can be a very valuable asset for your passive income blog.
---
Illume Candles Affiliate Program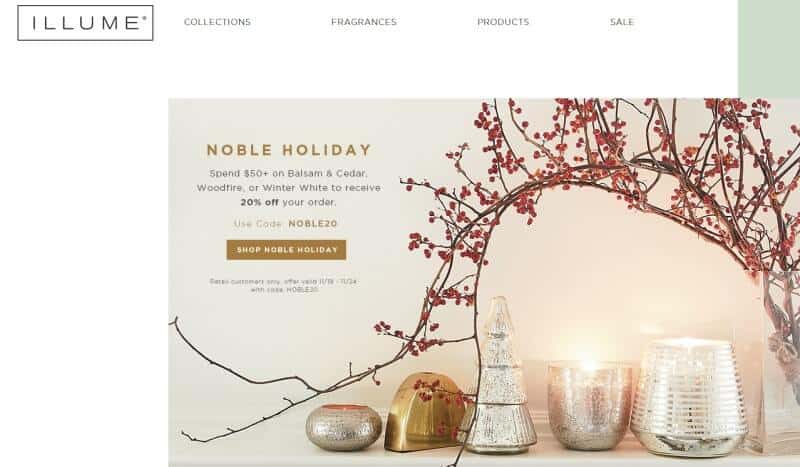 Illume Candles has a variety of candles and candle holder available for you readers to purchase. Many of their collections are themed to seasons or materials used to make them. They have some very nice metal holders that look great and are functional as well.
This partner would work well with a bath and body blog or a strict candle blog as well as a few other related niches.
A standard 30-day tracking cookie will be adequate to get the conversions you deserve on your passive income blog. The 8% commission is a solid percentage for this partner program. Double-digit would be great but this pretty close and a good number for an affiliate of this type.
Why Promote Illume Candles?
The products are fantastic and the affiliate terms are solid as well. There is little reason not to consider Illume Candles as part of your affiliate strategy.
One quick note on this partner program. It is part of the Commission Junction affiliate network and I don't have a direct link for the Illume Candle Affiliate program so when you sign in to cj.com you'll need to do a search for this partner program.
---
Illuminations Affiliate Program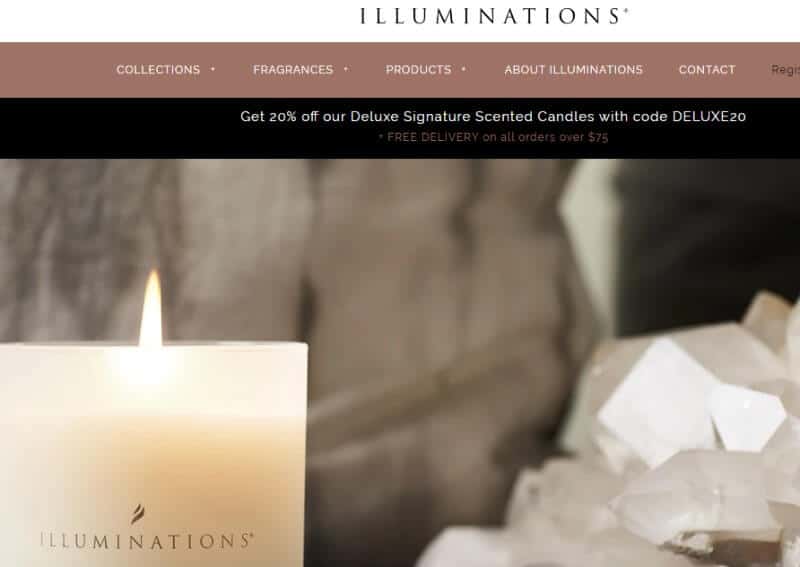 Illuminations has a decent-sized collection of candles available for purchase. It is not the largest but it makes up for that in terms of quality. They have scented and unscented candles as well as a few themed candle collections.
Another candle vendor with a great 10% commission and a very solid 30-day tracking cookie. The affiliate terms for the candle affiliate programs seem to be very good. Good commissions are a good indicator of the overall health of the niche.
Wrapping Up Illumination
This is another all-around good affiliate program for the candle niche. They have great products and the affiliate terms are what you would expect in this niche. If you can get a good conversion rate then this will be a great source of income for your passive income blog.
---
JewelScent Affiliate Program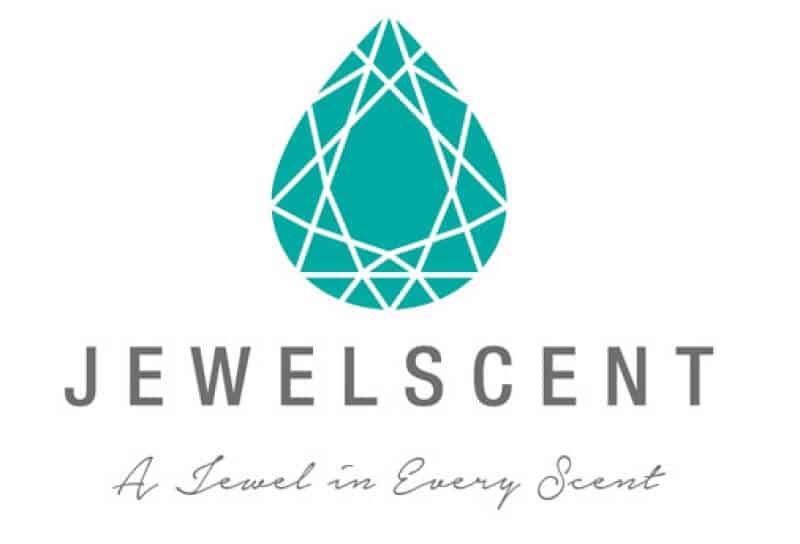 JewelScent has a wide variety of candles, bath bombs, fragrances, and jewelry. The diversity in the products makes this an interesting prospect for anyone in the candle niche.
JewelScent has some of the best affiliate terms in the entire candle niche. The 30-day tracking cookie is pretty standard but the 15% commission is remarkable for this type of partner program.
Why Promote JewelScent?
The affiliate terms are a great reason to consider promoting JewelScent but the neat candles they have on offer is the real draw here. JewelScent would fit into just about any aromatherapy or candle niche website.
---
Karma Candle Club Affiliate Program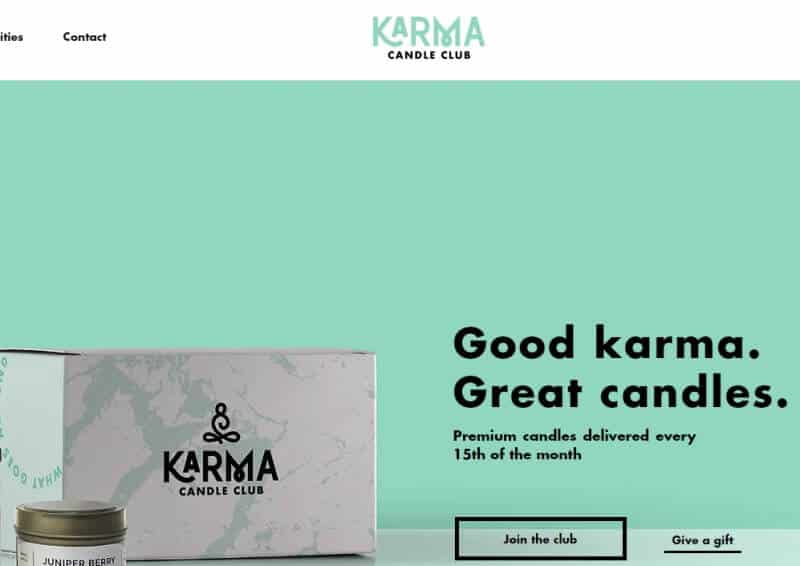 Karma Candle Club is one of the best affiliate programs in the entire candle Niche. This is a subscription box club that has a few subscription boxes available for your readers.
The number of subscription boxes that they offer isn't the largest but the ones I do have a pretty good and they range in price from $12 a month to $28 a month which will give you a nice commission when you make these sales.
The commission for the karma candle Club is fantastic. They give you a full 20% commission on all qualifying purchases through your affiliate link. It's an extraordinary number for this type of affiliate program.
Anything in the double digits is going to be great when you start approaching 20 you really have something special.
At that point, you want to make sure that the products are something you're comfortable with promoting and then find a way to make it work with your specific audience.
The tracking cookie is fantastic as well. It is a full 90-day tracker. That gives you plenty of time to make the sale and get a commission without having to worry about running out of time with your readers.
Why Promote Karma Candle Club?
The biggest reason to promote this affiliate partner is probably the commission that they offer. Normally I don't like to put too much weight on the commission because there are a lot of other factors that go into it but when you see something this good you really need to take notice of it.
The other factors are still importing you still have to trust the products that you're promoting and the conversion rates in such need to be good but when you see a great commission you definitely want to dig into it and do your own research and see if it'll work for your website.
---
Outdoor Fellow Affiliate Program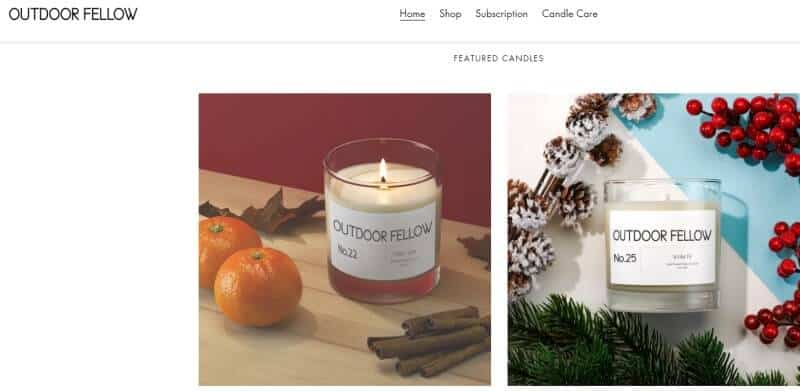 While they don't have a huge selection of candles the ones they do have are pretty interesting. They have a good mix of aromas for their candles as well as some themed collections. Outdoor Fellow also has some subscription options for its affiliate partners to promote.
The 5% commission is a little on the low side but should be ok for the majority of bloggers. The 30-day commission is standard and nice to see. They offer auto-approval through ShareASale so even new websites can get in on the action.
Why Promote Outdoor Fellow?
The candles are the real starts at Outdoor Fellow. I would call the affiliate terms average but their products can pick up some of the slack and help you get the conversions you need to generate a good amount of passive income.
---
Papa's Candle Shop Affiliate Program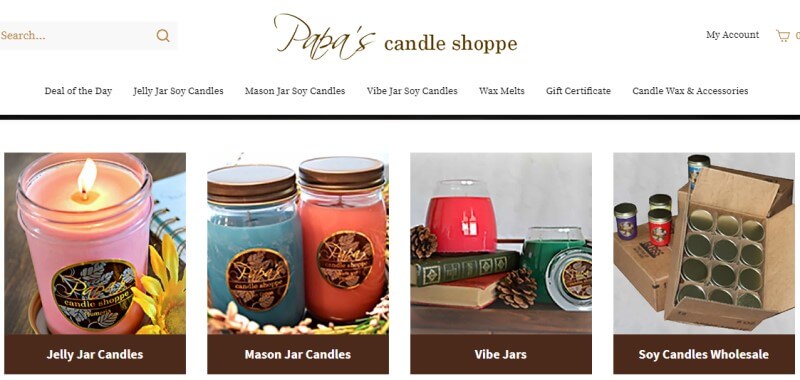 Papa's Candle Shop crafts its candles in a variety of jars. Mason jars and Jelly jars seem to be the most prominent. The jars give their candles more of a down to earth homemade feeling than some of the luxury candles.
It is not better or worse but it will affect how your specific audience feels about their products. Whether your audiences like them or not will determine the viability of this partner for your blog.
The tracking cookie information was not readily available. Ask when you signup to make sure it is up to par. I imagine it would be in line with the other affiliates on our list.
The commission for Pappa's Candle Shop really shines. They offer a full 15% commission on all qualifying sales. I love to see double-digit commissions and 15% goes above and beyond.
Why Promote Papa's Candle Shop?
The affiliate terms are very good as well. It all comes down to conversion rates for your specific audience at this point. Everything else about this partner is great and should be at the top of the list for many candle niche blogs.
---
Pure Integrity Soy Candles Affiliate Program

Pure Integrity Soy Candles has a very nice collection of candles and candle collection for your audience to choose from. They come in a variety of scent strengths which is something to put into your promotional content as many people will find that useful information.
The commission is great at 15%. However, this is another affiliate program that I could not find any tracking cookie information on. Ask about it when you sign up to get an accurate picture of your tracking timeframe.
Why Promote Pure Integrity Soy Candles?
Everything about this partner is top-notch. The product variety and selection are pretty impressive and the commission is one of the best in the niche. This is definitely an affiliate program that everyone in the candle niche should consider for their affiliate strategy.,
---
Tobi Tobin Affiliate Program

Tobi Tobin is a luxury store with a variety of different products. While candles are what we are most interested in for this list they have a few other products that would fit in quite a few niches.
In addition to the candles, they have chocolates and fragrances that can be promoted as well, if they fit into your overall niche.
The affiliate terms for Tobi Tobin are very nice. A 10% commission gets things started and a 30-day cookie rounds out the proceedings.
Wrapping Up Tobi Tobin
A useful partner program with a little bit more to offer than just candles. Throw in the good affiliate terms and you have a well-rounded partner program with a wider appeal than just candles.
---
Unearthed Affiliate Program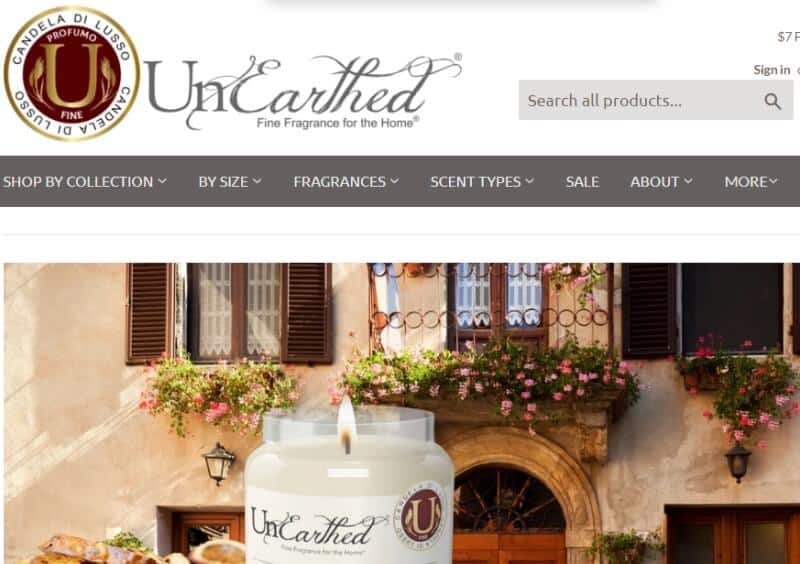 Unearthed has a wonderful array of luxury candles for you to promote to your audience. They have a half dozen or so themed collections available as well. This is one of the best affiliate programs in the candle niche and the products are just the tip of the iceberg.
The affiliate terms are outstanding. A 60-day tracking cookie is most welcome. It is plenty of time to make your sale and get a commission. But you are already looking at the commission, aren't you?
The 20% commission is a best in class commission for the candle niche. It must be taken into consideration when choosing which affiliates to promote. Conversion rates are still going to be the determining factor but 20% is hard to ignore.
Why Promote Unearthed?
The commission and the cookie are big reasons to consider this partner program. But don't forget about the good looking candles. After all the candles are what you are promoting and they need to be top-notch regardless of the commission you are going to receive.
If this partner works for your audience then it should easily find a spot in your affiliate repertoire.
---
Wickbox Affiliate Program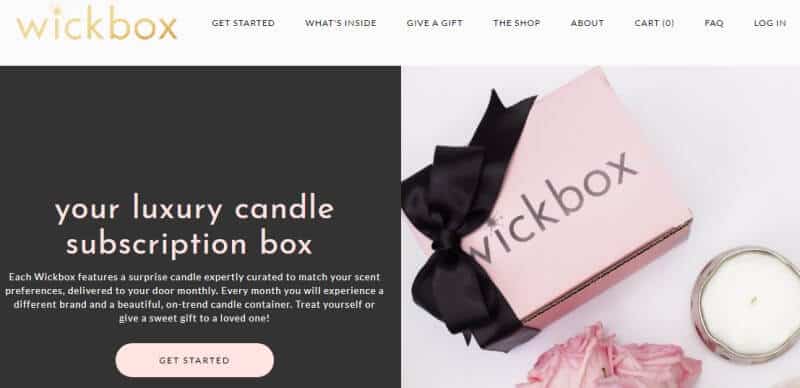 WickBox is a candle subscription box. It's always a good idea to have at least one subscription type product in your affiliate strategy. Even if that description boss is only a flat fee it's a nice thing to have to offer people through your promotions on your candle website.
Ideally, you would want a percentage Commission on the subscription boxes so you can get some recurring income but if it's a decent enough flat fee then you should do all right.
The commission is a $10 flat fee for each subscription. A percentage commission would be better for a subscription box but the $10 flat fee is ok as long as you get a decent amount of traffic.
The tracking cookie is a robust 60-days. Good to see a cookie this long even if you don't really need it for these types of products. Longer trackers are needed for high-ticket items in general.
Why Promote WickBox?
The subscription aspect to this affiliate program is really the big draw for you to use it in your promotion on your candle website.
The commission is decent and the cookie is fantastic but really it's the subscription box and the products therein that are the real appeal of this affiliate program.
---
Yankee Candle Affiliate Program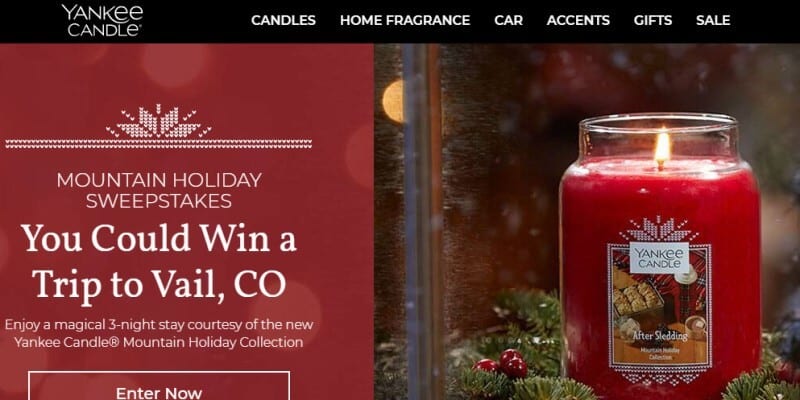 Yankee Candle has a wide variety of candles and fragrances. They have fragrances for your car as well as your home. Yankee Candle is one of the more popular candle partners around.
The affiliate terms are a bit all over the place for Yankee Candle. I couldn't find a tracking cookie duration. Make sure to ask about it and the commission ranges from .05% to 7 percent.
The high end if for new customers the low end for returning ones. It is not a great setup but most of your customers will be new anyway so its not a huge deal.
Why Promote Yankee Candle
The biggest reason to promote this partner program is for the wide selection of fine candles and products. The affiliate terms are decent but the products are the real draw.
---
Final Thoughts On Candle Affiliate Programs
That brings us to the end of our look at these wonderful candle affiliate programs. Candles and candle making art an incredibly large and robust blogging Niche.
It shouldn't come as a surprise since these products are something that everybody likes to use. people use them for all types of things but mostly for the fragrances that these candles bring to their homes.
They inherently need to be replenished every now and again so that makes the candle Niche even more appealing to affiliate marketers as people need to replenish their stocks.
Plus these affiliate programs can be used in a wide range of other niches besides just candles and candle making.
These candle affiliate programs would fit in nicely in Bath and Body niches as well as be a great complement for meditation affiliate programs.
It's just a great time to get into the candle niche and build a passive income blog around it. There's plenty of great affiliate programs to get you started I hope you take advantage of that.
Don't go it alone. Get the best learning tools and community to help you build your online dream. Check it out here.
Thank you for stopping by and have a wonderful day.
---